Looking for an easy way to make mahi mahi? This air fryer mahi mahi recipe takes just minutes in your air fryer. Coated with a Tex-Mex seasoning, this mahi mahi in air fryer is fantastic for mahi mahi fish tacos.
This post may contain affiliate links. Delightful E Made is a participant in the Amazon Services LLC Associates Program, an affiliate advertising program designed to provide a means for us to earn fees by linking to Amazon.com and affiliated sites.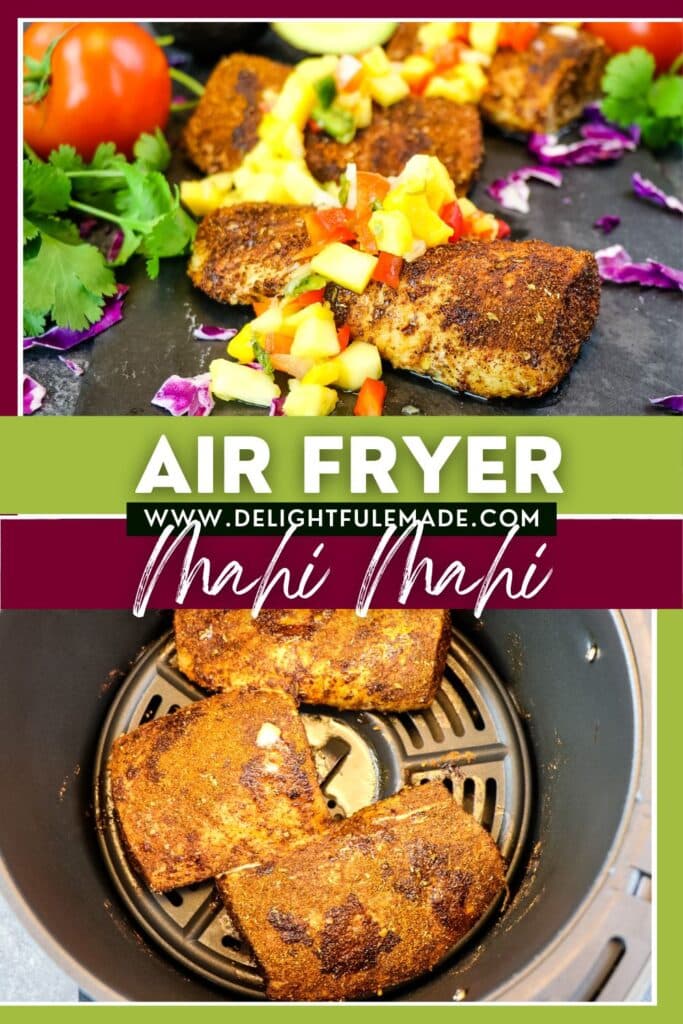 Are you on the hunt for simple, quick and easy dinner options for you and your family? This fantastic Mahi Mahi air fryer recipe is a great weeknight dinner option that takes under 20 minutes, start to finish.
Coated with homemade Tex-Mex seasoning, this fish is perfect for mahi mahi fish tacos.
In this post I'll show you how to prep the mahi mahi for your air fryer, how to season the fish, and provide you with options for making fish tacos.
What do I need to make air fryer mahi mahi?
Here's a quick reference check list of the ingredients you'll need:
Mahi Mahi fillets – check the freezer section of your grocery store, as these will be the most economical option.
Chili powder
Garlic powder
Smoked paprika
Cumin
Pepper
Garlic salt
Toppings: Pineapple Mango Salsa is a preferred topping for mahi mahi. You can also add Pico de Gallo salsa, Black Bean and Corn Salsa, Guacamole, avocado slices, fresh cilantro, cabbage slaw and corn or flour tortillas.
For exact ingredient amounts and full recipe instructions scroll down to the bottom of this post to the recipe card. Thanks!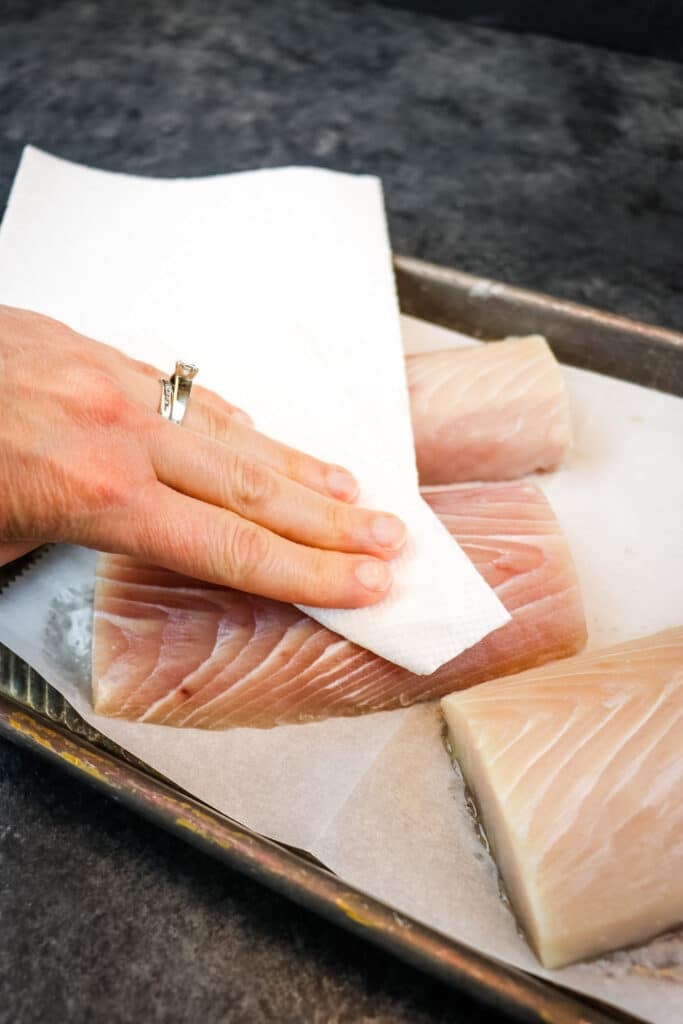 How do I make air fryer mahi mahi?
First, pat the filets dry with paper towels to remove any excess moisture. If you are using frozen filets, make sure they are completely thawed before cooking.
Season the fish. Mix together the Tex-Mex seasoning in a small bowl. Then sprinkle the tops and sides of the mahi mahi with the seasoning. This seasoning is based off my Homemade Taco Seasoning. If you already have this on hand, feel free to use 1 1/2 – 2 tablespoons.
How long do you cook mahi mahi in air fryer?
Cook mahi mahi in an air fryer at 375 degrees for 10-12 minutes.
Be sure to preheat your air fryer to ensure even cooking. I have a Ninja XL Max Air Fryer and the owners manual suggests preheating at cooking temperature for 3 minutes before cooking.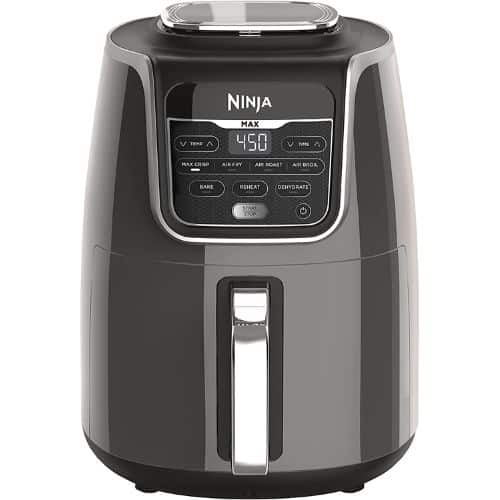 One of the most highly-rated, reviewed and LOVED air fryers on the market! The Ninja Max XL Air Fryer is one of the most used appliances in our kitchen, as we use it almost every day!
How can you tell when mahi mahi is done?
Mahi mahi needs to have an internal temperature of 145 degrees. To test for doneness, use an instant read digital thermometer. Mahi mahi has almost no fat, so it will cook rather quickly.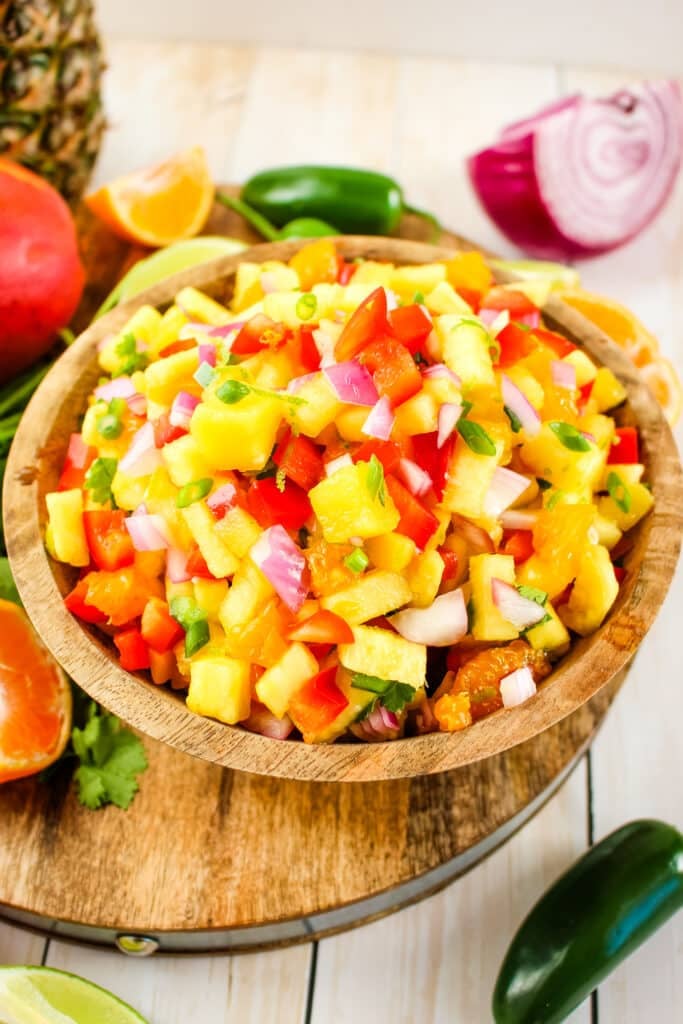 What does mahi mahi taste good with with?
Because mahi mahi is a mild white fish, it pairs well with bold flavors like the Tex-Mex seasoning and Pineapple Mango Salsa.
Serve the fish topped with the salsa or you can also break the filets apart and serve as Mahi Mahi fish tacos.
Wondering what to serve with your mahi mahi fish tacos? In addition to my pineapple mango salsa, this Fish Taco Slaw is great, as well as fresh cilantro, limes for lime juice, and avocado slices. My classic Pico de Gallo Salsa and Black Bean Corn Salsa are also great options.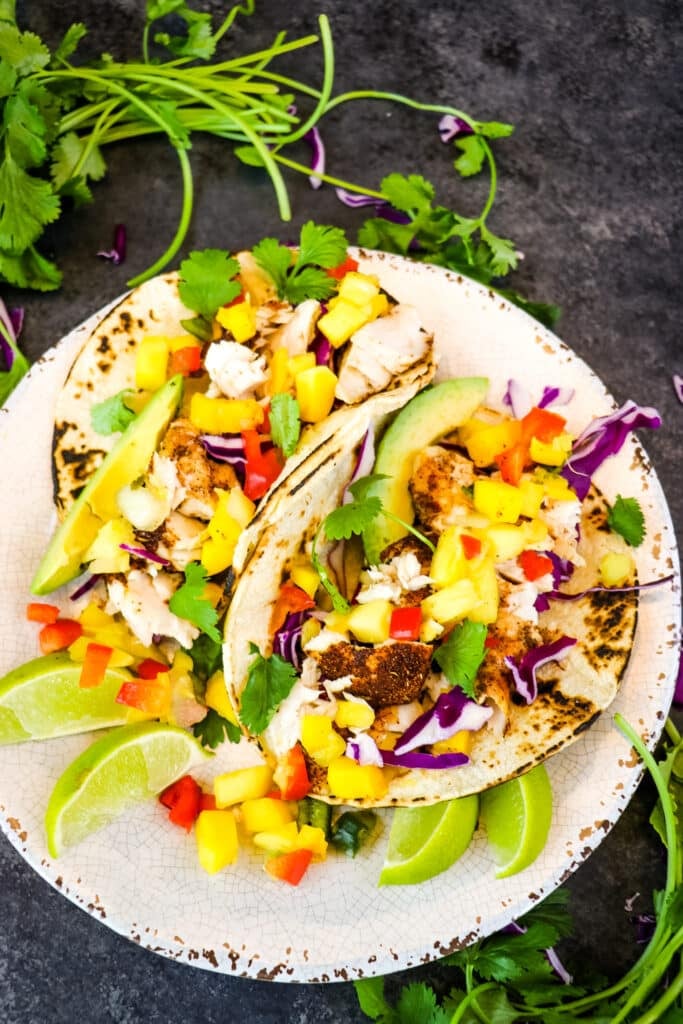 Where do I get mahi mahi?
The frozen food section of your grocery store is usually the best, most economical place to get mahi mahi. I've also found that Costco has the best price when it comes to mahi mahi, wild caught salmon and raw shrimp.
Could you use some Costco Dinner Ideas or ideas for Costco meals? Check out my post for the 15 Things I Buy at Costco for Healthy Meals.
Need more fish and seafood recipes? Here are some of our favorites: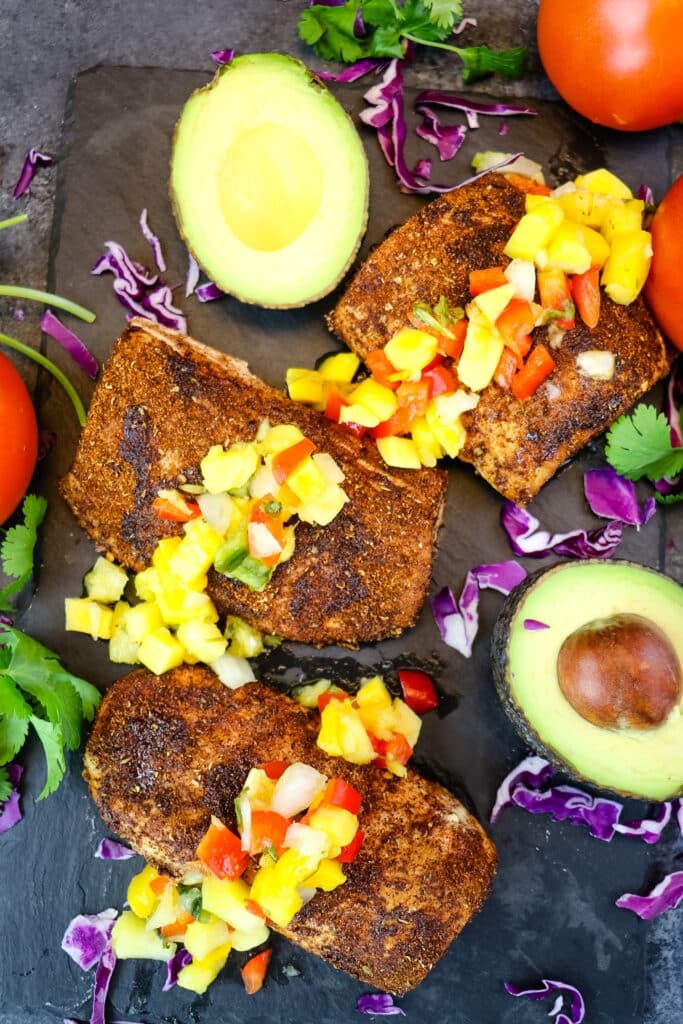 Love the convenience of cooking with an air fryer? Check out our other delicious air fryer recipes:
Here's the easy steps for my Air Fryer Mahi Mahi: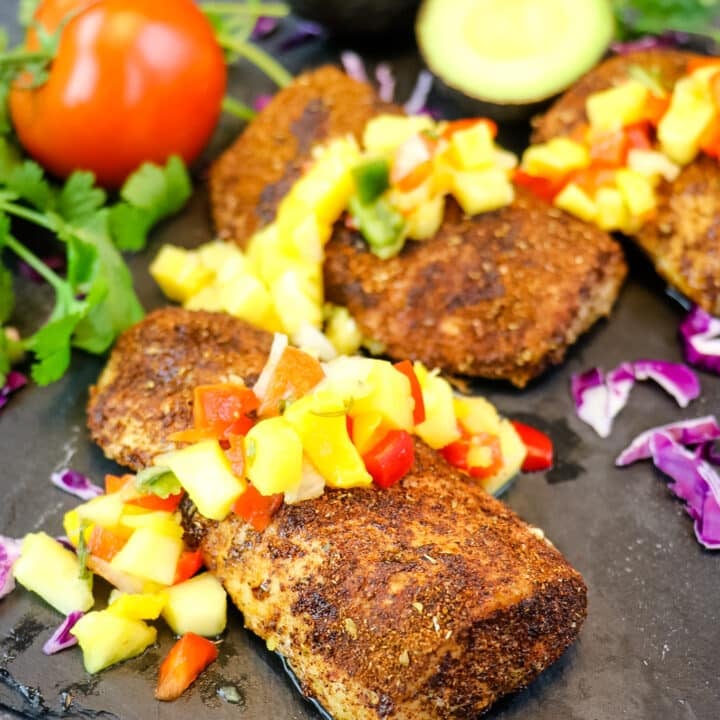 Air Fryer Mahi Mahi
Looking for an easy way to make mahi mahi? This Air Fryer Mahi Mahi is super simple and done in under 20 minutes. Top with pineapple mango salsa or serve as mahi mahi fish tacos for a simple, delicious weeknight dinner idea.
Ingredients
3-4 medium mahi mahi filets
Seasoning:
1 teaspoon chili powder
1/2 teaspoon garlic powder
1/2 teaspoon smoked paprika (or regular paprika)
1/2 teaspoon cumin
1/2 teaspoon pepper
1/2 teaspoon garlic salt
Instructions
Preheat your air fryer to 375 degrees. Check the owners manual of your air fryer for preheat instructions. (I have a Ninja Max XL air fryer, and this needs to preheat for 3 minutes at cooking temperature.)
Pat the mahi mahi filets dry with paper towels to remove excess moisture.
In a small bowl, mix together the spices; chili powder, garlic powder, smoked paprika, cumin, pepper and garlic salt. Stir together to incorporate. Sprinkle the seasoning over the mahi mahi.
Place the seasoned filets into the preheated air fryer basket. Cook at 375 degrees for 10-12 minutes, or until the mahi mahi reaches an internal temperature of 145 degrees.
Serve with mahi mahi by topping with pineapple mango salsa, or break apart the filets and serve as fish tacos. Pair with your favorite salsa, avocado slices, cabbage slaw, fresh cilantro, and/or lime juice.
Notes
Mahi mahi is best served fresh and just cooked. However, if you want to store leftovers, place in a resealable container and refrigerate. Leftovers will keep for up to 2 days refrigerated.
Nutrition Information:
Yield:

4
Serving Size:

1
Amount Per Serving:
Calories:

180
Total Fat:

2g
Saturated Fat:

0g
Trans Fat:

0g
Unsaturated Fat:

1g
Cholesterol:

149mg
Sodium:

398mg
Carbohydrates:

1g
Fiber:

0g
Sugar:

0g
Protein:

38g