The BEST Greek Yogurt Tuna Salad Recipe!
Looking for a no mayo tuna salad option? This Tuna Salad with Greek Yogurt is wonderfully tasty alternative! Made with the classic tuna salad favorites, like celery, onions and dill relish, this Greek Yogurt Tuna Salad recipe is fantastic!
This post may contain affiliate links. Delightful E Made is a participant in the Amazon Services LLC Associates Program, an affiliate advertising program designed to provide a means for us to earn fees by linking to Amazon.com and affiliated sites.
The PERFECT No Mayo Tuna Salad Recipe!
If a tuna sandwich is your go-to, but want to change it up for something healthier, you're in the right place! This Tuna Salad with Greek Yogurt is a great option without sacrificing flavor!
This No May Tuna Salad is made with plain Greek yogurt, celery, dill pickle, onion and a bit of seasoning. It comes together in minutes and great as a classic tuna sandwich, on avocado toast, in a salad or lettuce wraps or even stuffed in an avocado or tomato!
Here's how this delicious Greek Yogurt Tuna Salad comes together:
Like this recipe? Be sure to pin it to your HEALTHY RECIPES board!
Follow DelightfulEMade on Pinterest!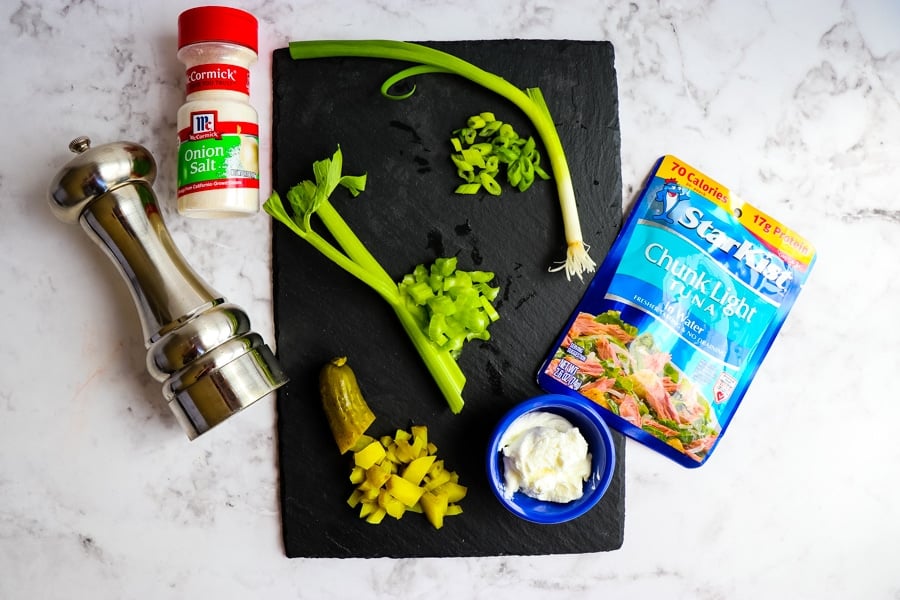 What do I need to make no mayo tuna salad?
For this recipe you'll need the following:
A single-serving (2.6 oz) Chunk Light Tuna (packed in water)
Green onion
Celery
Dill pickle (or dill relish)
Onion salt
Fresh ground pepper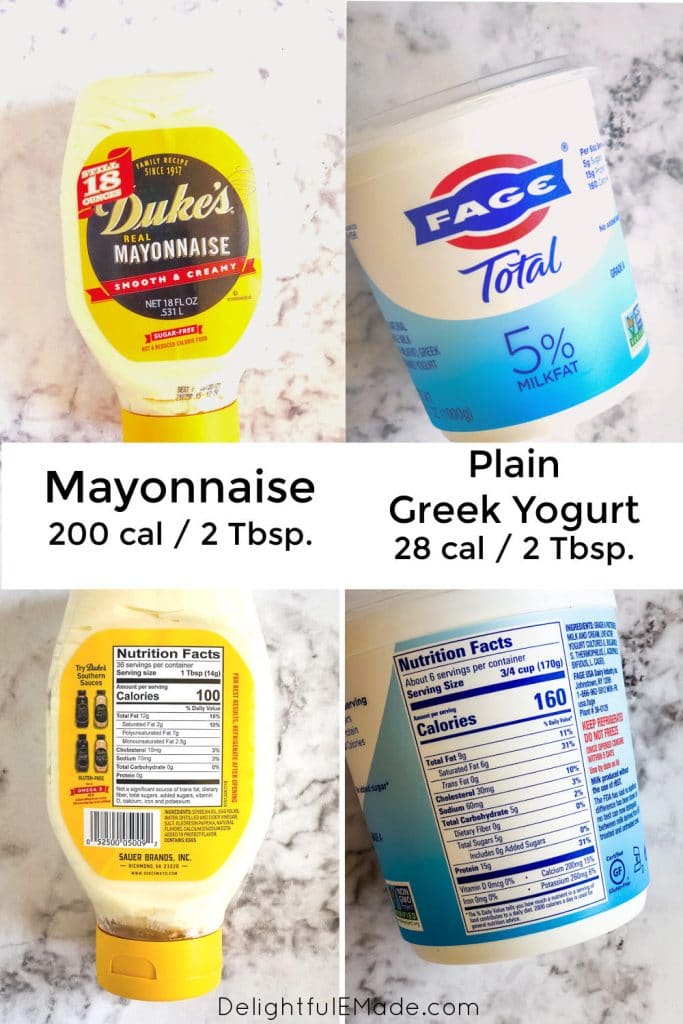 What is a healthy substitute for mayo?
Plain, full-fat Greek yogurt is a great option to substitute mayonnaise. As you can see from the nutrition label above, this popular mayo brand first ingredient is Soybean Oil. This is an ultra-trans fat oil and highly inflammatory and toxic in our bodies.
Mayonnaise is also very calorie dense. As you can see from the label, just 1 tablespoon of mayo is 100 calories.
With plain full-fat Greek yogurt, you get the same creamy texture without all the calories or toxic oils. Plain, full-fat Greek yogurt comes in at just 28 calories (Fage 5% plain Greek yogurt) for 2 tablespoons.
What can you mix tuna with besides mayo?
In addition to plain full-fat Greek yogurt, mustard is also a good option as well as Tzatziki.
My Greek Yogurt Veggie Dip is very similar to Tzatziki and tastes amazing!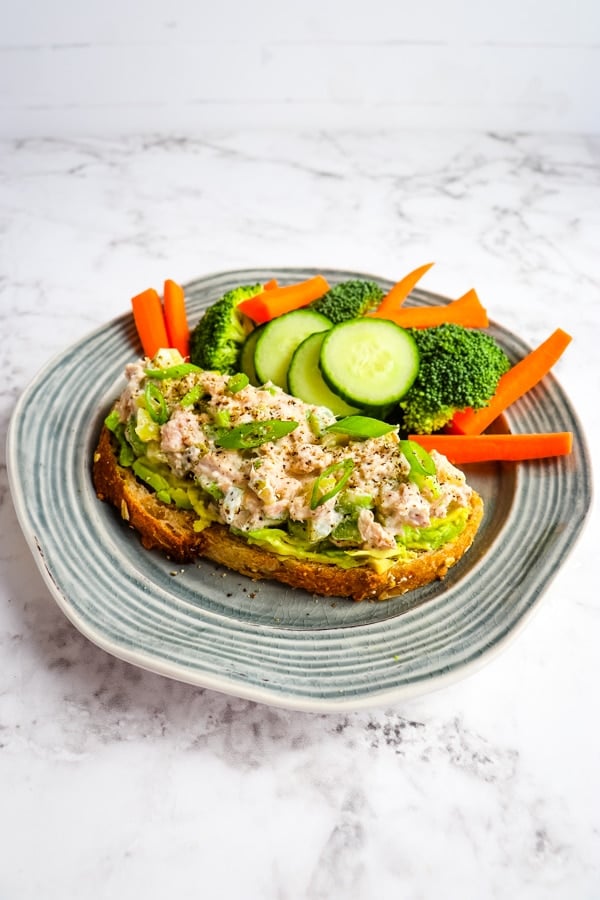 No Mayo Tuna Salad Option 1: Avocado Toast
This tuna salad with Greek yogurt is fantastic on Avocado toast! Simply add 1/4 of an avocado to your favorite multi-grain bread, mash and spread. Top with the delicious tuna salad and sprinkle with some additional green onions and fresh pepper. Delicious!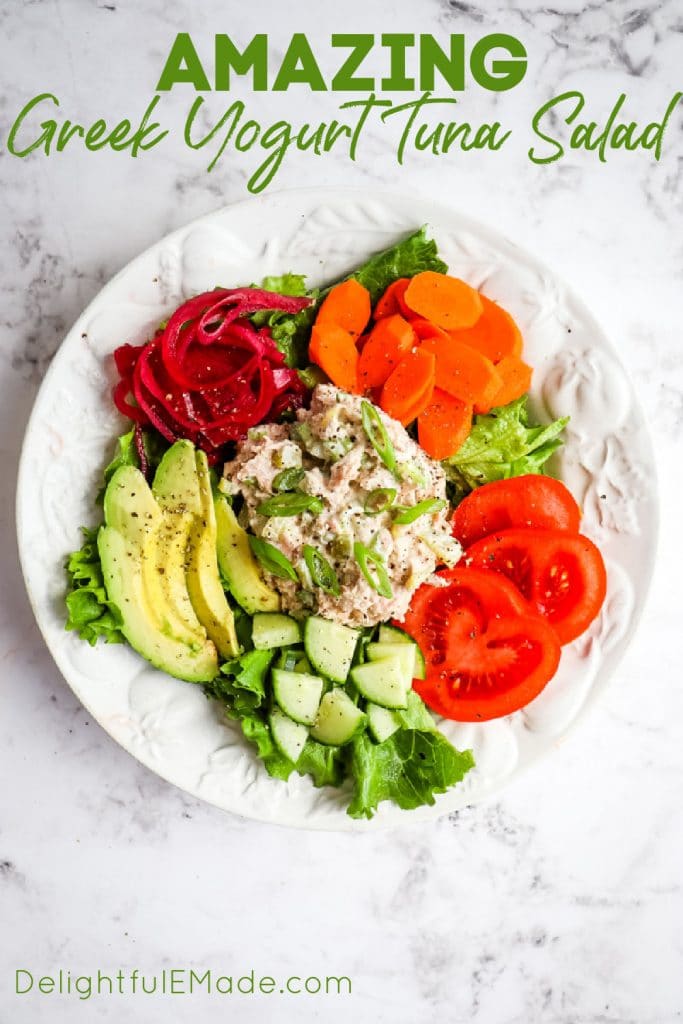 Greek Yogurt Tuna Salad Option 2: Loaded Green Salad
This delicious green salad with avocado, pickled red onions, carrots, tomatoes and cucumbers is a salad lovers dream! With the Greek Yogurt Tuna salad as the protein source, this salad is filling and delicious.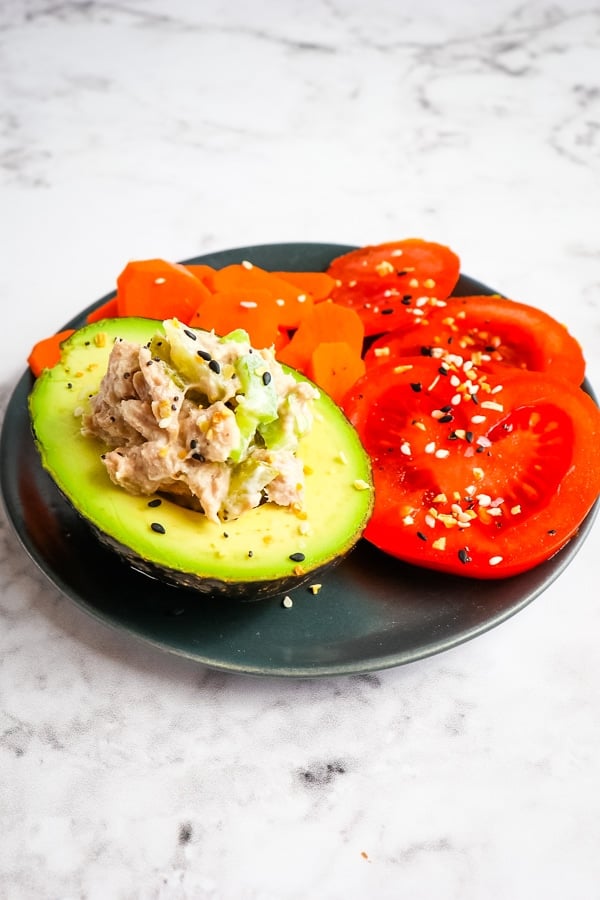 Tuna Salad Option 3: Stuffed Avocado or Tomato
If you're someone that's watching their carbs, this Tuna Salad Stuffed Avocado is a fantastic lunch option. You're getting all the wonderful benefits of good fats from the avocado and plenty of protein from the Greek Yogurt Tuna Salad.
Is canned tuna good for weight loss?
Yes! Canned tuna or vacuum sealed tuna pouches are a great source of lean protein. When mixed with Greek yogurt, it makes for a very healthy protein source for a salad, sandwich or stuffed avocado or tomato.
If you loved this Tuna Salad recipe, check out some of these other similar recipes:
Here's the recipe for my No Mayo Tuna Salad: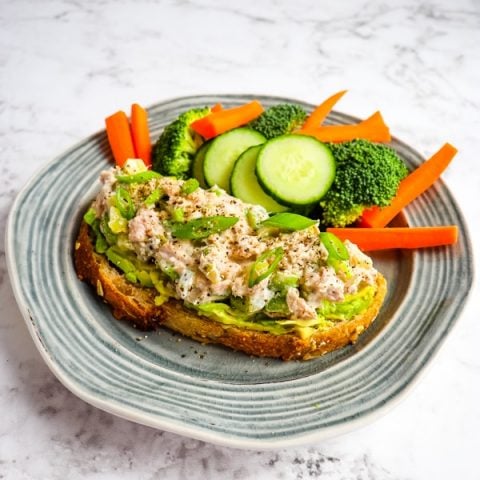 Greek Yogurt Tuna Salad
Ingredients
1 (2.6 oz) pouch of Tuna, water packed
2 Tbsp. Fage 5% plain Greek yogurt
2 Tbsp. diced celery
2 Tbsp. diced dill pickle, or dill relish
1 Tbsp. diced green onion
1/4 tsp. onion salt
1/8 tsp. fresh ground pepper
Instructions
In a bowl, add the tuna, Greek yogurt, celery, pickle, onion, salt and pepper. Mix together until fully incorporated.
Add tuna to avocado, use as protein source in salad or lettuce wraps, top avocado toast or use as filling for a tuna sandwich.
Notes
For a standard size can of tuna, double this recipe.