Loaded Mint Chocolate Brownies
Looking for an over-the-top mint brownies recipe? Look no further! These Loaded Mint Chocolate Brownies are a sweet-tooth's dream come true! Fudgy brownies topped with a thick layer of mint frosting and loaded with Thin Mint cookies, Andes Mints and mint chips.
This post may contain affiliate links. Delightful E Made is a participant in the Amazon Services LLC Associates Program, an affiliate advertising program designed to provide a means for us to earn fees by linking to Amazon.com and affiliated sites.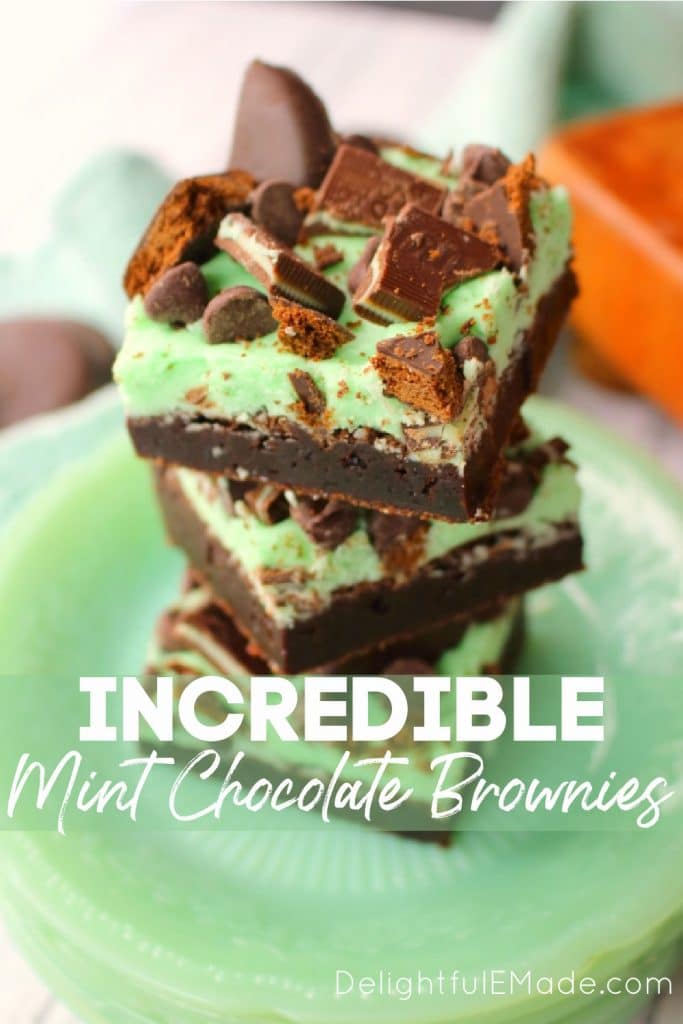 The BEST Mint Brownies Recipe!
Do you love mint and chocolate? Then, these Loaded Mint Chocolate Brownies will be right up your alley! Topped with Girl Scout Thin Mint cookies, Andes Mints and mint chips, these mint brownies are the ultimate sweet treat!
These brownies are pretty simple to assemble, and just require a few steps to achieve mint brownie deliciousness.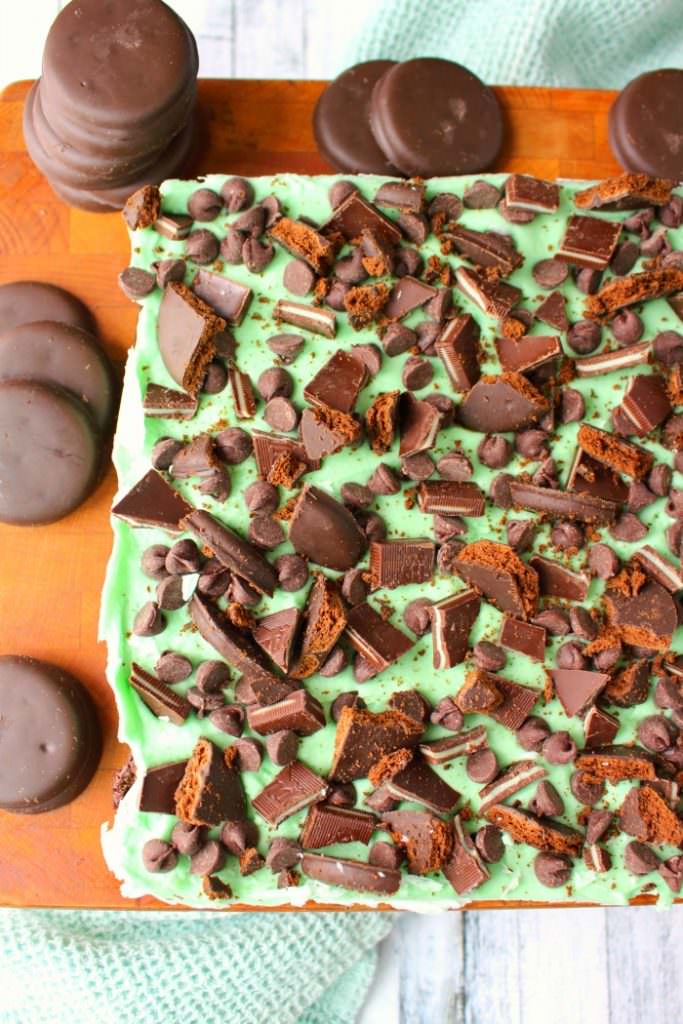 Step 1: Bake the Brownie Base
For the brownie base, I actually used my Triple Chocolate Fudge Brownie recipe, and adapted it slightly for a smaller pan. I also added mint extract to the brownies for a subtle mint flavor within the brownie itself. The brownies are rich, fudgy and a perfect base for the top layers of frosting, cookies and chocolate. But I certainly didn't stop there with the mint
How do I make mint frosting?
You'll need room temperature (not cold) butter, powdered sugar, a little milk, peppermint extract and green food coloring.
With a hand or stand mixer, beat the butter and gradually add the powdered sugar. Add a couple tablespoons of milk, if necessary, depending on how thick you would like the consistency of the frosting. Then, add the peppermint extract and the green food coloring and combine until you reach the desired mint green color.
(For exact frosting ingredient amounts, be sure to scroll down to the bottom of this post for the recipe.)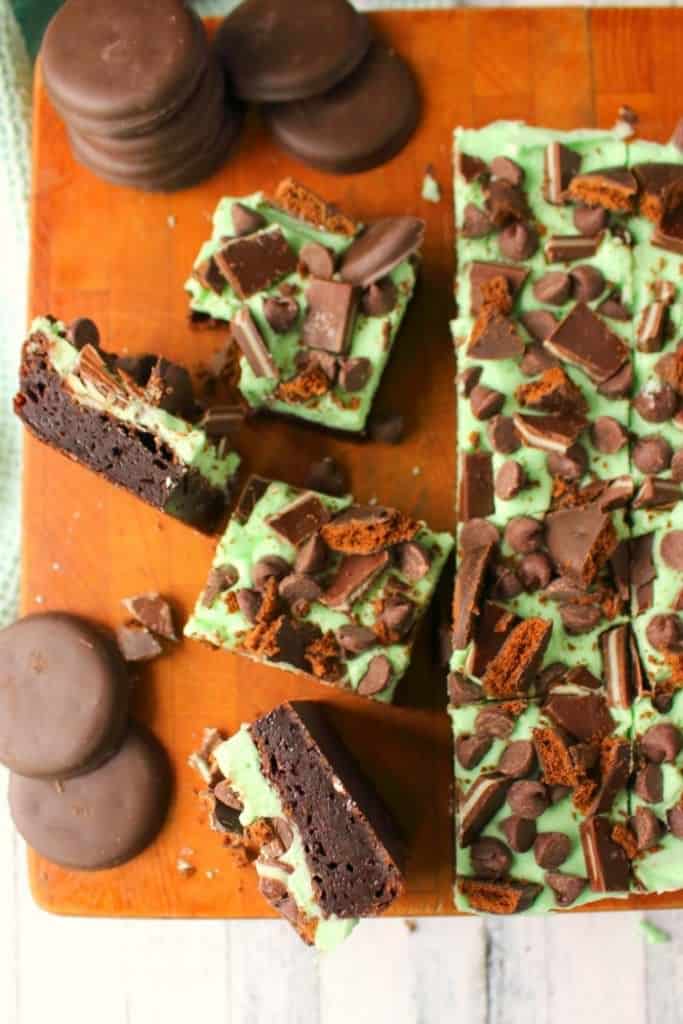 Step 2: Top with Thin Mints, Andes Mints and Chocolate Chips
Once the frosting is spread over the mint chocolate brownies, I then topped off this delicious treat with, what else? More minty goodness! I added broken pieces of Thin Mint Cookies, broken pieces of Andes mint chocolate candies, and chocolate chips.
You can actually purchase mint-flavored or even mint-filled chocolate chips, however, I used regular semi-sweet chocolate chips.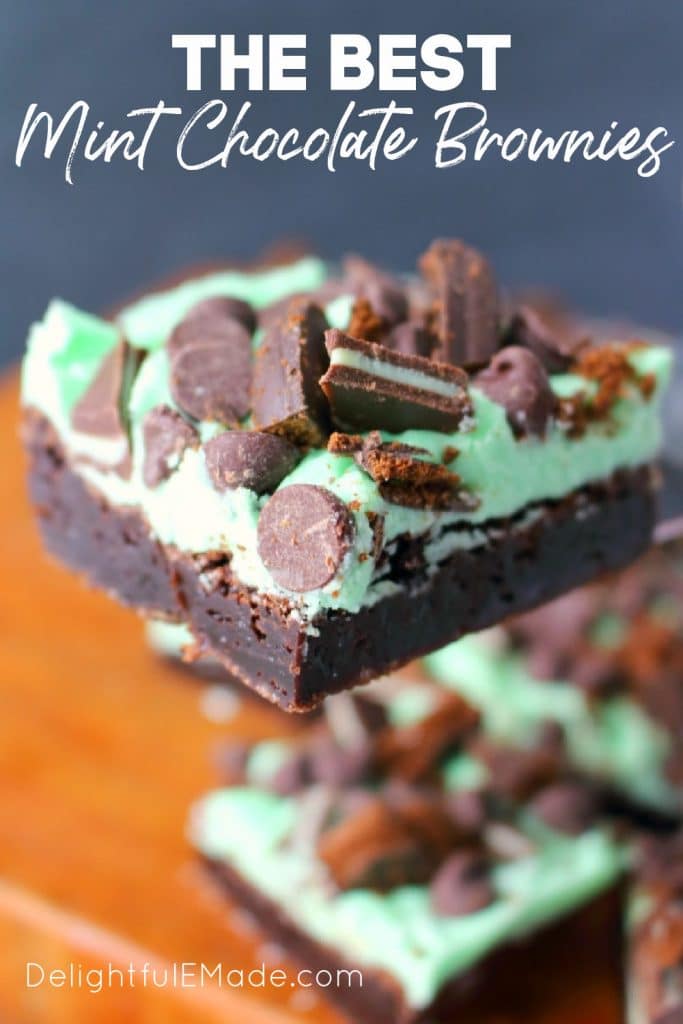 How do I slice brownies evenly?
To get a smooth cut, I recommend chilling brownies in the refrigerator before cutting. From 1 hour to overnight will give the frosting a chance to set. This will make slicing nice, even squares much easier.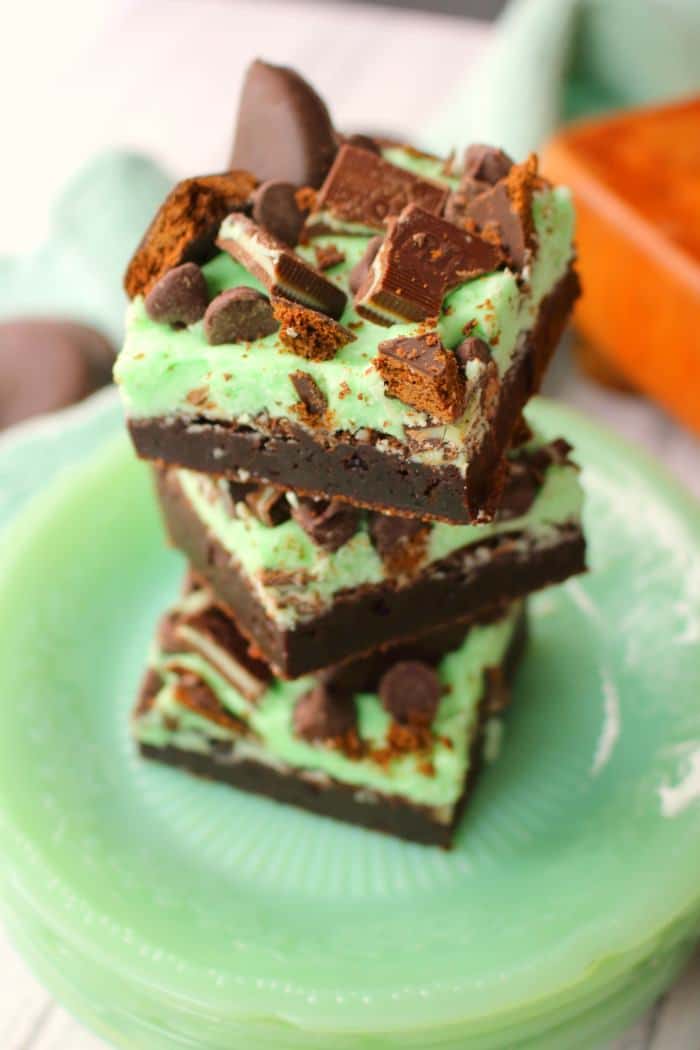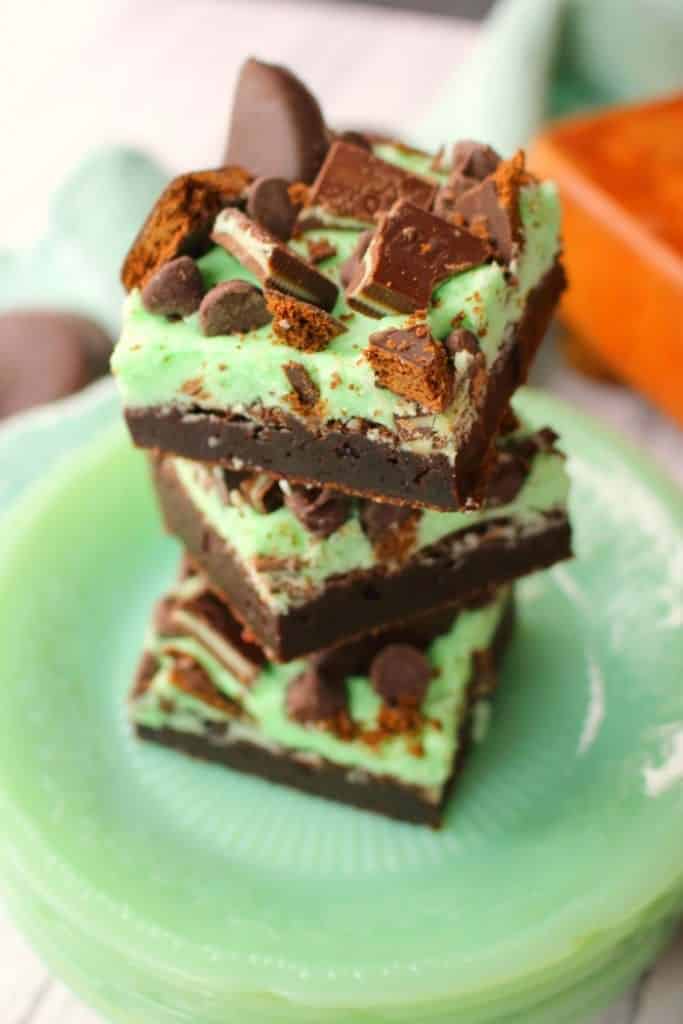 These mint brownies are fantastic anytime you're in the mood for something minty and sweet! My son shares my love for this decadent chocolate mint combination, and he has asked for these brownies for his birthday classroom treat instead of cupcakes. Yep, he's definitely my kid!
With their pretty green color, these mint brownies also make a great St. Patricks Day treat. A fantastic way to celebrate the luck-o-the-Irish!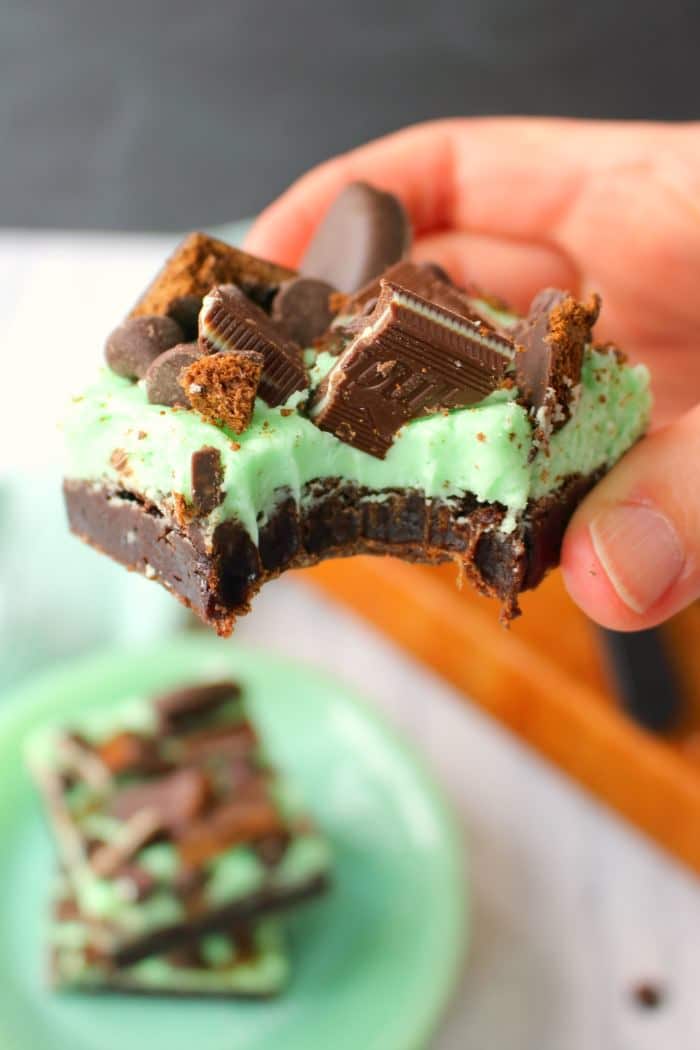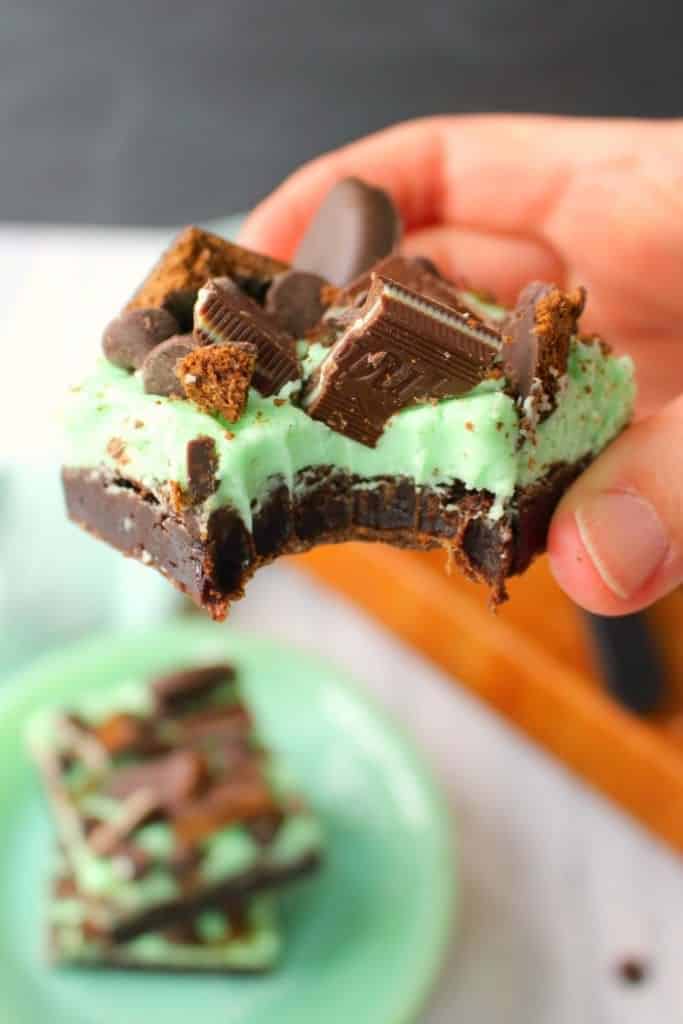 What do I need to make mint chocolate brownies?
Butter
Granulated Sugar
Cocoa Powder
Salt
Mint Extract
Eggs
Flour
Baking Powder
Powdered Sugar
Milk
Green Food Coloring
Chocolate Chips (or Mint Chips)
Andes Mint Chocolate candies
Thin Mint Girl Scout Cookies (if these are not available, Mint OREO's are a good substitute)
(For exact ingredient amounts and full recipe instructions please scroll down to the recipe below. Thanks!)
If you loved this delicious mint brownies recipe, be sure to check out some of my other similar treats:
Ultimate Thin Mint Brownies
Total Time:
1 hour
5 minutes
Let me introduce you to your new favorite brownie recipe! A perfect combination of chocolate and mint, these fudgy mint brownies are topped with Girl Scout Thin Mint Cookies, Andes mints, chocolate chips, and an amazing layer of mint butter cream frosting. Most definitely a brownie lover's dream come true!
Ingredients
3/4 c. (1 1/2 sticks) butter, melted
1 1/2 c. granulated sugar,
1 c. cocoa powder
1/4 tsp. salt
1/2 tsp. mint extract
2 eggs
3/4 c. flour
1/4 tsp. baking powder
Mint Buttercream Frosting:
1/4 c. butter, softened
1 1/2 - 2 c. powdered sugar
1-2 Tbsp. milk
1/4 tsp. mint extract
green food coloring (a few drops)
Toppings:
12 Thin Mint Cookies, broken into medium pieces
12 Andes Mint Chocolate candies, broken into pieces
2/3 c. chocolate chips (you can also use mint chocolate chips, if available)
Instructions
Preheat oven to 325 degrees. Line a 9 x 9" baking pan with parchment paper, with the sides folded over the edges of the pan. Set aside.
In a microwave safe mixing bowl, melt the butter in the microwave. In a seperate bowl, combine the granulated sugar, cocoa powder and salt. Mix to combine and then gradually stir into the butter until smooth. (If mixture is still hot from the melted butter, let cool for a few minutes before adding the eggs.) Whisk in the eggs, and add the mint extract to the batter. Combine the flour and baking powder, and gradually add into the batter. Stir until completely combine and smooth.
Pour batter into the parchment lined pan, and spread evenly. Bake the brownies for 35-40 minutes or until toothpick inserted comes out with crumbs. Center may look slightly underdone, but the brownies will be cooked through. Remove brownies from the oven and let cool completely.
For the Mint Buttercream Frosting, combine the softened butter with 1/2 cup scoops of powdered sugar. Using a hand or stand mixer, gradually add the 1/2 cups of powdered sugar in, occasionally adding a tablespoon of milk if necessary to get a thick, smooth frosting. Once all of the powdered sugar has been added, add the mint extract and food coloring to the frosting and mix until the desired color of green is achieved. (I used about 3-4 drops of green food coloring to get a mint-green color.)
Lastly, evenly frost the cooled brownies with the mint buttercream frosting. Top the frosting with the Thin Mint Cookies, Andes Mint chocolates, and chocolate chips.
Refrigerate about 1 hour to let the frosting set before slicing. Leftovers can be kept in an airtight container at room temperature for up to 5 days.
Nutrition Information:
Serving Size:

1 brownie
Amount Per Serving:
Calories:

5348
Total Fat:

214g
Saturated Fat:

131g
Cholesterol:

478mg
Sodium:

2253mg
Carbohydrates:

876g
Sugar:

739g
Protein:

41g