Often referred to as Watergate salad, this classic pistachio fluff salad recipe was a mainstay at my house as a kid. Sweet like a dessert, it's often served as a side dish for special dinners, pot-luck dinners or summer cookouts. Just 5 ingredients needed!
This post may contain affiliate links. Delightful E Made is a participant in the Amazon Services LLC Associates Program, an affiliate advertising program designed to provide a means for us to earn fees by linking to Amazon.com and affiliated sites.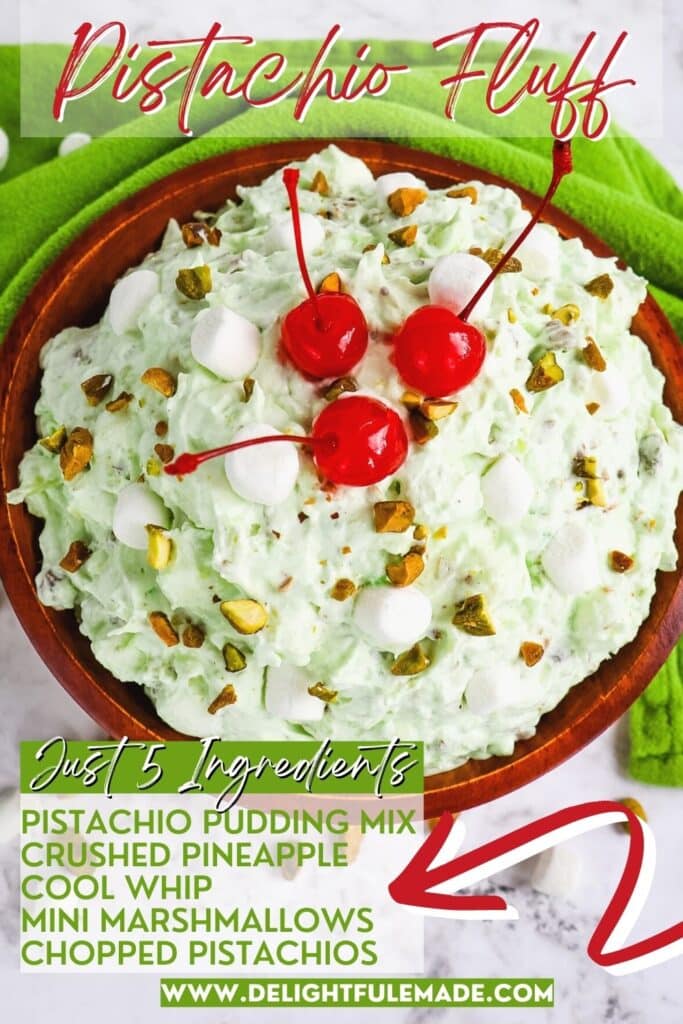 As a kid, when my mom wanted to whip up something special, she would make this simple and fun Pistachio fluff salad. Made with just 5 ingredients, it can be stirred together in minutes, making for an easy side dish or sweet treat.
Perfect for a pot-luck, cookout or even a side dish for a special dinner, this pistachio fluff salad will also be a hit with a crowd.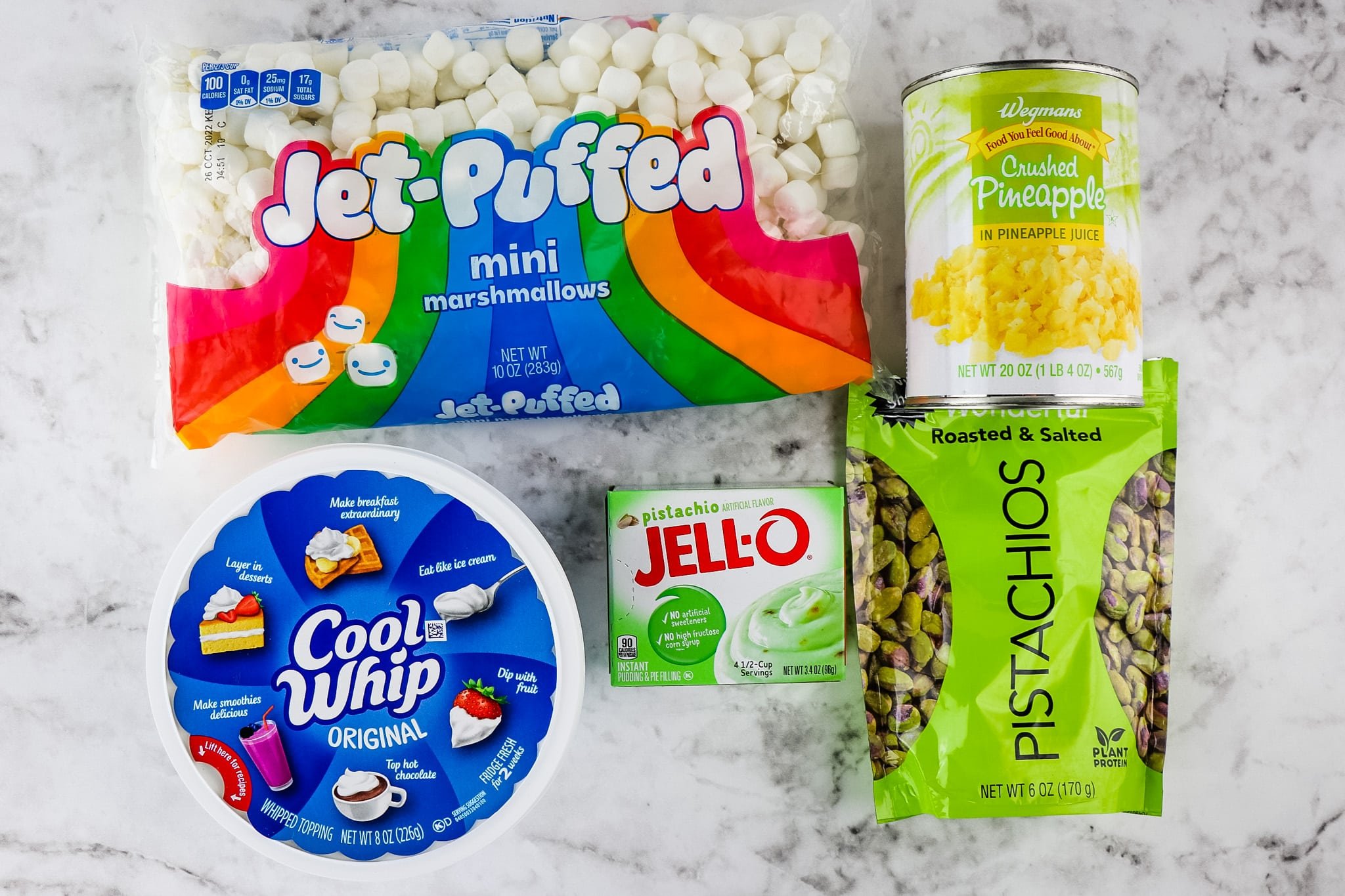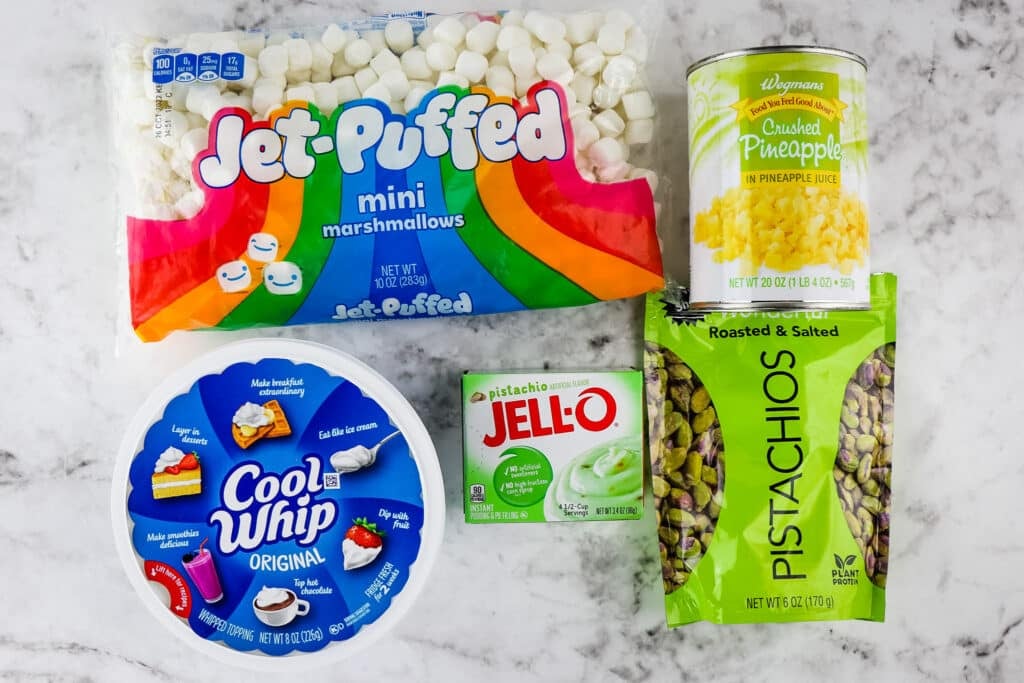 What do I need to make pistachio fluff?
A box of pistachio flavored pudding mix – this is an essential ingredient and will give this fluff salad it's signature green color.
Cool Whip – if you prefer, you could also use my Homemade Cool Whip recipe.
Crushed pineapple – you'll need a larger 20 oz. can for this recipe.
Mini marshmallows – these will give the salad its "fluff".
Chopped pistachios – these provide the salad with a complimentary crunch and a bit of savory flavor that goes perfectly with the sweet.
For exact ingredient amounts and full recipe instructions be sure to scroll down to the bottom of the post for the recipe. Thanks!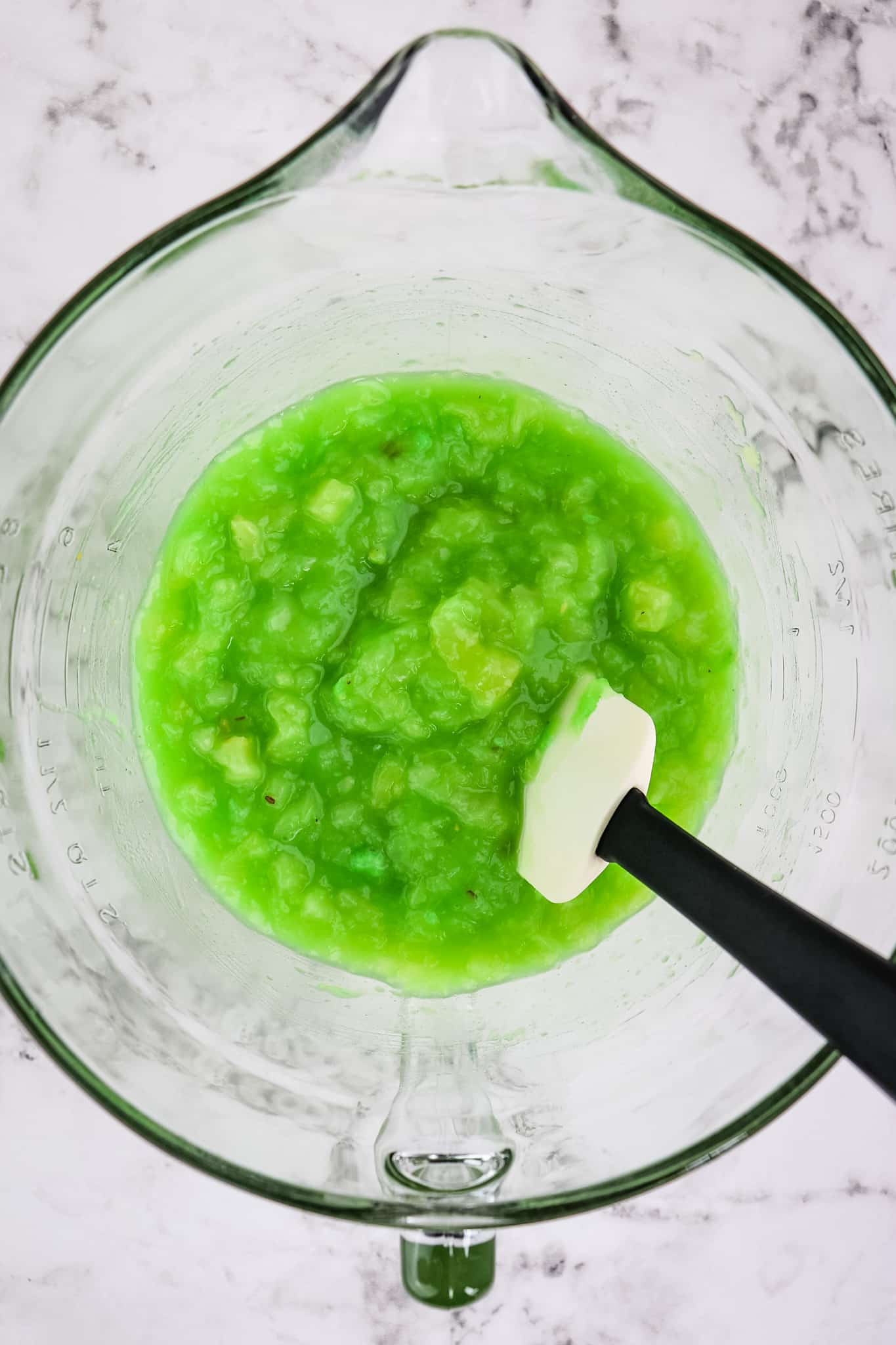 How do I make pistachio fluff salad?
Start by mixing together the pistachio pudding mix and the can of crushed pineapple, including the juice. When mixed together you'll achieve a bright green mixture.
Next, add in the container of Cool Whip. Cool Whip is found in the frozen foods section of the grocery store. When preparing your fluff salad recipe, make sure the Cool Whip is thawed and not frozen.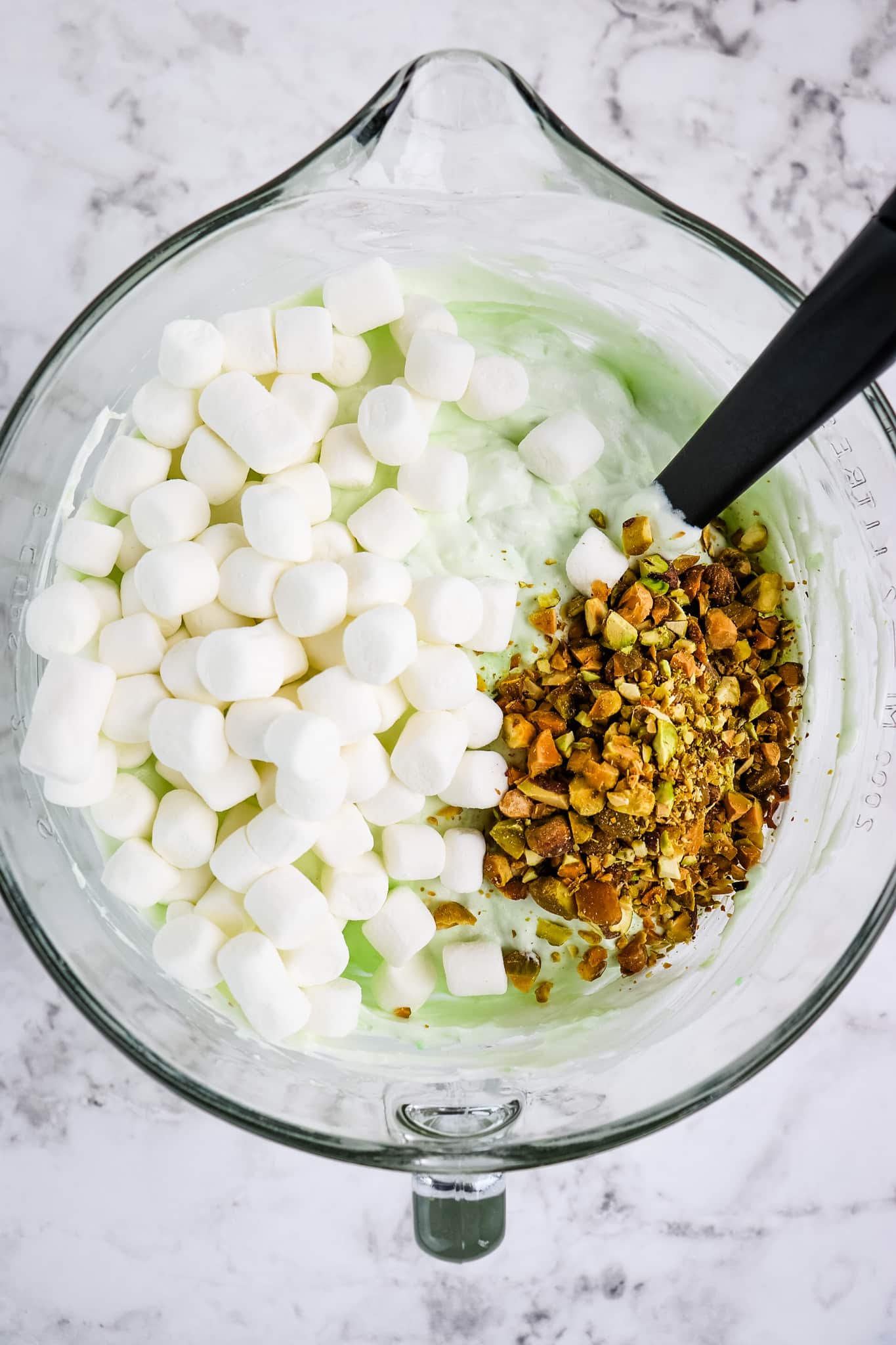 Next, fold in the mini marshmallows and the chopped pecans. The best tool for folding in these ingredients is a rubber scraper. It allows you to easily scrape the sides of the bowl while mixing the ingredients.
Ingredient Substitutions and Recommendations:
Cool Whip – if you would prefer to not use Cool Whip, you could also use homemade stabilized whipped cream.
Chopped Pistachios – if pistachios are unavailable, you could also substitute chopped pecans or almonds.
Mini marshmallow – some like to use multi-color marshmallows instead of white, giving the salad a bit more color.
For exact ingredient amounts and full recipe instructions be sure to scroll down to the recipe at the bottom of the post. Thanks!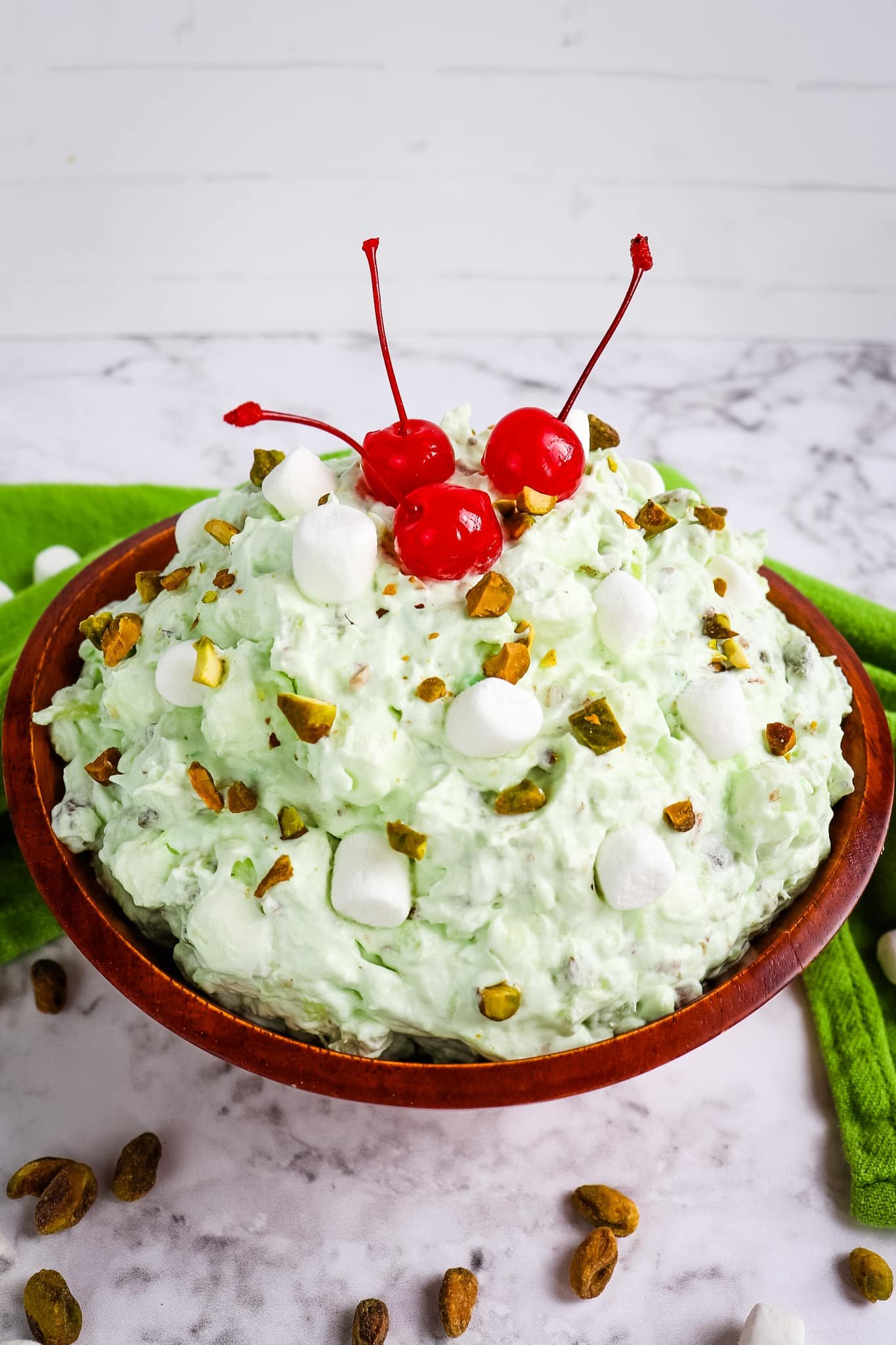 Frequently asked questions about making a pistachio fluff recipe:
Why is pistachio pudding green?
Pistachio nuts are green in color. Pistachio boxed pudding mix was introduced by Kraft foods in 1975, when brightly colored foods, like Jell-o were all the rage. The green color in pistachio pudding mix is artificial.
Why is it called Watergate Salad?
Legend has it that this pistachio fluff salad was created by a chef at the Watergate Hotel in Washington, D.C. in the late 1970's. The sweet, green salad became wildly popular and was offered as a regular dish on their weekend brunch menu.
What is in pistachio fluff salad?
Pistachio fluff is made with pistachio pudding mix, whipped topping (Cool Whip), crushed pineapple, mini marshmallows and chopped nuts (either pistachios or pecans.)
How long goes pistachio salad last?
Kept refrigerated, pistachio fluff salad will last for 3-4 days refrigerated.
Can I make pistachio salad in advance?
Yes, pistachio salad can be made the day before an event or dinner. Be sure to store in an airtight container and keep the salad refrigerated before serving.
If you loved this fluff salad recipe, check out some of our other sweet side dish ideas: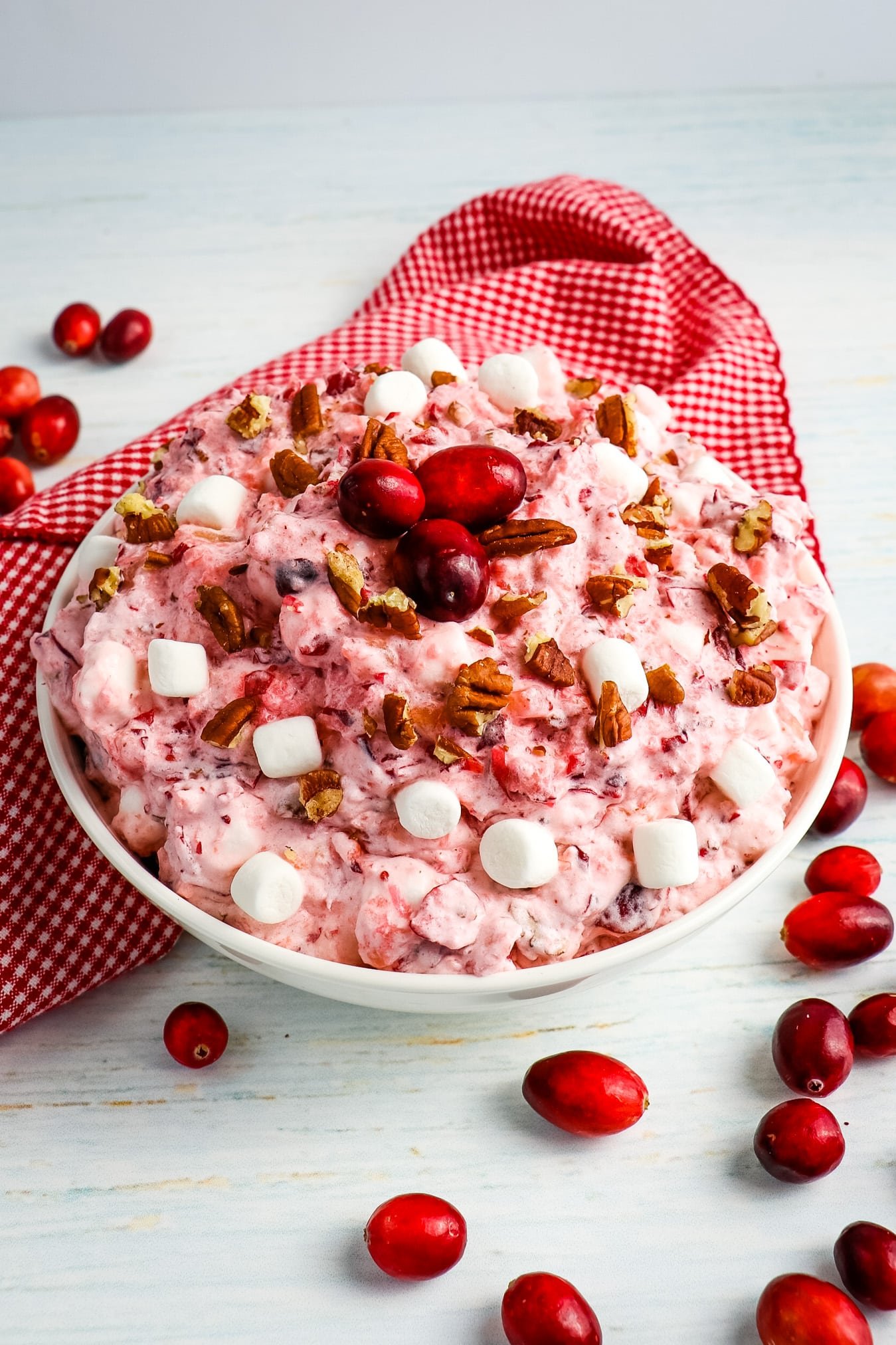 ---
---
Pistachio Fluff
Otherwise known as Watergate salad, this green, creamy pistachio fluff salad is a classic. Made with just 5 ingredients, it's great for everything from a holiday dinner to a pot-luck or cookout. Absolutely delicious!
Ingredients
1 (3.4 oz) pkg., pistachio pudding mix (dry, unprepared)
1 (20 oz.) can, crushed pineapple WITH the juice
1 (8 oz.) container, Cool Whip, thawed (or homemade Cool Whip)
2 cups mini marshmallows
1/2 cup chopped pistachios
Instructions
In a mixing bowl, combine the dry pistachio pudding mix with the can of crushed pineapple, including the juice. Mix well.
To the pudding mixture, add in the thawed cool whip or Homemade Cool Whip. Mix well with a rubber scraper.
Add in the marshmallows and chopped pistachios. Mix to combine.
Refrigerate 1-2 hours before serving. This will give the marshmallows a chance to soften and make the salad extra fluffy.
Notes
Want to make in advance? This is a great salad to make in advance of a dinner or event. It can be made the day before. Be sure to store in an airtight container and keep refrigerated until ready to serve.
For ingredient substitutions and recommendations be sure to refer section above in the the blog post.
When refrigerated, this salad will keep for 3-4 days.
Nutrition Information:
Yield:

8
Serving Size:

1
Amount Per Serving:
Calories:

143
Total Fat:

5g
Saturated Fat:

1g
Trans Fat:

0g
Unsaturated Fat:

4g
Cholesterol:

0mg
Sodium:

84mg
Carbohydrates:

25g
Fiber:

1g
Sugar:

18g
Protein:

2g