The most amazing pumpkin crumb cake recipe, EVER!
Meet your new favorite crumb cake recipe! This moist, velvety pumpkin crumb cake has all your favorite fall flavors topped with an amazing cinnamon crumble. It's the perfect pumpkin coffee cake to serve on Thanksgiving morning, or simply enjoy with your pumpkin spice latte!
This post may contain affiliate links. Delightful E Made is a participant in the Amazon Services LLC Associates Program, an affiliate advertising program designed to provide a means for us to earn fees by linking to Amazon.com and affiliated sites.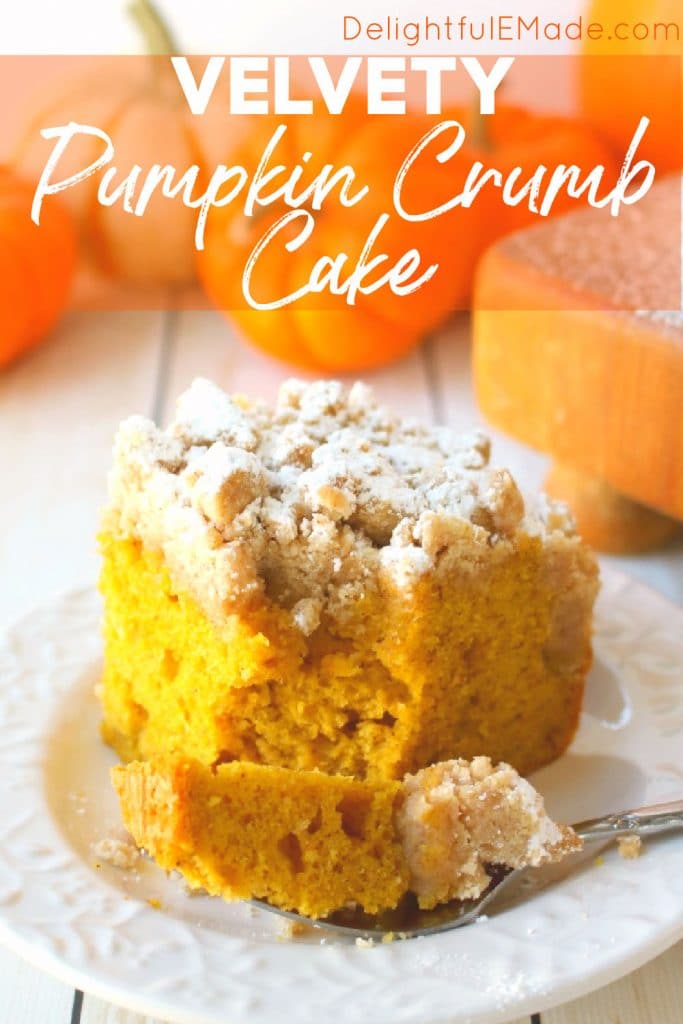 The BEST Pumpkin Crumb Cake Recipe!
The last time I was in NYC I stopped by a local coffee shop on my way home. They had these gorgeous, HUGE (like the size of a salad plate!) slices of New York Style Crumb Cake.
Like many, I eat with my eyes, so I immediately chose the gigantic slice of cake along with a big cup of coffee to come with me on my trip back to D.C.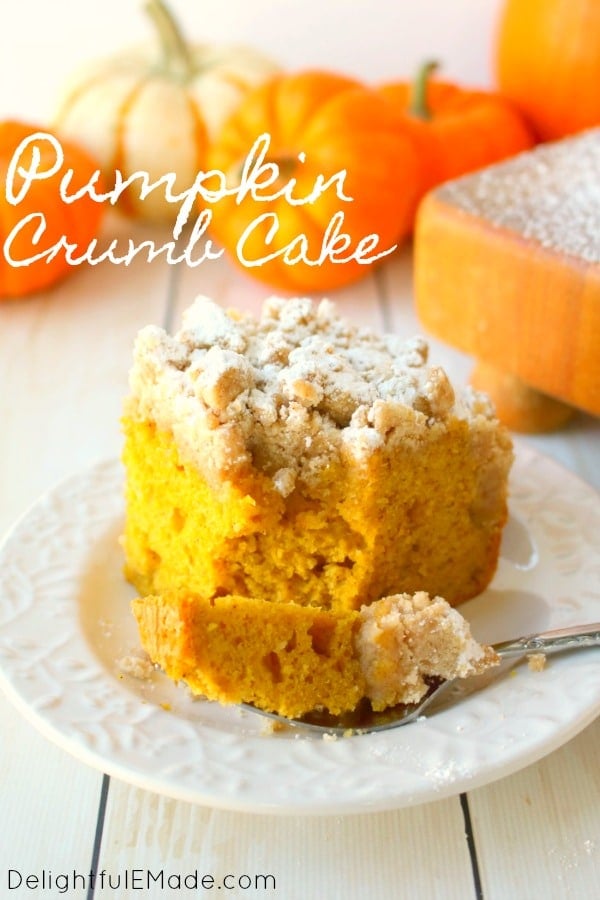 The cake and coffee were an absolutely wonderful treat for my journey back home, although I ended up with powdered sugar everywhere. I decided that I quickly had to make a fall version of this incredible cake – and that's how my Velvety Pumpkin Crumb Cake came to be.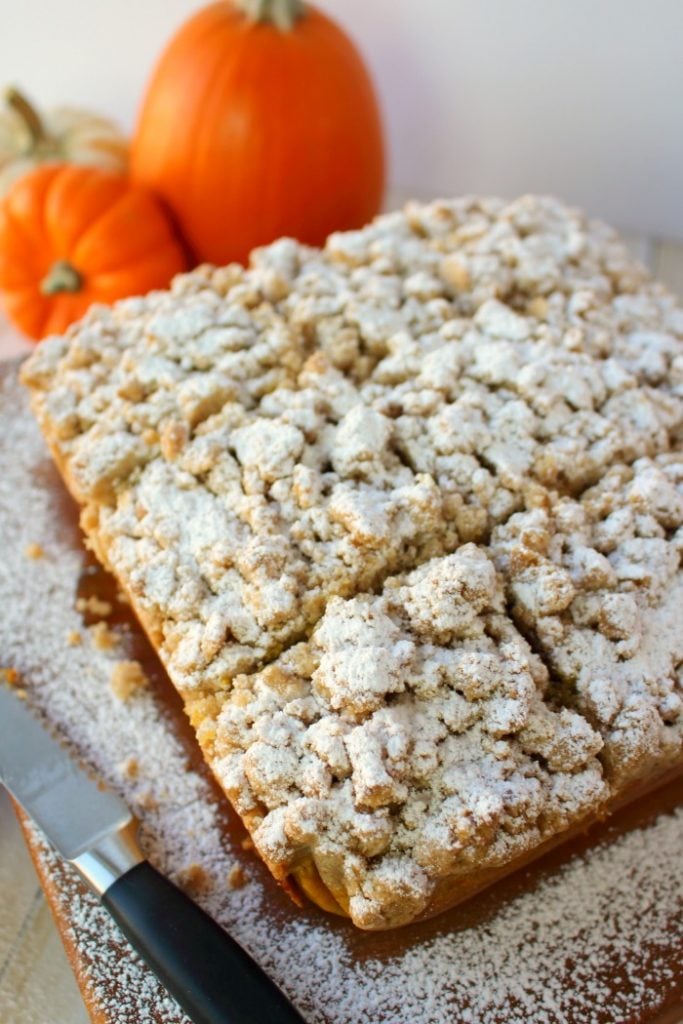 How the pumpkin crumb cake comes together:
Much like the slice I got in New York, this crumb cake is definitely not short on the crumb topping – in fact, that might be my favorite part of this delicious breakfast treat. The cinnamon crumble is a perfect match for the amazingly moist, velvety pumpkin cake that is underneath.
If you love a good cinnamon sugar treat, go check out my Cinnamon Sugar Quick Bread over a Lilluna.com It's amazing and perfect with a cuppa coffee!
There are a few ingredients that make this crumb cake incredibly moist and velvety. In addition to the pumpkin puree, I add buttermilk to the batter to make this cake moist and tender. My Grandma's Best Chocolate Cake also calls for buttermilk – it's a fantastic addition to keeping cake from being dry.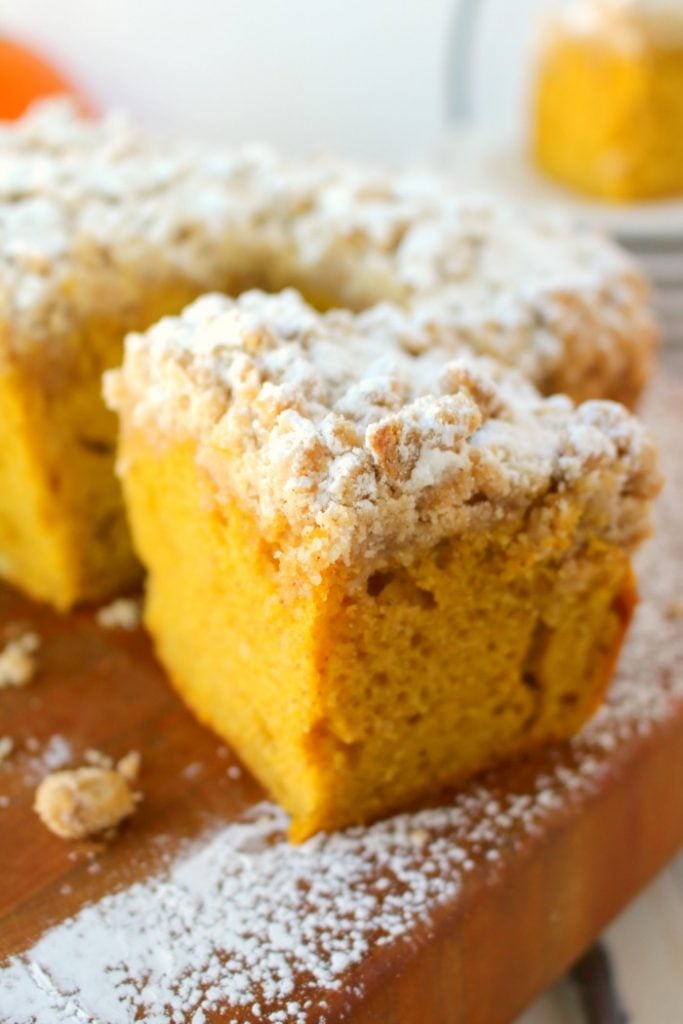 Ingredient tips for this Pumpkin Coffee Cake recipe:
Make sure you are using pumpkin puree and NOT pumpkin pie filling. Be sure to look for 100% pumpkin on the label of the can. Pumpkin pie filling is not pumpkin puree.
In addition to the buttermilk, another ingredient that contributes to the amazing velvety texture is cake flour instead of all purpose flour. Cake flour is silky and when sifted together with the spices, you get this wonderfully tender, moist cake!
What can I add to a coffee cake?
Here are some Topping & Mix-In Options:
Chopped pecans – these go beautifully with pumpkin. Feel free to mix a 1/2 cup chopped pecans into either the batter OR the topping mixture.
Chocolate Chips – chocolate and pumpkin go great together! Add in 1/2 cup of either semi-sweet or bitter sweet chocolate chips to the batter. I wouldn't recommend adding the chocolate chips to the crumble.
Glaze – instead of dusting the top crumble with powdered sugar, a glaze or drizzle is a great option. Add 1-2 Tbsp of milk to 1 cup of powdered sugar. Start with the first tablespoon and stir. Add the second to achieve a moderately thick glaze-like consistency. Simply drizzle over the top of the crumble with a spoon.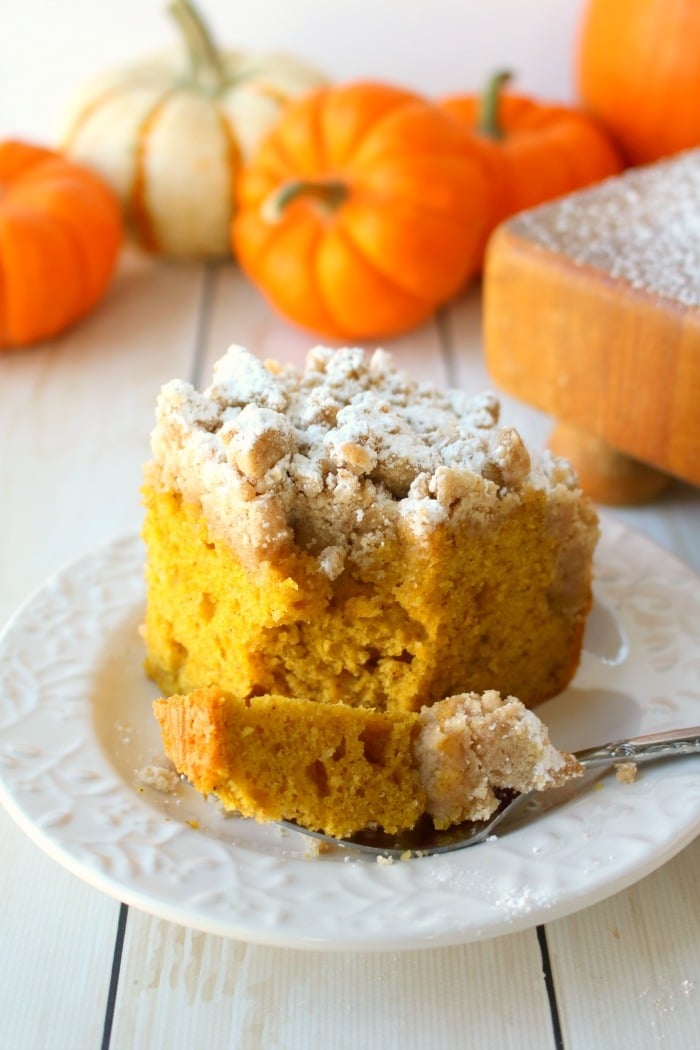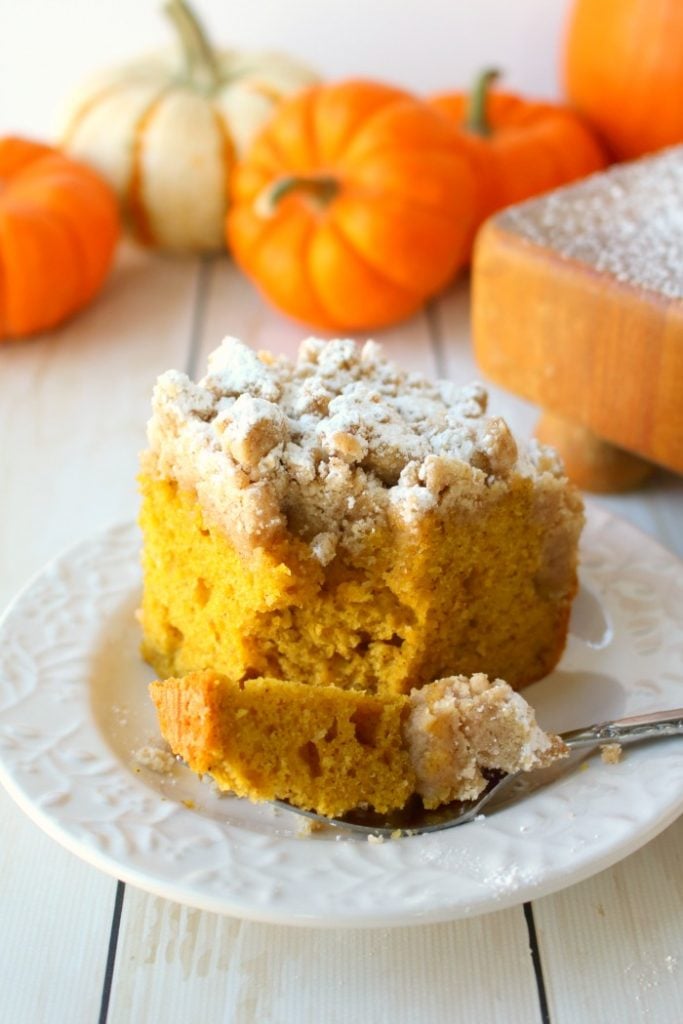 When do I serve pumpkin crumb cake?
This crumb cake is the perfect breakfast to serve anytime you're in the mood for a great coffee cake. It would also be fantastic served for breakfast on Thanksgiving morning, or a nice treat to bring in to your co-workers or the teachers lounge at your kids school.
Try this awesome crumb cake with my White Chocolate Pumpkin Spice Latte or my Cinnamon Dolce Latte Recipe.
Tips for Transporting this Pumpkin Coffee Cake for a Pot-Luck:
Keep the cake in the original pan that it bakes in. This way, the crumble will stay in place and will make for easy and uniform cutting.
If you know approximately how many guests there will be, slice it before hand. This makes things easy, especially if you are attending a pot luck where everyone will be serving themselves.
Bring a serving spatula. Again, especially if you are attending a pot-luck, this will make getting squares of cake out of the pan much easier than a random plastic fork.
Here's a quick-reference shopping list of the ingredients you'll need to make this fantastic pumpkin crumb cake:
Cake Flour
Granulated Sugar
Light Brown Sugar
Cinnamon
Salt
Butter
Pumpkin Pie Spice
Baking Soda
Baking Powder
Pumpkin Puree (canned)
Buttermilk
Vegetable Oil
Eggs
Vanilla
Powdered Sugar
(For recipe amounts and complete directions, please reference the recipe below.)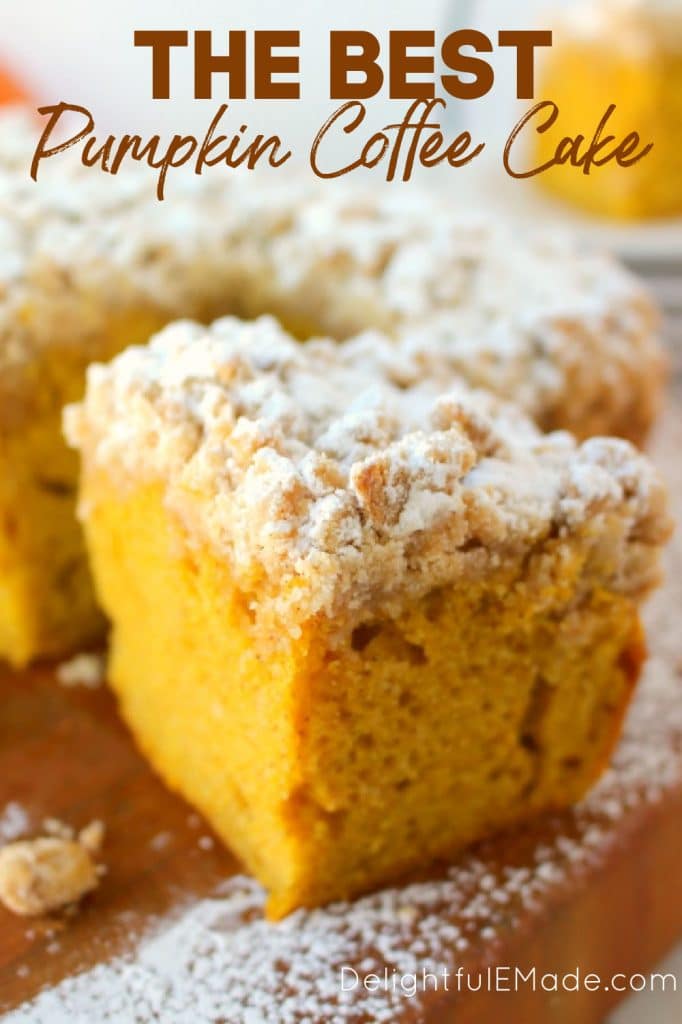 If you loved this delicious pumpkin coffee cake, check out some of my other fall breakfast treats:
If you loved this pumpkin crumb cake recipe, check out some of my decadent pumpkin desserts:
Here's the recipe for this Velvety Pumpkin Coffee Cake: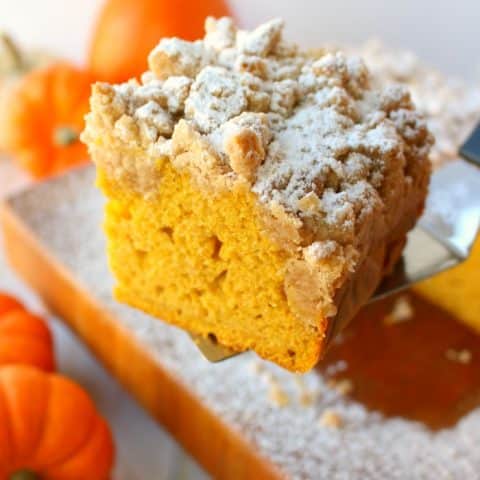 Pumpkin Velvet Crumb Cake
Meet your new favorite coffee cake! This incredibly moist, velvety pumpkin crumb cake has all your favorite fall flavors topped with an amazing cinnamon crumble. It's the breakfast treat to serve on Thanksgiving morning, or simply enjoy with your pumpkin spice latte!
Ingredients
Crumb Topping:
1 3/4 c. cake flour
1/2 c. granulated sugar
1/2 c. light brown sugar
1 tsp. cinnamon
1/4 tsp. salt
1/2 c. (1 stick) butter, melted
Cake:
2 c. cake flour
1/2 c. granulated sugar
1 1/2 tsp. pumpkin pie spice
1/2 tsp. baking soda
1/2 tsp. baking powder
1 c. pumpkin puree
1/2 c. buttermilk
1/4 c. vegetable oil
2 eggs + 1 yolk
1 tsp. vanilla extract
Powdered Sugar for dusting
Instructions
Preheat oven to 325 degrees. Prepare an 8 x 8 square pan, and line with parchment paper, leaving enough to fold the paper over the edges on each side. Set pan aside.
First prepare the crumb topping by stirring together the flour, sugars, baking soda and salt. Pour the melted butter over the mixture and mix thoroughly. Mixture will resemble pebbles. Set aside.
In a mixing bowl, combine the flour, sugar, pumpkin pie spice, baking soda, baking powder and salt. Using a hand or stand mixer, mix in the pumpkin, eggs, buttermilk, oil and vanilla. Stop to scrape down the sides of the bowl. Batter should be smooth.
Pour batter evenly into the prepared pan. Top the batter with the crumb mixture breaking apart any big chunks. Start at the edges and work toward the center.
Bake the cake at 325 for 40-45 minutes or until toothpick inserted comes out clean and crumb free. Remove from oven and let the cake cool for 30 minutes before removing from the pan. To remove the cake from the pan, gently pull up on the sides of the parchment paper and lift out of the pan. Dust with powdered sugar.
Notes
Using cake flour for this crumb cake is ideal. It will render a tender, velvety cake. All purpose flour will likely lead to a dry, less tender cake.
Recommended Products
As an Amazon Associate and member of other affiliate programs, I earn from qualifying purchases.
Nutrition Information:
Yield:

9
Serving Size:

1
Amount Per Serving:
Calories:

475
Total Fat:

8g
Saturated Fat:

1g
Trans Fat:

0g
Unsaturated Fat:

7g
Cholesterol:

62mg
Sodium:

210mg
Carbohydrates:

93g
Fiber:

2g
Sugar:

47g
Protein:

7g