Do you love a great coffee cake recipe? This Cranberry Coffee Cake will so become one of your favorites. Made with fresh cranberries, and almond filling for a fantastic almond flavor, this cranberry almond coffee cake is perfect for the holidays or any time you're looking for a sweet treat to go with your morning coffee!
This post may contain affiliate links. Delightful E Made is a participant in the Amazon Services LLC Associates Program, an affiliate advertising program designed to provide a means for us to earn fees by linking to Amazon.com and affiliated sites.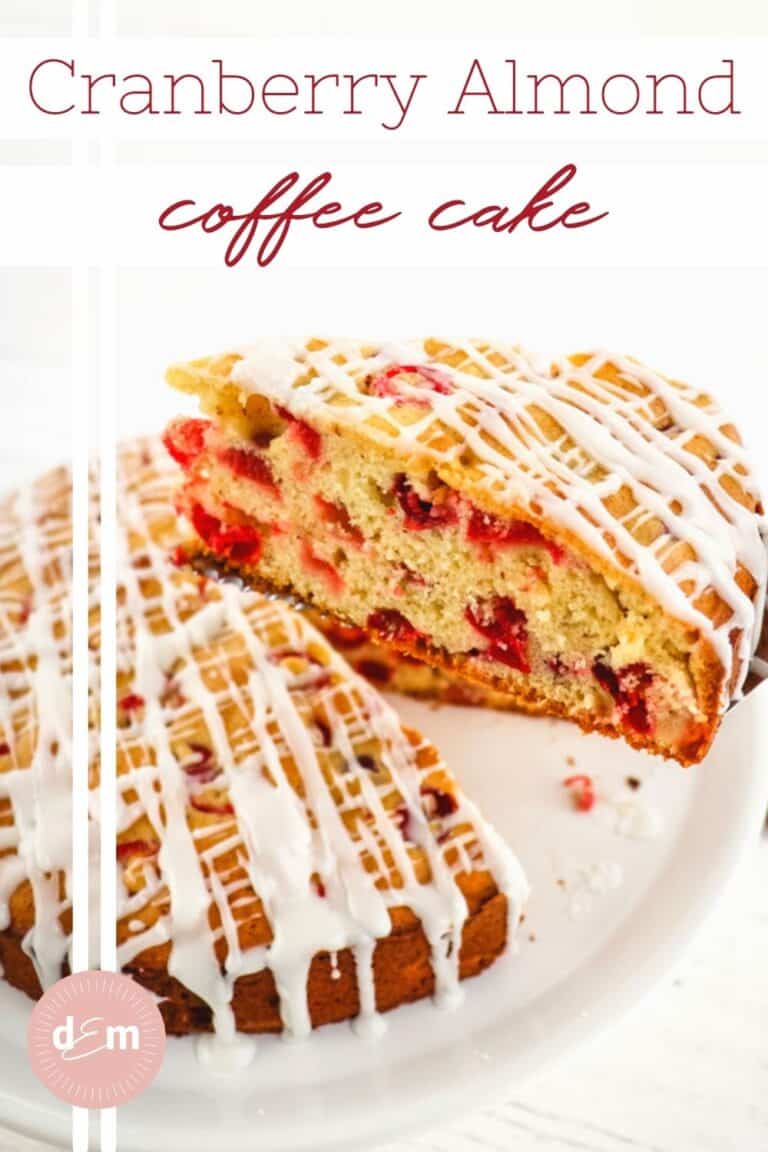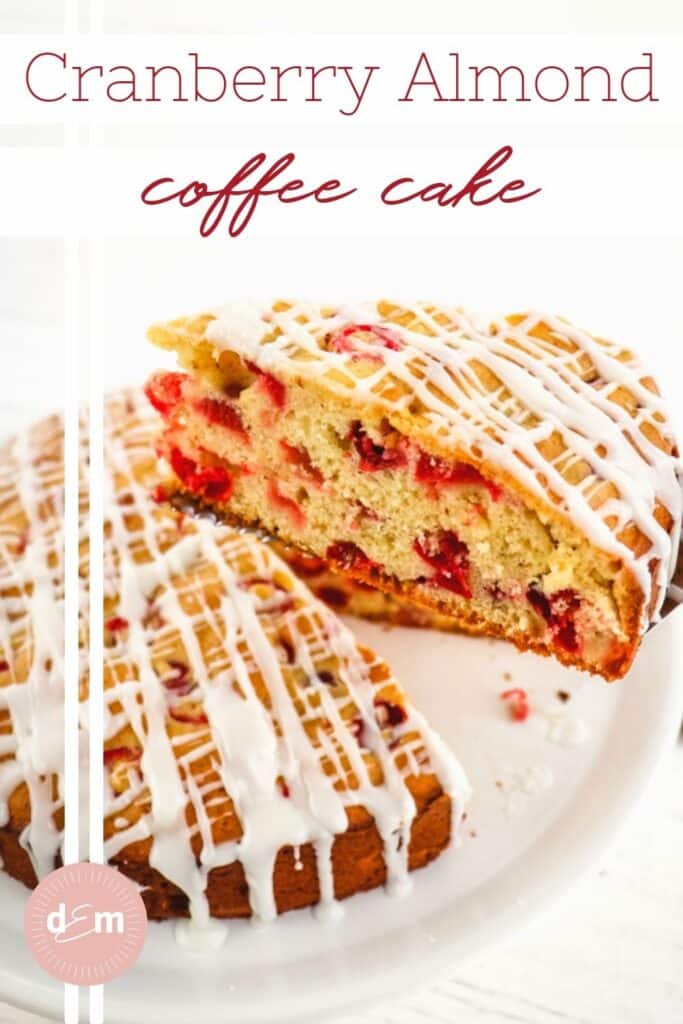 Are you expecting guests for the holidays? Having a fresh baked cranberry coffee cake is an amazing option for Thanksgiving or Christmas morning!
Not only does this cranberry almond coffee cake look amazing, it tastes even better! Made with fresh cranberries and mixed with an almond filling that adds amazing flavor and richness to the cake. It's amazing with a cup of coffee or tea.
In this post I'll show you the easy steps for how to make a coffee cake, give you step-by-step photos and answer some of the most common questions about making your own coffee cake.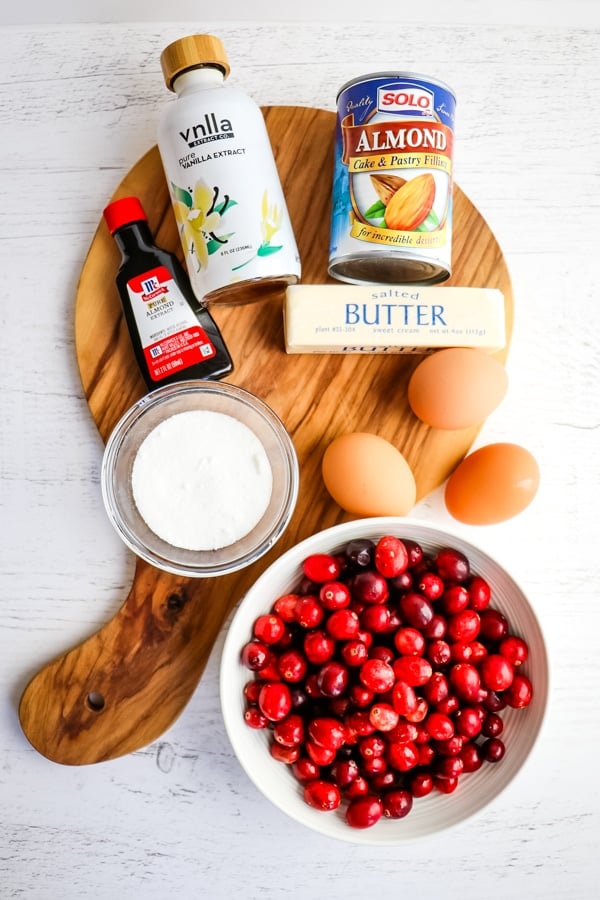 What do I need to make a cranberry coffee cake?
First, start with your wet ingredients:
Softened butter, not melted
Eggs
Sugar
Almond filling – you can find almond filling near in the baking aisle near the other pie fillings.
Vanilla Extract
Almond Extract
Then add your dry ingredients:
For exact ingredient amounts and full recipe instructions, scroll down to the recipe at the bottom of this post.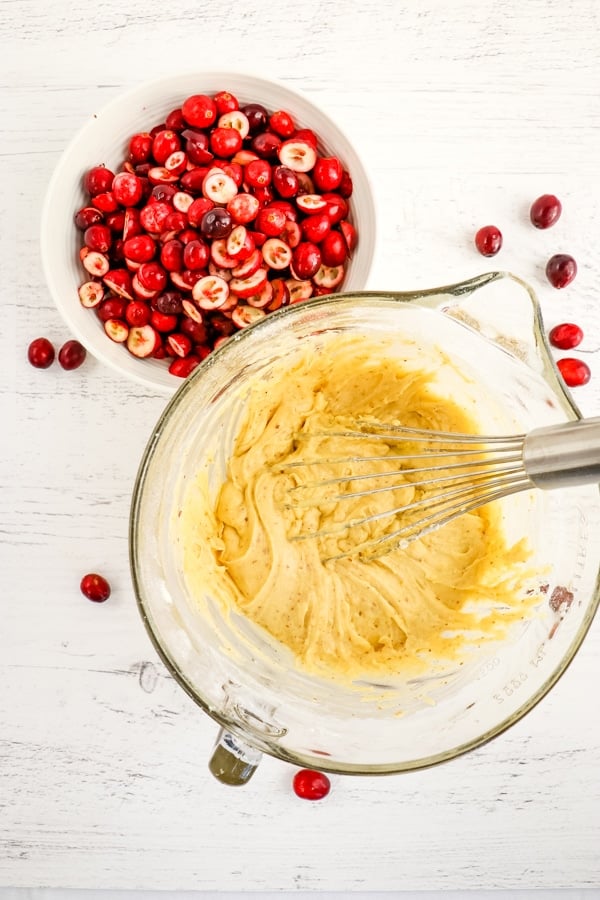 First, you'll begin by mixing together the wet ingredients into a smooth batter. I found that using a large whisk was the best tool for this job. You could also use a hand or stand mixer. Next, you'll gradually add the dry ingredient mixture to the batter. The batter will be rather thick, but smooth.
The last step to mixing the batter is folding in the halved cranberries. Using a rubber scraper is idea for this job. I would not recommend using a mixer for this step, as you don't want to mash or break the cranberries.
Other Mix-In's for this cranberry coffee cake:
Nuts – walnuts, pecans or sliced almonds would add a great crunch to this coffee cake.
Orange Zest – orange is wonderfully complimentary to cranberries. If you love orange and cranberries, check out my Healthy Cranberry Orange Muffins
Cream Cheese Frosting – instead of the almond flavored glaze, try my Cream Cheese Frosting recipe on this coffee cake!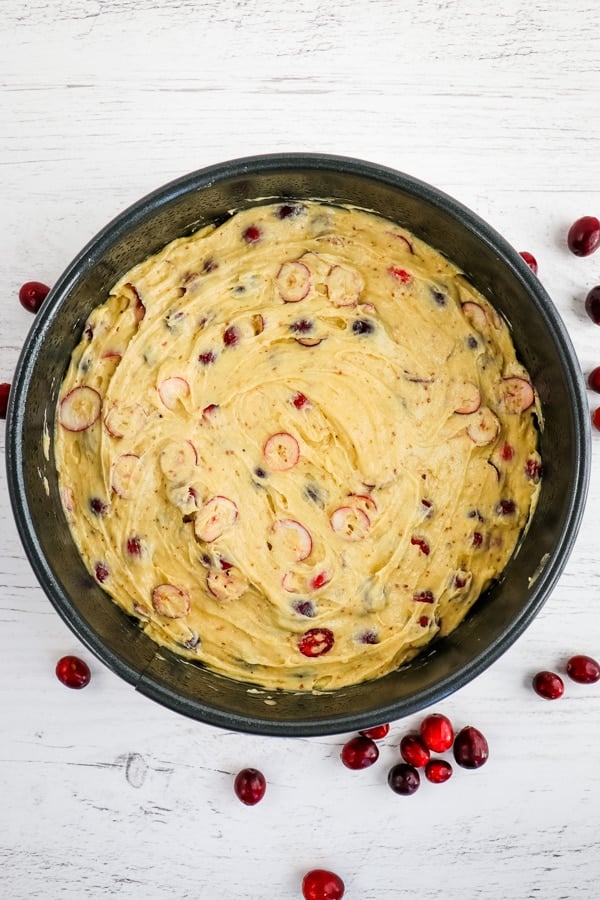 How to Bake a coffee cake
I found the ideal pan to bake this coffee cake is a round 9″ spring form pan. A spring form pan is a round pan with retractable side that can pull away from the pan bottom.
This type of pan is ideal, as it makes it easy to remove the coffee cake once it's done baking.
To prepare the pan, spray the bottom and sides with non-stick baking spray. Spread the prepared batter evenly into the bottom of the pan all the way to the edges.
Bake the cake at 350 degrees for approximately 37-40 minutes.
How do I know if my coffee cake is done baking?
The coffee cake will be golden brown on top and the batter will no longer be wet. You can test for doneness by inserting a toothpick into the center of the cake. If the toothpick comes out clean and crumb-free, the coffee cake is done baking.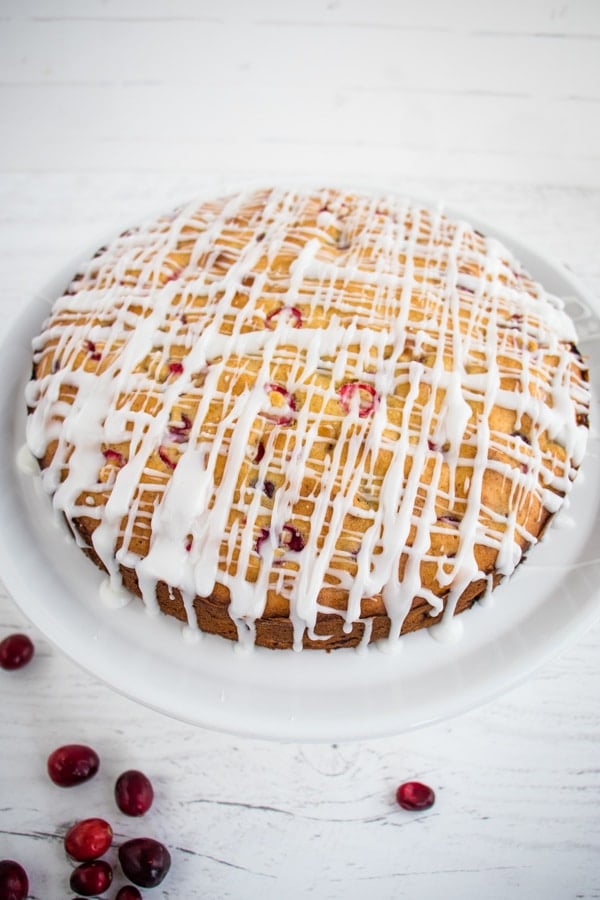 Does a coffee cake have frosting?
Frosting or icing is optional on a coffee cake. Many coffee cakes are topped with a streusel, like my Peach Crumb Coffee Cake and my Pumpkin Crumb Cake. A streusel is a mixture of butter, flour, sugar and often cinnamon, crumbled onto the top of the cake.
For this Cranberry Almond Coffee Cake, I went with a lighter almond glaze that is complimentary to the flavor of the can. It just requires powdered sugar, milk and almond extract, mixed together in a small bowl and easily drizzled on to the top of the cake.
Frequently asked questions about making Cranberry Coffee Cake:
Can you use dried cranberries for baking?
Yes! If fresh cranberries are unavailable or out of season, you can definitely use dried cranberries. To substitute you will only need 3/4 cup of dried to every 1 cup of fresh.
Should dried cranberries be soaked before baking?
While not absolutely necessary, I definitely recommend it! Dried cranberries can become tough and chewy during baking. Soaking dried cranberries before baking will help add moisture to the berry and plump them up! This will ensure they retain a softer texture during baking.
How do you soften cranberries for baking?
To soften dried cranberries, add to a bowl. Pour very hot water over the top, covering the cranberries completely. Let the berries soak for 20-30 minutes to soften. When ready to use the berries, drain off the water and the add plumped cranberries to your recipe.
Do you cook cranberries before baking?
No. When using fresh cranberries it is not necessary to cook them before baking. They will adequately cook during the baking process.
Can I use frozen cranberries instead of fresh?
Yes! Frozen cranberries are a great option to fresh cranberries, especially when they are unavailable or out of season. Frozen cranberries do not need to be thawed. They can be added directly to your recipe while still frozen.
Do you love dried cranberries, but not all the refined sugar that store-bought ones contain?
This simple post on How to Make Dried Cranberries is a great way to enjoy dried cranberries WITHOUT all the refined sugar.
You need just three ingredients and NO dehydrator is needed – you can use your oven!
If you love using cranberries, check out some of my other cranberry recipes:
If you loved this coffee cake recipe, you'll enjoy these other breakfast treats: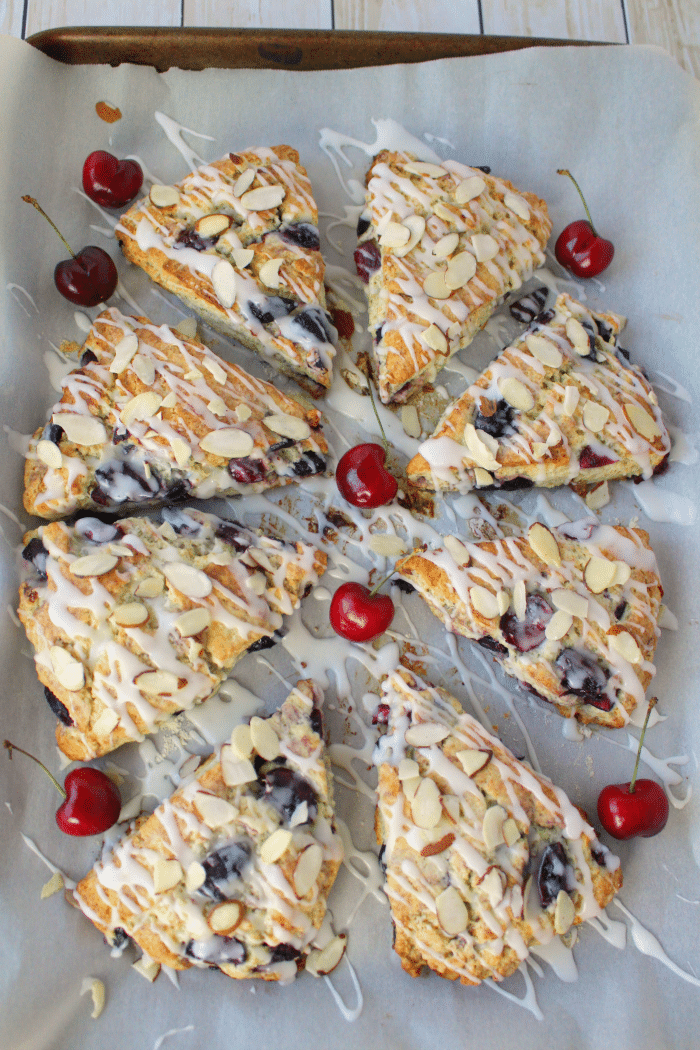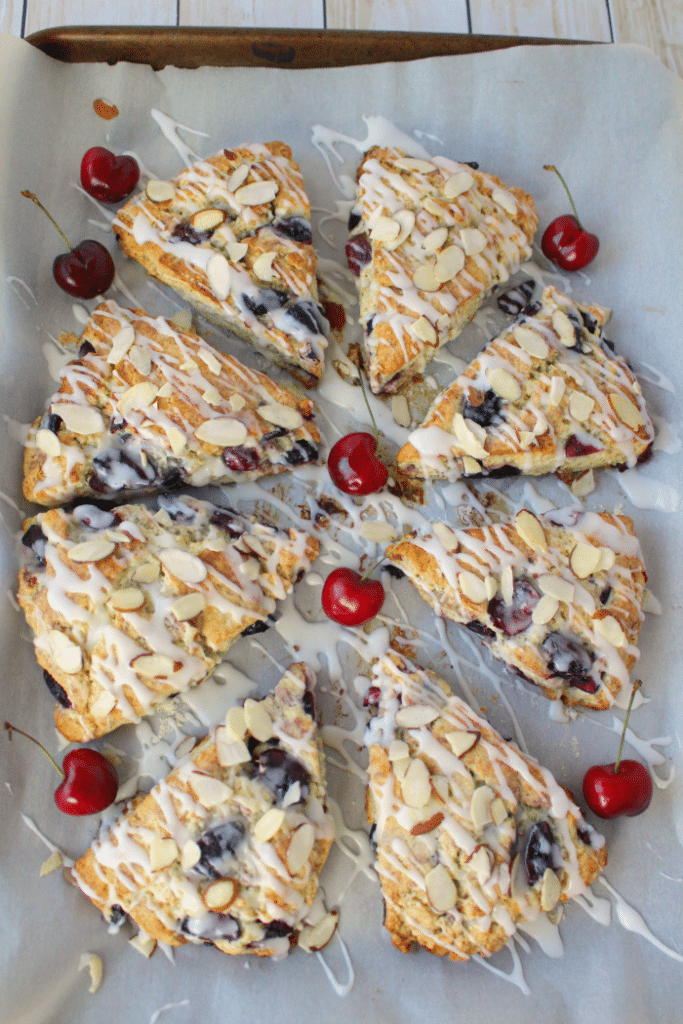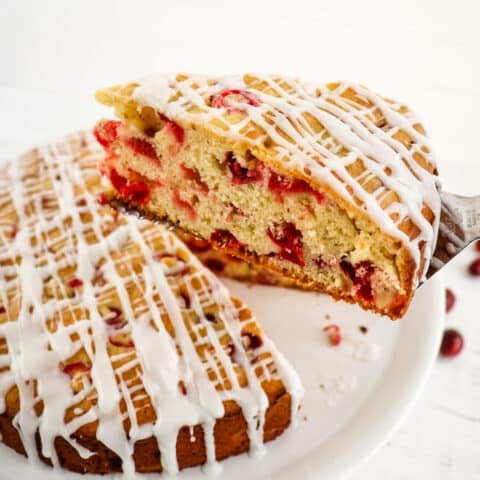 Cranberry Coffee Cake
Made with fresh cranberries, this Cranberry Coffee Cake is fantastic for the holidays! Serve on Thanksgiving or Christmas morning with coffee or tea.
Ingredients
Wet Ingredients:
6 Tbsp. butter, softened (NOT melted)
1/2 c. Almond filling
1/3 c. sugar
3 eggs
1 tsp. vanilla extract
1/2 tsp. almond extract
Dry Ingredients:
1 1/3 c. flour
1 tsp. baking powder
1/2 tsp. salt
Fold In:
2 c. fresh cranberries, rinsed and halved
Almond Glaze:
1 c. powdered sugar
1 Tbsp. + 1 tsp. milk
1/4 tsp. almond extract
Instructions
Preheat oven to 350 degrees. Spray a 9" spring form pan with non-stick baking spray. Set prepared pan aside.
In a mixing bowl, cream together the wet ingredients. Start with the softened butter and sugar, and add in the almond filling. Using a large whisk, hand or stand mixer, beat together until smooth. Add in the eggs, vanilla and almond extracts. Continue to beat together until mixture is smooth.
In a separate bowl, stir together the flour, baking powder and salt.
Gradually add in the dry ingredients (flour mixture) to the wet ingredients. Batter will be thick, but smooth. Lastly, fold in the halved cranberries with a rubber scraper or wooden spoon.
Pour the batter into the prepared pan, and spread evenly to the sides of the pan.
Bake a 350 degrees for 37-40 minute. Top of cake will be golden brown. To test for doneness, insert a toothpick into the center of the cake. If the toothpick comes out clean and crumb-free, the coffee cake is done.
Remove cake from oven and let cool for 5-10 minutes before glazing.
For glaze: in a small bowl, mix together the powdered sugar, milk and almond extract. Mixture will be slighly thick, yet can be drizzled with spoon. Drizzle the glaze over the cooled cake. Enjoy!
Notes
Ingredients:
Almond filling can be found in the baking aisle of the grocery store, near the other pie fillings.
If you cannot find fresh cranberries, you can substitute frozen or dried cranberries. If using dried, you'll only need 1 1/2 cups. Plump up the cranberries by soaking in hot water for 20-30 minutes before adding to cake batter.

Pans:
A 9" round spring form pan works best for this cake. However, you can also use a 9" square pan, or a bundt pan.
If using a bundt pan, butter and flour the sides of the pan before adding the batter. Non-stick spray will not work. Butter and flour is the best way to get the cake to release from the sides of the pan without sticking.
Nutrition Information:
Yield:

8 servings
Serving Size:

1/8 slice of cake
Amount Per Serving:
Calories:

342
Total Fat:

12 gramsg
Carbohydrates:

54 gramsg
Protein:

5 gramsg
This recipe was adapted and revised from the cookbook Taste of Home Bakeshop Favorites. You can purchase this cookbook at Barnes and Noble.