Have you ever tried baking donuts? If not, now is the time to start. These Strawberry Coffee Cake Donuts are loaded with fresh, chopped strawberries, topped with coffee cake streusel and drizzled with glaze. Strawberry donuts have never been more pretty or tasty as these!
This post may contain affiliate links. Delightful E Made is a participant in the Amazon Services LLC Associates Program, an affiliate advertising program designed to provide a means for us to earn fees by linking to Amazon.com and affiliated sites.
The BEST Baked Strawberry Donuts recipe!
Did you know you can transform a simple cake mix into baked donuts? This simple, delicious recipe for Strawberry Coffee Cake Donuts is proof! Made with a basic strawberry cake mix, along with fresh strawberries and a few other ingredients you likely already have in your pantry and fridge, these strawberry donuts will be a new breakfast favorite!
Here's how these simple, delicious Strawberry Cake Donuts come together: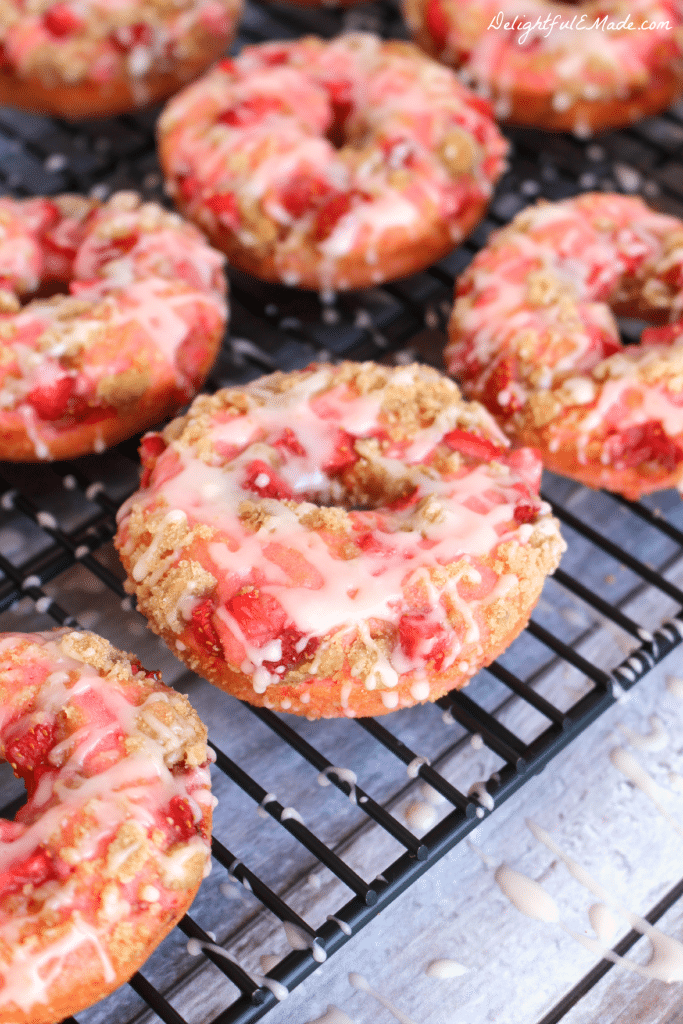 How do I make batter for cake donuts?
Baking a batch of these donuts are pretty simple. The batter starts with a simple cake mix and adding a few additional goodies. You'll also need donut pans, as these are pretty essential in the donut baking process.
I use and love these Wilton 6-cavity Non-Stick Donut Pans. I definitely recommend getting two pans as it's convenient to have an extra pan to rotate out when the other batch is baking.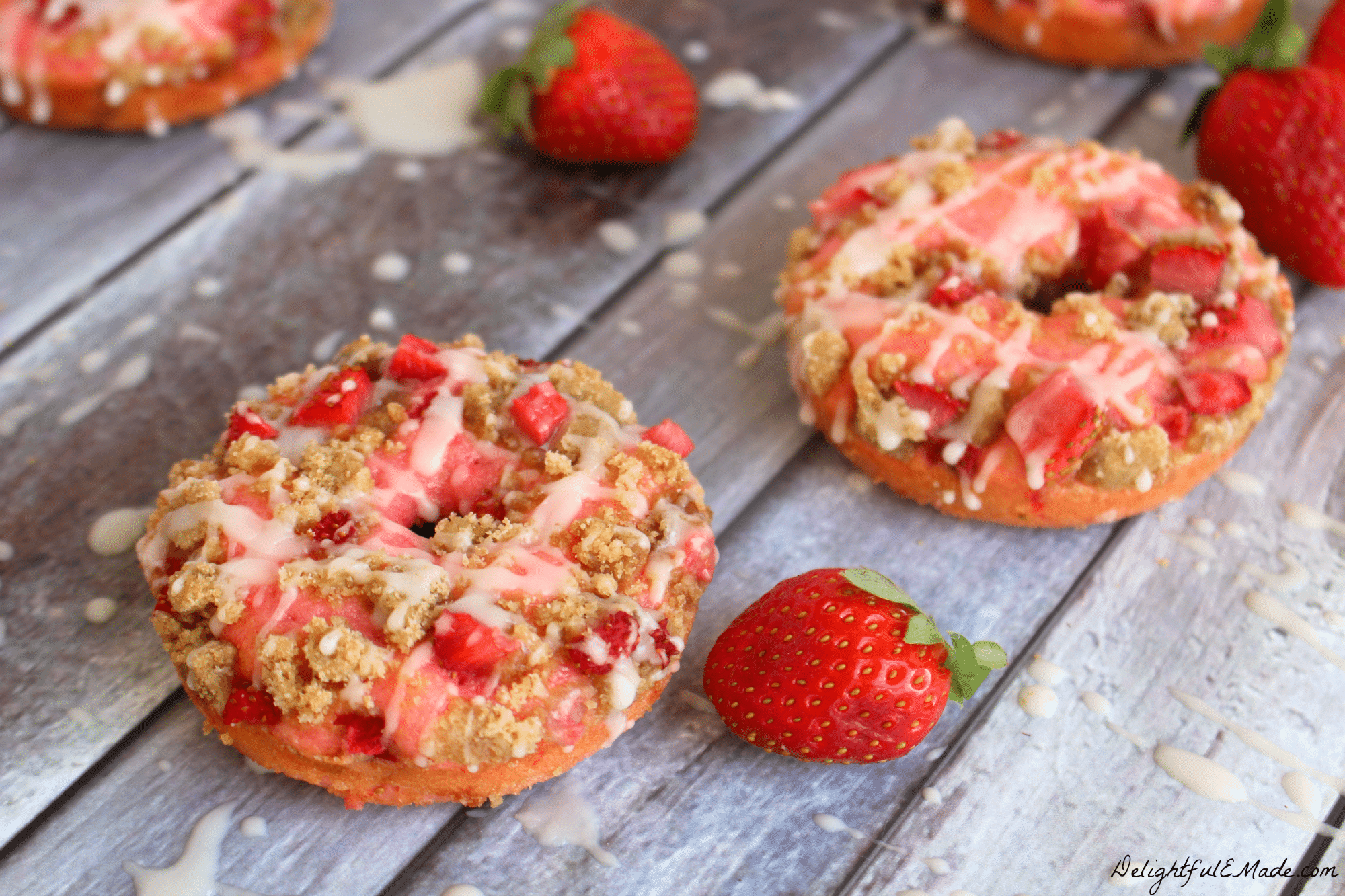 What's the best way to add donut batter to a pan?
Once you have your batter prepared, spray the pan with non-stick baking spray and fill the donut cups (about 2/3 full). I recommend adding the batter to a resealable plastic bag (a gallon-sized Zip-loc bag works well) and then cut off the corner (about 1/2″ in.) with scissors. This will create a piping bag that will help fill the donut pan evenly without a big mess.
Top with some of the delicious streusel topping, and some additional chopped strawberries and get them baking. These donuts bake up beautifully, and will smell completely amazing as they come out of the oven!
How should I transfer the baked strawberry donuts?
Let them sit for a few minutes in the pan, and then gently remove from the donut pan with a butter knife or small rubber scraper.
Transfer to a cooling rack. Once cool, these babies are ready for glaze!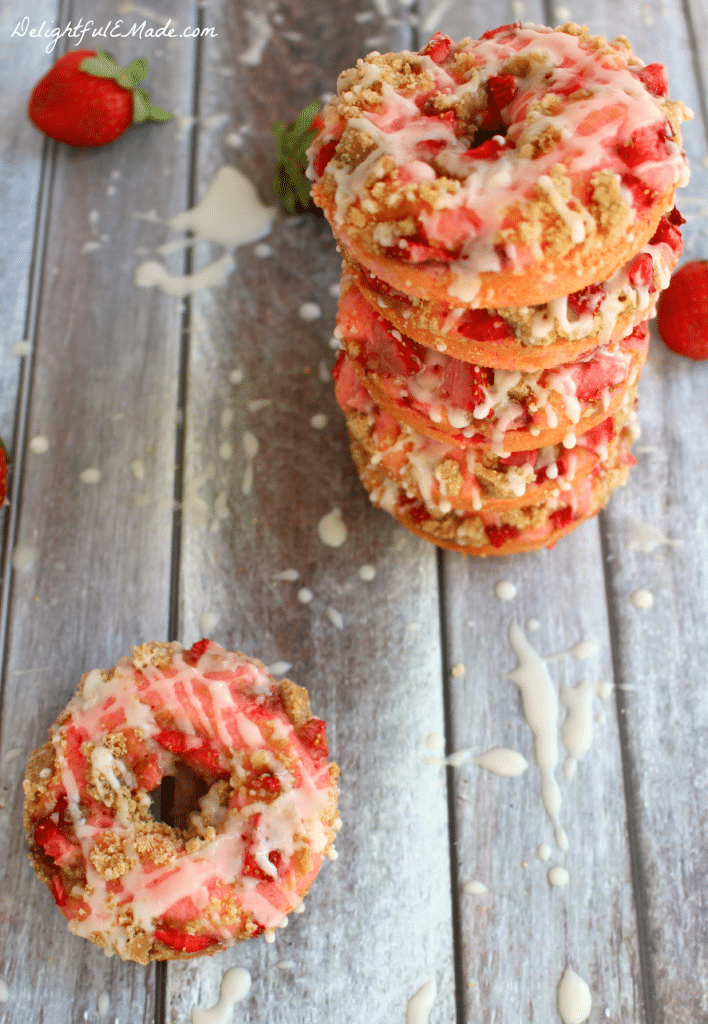 What ingredients do I need for donut glaze?
A simple donut glaze requires just three ingredients; powdered sugar, milk and vanilla. When mixing the glaze, add the milk gradually and sparingly to achieve your desired thickness.
Use a spoon to drizzle the baked strawberry donuts with the glaze. Give 'em as much or as little as you prefer.
If you loved these delicious strawberry coffee cake donuts, check out some of my other similar recipes:
Red Velvet Donuts with Cream Cheese Frosting
Coconut Glazed Chocolate Donuts
Love Strawberries for breakfast? Here are a few recipes that you'll be sure to love!
Strawberry Danish Breakfast Braid
Here's the easy recipe for these Strawberry Donuts: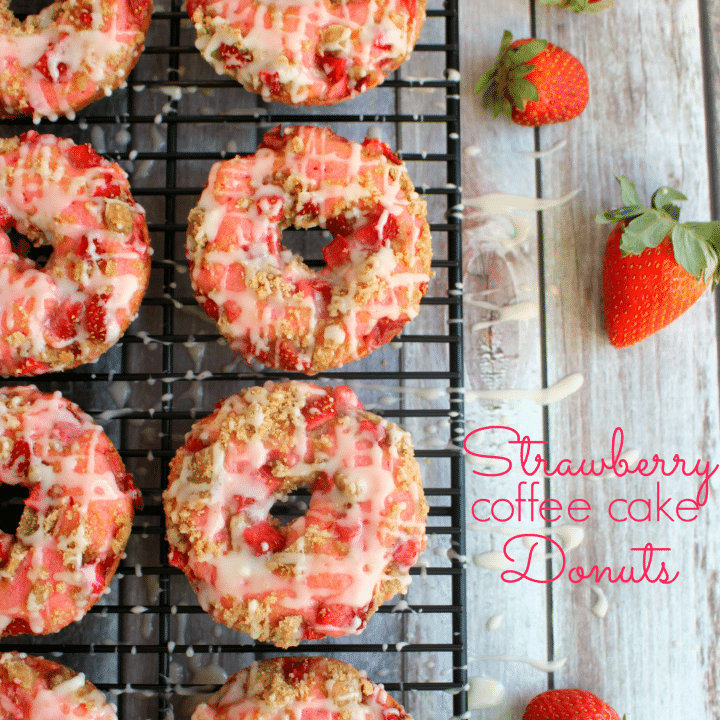 Strawberry Coffee Cake Donuts
These Strawberry Coffee Cake Donuts are loaded with fresh, chopped strawberries, topped with coffee cake streusel and drizzled with glaze. Breakfast treats have never been more pretty or tasty as these!
Ingredients
1 box strawberry flavored cake mix
2 c. chopped fresh strawberries, divided
1 c. water
2 eggs
3 Tbsp. butter, melted
Streusel Topping:
3/4 c. brown sugar
3/4 c. flour
3 Tbsp. butter, melted
Glaze:
1 c. powdered sugar
2 Tbsp. milk
1/2 tsp. vanilla
Instructions
Preheat oven to 350 degrees. Spray donut pans with non-stick baking spray. Set aside.
With a hand or stand mixer, combine the cake mix, water, eggs and 3 Tbsp. melted butter. Mix until smooth. Fold in 1 c. chopped strawberries to the batter.
Prepare Streusel topping: mix flower and brown sugar. Slowly add the 3 Tbsp. melted butter, and stir to combine. Mixture will be crumbly.
Assemble the donuts by filling the donut pans 2/3 full of batter, sprinkle on about 1/2 Tbsp. of steusel, and sprinkle with the additional chopped strawberries. Bake at 350 for 13-15 minutes. When done baking, let set in the pan for about 5 minutes to cool. Gently remove from the pan with a butter knife, and transfer to a cooling rack to cool completely. Mix the glaze by combining the powdered sugar, milk and vanilla. Stir until smooth and drizzle over the cooled donuts. Enjoy!
These donuts are wonderful for a Valentine's day breakfast, a classroom treat or even a bake sale! Treat everyone you know with these easy, pretty and delicious donuts. You'll definitely brighten someone's day in the process. Enjoy! ~Erin