Amaretto Hot Chocolate
The cold, blustery days of winter call for a great spiked hot chocolate recipe. Flavored with Amaretto Liquor for a subtle almond flavor and rich chocolate, this Amaretto Hot Chocolate is the most decadently delicious drink perfect on a cold night!
This post may contain affiliate links. Delightful E Made is a participant in the Amazon Services LLC Associates Program, an affiliate advertising program designed to provide a means for us to earn fees by linking to Amazon.com and affiliated sites.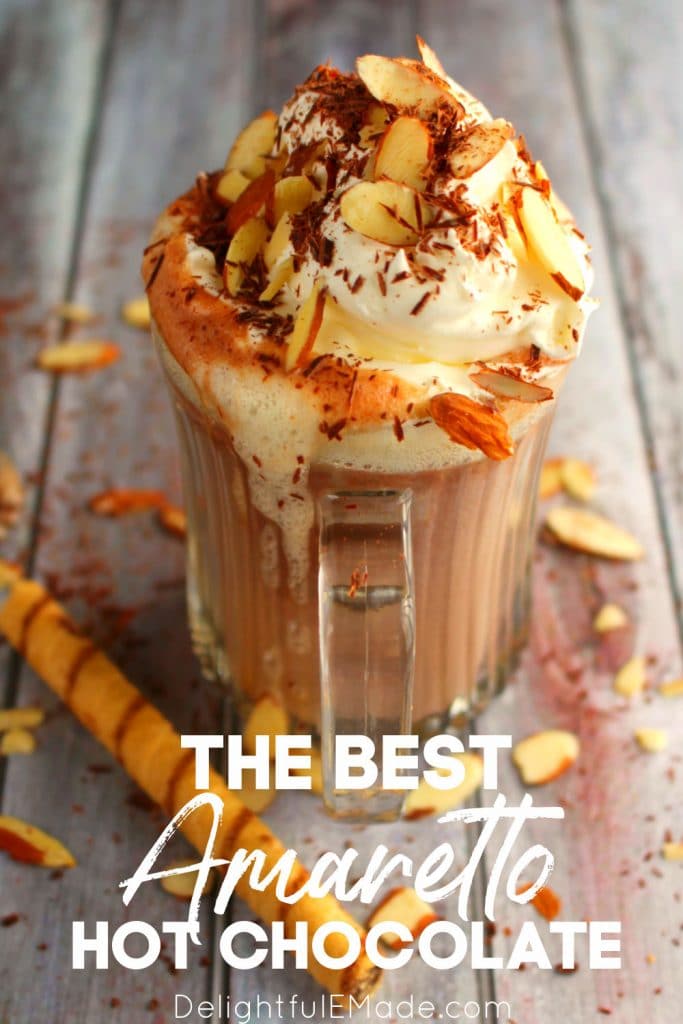 Now that its January, and the dead of winter has finally setting in, I always crave a delicious hot cup of cocoa, especially in the evening. This Amaretto Hot Chocolate is my new favorite way to indulge in a decadent, delicious hot beverage!
Like this recipe? Be sure to pin it to your Drinks board!
Follow DelightfulEMade on Pinterest!
Here's everything you need to know about making this delicious spiked hot chocolate recipe!
What do I need to make spiked hot chocolate?
To make spiked hot chocolate from scratch you'll need just a few ingredients; whole milk, semi-sweet chocolate, sugar, a pinch of salt, vanilla, and Amaretto liqueur, as well as your choice of toppings. I went with whipped cream, chocolate shavings and almonds, which compliment the amaretto (almond) liqueur perfectly!
The recipe for this hot cocoa is very simple, and WAY better than any store-bought, powdered mix. It's made with whole milk, along with semi-sweet chocolate making a very rich, creamy texture. You can also use a lower fat milk, however, I've discovered that whole milk is the best option if you want a creamier cup of cocoa. Additionally, you can also use dark chocolate or milk chocolate chips, if you prefer the flavor to those instead of the semi-sweet.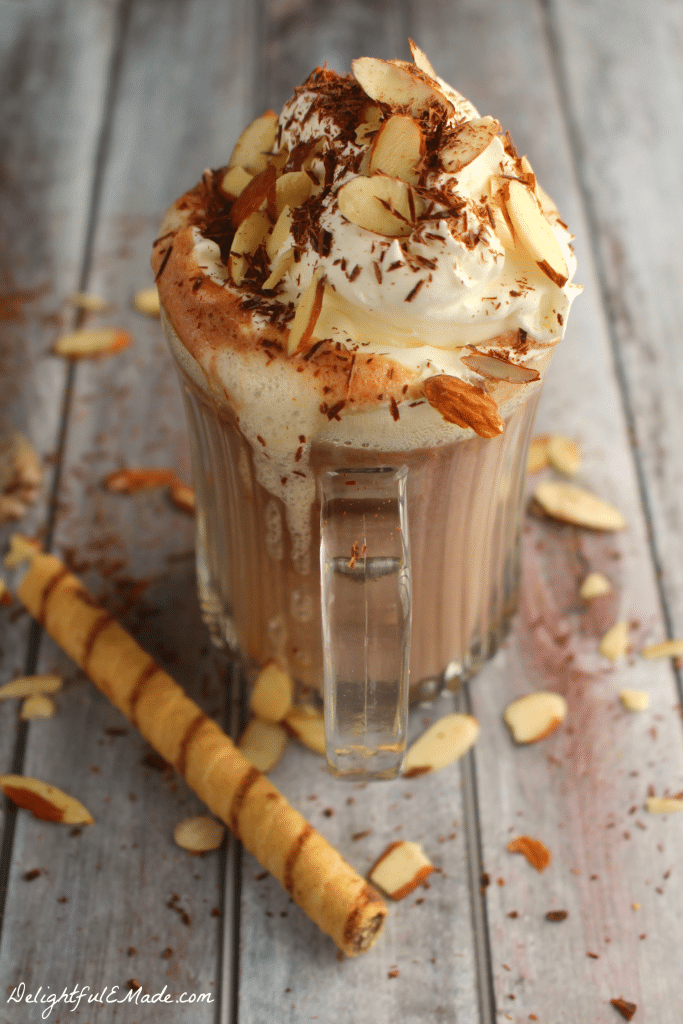 What should I spike my hot chocolate with?
This recipe uses Amaretto for the liqueur, however, there are many other options to making spiked hot chocolate recipe. Some other options are Bailey's Irish Cream, Kahlua, Rum Chata or Spiced Rum. Peppermint Schnapps is also a great option if you're looking to do a minty hot chocolate.
Do you enjoy adding a shot of liquor into your hot chocolate. I recently tried Amaretto, and had to ask myself, "Why have I not done this sooner?!" I absolutely love the combination of chocolate and almonds, and this hot chocolate recipe is no exception.
The Amaretto liquor provides a wonderfully, sweet complimentary flavor to the chocolate, and when topped with whipped cream and slivered almonds, you'll think you've died and gone to hot cocoa heaven! 😉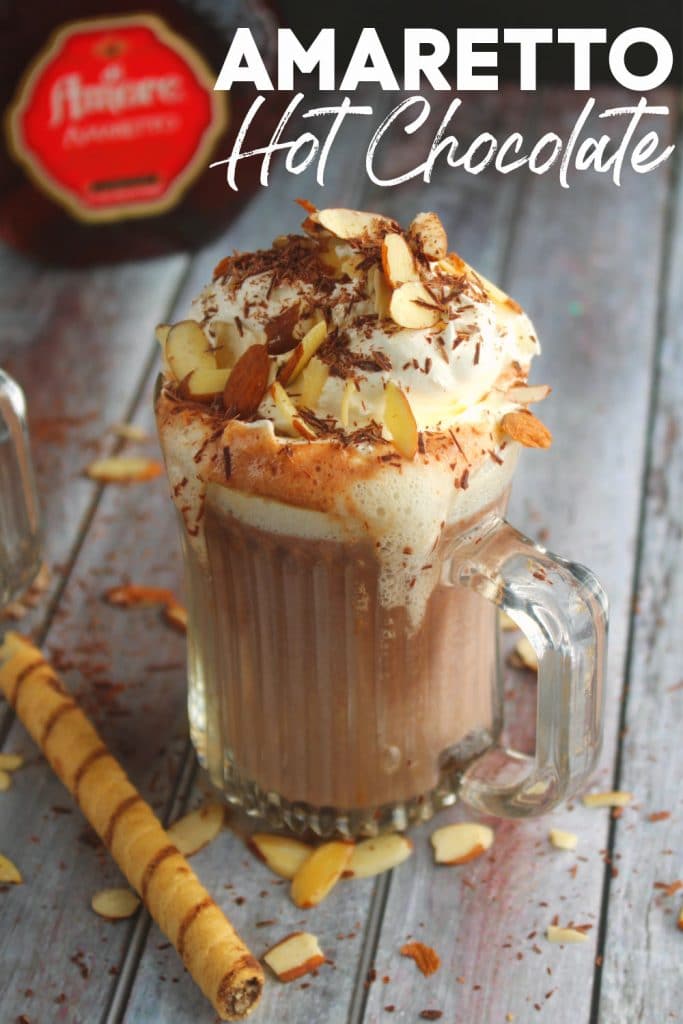 If you love this Amaretto Hot Chocolate, the check out some of my other similar cocktails and drinks:
Spiked Peppermint Hot Chocolate at Real Housemoms
I've topped my hot chocolate with whipped cream, slivered almonds (wonderful!!!), and some chocolate shavings. However, if you're more of a marshmallow person, add those on top instead of the whipped cream. They'll be just as fantastic!
Here's the easy, delicious recipe for Amaretto Hot Chocolate:

Amaretto Hot Chocolate
Flavored with Amaretto Liquor for a subtle almond flavor and rich chocolate, this Amaretto Hot Chocolate is the most decadently delicious drink perfect for a cold night!
Ingredients
3 c. whole milk
2/3 c. semi-sweet chocolate chips
1/4 c. sugar
pinch/grind of salt
1/2 tsp. vanilla
3 oz. Amaretto Liquor (1 oz. per glass)
Toppings:
Whipped Cream/Whipped Topping
Slivered Almonds
Chocolate Shavings
Instructions
In a medium sauce pan, add the milk, chocolate chips, sugar and salt. Heat on medium low heat, whisking often. Continue to whisk until the chocolate melts completely and the mixture comes to a low simmer. (Do NOT let boil, as it will burn to the bottom of the pan.) Once liquid comes to a low simmer, promptly remove from heat. Add the vanilla and stir to combine.
Ladle the hot chocolate into 3 mugs, and add 1 oz. Amaretto liquor to each glass. Stir to combine. Top with your favorite toppings. Enjoy!
Nutrition Information:
Serving Size:

1
Amount Per Serving:
Calories:

1376
Total Fat:

58g
Saturated Fat:

35g
Cholesterol:

90mg
Sodium:

380mg
Carbohydrates:

203g
Sugar:

187g
Protein:

29g
This hot chocolate is wonderful after a long day, or after coming in from the cold. Enjoy with your favorite biscotti, or cookies.
Stay warm, everyone! Cheers! ~Erin