Love the flavors of cranberries and citrus? These Healthy Cranberry Orange Muffins are for you! Made with fresh, quality ingredients and no refined sugar, these healthy cranberry muffins are the perfect breakfast option or snack to power your day!
This post may contain affiliate links. Delightful E Made is a participant in the Amazon Services LLC Associates Program, an affiliate advertising program designed to provide a means for us to earn fees by linking to Amazon.com and affiliated sites.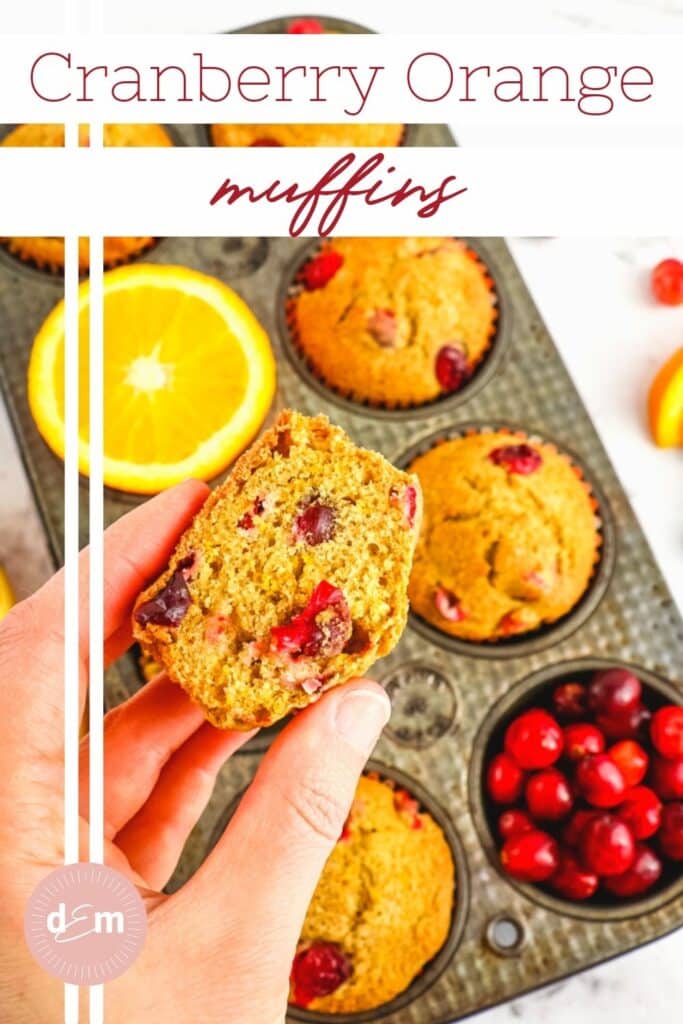 Light, fluffy and flavorful, these healthy cranberry orange muffins are great during the holidays or any time you're looking for a lighter muffin recipe.
Made with whole wheat flour, almond milk, fresh cranberries and oranges, this healthy muffin recipe also has no refined sugar, making it a great healthy breakfast option!
In this post I'll show you how to make these cranberry orange muffins as well as what you need and answer all your most frequently asked questions.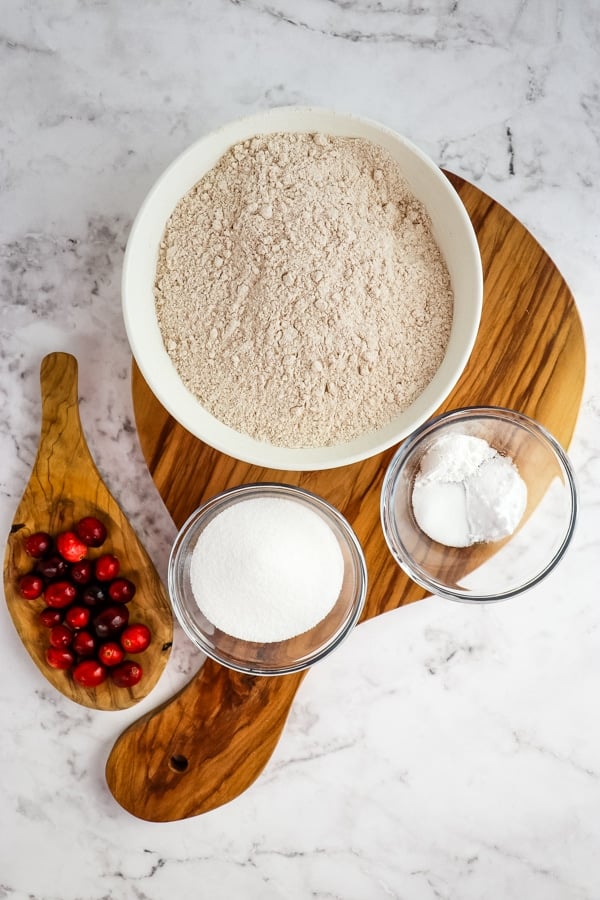 Dry Ingredients Needed:
Wet Ingredients Needed:
Unsweetened Almond Milk (the less ingredients listed on the product label, the better!)
One Orange – you'll need the juice and zest
Unflavored Coconut Oil – I like Carrington Farms Unflavored Coconut Oil, which is great for baking!
Egg
Vanilla Extract
Fresh Cranberries – halved
For exact ingredient amounts and full recipe instructions, be sure to reference the recipe card at the bottom of this post. Thank you!
The muffin batter comes together quickly and easily. You'll start by combining the dry ingredients and then, adding the wet ingredients. Lastly, fold in the halved cranberries and orange zest.
Optional Ingredient: Fold in a 1/2 cup of chopped pecans. This will add a nice crunch to muffins. It brings a nice texture to the muffins, along with the pop of the cranberries.
Love recipes using fresh cranberries? Check out some of my other recipes using fresh cranberries:
Once the batter is stirred together with all the ingredients, line a muffin/cupcake pan with paper liners or silicone baking cups. Using a ladle or medium ice cream scoop, add the batter to each cup, filling to nearly full. Top each muffin with a few extra sliced cranberries and a sprinkle of the granular monk fruit sweetener.
The cranberry orange muffins will bake to a beautiful golden brown color. To test for doneness, insert a toothpick into the center of a muffin – if the toothpick comes out clean and crumb-free they are done baking.
Love a great muffin recipe? Check out some of my other healthier muffin ideas:
Frequently Asked Questions about making Cranberry Orange Muffins:
How many calories are in a homemade cranberry muffin?
When using the ingredients listed in this recipe, each muffin is 148 calories. It has 7 grams of fat, 24 grams of carbs and 3 grams of protein.
Can I substitute dried cranberries for fresh in muffins?
Yes! There is a 1/4 cup difference when substituting dried for fresh. For example 1 cup of fresh cranberries will equate to 3/4 cup when making the dried substitution.
Should dried cranberries be soaked before baking?
It's not critical to soak dried cranberries, but it's highly recommended. Soaking cranberries before baking will add moisture to the berries and plump them up. Sometimes dried fruit hardens and becomes chewy after baking.
To soak cranberries, add to a bowl and top with hot water. Let soak 20-30 minutes, then drain off water before adding the berries to your recipe.
How good are dried cranberries for you?
Store bought dried cranberries are typically loaded with sugar, and therefore not very healthy. On average, store-bought dried cranberries contain about 26 g of sugar per 1/4 cup serving. If you enjoy dried cranberries as a snack or in muffins, breads, oatmeal or yogurt, I recommend making and drying your own.
Love dried cranberries but not all the refined sugar that store-bought dried cranberries contain?
Making your own dried cranberries is quite easy. No dehydrator necessary – you can easily use your oven. You need just three ingredients – fresh cranberries, powdered sugar substitute, like Swerve, and avocado oil.
Check out my post for the easy steps and recipe for how to make dried cranberries!
If you loved this healthy cranberry orange muffin recipe, check these out: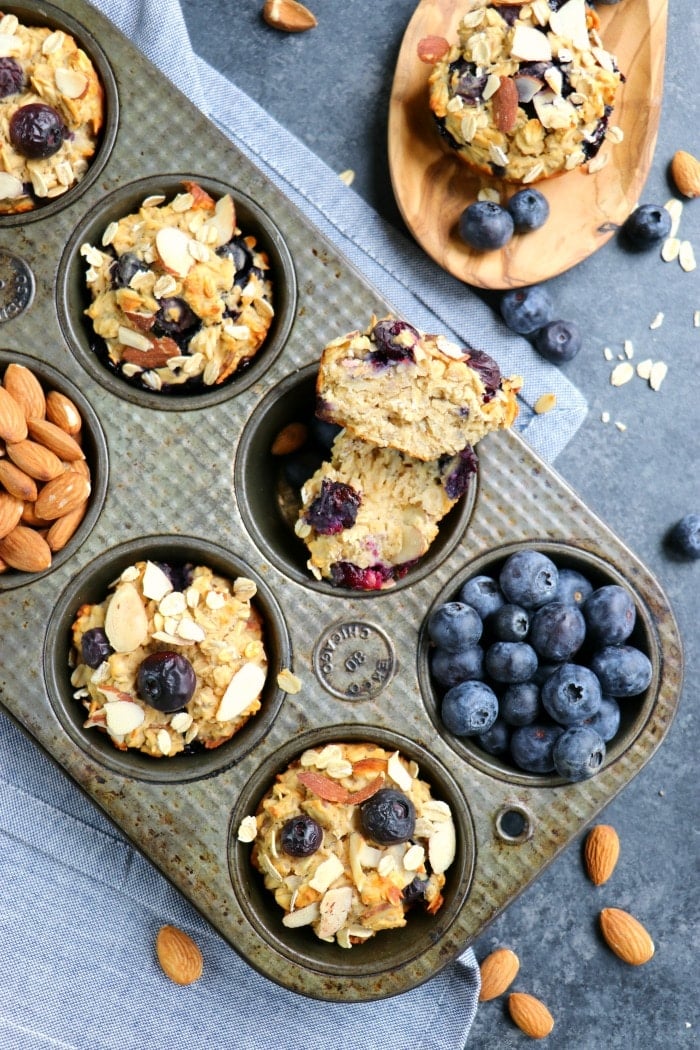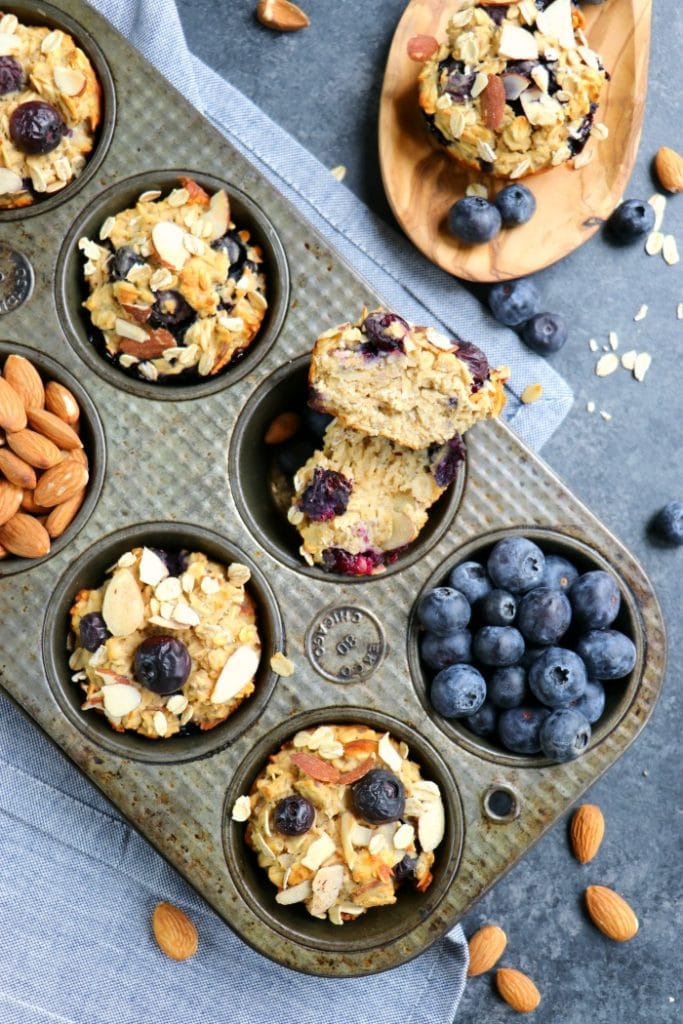 Healthy Cranberry Orange Muffins
Love a great cranberry orange muffin recipe? This healthy cranberry muffins recipe has wholesome ingredients and contains no refined sugar!
Ingredients
Dry Ingredients:
2 c. whole wheat flour
1/2 c. granular monk fruit sweetener, like Lakanto
1 tsp. baking powder
1 tsp. baking soda
1/2 tsp. salt
Wet Ingredients:
1 c. unsweetened almond milk
1/3 c. unflavored coconut oil
1/3 c. fresh squeezed orange juice (juice of 1 medium orange)
1 egg
2 Tbsp. orange zest (zest of 1 medium orange)
1 tsp. vanilla extract
1 c. fresh cranberries, rinsed and halved
Instructions
Preheat oven to 400 degrees. Line a muffin tin/cupcake pan with paper liners or silicone baking cups. Set prepared pan aside.
To a mixing bowl, measure out the dry ingredients and whisk together to combine. Add in the wet ingredients: almond milk, orange juice, oil, egg and vanilla. Whisk together until batter becomes smooth and well combined.
Fold in the haved cranberries and orange zest.
Using a ladle, ice cream scoop or spoon, fill each cup in the prepared muffin tin nearly full with batter. You'll have enough batter to make 12 full muffins.
Bake at 400 degrees for 18-20 minutes or until golden brown. Test for doneness by inserting a toothpick into the center of a muffin. If toothpick comes out clean and crumb-free, the muffins are done.
Cool 10-15 minutes before serving.
Notes
Store any leftovers in an airtight container in the refrigerator. They will keep for up to 5 days refrigerated.
Freezing: either wrap individually in plastic wrap or store in an air-tight container in your freezer. Muffins will keep for up to 3 months frozen. To defrost, let come to room temperature overnight, or defrost in the microwave on 50% power using 30 second increments.
Recommended Products
As an Amazon Associate and member of other affiliate programs, I earn from qualifying purchases.
Nutrition Information:
Yield:

12
Serving Size:

1 muffin
Amount Per Serving:
Calories:

143
Total Fat:

7g
Saturated Fat:

5g
Trans Fat:

0g
Unsaturated Fat:

1g
Cholesterol:

16mg
Sodium:

249mg
Carbohydrates:

18g
Fiber:

3g
Sugar:

2g
Protein:

3g