Loaded with delicious peppers, onion, beans and ground beef, this chili recipe is amazing!  A fantastic dinner idea for any night of the week!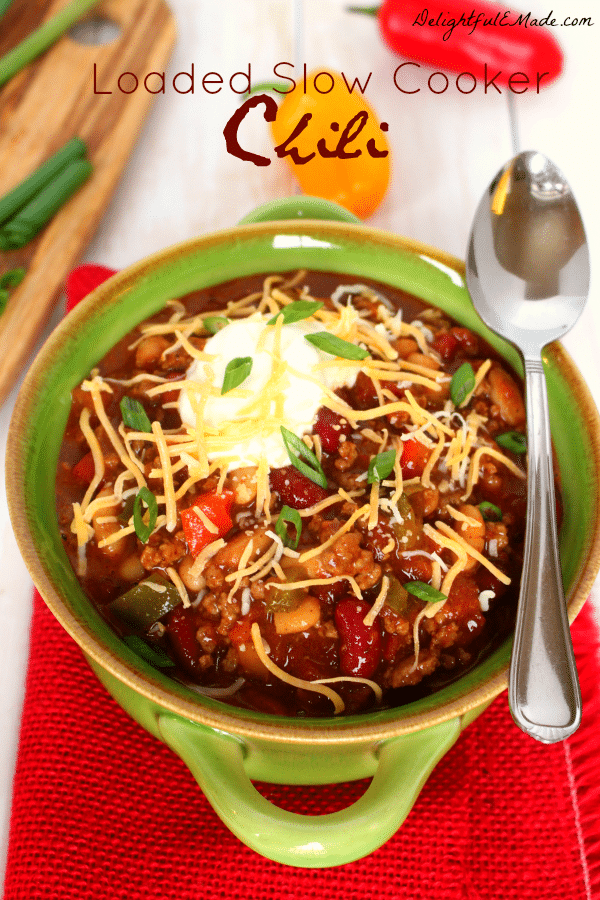 A month or so ago, I pulled out my slow cooker and quickly discovered that there was a huge crack going all the way through the ceramic dish.  Immediately I became miffed at my husband thinking he broke it when washing it…I then realized that I was the last one to wash it, so it was likely me who broke it.  (Yeah….ummm, I didn't say anything.)  There was really no salvaging or fixing the ceramic – the crack was  huge and it went all the way through the stone, and wouldn't hold any liquid thus deeming it useless, and a safety issue.
To the internet I went doing research on slow cookers.  I use it at least once a week, and 12 months a year.  It is definitely the hardest working small appliance in our kitchen, and saves me countless hours in meal preparation.  So, in choosing a new slow cooker, I knew it had to be durable (no more ceramic inserts that will break in the sink!), programmable, and at least 6 qts – big enough to handle a good sized roast or ribs.  I finally settled on the 7qt. Cuisinart 4-in-1 Multicooker.  It arrived last week, and I LOVE it!
Within just a couple days, I knew exactly what I was going to make in my brand-spankin'-new slow cooker: Chili!!  And since it fell on the first day of NFL football season, it couldn't have been more perfect.  I love making Chili in a slow cooker, in fact, I prefer it.  It is one of those dishes that makes a slow-cooker so well loved – you simply throw in your ingredients, turn it on, and let your house smell amazing.  When dinner time rolls around, it is ready to go!  It really doesn't get much better than that.
My Chili probably isn't much different that most others, but, I really prefer mine over any other Chili I've had.  I throw in lots of veggies, including green and red peppers, onions, beans and plenty of toppings.  That's why I call it "Loaded."   I also like it a little more "brothy" than the standard chili.  To me, a chili that has the consistency of sloppy joes, is too thick, and not really a soup.
This chili is really great for a game day gathering, tailgating, or just a simple, yet filling weeknight meal.  Here's how easy this chili it to put together:

Erin Indahl-Fink
Yields 8
Loaded Slow Cooker Chili
This easy-to-make slow cooker chili is loaded with peppers, onions, beans,and so much more! A healthy, easy delicious meal any night of the week!
20 minPrep Time
3 hrCook Time
3 hr, 20 Total Time
Ingredients
1 1/2 lbs ground beef, browned and drained of grease
2 (14.5 oz.) cans, diced tomatoes with juice
2 cans kidney beans, drained and rinsed
1 large orange or yellow bell pepper, chopped
1 large green bell pepper, chopped
1 large (or two small) yellow onion, chopped
2-3 cloves garlic, minced
2 (1.25 oz.) packets, McCormick Chili Seasoning**
(optional) 1 c. water (to make it a bit brothy, otherwise omit water for a thicker consistency)
Instructions
Easy!! Brown and drain ground beef of any excess grease. Add to the slow cooker. Add the tomatoes, rinsed beans, chopped peppers, chopped onions, minced garlic and the seasoning. Stir to combine ingredients.
To cook, set slow cooker on low for 6 hrs, or on high for 3 hours. Stir occasionally if needed.
7.8.1.2
17
https://delightfulemade.com/2013/09/09/loaded-slow-cooker-chili/
Copyright by DelightfulEMade.com
I've come to find that these seasoning packets make Chili pretty fool proof.  I've tried lots of variations of different spices, but have come to the conclusion that the seasoning packets have just the right combination.  McCormick's brand also has no MSG, which is a bonus.
Once the chili is ready to serve, add your favorite toppings.  Here are some ideas to top your chili:
Green Onions (scallions)
Sliced Jalepenos
Shredded Mexican Blend cheese
Sour Cream
Tortilla Chips – great for dipping and scooping!
What are your favorite toppings for Chili?  I would love to hear about how you make this spicy soup.  Do you serve it over noodles (Cincinnati Style)?  Do you add brown sugar like my brother, Jared?  I've come to the conclusion that the chili you make and enjoy must fit your personality.  How spicy are you?
Enjoy!
Erin