This post may contain affiliate links. Delightful E Made is a participant in the Amazon Services LLC Associates Program, an affiliate advertising program designed to provide a means for us to earn fees by linking to Amazon.com and affiliated sites.
If you love the flavor combination of peanut butter and banana, then this Healthy Peanut Butter Banana Smoothie is for you! Fantastic as a quick, healthy breakfast, and after-school snack for your kids or post-workout drink, this smoothie is healthy, quick and delicious!
Peanut Butter Banana Protein Smoothie – the ideal healthy snack or breakfast!
When your mornings are rushed, but you know you need something healthy for your hungry tummy, this healthy peanut butter banana smoothie is the way to go.
Made with just 5 ingredients that you likely already have in your fridge and pantry, this quick breakfast or snack is a great healthy option when time is tight.
In this post I'll show you some healthier options to make this peanut butter banana smoothie a great choice for you and your kids!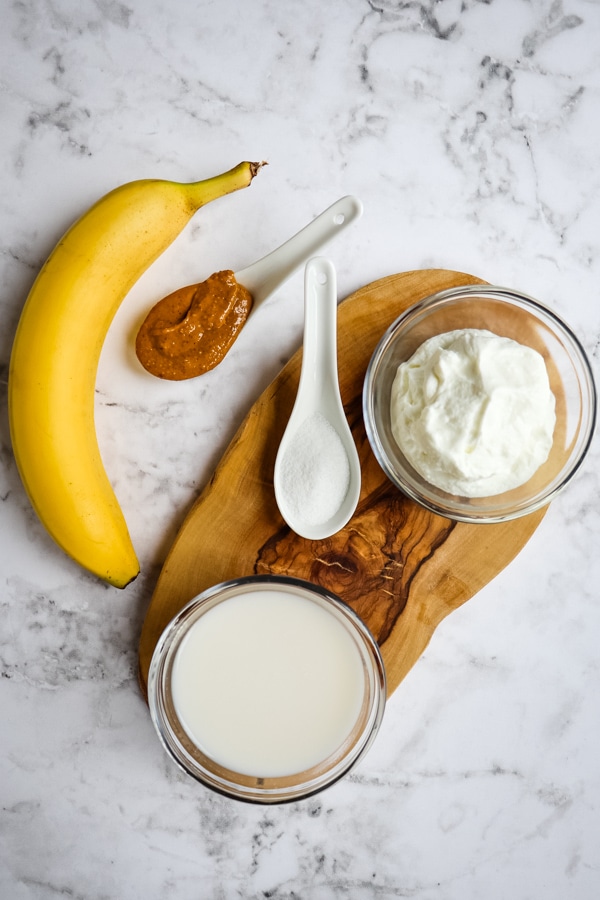 What do I need to make a peanut butter banana smoothie?
Banana – ideally frozen
Milk – can be either dairy or plant based – whatever best fits your dietary needs.
Plain Greek yogurt
Peanut Butter – can also be a nut/seed butter of your choice
Sweetener – granular or liquid. I'll give you some good options below.
What peanut butter can I use in a smoothie?
Adding peanut butter to a smoothie is a great way to add flavor and good fats to your protein shake or smoothie.
When buying peanut butter, there are a few things to consider to make sure you are getting a quality, nutritious nut butter. Make sure to look for the following:
The less ingredients the better! Ideally, a good quality nut butter should just have nuts and salt. The Smucker's Natural Peanut Butter pictured above has only peanuts and salt.
Be warry of nut butters with added oils. Many popular peanut butter brands contain a significant amount of added oils from soybean oil, palm oil or vegetable oils. All of these oils are highly inflammatory in your body and are NOT good for you.
Look for a nut butter WITHOUT added sugar. Check the nutrition label under sugars. If it lists added sugars, it's likely not a great choice. Check the ingredient list – if it contains ingredients like high fructose corn syrup, it's not a good option. If you like a sweeter peanut butter, honey is a better option, however it will increase the calorie content.
Some other good choices for peanut butter that I like and use are the Kirkland Mixed Nut and Seed Butter, found at Costco. Check out my post for all of my favorite Costco Foods for Healthy Meals and Snacks.
Lakanto also makes a No Sugar Added Powdered Peanut Butter that is fantastic in smoothies. You can get it on Amazon here!
Love peanut butter? Check out some of my other healthy snacks that include peanut butter:
What's the best way to sweeten a smoothie?
If you like your smoothie on the sweeter side, there are several healthier options to just adding refined sugar. Pictured above are some of my favorite no sugar added sweeteners (Amazon links listed, should you want to purchase):
If you would rather sweeten your smoothie with a liquid sweetener, good quality honey or maple syrup is a great option. These will increase the calorie content of your smoothie, so less is more.
How do I freeze bananas for smoothies?
You'll likely discover that bananas are an excellent ingredient in most smoothies. They offer fiber, potassium and vitamins B6 and C. They also help create a thick, creamy consistency when blending your smoothie.
Pictured above is the ideal way to freeze bananas for your smoothies. Here's how to do it:
Start by slicing an individual banana. Bananas that are often a little spotty are great for freezing. These ripe bananas are sweeter and are great for blending into any smoothie.
Add each sliced banana to a lined baking sheet. Parchment paper or waxed paper work well and prevent the banana slices from freezing to the pan. (FYI – in photo above, each line represents a banana. Helpful when bagging after frozen.)
Once the banana slices are frozen, simply add to resealable bags to the freezer. Small snack-sized zip-top bags work well and fit one banana perfectly.
I wrote the book on smoothies…literally!
Yes, that's right! I'm the author, photographer and creator of The Protein Smoothie Bible cookbook.
It offers simple, 5-minute smoothie recipes that are perfect for quick, healthy breakfasts, snacks, or post-workout recovery.
I've even got a chapter all for kids! That's right! Simple, easy, kid-friendly smoothie recipes that will get your kids and grandkids excited about making healthy food.
You can get The Protein Smoothie Bible here!
Here are some FAQ's all about making peanut butter banana smoothies:
Is it ok to put peanut butter in a protein shake?
Yes! Adding peanut butter to a protein shake or smoothie is a great way to add flavor, good fats and some additional protein to your breakfast or snack. Choose your peanut butter wisely! Look for nut butters made without added sugar or oils, like palm oil, soybean oil or vegetable oil.
How many calories are in a peanut butter protein shake?
Smoothie calorie counts vary widely given the ingredients that are used to make the smoothie or shake. This smoothie recipe contains 308 calories, 14g Fat, 40g Carbs, 23g Protein.
Are banana smoothies healthy?
Yes, banana smoothies can be healthy. Bananas offer fiber, potassium and Vitamins B6 and C.
What does banana add to a smoothie?
Bananas are often used in smoothies to lend to a thick, creamy texture. They also work as a natural sweetener without adding refined sugar to your smoothie or protein shake.
Is peanut butter and banana good for you?
Yes, peanut butter and banana is a good, nutritious breakfast option or snack. It is a good fat/carb combination. Make sure you choose a good quality peanut butter that has no added sugar or unhealthy oils, like palm, soybean, corn or vegetable oil.
Check out some of my other smoothie recipes and healthy breakfast resources: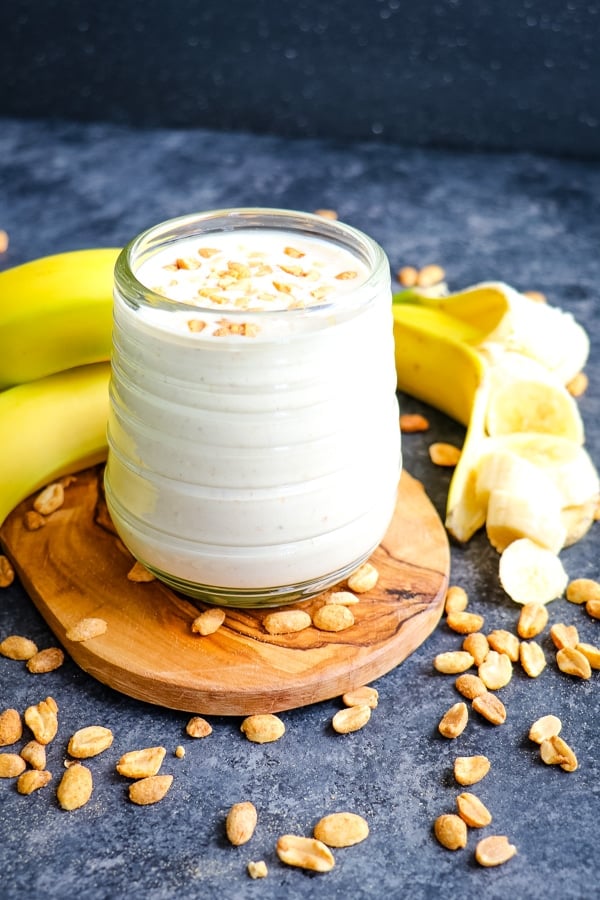 Love smoothies? Here are some of my other healthy smoothie recipes: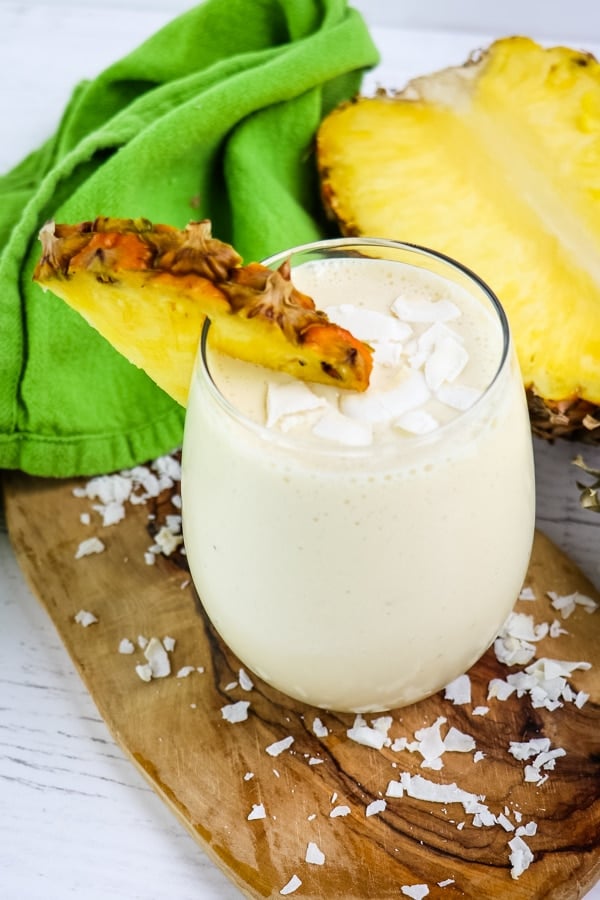 Healthy Peanut Butter Banana Smoothie
A quick, healthy breakfast or snack option! This healthy peanut butter banana smoothie is also great as a post-workout snack or after school treat for your kids.
Ingredients
1 medium banana, frozen
3/4 c. unsweetened almond milk
3/4 c. plain Greek yogurt
1 Tbsp. Natural peanut butter
1 tsp. granular Monk Fruit sweetener
Instructions
To a blender, add all the ingredients. Blend at medium speed until you reach a smooth, creamy texture.
To thicken, add ice. To make thinner, add extra milk.
Pour and enjoy right away while cold.
Notes
Milk options: feel free to use any dairy or plant-based milk you prefer. Full-fat dairy milk will provide the most amount of protein.
Yogurt options: I like Fage 5% yogurt. It's ultra thick and creamy and makes a great base for just about any smoothie. You can also use vanilla yogurt, just be sure to select a vanilla yogurt with minimal added sugar.
Nutrition Information:
Yield:

1 serving
Amount Per Serving:
Calories:

308
Total Fat:

13.8 gramsg
Carbohydrates:

39.7 gramsg
Protein:

23 gramsg