Loaded with delicious peppers, onion, beans and ground beef, this easy Crock Pot Chili recipe is amazing! A fantastic healthy dinner idea that's easy enough for any night of the week. This loaded crock pot chili will be your new go-to chili recipe!
This post may contain affiliate links. Delightful E Made is a participant in the Amazon Services LLC Associates Program, an affiliate advertising program designed to provide a means for us to earn fees by linking to Amazon.com and affiliated sites.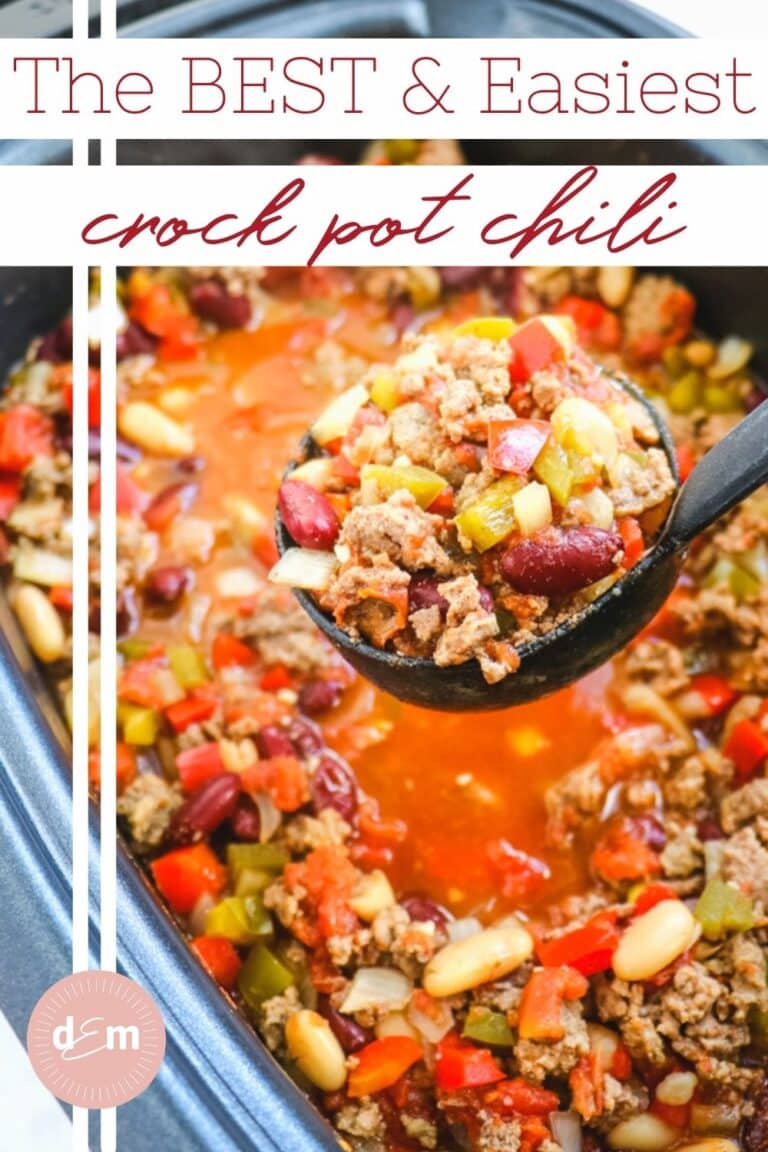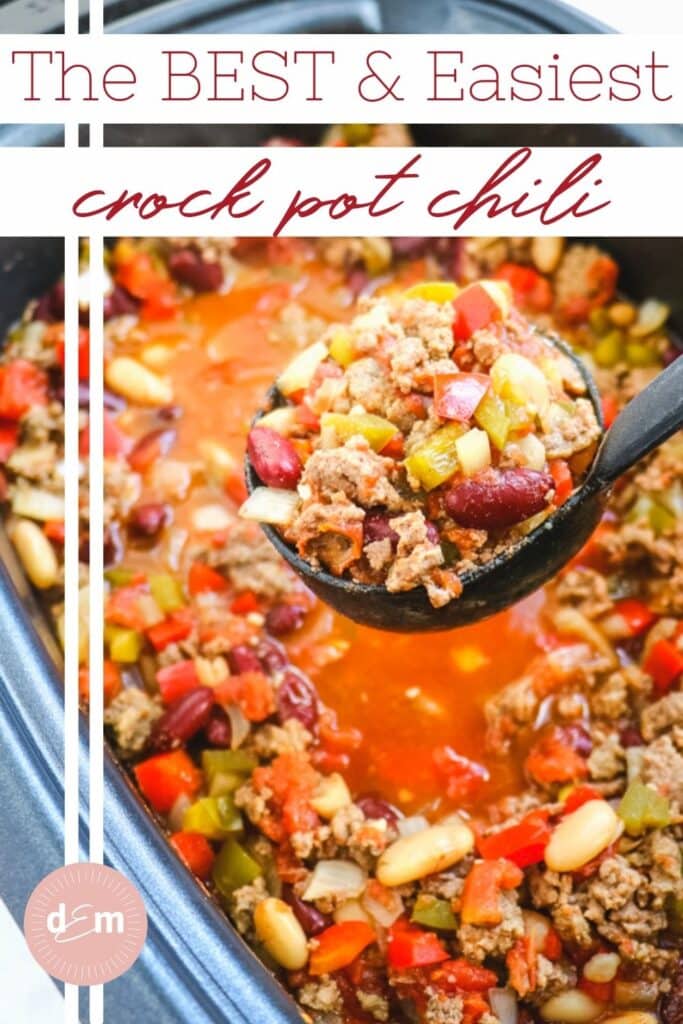 Chili is something that my family absolutely loves during the winter months. A warm, comforting bowl of soup is always welcome on cold nights.
This easy crock pot chili recipe is fantastic – not only does it taste amazing, it's incredibly simple to make. It's just a matter of browning ground beef, chopping up some peppers and onions and letting the slow cooker do the rest.
Here's a few tips and the tools I use to make this delicious and easy crock pot chili recipe: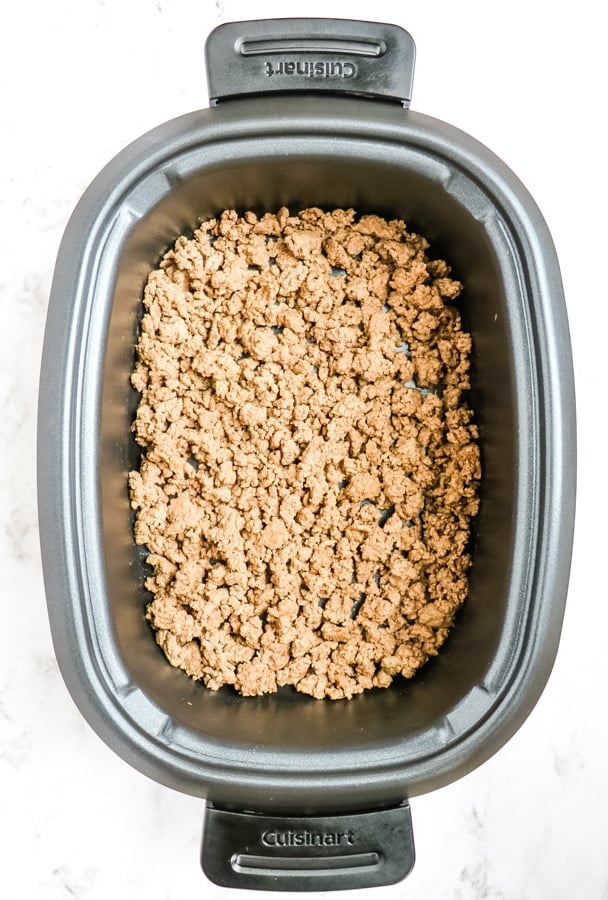 The first step to this chili recipe is to brown your ground beef. I do this directly in my Cuisinart 3-in-1 Multi-Cooker Slow Cooker. I love this feature, as it means one less pan to clean and everything stays in the slow cooker.
To the ground beef, I then add the canned tomatoes, cannellini beans, kidney beans, diced peppers and onions, garlic and spices.
The Slow Cooker I use and love for this crock pot chili:
I use and love my Cuisinart 3-in-1 Multi-Cooker Slow Cooker – I've had it for several years now and use it for way more than just chili and soup. It's the perfect size for roasts and whole chickens.
I continually use it during the holidays for side-dishes like my Everything Thanksgiving Stuffing and my Cheesy Hash Brown Casserole. I also love it for making my Crock Pot Mexican Shredded Chicken, my Slow Cooker Turkey Breast and my Slow Cooker Pulled Beef.
The spices you'll need to make this loaded crock pot chili:
Chili Powder
Cumin
Onion Powder
Garlic Salt
Ground Pepper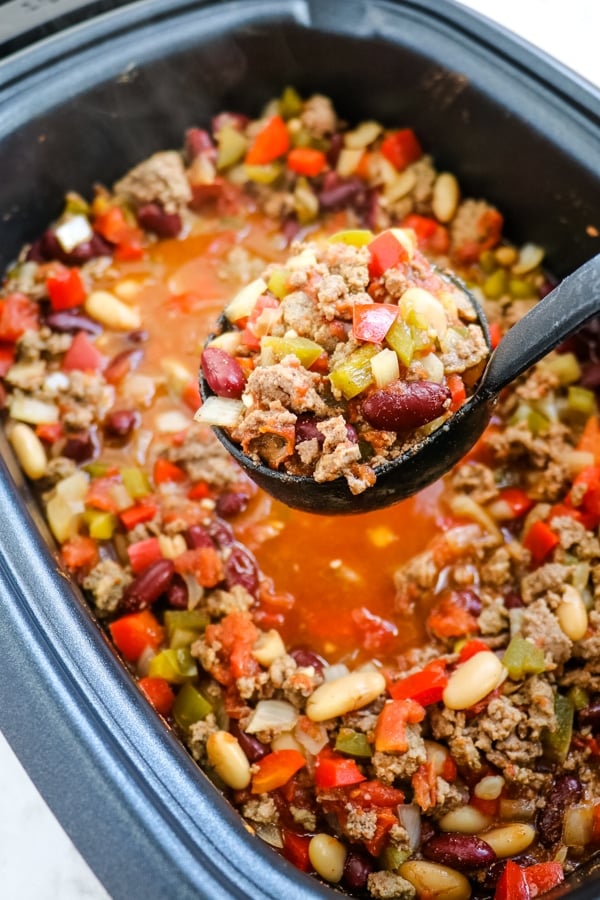 Frequently asked questions about making crock pot chili:
Should chili be thick or soupy?
Personal preference rules here! Chili is traditionally thick with little to no liquid or broth. However, some people like a little bit of broth to give it more of a soup consistency.
Why is my crock pot chili watery?
Chili can become watery as your peppers and onions cook down and let out moisture. Chili will become thicker the longer it cooks and as the excess water evaporates.
What is the longest you can cook chili in a crock pot?
8-10 hours should be the maximum for cooking chili in a crock pot or slow cooker. Any longer and the beef and beans begin to break down and become mushy and overcooked.
Can you leave chili in a crock pot all day?
Yes, as long as the heat is on low, chili can cook in a crock pot for no more than 8-10 hours. Stirring the chili occasionally is recommended, but not necessary.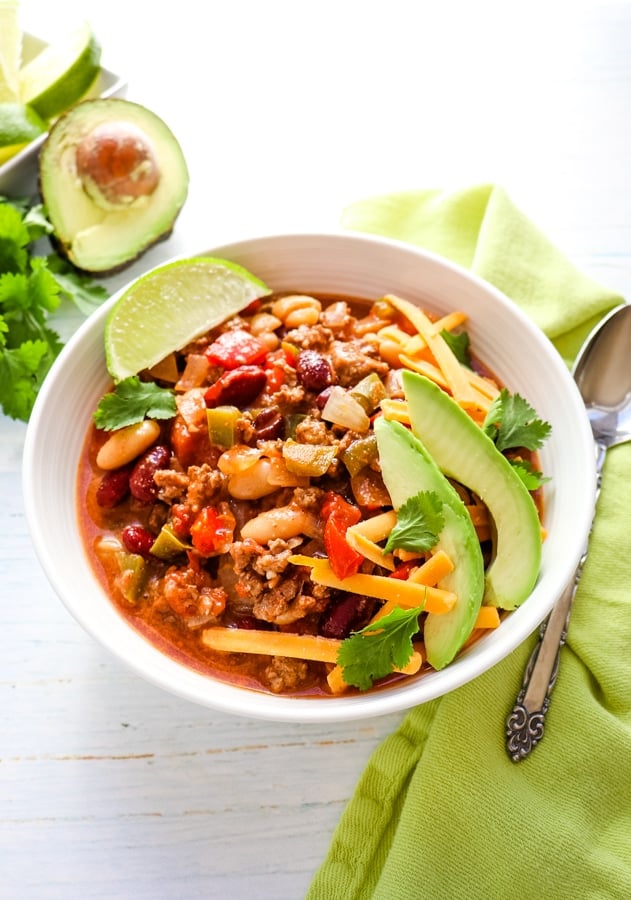 Toppings to include with this Crock Pot Chili:
Once the chili is ready to serve, add your favorite toppings. Here are a few we love:
Green Onions (scallions)
Sliced Jalapenos
Shredded Mexican Blend cheese
Sour Cream
Tortilla Chips – great for dipping and scooping!
Sliced Avocados or avocado mash
What are your favorite toppings for chili? I would love to hear about how you make this spicy soup. Do you serve it over noodles (Cincinnati Style)?
Do you add brown sugar like my brother, Jared? I've come to the conclusion that the chili you make and enjoy must fit your personality. How spicy are you?
If you love cooking with ground beef, check out these quick & easy ground beef recipes:
Here's everything you need for this Loaded Crock Pot Chili recipe:
Easy Crock Pot Chili Recipe
Total Time:
6 hours
20 minutes
This easy crock pot chili recipe might just be your new go-to chili recipe! Made with ground beef, peppers, onions, beans and spices, this loaded crock pot chili is healthy and delicious!
Ingredients
1 1/2 lbs. lean ground beef
2 (14.5 oz.) cans, diced tomatoes with juice
1 (14.5 oz.) can, kidney beans, drained and rinsed
1 (14.5 oz.) can, cannellini beans, drained and rinsed
1 large green bell pepper, chopped
1 large red or yellow bell pepper, chopped
1 large yellow onion, chopped
2 tsp. minced garlic
Spices:
2 Tbsp. chili powder
2 tsp. ground cumin
2 tsp. onion powder
1 tsp. garlic salt
1/2 tsp. ground pepper
Instructions
In a large skillet, or in your slow cooker using the brown setting, brown the ground beef. Drain off any excess fat.
Add the ground beef to the slow cooker. Add in the diced tomatoes, kidney beans, cannellini beans, chopped peppers and onions, garlic and all spices.
Stir together well to incorporate. Add the lid to the slow cooker and set to low heat.
Cook on low for 6-8 hours or on high for 3-4 hours.
When ready to serve, ladle into bowls and top with your favorite chili toppings.
Notes
Optional: To make the chili more brothy, add in 1 cup of water in addition to the rest of the ingredients.
Nutrition Information:
Yield:

6
Serving Size:

1 1/2 cups
Amount Per Serving:
Calories:

316
Total Fat:

10.6g
Carbohydrates:

26.1g
Protein:

30g