The perfect peach smoothie recipe for breakfast or snack!
If you love peaches and mangoes then this Mango Peach Smoothie recipe will be right up your alley! A fantastic healthy snack option or a quick on-the-go breakfast idea, it's perfect for when you're trying to make healthier choices!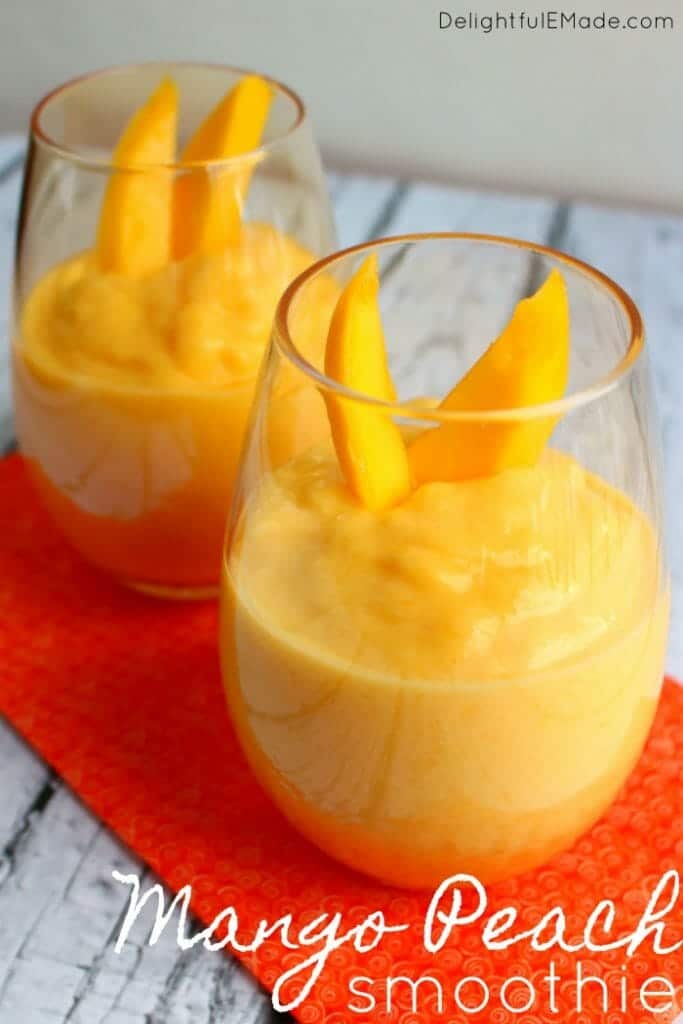 How is it going with your New Years Resolutions?  We're near the end of January, and I know of several people that want to really buckle down and get healthy.  I've learned over the years that a "diet" isn't gonna do it.  I've discovered that it really is changing your mindset, and developing a healthy lifestyle.  I know, I know, its much easier said than done.
Setting yourself up for success with quick, easy options
I've also learned that having some simple, quick breakfast and snack recipes in your back pocket seems to help keep me on track. If a breakfast takes too long to make, or has multiple ingredients that require quite a bit of prep, I'm not likely to make it – especially on a busy morning when time is tight. This smoothie recipe is a fantastic option – not only because it has just a few ingredients, it also takes just a couple minutes to blend-up. I can also take it with me in the car, which is idea for mornings when we're running late. I'm not the only one this happens too, right?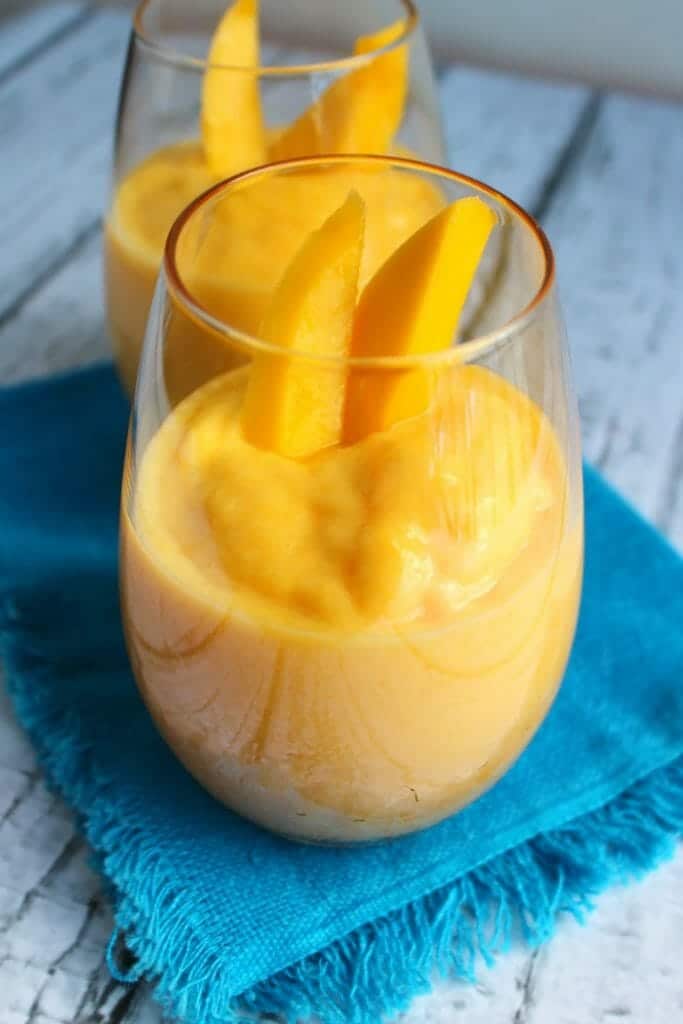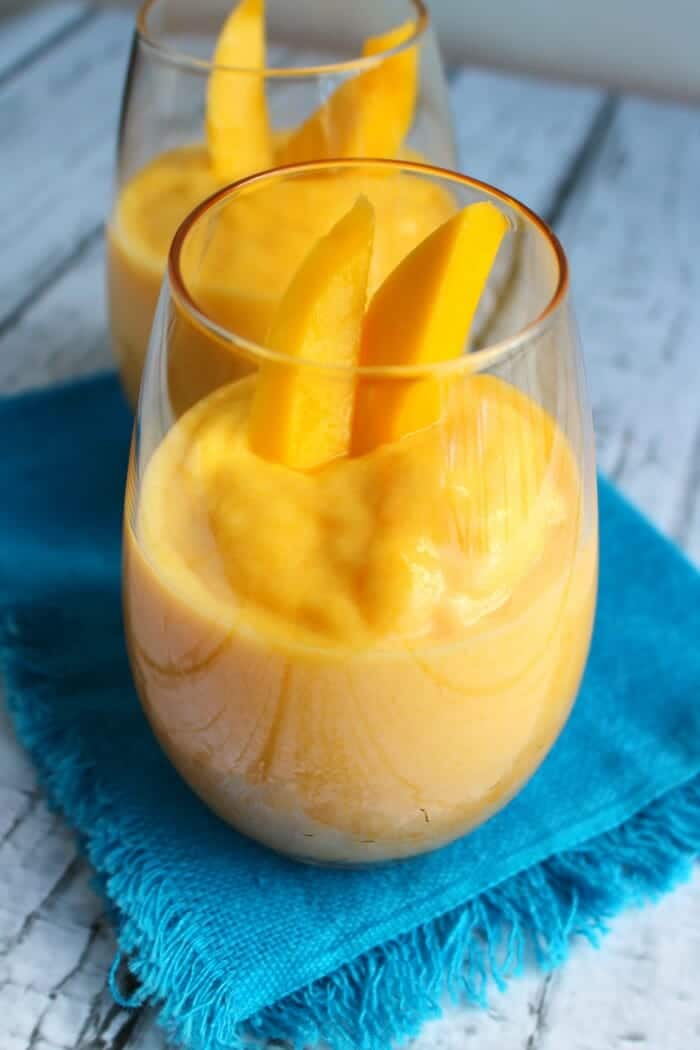 A great healthy snack or post-work out recovery drink
Another aspect of setting myself up for success means keeping plenty of frozen fruit in the freezer, and lots of fresh fruit in our fruit bowl.  This Mango Peach Smoothie recipe also makes for a fantastic mid-day snack.  I especially love blending this up post workout, as it's very refreshing and delicious.  This smoothie recipe is also loaded with vitamins and minerals, and has protein from the Greek yogurt which helps keep you fuller, longer.
Here's a quick-reference shopping list of the ingredients you'll need for this easy peach smoothie recipe:
Frozen peaches
Frozen mangoes
Orange juice
Greek yogurt – peach flavored (you can also substitute regular plain Greek or vanilla)
Honey – or your preferred sweetener of choice (stevia or agave nectar are also good choices)
If you loved this easy, healthy smoothie recipe, be sure to check out some of my other smoothies: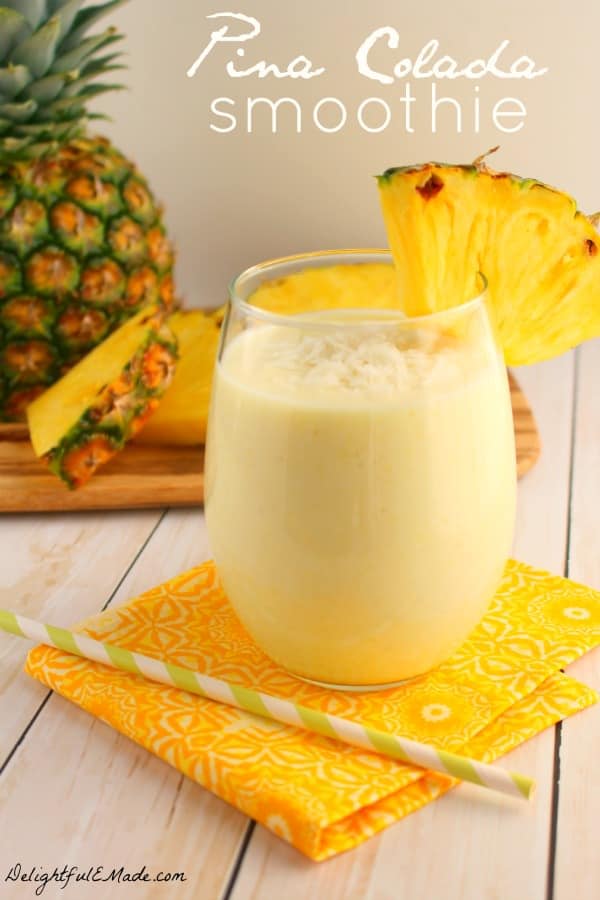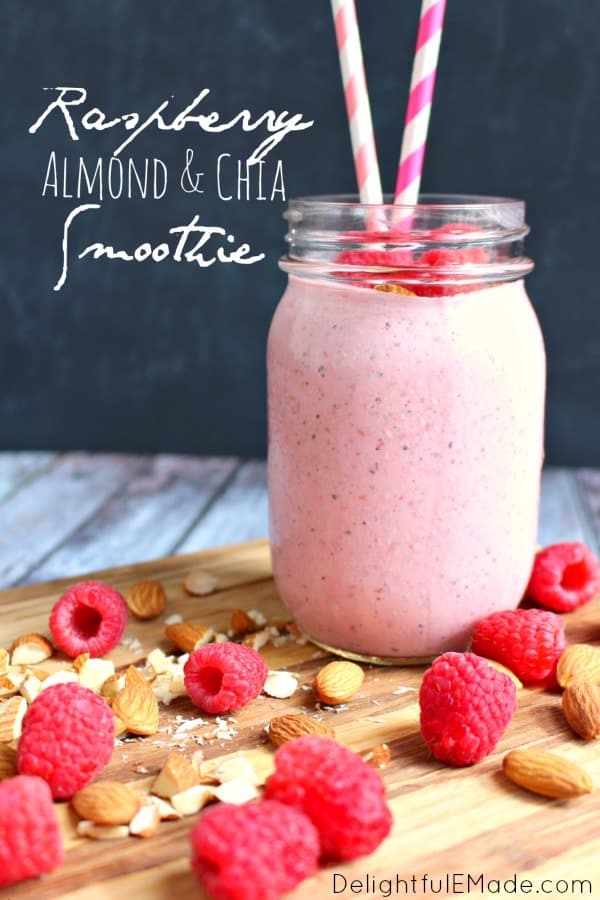 Raspberry Almond Chia Smoothie
Apple Cherry & Almond Breakfast Smoothie
How to Make a Smoothie – How-to Tutorial at Genius Kitchen
Erin Indahl-Fink
Yields 2
Mango Peach Smoothies
A great breakfast or snack alternative that is deliciously refreshing and really easy to make.
5 minPrep Time
5 minTotal Time
Ingredients
1 1/2 c. frozen peaches (or 1 can, drained and frozen)
1 c. frozen mango (or 1 fresh mango, peeled and sliced)
3/4 c. orange juice
1 (5.3 oz. cup) Greek yogurt, peach flavor
1 Tbsp. honey (or your preferred sweetener of choice)
Instructions
In a blender, add frozen peaches, mango, juice, yogurt and honey. Blend until all ingredients are smoothly pureed. Makes 2 medium smoothies.
7.8.1.2
7
https://delightfulemade.com/2014/01/27/mango-peach-smoothie-recipe/
Copyright by DelightfulEMade.com
Next time you're at the grocery store, stock up on some fresh and frozen fruits – get them home, and EAT them.  If you're getting your fruits and veggies, you're going to have more energy to get through the day.  You'll feel better about what you're putting into your body.  With that being said, keep up the great work on your New Years resolution to eat healthy.  You can totally do this!!
Cheers! ~Erin