Easy Strawberry Kiwi Smoothie
Meet your new favorite strawberry smoothie recipe! With five simple ingredients, and just seconds to blend, this smoothie is perfect for a quick, healthy breakfast or snack.  Loaded with nutrients, and light on calories, it makes for a fantastic post-workout recovery drink, too!
Whenever I'm craving something fresh, the first thing I look for is fruit.  Especially during the spring, I love fresh berries like raspberries, blueberries and particularly strawberries!  Strawberries and kiwi are a fantastic combination, so as a quick snack, I decided to blend up this Easy Strawberry Kiwi Smoothie.  Making smoothies for snacks, and breakfasts are a great way to add some fresh, healthy fruit to your diet and the perfect excuse to enjoy the season's best fruit.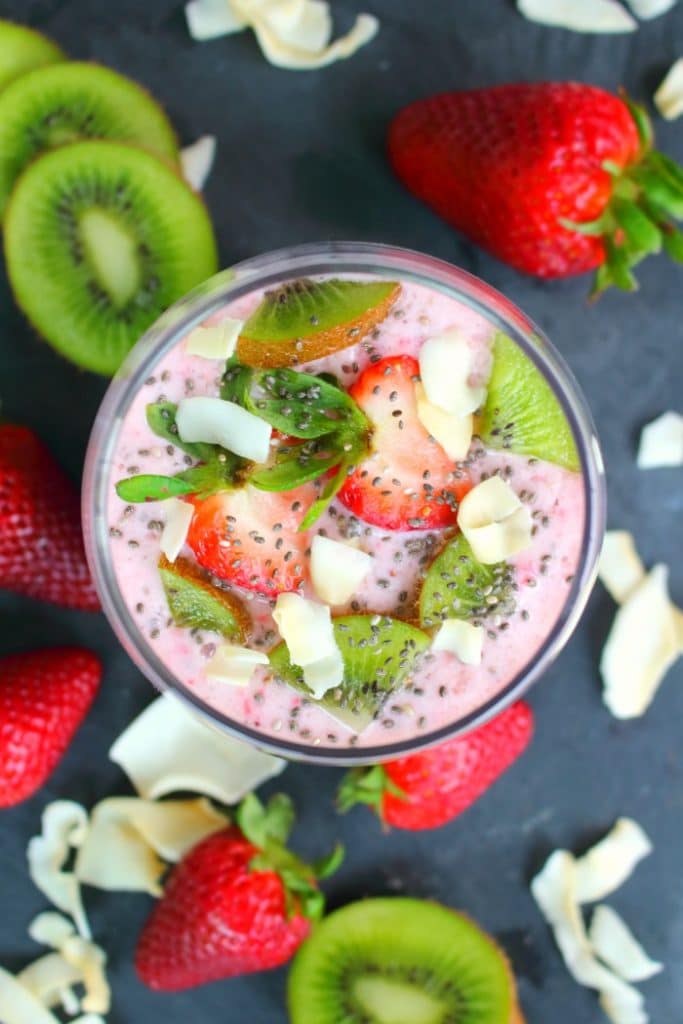 Making this strawberry smoothie recipe is super simple.  Get the kids in the kitchen, as this is a perfect snack to enjoy with toddlers to teens!  Here are the super simple steps:
Step 1:  Add Ingredients to Blender
In a blender, add the strawberries, kiwi, yogurt, milk and chia seeds.  I used coconut flavored almond milk, which added some fantastic flavor to the smoothie.  However, feel free to use any milk that you have or prefer.  You can also add some extra flavor by using a flavored yogurt – this smoothie would be great with a coconut flavored yogurt.  I used a simple vanilla Greek yogurt, as that is what I typically keep on hand for breakfasts and snacks.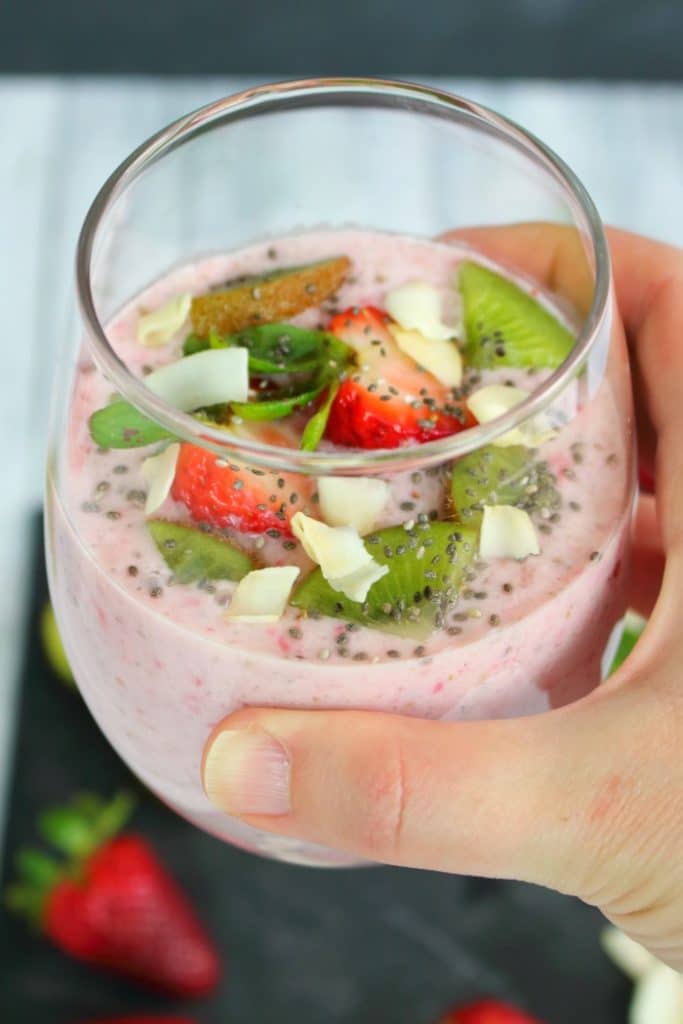 Step 2: Blend Ingredients Until Smooth
I add about 1/2 c. of milk.  You can adjust the thickness of the smoothie by adding more or less milk.  Additionally, if you are looking for a thicker smoothie (especially if you want to enjoy your smoothie with a spoon – like the smoothie bowl below), try freezing the strawberries, kiwi and yogurt before blending.  This will create a thicker base for your strawberry smoothie recipe.
Step 3: Pour and Enjoy!
There you have it!  Making this Easy Strawberry Kiwi Smoothie is as simple as using a blender.  It makes for a fantastic quick breakfast or snack, and also a great post-recovery workout drink.  It's wonderfully healthy, as the milk and yogurt are an excellent source of protein and calcium, and the fruit and chia seeds are great sources of vitamins, minerals and fiber.  It doesn't get much better than this!
Here is a quick-reference shopping list for all of the ingredients you'll need to make this amazing smoothie recipe:
Strawberries – fresh or frozen
Vanilla Greek yogurt
Kiwi
Almond milk – I used a Coconut flavored almond milk, which was fantastic.  Feel free to use any milk you prefer.
Chia Seeds
Any sweetener of your choice (honey, stevia, and agave nectar are all great choices)
Erin @ Delightful E Made
Yields 1 drink
Easy Strawberry Kiwi Smoothie
5 minPrep Time
5 minTotal Time
Ingredients
1 c. strawberries, fresh or frozen
2/3 . vanilla Greek yogurt
1 kiwi, peeled
1/2 c. almond milk
1 tsp. chia seeds
Instructions
In a blender, add the strawberries, yogurt, kiwi, milk and chia seeds. Blend until completely combined and smooth. Pour into glass and enjoy right away.
Notes
For a thicker smoothie, especially for a smoothie bowl, freeze the fruit and yogurt before blending. This will yield a thicker smoothie. For toppings: add fresh chopped strawberries, kiwi, coconut, and chia seeds, if desired
7.8.1.2
307
https://delightfulemade.com/2017/05/01/easy-strawberry-kiwi-smoothie/
Copyright by DelightfulEMade.com
If you loved this recipe, be sure to check out some of my other fantastic smoothie recipes, like these:
Apple Cherry & Almond Breakfast Smoothie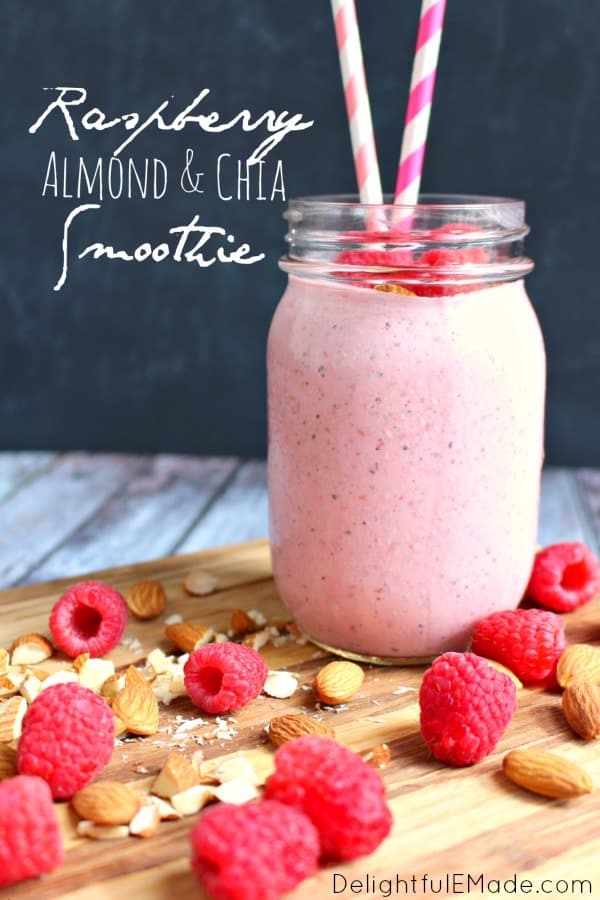 Raspberry Almond Chia Smoothie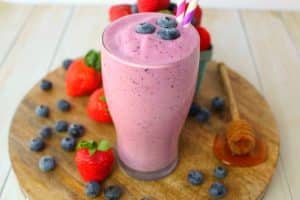 Check out my Tutorial on How To Make the Ultimate Smoothie at Food.com