Looking for a healthy, delicious coconut smoothie recipe? This cold, creamy coconut milk smoothie is fantastic as a healthy breakfast or post-workout snack. Under 300 calories and a great way to add protein to your day.
This post may contain affiliate links. Delightful E Made is a participant in the Amazon Services LLC Associates Program, an affiliate advertising program designed to provide a means for us to earn fees by linking to Amazon.com and affiliated sites.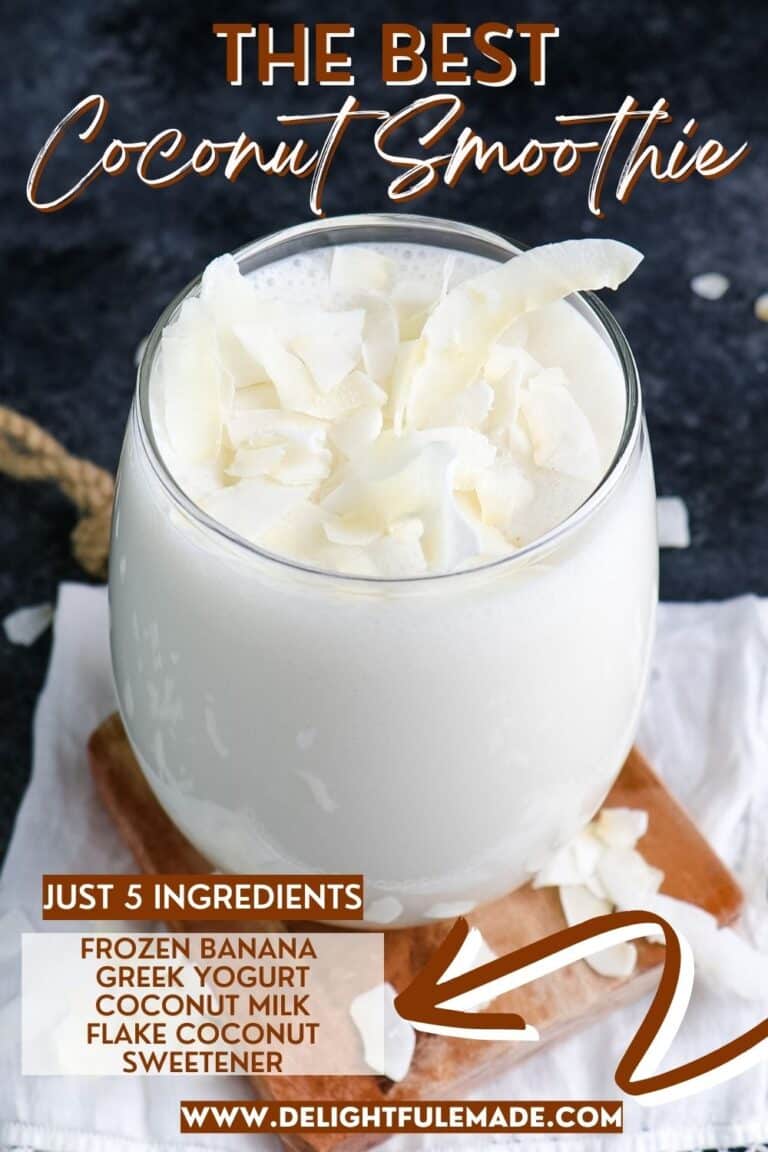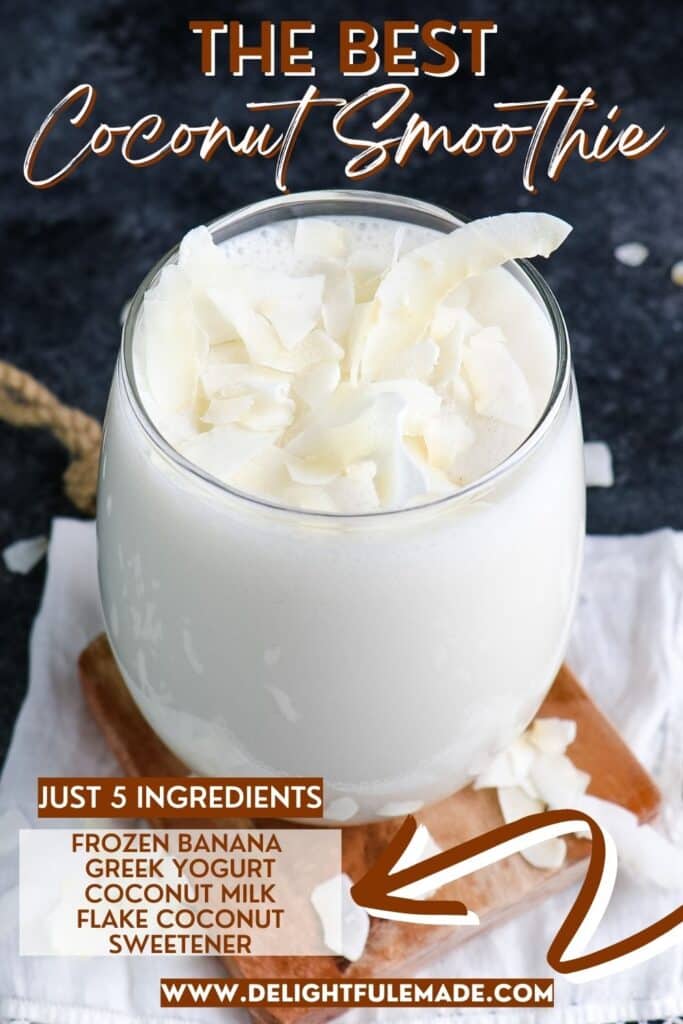 Looking to do a better job of getting a healthy breakfast in to start your day? This coconut milk smoothie is a great option!
Made with just 5 simple ingredients, this coconut smoothie recipe comes together in less than 5 minutes. It's also great as a post-workout snack, adding protein and good carbs to refuel your body.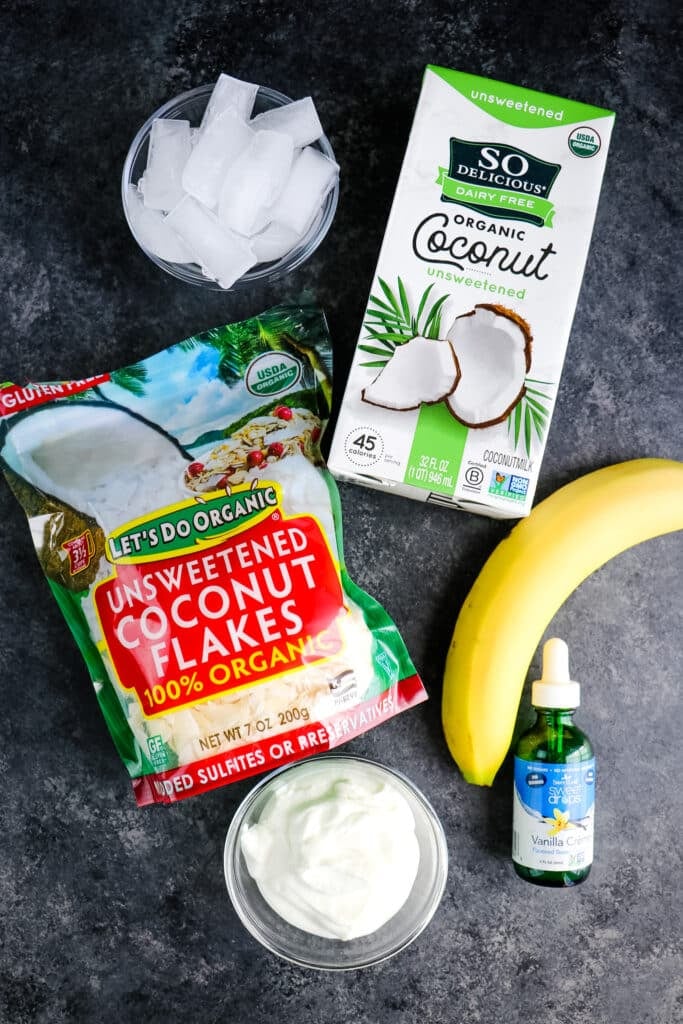 What do I need to make a coconut smoothie?
Frozen Banana – a frozen banana will help bring this smoothie a sweet flavor and creamy consistency, without adding refined sugar. If you cannot do bananas, you can also substitute peeled, raw apples or even frozen cauliflower.
Ice – adding a bit of ice will help create a thicker consistency.
Yogurt – I recommend using plain Greek yogurt. This adds a good amount of protein. You could also use a flavored vanilla or coconut flavored yogurt, just be sure to choose a yogurt with minimal refined/added sugar.
Coconut milk – coconut milk is great when you want a plant-based, dairy-free option. Look for a coconut milk that is unsweetened. (So Delicious Dairy-free Unsweetened Coconut Milk is what I use. Pictured above)
Unsweetened Flake Coconut – this will add some nice texture and coconut flavor to your smoothie. It's great as a topping to your smoothie as well.
Monk Fruit Sweetener – feel free to choose a granular or liquid sweetener. I like Whole Earth an Vanilla Stevia Sweetdrops.
For exact ingredient amounts and full recipe instructions be sure to scroll down to the bottom of the post for the recipe. Thanks!
Love yogurt? Check out some of my other recipes that use yogurt: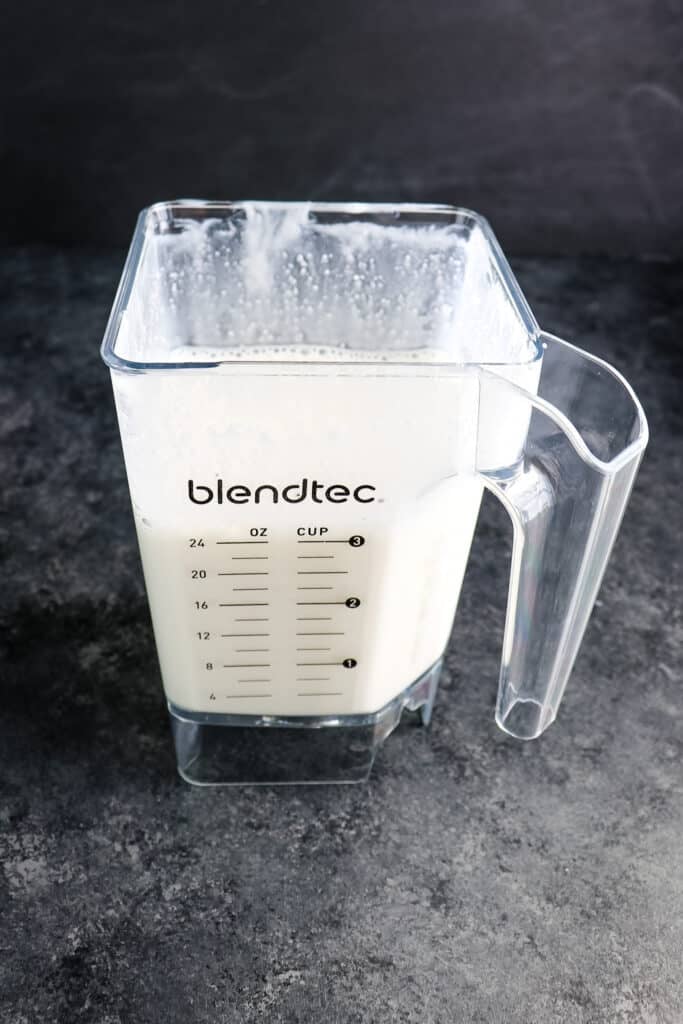 How do I make a smoothie?
Making a smoothie is a simple process. Start by adding all your ingredients to a blender jar.
To make is easier for your blender to process all the ingredients, add the liquid and yogurt first (to the bottom) of the blender. The liquid will help provide the blender blades with viscosity. It will also help cut through the frozen ingredients with ease.
It will take about 45-60 seconds to blend a smoothie to achieve a smooth consistency. Once fully blended, pour the smoothie into your favorite glass. Top with an additional toppings like coconut flakes or granola.
Enjoy your smoothie right away while cold.
I wrote the book on smoothies…literally!
Yes, that's right! I'm the author, photographer and creator of The Protein Smoothie Bible cookbook.
It offers simple, 5-minute smoothie recipes that are perfect for quick, healthy breakfasts, snacks, or post-workout recovery.
I've even got a chapter all for kids! That's right! Simple, easy, kid-friendly smoothie recipes that will get your kids and grandkids excited about making healthy food.
You can get The Protein Smoothie Bible here!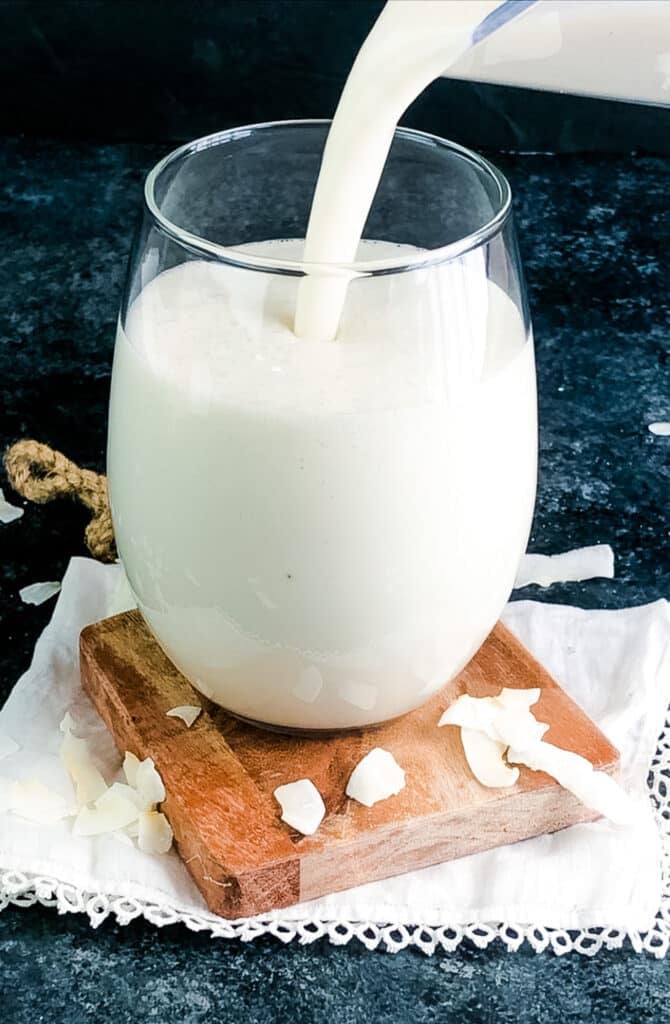 Coconut Milk Smoothie Add-In's and Topping Ideas:
Looking to change the flavor profile or add in some additional protein? Here are some add-in and topping options for your smoothie:
Frozen Pineapple – instead of frozen banana, you can also substitute frozen pineapple. This will give your smoothie a tropical, pina colada flavor. Check the frozen food section of your grocery store for pre-cut, pre-packaged frozen pineapple for a time-saver. Try my Pina Colada Smoothie or my Skinny Pina Colada Cocktail.
Vanilla Protein Powder – adding a serving of your preferred vanilla protein powder will provide your body with necessary protein to help your body recover after a workout and help keep you full for hours.
Chia seeds – chia seeds are a super food! They are loaded with nutrients, including Omega-3 fatty acids and help aid in digestion. Check out my recipes for Chocolate Chia Pudding and Blueberry Chia Pudding, which make fantastic healthy snack options.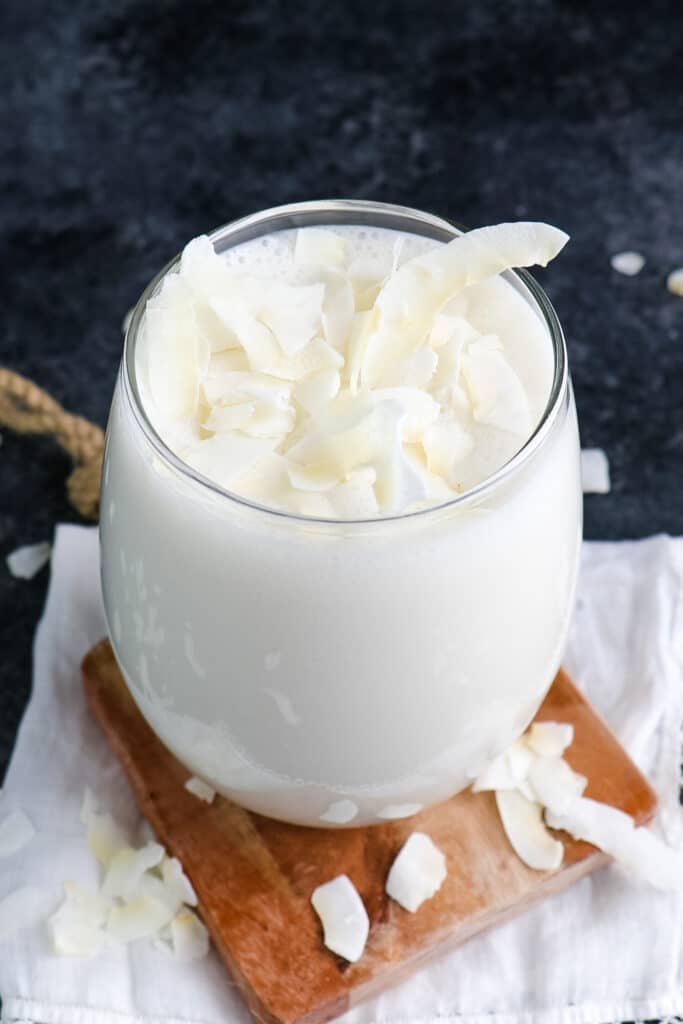 FAQ's about making a coconut smoothie recipe:
Is a coconut smoothie good for you?
Yes, a coconut smoothie can be very healthy and good for you. Be sure to use good quality ingredients when making your smoothie, and be sure to avoid added or refined sugars.
Should I add coconut to my smoothie?
Adding coconut to your smoothie is a great way to add extra fiber, minerals and antioxidants to your smoothie. It's also a good option for adding texture and creaminess to your smoothie.
Is almond milk or coconut milk better for smoothies?
Either almond or coconut milk is a great choice for a smoothie. Choosing either milk will depend on your flavor preference. Be sure to check the label of the milk you purchase. Avoid any added/refined sugar, and the ingredient list should be minimal.
What is the best base for a smoothie?
A frozen banana is neutral enough to be a very versatile smoothie base. It provides natural sweetness and creaminess for the texture. You can also use other frozen fruits, like berries, mango, peaches or even frozen cauliflower as a smoothie base.
Looking for more smoothie inspiration? Check out my tutorial at Food.com for How to Make a Smoothie.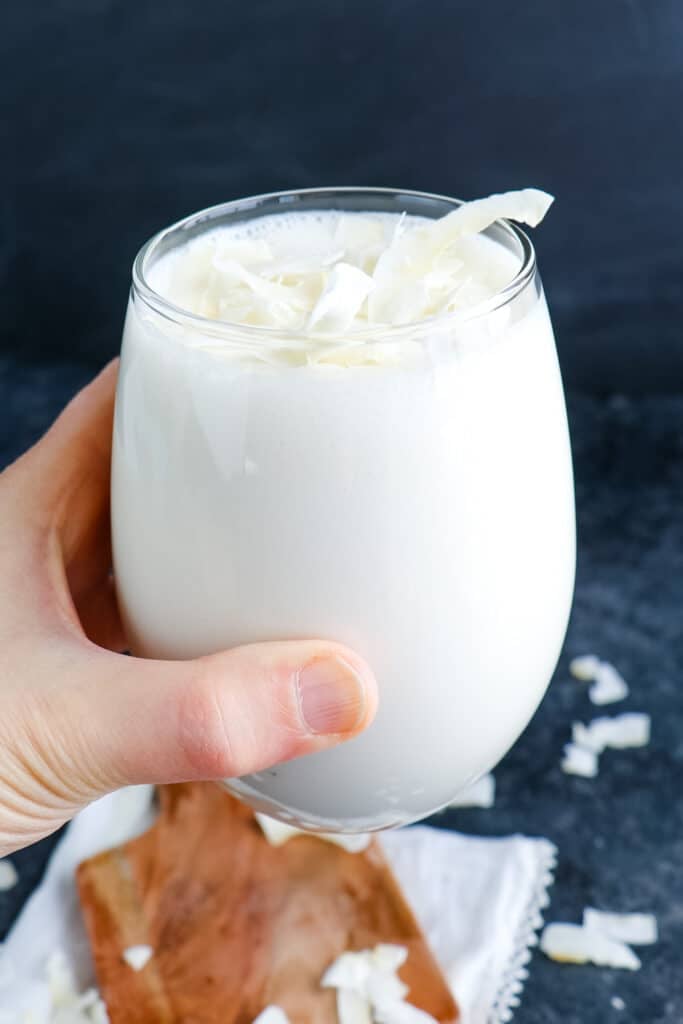 Love coconut? Check out my other delicious coconut recipes:
If you loved this healthy smoothie recipe, check out our other smoothie ideas: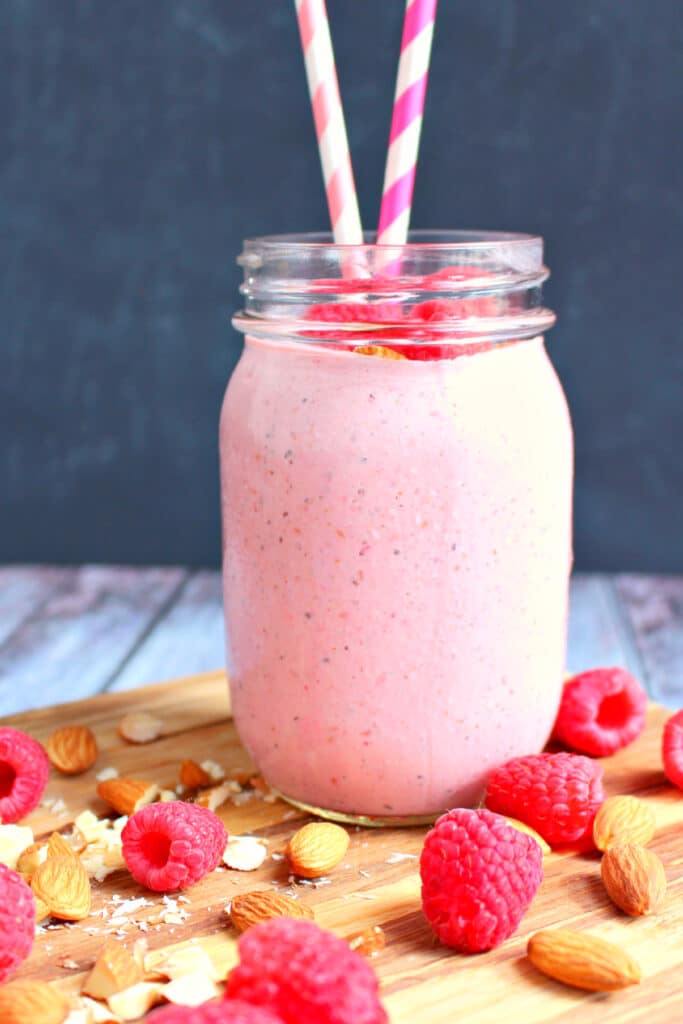 ---
---
Coconut Smoothie
Looking for a delicious, creamy coconut smoothie? With just 5 simple ingredients you can make this healthy coconut milk smoothie in just minutes. Perfect for a quick breakfast or on-the-go snack!
Ingredients
1 medium banana, frozen
1 cup ice
1 cup unsweetened coconut milk
1/2 cup plain Greek yogurt
3 Tablespoons unsweetened flake coconut
2 teaspoons monk fruit sweetener
1/8 teaspoon coconut extract (optional)
Instructions
To a blender jar, add the banana, ice, milk, yogurt, coconut, sweetener (and extract, if using).
Tightly secure the lid to the blender jar. Blend the ingredients on medium-high speed for 45-60 seconds or until the ingredients are completely incorporated and a smooth texture.
Pour into a glass and enjoy right away while cold. Top the smoothie with additional coconut, if desired.
Notes
Extra Protein: add 1 serving of your preferred vanilla or unflavored protein powder. You can also add an additional 1/2 cup of plain Greek yogurt to increase the protein content.
Nutrition Information:
Yield:

1
Serving Size:

1
Amount Per Serving:
Calories:

297
Total Fat:

10g
Saturated Fat:

9g
Trans Fat:

0g
Unsaturated Fat:

1g
Cholesterol:

6mg
Sodium:

109mg
Carbohydrates:

42g
Fiber:

5g
Sugar:

26g
Protein:

14g