Loaded with protein, fresh pineapple, spinach and tons of flavor, this superfood smoothie recipe is the perfect way to start the day. Ideal for breakfast or refueling after a workout, this green smoothie recipe is a great way to add nutrient-dense foods to your diet.
This post may contain affiliate links. Delightful E Made is a participant in the Amazon Services LLC Associates Program, an affiliate advertising program designed to provide a means for us to earn fees by linking to Amazon.com and affiliated sites.
Looking for a delicious smoothie recipe that includes nutrient-dense foods, instead of just sugar and calories? This superfood smoothie recipe offers the best of both worlds; nutrient rich ingredients that taste fantastic.
Made with spinach, avocado, chia seeds, Greek yogurt and banana and pineapple for a bit of sweetness, this green smoothie recipe is loaded with Vitamins A, K, C, iron, folate, potassium and protein. An amazing way to nourish and refuel your body for breakfast or after a workout.
What do I need to make a green superfood smoothie?
Here's the ingredients you'll need to make this superfood smoothie:
Plain Greek Yogurt – Fage Greek yogurt is my favorite.
Unsweetened vanilla almond milk, or your preferred dairy or plant-based milk
Frozen pineapple
Frozen banana
Avocado – fresh or frozen
Fresh spinach
Chia seeds
Love the nutritional benefits of chia seeds? Check out my Chocolate Chia Seed Pudding, my Blueberry Chia Pudding and my Chocolate Overnight Oats for more great ways to enjoy chia seeds.
Here's the easy steps to blending this green superfood smoothie recipe:
Start by adding all of the ingredients to your blender. It is helpful to add the liquid and soft ingredients first. This will help ensure the blades of the blender have adequate viscosity to blend all of the ingredients, including the frozen foods well.
Once you have the milk, yogurt, pineapple, banana, avocado, spinach and chia seeds in the blender, blend over medium speed for 45-60 seconds or until all of the ingredients are smooth.
Once you see that the ingredients are fully incorporated and smooth, you can enjoy right away.
Pour into your favorite glass or a to-go cup for drinking on-the-go.
Looking to upgrade your blender? I use and love my Blendtec Designer Series Blender. Not only is it fantastic for blending smoothies and protein shakes, it performs well in making nut and seed butter, blending soups and making batter for pancakes, waffles and muffins.
Use discount code DELIGHTFULEMADE to get 20% off your blender purchase at Blendtec.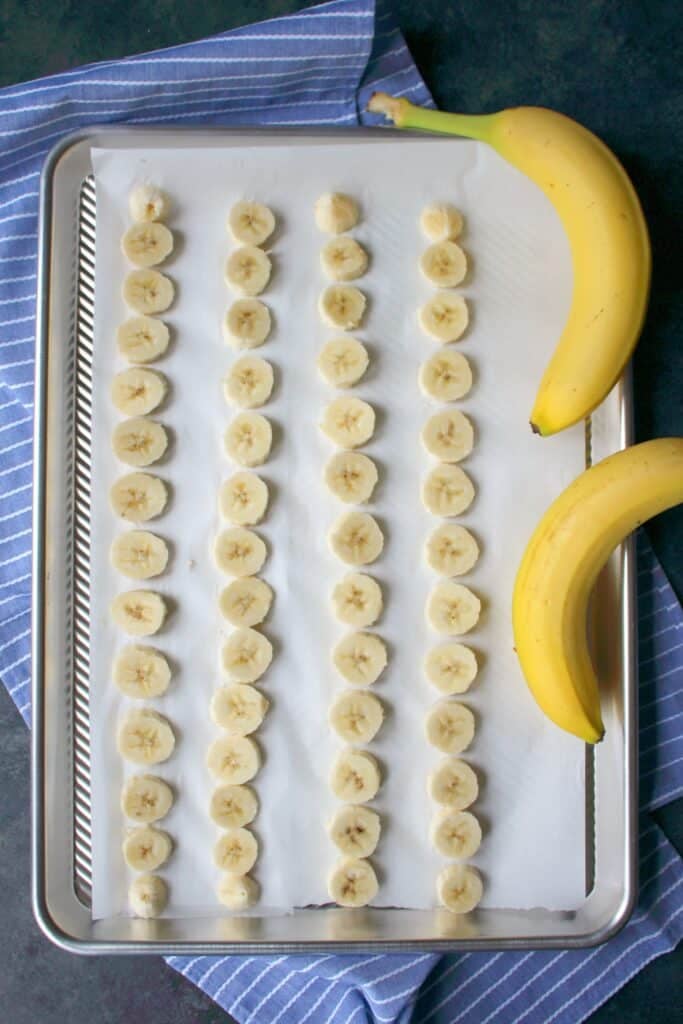 How to freeze fruit for smoothies
Do you have extra bananas that you won't eat right away? Freeze them for smoothies. The best way to do this is to slice each banana, and place on parchment lined sheet pan.
Each row of banana slices is one banana. Slicing the bananas helps freeze quicker, and the bananas don't stick together once they go into freezer bags.
How long do I freeze fruit for smoothies?
Freeze fruit at least 2 hours or until very firm. Then, place in individual freezer bags and store in the freezer.
Take one out anytime you need a frozen banana for a smoothie. You can also do this with an excess of fresh strawberries, blueberries, raspberries or pineapple.
This a great way to eliminate food waste by using produce that you won't be able to enjoy while still fresh.
I wrote the book on smoothies…literally!
Yes, that's right! I'm the author, photographer and creator of The Protein Smoothie Bible cookbook.
It offers simple, 5-minute smoothie recipes that are perfect for quick, healthy breakfasts, snacks, or post-workout recovery.
I've even got a chapter all for kids! That's right! Simple, easy, kid-friendly smoothie recipes that will get your kids and grandkids excited about making healthy food.
You can get The Protein Smoothie Bible here!
Do you love making smoothies? Check out some of my other recipes, healthy drinks and breakfast options: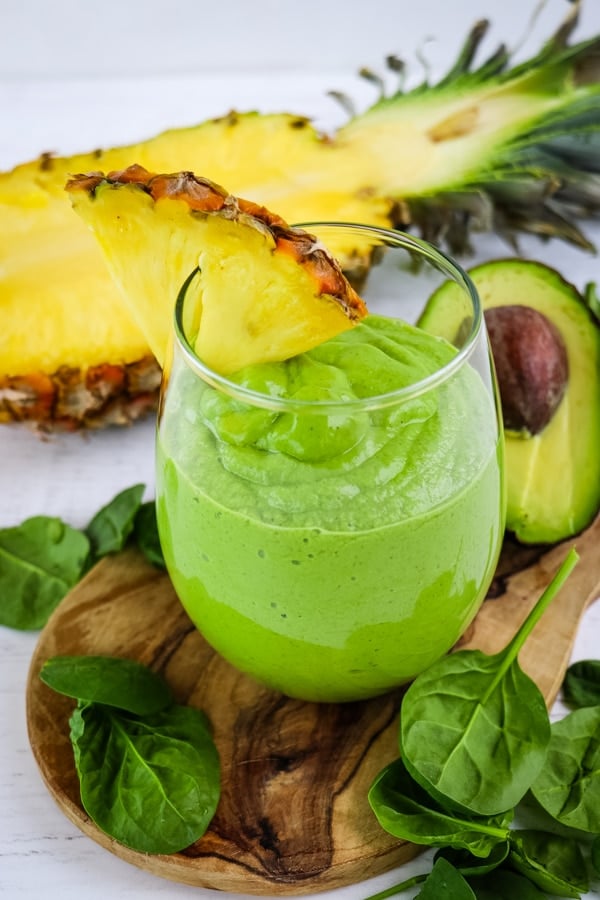 Frequently asked questions about making superfood smoothies:
What is the best superfood to add to smoothies?
Whole, unprocessed, nutrient dense foods, like spinach, kale, fresh berries, nuts and seeds like almonds, walnuts, chia seeds, hemp seeds, flax, oats, and fresh fruits and vegetables are all excellent options for blending in to smoothies.
What kind of nut butter is good in a smoothie?
Nut and seed butter is a good fat source and excellent in a smoothie. Look for nut and seed butters with no added sugars or oils. The best options will have minimal ingredients like "almonds and salt" as their ingredient list. Cashew, almond and natural peanut butters are good options. There are also nut and seed blends that are great as well.
What are the healthiest things to put in a smoothie?
Whole, unprocessed fruits and vegetables (fresh or frozen), leafy greens like kale, spinach and arugula, protein sources like plain Greek yogurt, cottage cheese and protein powder. Also good quality liquids with limited added sugars, like unsweetened almond milk, dairy milk or any other plant based milk with minimal ingredients.
What greens to put in a smoothie?
Fresh or frozen spinach, kale, collard greens, swiss chard and arugula are all great, nutrient-dense options.
What can replace spinach in a smoothie?
Kale, arugula, swiss chard or collard greens are all great options to replace spinach in a smoothie.
Are green smoothies healthy?
Yes. Greens, like spinach, provide Vitamins A, C, K, iron, folate and potassium. With this being said, limit the amount of added sugar, or sugar-dense ingredients, like juices, maple syrup, honey, or sugar-heavy yogurts being added to your smoothie.
Does spinach taste bad in smoothies?
No. The flavor of spinach is very mild. However, to make it taste optimal, pair spinach with a sweet fruit, like pineapple, oranges, bananas, blueberries or strawberries to balance out the flavor.
Want more healthy smoothie recipes? Check out my other smoothie recipes: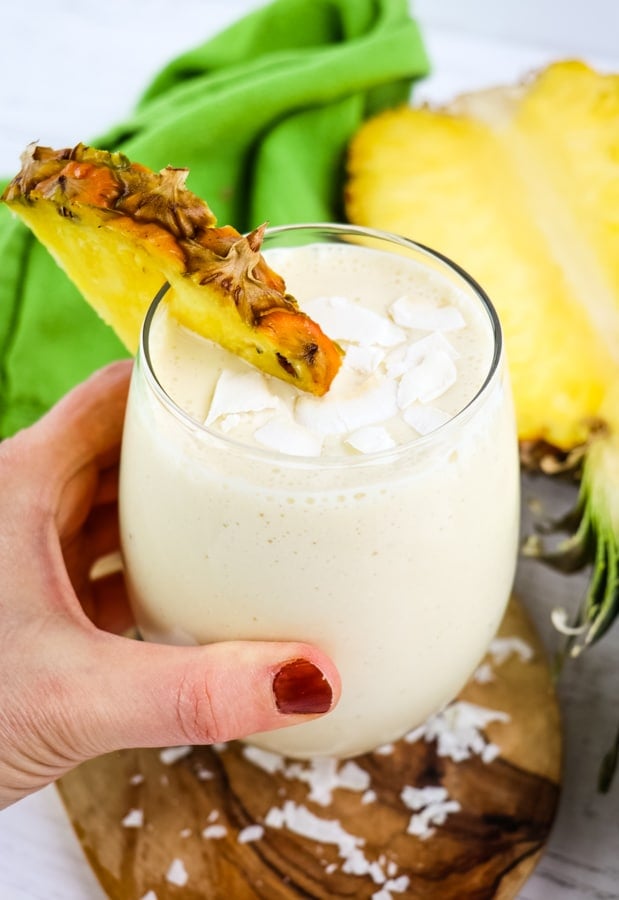 Looking for other ways to add healthy eating in your life?
Check out some of these other resources to help your healthy living journey:
Green Super Food Smoothie
Do you love a green smoothie recipe, but want it to include healthy ingredients? This Green Superfood Smoothie recipe not only tastes great, but it's loaded with healthy, nutrient-dense ingredients to help fuel your body.
Ingredients
1/2 c. unsweetened vanilla almond milk, or your preferred dairy or plant based milk
1/2 c. plain Greek yogurt
1/2 c. pineapple, frozen
1/2 c. banana, frozen (about 1/2 banana)
1/2 medium avocado
2 c. fresh spinach (about 2 large handfuls)
1 Tbsp. chia seeds
Instructions
To a blender, add all ingredients. It is helpful to have the liquid go in first and the frozen items go in last. This give some viscosity to the blades of the blender, and the ingredients will blend more smoothly.
Blend for 45-60 seconds on medium-high speed, or until the ingredients are fully blended and smooth.
Pour into a glass and enjoy right away while cold.
Notes
Optional Ingredient: 1 scoop/serving of vanilla or unflavored protein powder to add extra protein.
Nutrition Information:
Yield:

1
Serving Size:

12 oz.
Amount Per Serving:
Calories:

508
Total Fat:

26g
Saturated Fat:

6g
Trans Fat:

0g
Unsaturated Fat:

18g
Cholesterol:

15mg
Sodium:

196mg
Carbohydrates:

58g
Fiber:

16g
Sugar:

26g
Protein:

27g
For more accurate nutritional information, use a nutrition calculator, like MyFitnessPal to calculate information with the exact ingredients you are using.
You Might Also Like These Recipes