Looking for a creamy, delicious chocolate smoothie recipe that doesn't over-do it on sugar? My healthy Chocolate Avocado Smoothie is uber creamy, thick and delicious without going overboard on sugar and calories. The perfect post-workout recovery drink, quick breakfast or healthy snack to satisfy your chocolate craving!
This post may contain affiliate links. Delightful E Made is a participant in the Amazon Services LLC Associates Program, an affiliate advertising program designed to provide a means for us to earn fees by linking to Amazon.com and affiliated sites.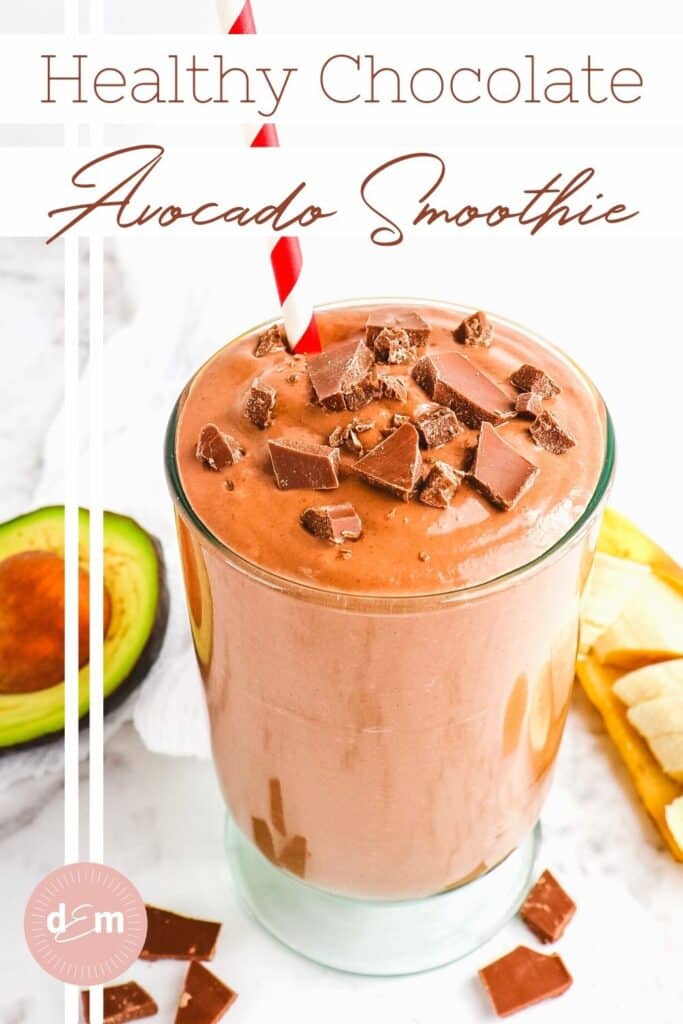 Are you a chocolate lover that could use a healthier chocolate smoothie recipe? This chocolate avocado smoothie is the perfect option to satisfy your chocolate cravings while providing you a good amount of protein, fiber and nutrition.
Made with 7 simple ingredients, this chocolate protein smoothie is a great choice for a quick blend-and-go breakfast, a satisfying post-workout recovery drink or even a healthy dessert or snack.
What do I need to make a chocolate smoothie?
Here's a quick-reference check list of the ingredients you'll need to make this chocolate avocado smoothie:
Unsweetened Almond Milk – feel free to use your preferred dairy or plant-based milk.
Plain Greek Yogurt – Fage 2% or 5% plain Greek yogurt is my go-to Greek yogurt that I use in dozens of recipes!
Frozen Banana – I freeze my own, but you can also purchase frozen bananas in the frozen foods section.
Avocado – fresh or frozen chunks
Unsweetened Cocoa Powder
Chocolate Protein Powder
Granular Monk Fruit or Stevia Sweetener – I like both Whole Earth and Lakanto granular sweeteners.
For exact ingredient amounts and full recipe instructions be sure to scroll down to the bottom of the post for the recipe. Thanks!
How do I make a chocolate smoothie?
First, you'll need a blender. To your blender jar, add all of the ingredients; milk, yogurt, avocado, banana, cocoa powder, chocolate protein powder, and sweetener.
Cover with blender lid, and blend for 45-60 seconds or until all of the frozen ingredients are completely combined.
Pro-Tip: Add your most liquid ingredients first. For this smoothie recipe, the milk and yogurt are best added to the bottom of the jar. Adding the liquid first helps the viscosity of the blades of the blender and helps break down the frozen ingredients most efficiently.
I wrote the book on smoothies…literally!
Yes, that's right! I'm the author, photographer and creator of The Protein Smoothie Bible cookbook.
It offers simple, 5-minute smoothie recipes that are perfect for quick, healthy breakfasts, snacks, or post-workout recovery.
I've even got a chapter all for kids! That's right! Simple, easy, kid-friendly smoothie recipes that will get your kids and grandkids excited about making healthy food.
You can get The Protein Smoothie Bible here!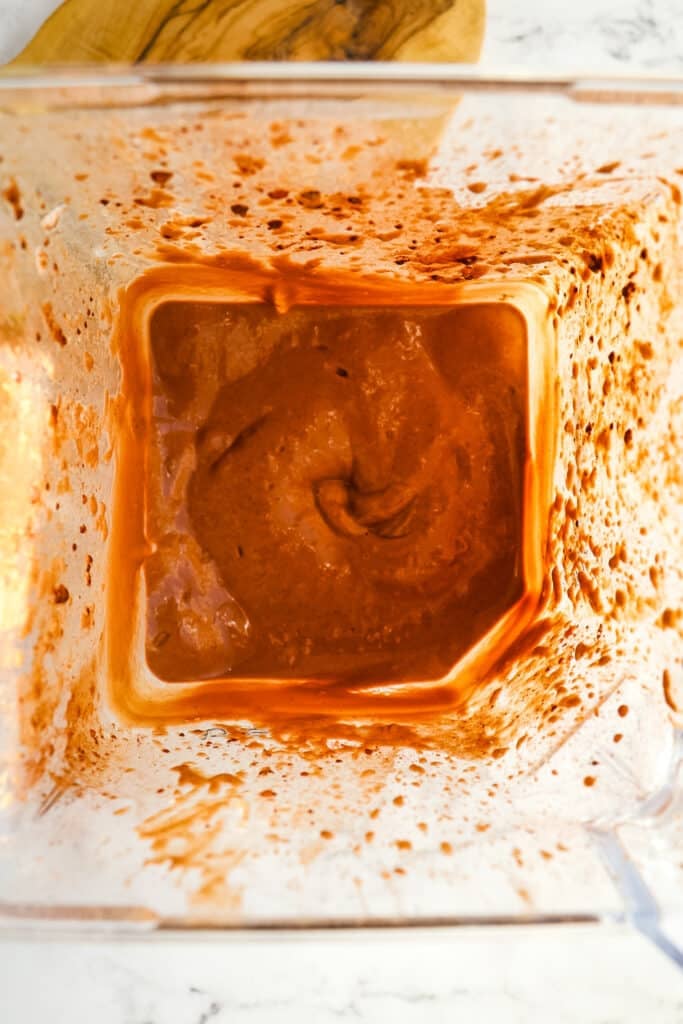 Once all of the ingredients have been completely blended, you'll notice the extreme creaminess this chocolate smoothie. The addition of avocado really helps thicken the smoothie – it's very similar to a rich, thick chocolate milkshake or even chocolate mousse.
Once blended, pour your smoothie into your favorite glass and enjoy right away while cold.
Are you a chocolate lover? Check out some of my other healthier chocolate snacks and treats: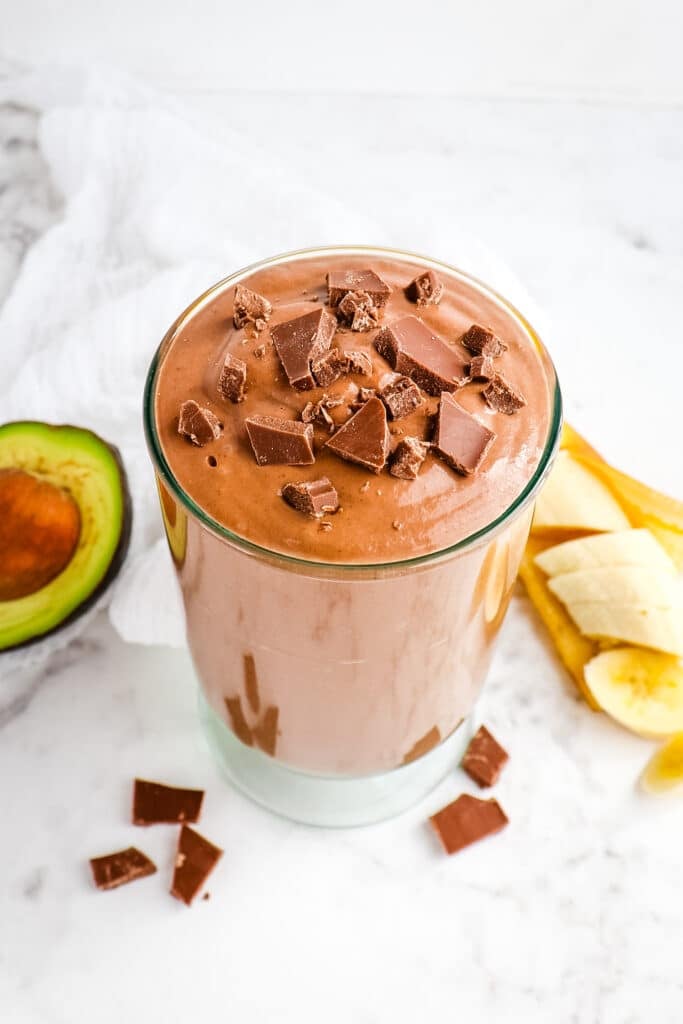 Topping options for your chocolate smoothie recipe:
Any or all of these toppings would make the perfect smoothie bowl. This chocolate avocado smoothie is thick enough to eat with a spoon, making it perfect as a smoothie bowl option.
If you love smoothie bowls, check out my Raspberry Almond Smoothie Bowl at Real Housemoms, my Cherry Smoothie, Coconut Smoothie recipe or my tutorial at Food.com for How to Make Smoothies.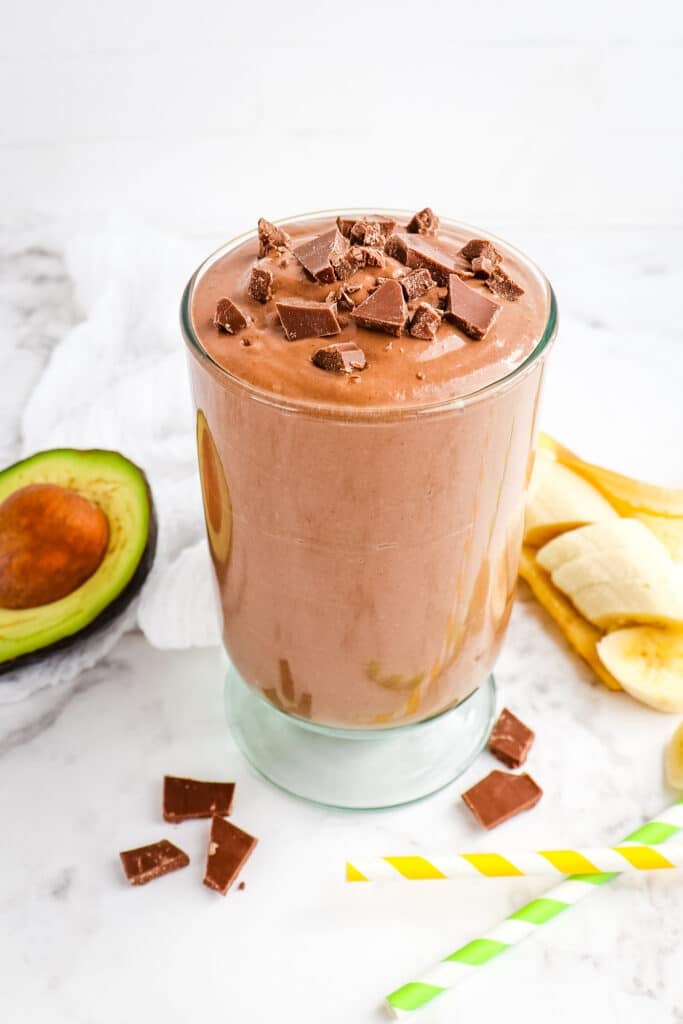 Frequently asked questions about making a Chocolate Avocado Smoothie:
What does avocado do in a smoothie?
Avocado adds an excellent level of creaminess to any smoothie. It is also a great way to add healthy fats, along with Vitamins A, C, K, potassium and fiber to your smoothie.
Can you taste avocado in a smoothie?
Not really. Avocado has a very mild, neutral flavor. It adds a creamy texture and helps enhance the other flavors, like chocolate, citrus, berries or pineapple.
How much avocado should I put in a smoothie?
A half of a medium avocado or 1/2 cup of frozen avocado chunks is an ideal serving size for a smoothie.
Is it okay to mix banana and avocado.
Yes. Both banana and avocado will add excellent nutrients to a smoothie, be complimentary in flavor and will create the perfect smooth, creamy consistency.
Is avocado good in chocolate protein shake?
Yes. Avocado is a great addition to a chocolate protein shake. It will had a thick, creamy consistency as well as add good fats, Vitamins C, K, potassium and fiber. Because of the good fat and fiber, avocado will help keep you fuller and more satiated, therefore less like to snack later.
If you loved this chocolate smoothie, check out some of my other smoothie recipes: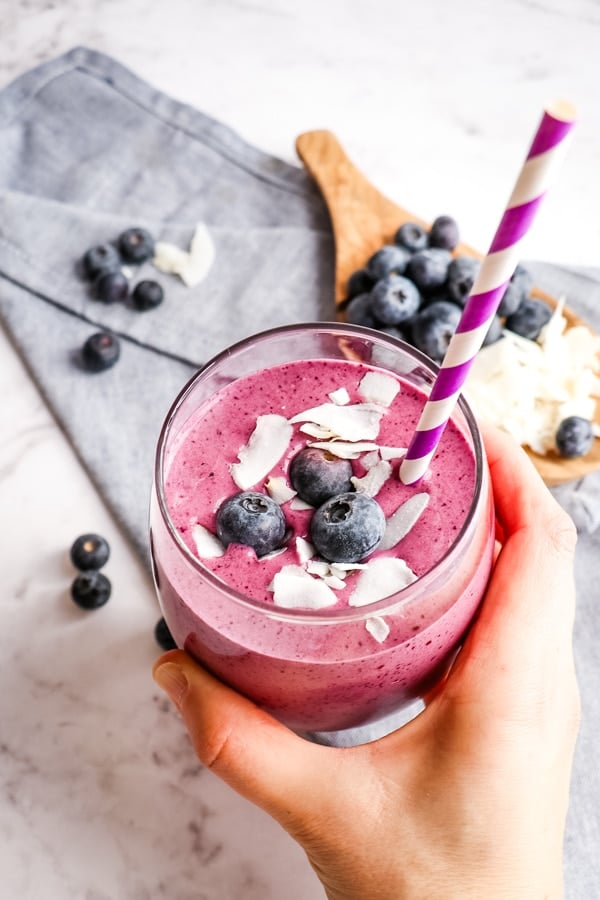 Love chocolate for breakfast or as a snack? Check out my other healthy chocolate recipes:
Chocolate Avocado Smoothie
Yield:
1 (16 oz.) smoothie
If you love a thick, delicious chocolate smoothie recipe then this chocolate avocado smoothie is for you! Made with banana, avocado, Greek yogurt and a few other ingredients to keep it extra healthy and loaded with protein. Perfect as a post-workout recovery drink, snack or quick breakfast.
Ingredients
1 c. unsweetened vanilla almond milk
1/2 c. plain Greek yogurt (2% or 5% is ideal)
1 frozen banana
1/2 fresh avocado (or 1/2 c. frozen avocado chunks)
1 (1 oz.) scoop, chocolate protein powder
2 Tbsp. unsweetened cocoa powder
1 tsp. granular monk fruit sweetener (like Lakanto or Whole Earth)
Instructions
To a blender jar, add the milk, yogurt, banana, avocado, protein powder, cocoa powder and sweetener. For best blending results, add your liquid ingredients first, as this will help the viscosity of the blades in blending through the frozen ingredients.
Blend for 45-60 seconds or until the smoothie is completely smooth and the frozen ingredients are completely incorporated.
Pour into your favorite glass and enjoy right away while cold.
Notes
Milk options: Feel free to use the milk of your choice, dairy or plant based.
Protein Powder: I used Orgain Organic Protein Powder, Chocolate Fudge flavor. 1 scoop is (1 ounce) and it has 85 calories and 10.5g of protein per scoop. Feel free to use chocolate or unflavored protein or collagen of your choice. Given the amount you are adding to the smoothie, you may need to add a little more liquid to help the powder fully incorporate and become smooth.
Nutrition Information:
Yield:

1
Serving Size:

1 (16 oz) serving
Amount Per Serving:
Calories:

522
Total Fat:

20g
Saturated Fat:

3g
Trans Fat:

0g
Unsaturated Fat:

14g
Cholesterol:

11mg
Sodium:

101mg
Carbohydrates:

50g
Fiber:

14g
Sugar:

20g
Protein:

43g