The perfect apple cocktail to enjoy on a crisp autumn day! This Apple Cider Moscow Mule are made with spiced apple cider, ginger liqueur, ginger beer, and topped with a fresh, crisp Granny Smith Apple slice! An amazing way to enjoy an Apple Cider Mule!
Disclosure: This post may contain affiliate links. Delightful E Made is a participant in the Amazon Services LLC Associates Program, an affiliate advertising program designed to provide a means for us to earn fees by linking to Amazon.com and affiliated sites.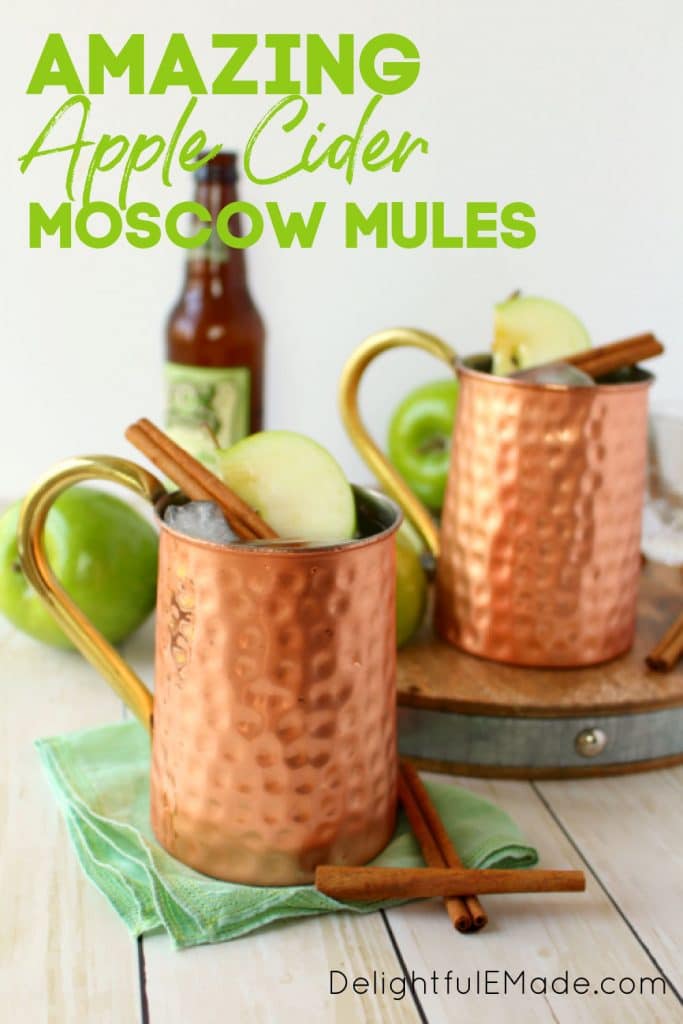 The BEST Apple Mule Recipe!
If you love a classic Moscow mule, then you'll love this apple cider version. Made with ginger beer, vodka, lime juice and apple cider, this refreshing mule recipe will quickly become a favorite cocktail.
Like many apple cider drink recipes, this Moscow mule is great served icy cold in a copper mug. Garnish with some apple slices and cinnamon sticks for the ultimate fall drink.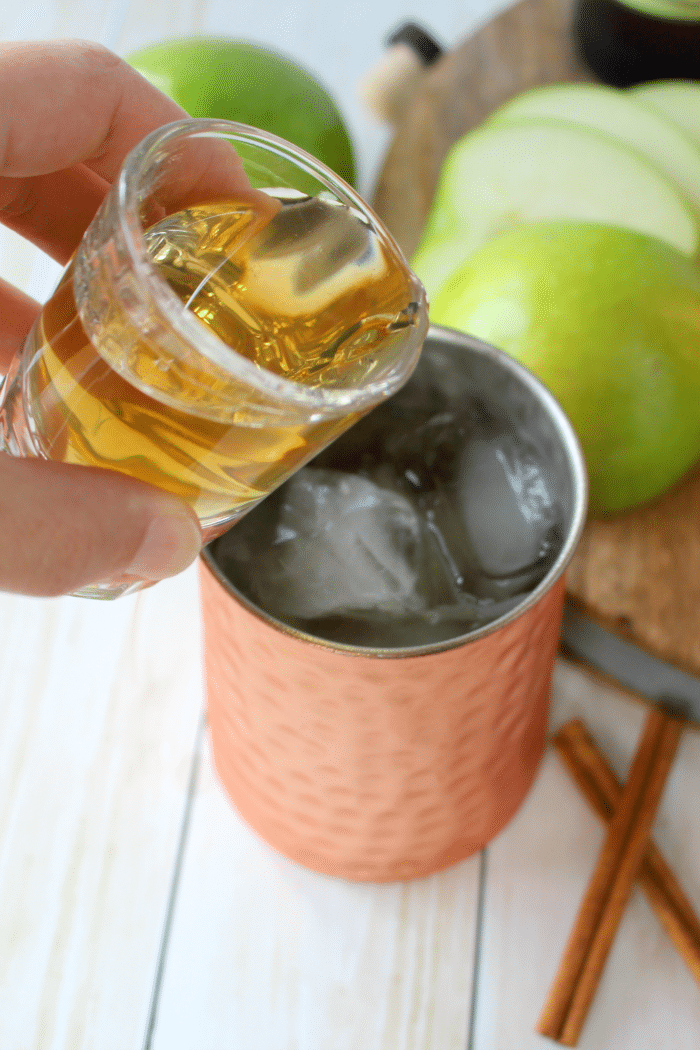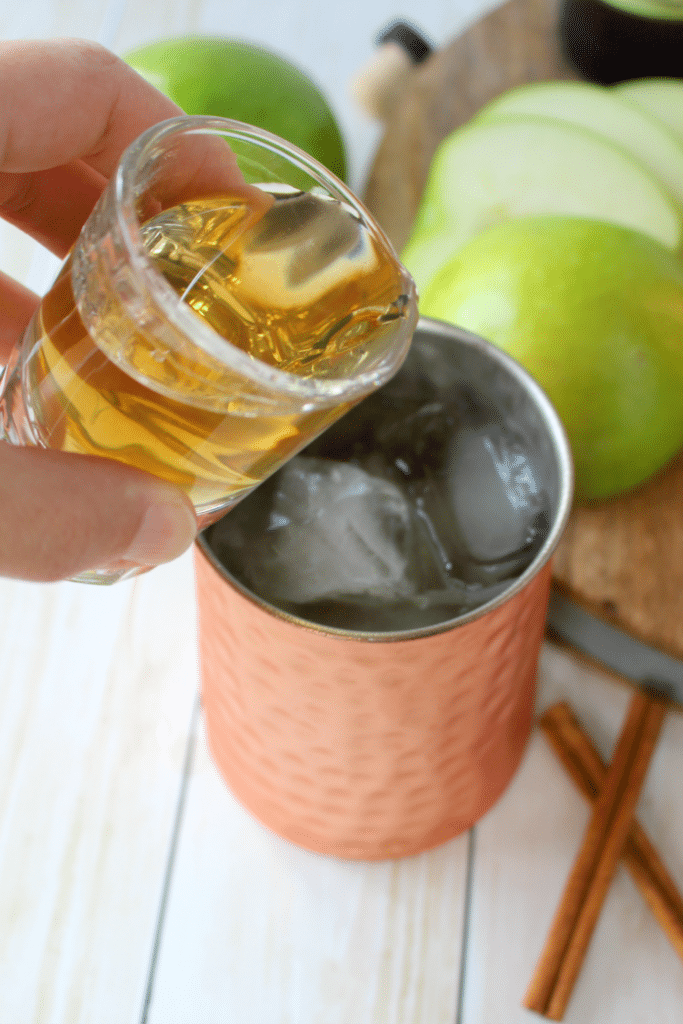 How do I make an apple cider Moscow mule?
An apple cider Mule is made by combining apple cider, lime juice, ginger beer and vodka together. Traditionally, a Moscow mule is served over ice in a copper mug.
What do I need to make an apple cider mule?
To make an apple cider Moscow mule, you'll need apple cider, ginger beer, fresh lime juice and vodka. You can also add cinnamon sticks and/or apple slices to your mule, if desired.
What other liquor can I add to a mule?
Most mule recipes include vodka and ginger beer, however for this apple cider mule, I decided to substitute the vodka for ginger liqueur.
This artisan Ginger Liqueur is made by the Bloomery SweetShine Distillery in Charles Town, WV. My food-blogger friends and I took a tour of the distillery and learned how this fabulous "sweet shine" is made. We also got to help bottle, and even sample this locally farmed concoction.
The flavors and sweet aroma of this Ginger liqueur are amazing! In addition to the Ginger flavor, they also make Hard Lemonade, Black Walnut, Pumpkin, Peach, Chocolate Raspberry, Raspberry Lemon, Lemoncello, and Cranberry Clementine.
If you are not able to find ginger liqueur, I would recommend substituting regular vodka, like Titos.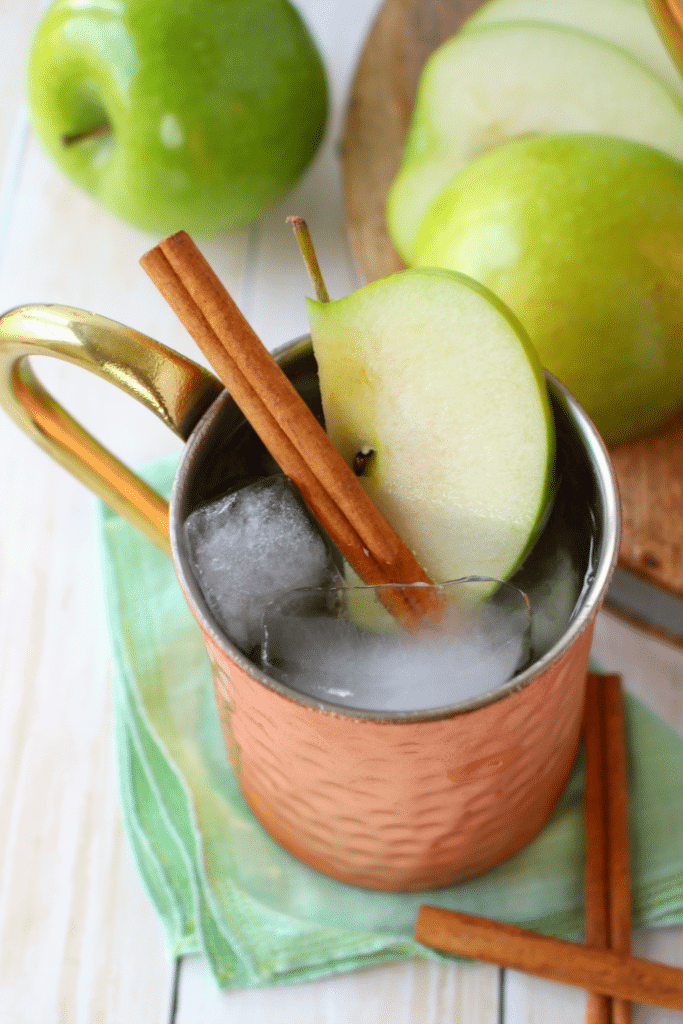 As soon as I tried that delicious Ginger liqueur I knew I had to make a delicious Moscow Mule.
Pairing it with spiced cider, and ginger beer was the perfect way to infuse the delicious, crisp flavors of fall. The flavors are amazing together, and when topped with a fresh apple slice and a cinnamon stick, you'll discover this drink to be a new fall favorite.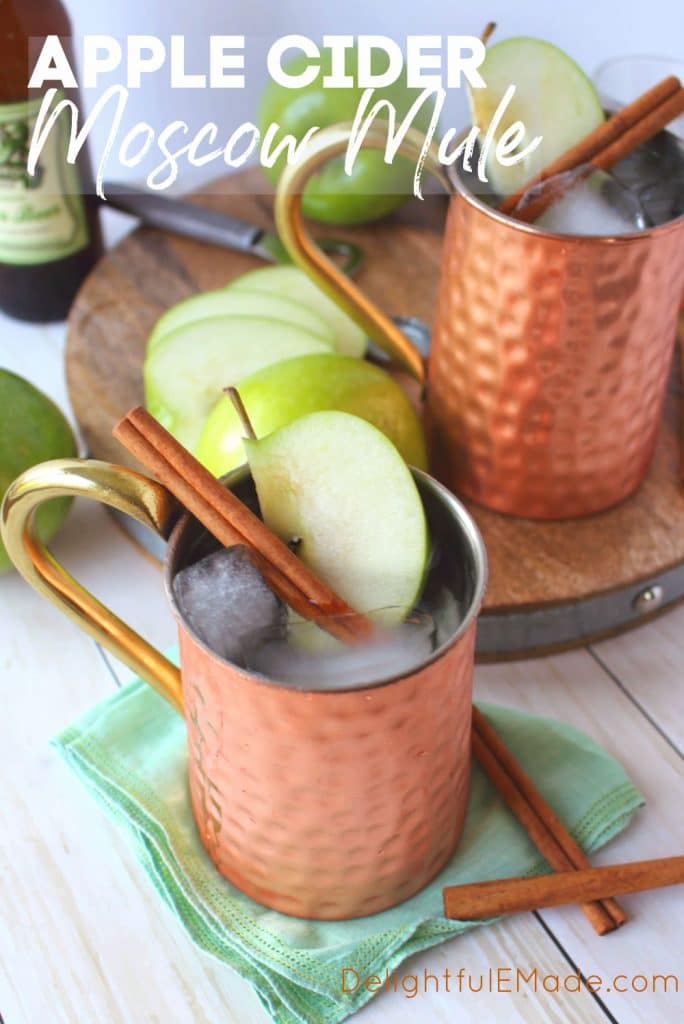 If you loved this delicious Apple Cider Moscow Mule, check out some of my other delicious cocktail recipes:
Here's the easy recipe for my Apple Cider Moscow Mule:
Apple Ginger Moscow Mule
The perfect apple cocktail to enjoy on a crisp autumn day! My Apple Ginger Moscow Mule is made with spiced apple cider, Ginger liqueur, Ginger beer, and topped with a fresh, crisp Granny Smith Apple slice! How 'bout them apples?!
Ingredients
4 oz. spiced apple cider
4 oz. ginger beer
1 1/2 oz. ginger liqueur, like Bloomery Ginger Sweet Shine
Fresh apple slices
Cinnamon sticks
Ice
Instructions
Fill a copper mug with ice. Pour in the cider and ginger beer. Top with the ginger liqueur, and stir together. Add a fresh apple slice and cinnamon stick. Enjoy right away.
Notes
If you cannot find Ginger liqueur, substitute with regular Vodka, like Tito's. Vodka is the standard liqueur in a Moscow mule.
Nutrition Information:
Serving Size:

1 drink
Amount Per Serving:
Calories:

202
Total Fat:

2g
Saturated Fat:

1g
Sodium:

24mg
Carbohydrates:

45g
Sugar:

14g
Protein:

4g
I hope this cocktail inspires you to get out to your local orchards, and enjoy all of the fresh fall flavors your area has to offer!
Cheers! ~Erin