The BEST Baked Parmesan Steak Fries!
Wondering how to make steak fries? These crispy, baked steak fries will be a new family favorite! Healthier than greasy, fried potatoes, these thick cut potato wedges are coated in Parmesan cheese and ranch seasoning and baked to perfection!
This post may contain affiliate links. Delightful E Made is a participant in the Amazon Services LLC Associates Program, an affiliate advertising program designed to provide a means for us to earn fees by linking to Amazon.com and affiliated sites.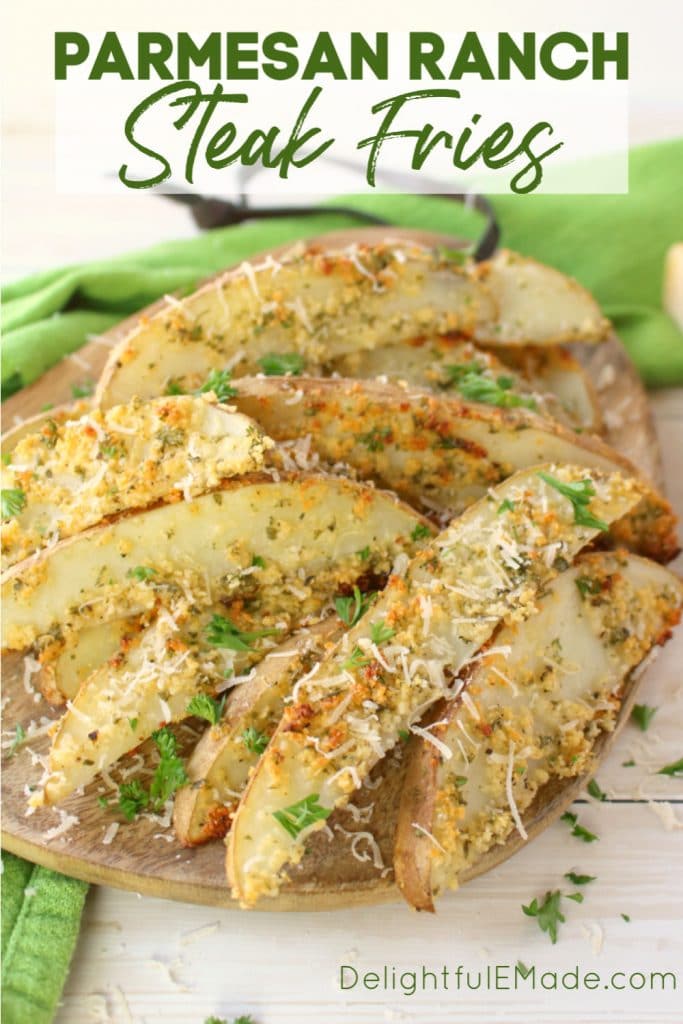 How to make Steak Fries in the Oven
Would you consider you and your family to be meat and potato eaters? Do you love a good steak with a baked potato, and drool at the idea of a juicy burger with a big side of fries?
My family and I are definitely these people! We love grilling, slow cooking, braising and roasting pretty much any type of meat, and with that always comes a great side – specifically a really good (and easy!) potato recipe.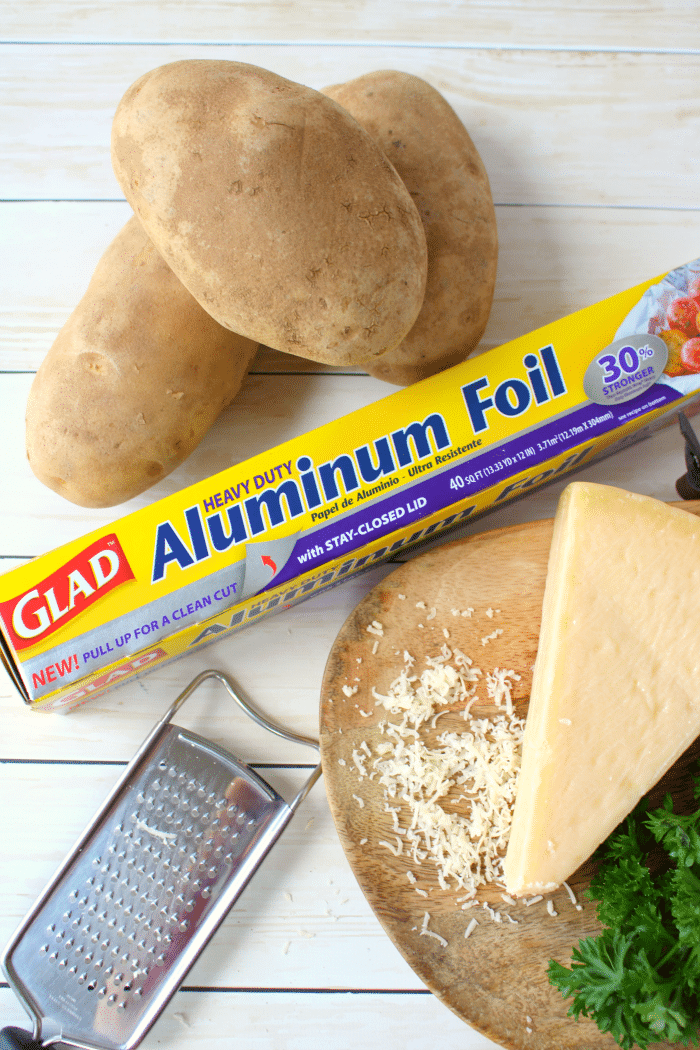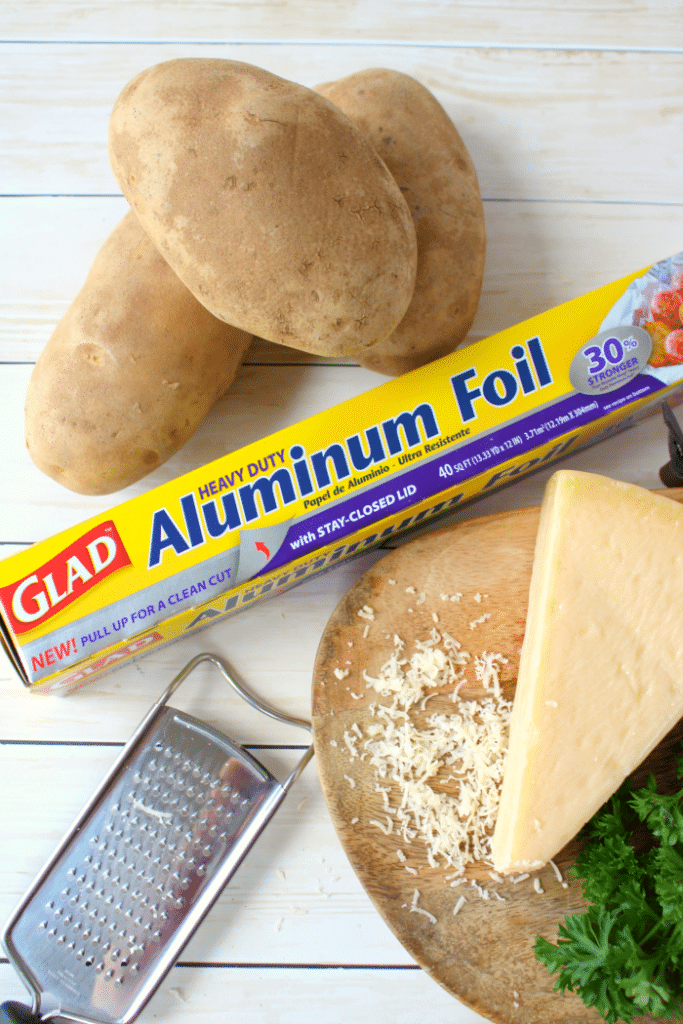 Throwing together some crisp, delicious potato wedges (we call them steak fries), are definitely one of my go-to recipes. These go with everything from a great cut of steak, to grilled chicken, pork chops, burgers and especially sloppy joes! They have a simple Parmesan ranch crust that comes together in moments.
How do you make steak fries from scratch?
Start with some Russet potatoes that have been cut into thick, long wedges. You'll then arrange on a baking sheet, coating with seasoning, and then roasting to crispy perfection.
What are steak fries made of?
Steak fries are typically made of thickly sliced Russet potatoes. You can also use larger Yukon Gold or sweet potatoes for a slightly different flavor.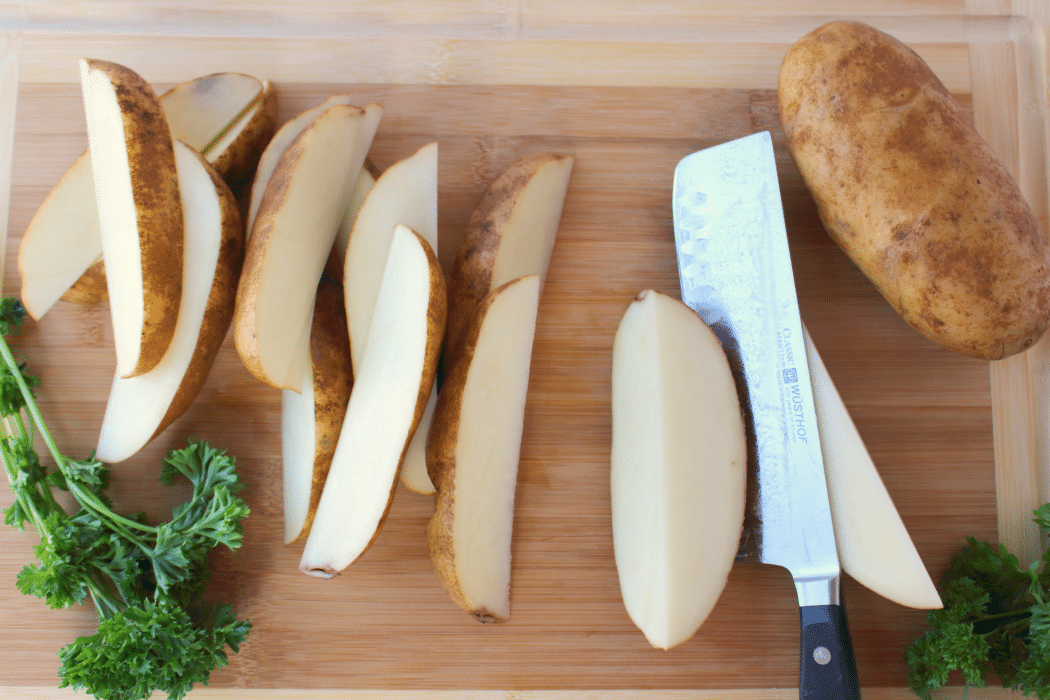 How should I slice potatoes for baked steak fries?
When slicing your potatoes, no need to do any peeling. Simply rinse and gently scrub with a vegetable brush. Then, with a sharp knife, slice the potatoes length-wise into quarters, and then into 1/8th's. Three large potatoes will yield 24 large wedges.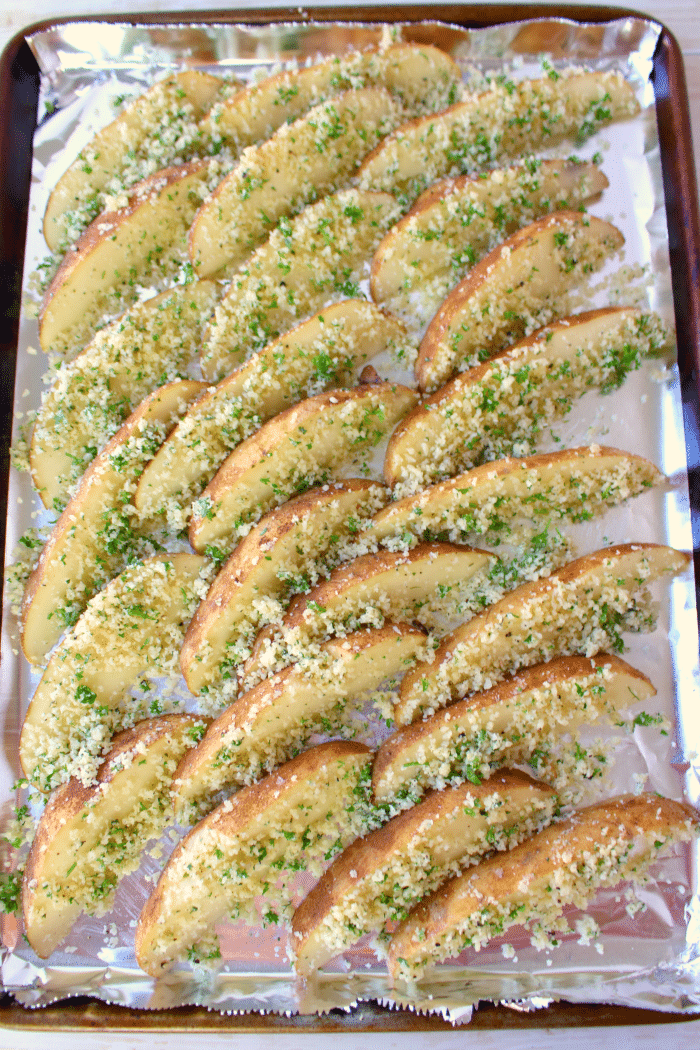 Are baked fries good for you?
Baked fries are definitely a healthier alternative to deep-fat fried French or steak fries. Most fast food and restaurant fries are fried in extremely unhealthy canola or vegetable oil, that usually gets changed out only once a week. Yuck!!!
Each time that oil is heated it becomes more and more toxic, thus very unhealthy to consume. Baking your own fries at home is a much healthier option and they are really delicious!
How do I season the potato wedges?
Once you mix the Parmesan cheese mixture, and coat the potato wedges, you'll then place them on the baking sheet lined with the aluminum foil. No need to add extra oil or non-stick spray.
The foil will help the potatoes bake crisply, and also create a surface where the potatoes can be easily removed after baking.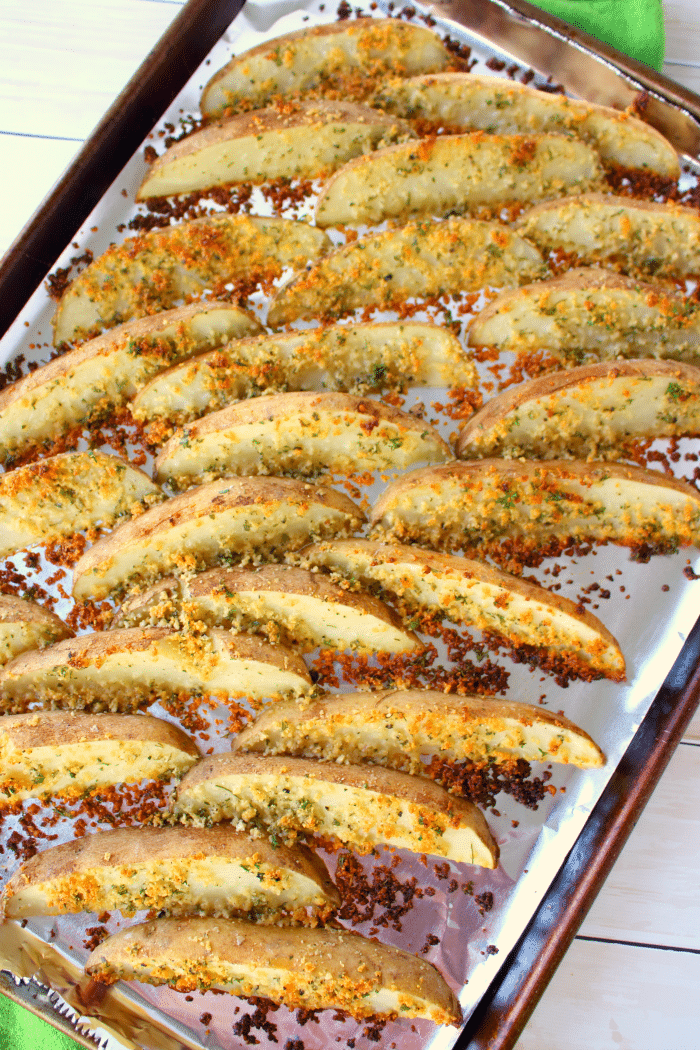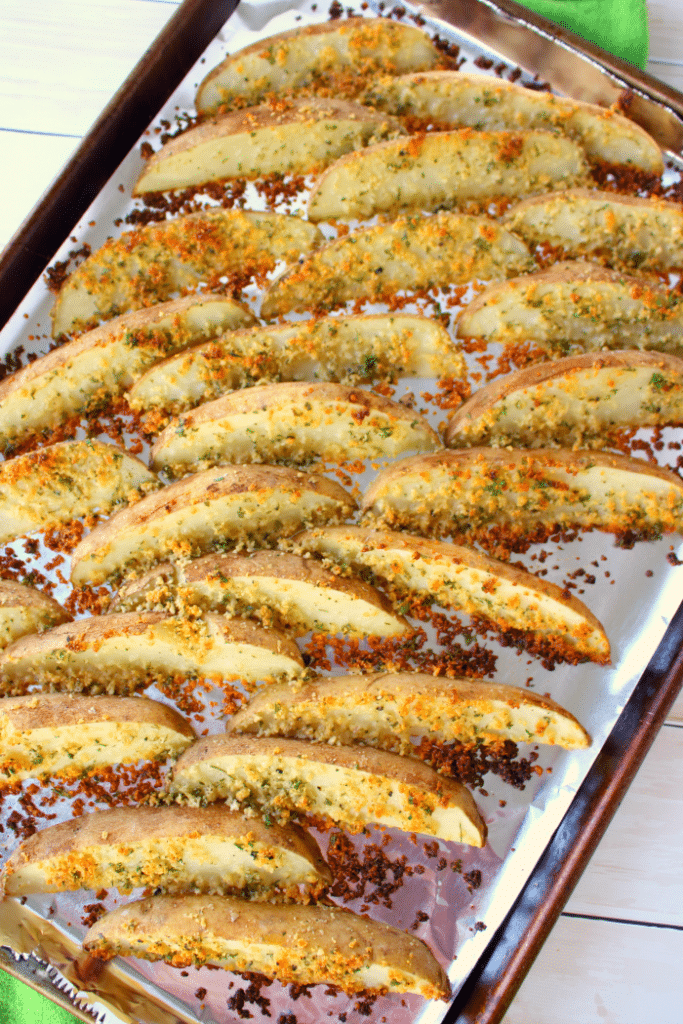 Why do they call them steak fries?
The French dish Steak Frites (Steak and Fries) is very common and popular in France. Although thought to originate in Belgium, the French made steak fries a household name.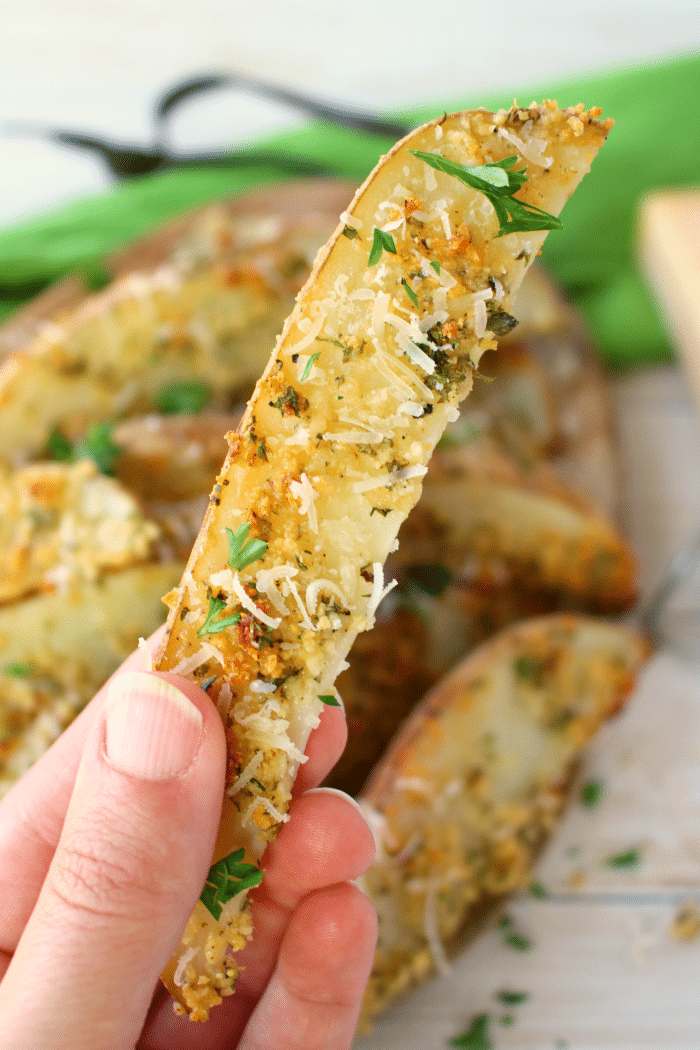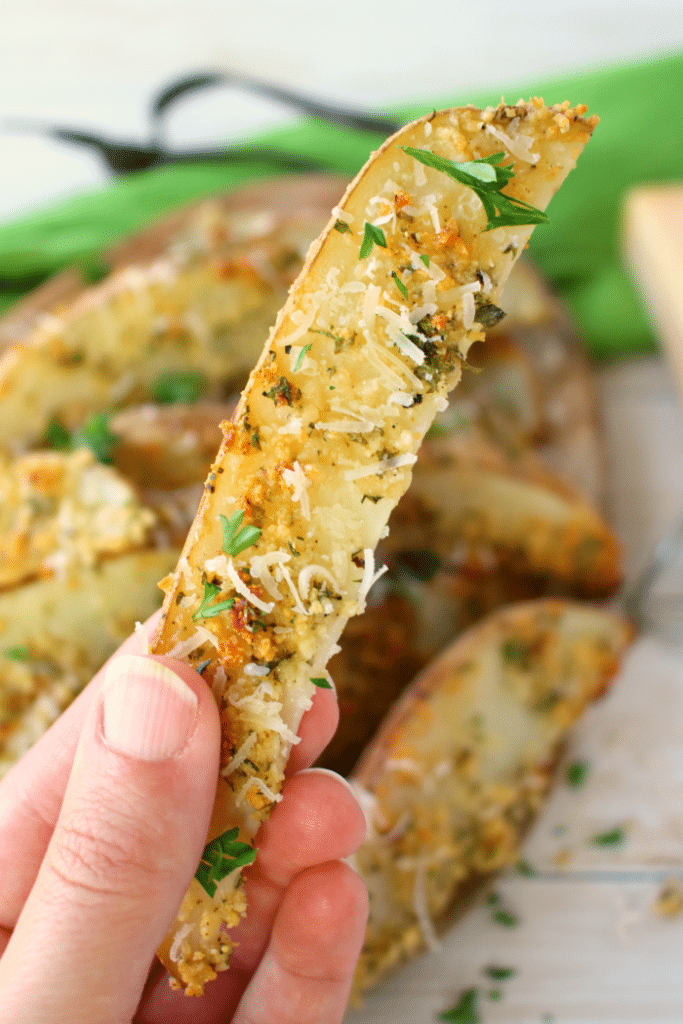 Add some additional Parmesan cheese and garnish with extra minced parsley to make it look extra pretty. Serve with a yummy dip, like my Smokey Chipotle Dipping Sauce, or my Healthy Greek Yogurt Ranch Dip. They're pretty fantastic just by themselves, too!
Wondering what to serve with these delicious baked fries? Here's a few ideas:
Here's the recipe for my Parmesan Steak Fries
Parmesan Ranch Steak Fries

These crispy, oven-baked fries will be a new favorite side with everyone in your family! Russet potato wedges are coated in Parmesan cheese, ranch seasoning, and a bit of parsley, they come together in moments, and bake to perfection! Fantastic with anything from sloppy joes to steak and everything in between!

Ingredients

3 large Russet potatoes, cut into 8 long wedges
1/2 c. Parmesan cheese, grated
3 Tbsp. fresh parsley, minced
1 (1 oz.) envelope, ranch flavored dry dressing mix
1/2 tsp. onion powder
1/2 tsp. garlic powder
1/4 tsp. salt
1/4 tsp. coarse ground pepper
Additional parsley and Parmesan cheese for topping after baking

Instructions

Preheat oven to 375 degrees. Line a large baking sheet with Glad™ Foil. Set pan aside.
Slice potatoes into 8 long wedges and place wedges into a large bowl.
In a separate smaller bowl, add the Parmesan cheese, parsley, dry dressing mix, onion powder, garlic powder, salt and pepper. Mix to combine. Sprinkle cheese mixture over potato slices and toss with hands to coat.
Place potato wedges onto prepared baking sheet, and sprinkle remaining cheese mixture over the top of the potatoes. Bake at 375 degrees for 33-35 minutes. Remove from oven and let cool slightly for 5 minutes. Serve with additional Parmesan cheese and parsley, if desired.

Nutrition Information:

Serving Size:

6 servings Amount Per Serving:

Calories:

51

Total Fat:

4g

Saturated Fat:

1g

Cholesterol:

7mg

Sodium:

263mg

Carbohydrates:

2g

Protein:

2g