The BEST Beef Enchilada Recipe!
The best beef enchilada recipe on the internet! Stuffed with seasoned ground beef and cheese, smothered with a delicious sour cream sauce, topped with more cheese and baked to perfection. These Beef Sour Cream Enchiladas are incredible!
This post may contain affiliate links. Delightful E Made is a participant in the Amazon Services LLC Associates Program, an affiliate advertising program designed to provide a means for us to earn fees by linking to Amazon.com and affiliated sites.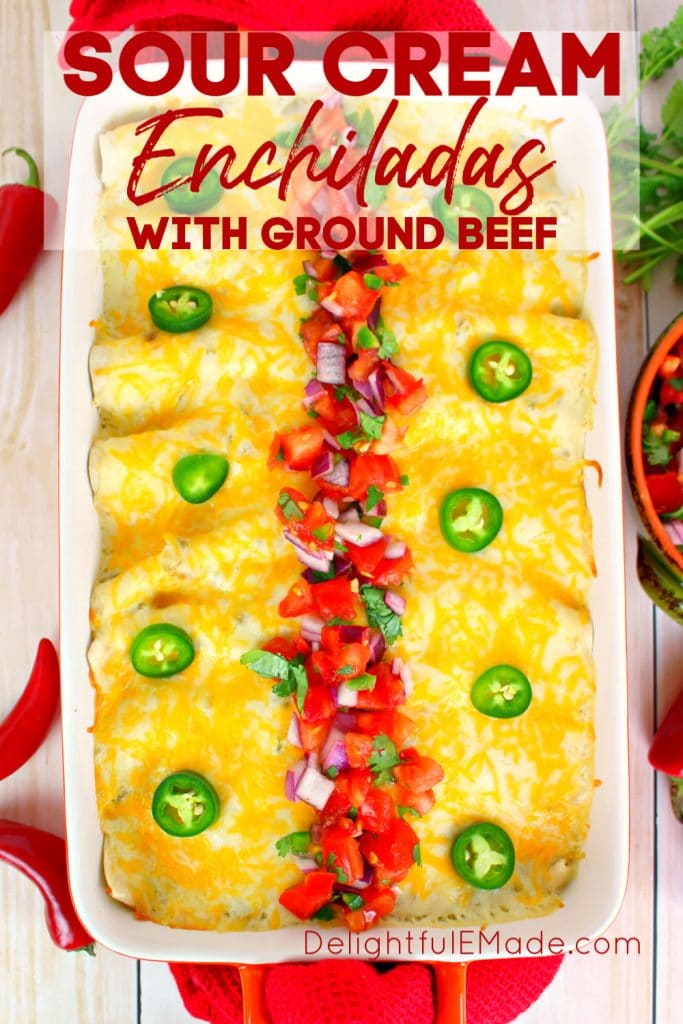 Do you have recipes that you know and love and make over and over again? This recipe for Sour Cream Enchiladas is one that my mom and I have been making for decades! I believe these ground beef enchiladas were discovered at one of my many 4-H Special Foods events.
Once we tried it, we knew we had to make this at home! Over the years, I've tweaked it, and made it with other fillings, but keep coming back to this beef sour cream enchiladas recipe.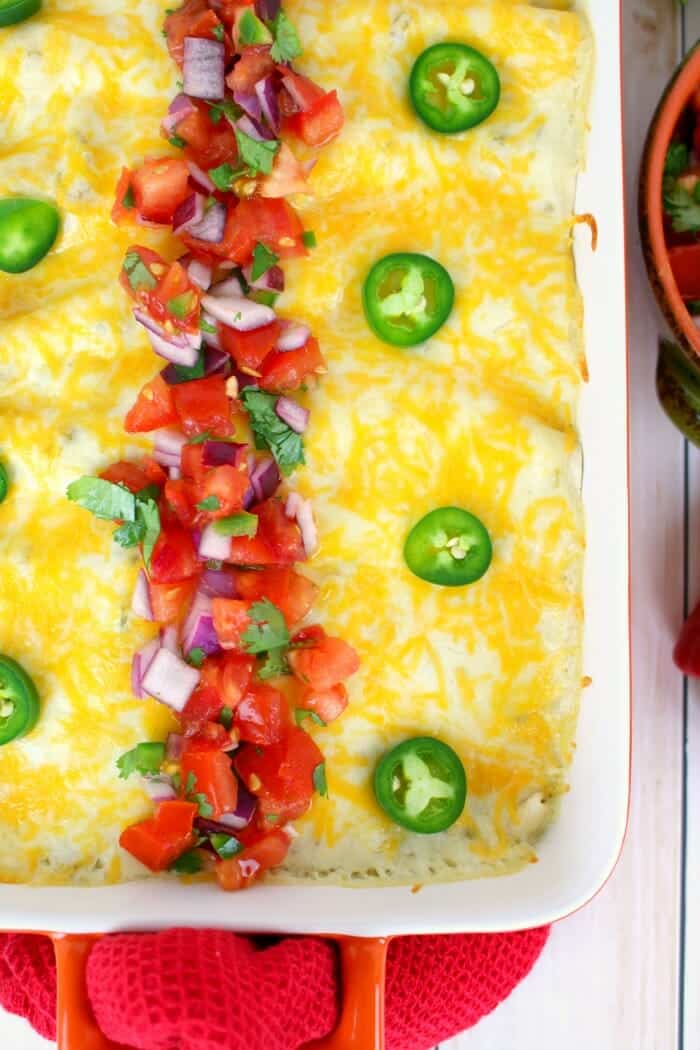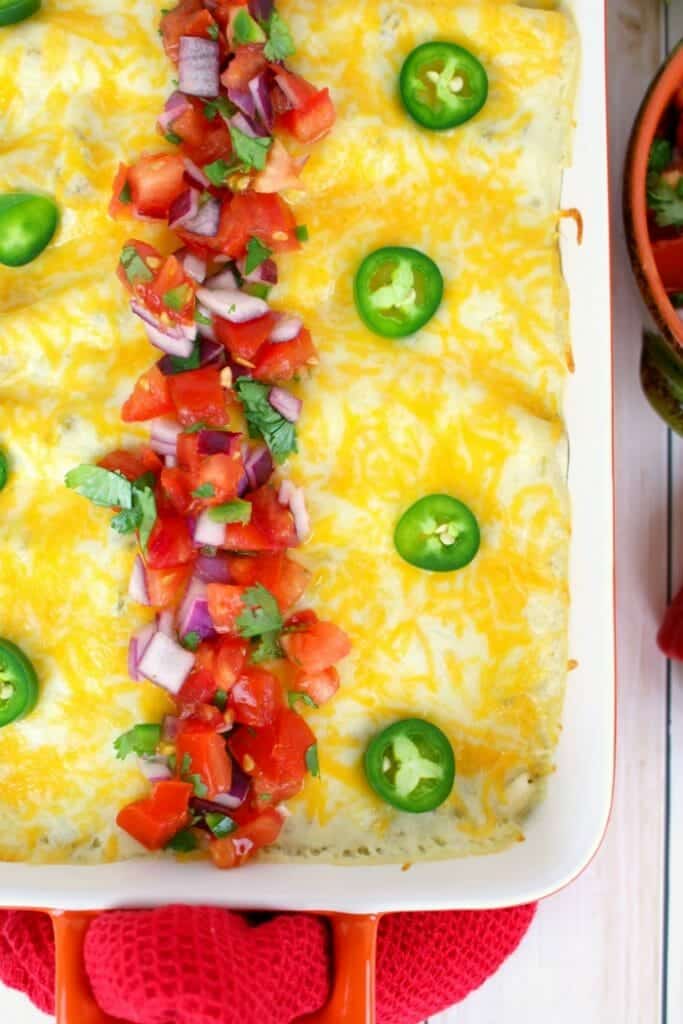 One of the many things that makes this recipe so fantastic, is that it uses simple ingredients that you likely already have in your fridge and pantry. Growing up in rural South Dakota, we didn't have much exposure to true, authentic Tex-Mex food. But, because we could get some of the basics at the local grocery store, this recipe was always a mainstay!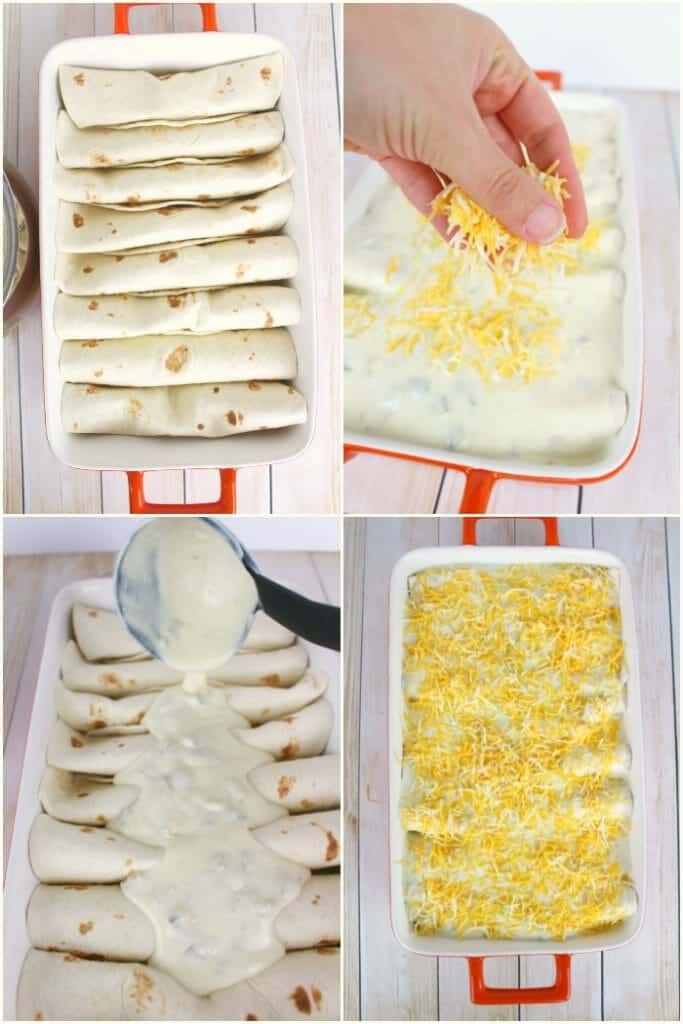 How to assemble these Ground Beef Enchiladas:
You'll start by making the sour cream sauce. It's very simple, using just butter, flour, broth, sour cream and canned chilies. You'll add a bit to the bottom of the baking pan, and then reserve the rest for the top of the enchiladas.
Next, you'll make the filling, which is simply ground beef and taco seasoning. Adding some shredded cheese along with the ground beef is always a good idea! 🙂
Once your tortillas are filled with the meat and cheese and placed into the pan, you'll then pour the rest of the sour cream sauce on top of the enchiladas, and then top with more cheese! Doesn't it look amazing?
What type of tortillas are best for enchiladas?
Traditionally, corn tortillas are used in enchiladas. For this ground beef enchilada recipe, I recommend flour tortillas. The primary reason is that flour tortillas tend to not tear as much as flour when rolling the enchiladas. A way to get around corn tortillas from tearing is to slightly warm the tortillas prior to filling.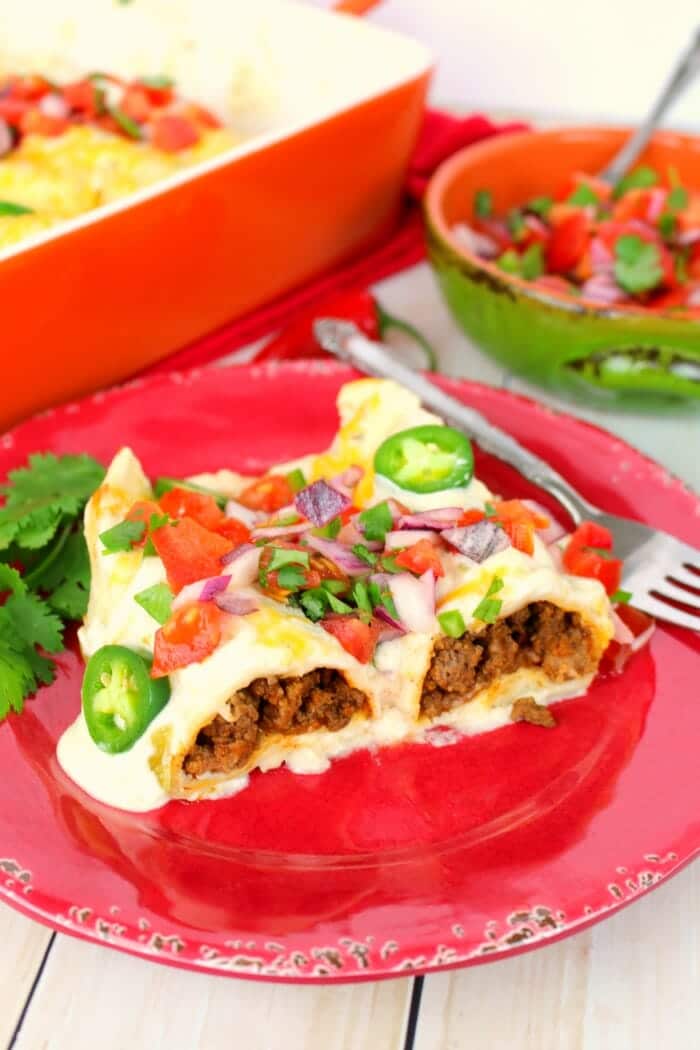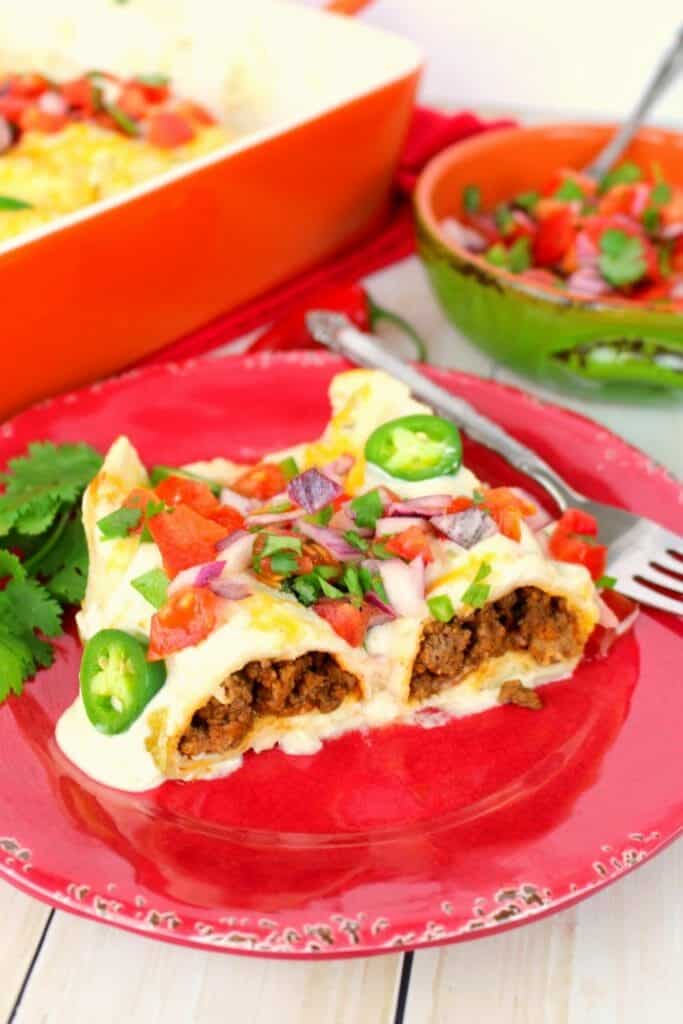 How long do I bake Sour Cream Enchiladas?
Bake for a short 20-25 minutes, and you'll have the most amazing soft, delicious enchiladas! Once the enchiladas come out of the oven, let them cool slightly before serving.
What are some other topping ideas for these Ground Beef Enchiladas?
Salsa verde
Sliced Green Onions
Sliced Jalapenos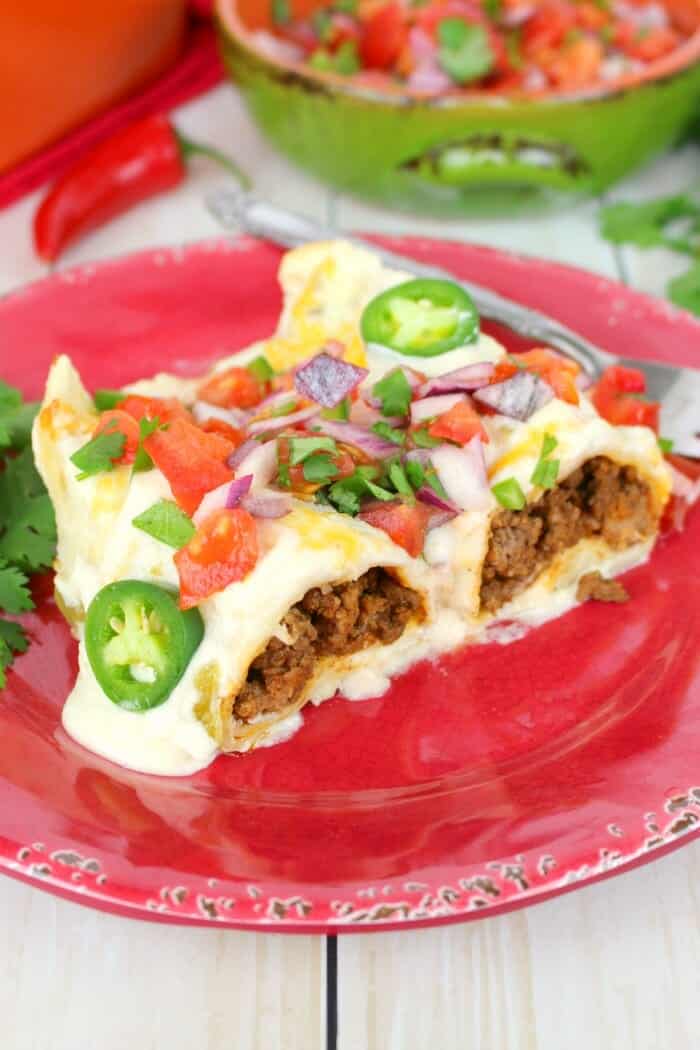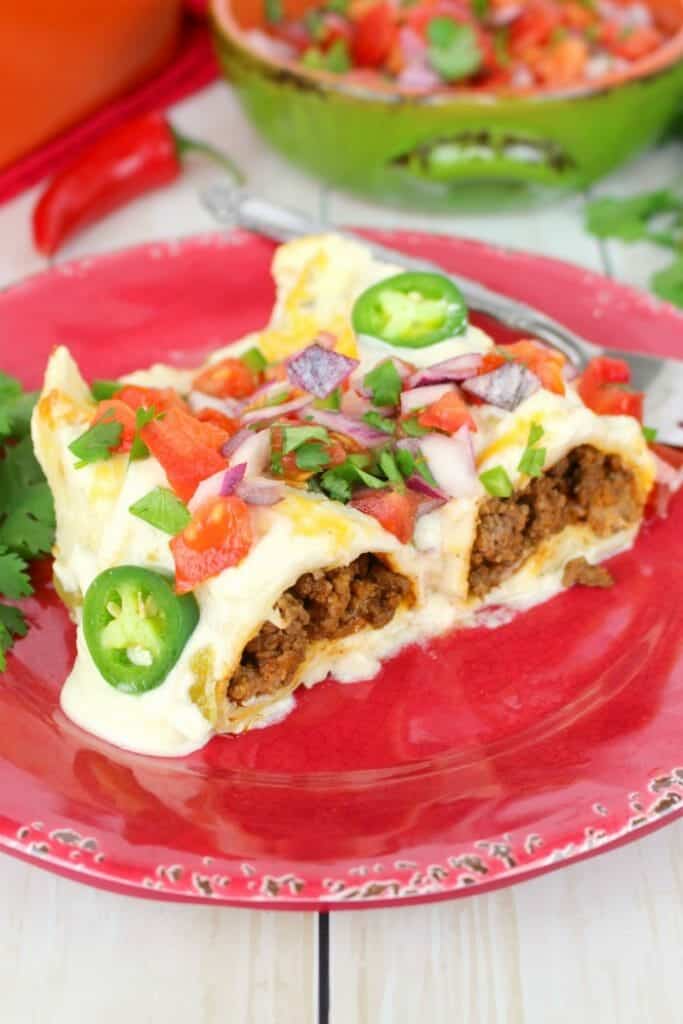 This makes for a fabulous dinner option any night of the week. It's amazing for a Cinco de Mayo celebration, too!
If you loved these delicious ground beef enchiladas, check out some of my other Tex-Mex dinner recipes:
Shredded Chicken Enchiladas with Sour Cream White Sauce
Healthy Chicken Enchilada Soup Recipe
If you and your family enjoy ground beef, check out some of my other ground beef recipes:
Easy One-Skillet Stove Top Lasagna
Cheesy Taco Tater Tot Casserole
How to Make Cheesy Hamburger Casserole at Genius Kitchen
One Pot Cheesy Italian Goulash
Here's the recipe for these amazing Beef Sour Cream Enchiladas:
Sour Cream Enchiladas
The only enchilada recipe you'll ever need! Stuffed with seasoned ground beef and cheese, smothered with a thick, delicious sour cream sauce, topped with more cheese and baked to perfection, these enchiladas are incredible! Amazing with pico de gallo and all your favorite Tex-Mex fixings!
Ingredients
1/4 c. (4 Tbsp.) butter
1/4 c. flour
1 (16 oz.) container, sour cream
1 (14.5 oz.) can, chicken broth
1 (7 oz.) can, mild green chilies
1 lb. lean ground beef
3 Tbsp. (or one envelope), taco seasoning
1/2 c. water
1 c. shredded cheddar, or Mexican blend cheese
8 medium tortillas
Instructions
In a medium saucepan, melt the butter. Add the flour, whisk together and cook for about 5 minutes over medium heat. Add the chicken broth and whisk together until combined. Continue to cook over medium heat until the broth becomes slightly thicker. Add the sour cream and chilies and whisk together until smooth. Remove from heat, cover with lid and set aside.
In a large skillet, brown the ground beef. Add the taco seasoning and water and cook bring to a simmer. Remove from heat.
Preheat oven to 350 degrees. In a 9 x 13" baking dish or pan, lightly sprayed with non-stick cooking spray, add about 1/4 of the sour cream sauce.
Begin filling the tortillas with about a 1/2 cup of the prepared meat and about 2 Tbsp of cheese. Wrap, and place seam-side down into the pan. Roll the remaining tortillas, and place into pan. Pour the remaining sour cream sauce over the top of the tortillas. Sprinkle the remaining cheese over the top. Bake at 350 degrees for 20-25 minutes.
Remove from oven. Let cool for about 5 minutes before serving. Enjoy!
Nutrition Information:
Serving Size:

8 servings
Amount Per Serving:
Calories:

205
Total Fat:

13g
Saturated Fat:

8g
Cholesterol:

61mg
Sodium:

589mg
Carbohydrates:

6g
Sugar:

1g
Protein:

16g
The next time you're in the mood for some awesome Tex-Mex, whip up a pan of these enchiladas! Everyone in the family will love them! Enjoy ~Erin