Meet your new favorite banana sheet cake recipe! Moist and sweet, this banana cake with maple frosting is perfect for any and every occasion.
The Most Amazing Banana Sheet Cake Recipe!
If you love banana cake with frosting, you've come to the right place. This Banana Pecan Sheet Cake with Maple Frosting takes cake to a whole, new level! Made with delicious pecans, this moist sheet cake is the perfect dessert. Topped with a rich maple frosting and brown sugar glazed pecans, this is a desert that will quickly become a family favorite.
As a kid, whenever we had a few over-ripe bananas sitting on the counter, we made one of two things – banana bread, or banana cake. To this very day, both are dear favorites of mine. Particularly with banana cake, the wonderful aroma that comes from the oven immediately takes me back to my childhood. Enjoying a big slice with lots of frosting was always such a treat.
Now that I live in the south, I've turned this classic banana cake from my childhood into a Southern dessert by adding plenty of pecans and the South's favorite sugar, Dixie Crystals! However, you don't need to live in the south to enjoy this amazingly delicious Banana Cake with Frosting.
An amazing Banana Cake with frosting!
The cake is wonderfully moist, as I add a bit of sour cream to keep the batter smooth and moist. The frosting may be my favorite part of this recipe, as the fantastic maple flavor is perfect complimentary to the sweet cake below. For a pretty topping, I added some Brown Sugar Glazed Pecans – these add a wonderful sweet crunch to the cake, and are a fantastic golden brown garnish to this already glorious dessert!
With just a few steps, this cake comes together easily. I start by glazing and toasting the pecans, as they will need a bit of time to cool. Once the cake comes out of the oven, you'll be able to mix up your frosting, and then top with pecans. It's a great dessert to make ahead for a pot-luck, party, or get-together with friends and family!
I mentioned earlier that we also use to make banana bread with those over-ripe bananas. My Award Winning Banana Bread Recipe is one of my favorites. This was (and still is!) my families' go to banana bread recipe, and the one that we would always make for 4-H Achievement days. Needless to say, it always brought home a purple ribbon.
In just a few short weeks I'll be traveling to Atlanta to attend the Blog Life University Conference. Dixie Crystals is one of our wonderful sponsors for the event, and I'm thrilled to be entering this delicious cake recipe in the Sweet n' Southern Desserts recipe contest. You'll see Dixie Crystals Dark Brown Sugar, Granulated Sugar and Powdered Sugar proudly featured in this recipe! #BLU16 #SweetandSouthern
If you loved this delicious banana sheet cake recipe, check out some of my other sheet cake recipes: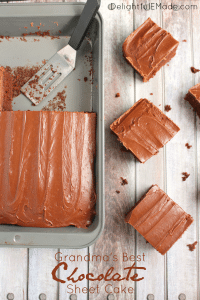 Grandma's Best Chocolate Sheet Cake
Buttermilk Sheet Cake with Chocolate Fudge Frosting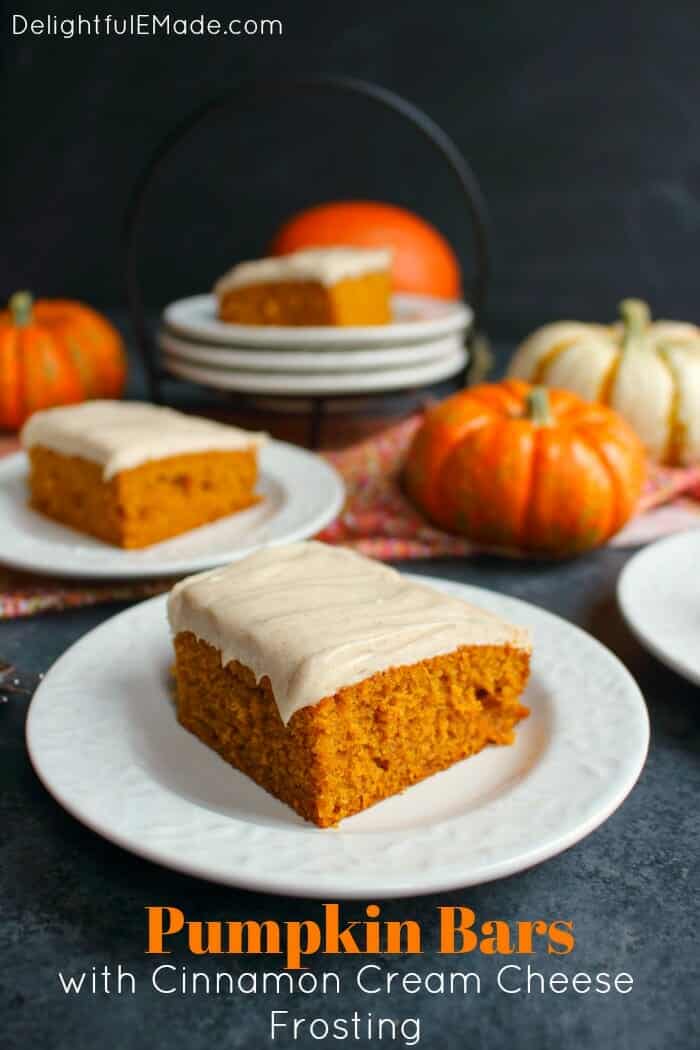 Pumpkin Bars with Cinnamon Cream Cheese Frosting
Here's the easy and delicious recipe for my Banana Sheet Cake recipe with Maple Frosting:
Banana Pecan Sheet Cake with Maple Frosting
Total Time:
1 hour
5 minutes
A classic banana cake brought to a whole new level! Moist, sweet cake baked with pecans and topped with a delicious maple frosting, and brown sugar glazed pecans, this cake is perfect for any and every occasion!
Ingredients
Brown Sugar Glazed Pecans
2 Tbsp. Dixie Crystals Dark Brown Sugar
2 Tbsp. butter
1/2 c. pecan halves
Cake:
1 1/2 c. flour
1 tsp. baking powder
1 tsp. baking soda
1/2 tsp. salt
1 tsp. cinnamon
1/2 tsp. nutmeg
1 c. Dixie Crystals Granulated Sugar
1/2 c. vegetable oil
3 ripe bananas, mashed (about 1 1/4 cup)
1/2 c. sour cream
2 eggs
1 tsp. vanilla extract
1/2 c. chopped pecans
Frosting:
1/2 c. butter (1 stick)
1 c. Dixie Crystals Dark brown sugar
1/3 c. heavy cream +2 Tbsp.
1/2 tsp. salt
1 1/2 tsp. maple extract
2-3 c. Dixie Crystals Powdered Sugar
Instructions
For the Brown Sugar Glazed Pecans: In a small skillet, melt together the dark brown sugar and butter over medium-low heat. Once melted add the pecan halves, and coat the pecans in the butter/sugar mixture. Continue to gently coat and toast the pecans in the skillet for about 5 minutes. Transfer the pecans to a baking sheet, making sure they are evenly separated. Continue to toast in a 250 degree oven for 15-20 minutes. Remove from oven and let cool completely.
For the Cake: Preheat oven to 350 degrees. Lightly spray a 9x13" pan with non-stick baking spray. Set aside.
In a medium bowl, combine the flour, baking powder, baking soda, salt, cinnamon and nutmeg. Whisk together to combine. Set aside.
In a large bowl, add the sugar, vegetable oil, bananas, sour cream, eggs and vanilla. Stir together well. Gradually add the dry ingredients to the wet ingredients, making sure to scrape down the sides of the bowl. Mixture will look slightly lumpy. Add the chopped pecans, and stir to combine. Pour batter into the prepared 9x13" pan, and bake at 350 degrees for 32-35 minutes or until toothpick inserted comes out clean and crumb-free. Remove cake from the oven and let cool completely.
For the Maple Frosting:
Melt the butter in a saucepan over medium low heat. Add the brown sugar, salt and cream. Bring to a low boil. Continue to maintain a low bowl for approximately 3 minutes. Remove from heat and let cool for 15 minutes. Once cooled, stir in maple extract.
Transfer mixture to a mixing bowl. With a hand or stand mixer, gradually beat in the powdered sugar one cup at a time. Add extra cream if necessary to make the frosting a creamy consistency.
Evenly spread the frosting over the cooled cake. Top with the cool brown sugar glazed pecans. Slice and enjoy!
Nutrition Information:
Serving Size:

1
Amount Per Serving:
Calories:

6001
Total Fat:

228g
Saturated Fat:

67g
Cholesterol:

231mg
Sodium:

3497mg
Carbohydrates:

996g
Sugar:

760g
Protein:

49g