The BEST Yellow Cake with Chocolate Frosting in a 9×13″ Pan
Is Yellow Cake with Chocolate Frosting your all-time favorite? Then this fluffy, delicious Buttermilk Cake recipe is right up your alley. This homemade buttermilk sheet cake is made in a 9×13 inch pan making is really simple to make, frost and enjoy.
This post may contain affiliate links. Delightful E Made is a participant in the Amazon Services LLC Associates Program, an affiliate advertising program designed to provide a means for us to earn fees by linking to Amazon.com and affiliated sites.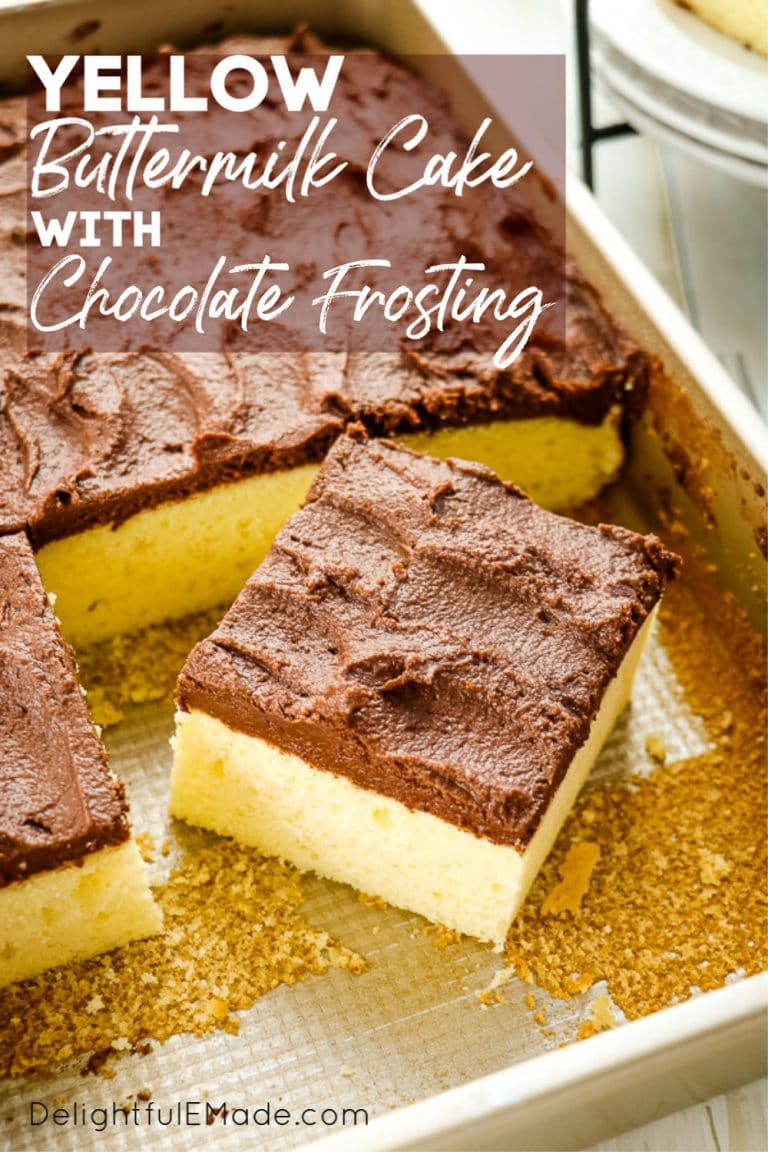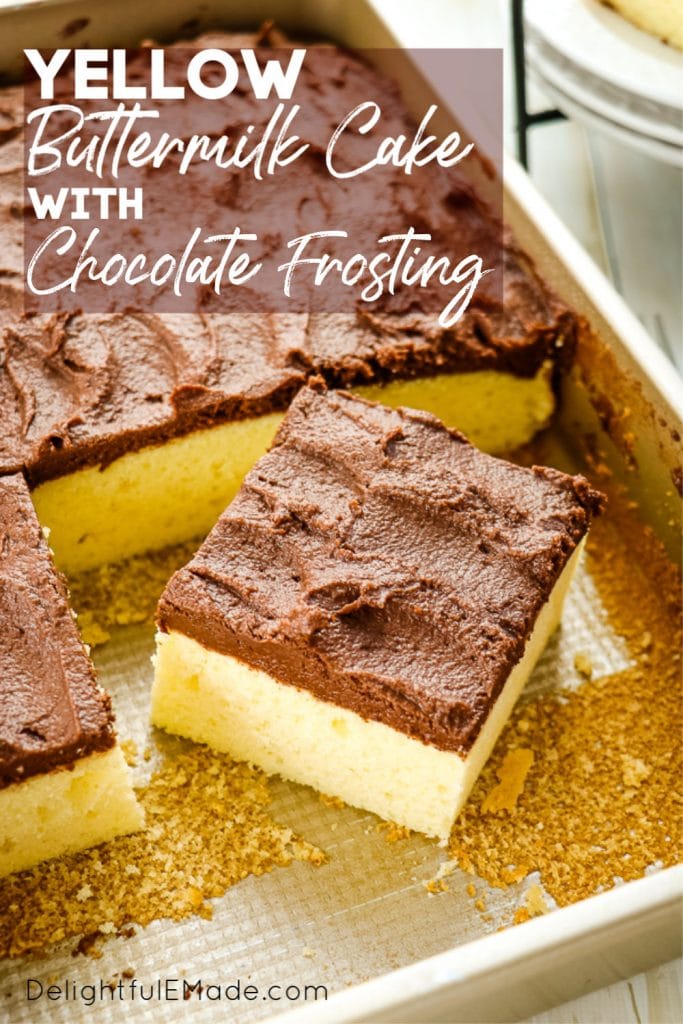 This buttermilk cake recipe is a go-to dessert for birthday's, pot-lucks and parties. Where I grew up, pot luck dinners were a mainstay of our small rural community. It was a chance for the people of your community come together and enjoy a really fantastic meal made by everyone.
A stellar dessert like this yellow cake with chocolate frosting is guaranteed to be a hit at just about any church or community pot luck!
Here's how this delicious Buttermilk Cake recipe comes together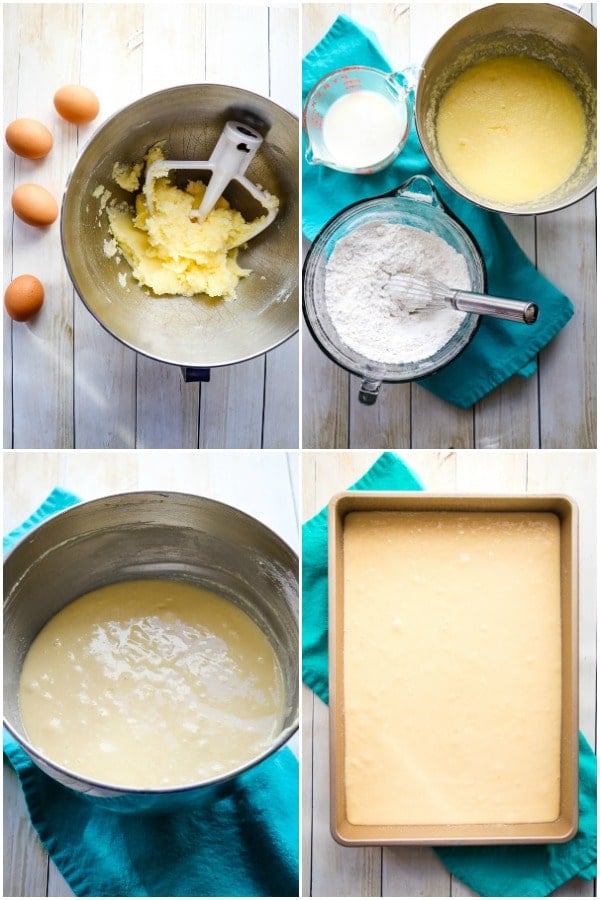 Four easy steps to making this buttermilk cake recipe
Step 1: Start by creaming together the butter, sugar and eggs. You can use a hand or stand mixer.
Step 2: Combine the dry ingredients in a separate bowl.
Step 3: To the butter mixture, gradually add the dry ingredients, alternating with the buttermilk. The result will be a wonderfully smooth batter.
Step 4: Pour into a prepared 9×13″ pan that has been sprayed with non-stick baking spray. Bake at 350 for 28-33 minutes. Test the cake by inserting a toothpick into the center of the cake. When the toothpick comes out clean and crumb-free, you will know the cake is done.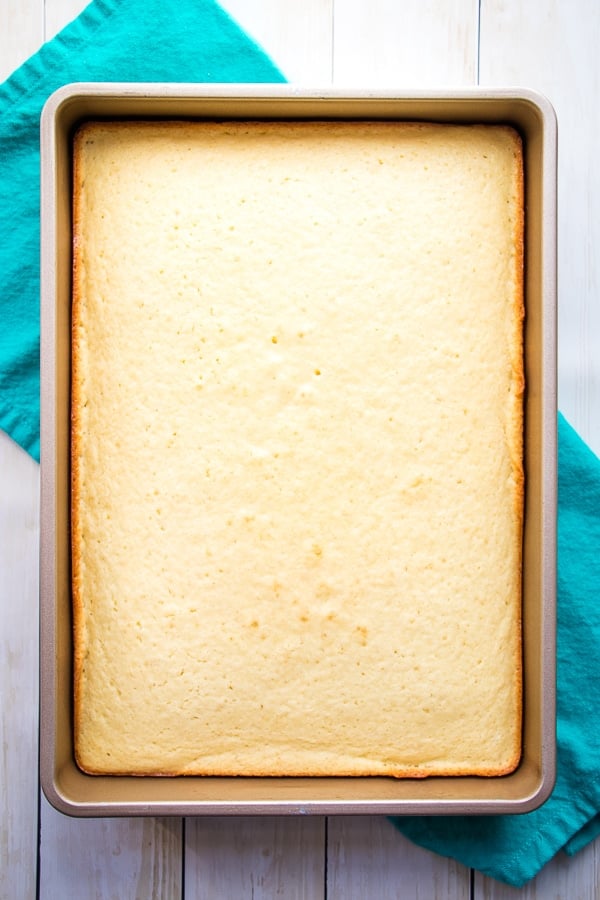 The cake will be a beautiful, golden brown when baked. Once the cake comes out of the oven let it cool completely to room temperature.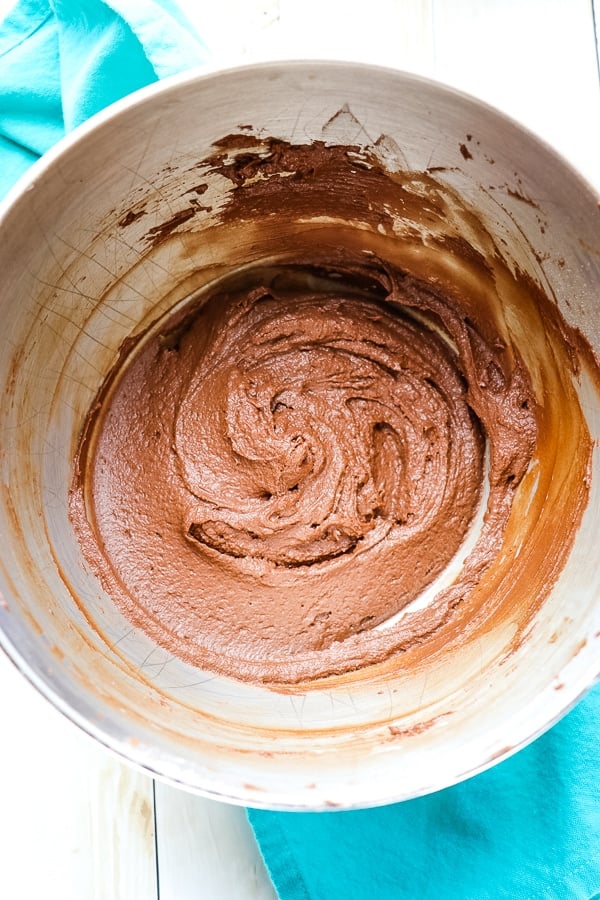 Steps for making the Chocolate Fudge Frosting
Step 1: Start with room temperature butter in the bowl of a hand or stand mixer. Cream the butter with the vanilla and almond extract.
Step 2: In a separate bowl, sift together the powdered sugar and cocoa powder. This will help eliminate any lumps, which you do NOT want in your frosting.
Step 3: Alternate the sugar mixture and a tablespoon of buttermilk until the frosting is smooth and well incorporated.
Step 4: Spread evenly over the cooled buttermilk sheet cake.
This chocolate frosting absolutely takes the cake! It is the ultimate topping for this yellow cake with chocolate frosting.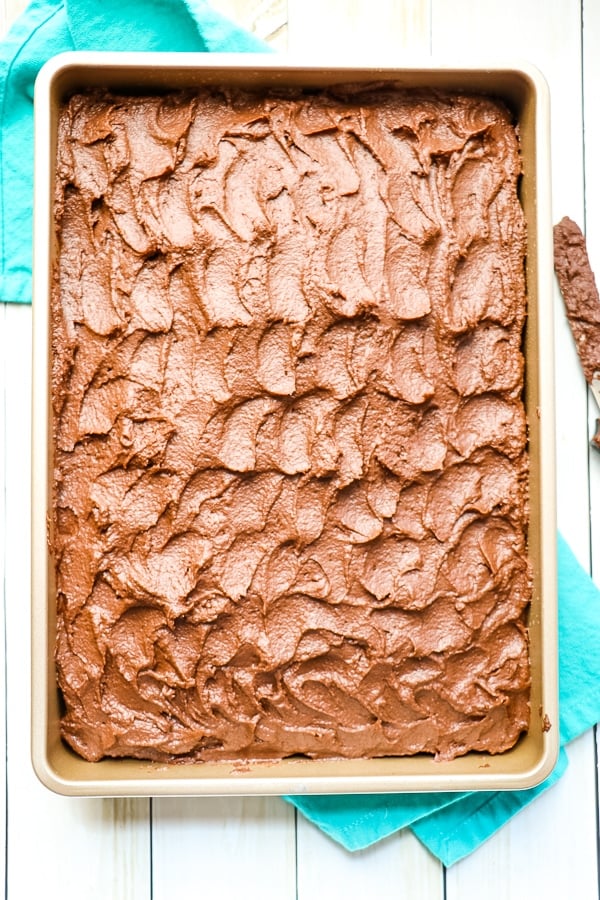 Pro-tip: Refrigerate the cake for at least 1 hour before slicing. This will help the frosting set up and become slightly firm.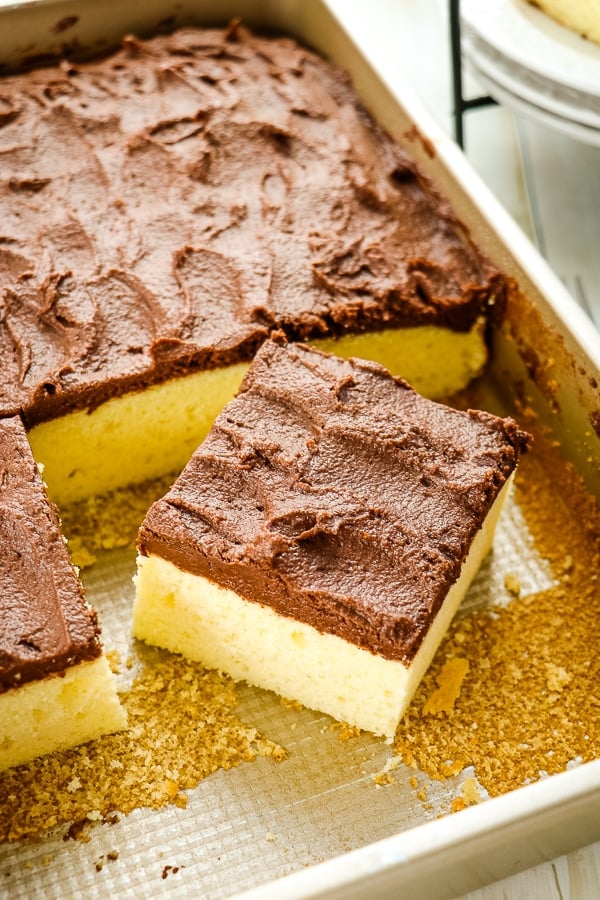 Buttermilk Sheet Cake FAQ's:
What does buttermilk do to cake?
Buttermilk is slightly acidic, which helps tenderize the gluten in the cake. The buttermilk will give it a tender, fluffy texture and keep the cake extra moist.
Does buttermilk make cake more moist?
Yes. Adding buttermilk to your cake batter will help it maintain moisture and add a slightly tangy flavor to your cake.
Is buttermilk better than milk for baking?
Buttermilk is more acidic than regular milk. It will help tenderize the gluten, creating a more fluffy cake. It will also add a pleasant, tang to the flavor of your cake recipe.
My buttermilk cake is dry. What did I do wrong?
It could be a couple things. First, don't overbake. Baking a cake for too long will remove moisture in the cake, making it rather dry. Second, don't over-beat the batter. This will create air bubbles and displace the moisture in the cake crumb.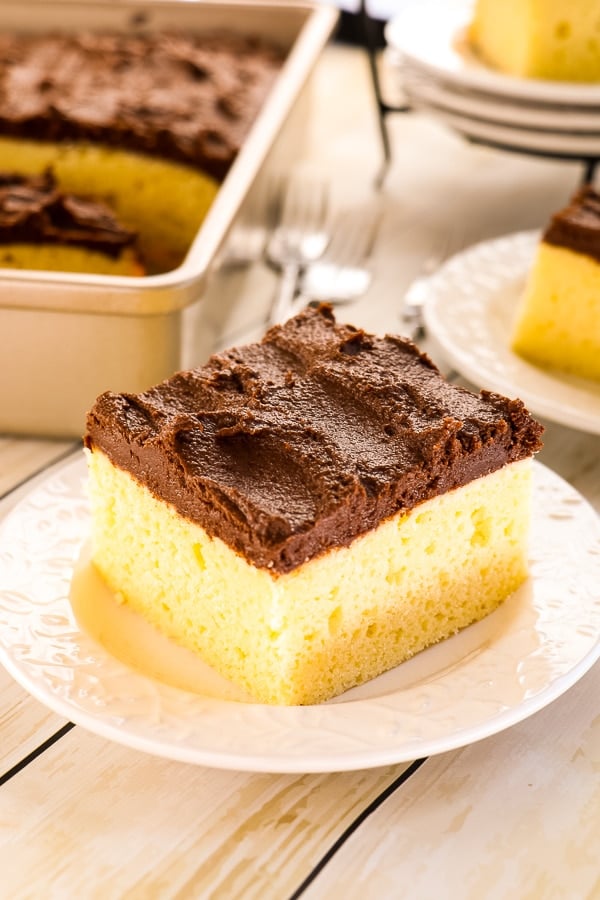 This buttermilk cake recipe will appeal to anyone that loves cake, and especially those that love yellow cake with chocolate frosting! Perfect with a glass of milk or a fresh cup of coffee or tea, it is one of those desserts that tops off any great meal.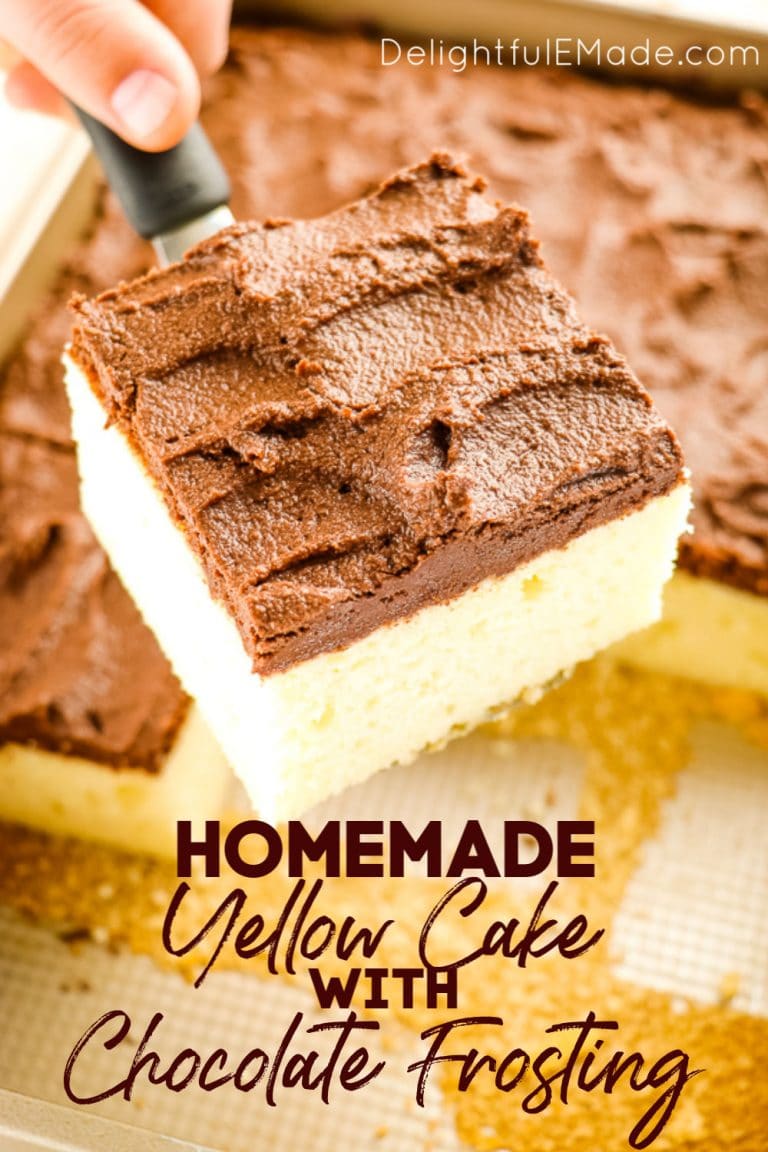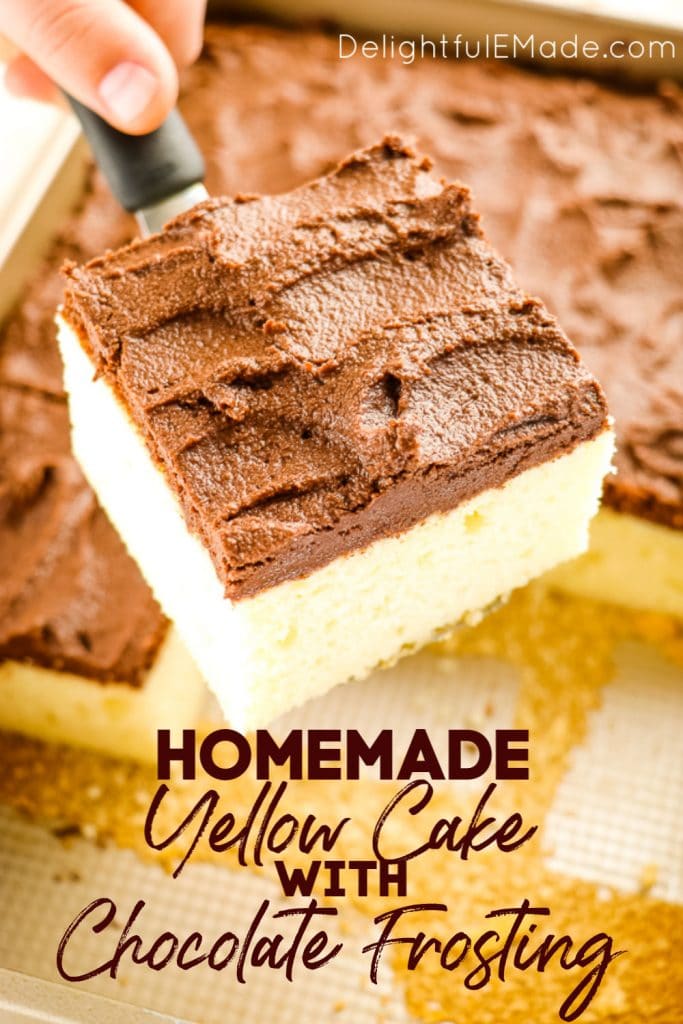 If you loved this Yellow Cake with Chocolate Frosting, then check out some of my other cake recipes:
These Poke Cake Recipes are also really popular: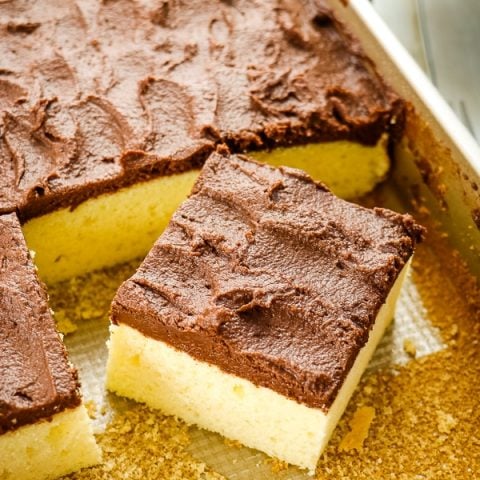 Buttermilk Sheet Cake with Chocolate Fudge Frosting
The perfect dessert for anyone that loves a great yellow cake! This delightfully moist cake is topped with a delicious chocolate fudge frosting for a classic dessert!
Ingredients
3/4 c. butter, room temperature
1 1/2 c. sugar
4 large eggs
3 c. cake flour
1 tsp. baking powder
1 tsp. salt
1 c. whole buttermilk
2 tsp. vanilla extract
Chocolate Fudge Frosting:
3/4 c. butter, room temperature
2 1/2 c. powdered sugar
1/2 c. unsweetened cocoa powder
5 Tbsp. whole buttermilk
1 tsp. vanilla extract
1/4 tsp. almond extract
Instructions
Preheat oven to 350 degrees. Spray a 9x13" baking pan with non-stick baking spray. Set prepared pan aside.
In a mixing bowl and a stand or hand mixer, beat butter and sugar on low until creamy. Stopping to scrape down the sides, add eggs one at a time. Continue to beat on low until all eggs are incorporated and batter is creamy.
In a separate bowl, whisk together the flour, baking powder, and salt. In a liquid measuring cup, measure out buttermilk. With the mixer on low, begin adding the dry ingredients to the batter, and alternate pouring in the buttermilk in gradual increments. When all ingredients have been mixed, add the vanilla and mix until completely incorporated. Pour batter into the prepared pan and evenly smooth with a spatula. Bake at 350 for 26-28 minutes or until a toothpick inserted into the cake comes out clean with no crumbs. Let cake cool after baking.
For the frosting: In a clean mixing bowl and stand or hand mixer, beat the butter on low. Add in the vanilla and almond extract while creaming the butter. In a small bowl sift together the powdered sugar and cocoa. Gradually add to the butter while beating on low until all is combined, stopping to scrape down sides of the bowl. Spread frosting over cooled cake. Serve right away or set aside for later. Store in an airtight container for up to 4 days.
Notes
Refrigerate any leftover cake covered in an airtight container. Will keep for up to 5 days.
Recommended Products
As an Amazon Associate and member of other affiliate programs, I earn from qualifying purchases.
Nutrition Information:
Yield:

20
Serving Size:

1
Amount Per Serving:
Calories:

346
Total Fat:

16g
Saturated Fat:

9g
Trans Fat:

1g
Unsaturated Fat:

5g
Cholesterol:

76mg
Sodium:

282mg
Carbohydrates:

48g
Fiber:

1g
Sugar:

30g
Protein:

4g
This cake really does take me back to the days of potlucks. There was always a fantastic yellow cake, and it was usually gone by the time anyone wanted seconds. I hope you and your family get to enjoy this cake – its a classic that everyone will love!!