Meet my all-time favorite buttermilk chocolate cake recipe! This chocolate cake with buttermilk has been made famous by my grandma Dona. She is known for this super-moist chocolate cake with rich chocolate frosting. Once you make it, you'll never make a box mix again!
This post may contain affiliate links. Delightful E Made is a participant in the Amazon Services LLC Associates Program, an affiliate advertising program designed to provide a means for us to earn fees by linking to Amazon.com and affiliated sites.
This incredibly delicious chocolate cake with buttermilk might just be my all-time favorite dessert. I don't say this because it is a recipe that has been handed down generations, or that it's my Grandma's chocolate cake recipe. I say it's my favorite dessert because it is nearly perfect in every way.
If you are looking for a buttermilk chocolate cake recipe, you don't need to look any further. This cake is super moist, flavorful cake and perfectly tender, but not overly dense.
It's topped with a homemade chocolate fudge frosting that is rich, yet, not too much. Once you make this chocolate cake, you'll never go back to any other recipe!
What do I need to make buttermilk chocolate cake?
Here's a check list of the ingredients you'll need to make this simple, delicious chocolate cake:
Granulated sugar – you'll need the sugar for both the cake and the frosting.
All-purpose flour – you could also substitute gluten-free flour, like King Arthur Gluten Free Flour.
Salt – this is a must for balancing the flavor of the cake.
Butter – I use salted butter, however, unsalted butter is great as well.
Vegetable oil – this ingredient is key to keeping the cake super moist.
Unsweetened cocoa powder – Necessary for creating a rich chocolate cake.
Water – needed for creating the cake batter.
Buttermilk – a key ingredient for keeping this chocolate cake super-moist!
Baking soda – a necessary leavening for the cake.
Eggs – for best results, use room temperature eggs.
Vanilla – ideal for creating a perfectly balanced chocolate cake flavor.
For the chocolate frosting, you'll need:
Granulated sugar
Milk
Butter
Chocolate chips – semi-sweet is ideal.
Mini-marshmallows
All of the frosting ingredients will be melted together in a saucepan.
For exact ingredient amounts and full recipe instructions be sure to scroll down to the recipe card at the bottom of this post. Thanks!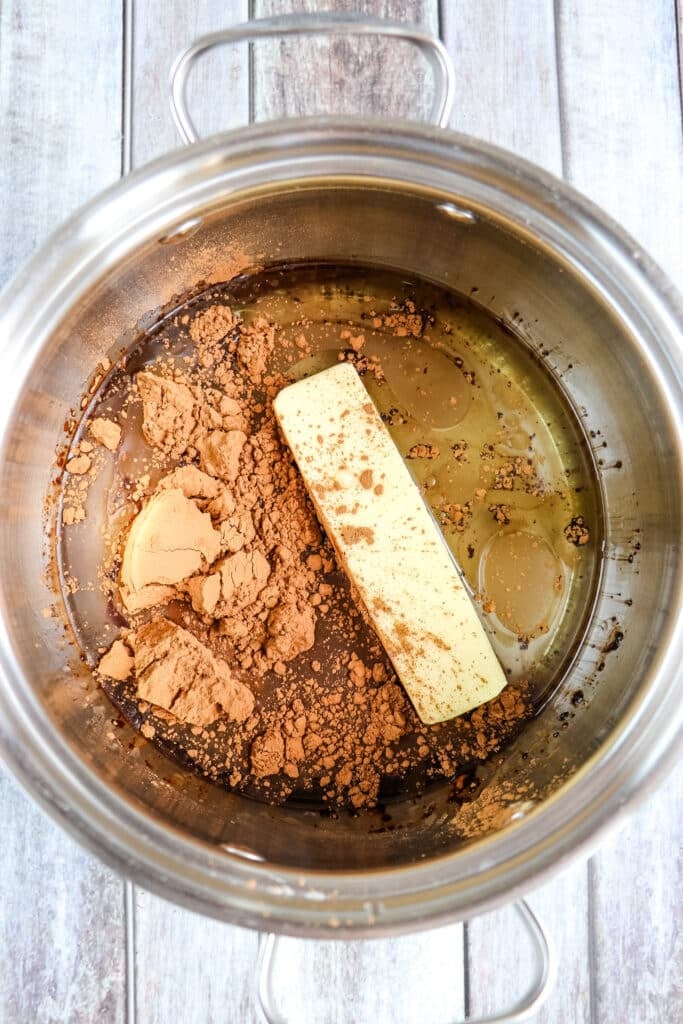 How do I make chocolate cake with buttermilk?
Start by melting together the butter, cocoa powder, oil and water in a saucepan. Use a rubber scraper to stir as it melts. As everything melts together it will resemble a chocolate sauce.
In a separate mixing bowl, combine the flour, sugar and salt. Whisk together to combine. The pour the melted chocolate sauce mixture over the dry ingredients. Using a large whisk, or hand mixer, combine until smooth.
In a small bowl dissolve the baking powder into the buttermilk. Stir until it becomes foamy. Pour into the chocolate cake batter. Also add in the vanilla and eggs. Mix all the ingredients into the batter until smooth.
Pour the batter into a 9 x 13″ cake pan that has been lightly sprayed with non-stick baking spray. Bake the cake at 350 degrees.
How do I make chocolate frosting for a chocolate cake?
In a medium saucepan, add the milk, butter, sugar, chocolate chips and mini marshmallows. Heat the ingredients over medium low heat until everything begins to melt together. Use a whisk to beat the frosting together until smooth.
Once all the frosting ingredients have melted together, remove from heat. Pour the frosting over the cooled chocolate cake.
Note: It is important to make sure the chocolate cake has cooled to room temperature before adding the frosting. If the frosting is added when the cake is still hot, it will trap excess steam and moisture, and make the cake soft and gummy under the frosting.
If you love cake, be sure to check out my Carrot Bundt Cake and my Lemon Bundt Cake recipes.
Make sure the chocolate frosting has time to set up and become firm before slicing. It usually takes at least 1 hour for the frosting to set up and cool.
This cake will serve approximately 20 slices/squares. Cut the cake into rows of 4 squares (short end) x 5 squares (long side) to get 20 slices.
Grandma's Best Chocolate Cake – a recipe that has been passed down generations
My Grandma Dona is a sweetheart, and like many other grandma's, will spoil her grand kids with the best goodies. One of these goodies is her AMAZING Chocolate Cake. Originally, this was a recipe that her mother-in-law, my Great-Grandmother Ruth Deffenbaugh, passed down to her.
There are few things I love more in life than how recipes get passed down from generation to generation. I am now making it for my family, so this beloved recipe has been passed down 4 generations – my son will be the 5th!
Here is Grandpa Denny and Grandma Dona with a few of their Great-Grandkids.
Love chocolate? Here are some of our other most popular chocolate recipes:
If you loved this buttermilk chocolate cake recipe, be sure to check out some of my other sheet cake recipes: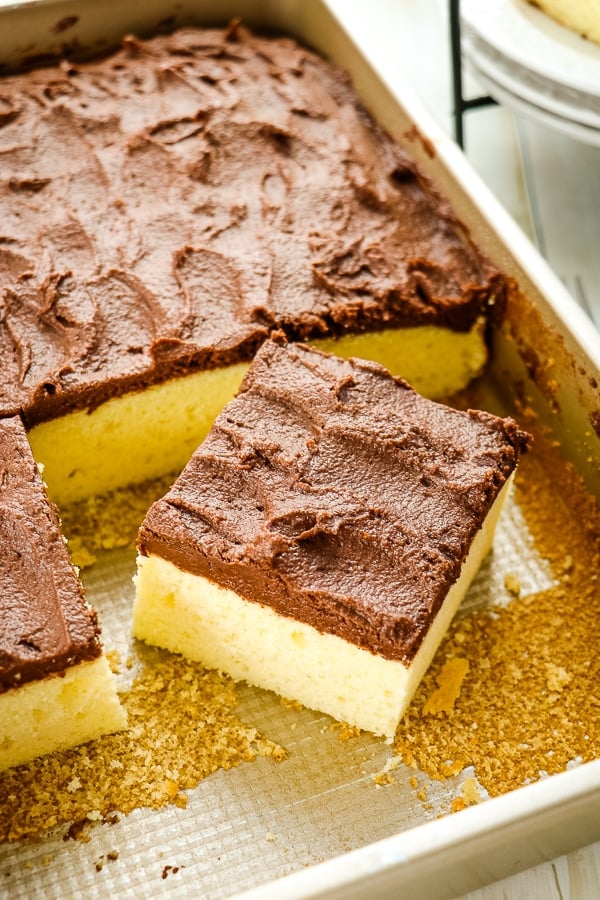 Here's the recipe for my Grandma Dona's Best Chocolate Cake: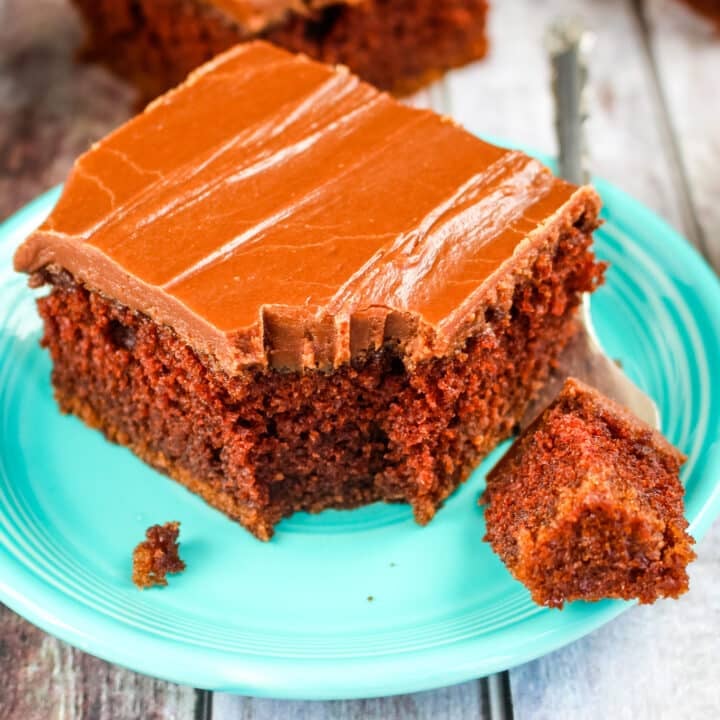 Grandma's Best Chocolate Cake
Total Time:
1 hour
3 minutes
Super moist, chocolaty and completely delicious! This buttermilk chocolate cake is topped with a luscious homemade chocolate frosting. The perfect dessert for just about any occasion
Ingredients
2 cups granulated sugar
2 cups all-purpose flour
1/2 teaspoon salt
1/2 cup butter (1 stick)
1/2 cup vegetable oil
1/4 cup unsweetened cocoa powder
1 cup water
1/2 cup buttermilk
1 teaspoon baking soda
2 eggs, room temperature
1 teaspoon vanilla extract
Chocolate Frosting:
1/4 cup milk
1 cup granulated sugar
1/4 cup butter (1/2 stick)
1/2 cup semi-sweet chocolate chips
1 cup mini marshmallows (or 10 large marshmallows)
Instructions
Preheat oven to 350 degrees. Lightly spray a 9 x 13" cake pan with non-stick baking spray. Set pan aside.
In mixing bowl, combine flour, sugar and salt. Set aside.
In saucepan, add butter, oil, cocoa powder, and water. Over medium heat melt the ingredients together stirring often. Once everything has melted together, remove from heat. Pour the hot chocolate liquid over the dry ingredients. Mix together with a large whisk or hand mixer.
Dissolve baking soda in the buttermilk. Stir together until the buttermilk becomes foamy. Pour the buttermilk into the cake batter mixture. Add in the eggs and vanilla. Whisk or mix together until all ingredients are well incorporated and smooth. Pour the batter into the prepared pan.
Bake for 30-35 minutes. To test for doneness, insert a toothpick into the center of the cake. If the toothpick comes out clean and crumb-free, the cake is done. Let cake cool to room temperature before frosting.
For frosting: In medium saucepan, heat the milk, sugar, and butter stirring often. Promptly remove from heat after mixture comes to a simmer. Add in chocolate chips and marshmallows, and beat until both are melted and smooth. Let cool for about 1-2 minutes, while stirring often. Pour the frosting over the cooled cake. Let the frosting set up and cool at least 1 hour before slicing the cake.
Notes
Storage: the cake can be kept at room temperate. Be sure to cover the cake pan with plastic wrap, or store the cake slices in a resealable container. Cake will keep for 3-4 days at room temperature.
Recommended Products
As an Amazon Associate and member of other affiliate programs, I earn from qualifying purchases.
Nutrition Information:
Yield:

20
Serving Size:

1
Amount Per Serving:
Calories:

316
Total Fat:

14g
Saturated Fat:

6g
Trans Fat:

0g
Unsaturated Fat:

8g
Cholesterol:

37mg
Sodium:

194mg
Carbohydrates:

45g
Fiber:

1g
Sugar:

34g
Protein:

3g