The BEST Cedar Plank Salmon Recipe!
This Cedar Plank Salmon recipe is one of the most flavorful ways to enjoy salmon. With just 5 ingredients, this Grilled Cedar Plank Salmon is not only simple to make, it's healthy and tastes amazing!
This post may contain affiliate links. Delightful E Made is a participant in the Amazon Services LLC Associates Program, an affiliate advertising program designed to provide a means for us to earn fees by linking to Amazon.com and affiliated sites.
The Easiest Way to do Grilled Cedar Plank Salmon!
Have you ever made and ate a meal and then when finished ask yourself, "Why don't I make this more often?" That's what I said to myself last night after making this super delicious and easy Grilled Cedar Plank Salmon.
With just 5 ingredients; lemon, garlic, dill, salt and pepper along with the salmon, this cedar plank salmon recipe is super easy to make. If you've never grilled on a cedar plank before, no worries. I've got all the tips, tricks and ways to make this salmon recipe a breeze!
Here's how this simple, healthy, delicious Cedar Plank Salmon comes together:
Step 1: Start by soaking your cedar plank in water before grilling
Soaking your cedar plank in water prevents the wood from going up in flames with your food along with it. You can do this by filling a large roasting pan with water, a couple inches deep, and submerging the plank.
The cedar plank will give the salmon a subtle, yet very flavorful smokey flavor. When using the cedar plank, you don't need a fancy glaze or a heavy tarter sauce to accompany the fish. It is simply perfect with just a few ingredients.
How long do you soak cedar planks?
I recommend soaking your cedar plank for a minimum of 15-30 minutes.
Can you reuse cedar planks for salmon?
No. Cedar planks for grilling are one-time use only. By the time you are done grilling the plank will be rather charred on the bottom, and the top will have fish on it. Don't keep it – throw it way!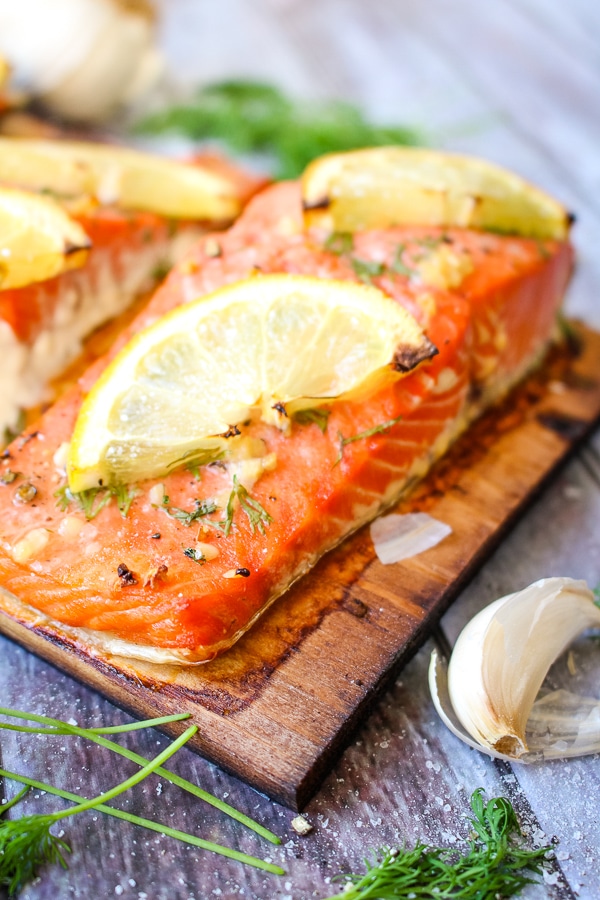 Where do I find cedar planks for grilling?
You can find cedar planks almost anywhere grilling supplies are sold. You can get this 12-Pack of Cedar Grilling Planks on Amazon.
Rule of caution: DO NOT use a regular piece of wood you would get at a hardware store. Home building lumber has typically been chemically treated and is not intended to be used for cooking.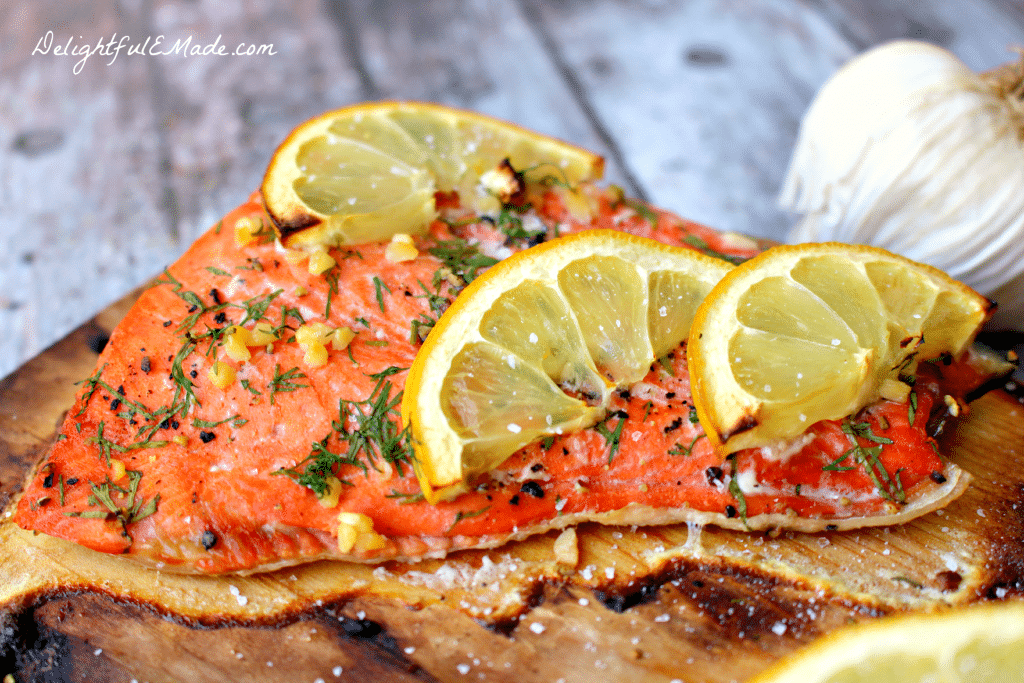 How long does it take to grill cedar plank salmon?
Depending on the thickness of the filets, it does not take long. For a thinner filet, with a gas grill set on medium heat, cook time will be approximately 8-10 minutes. Thicker filets will likely need more time; approximately 10-12 minutes or more.. For a salmon steak, cook time will be approximately 15 minutes.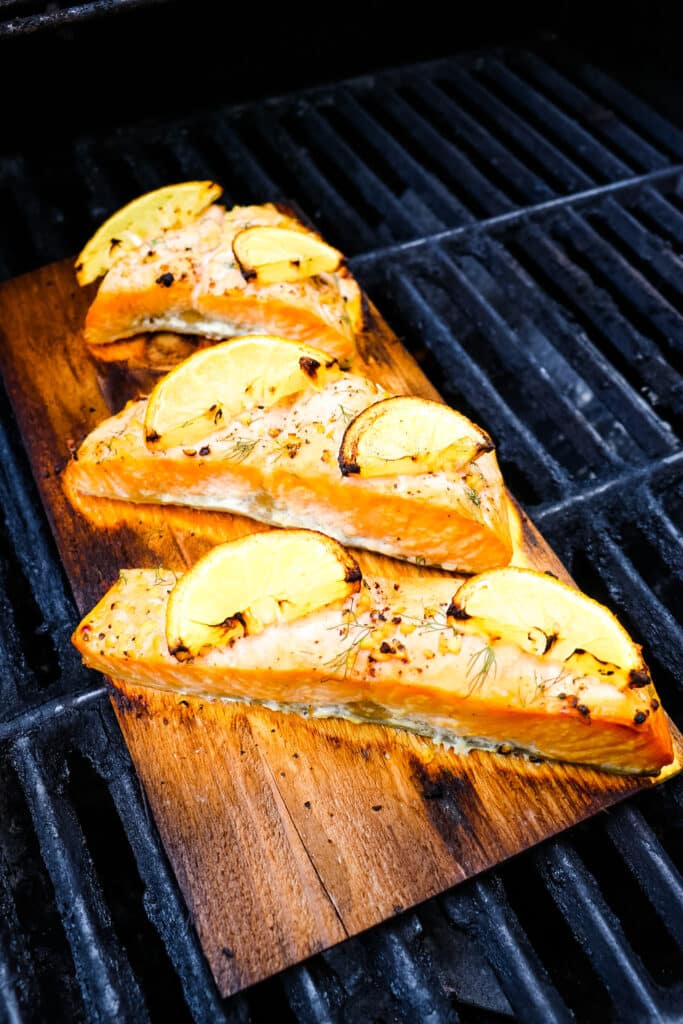 How do you know when cedar plank salmon is done?
You can test salmon for doneness by using a fork to gently pull back the meat from the skin. If the inside is still rather red or pink, it will need more time to cook. If the meat color has changed slightly and appears to be less moist, it's done.
Do you need to flip fish on a cedar plank?
No. The fish can stay in place without flipping. The meat will cook all the way through on one side of the cedar plank.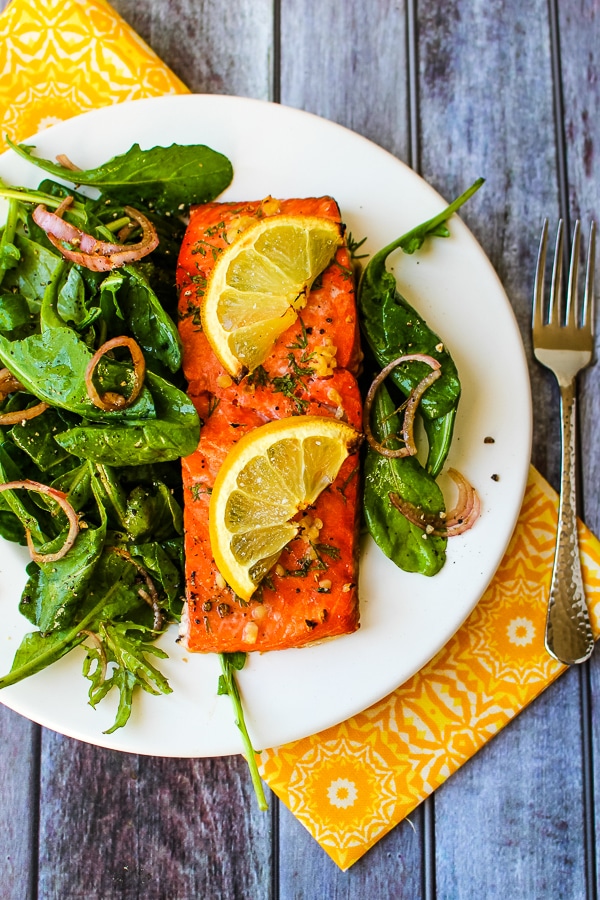 Is salmon healthy?
Yes, definitely! Salmon is a super-food and contains Omega-3 fatty acids which are essential in the body. It's also a great source of protein and iron.
Here are a few other healthy fish recipes that you might enjoy:
What goes with cedar plank salmon?
Salmon is very versatile and goes with potatoes, salads and fresh vegetables. Here are a few ideas that are great sides with this grilled cedar plank salmon: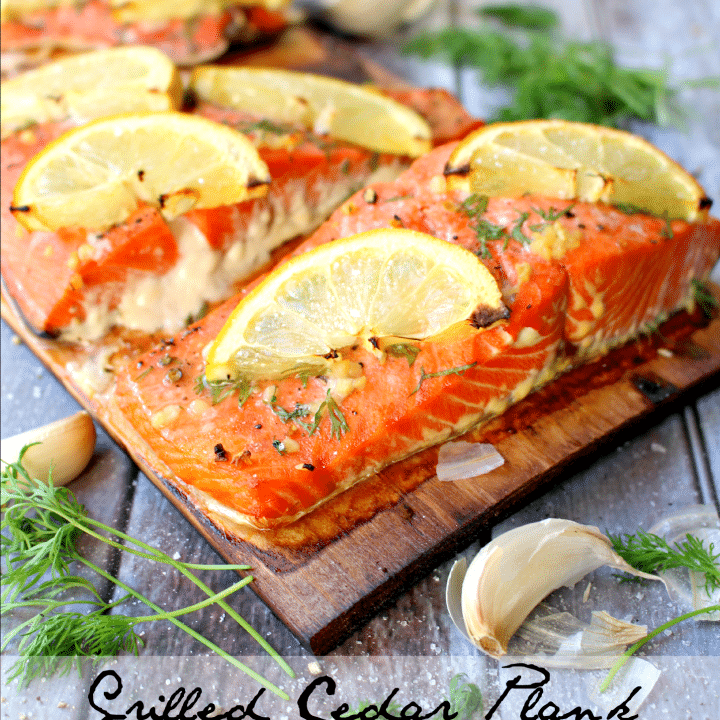 Grilled Cedar Plank Salmon
This Grilled Cedar Plank Salmon is deliciously simple. Made with just a few ingredients, it gets its flavor from the smokey cedar plank that its grilled on. Clean Eating and Paleo Friendly, this dish is super health, and super delicious!!
Ingredients
3-4, (4-6 oz.) salmon fillets, or one large half salmon
1 lemon
2-3 cloves of garlic, minced
1 Tbsp. fresh dill, minced
Fresh ground Salt and Pepper to taste
Instructions
30 minutes prior to grilling, prepare your cedar plank by soaking it in water. (A large roasting pan filled with a couple inches of water works well. Submerge the plank in water by holding it down with a heavy item like a bottle of wine or jar of sauce.) Let the plank soak fully for at least 2 hours. DON'T SKIP THIS STEP!
Using an outdoor gas or charcoal grill, light it for medium high heat. Don't use a cedar plank indoors.
When plank has been soaked, place your fully thawed salmon fillets on the plank. Sprinkle fillets with salt and pepper to your taste. Next sprinkle on the minced garlic and dill. Lastly, slice the lemon in half. Squeeze one half of the juice of the lemon onto the fillets. Slice the other half of the lemon in slices, then the slices in halves. Place the halves on top of the salmon.
Place the prepared salmon onto the hot grill. Check the salmon on occasion to ensure the plank isn't flaming up. Use a spray bottle filled with water to shoot out any flare-ups. Grill for 12-15 minutes, or when salmon flakes. For a thicker salmon, increase grill time appropriately. Safely remove the hot plank from the grill with grilling tongs. Transporting on a baking sheet works well, as the plank will be very hot.
Serve right away with additional lemon wedges if desired.
Notes
When buying salmon, look for wild caught, if possible. Fresh or frozen salmon can be used for this recipe. Be sure to thaw frozen salmon before cooking.
Nutrition Information:
Serving Size:

4 servings
Amount Per Serving:
Calories:

74
Total Fat:

4g
Saturated Fat:

1g
Cholesterol:

24mg
Sodium:

17mg
Carbohydrates:

2g
Sugar:

1g
Protein:

8g