I've lived in the South for a number of years now, and one of the many things I love about living here is the fact that Southern  food is pretty spectacular!  Particularly, southern desserts!  A while back while at a friends house, I indulged in a piece of Coca Cola cake.  As far as I know, I've never had this type of cake growing up in rural South Dakota.  Its like chocolate cake, but better!
Moist, chocolaty, and delicious – this is a true southern treat that will make you re-think any other recipe you have for chocolate cake!
This cake recipe couldn't be easier to make.  It starts with a simple cake mix, and then some other delicious goodies like buttermilk, marshmallows, and coca cola (of course!) are added.  This Chocolate Coca Cola Bundt Cake is a dessert worthy of company, or simply something you make when your craving a great, moist chocolate cake.
This cake remains tremendously, moist thanks to the delicious icing.  Also made with coca cola, it not only adds to the fantastic flavor of the cake, it sets up well, and locks in the moistness of the cake.
This recipe is also pretty versatile, in the fact that you can bake this cake in a bundt pan, or use a standard 9×13 pan.  Simply adjust the baking time down to 28-32 minutes.
Fantastic with a cup of coffee or a nice, cold glass of milk, a slice of this cake is the perfect treat any time you're in the mood for something sweet!  (For me this is pretty much always!)  Here's how it comes together: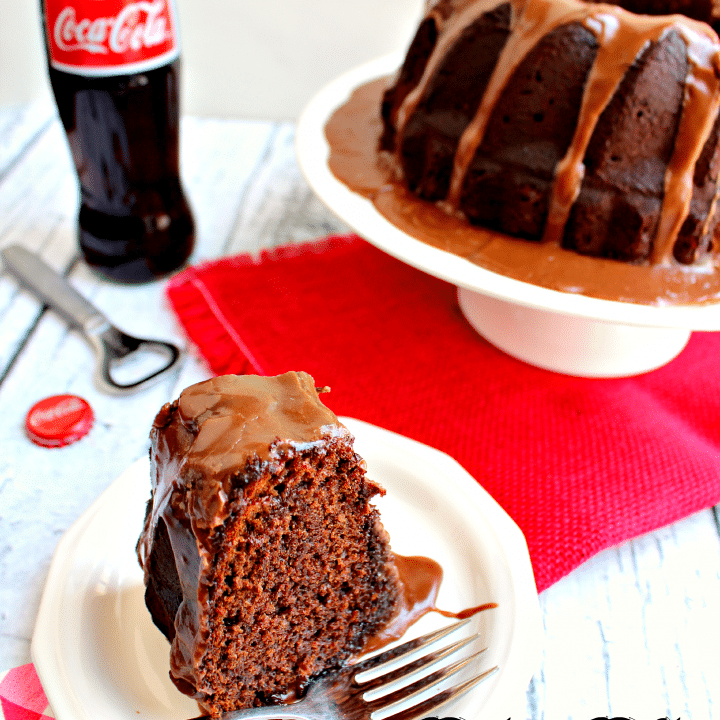 Coca Cola Chocolate Bundt Cake
If you like chocolate cake, you're gonna love this Chocolate Coca Cola Bundt Cake. A moist, delicious chocolate cake made with coca cola, and topped with a delicious chocolate, coke icing!
Ingredients
1 (15.25 oz) Devils Food Cake mix
1 c. Coca Cola
1/2 c. buttermilk
8 Tbsp. unsalted butter, melted
3 large eggs
1 c. mini marshmallows
Frosting:
1/2 c. coca cola
4 tbsp. butter
1/2 tsp. almond extract
1/2 c. semi sweet chocolate chips
4 c. powdered sugar
Instructions
Preheat oven to 350 degrees. With a bundt pan, generously grease all internal sides. Instead of flour, use unsweetened cocoa and sprinkle on all internal sides of the pan until its completely coated. Invert the pan, and using your hands, hit the sides of the pan to release any excess cocoa. Set prepared pan aside.
Using a hand or stand mixer, mix together the cake mix, cola, buttermilk, melted butter and eggs. Mix until smooth and all ingredients are incorporated. Lastly, fold in the marshmallows. Evenly pour batter into the prepared bundt pan. Bake at 350 for 40-45 minutes, or until inserted toothpick comes out clean. Let cake cool in the pan for 5-10 minutes. Run a knife around the center of the pan to loosen the cake. Invert on to a cake plate. Let cake cool completely.
For the frosting: In a small saucepan, add the butter, cola and almond extract. Bring to a simmer until the butter has melted, stirring frequently. Once butter has melted, remove from the heat and add the chocolate chips, stirring until all have melted and combined. In a mixing bowl, add the chocolate liquid, and on low speed gradually add one cup of powdered sugar at a time, stopping to scrape down the sides of the bowl. Mix until frosting is smooth and slightly thickened. Pour over the cooled cake.
Serve as is or top with ice cream, whipped topping or whipped cream. Enjoy!