Need a quick, healthy breakfast loaded with protein to fuel your day? This blueberry chia pudding is a great option. This overnight chia seed pudding recipe makes for a great make-ahead breakfast when you want to make healthy choices in advance.
This post may contain affiliate links. Delightful E Made is a participant in the Amazon Services LLC Associates Program, an affiliate advertising program designed to provide a means for us to earn fees by linking to Amazon.com and affiliated sites.
Are you looking for a breakfast or snack option that you can made in advance? This overnight chia pudding is a fantastic, healthy option.
Made with just 5 ingredients, this healthy blueberry chia pudding is a great breakfast or snack option when time is tight.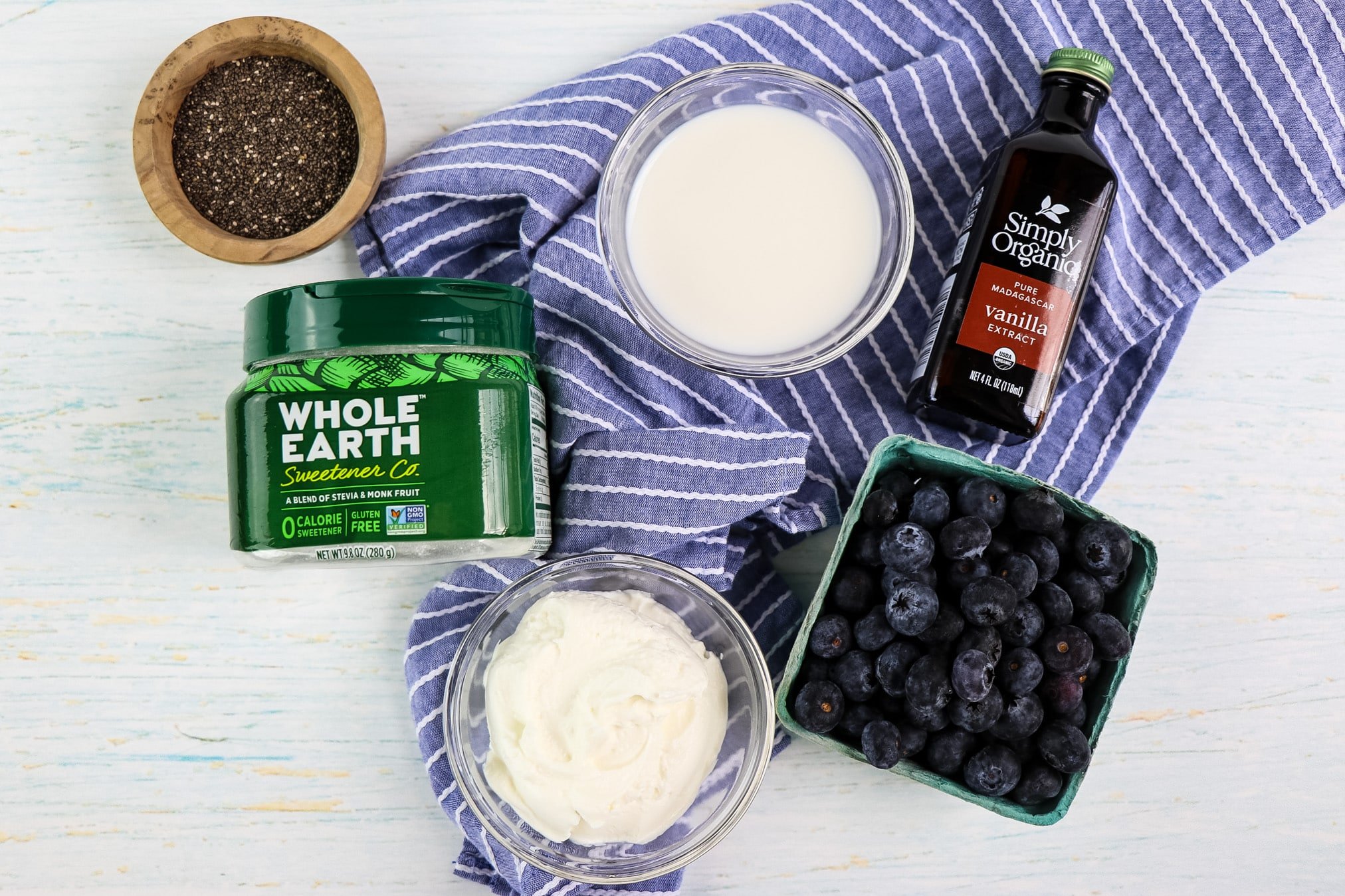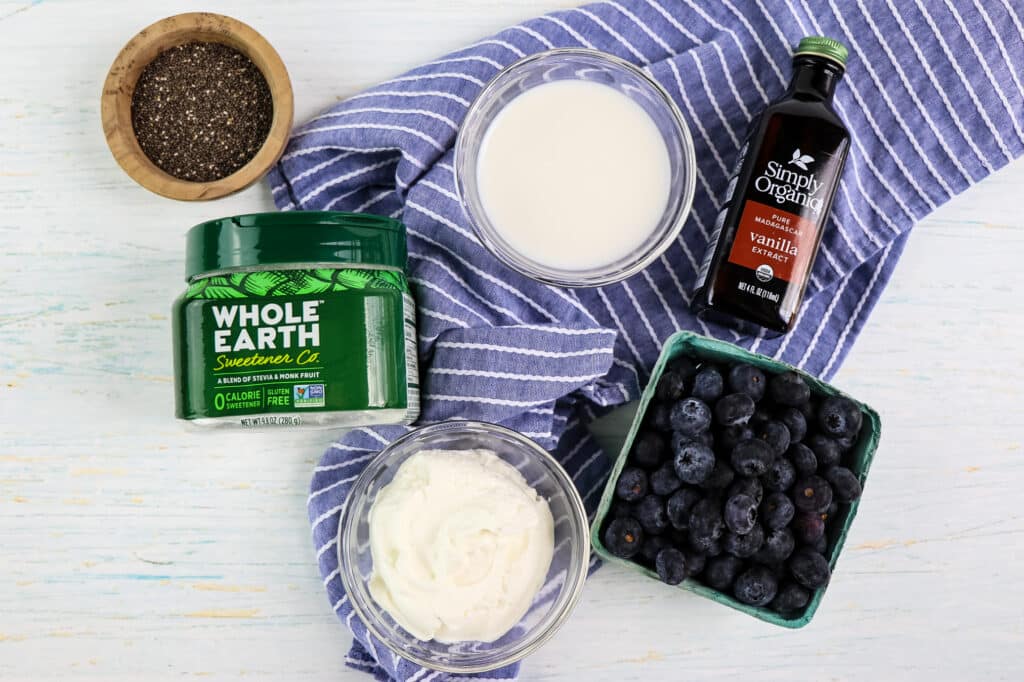 What do I need to make blueberry chia seed pudding?
Here's a quick-reference checklist of the ingredients you'll need to make this easy chia pudding:
Plain Greek yogurt – yogurt is helpful in creating a thick and creamy pudding consistency.
Unsweetened almond milk – be sure to read your labels. Choose an almond milk (or your preferred dairy or plant-based milk) this has minimal ingredients and no refined sugar.
Chia seeds – chia seeds can be found in the health food section of the grocery store or the baking aisle.
Sweetener – sweetener options can include honey, maple syrup, stevia sweet drops or granular monk fruit sweetener.
Vanilla extract – this adds great flavor to the pudding. You could also use almond extract.
Blueberries – fresh blueberries are great, however, if fresh is unavailable, frozen blueberries from the freezer section is a great option. Be sure to look for no sugar added.
Optional Toppings – chopped or sliced almonds, walnuts, nut or seed butter.
For exact ingredient amounts and full recipe instructions be sure to scroll down to the bottom of this post to the recipe card. Thanks!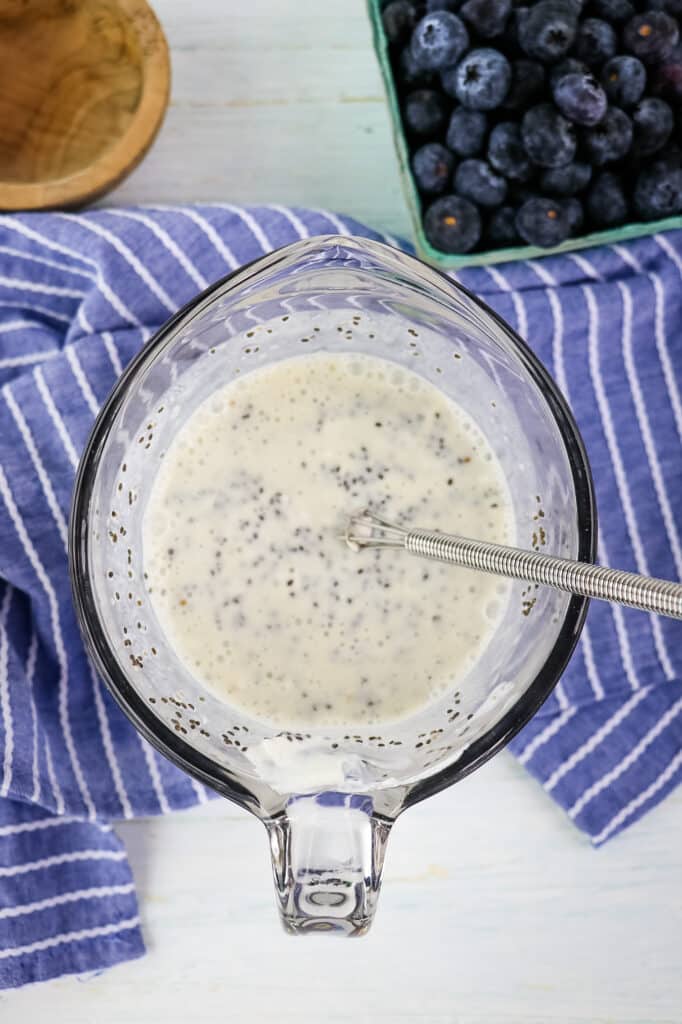 How do I make blueberry chia pudding?
In a medium bowl, mix together the yogurt, milk, chia seeds, sweetener and vanilla using a whisk. Stir in fresh or frozen blueberries. Pour mixture into a mason jar or resealable container. Refrigerate overnight or at least 3 hours.
Refrigeration of the chia pudding will help the chia seeds "plump up" and create a thick, pudding-like consistency.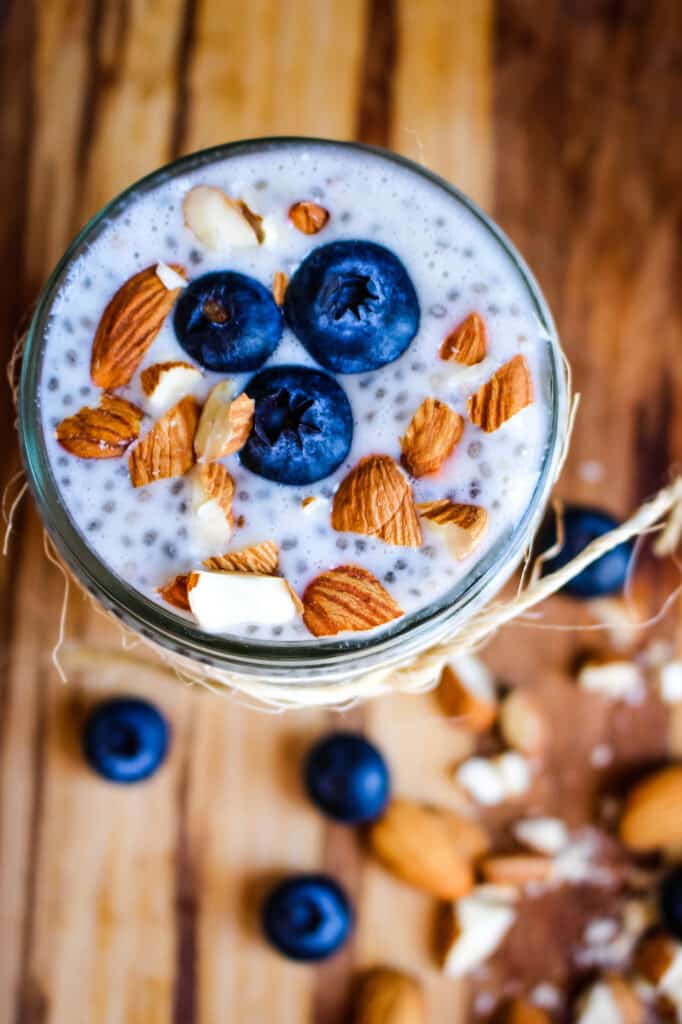 Does this chia seed pudding recipe actually taste good?
The taste, flavor and consistency of this chia pudding is great. It has just a bit of sweetness from the honey, and the chia seeds combined with the blueberries and almonds give this pudding a great texture and crunch.
Looking for more healthy snack options? Try my Chocolate Chia Seed Pudding, Chocolate Protein Pudding and my Greek Yogurt Fruit Dip, which are both healthy snack ideas.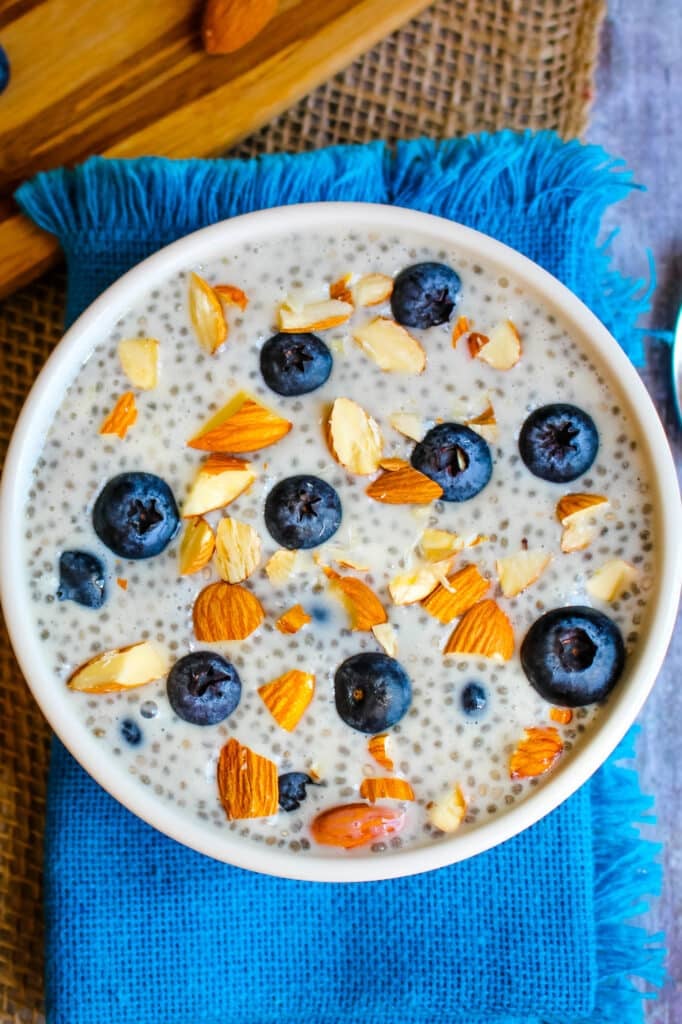 FAQ's for making overnight chia seed pudding:
What is the chia pudding ratio for how to make chia pudding?
The chia seed to liquid ratio is 1:4. So, for 1/4 cup of chia seeds you will need 1 cup of milk, or 1/2 cup milk and 1/2 cup yogurt.
Is chia pudding good for you?
Yes, chia seeds are a super-food and great for aiding in digestion, and providing Omega-3 fatty acids.
Is chia pudding good for weight loss?
Chia seeds are a super food, loaded with Omega-3's, fiber, antioxidants and many other good-for-you benefits.  Two tablespoons of chia seeds have 10g of fiber, which is 40% of your recommended daily intake. High fiber diets have been linked to weight loss.
How long will chia pudding last in the fridge?
Chia seed pudding, when kept refrigerated will last for 5 days.
If you would love to try a chia seed smoothie, be sure to check out Frugal Foodie Mama's site for this Blueberry Almond Chia Smoothie! The recipe is from my new cookbook, The Protein Smoothie Bible!
I wrote the book on smoothies…literally!
Yes, that's right! I'm the author, photographer and creator of The Protein Smoothie Bible cookbook.
It offers simple, 5-minute smoothie recipes that are perfect for quick, healthy breakfasts, snacks, or post-workout recovery.
I've even got a chapter all for kids! That's right! Simple, easy, kid-friendly smoothie recipes that will get your kids and grandkids excited about making healthy food.
You can get The Protein Smoothie Bible here!
What is a good breakfast meal prep?
A good breakfast meal prep includes a healthy balance of protein, carbs and fat.
Are you ready to start meal prepping breakfast? I've got a post for Healthy Breakfast Meal Prep – it's the perfect resource for healthy breakfast recipes, along with meal prep tools, tips and ideas for making meal prep easy!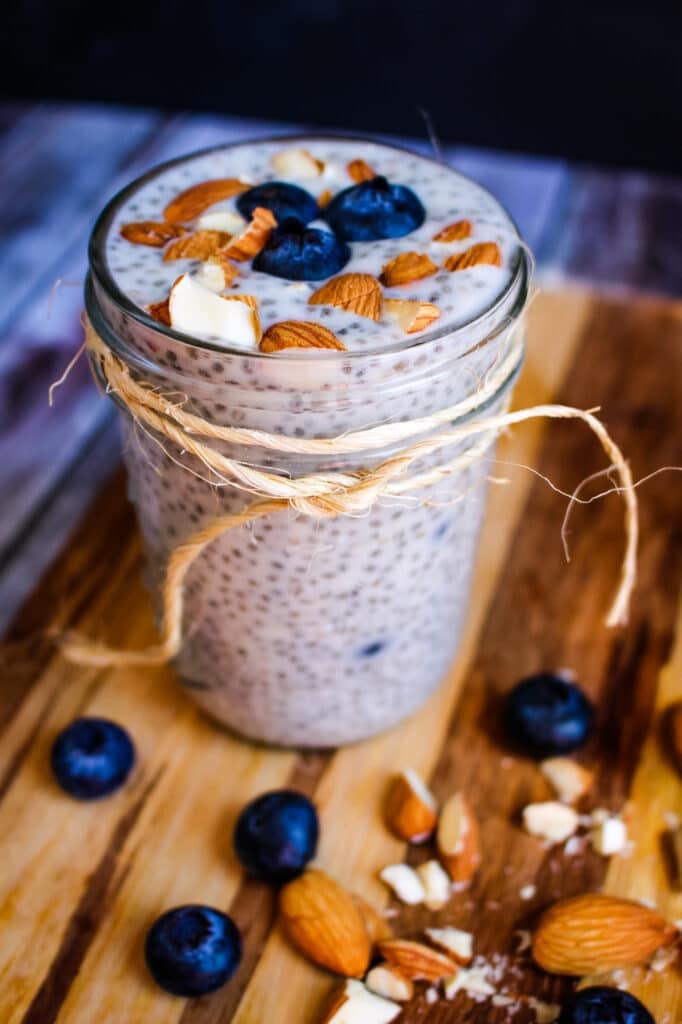 If you loved this healthy, protein packed breakfast idea, check out some of my other healthy breakfast recipes that will get your day off to a great start:
Love blueberries? Check out our popular blueberry breakfast recipes:
Here's the recipe for my Overnight Chia Seed Pudding:
Blueberry Chia Pudding
Total Time:
3 hours
5 minutes
Need a healthy, delicious make-ahead breakfast or snack idea? This blueberry chia pudding is a great option. Made with just a few simple ingredients, and mixed together in moments, this chia seed pudding recipe will quickly become a favorite!
Ingredients
1/2 cup plain Greek yogurt
1/2 cup unsweetened vanilla almond milk (or your preferred dairy or plant-based)
1/4 cup chia seeds
2 tsp. granular monk fruit sweetener (or your preferred sweetener)
1 tsp. vanilla extract
1/2 cup blueberries, fresh or frozen
2 tbsp. chopped almonds (optional topping)
Instructions
To a medium bowl, add the yogurt, milk, chia seeds, sweetener and vanilla. Whisk together to combine.
To the mixture, stir in the blueberries.
Pour pudding mixture into a mason jar or any other resealable container. Place in refrigerator and chill for at least 3 hours or overnight.
When ready to eat, top with the chopped almonds and additional blueberries, if desired.
Notes
When kept refrigerated, this chia pudding will last for up to 5 days.
To keep almonds crunchy, be sure to add them to pudding just before serving.
Recommended Products
As an Amazon Associate and member of other affiliate programs, I earn from qualifying purchases.
Nutrition Information:
Yield:

1
Serving Size:

1
Amount Per Serving:
Calories:

232
Total Fat:

8.7g
Saturated Fat:

1g
Trans Fat:

0g
Cholesterol:

5mg
Sodium:

126mg
Carbohydrates:

25g
Fiber:

7.5g
Sugar:

14g
Protein:

16.1g
14 grams of sugar, 0 grams of added sugar