The very best and EASIEST chia pudding recipe!
Need a quick, healthy breakfast loaded with protein to fuel your day?  Look no further than this Blueberry Almond Milk Chia Pudding recipe!  This simple, overnight recipe for how to make chia pudding very easy, as it takes just 5 minutes! 
This post may contain affiliate links. Delightful E Made is a participant in the Amazon Services LLC Associates Program, an affiliate advertising program designed to provide a means for us to earn fees by linking to Amazon.com and affiliated sites.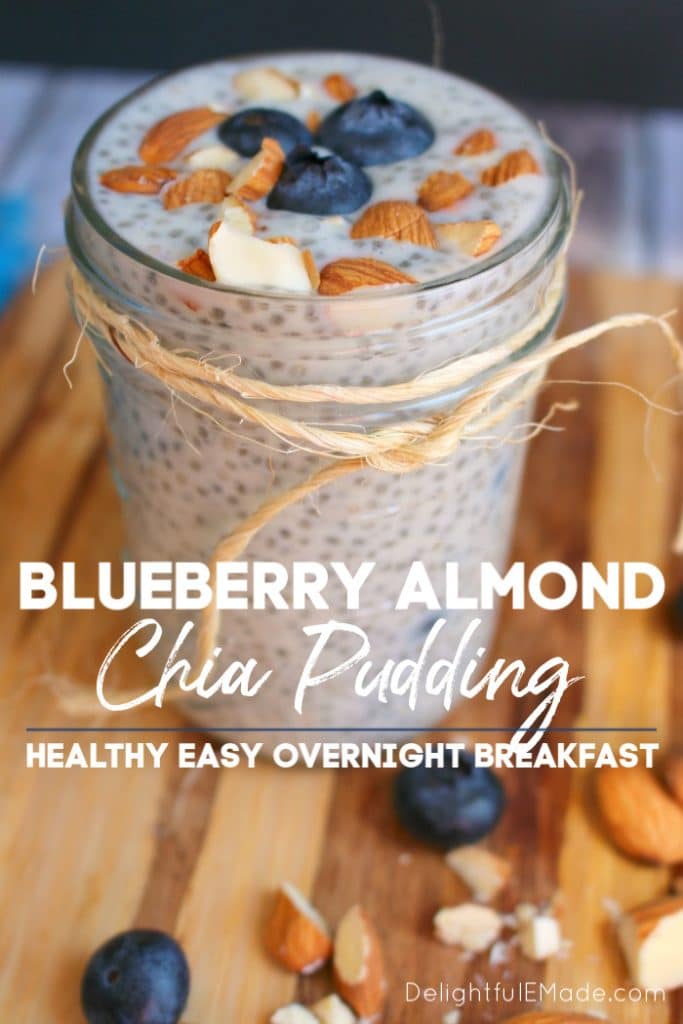 Have I mentioned before that I'm a creature of habit. I often tend to get in a rut where I make the same four breakfasts for myself. Often, I do the same exact thing at the gym, for the same amount of time, every time I go. I've wondered why I do these things – likely because I find comfort in the known. On the down side – its VERY boring!!
Predictably, after doing the same things over and over, I get sick of the same workout and the same thing for breakfast, and then get to the point where I choose not to work out, or choose a drive-thru breakfast because I'm tired of what I have at home. Sound familiar?
After decided to get out of my boredom rut, I wanted to make something that was healthy, flavorful and filling, but it also had to be simple. That's how this Blueberry Almond Chia Pudding came to be.
How to Make Chia Pudding: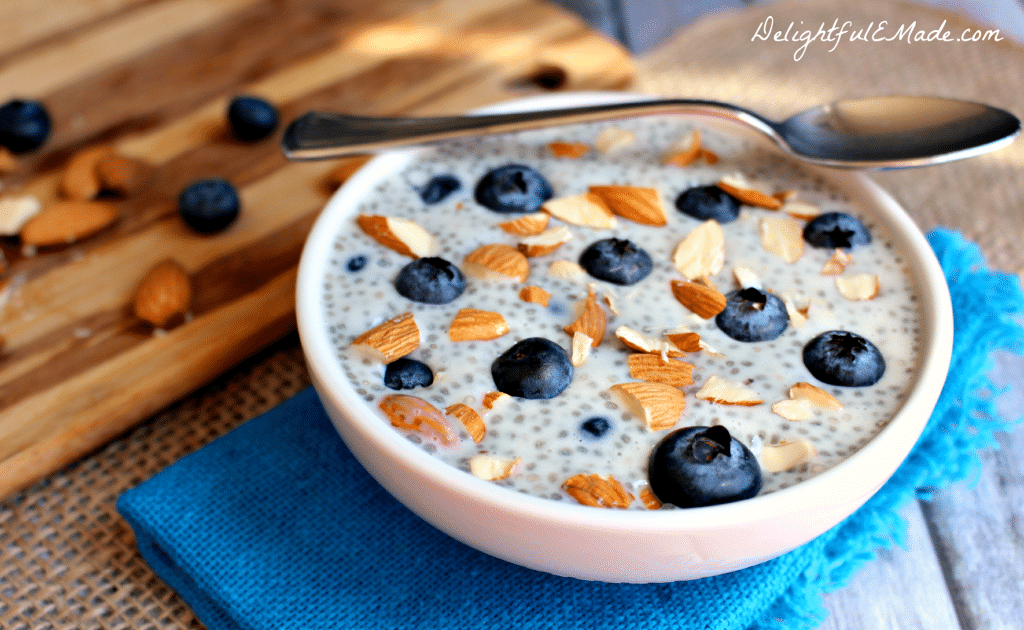 It's healthy AND tasty?
I'm here to tell you that this Blueberry Almond Milk Chia Pudding recipe is the PERFECT breakfast! It's a make-ahead breakfast, which means it's ready to go when you are in the morning. It literally takes about 2 minutes to put together the night before you go to bed, and its waiting in the fridge when you're ready to eat.
Do chia seeds really help you lose weight?
Chia seeds are a super food, loaded with Omega-3's, fiber, antioxidants and many other good-for-you benefits.  Two tablespoons of chia seeds have 10g of fiber, which is 40% of your recommended daily intake. High fiber diets have been linked to weight loss.
You're also getting plenty of protein and calcium from the milk and almonds, which will also help you feel fuller longer. Feeling full helps stave-off hunger and unnecessary snacking.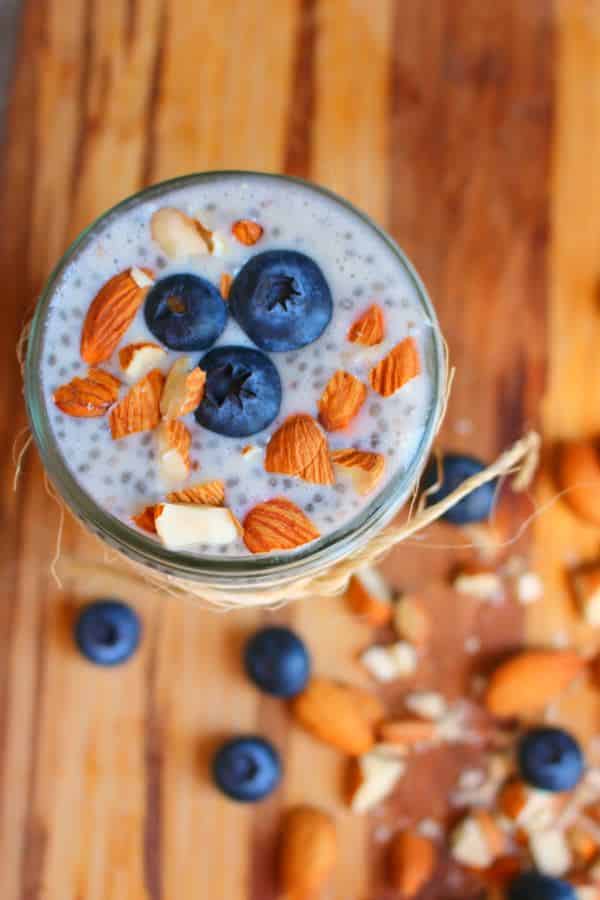 Does this Blueberry Almond Milk Chia Pudding actually taste good?
I personally love the fact that this breakfast tastes fantastic!! It has just a bit of sweetness from the honey and almonds, and the chia seeds combined with the blueberries and almonds give this pudding a great texture and crunch.
Wondering how to make chia pudding? It's quite easy, and takes just a couple minutes to stir together. Here are the easy steps:
Add Greek yogurt and almond milk to a resealable container. (I like to use a mason jar, but any container with a tight fitting lid will do.)
Then, add the chia seeds and honey, and stir to combine.
Next, add the blueberries and stir once more.
Place a lid on the container and refrigerate overnight (or at least 1 hour).
Just before eating, top with chopped almonds, if desired.
What is the chia pudding ratio for how to make chia pudding?
The chia seed to liquid ratio is 1:4. So, for 1/4 cup of chia seeds you will need 1 cup of milk.
If you would love to try a chia seed smoothie, be sure to check out Frugal Foodie Mama's site for this Blueberry Almond Chia Smoothie! The recipe is from my new cookbook, The Protein Smoothie Bible!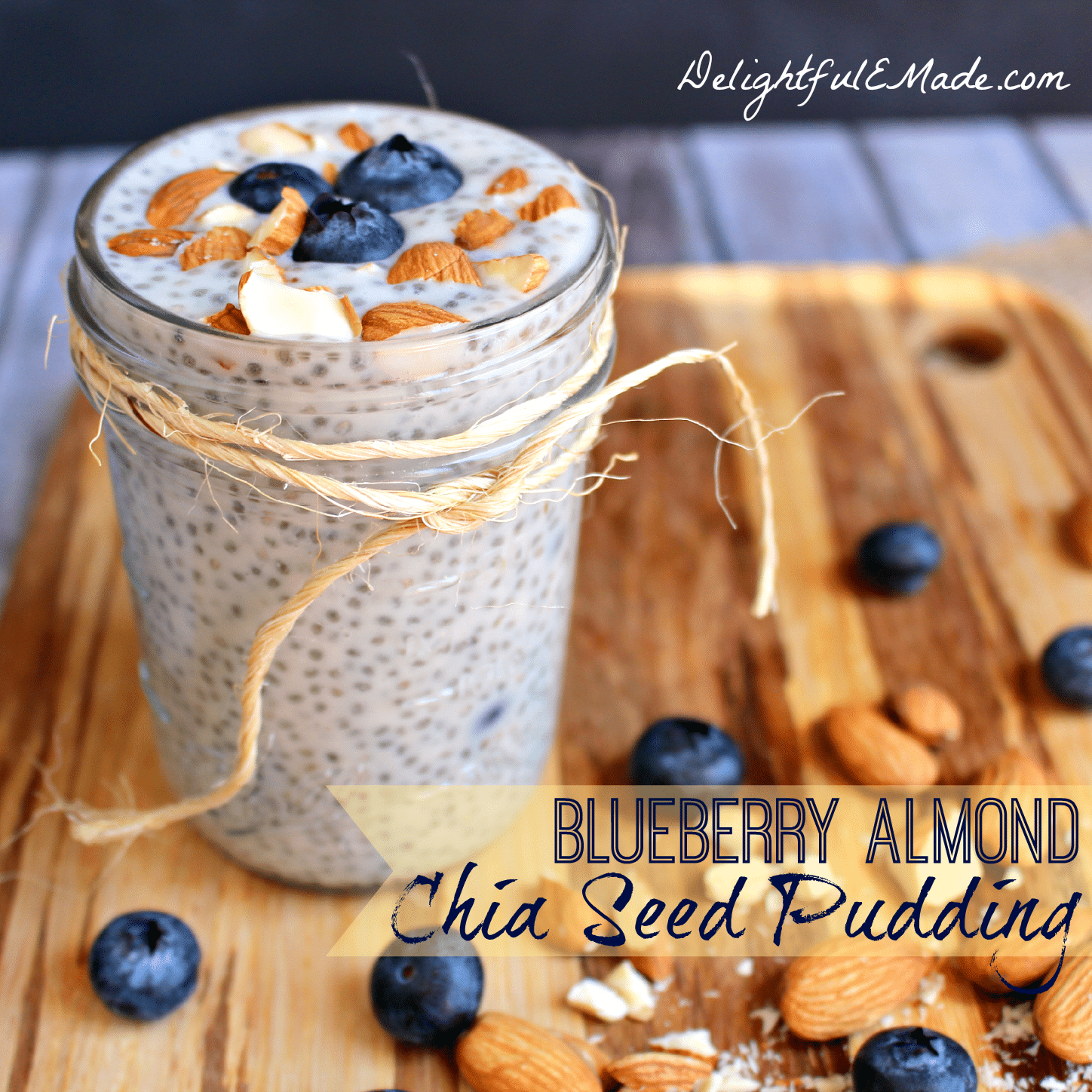 What do I need to make chia pudding?
Almond milk, or any other dairy or plant-based milk
Greek yogurt
Fresh or frozen blueberries
Chia seeds – these can be found in the health food section of your grocery store.
Honey
Raw Almonds
What is a good breakfast meal prep?
A good breakfast meal prep includes a healthy balance of protein, carbs and fat.
Are you ready to start meal prepping breakfast? I've got a post for Healthy Breakfast Meal Prep – it's the perfect resource for healthy breakfast recipes, along with meal prep tools, tips and ideas for making meal prep easy!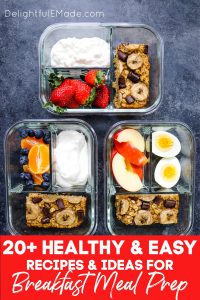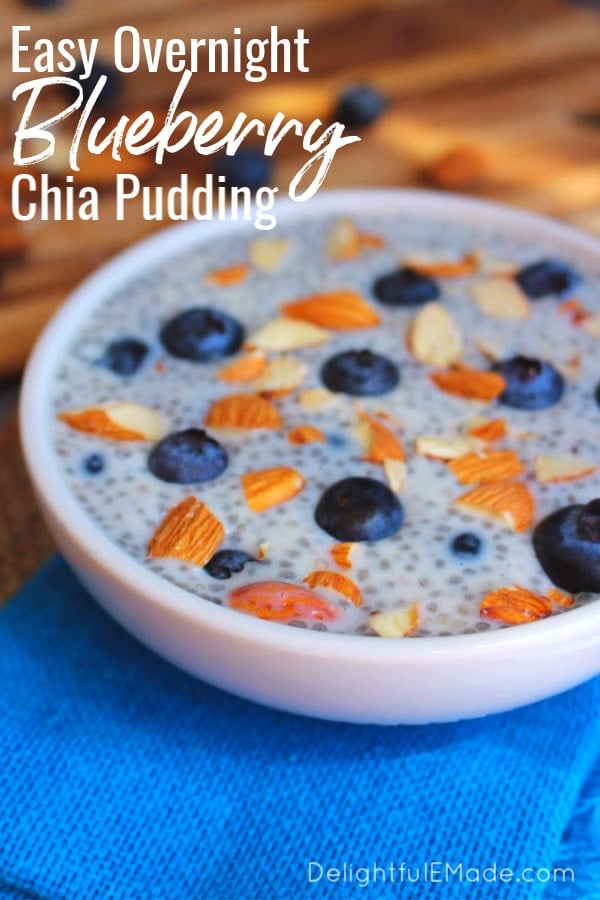 If you loved this healthy, protein packed breakfast idea, check out some of my other healthy breakfast recipes that will get your day off to a great start:
Love blueberries? Check out our popular blueberry breakfast recipes:
Here are the super-easy directions for how to make chia pudding recipe:
Blueberry Almond Chia Pudding

This Blueberry Almond Chia Seed Pudding is not only a quick make-ahead breakfast, its uber healthy and super delicious!

Ingredients

1 c. plain Greek yogurt
1 c. almond milk (or any other preferred milk)
1/2 c. fresh or frozen blueberries
1/4 c. chia seeds
2 tsp. honey (or any other preferred sweetener)
8-10 raw almonds, roughly chopped

Instructions

Using a 1-pint mason jar, or any other resealable container, add the milk, yogurt, blueberries, chia seeds and honey. Stir ingredients to incorporate. Place lid on container, and refrigerate for a few hours or overnight.
Just before eating, chop almonds and add to the pudding.
Refrigerate any leftovers.

Nutrition Information:

Serving Size:

1 Amount Per Serving:

Calories:

315

Total Fat:

14g

Saturated Fat:

5g

Cholesterol:

27mg

Sodium:

173mg

Carbohydrates:

36g

Sugar:

26g

Protein:

16g
Recipe Note: Many readers have expressed that the consistency of the pudding is a bit too runny. I've adapted the recipe to now include additional plain Greek yogurt. This should help attain a thicker, pudding-like consistency. Thank you so much for your feedback!
This not only makes a great breakfast, I love it as a mid-day snack. I often make a double batch in a larger mason jar, and have half for breakfast and save the other half for a snack later in the day. It's a fantastic post-workout snack, too!
I hope this easy, healthy and delicious breakfast inspires you to get out of your breakfast rut, just like it did mine. Enjoy! ~Erin