The most flavorful, delicious Healthy Turkey Chili Recipe out there! Made with lean ground turkey, bell peppers, beans and a few other ingredients, this is definitely the best Turkey Chili Recipe I've ever made!
This post may contain affiliate links. Delightful E Made is a participant in the Amazon Services LLC Associates Program, an affiliate advertising program designed to provide a means for us to earn fees by linking to Amazon.com and affiliated sites.
One of my favorite, go-to recipes for when I need to eat a little healthier is this delicious Healthy Turkey Chili recipe. I've been doing more meal prep and meal planning on the weekends. This helps so much for trying to make healthier choices at lunchtime.
I love the fact that this delicious, healthy turkey chili is not only loaded with fiber and protein, it helps keep me full well into the afternoon. The perfect win-win health food, am I right?!
Like this recipe? Be sure to pin it to your DINNER or SOUP board!
This healthy turkey chili first came to me from one of my Weight Watchers friends. If you follow Weight Watchers, you'll be happy to know that this fantastic soup recipe is just ONE free-style point per serving! Heck yeah!! It's basically made with all free-point foods.
The only ingredients that have point value are the olive oil that the peppers and onions are sauteed in, and the seasoning mixes.
Here's how this delicious, healthy and incredibly easy Turkey Chili recipe comes together: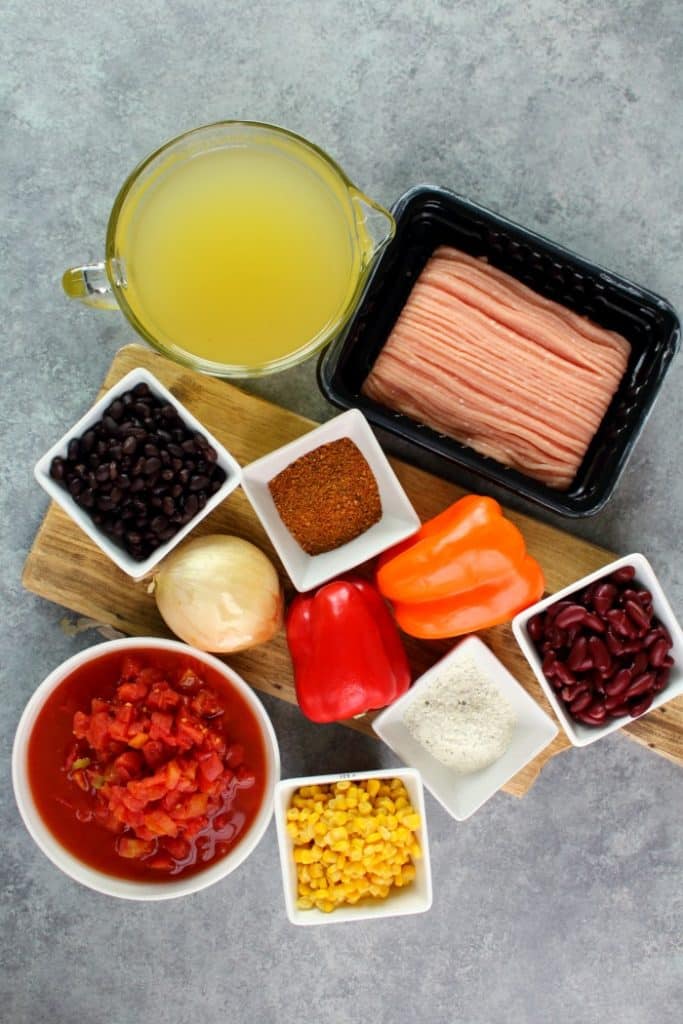 Step 1: Gather your ingredients
For this healthy turkey chili recipe, you'll first need to gather your ingredients. I use canned corn, canned black and kidney beans, as well as canned petite diced tomatoes and Rotel. You'll also need a 32 oz. carton of low-sodium chicken broth, which equates to approximately 4 cups of broth. If you make your own broth, feel free to use that instead.
Note on Seasoning Mixes: My recipe calls for pre-packaged chili seasoning and ranch seasoning. I know some of you prefer to not use seasoning mixes – that it definitely A-okay. If you're trying to reduce sodium in your diet, there are several lower-sodium versions out there – feel free to substitute these as well. I use these as this was what was in the original recipe that was given to me years ago, and I always thought the flavor was spot-on, so I never changed it. You can also opt to substitute spices like chili powder, cumin, salt and pepper.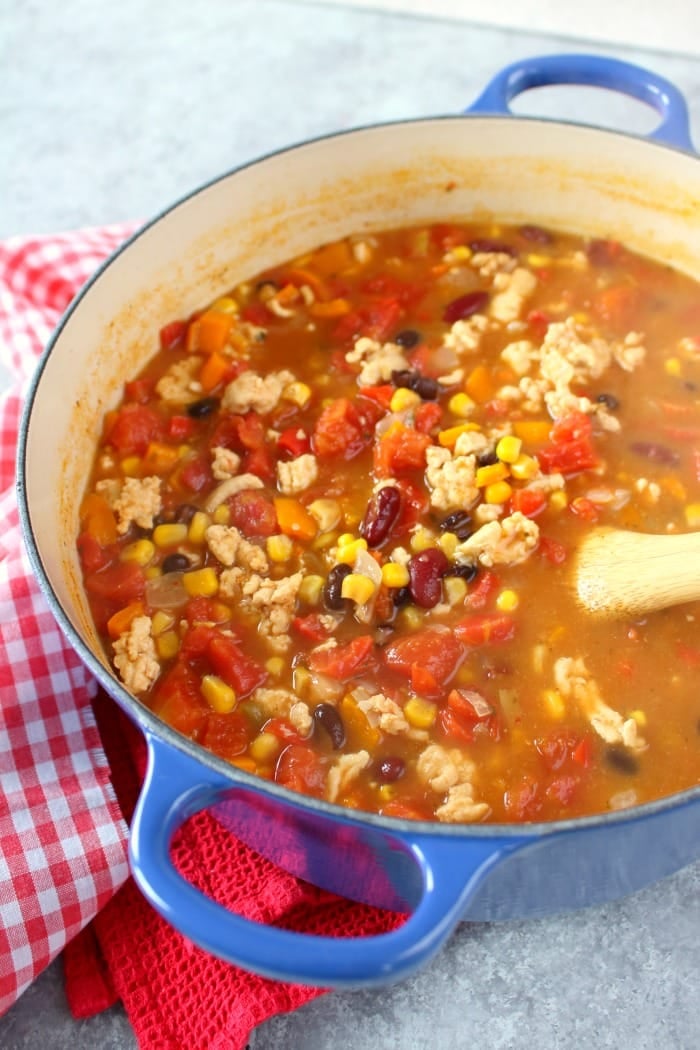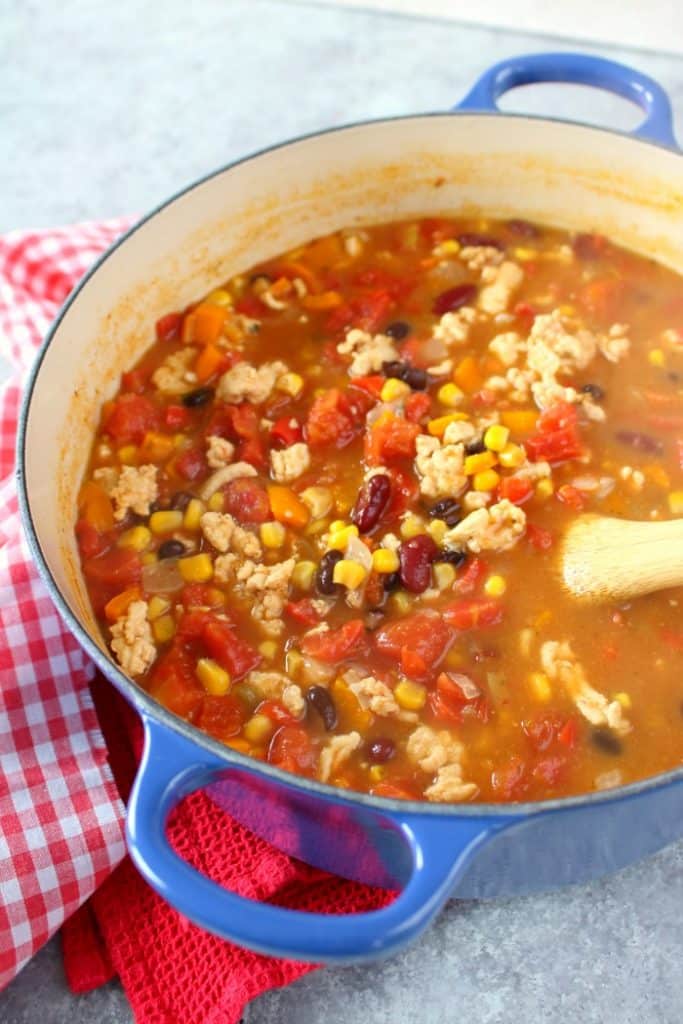 Step 2: Saute onions, peppers and ground turkey
Once you bring all of your ingredients together, chop up your peppers and onion. Saute these in the olive oil until the onions become translucent. Then, add the ground turkey, and brown until there is no more pink remaining.
Next, add the rest of the ingredients. Stir together and bring to a low boil over medium-high heat. Then, reduce the heat to med-low and simmer for 20 minutes! That's it!! Super-simple, right!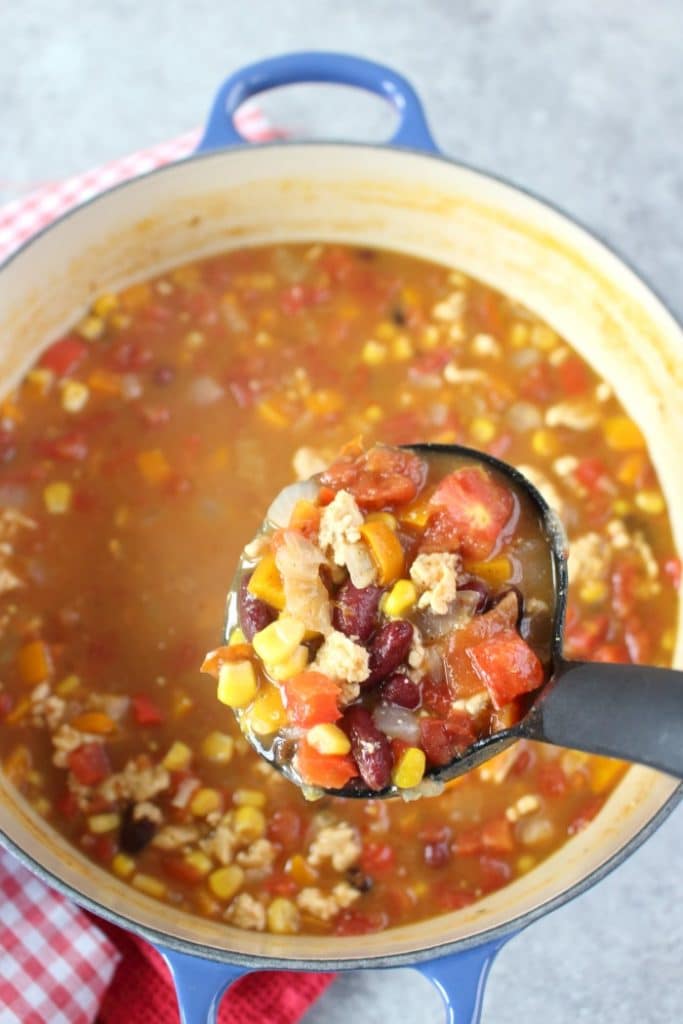 Your Healthy Turkey Chili is now ready to enjoy!
Perfect for a weeknight dinner idea, this healthy chili recipe is simple enough to make any night of the week! Enjoy with a crisp side salad, or fresh vegetables for the perfect healthy meal!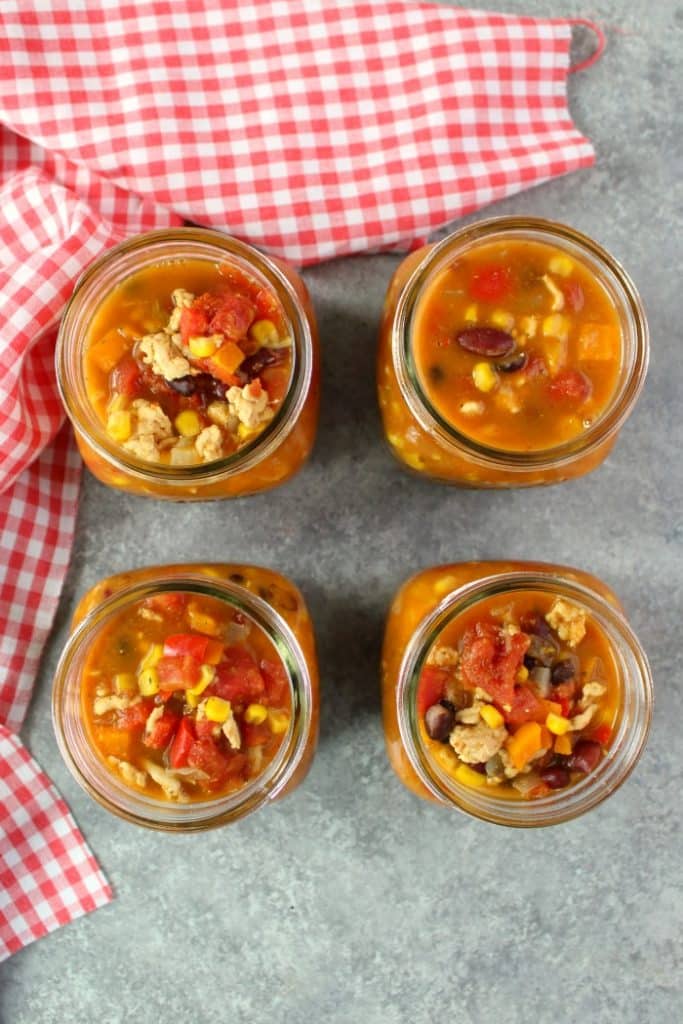 Healthy Turkey Chili – A great meal prep solution
This might be one of my favorite recipes for doing meal prep. On Sunday I like to make a couple recipes that I can divide up into meal prep containers (see the ones I like below) and freeze. I will often divide into jars – like the ones above, if I'm keeping these in the refrigerator for the week. These are great for pulling out for a quick, healthy lunch when time is limited. This prevents me from making unhealthy choices during the day.
Are you just getting started with meal prep and could use some good containers? Check out my recommendations for the Best Meal Prep Containers and what I use for everything that I meal prep.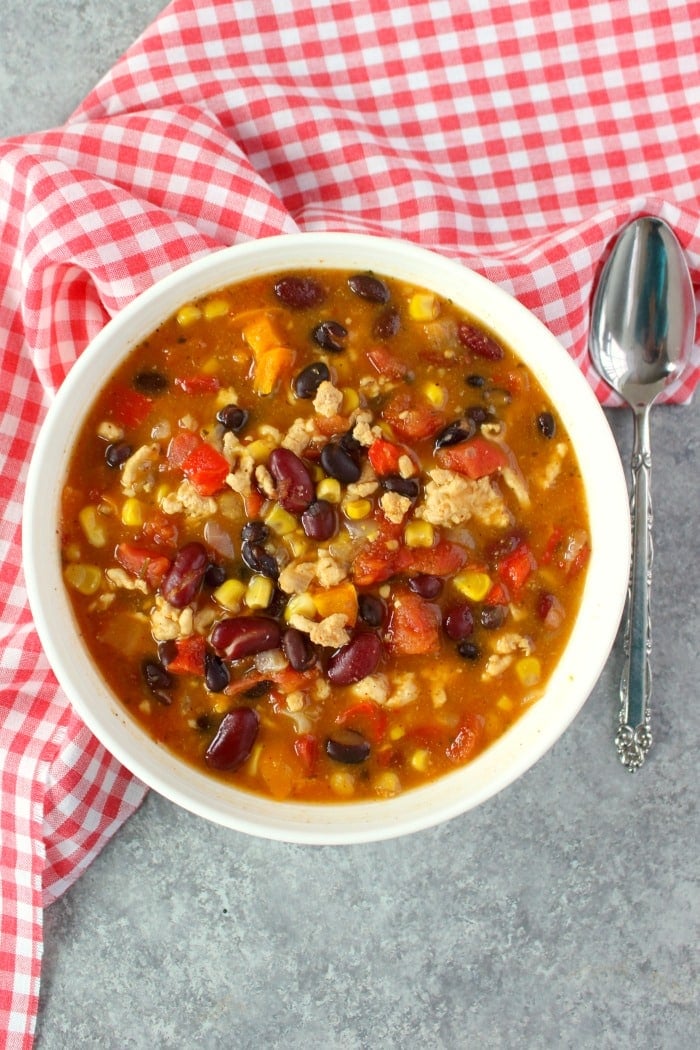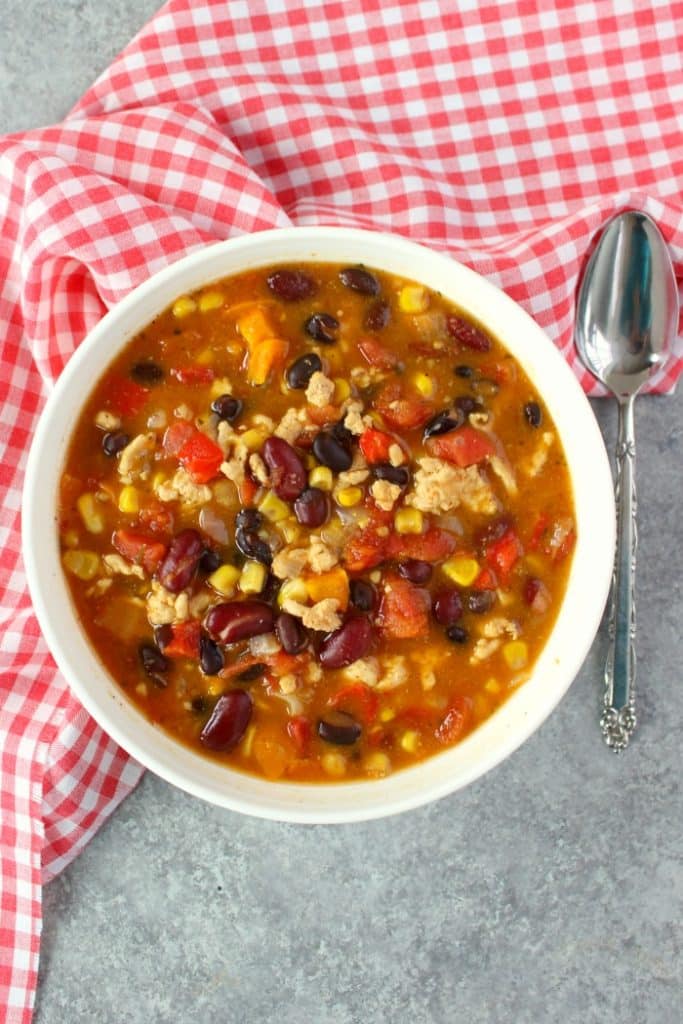 If you loved this delicious healthy turkey chili recipe, then check out some of my other healthy dinner ideas:
Be sure to check out my other chili and soup recipes: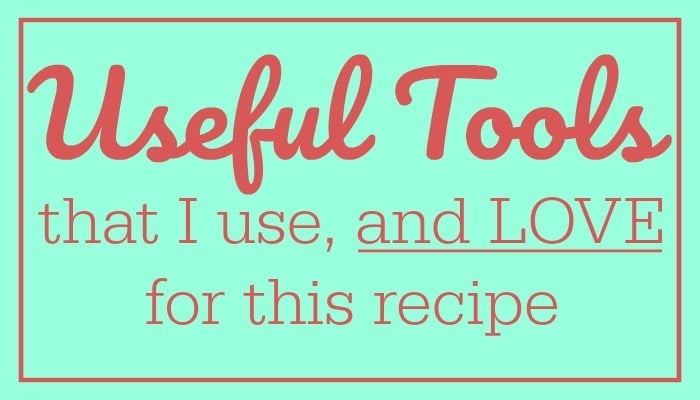 5-Pack (30oz) Prep Naturals Glass Meal Prep Containers (Amazon Link): I absolutely love these meal prep containers. Because they are glass (lids are plastic) they can go directly into the microwave or oven. They are also freezer and dishwasher safe, too!
Le Creuset Signature Enameled Cast-Iron 5-1/2-Quart Round French Oven (Amazon Link): I use my pretty blue Le Creuset pot easily 3 times a week! It has become one of my favorite tools to cook with in my kitchen!
FAQ's about making Healthy Turkey Chili:
Can chili be healthy?
Yes, chili is high in fiber and protein. To help keep the chili healthy, limit toppings like excessive amounts of cheese and sour cream.
How long should chili be cooked?
Ideally, chili should be cooled 15-20 minutes to ensure the peppers and onions soften.
Can I make turkey chili in my slow cooker?
Yes, turkey chili can be made in a slow cooker or crock pot. I recommend browning the ground turkey prior to adding it to the slow cooker. Add all of the remaining ingredients (no need to saute any peppers or onions). Stir well and cook on high for 2-3 hour or 4-6 hours on low.
Here's the recipe for my delicious Healthy Turkey Chili Recipe: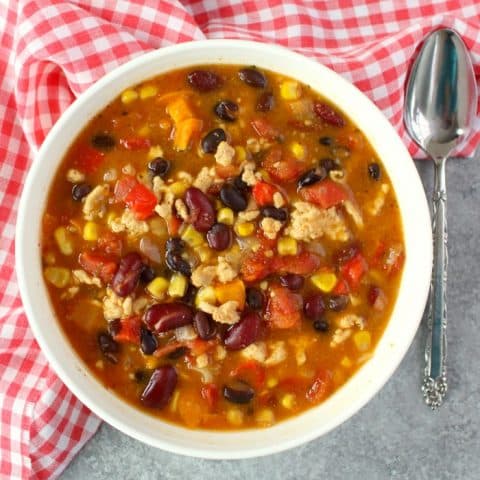 Healthy Turkey Chili Recipe
The most flavorful, delicious Healthy Turkey Chili Recipe out there! Made with lean ground turkey, bell peppers, beans and a few other ingredients, this is definitely the best Turkey Chili Recipe I've ever made!
**If you follow WW (Weight Watchers) Freestyle Program. The point value on this soup is 1 point per 1 1/2 cup serving! Yeah!!!!
Ingredients
1 medium sweet yellow onion, chopped
2 bell peppers, any color, chopped
1 Tbsp. olive oil
1 lb. Extra Lean Ground Turkey (99% lean)
1 (32 oz.) carton, low-sodium chicken broth
1 (1 oz.) envelope, chili seasoning mix
1 (1 oz.) envelope, ranch seasoning mix
1 (15 oz.) can, black beans, drained and rinsed
1 (15 oz.) can, dark kidney beans, drained and rinsed
1 (15 oz.) can, corn, drained
1 (15 oz.) can, petite diced tomatoes (include juice)
1 (10 oz.) can, Rotel tomatoes and green chilies
Instructions
In a large stock pot or Dutch oven, add olive oil and turn heat to medium high. Saute onion and peppers for about 5-7 minutes or until onions are translucent. Add the ground turkey and brown until it is no longer pink in color.
To the browned turkey, peppers and onion, add the remaining ingredients: chicken broth, chili seasoning, ranch seasoning, black beans, kidney beans, corn, diced tomatoes, and Rotel. Stir to combine.
Keep heat on medium-high and bring to a low boil. Turn heat to medium-low and simmer for 20 minutes. Remove from heat and serve.
Notes
Directions for Slow Cooker: Sautee the onions and peppers and brown the turkey just as you would in step one of the stove-top recipe. Then, transfer to a slow cooker and add all the remaining ingredients. Stir. Heat on low for 4-6 hours or high for 2-3 hours.
Each serving is approximately 1 1/2 cups.
Nutrition Information:
Serving Size:

8 servings
Amount Per Serving:
Calories:

197
Total Fat:

6g
Saturated Fat:

1g
Cholesterol:

30mg
Sodium:

611mg
Carbohydrates:

6g
Sugar:

1g
Protein:

13g