Slow Cooker Beef Stew – the perfect comfort food!
This easy slow cooker beef stew recipe is a delicious dinner option for any night of the week. Made with tender, delicious sirloin, along with big chunks of carrots, celery, potatoes and mushrooms its the ultimate comfort food!
I created this post in partnership with Butcher Box.  All opinions, photos and recipe are 100% my own.  This post contains affiliate links.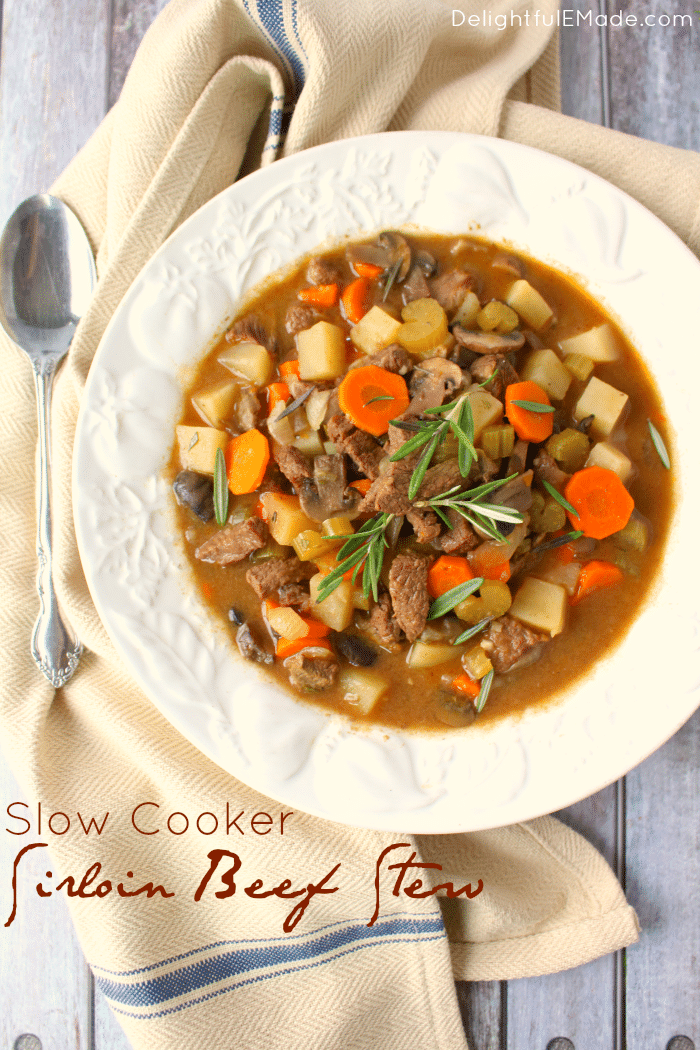 As soon as the weather begins to cool off a bit, I get out my crock pot and cook up a big pot of my Slow Cooker Sirloin Beef Stew.  My family and I love it, as it is a delicious, hearty meal in one bowl.  I love making beef stew on a lazy Sunday afternoon and letting it simmer for hours.  It fills my house with the warm aromas of autumn, and fills our bellies with a hearty, delicious meal.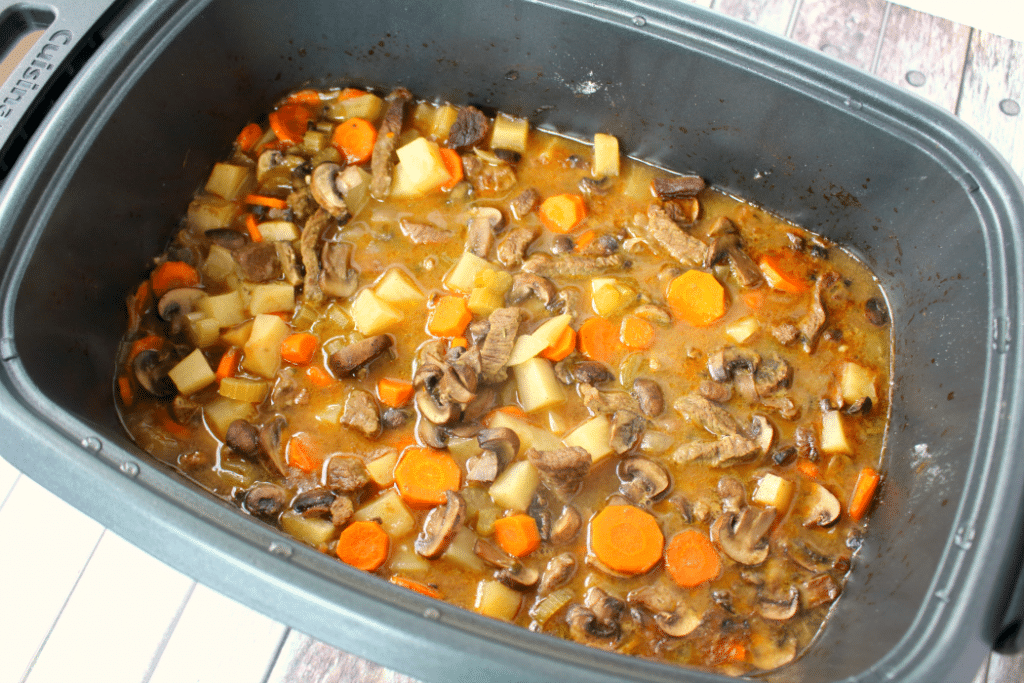 How the recipe comes together
This recipe couldn't be more simple to throw together, making it fantastic for busy weeknights when you want to come home to dinner that is done.  Along with the vegetables, I used sirloin that came from Butcher Box.  Butcher Box is grass-fed beef, organic chicken, & heritage breed pork delivered monthly, directly to your door. All of their products are free of antibiotics, GMO's and hormones, so you know the meat is top-quality!
I received an all-beef shipment, but you can select any combination of meat that you would prefer.  The meat we received from Butcher Box was top-notch!  The beef was, lean and of very high quality!  It comes frozen in a cooler that is shipped directly to your door.
I also love the fact that the meat is individually wrapped and sealed for ideal portion control.  Thawing the meat is simple – I either add the wrapped and sealed meat to cool water in the sink, or thaw in the fridge if I have extra time.
Once the meat was thawed, I then browned the meat, and added all of the ingredients for the stew right into the slow cooker.  This dinner doesn't get much more simple, as once all of the ingredients are added, you'll simply add the lid and let the slow cooker do the rest.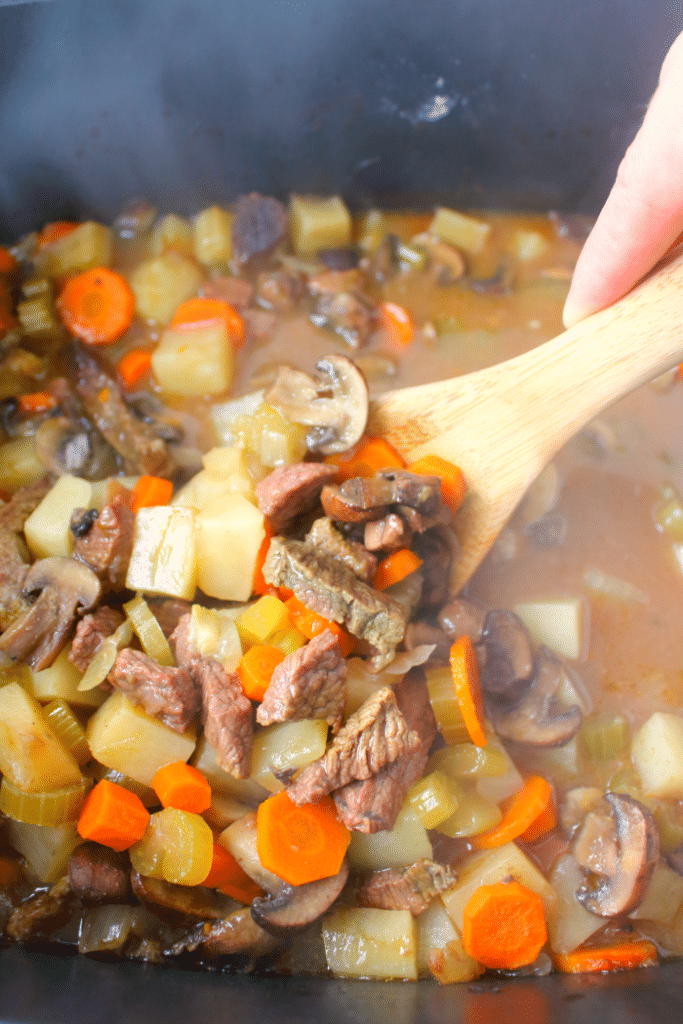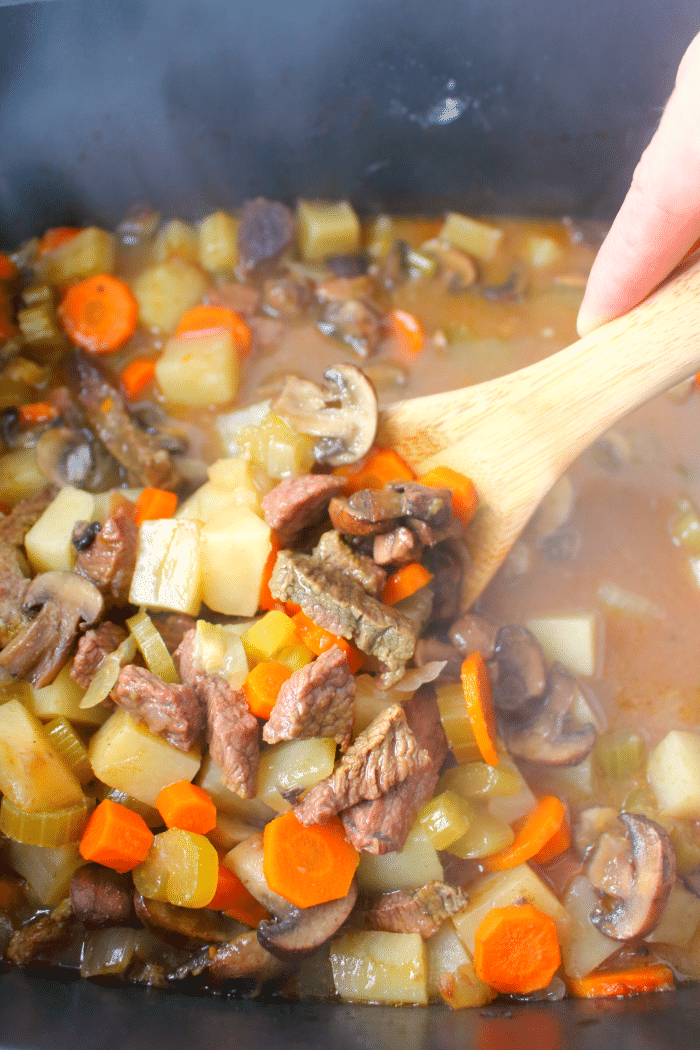 Slow Cooker Beef Stew is a fantastic weeknight dinner solution
This beef stew recipe is fantastic for busy nights.  On evenings when we have baseball, this stew recipe is perfect to come home to after we've been out in the cold.  Not only is it ready when we walk through the door, but it is warm, comforting and filling – the perfect dinner after a long day!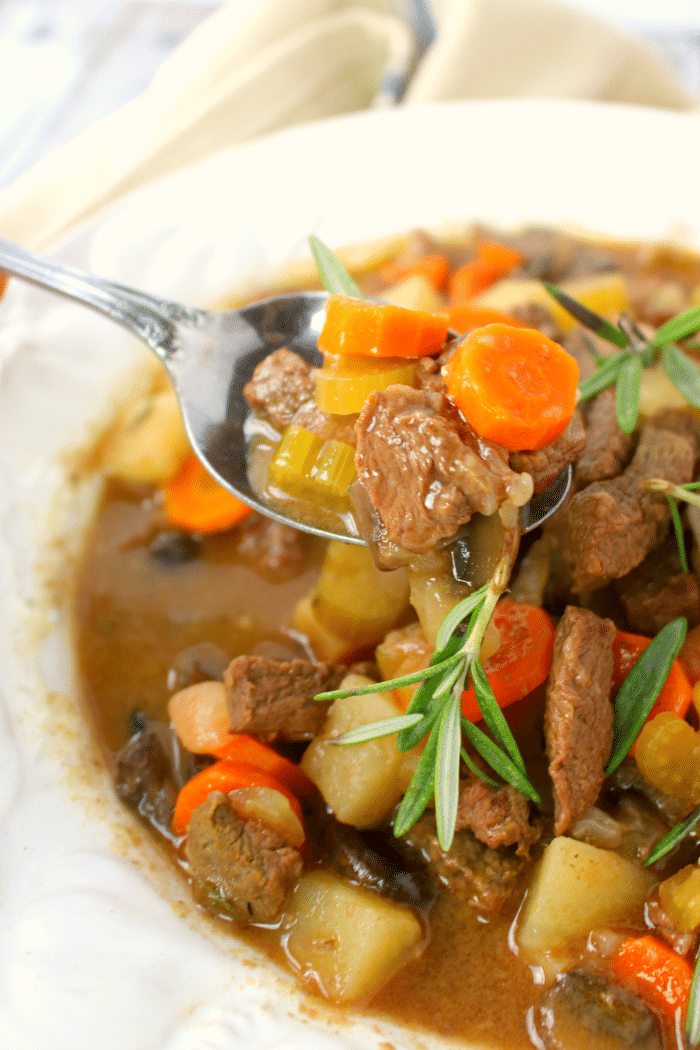 This hearty soup has a simple seasoning, using fresh rosemary, salt and pepper.  That's it!  No need for tons of extra ingredients or seasoning packets that are filled with mystery ingredients.  The flavors of the meat and vegetables also add to this wonderful stew, giving it a fantastic depth of flavor.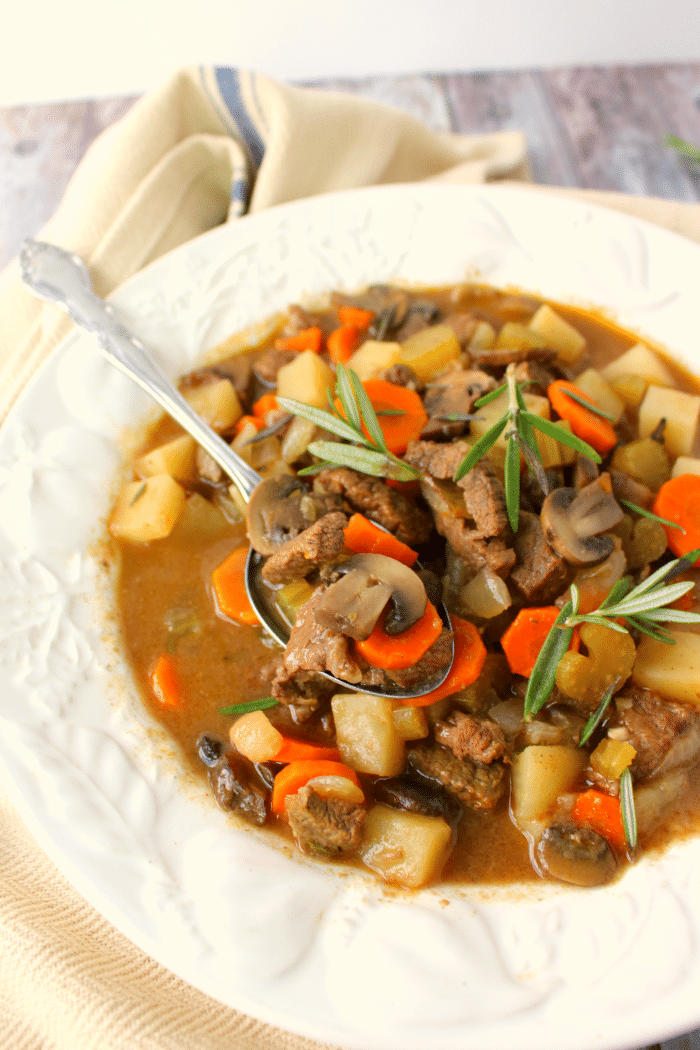 Here's a quick reference grocery list of the ingredients you'll need to make this Slow Cooker Beef Stew:
1 lb. sirloin beef
Flour
Salt
Pepper
Olive Oil
Beef Broth
Russet Potatoes
Carrots
Celery
Baby Bella Mushrooms
Fresh Rosemary
Garlic Salt
If you loved this fantastic beef stew recipe, here are a few more recipes that I know you'll love: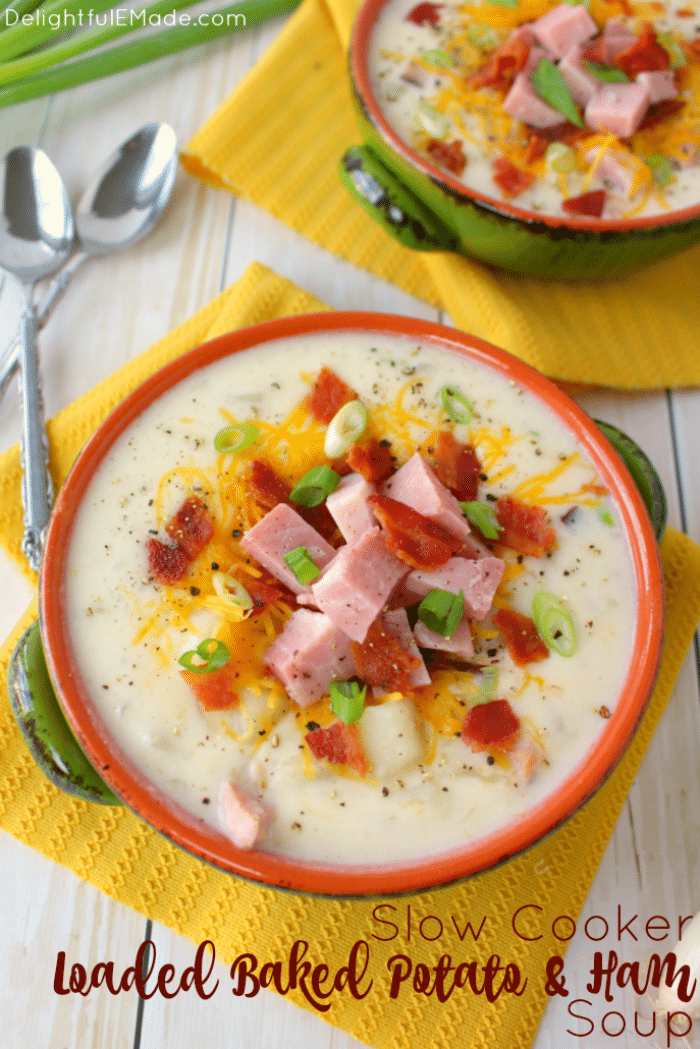 Recipe for Slow Cooker Loaded Baked Potato Soup
Italian Chicken and Dumpling Soup
Slow Cooker Steak & Mushroom Sandwiches
Recipe for Slow Cooker Barbecue Beef
Slow Cooker Sausage & Lentil Soup
Recipe for Slow Cooker Cheesy Hashbrown Casserole
Here's the easy, delicious recipe for this fantastic Slow Cooker Beef Stew:


Erin Indahl-Fink

Yields 6 servings

Can you think of anything more comforting that a warm bowl of beef stew? This easy slow cooker recipe is a delicious dinner option for any night of the week. This recipe uses tender, delicious sirloin, along with big chunks of carrots, celery, potatoes and mushrooms. The ultimate comfort food for a cold day!

30 minPrep Time

6 hrCook Time

6 hr, 30 Total Time

Ingredients

1 lb. sirloin beef, cubed
1/4 c. flour
1/2 tsp. salt
1/2 tsp. pepper
2 Tbsp. olive oil
4 c. beef broth
2 large russet potatoes, peeled & cubed
3 carrots, peeled and sliced
3 ribs celery, sliced
1 (8 oz.) package, baby bella mushrooms, sliced
1 sprig, fresh rosemary, finely minced (about 2 teaspoons)
1/2 tsp. garlic salt
1/2 tsp. pepper

Instructions

In a medium bowl, add the flour, salt and pepper. Lightly coat the cubed sirloin in the flour mixture, and shake off any excess flour. In a medium skillet, heat the olive oil on medium high heat, add the flour coated sirloin and brown. Once the meat is browned, add to the slow cooker.
Along with the browned sirloin, add the potatoes, carrots, celery, mushrooms, beef broth, rosemary, salt and pepper. Stir to incorporate.
Cover with slow cooker lid, and cook on low for 6-8 hours, or on high for 3-4 hours. Ladle into bowls and enjoy.

Notes

If your slow cooker has a browning options, feel free to brown your sirloin directly in the slow cooker. This will save time, and you won't be dirtying another pan.

7.8.1.2

269

https://delightfulemade.com/2016/10/02/slow-cooker-beef-stew/

Copyright by DelightfulEMade.com
I hope you get to enjoy a warm, comforting bowl of this amazing stew this fall or winter!  It really is comfort food at its best!
Wanna give Butcher Box a try?  Here's a link to check out their amazing delivery service here.