Looking for a healthy, low-carb dinner idea that actually tastes good? These Taco Stuffed Zucchini Boats are made with lean ground turkey filling along with peppers, onions, beans and corn. Loaded with flavor, these stuffed zucchini are the perfect healthy dinner!
Stuffed Taco Zucchini Boats
These Stuffed Taco Zucchini Boats are quite possibly the perfect dinner recipe. I do not say this lightly, as I have many dinner recipes here on my site, all of which are pretty awesome. However, these stuffed zucchini have a whole lot going for them. First, they are loaded with flavor! Made with tons of veggies like corn, bell pepper, red onion and salsa, (oh, and lets not forget the actual zucchini) these zucchini boats are packed with flavor deliciousness! Secondly, these babies are low-carb! You heard that right – there is no rice or "extra filler" in these! I used ground turkey as the protein source, and along with the black beans, provide you with a good amount of protein in each serving.
So let's get to it! I'm going to show you the simple steps to making these nutritious and super delicious Taco Stuffed Zucchini Boats!
Step 1: Hollow out the center of zucchini
At your grocery store or farmers market, grab about 6 medium-sized zucchini. Rinse, and cut off the ends of each zucchini. Slice the zucchini down the center vertically, so you have two long halves.
I discovered that using a melon-baller (is that the right term for this tool?) is the perfect size for hollowing out the center portion of the zucchini halves. Feel free to use a teaspoon if you don't have a "melon-baller."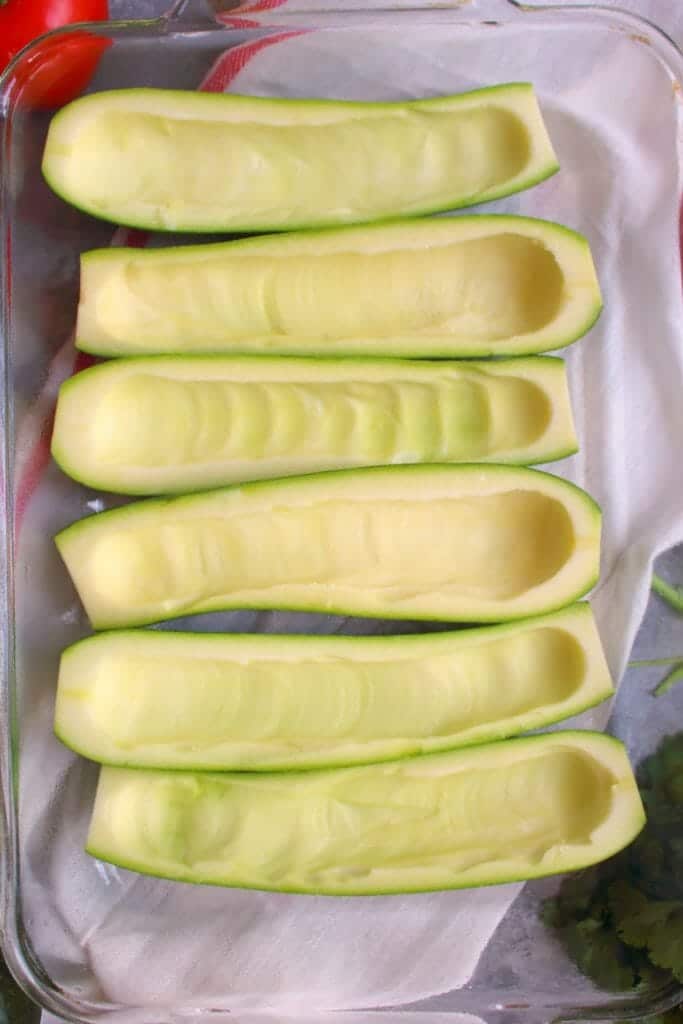 Step 2: Place the zucchini halves into a 9×13″ pan
You'll notice that I have 6 zucchini halves in my 9×13″ pan. If you're planning to make all 6 zucchini (12 halves) you will need a second 9×13″ pan. Yes, this recipe, specifically the filling, makes quite a large amount of food. (I'll talk more about the filling in the next step.) Here are a couple options that you can do to prepare these stuffed zucchini accordingly.
Prepare all 12 zucchini halves at once. This is great if you need to feed a crowd, OR if you want to serve this for dinner, and then have some healthy lunch options already prepared.
Prepare half – 6 zucchini halves (3 medium zucchini) in one 9×13″ pan. This is great for a single dinner. You'll need to freeze or refrigerate the remainder of the filling. I've done this several times. It's nice to have on hand to take out for a quick dinner another night. You can also use this same filling to make my recipe for Healthy Taco Stuffed Peppers!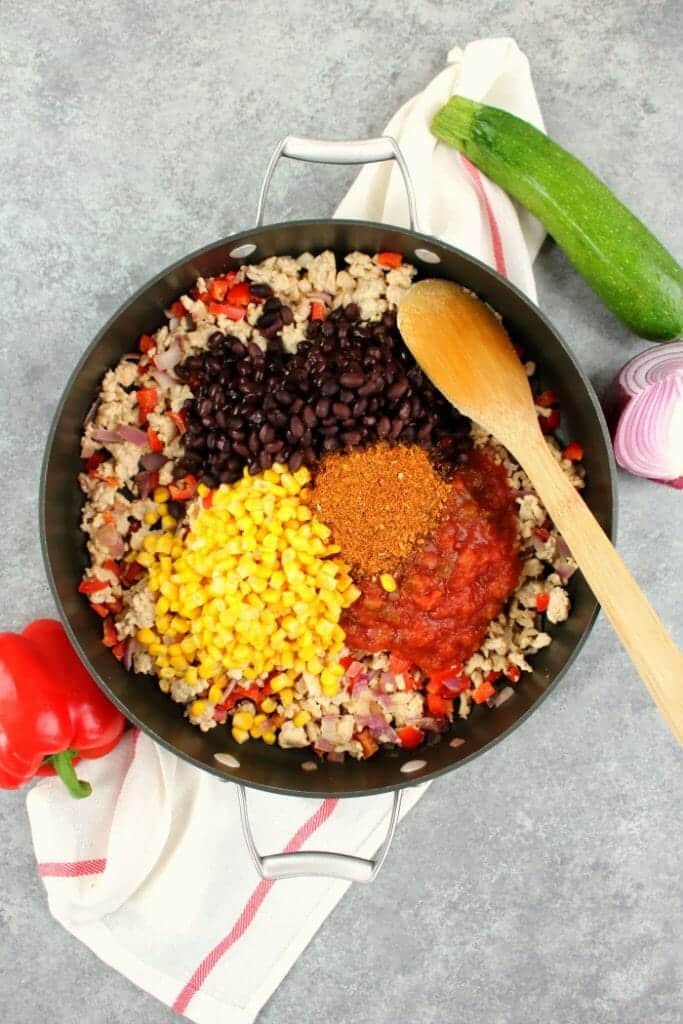 Step 3: Prepare the Filling
The filling for these zucchini boat is down right incredible! I chose to keep these zucchini on the lean side, using extra lean (99%) ground turkey. Feel free to sub in ground beef or chicken if you prefer. In addition to the turkey, you'll also include the following:
red onion
red pepper
taco seasoning
chunky salsa
sweet kernel corn
black beans
Like I mentioned above, this makes quite a bit of filling. You'll need at least 6 medium to large sized zucchini (12 halves) to utilize all of this filling. Prepare accordingly, and see the options I listed above.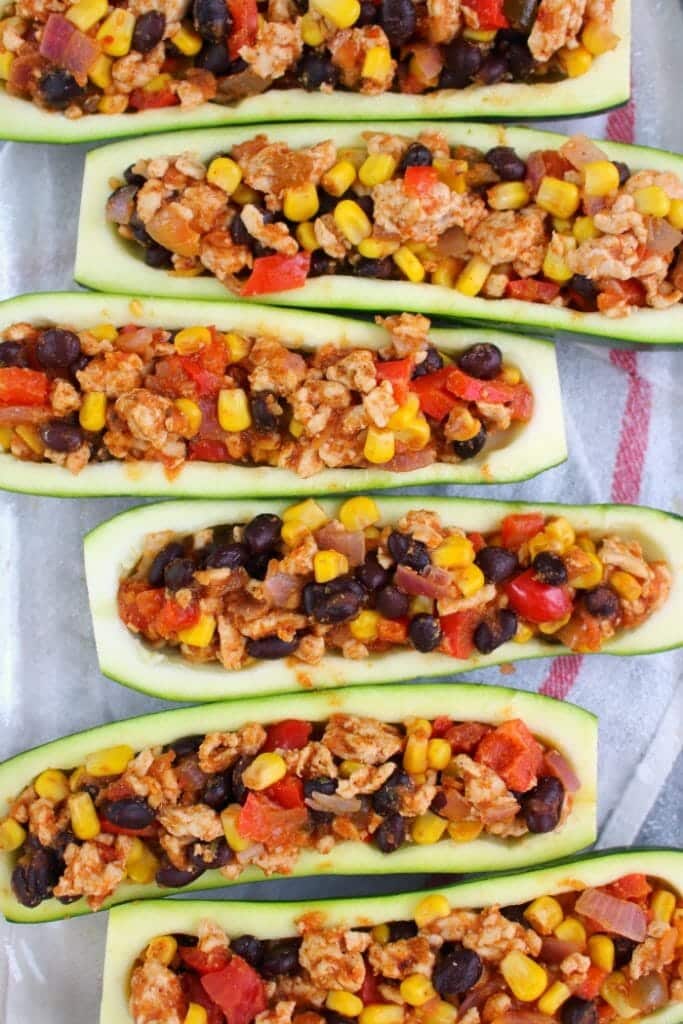 Step 4: Fill the zucchini halves
To the hollowed zucchini halves, spoon in as much filling as will fit. The zucchini is sturdy enough to hold up this hearty filling – don't be stingy.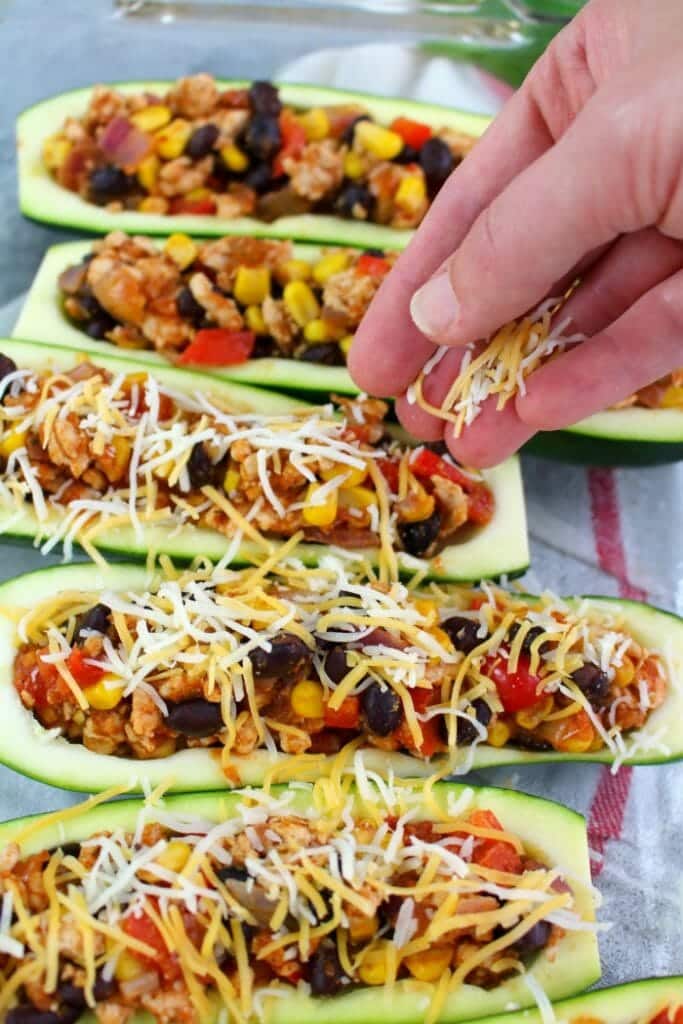 Step 5: Sprinkle with cheese & bake
I used a pre-packaged Mexican-blend shredded cheese. Feel free to use what you prefer – basically anything that you would serve atop tacos is a great choice. If you're really watching your fat content, I would recommend a 2% low-fat cheese.
Once the zucchini boats are cheesed up, get these babies into the oven. Bake at 400 degrees for 25 minutes.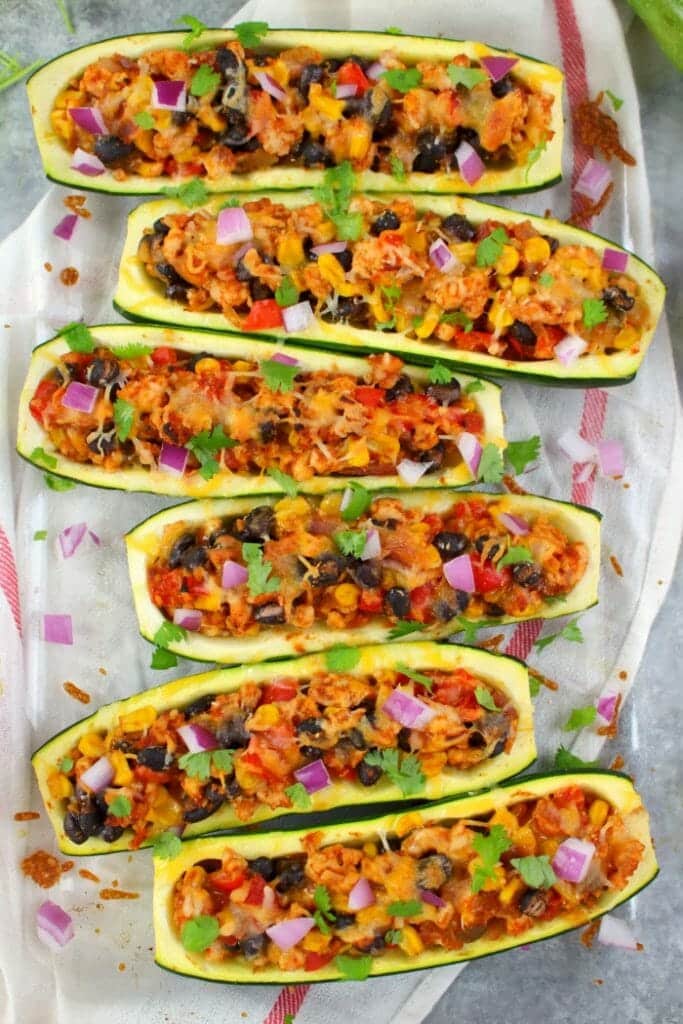 Step 6: Garnish and Enjoy!
Once these gorgeous zucchini come out of the oven, they're pretty much ready to eat right away. Give them about 5 minutes to cool off slightly. Top with some fresh cilantro or additional red onion if you prefer. These make a very pretty garnish!
Some other topping ideas include: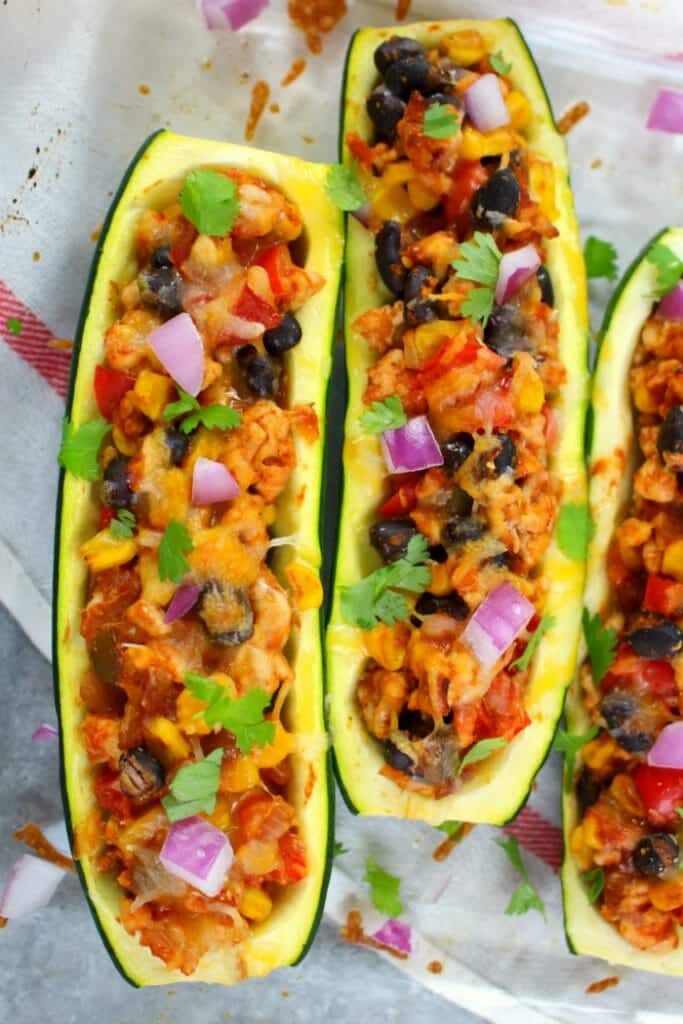 You would never know these stuffed zucchini are healthy and low-carb!! These are absolutely packed with flavor, and that filling is very hearty. Such a fantastic taco Tuesday dinner idea when you want to be especially mindful of your nutrition.
Are you meal prepping these zucchini boats?
Check out my post for the Best Meal Prep Containers – it's a fantastic resource for all of my favorite meal and dinner prep tools. I've also included some of my favorite meal prep recipes.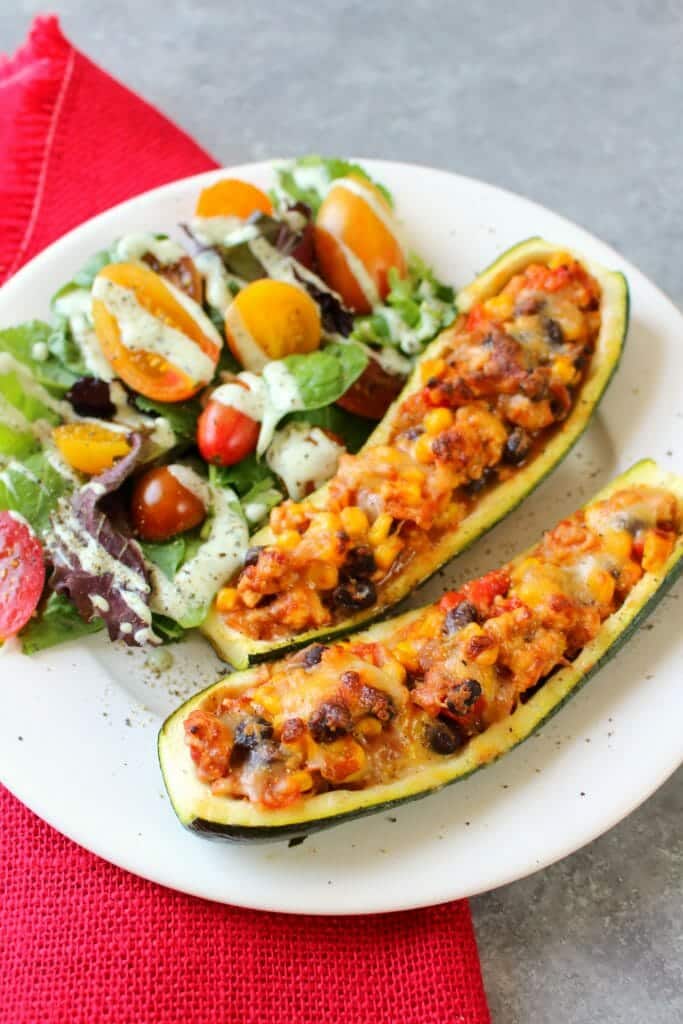 I paired a couple of these Taco Stuffed Zucchini Boats with a fresh salad with tomatoes and an avocado cilantro dressing. I featured this in one of my InstaStories recently. Do you follow me on Instagram? Come find me at @delightfulemade We'll have so much fun together!
Enjoy this delicious, simple and low-carb dinner idea! ~Erin
If you loved this delicious low-carb dinner idea, check out some of my other healthy dinner ideas: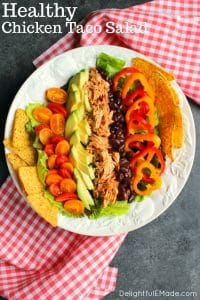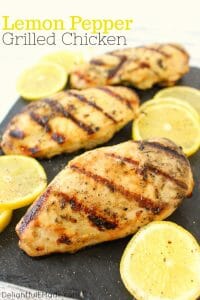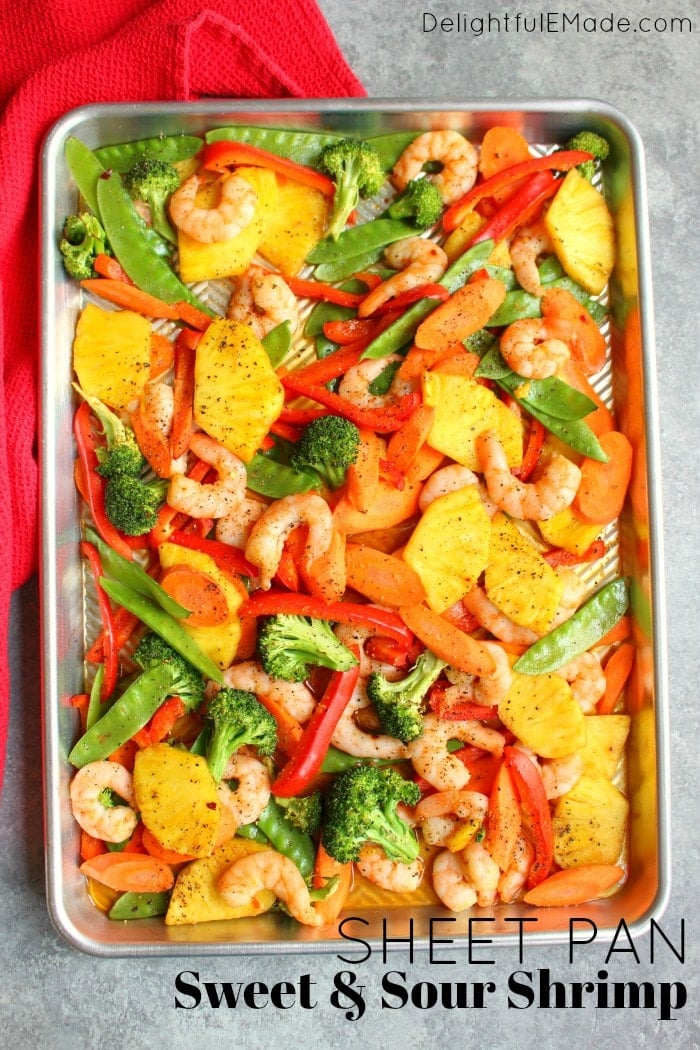 Here's the recipe for my Taco Stuffed Zucchini Boats:
Erin @ Delightful E Made
Yields 6 servings
Taco Stuffed Zucchini Boats
Looking for a healthy, low-carb dinner idea that actually tastes good? These Taco Stuffed Zucchini Boats are made with lean ground turkey filling along with peppers, onions, beans and corn. Loaded with flavor, these stuffed zucchini are the perfect healthy dinner!
20 minPrep Time
25 minTotal Time
Ingredients
6 medium-large zucchini, halved and hollowed
2 Tbsp. olive oil
1/2 red onion, diced
1 red bell pepper, diced
1 lb. extra lean (99%) ground turkey
1 (15 oz.) can, black beans, drained and rinsed
1 (15 oz.) can, sweet corn, drained and rinsed
1 c. chunky salsa
3 Tbsp. taco seasoning
1/2 c. shredded Mexican blend cheese
Fresh cilantro for garnish
Instructions
Preheat oven to 400 degrees. Lightly spray (2) 9x13" pans with non-stick spray. Set aside.
Rinse and trim the zucchini ends. Slice the zucchini vertically. Using a melon-baller or spoon, hallow out the zucchini. Place the zucchini in the pan, and set aside.
For the filling: To a large skillet add the olive oil and heat over medium-high heat. Saute the onion and pepper for about 5 minutes, or until the red onions are nearly translucent. Add the ground turkey to the onion and pepper and brown until cooked through.
Once the turkey is no longer pink, and cooked through, add the beans, corn, salsa, and seasoning. Stir. Continue to heat over medium-high heat until the filling comes to a low simmer. Remove from heat.
Spoon in the filling to each zucchini. Once all the zucchini are filling, top with a sprinkling of cheese.
Bake the zucchini at 400 degrees for 25 minutes.
Remove from oven and let cool for about 5-10 minutes before serving. Top with cilantro, if desired.
Notes
Be sure to note that the filling is substantial. Feel free to freeze half of the filling if you're only making 3 zucchini (6 halves).
7.8.1.2
370
https://delightfulemade.com/2018/07/24/taco-stuffed-zucchini-boats/
Copyright by DelightfulEMade.com
Weight Watchers Free-Style Points: 2 points per 2 halves, or 1 point per single "boat"