The BEST Peach Crisp Recipe!
This peach crisp recipe is one of the easiest recipes you'll find! Made with a delicious cinnamon pecan crumble, you can make this peach crisp healthy by subbing a couple of ingredients!
This post may contain affiliate links. Delightful E Made is a participant in the Amazon Services LLC Associates Program, an affiliate advertising program designed to provide a means for us to earn fees by linking to Amazon.com and affiliated sites.
An amazing way to make Peach Crisp Healthy!
If peaches are your favorite fruit, then you need this super easy peach crisp recipe. Made with fresh peaches, and topped with a simple cinnamon pecan crumble, it's fantastic served with vanilla ice cream.
By substituting the butter and brown sugar in the crumble, you can make this peach crisp healthy! A great option if you are looking to watch your calories but still want a delicious fruit dessert.
Here's how this delicious peach crisp recipe comes together:
How do you make peach crisp from scratch?
Start by adding fresh, frozen or canned peaches to the bottom of a baking dish or individual ramekins. Top the peaches with a crumble that has been made with oatmeal, flour (or oat flour), spices, baking soda, baking powder, butter (or coconut oil) and pecans.
Crumble the oat topping over the peaches, and bake until the crumble is golden brown.
Do I have to use ramekins or can I make one large peach crisp?
Yes. You can make one large peach crisp by using a medium (9×9″) baking dish or pan.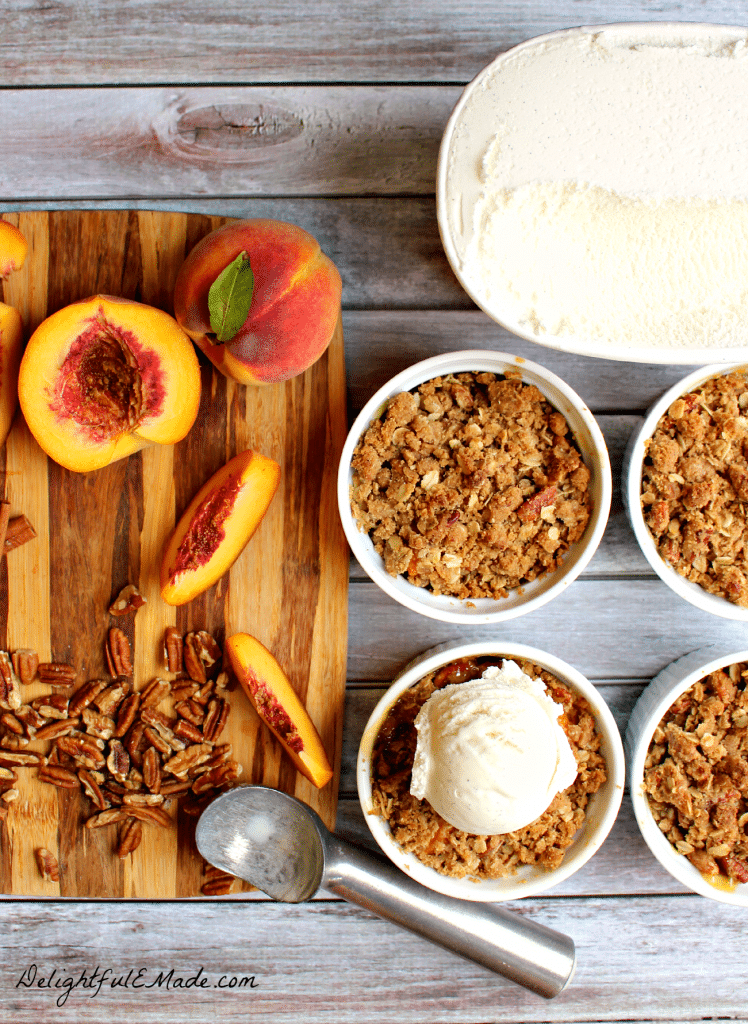 It didn't take long for the house to smell amazing. Once I pulled these babies out of the oven, I had a bubbly, peachy, pecan goodness! Topped with a big scoop of vanilla bean ice cream, these peach crisps became an amazing dessert!
How do I make peach crisp healthy?
Here are the substitutions I would recommend to make this peach crisp healthy:
Swerve granular sweetener instead of granular sugar (with the peaches)
Oat flour instead of all-purpose flour
Ghee or unflavored coconut oil instead of butter
Swerve brown sugar substitute instead of brown sugar
Does peach crisp freeze well?
Yes. I would recommend baking the crisp and then letting it cool completely to room temperature. Cover with press-and-seal plastic wrap, or transfer the crisp to a resealable plastic freezer container.
To reheat, place individual servings into ramekins or oven-safe dishes and heat until the crumble is golden brown; about 10-15 minutes at 350 degrees.
You can also assemble the crisp, but not bake it. Freeze it by tightly wrapping with press-and-seal wrap and another layer of aluminum foil. When ready to bake, thaw to room temperature, and then bake according to recipe directions.
Are fruit desserts your favorite? Check out some of our other fruity treats:
Do you love peach recipes? Here are some of our most popular recipes:
Here's the simple, delicious peach crisp recipe, with healthy options:
Peach Crisp with Cinnamon Pecan Crumble
This easy dessert is a delicious way to enjoy fresh, summer peaches! Topped with a cinnamon pecan crumble, this dessert is great with a big scoop of ice cream!
Ingredients
4 c. peaches, blanched, peeled and sliced (canned or frozen peaches work as well)
1/4 c. sugar, or granular Monk fruit sweetener
1 Tbsp. dry tapioca
For Crumble topping:
1/2 c. oatmeal
1/2 c. flour, or oat flour
1/2 c. brown sugar, or brown sugar substitute like Swerve
1/2 tsp. cinnamon
1/4 tsp. ground nutmeg
1/4 tsp. salt
1/4 tsp. baking soda
1/4 tsp. baking powder
1/4 c. butter, melted or coconut oil
1/3 c. chopped pecans
Instructions
Preheat oven to 350 degrees.
In a medium bowl, combine the sliced peaches, sugar and dry tapioca. Mix to coat the peaches. Set aside.
In a second bowl, combine the oatmeal, flour, brown sugar, cinnamon, nutmeg, salt, baking soda and baking powder. Mix to combine. Gradually pour the melted butter over the oatmeal mixture, and stir until crumbly. Mix in the pecans.
In either 4 medium (4") ramekins or 1, medium 9x9" baking dish, spoon in the peaches, and evenly top with the crumble mixture. Bake at 350 for 26-30 minutes. Let cool slightly, and serve warm.
Notes
To make this peach crisp healthier, make these substitutions:
Granular sugar - use Swerve granular sweetener or Monk Fruit sweetener instead.
Brown sugar - use Swerve brown sugar substitute
Flour - use oat flour or almond flour instead
Butter - use Ghee or unflavored coconut oil instead
I hope you enjoy the Peach Crisp as much as my family and me. As the end of the summer draws near, I love taking the time to preserve the season with amazing local food. So get to your local farmers market, or anywhere where there is fresh, local produce. Its such a wonderful way to enjoy all the flavors that summer has to offer.
Enjoy!
Erin