Looking for an amazing cherry crisp recipe? You've come to the right place! This Cherry Crisp with fresh cherries and a delicious almond crumble makes for an amazing dessert. Served warm with vanilla ice cream, it's heavenly!
This post may contain affiliate links. Delightful E Made is a participant in the Amazon Services LLC Associates Program, an affiliate advertising program designed to provide a means for us to earn fees by linking to Amazon.com and affiliated sites.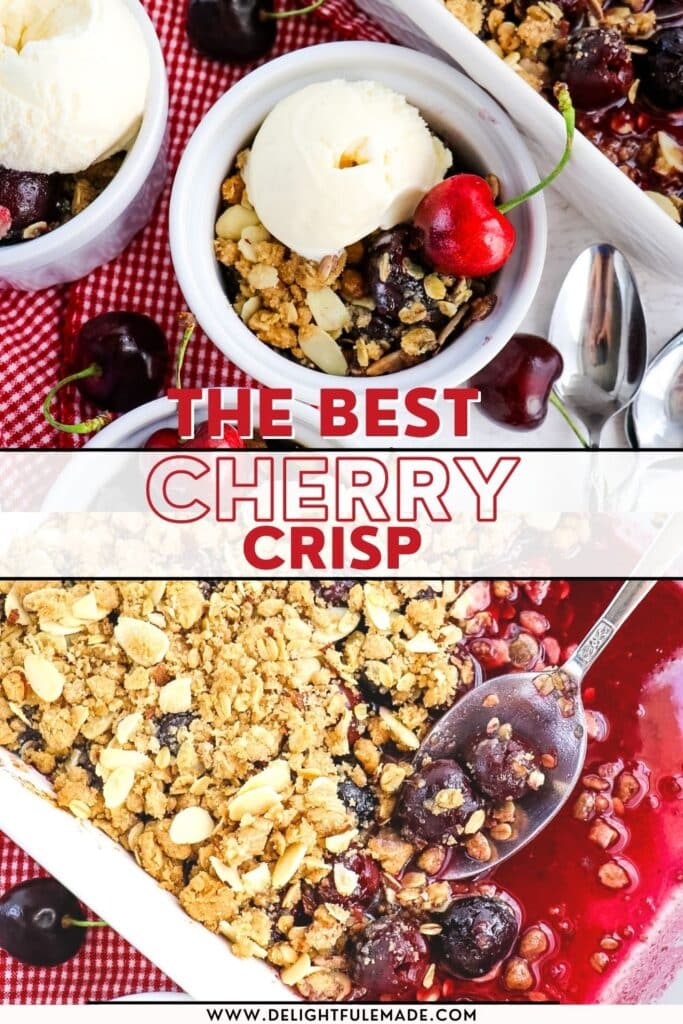 Looking for a delicious recipe to enjoy fresh summer cherries? This cherry crisp recipe is a classic cherry dessert, topped with a delicious almond crumble.
This crisp dessert is a great way to throw together a quick dessert on a weeknight, or anytime your craving a fruity treat.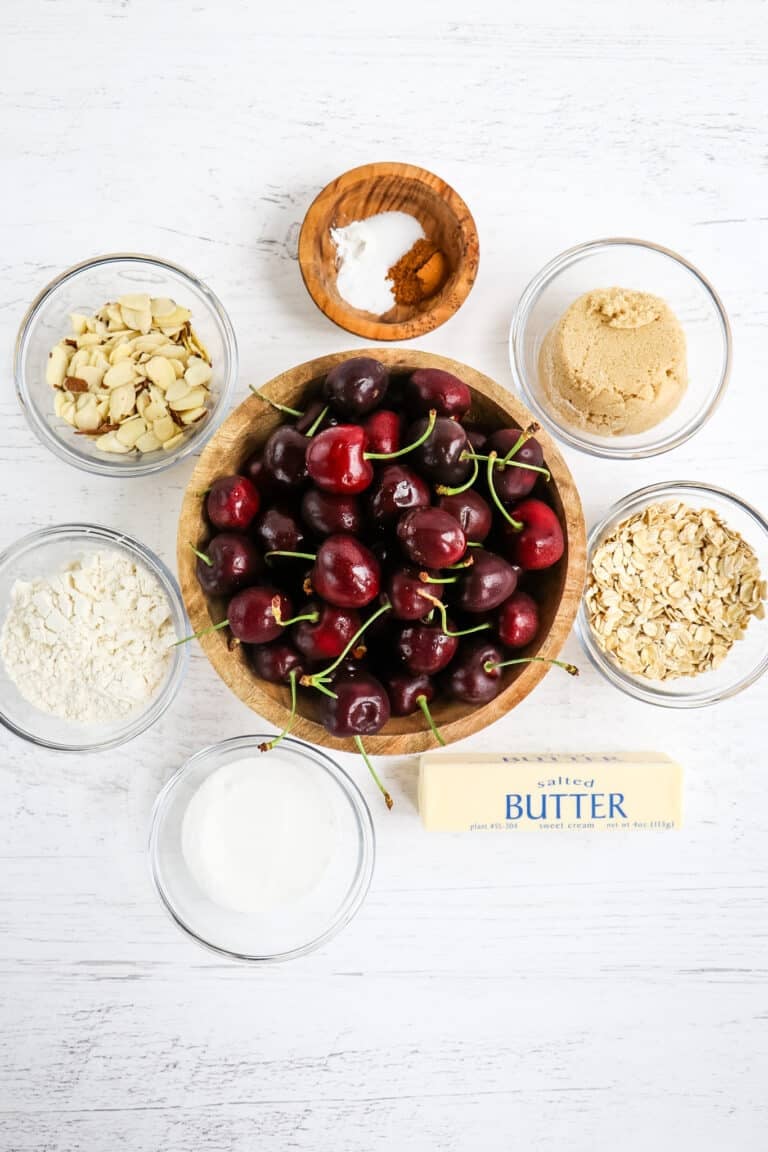 What do I need to make cherry crisp?
Here's a quick-reference grocery list of the ingredients you'll need:
For exact ingredient amounts and full recipe instructions be sure to reference the recipe card at the bottom of this post. Thanks!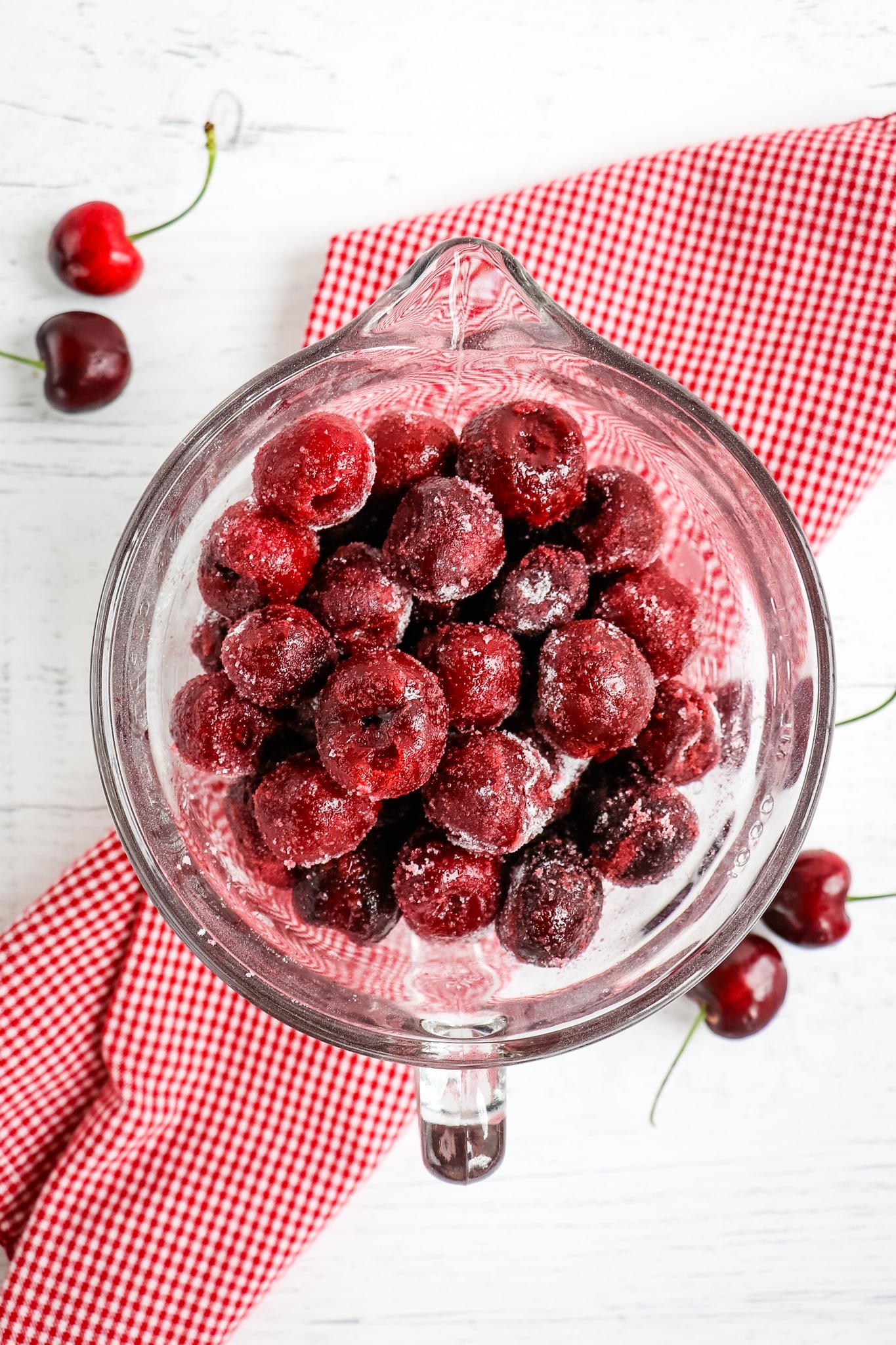 How do I make cherry crisp with fresh cherries?
Start by combining the cherries with the sugar/sweetener and the almond extract. Stir together to coat the cherries well. Pour the cherries into the bottom of a baking dish.
Mix the crumble topping by combining oatmeal, almonds, flour, brown sugar, cinnamon, salt, baking soda and baking powder. Pour the melted butter over the oatmeal mixture, and mix together with a fork until crumbly and gravel-like.
Crumble the topping over the cherry mixture. Bake at 350 for 26-28 minutes or until the crumble is golden brown.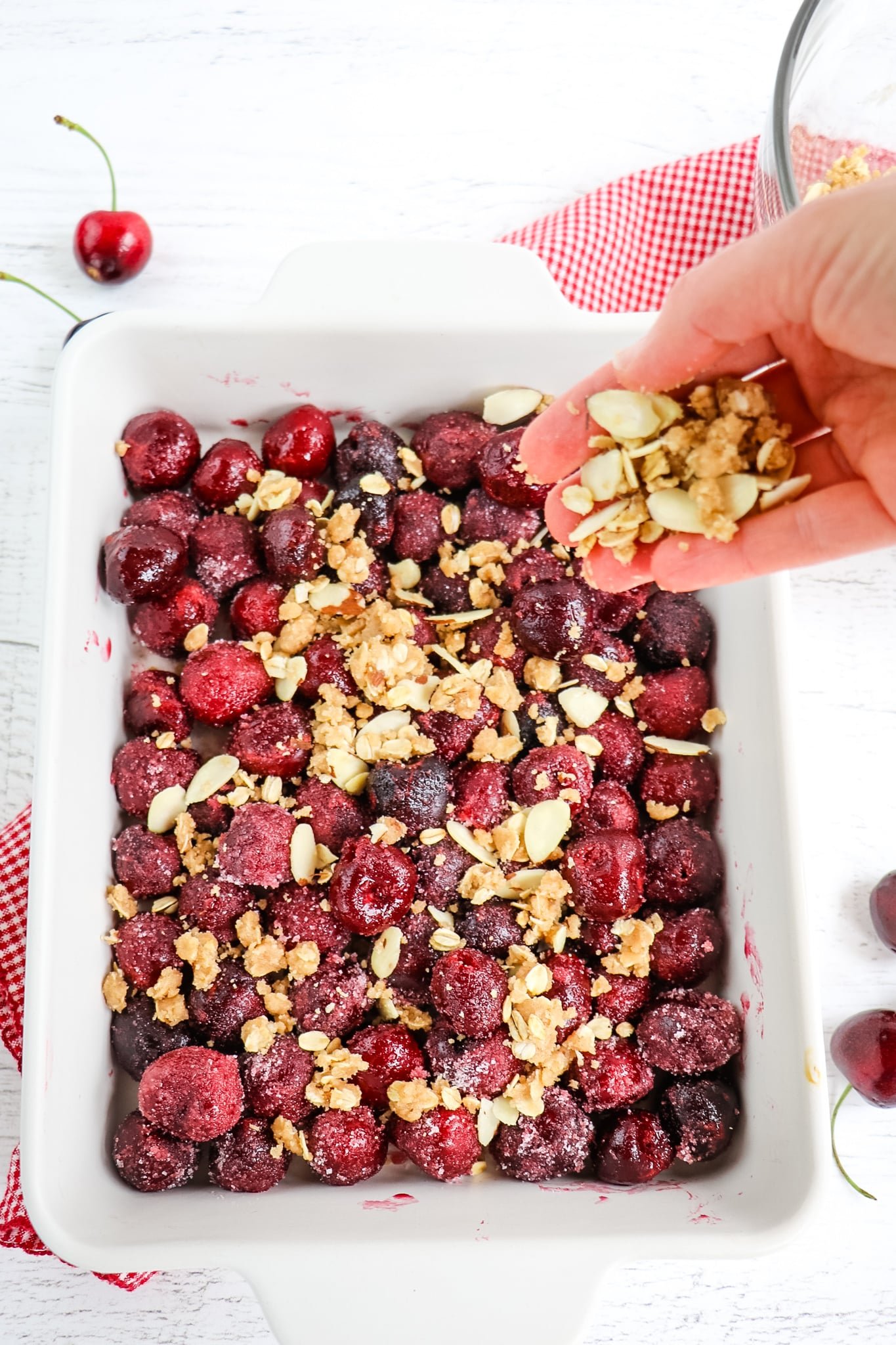 What is crumble topping made of?
Crumble topping typically consists of fat, sugar, flour and oats. It is baked on top of fruit, like berries, cherries, peaches, apples and/or pears as a dessert often served with ice cream.
In some crumble and crisp recipes, nuts are added to the crumble topping. Almonds, pecans and walnuts are a great addition to any crisp or crumble recipe.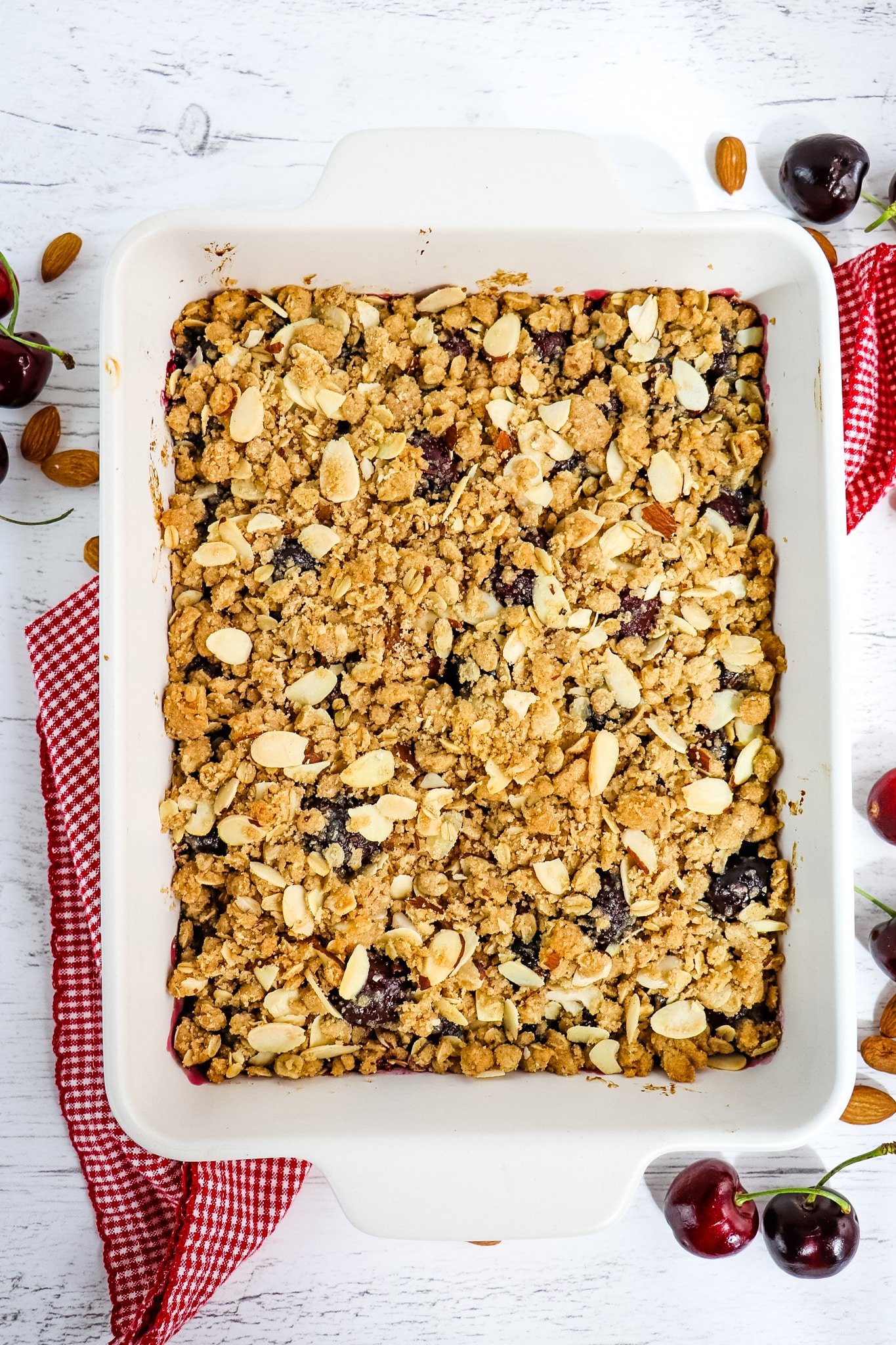 How do you know when crisp is done baking?
A crisp typically needs 25-28 minutes to bake. This allows for the fruit on the bottom to bake and for the crumble on top to become toasted and crisp.
When done baking the color of the crumble topping will be golden brown.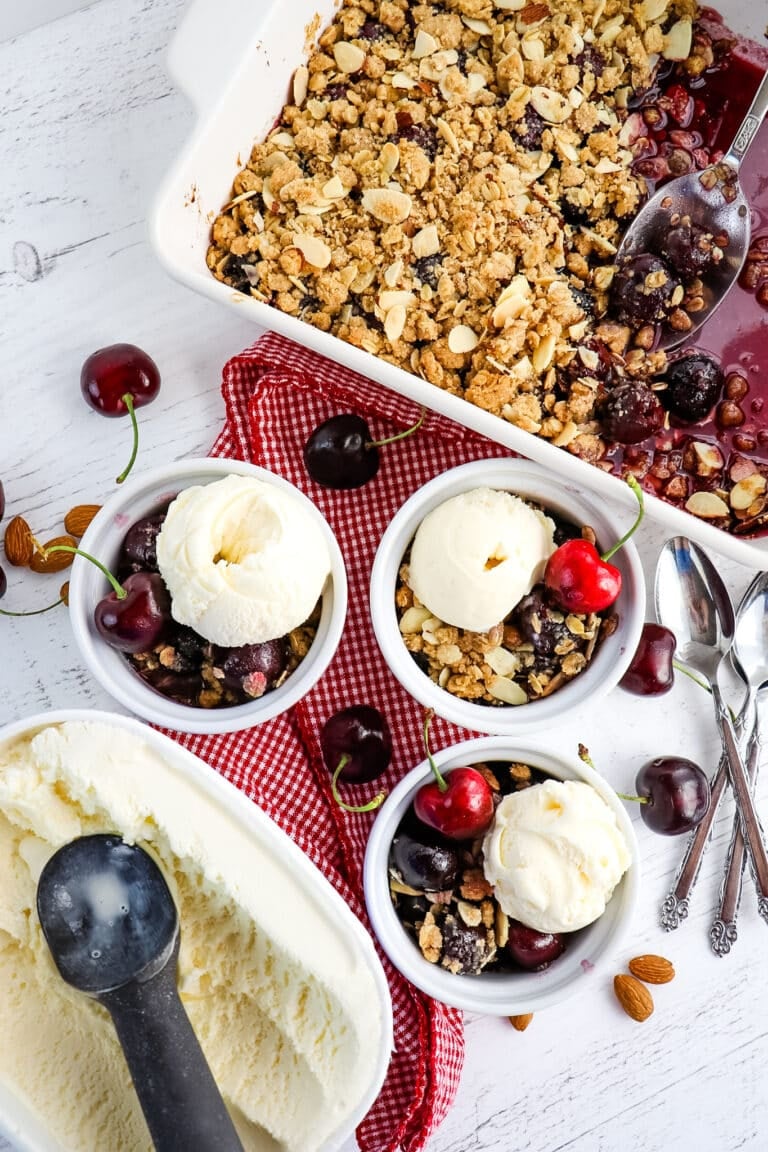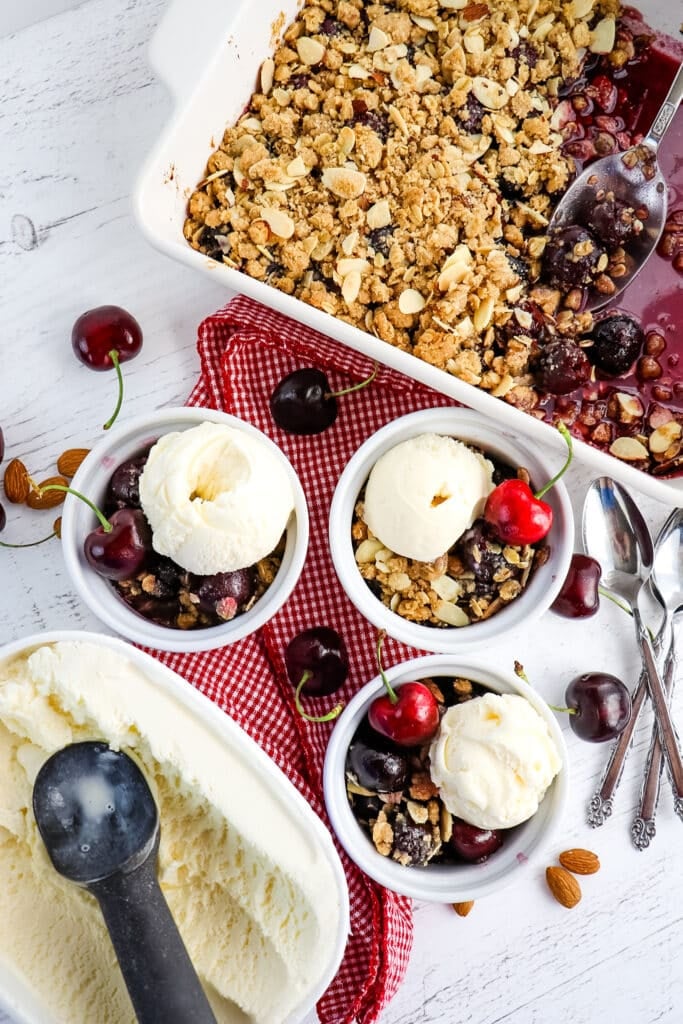 Frequently asked questions about making a cherry crisp recipe:
Should cherry crisp be refrigerated?
Yes, leftover cherry crisp should be refrigerated. Either wrap the top of the crisp with plastic wrap, or store the leftovers in an airtight container. Refrigerated, the crisp will last up to 5 days.
How long is cherry crisp good for in the refrigerator?
When kept refrigerated, cherry crisp will last for up to 5 days. For best results, keep the crisp in an airtight container.
Why does my crumble go soggy?
When making a crumble, it is important to create a lumpy, gravel-like consistency when adding to the top of the fruit. When baked, these lumps will create a crunchy consistency. (An overly-floury, sandy consistency will not become crisp, and will absorb the fruit juices when baked.) Additionally, baking for an appropriate amount of time (22-25 minutes) will allow the crumble to become crisp.
Can I make a fruit crisp ahead of time?
Yes, you can do much of the prep for a fruit crisp in advance of serving. Prepare the fruit filling and store in one container. Prepare the crumble topping and store in a separate container. Just before serving, assemble, bake and serve warm.
What is the difference between a crisp and a crumble?
Fruit crisps and crumbles are pretty interchangeable, however, recipes that include oats in the topping are traditionally considered a crisp. A crumble will typically just include fat, sugar and flour for the topping.
How do I make a healthy cherry crisp?
An easy way to make a healthier crisp or crumble is to substitute the brown sugar and granulated sugar with Swerve brown sugar substitute and granular monk fruit sweetener. You can also substitute the butter for coconut oil and the flour with almond flour.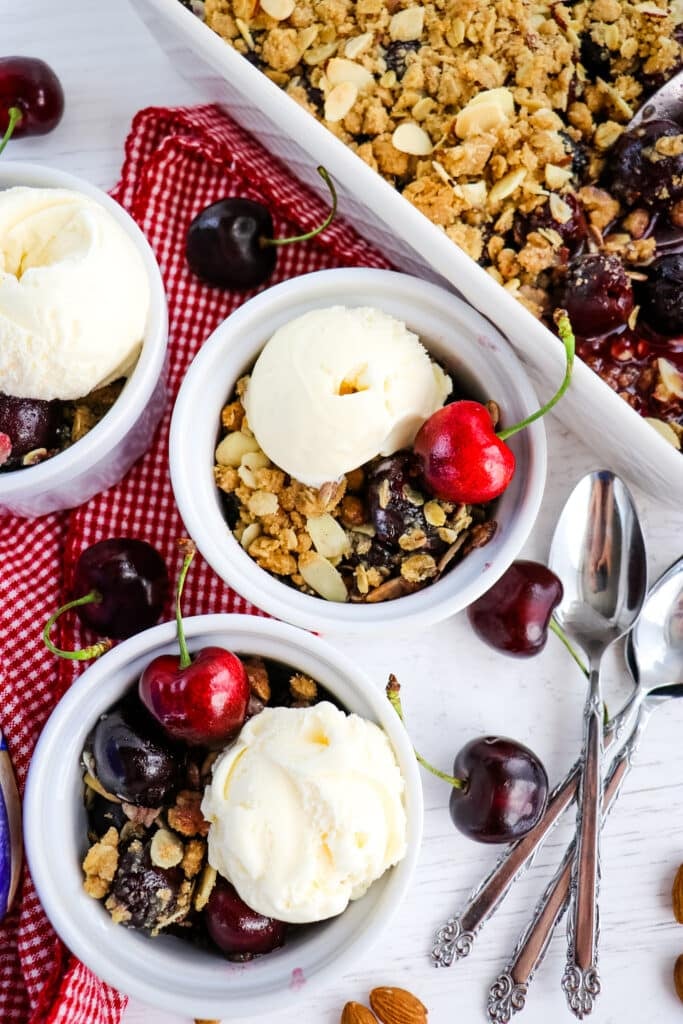 Do you love fruit desserts? Check out some of our most popular fruity recipes: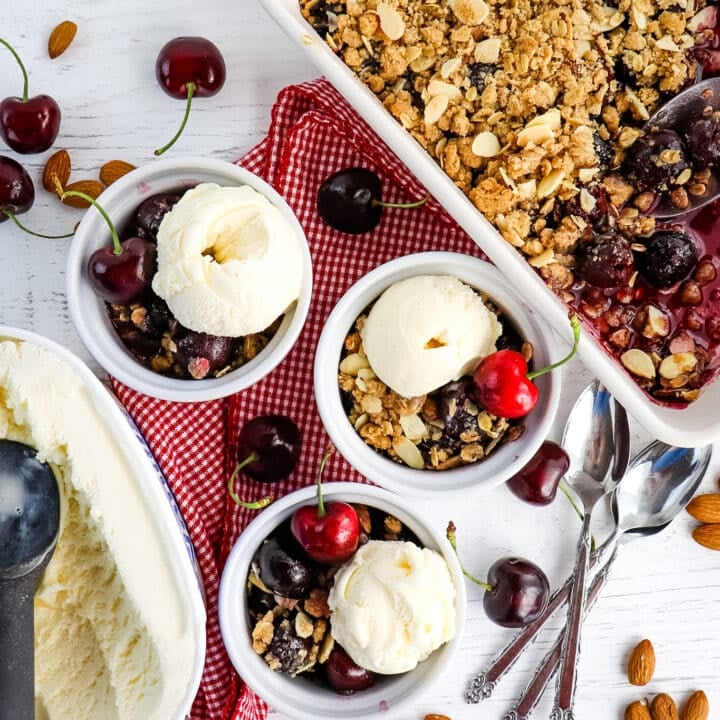 Cherry Crisp Recipe
If you love a delicious fruit crisp, then this cherry crisp recipe is for you. This cherry crisp with fresh cherries can also be made with frozen cherries for an easy and delicious dessert.
Ingredients
4 c. pitted cherries, fresh or frozen
1/4 c. sugar or granular monk fruit sweetener
1/2 tsp. almond extract
Almond crumble topping:
1/2 c. rolled oats
1/2 c. flour
1/2 c. brown sugar, or Swerve brown sugar substitute
1/3 c. slices almonds
1/4 c. butter, melted
1/2 tsp. cinnamon
1/4 tsp. baking powder
1/4 tsp. baking soda
1/4 tsp. salt
Instructions
Preheat oven to 350 degrees.
In a medium bowl, combine the pitted cherries, sugar (or sweetener) and almond extract. Stir to coat the cherries well. Pour into an 12" rectangular or oval baking dish. (You could also use a 9x9" pan.) Set aside.
In another bowl, stir together the oatmeal, flour, brown sugar, almonds, cinnamon, baking powder, baking soda and salt. Pour the melted butter over the top, and combine with a fork, making a crumbly, gravel-like crumble consistency.
Sprinkle the crumble mixture over the top of the prepared cherries. Bake at 350 degrees for 25-28 minutes or until the crumble topping is golden brown.
Remove from oven and let cool at least 10 minutes before serving.
Notes
Store any leftovers in an airtight container. The cherry crisp will keep refrigerated for up to 5 days.
If you prefer to not use almond extract, it can be omitted, or substituted with vanilla extract.
Nutrition Information:
Yield:

8
Serving Size:

1, 3/4 serving
Amount Per Serving:
Calories:

260
Total Fat:

9g
Saturated Fat:

4g
Trans Fat:

0g
Unsaturated Fat:

5g
Cholesterol:

15mg
Sodium:

205mg
Carbohydrates:

43g
Fiber:

3g
Sugar:

29g
Protein:

4g