Do you love chocolate and peanut butter together? Then this chocolate peanut butter banana smoothie will be right up your alley! Made with just 6 ingredients and takes less than 5 minutes to make, this peanut butter protein shake is healthy, super chocolaty and absolutely delicious!
This post may contain affiliate links. Delightful E Made is a participant in the Amazon Services LLC Associates Program, an affiliate advertising program designed to provide a means for us to earn fees by linking to Amazon.com and affiliated sites.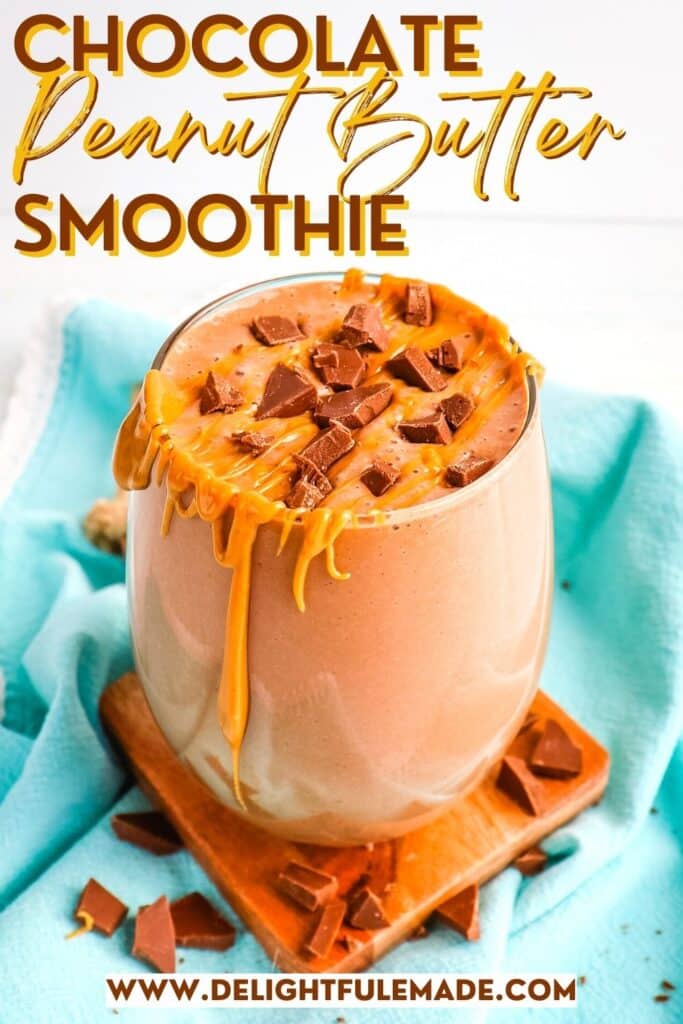 Do you need a quick breakfast or snack option that has a good amount of protein? This peanut butter protein shake is a fantastic healthy option.
This smoothie contains no refined sugar, and is made with just 6 ingredients that you likely already have in your fridge and pantry. Coming in at 30 grams of protein, this healthy protein smoothie recipe will quickly become your new favorite way to start the day.
What do I need to make a chocolate peanut butter smoothie?
Here's a quick reference check-list of the ingredients you'll need to make this simple smoothie recipe:
Unsweetened vanilla almond milk – when shopping for almond milk, be sure to double-check the nutrition label. Look for minimal ingredients and no added sugar.
Plain Greek yogurt – my favorite is Fage 2% or 5% plain Greek yogurt, which I use in numerous recipes, and enjoy just on it's own with berries or fruit. You could also use vanilla yogurt, just be mindful of added refined sugar.
Frozen banana – I freeze my own bananas, but if you don't have any on hand, you can purchase frozen bananas from the frozen foods section at your local grocery store.
Chocolate protein powder – there seem to be dozens and dozens on protein powders on the market. I use and enjoy Orgain Chocolate Protein Powder that has no refined/added sugar.
Unsweetened cocoa powder or cacoa powder – this will help amplify the chocolate flavor!
Powdered peanut butter – regular peanut butter is very calorie dense, so I recommend adding powdered peanut butter to get the flavor of peanut butter, but without the extra calories. Look for a powdered peanut butter that has minimal/no refined sugar. I also use powdered peanut butter in my Greek Yogurt Fruit Dip recipe.
For exact ingredient amounts and full recipe instructions be sure to scroll down to the bottom of the post for the recipe. Thanks!
How do I make a chocolate peanut butter smoothie?
Making a smoothie is a very simple process. You'll need a blender to puree all of your ingredients together.
To the blender jar, add all of the ingredients; almond milk, Greek yogurt, frozen banana, chocolate protein powder, cocoa powder and powdered peanut butter. Blend on medium-high speed until all ingredients are fully blended and smooth. I also use powdered peanut butter in my peanut butter overnight oats recipe.
I use and enjoy my Blendtec Designer Series Blender for making smoothies, blender muffins and pancakes, and even protein bites! Be sure to check out my tutorial at Food.com on How to Make a Smoothie.
Love healthier ways to enjoy chocolate? Check out my Chocolate Chia Seed Pudding, Chocolate Protein Pudding and my Healthy Chocolate Muffins for healthier chocolate snacks.
How do I freeze fruit for smoothies?
Do you have an excess of fruit that you need to use before it goes bad? The best way to use fruit like strawberries, blueberries, raspberries and bananas is to freeze it for smoothies.
The best way to freeze fruit for smoothies is to lay the fruit on a cookie or baking sheet that has been lined with parchment or waxed paper. Spread out the berries in one layer. If freezing bananas, slice the bananas, and separate the slices.
Freeze the fruit on the baking sheet. It will need at least 1-2 hour to become frozen. Once frozen, place the frozen fruit into freezer bags, and take out when ready to blend into a smoothie.
I wrote the book on smoothies…literally!
Yes, that's right! I'm the author, photographer and creator of The Protein Smoothie Bible cookbook.
It offers simple, 5-minute smoothie recipes that are perfect for quick, healthy breakfasts, snacks, or post-workout recovery.
I've even got a chapter all for kids! That's right! Simple, easy, kid-friendly smoothie recipes that will get your kids and grandkids excited about making healthy food.
You can get The Protein Smoothie Bible here!
Frequently asked questions about making a peanut butter protein shake:
Is it good to put peanut butter in a smoothie?
Adding peanut butter to a smoothie is good when the right peanut butter is used. Look for a peanut butter that is made from just peanuts and salt. Steer clear of nut butters that contain oils and added/refined sugar. Powdered peanut butter is a good, lower-calorie option for when you want the flavor of peanut butter, but not all the calories.
What fruit mixes well with peanut butter?
Bananas are a great option for pairing with peanut butter. Apples and berries are also a good option.
Is a peanut butter shake good for weight loss?
While good quality peanut butters are a good source of plant-based fat, they are calorie dense. Two tablespoons of peanut butter has 200 calories. If wanting to lose weight, you need to be in a calorie deficit, which means its best to enjoy peanut butter occasionally.
Need more banana recipes? Check out these other ripe banana recipes: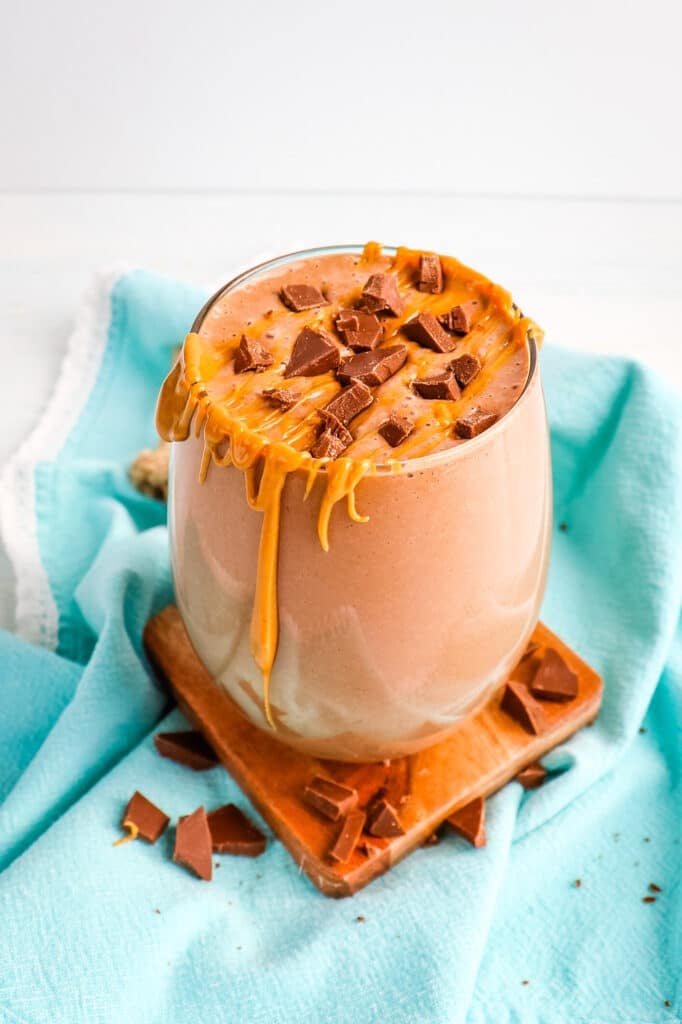 If you loved this smoothie recipe, check out some of these other healthy smoothie ideas: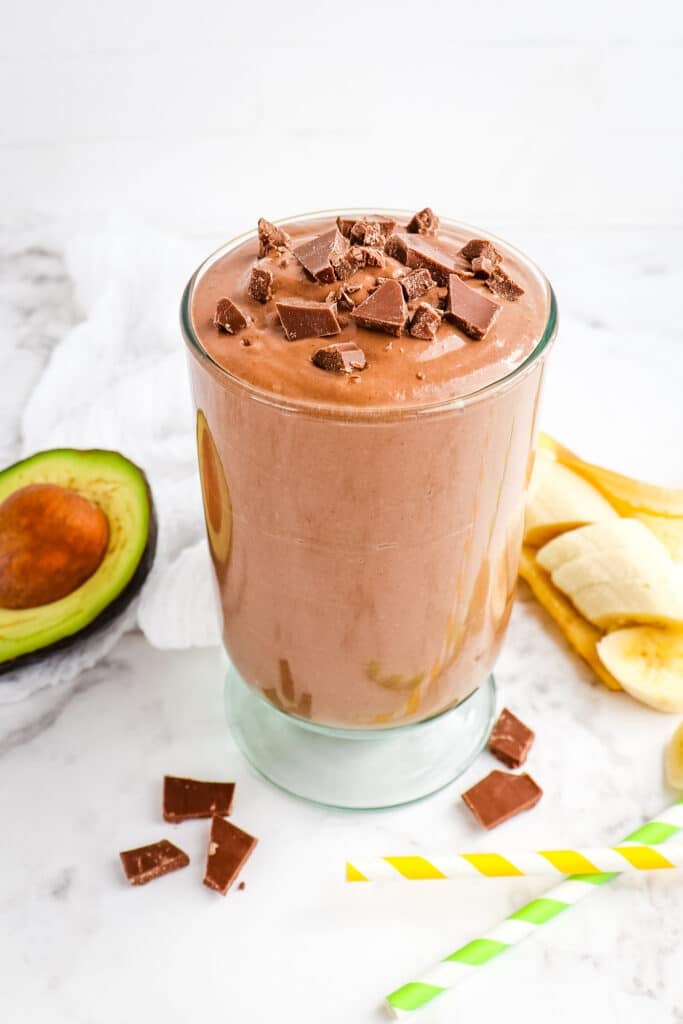 ---
---
Chocolate Peanut Butter Banana Smoothie
If you love chocolate and peanut butter together, this chocolate peanut butter banana smoothie is a must! With over 30 grams of protein, this peanut butter protein shake is not only healthy, but really delicious!
Ingredients
1 cup unsweetened vanilla almond milk
1/2 cup plain Greek yogurt, like Fage 2% or 5%
1 medium frozen banana
1 (1 oz.) scoop chocolate protein powder
2 Tbsp. unsweetened cocoa powder, or cacao powder
2 Tbsp. powdered peanut butter
Instructions
To a blender jar, add all of the ingredients; milk, yogurt, banana, protein powder, cocoa powder and peanut butter powder.
Add tight fitting lid, and blend on medium-high speed until all ingredients are full blended and smooth.
Pour into a glass and enjoy right away while cold.
Notes
To thicken, add 1 - 2 cups of ice.
Milk options: feel free to use either dairy or plant-based milk that fits your dietary restrictions. Dairy will will provide you with additional protein.
Regular peanut butter can be used instead of powdered peanut butter, HOWEVER, it will significantly increase the calorie content of the smoothie. If using regular peanut butter, choose a good quality nut butter that contains just nuts and salt, and doesn't included added oils or refined sugar.
Nutrition Information:
Yield:

1
Serving Size:

1
Amount Per Serving:
Calories:

346
Total Fat:

9g
Saturated Fat:

1g
Trans Fat:

0g
Unsaturated Fat:

4g
Cholesterol:

12mg
Sodium:

119mg
Carbohydrates:

45g
Fiber:

9g
Sugar:

17g
Protein:

30.5g
No refined/added sugar.