Does your family love pasta for dinner? This easy dump and bake meatball casserole is simple to make and tastes fantastic. This meatball dump casserole comes together easily with just 5 ingredients, including frozen meatballs, marinara sauce, and pasta. Easy with minimal prep making it perfect for a weeknight dinner idea!
This post first appeared at Savory Experiments where I am a contributor.
This post may contain affiliate links. Delightful E Made is a participant in the Amazon Services LLC Associates Program, an affiliate advertising program designed to provide a means for us to earn fees by linking to Amazon.com and affiliated sites.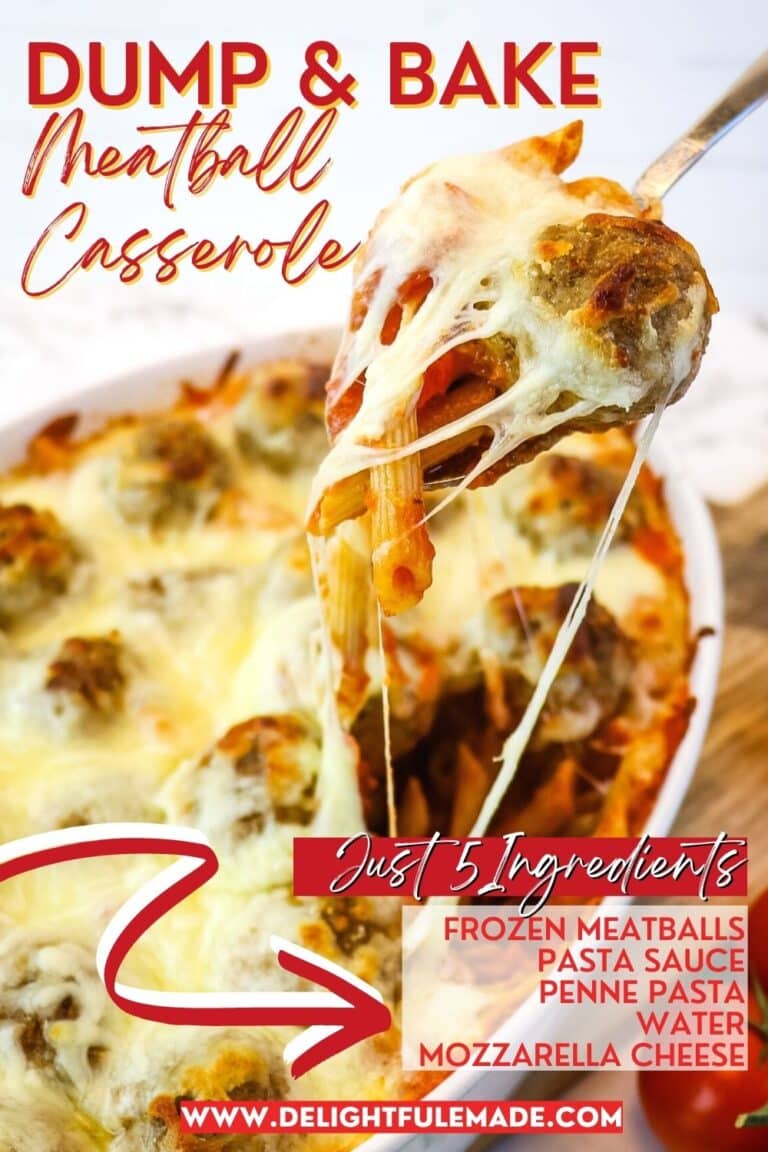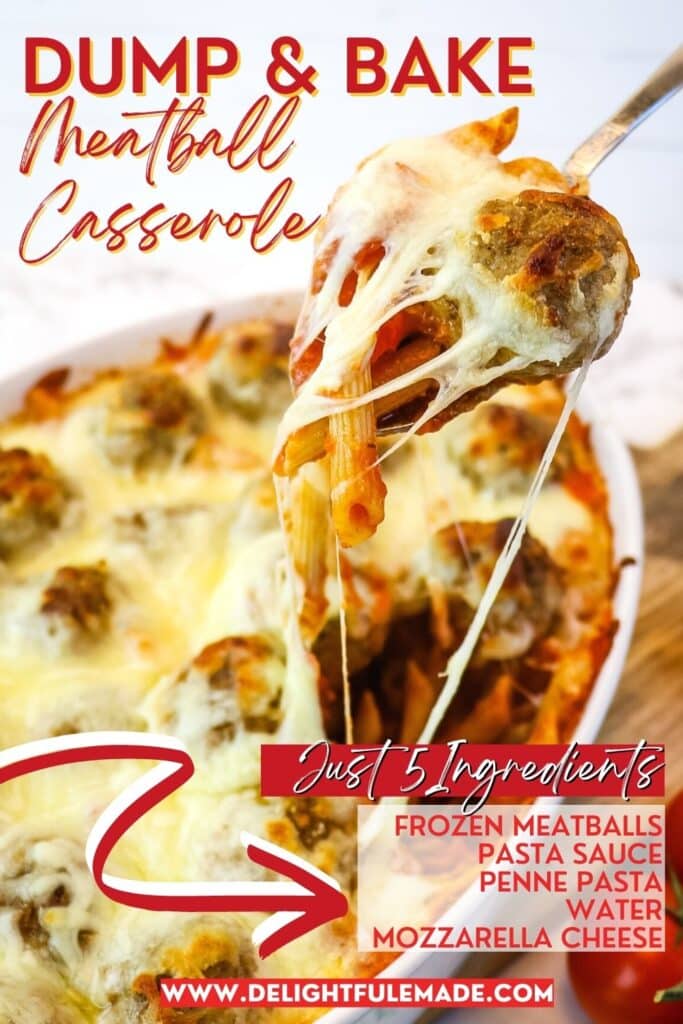 Do busy weeknights have you pinched for time with cooking dinner? This simple, delicious meatball casserole recipe comes together with just 5 simple ingredients, and your oven does most of the work.
If you love a simple baked pasta recipe, this easy meatball casserole is for you. Topped with mozzarella cheese, and made with store-bought frozen meatballs, marinara sauce and penne pasta, this casserole comes together in just minutes.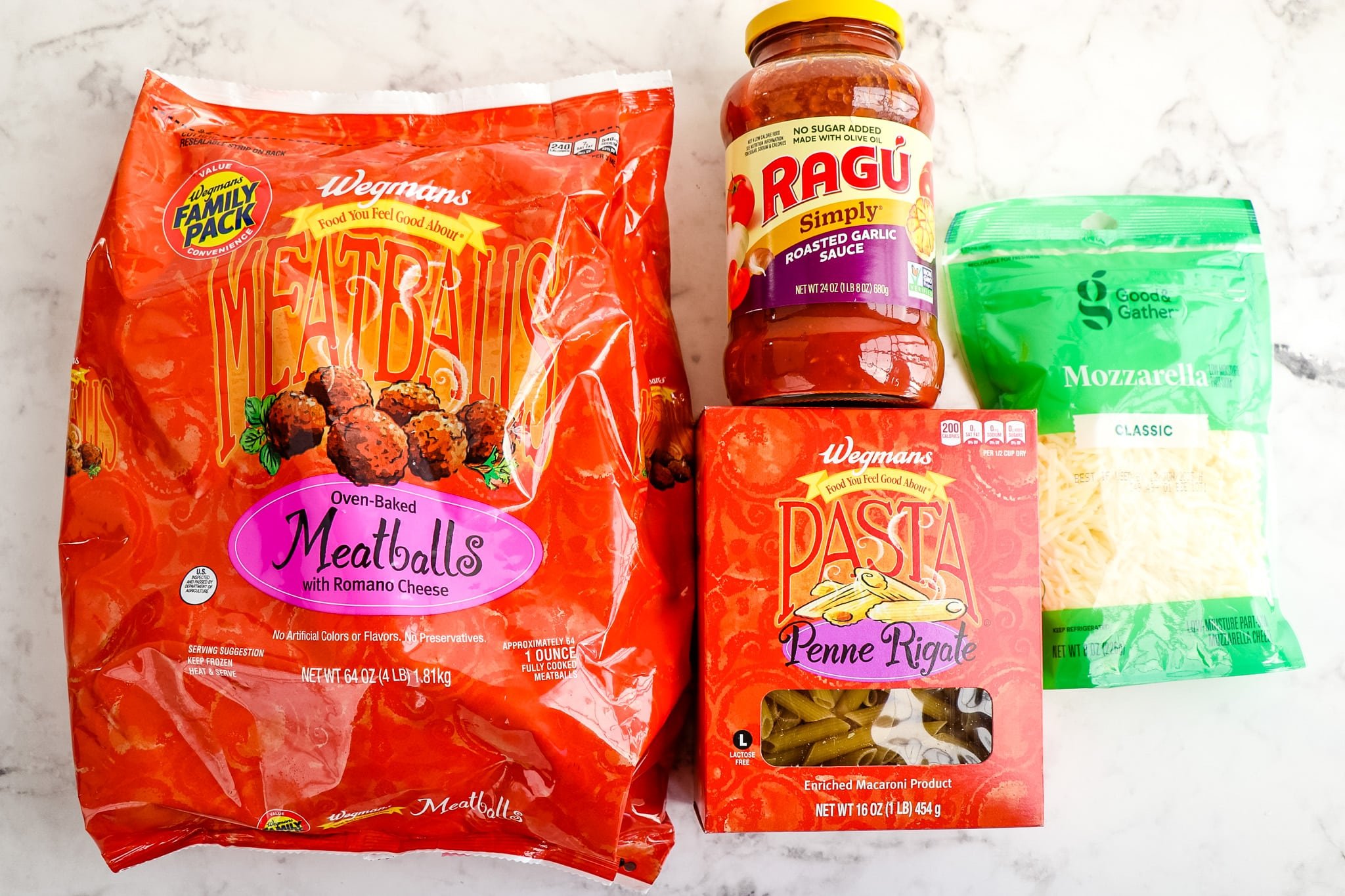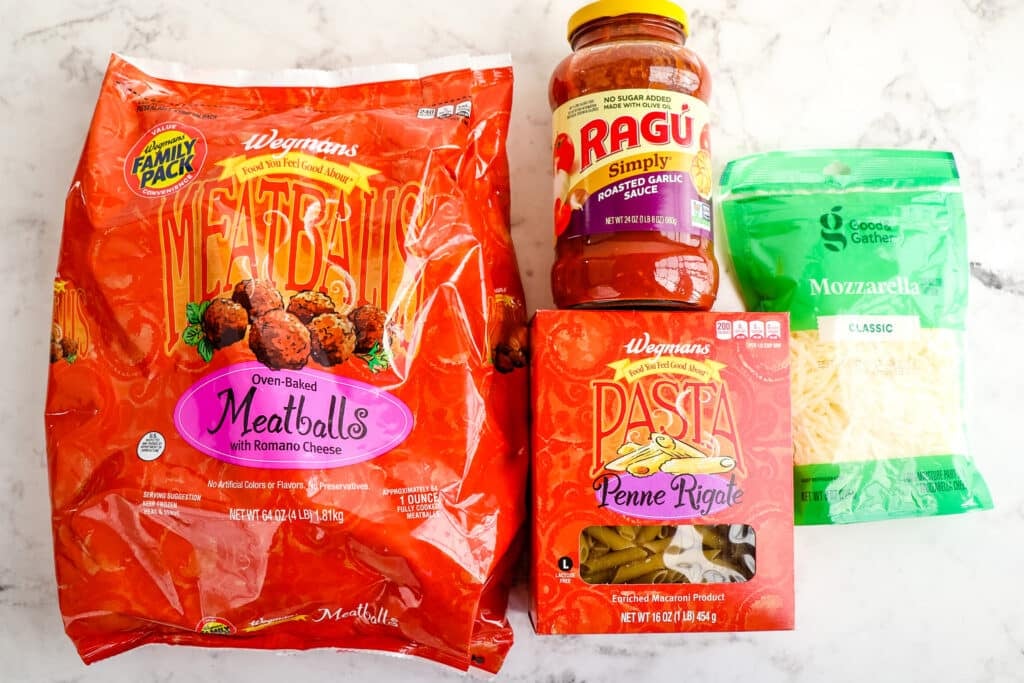 What you'll need to make this recipe:
Here's a quick-reference check list of the ingredients you'll need for this recipe:
Frozen meatballs – look for an Italian style meatball from the frozen foods section of your grocery store.
Penne rigate pasta – penne works well for this recipe, however, you could substitute most other medium-sized pastas, like rotini, rigatoni, ziti or gemelli.
Pasta sauce – a simple marinara sauce works well for this recipe, however, feel free to choose a flavor that suits your tastes.
Water – water is needed to help the pasta bake and become tender.
Shredded mozzarella cheese – you can use either regular or part-skim mozzarella shredded cheese for this recipe.
For exact ingredient amounts and full recipe instructions be sure to scroll down to the bottom of the post for the recipe. Thanks!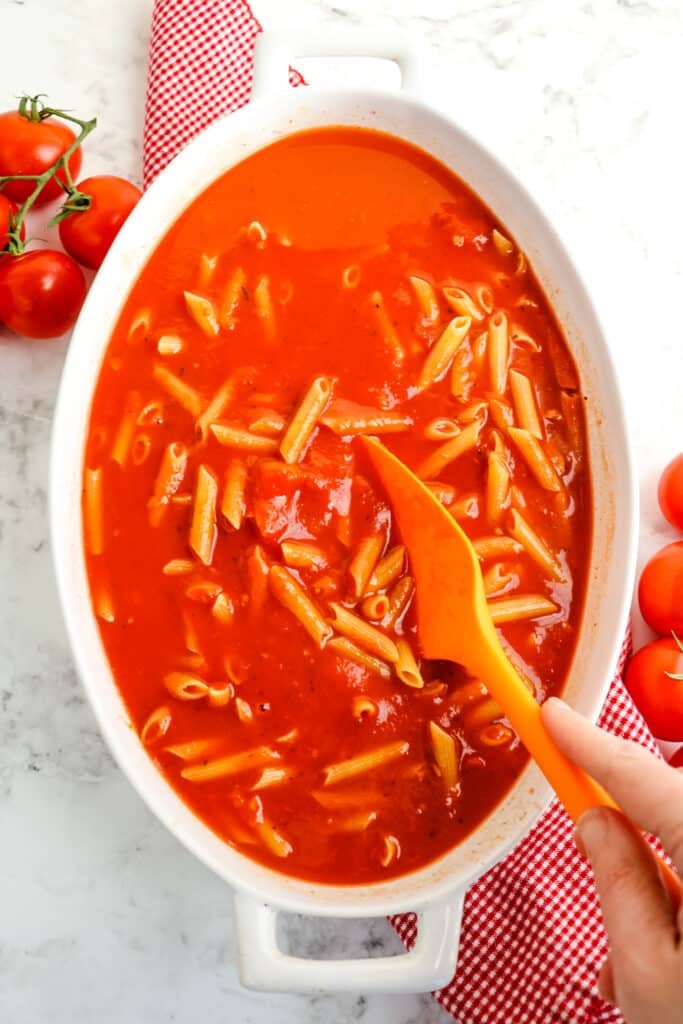 How do I make a meatball dump casserole?
In a casserole dish or 9 x 13" pan, add the uncooked pasta, water and pasta sauce. Stir these together well.
In your microwave, using the defrost setting, and defrost the meatballs. Once the meatballs are no longer frozen, add them to the pasta and sauce mixture.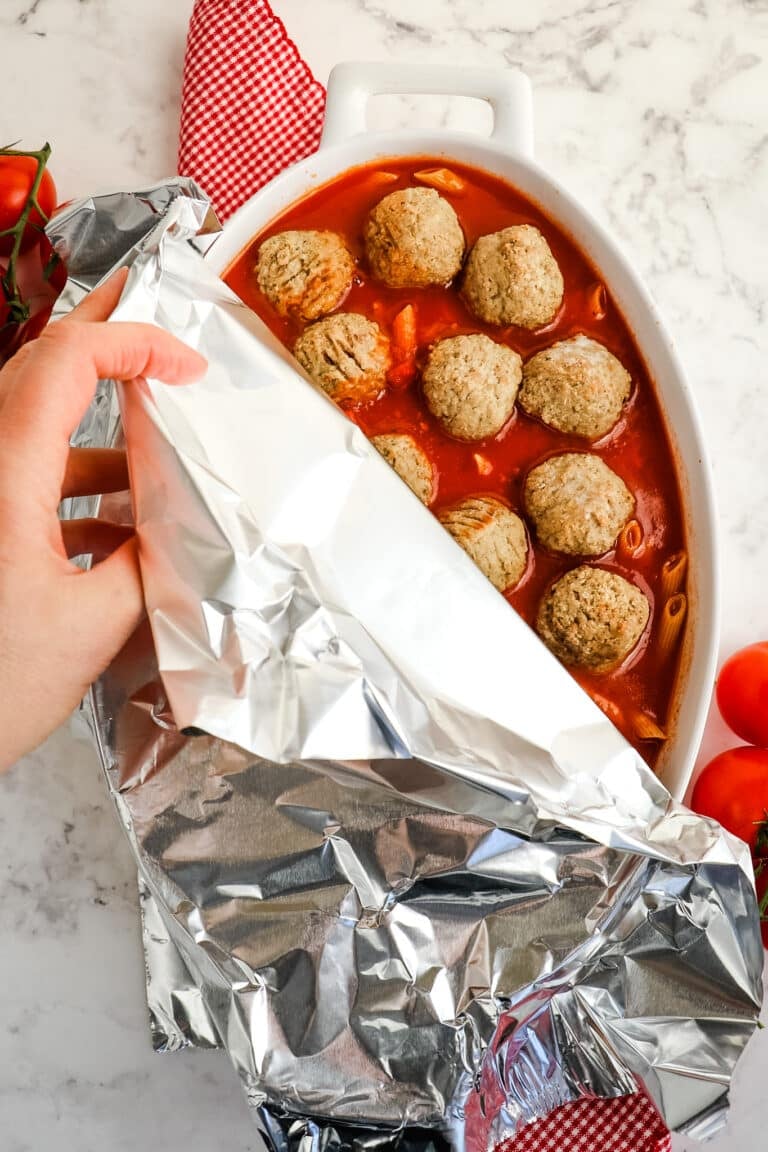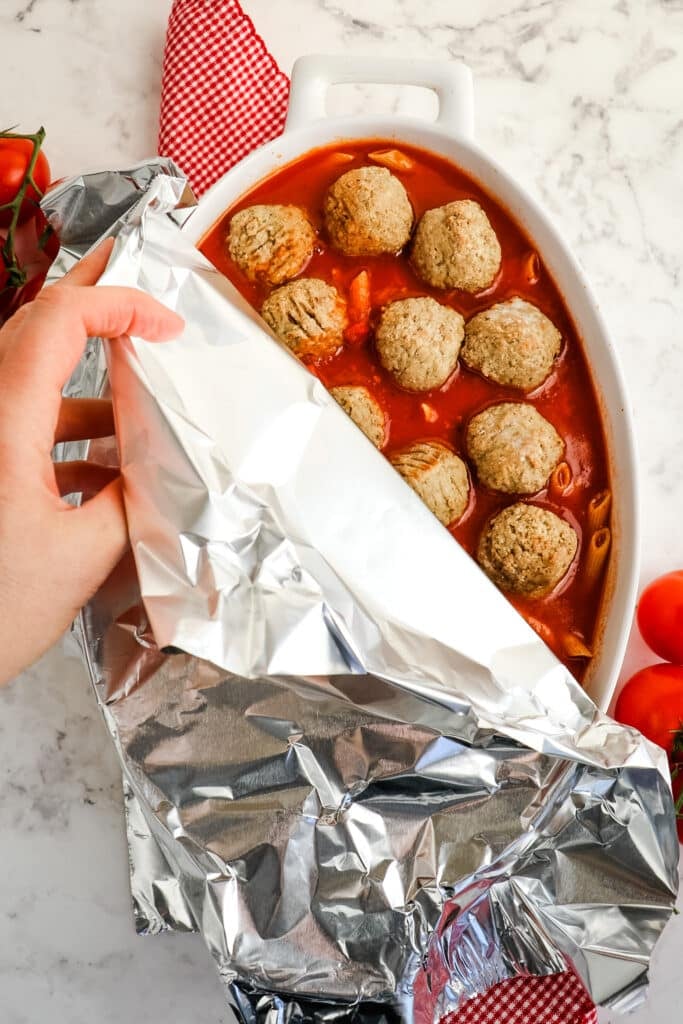 Cover the baking dish with foil and bake the casserole. About half way through baking, stir the mixture to ensure the pasta and meatballs bake evenly.
Add the shredded mozzarella cheese to the top of the casserole and bake until the cheese is completely melted and light golden brown.
Serve with your favorite side salad or vegetables.
Ingredient Additions and Recommendations:
Ricotta cheese – add 4-6 dollops of ricotta cheese with the pasta and meatballs before baking. It will give it a delicious lasagna flavor and consistency.
Spices – most pasta sauces will already be well spiced, however, you can add extra garlic powder, basil, oregano or Italian seasoning to your liking.
Shredded or grated Parmesan cheese for topping – this dish pairs wonderfully with fresh grated Parmesan cheese just before serving.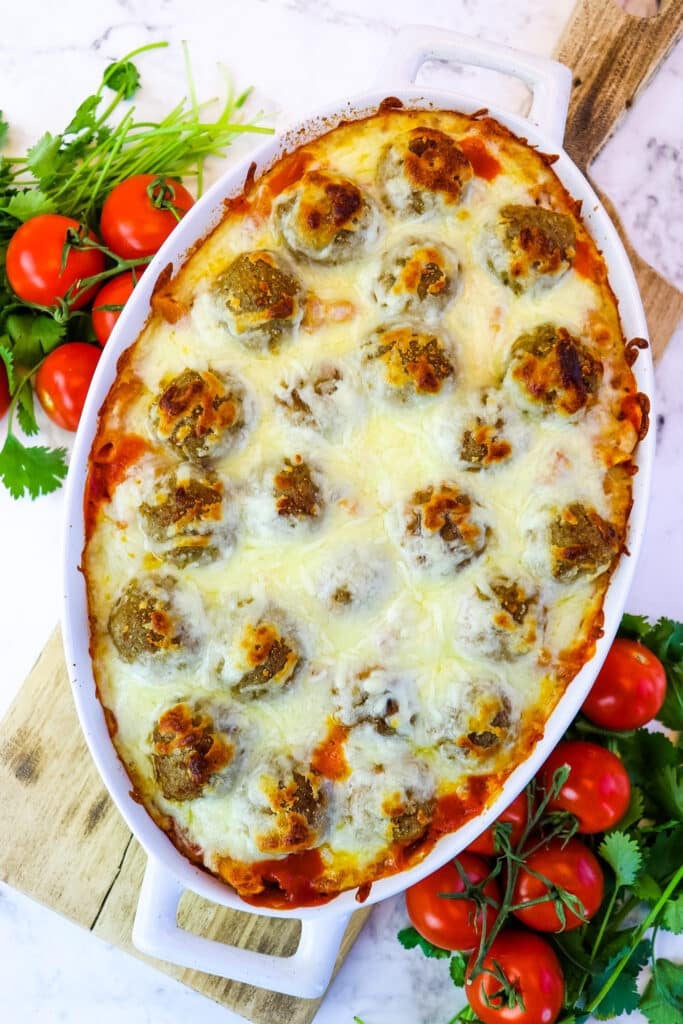 Frequently asked questions about making meatball casserole:
Do you have to brown meatballs before baking them?
When baking frozen meatballs, it is not necessary to sauté them before baking. Make sure the meatballs are thawed and no longer frozen before adding to the sauce. You can easily do this with the defrost setting on your microwave.
How long do I bake meatball casserole?
Meatball casserole will need approximately 40-45 minutes at 425 degrees to bake.
When do I add cheese to a meatball casserole recipe?
To ensure the cheese doesn't over-brown or burn before the pasta is done cooking, it is best to add the cheese the last 5-10 minutes of baking.
How long will meatball casserole last?
When refrigerated in an airtight container, pasta and meatballs will keep for up to 5 days.
Why is it called dump and bake meatball casserole?
This recipe is so easy to make you literally 'dump and bake' to prepare the casserole. You dump the pasta, sauce, water and meatballs into a casserole dish and bake.
What goes good with meatballs for dinner?
Meatballs are traditionally served with pasta and sauce. If making a Swedish meatball recipe, these are often served with egg noodles or mashed potatoes.
Here are some great side dish options that would go well with this meatball casserole recipe: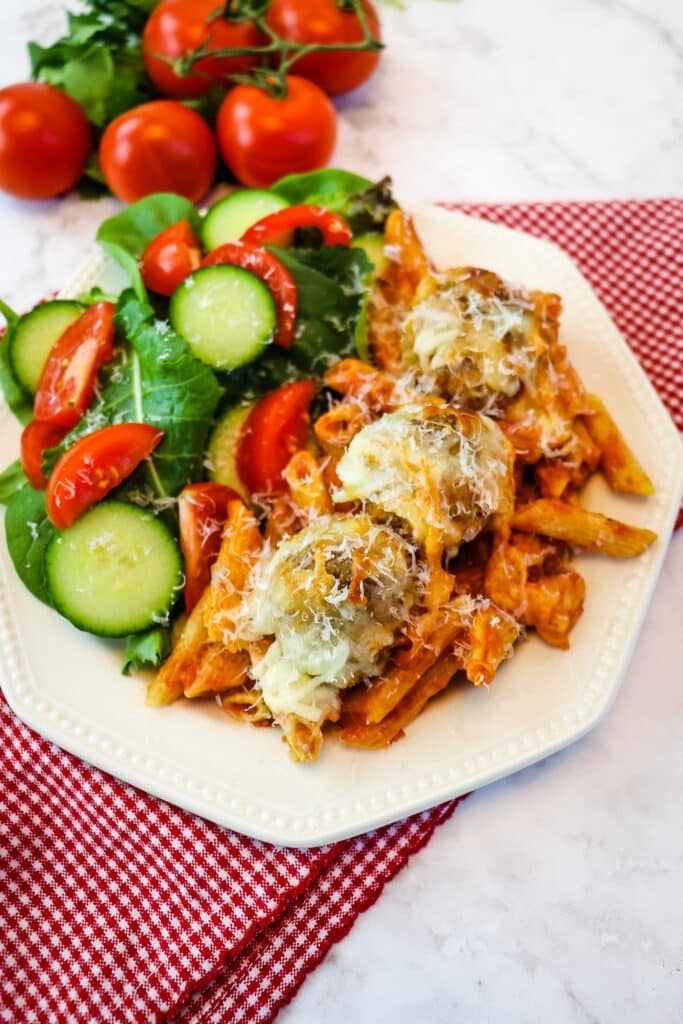 Love the convenience of cooking with frozen meatballs? Check out my Mozzarella Meatball Sliders, Skillet Tortellini and Meatballs Marinara and my Crock Pot Cranberry Sauce Meatballs, which are both made easily with frozen meatballs.
If you love pasta for dinner, check out some of our other pasta recipes: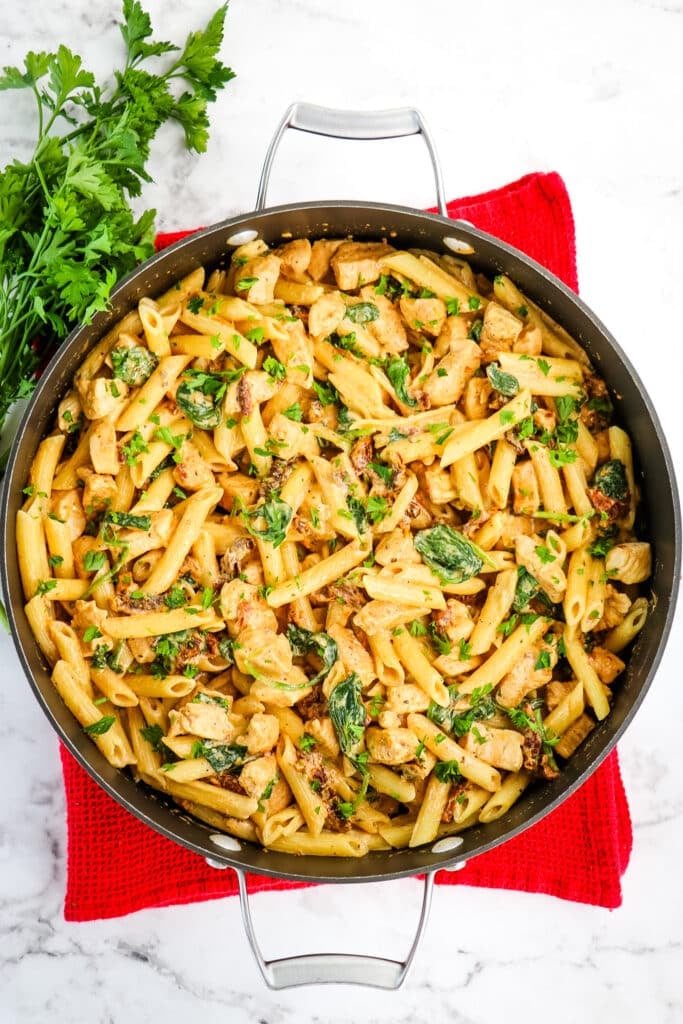 ---
---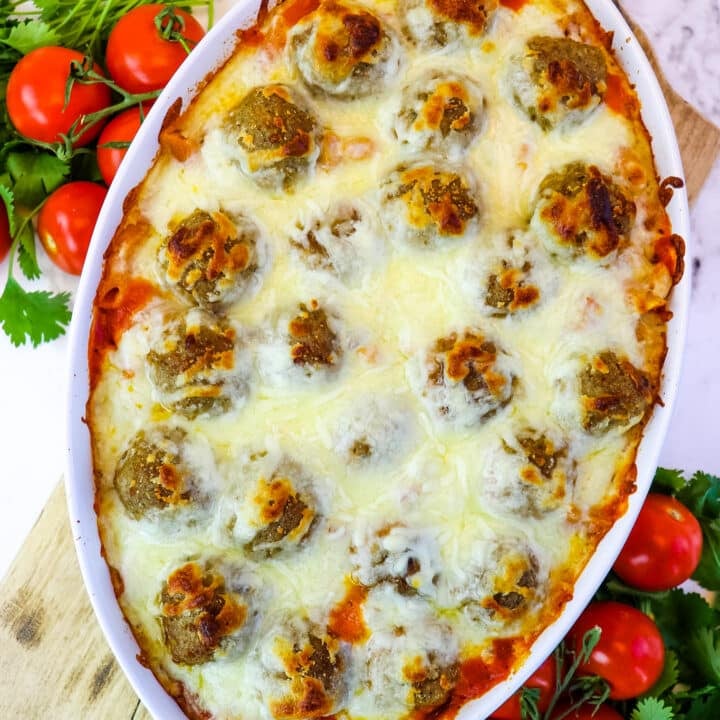 Dump and Bake Meatball Casserole
Need an easy dinner idea? This simple dump and bake meatball casserole takes just a few minutes to prep and your oven does the rest. Just 5 ingredients are needed for this delicious and cheesy meatball casserole recipe!
Ingredients
1 (14 oz.) bag, frozen meatballs
1 (24 oz.) jar, marinara sauce
1 (16 oz.) box, penne rigate pasta, or similar medium sized pasta
3 cups water
1 (8 oz.) bag, shredded mozzarella cheese
Notes
Preheat your oven to 425 degrees. Lightly spray a casserole dish or 9 x 13" pan with
non-stick cooking spray.
In a large microwave safe bowl, add the frozen meatballs. Using the defrost
setting, defrost the meatballs for 5-7 minutes or until completely thawed.
To the prepared baking dish or pan, add the uncooked pasta, pasta sauce and water.
Using a rubber scraper, stir to combine. Add in the thawed meatballs.
Cover the baking dish with foil and bake the casserole at 425 degrees for 35 minutes,
stirring the casserole halfway through baking.
Remove from oven and top the casserole with the shredded cheese. Bake for another 5-10
minutes or until the cheese is completely melted and light golden brown.
Let the casserole cool for 5-10 minutes before serving.
Recommended Products
As an Amazon Associate and member of other affiliate programs, I earn from qualifying purchases.
Nutrition Information:
Yield:

6
Serving Size:

1
Amount Per Serving:
Calories:

147
Total Fat:

6g
Saturated Fat:

2g
Trans Fat:

0g
Unsaturated Fat:

2g
Cholesterol:

16mg
Sodium:

261mg
Carbohydrates:

16g
Fiber:

1g
Sugar:

2g
Protein:

7g