Pumpkin Pie Tarts – A Beautiful and EASY Holiday Dessert
These easy Pumpkin Pie Tarts are just like classic pumpkin pie. Made in small tart pans, they become the most beautiful individual pumpkin tarts for your holiday meal. Topped with delicious vanilla bean whipped cream, this pumpkin tart recipe will dazzle your guests!
This post may contain affiliate links. Delightful E Made is a participant in the Amazon Services LLC Associates Program, an affiliate advertising program designed to provide a means for us to earn fees by linking to Amazon.com and affiliated sites.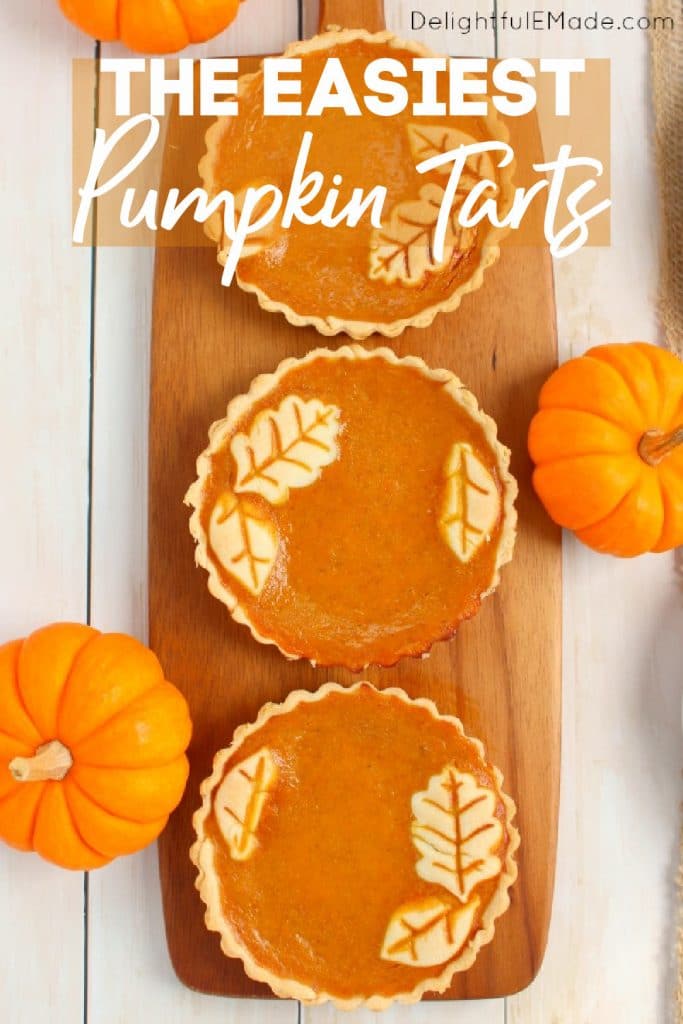 Pumpkin Tarts – the perfect EASY pumpkin tart recipe!
As far as I'm concerned, it's not Thanksgiving or Christmas without pumpkin pie. It's the perfect ending to the most amazing feast of the year, and the flavors are the quintessential of the season.
These Pumpkin Tarts are the perfect little individual dessert that are sure to dazzle and impress your guests!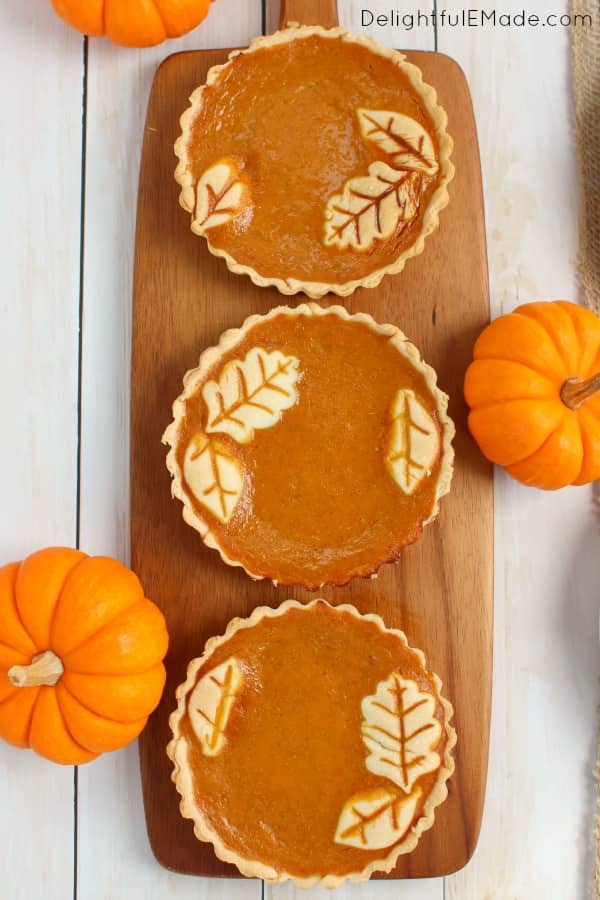 Shortcut to these easy Pumpkin Pie Tarts: Refrigerated Pie Crust
As pretty as these tarts are, you would never guess that they are super-easy to make! Using refrigerated store-bought pie crusts, these tarts come together quickly and easily. This recipe makes 5 (4.5″) tarts. They are big enough to split in half and share, but because they are so pretty and special, plan to serve each guest a single tart.
Can I use store-bought pie crust to make pumpkin pie?
Yes, definitely! In fact, check out my recipe for Pumpkin Meringue Pie. You'll see that I use refrigerated pie crust for this recipe as well.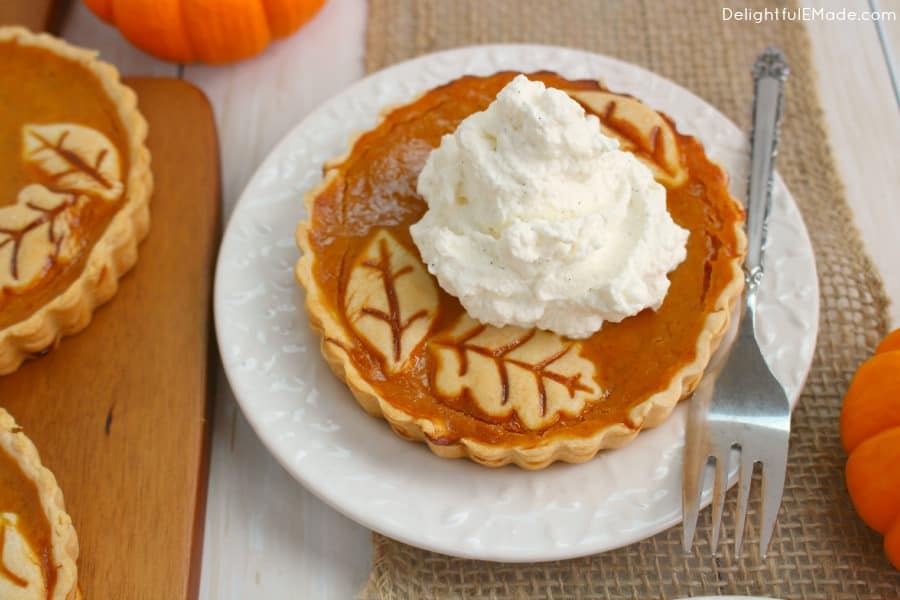 How to make homemade Whipped Cream for pie:
Pie is even more amazing with a cream topping. I decided to whip up a batch of my Homemade Cool Whip, including vanilla bean caviar. The flavor is subtle, yet wonderfully complimentary to this delicious pumpkin tart.
You'll also discover that when you use the flavorful vanilla bean caviar (those black little specks that reside inside the bean), it will yield a fantastic flavor an a slight crunch, which is amazing!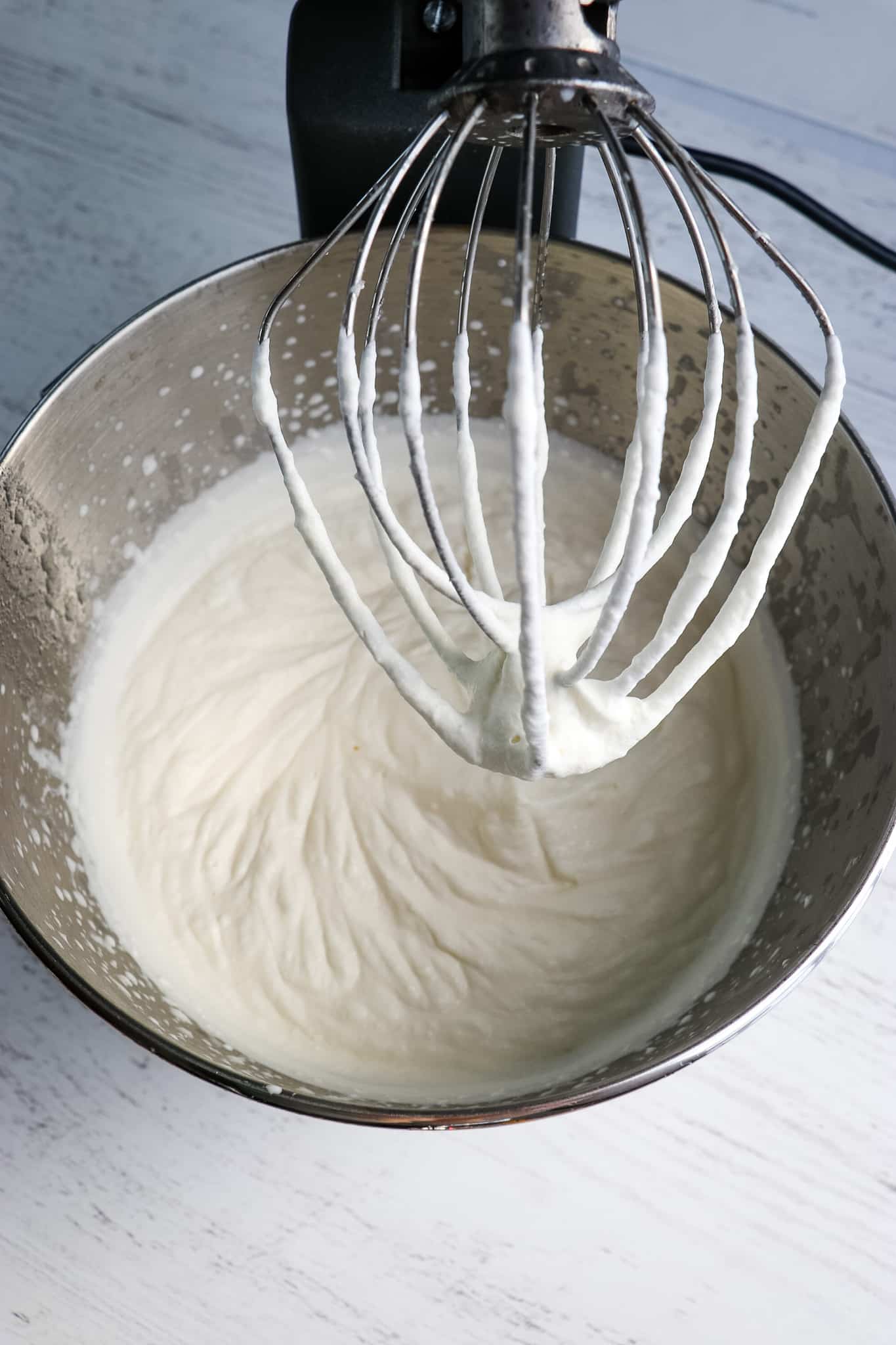 How do I make whipped cream for pie?
Whipping up this whipped cream is very simple, and just takes a couple minutes. For best results, I discovered a long time ago, that when you start with a very cold bowl and whisk, you'll end up with the perfect whipped cream consistency. Be sure to see my full post with recipe and directions for how to make homemade Cool Whip.
Place your metal bowl and whisk in the freezer for about 15 minutes, and also make sure your cream is coming right out of the refrigerator to help ensure the perfect fluffy consistency.
Add the cream, vanilla extract, vanilla bean caviar and sugar (or Swerve confectioners sugar alternative) and whip on high speed for 30-60 seconds.
Once the cream begins to thicken and stiff peaks form, stop the mixer. Don't overmix as the cream will begin to turn into butter.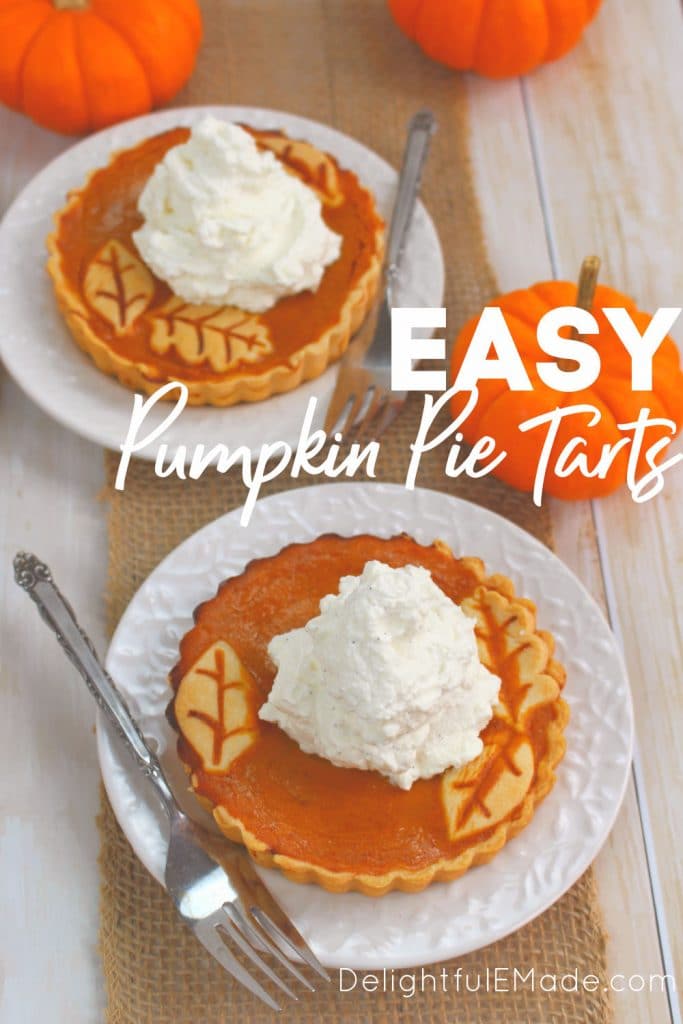 FAQ's for making pumpkin pie tarts:
Can Pumpkin Pie sit out overnight?
No, pumpkin pie needs to be refrigerated. Once you've baked your pumpkin pie (or pumpkin pie tarts) it can be at room temperature for 2-4 hours. After this, you'll need to refrigerate the pie to prevent it from bacteria growth.
Does Pumpkin Pie Need to be refrigerated?
Yes. Once you've baked your pumpkin pie (or pumpkin pie tarts) it can be at room temperature for 2-4 hours. After this, you'll need to refrigerate the pie to prevent it from bacteria growth.
Can you reheat pumpkin pie?
Yes. If you've refrigerated your pumpkin pie (or pumpkin pie tarts) you can reheat a slice in the microwave. Place on a microwave safe plate and heat for 30-45 seconds or until the filling is warm. Top with whipped cream or ice cream!
Can pumpkin tarts be made in advance?
Yes, pumpkin tarts can be made in advance of a holiday meal or dinner. Prepare according to recipe directions. Once the tarts come out of the oven, let them cool completely to room temperature. Once cooled, store covered and refrigerate overnight or until ready to serve.
Here's a quick-reference grocery list of the ingredients you'll need for these fantastic pumpkin pie tarts:
Refrigerated Pie Crust (1, 2-crust box)
Pumpkin Puree
Evaporated Milk
Pumpkin Pie Spice
Granulated Sugar
Egg
Salt
Heavy Whipping Cream
Powdered Sugar
Vanilla Extract
Vanilla Bean
(For exact ingredient amounts, please reference the full recipe below.)
If you loved this Pumpkin Tart recipe, be sure to check out some of my other desserts, like these:
Here's the recipe for these easy and beautiful Pumpkin Pie Tarts:
Pumpkin Pie Tarts
These easy pumpkin pie tarts are just like pumpkin pie, but made in individual tart pans. This pumpkin tarts recipe is topped with delicious vanilla bean whipped cream, for the most amazing holiday dessert!
Ingredients
1 package (pack of 2) refrigerated pie crusts, thawed to room temperature
1 c. pumpkin puree
1 c. evaporated milk
1 tsp. pumpkin pie spice
1/2 c. granulated sugar
1 egg
1/2 tsp. salt
Vanilla Bean Whipped Cream:
1 1/2 c. heavy whipping cream, very cold
3 Tbsp. powdered sugar
1 tsp. vanilla
Caviar of 1 vanilla bean
Instructions
Preheat oven to 400 degrees.
Unroll the thawed pie crusts, and press into 5 (4" individual tart pans). If desired, use leaf pie crust cutters to cut out decorative leaf pie crusts. Place the prepared tart pans on a baking sheet. Set aside.
In a mixing bowl, whisk together the pumpkin, milk, pumpkin pie spice, sugar, egg and salt. Pour this mixture into the prepared tart pans, filling at least 3/4 full. Top the tarts with the decorative pie crust leaves.
Place the entire baking sheet with the filled tarts into a 400 degree oven, and bake for 35-40 minutes. Tarts are done when filling appears set when gently moved. Let tarts cooled completely to room temperature.
For whipped cream: With a hand or stand mixer, using a cold mixing bowl and whisk attachment, add the caviar of 1 vanilla bean (cut the vanilla bean lengthwise, in half and scrape out the inside with sharp knife). Add the the cold cream, sugar and vanilla as well. Whisk on high for about 1-2 minutes or until stiff peaks form. Don't over-whip or whipped cream will become lumpy and begin turning into butter.
Top the cooled tarts with a generous dollop of the whipped cream. Enjoy right away!
Notes
Storage: store any leftover tarts and whipped cream in the refrigerator. Covered tarts will keep for 3-4 days, refrigerated.
Making in Advance: if making these tarts for a holiday dinner or meal, you can definitely make them the day before. Make according to recipe directions. The the tarts cool completely to room temperature. Store covered in an airtight container in the refrigerator. Top with the whipped cream just before serving.
Recommended Products
As an Amazon Associate and member of other affiliate programs, I earn from qualifying purchases.
Nutrition Information:
Yield:

5
Serving Size:

1
Amount Per Serving:
Calories:

607
Total Fat:

40g
Saturated Fat:

22g
Trans Fat:

1g
Unsaturated Fat:

15g
Cholesterol:

152mg
Sodium:

514mg
Carbohydrates:

54g
Fiber:

2g
Sugar:

35g
Protein:

10g