A wonderfully healthy and delicious one pan salmon and asparagus recipe! Amazing citrus flavors glaze these salmon fillets, and when roasted with asparagus this sheet pan salmon and asparagus become the perfect low carb dinner.
This post may contain affiliate links. Delightful E Made is a participant in the Amazon Services LLC Associates Program, an affiliate advertising program designed to provide a means for us to earn fees by linking to Amazon.com and affiliated sites.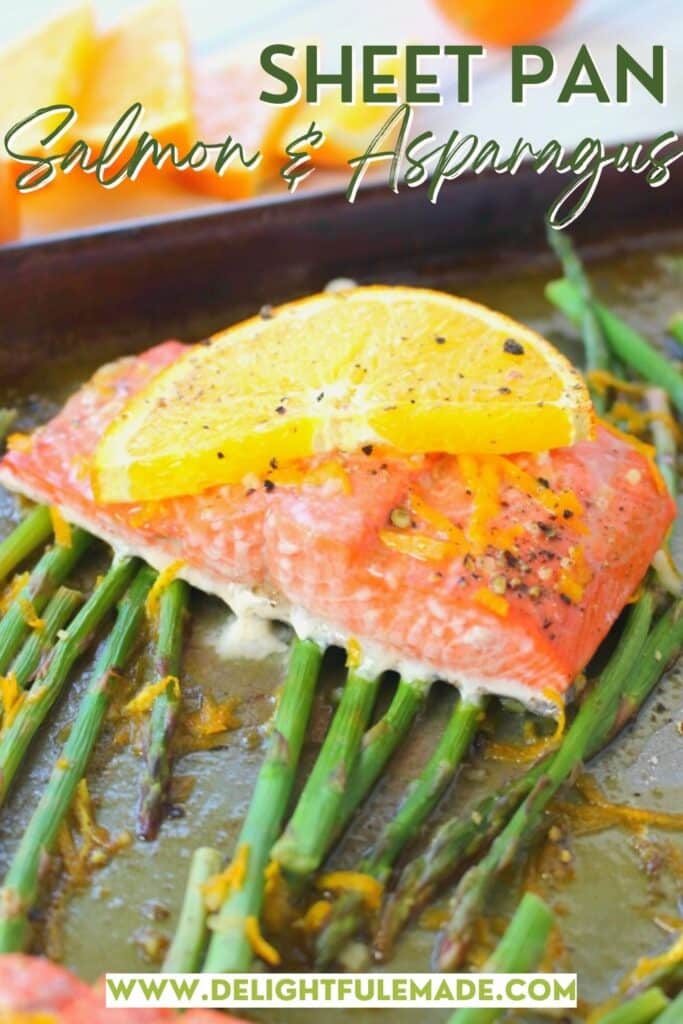 Looking for an easy way to roast sheet pan salmon and asparagus? This simple and super flavorful one pan salmon and asparagus recipe is definitely the answer.
Made with a delicious and flavorful citrus glaze, this easy sheet pan recipe is perfect meal idea when you want to enjoy a healthy dinner. With everything roasting on one pan, clean-up is a breeze making this the ideal weeknight dinner option!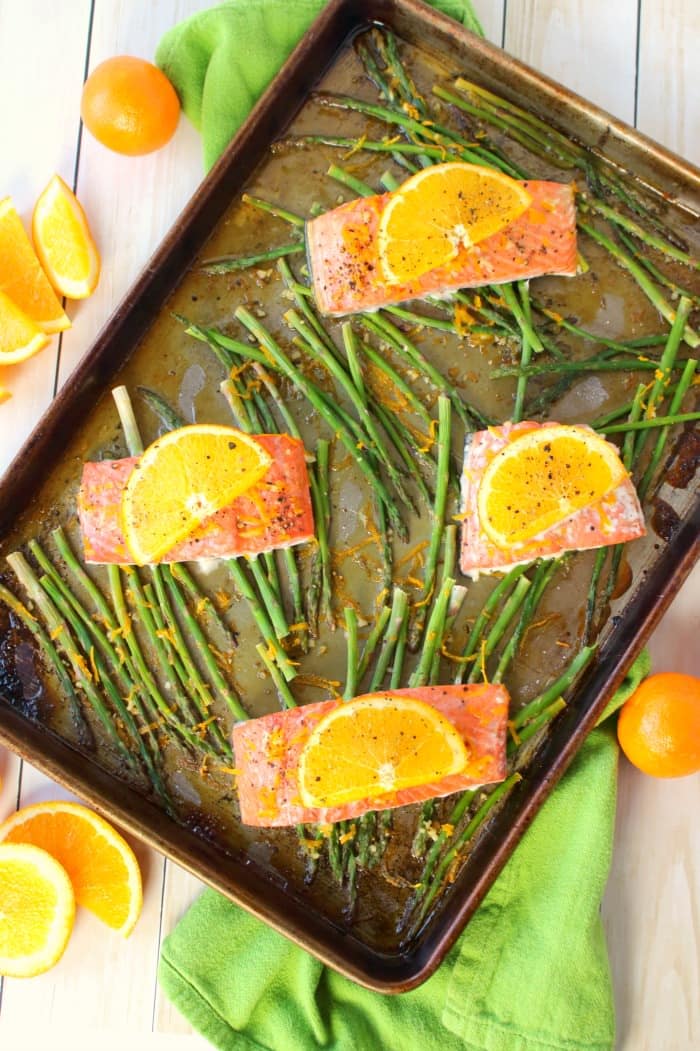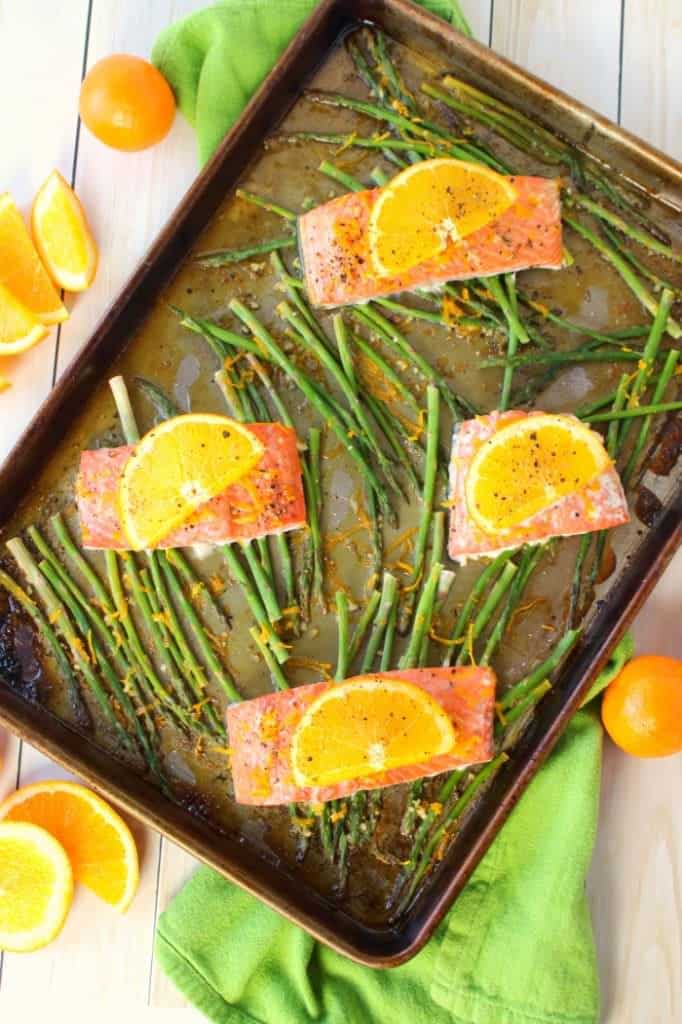 What do I need to make sheet pan salmon and asparagus?
Here's a quick-reference checklist of the ingredients you'll need to make this sheet pan salmon recipe:
Salmon Filets – you could also purchase one large salmon filet (but you may need to adjust your bake time for the size.) I've found the best place to purchase wild-caught Alaska salmon is at Costco. Check out my list for the 15 Things I Buy at Costco for Healthy Meals and Snacks.
Fresh asparagus – be sure to rinse well and trim off the woody ends before roasting.
Navel Oranges – you'll need the juice and zest of one orange, plus orange slices to top the salmon.
Lime juice – feel free to purchase fresh limes for the juice.
Lemon juice – the juice of 1 lemon is ideal.
Honey – this makes for a fantastic glaze for the salmon and asparagus.
Garlic – pairs well with the citrus and honey.
Salt and Pepper
For exact ingredient amounts and full recipe instructions be sure to scroll down to the bottom of the post to the recipe card. Thanks!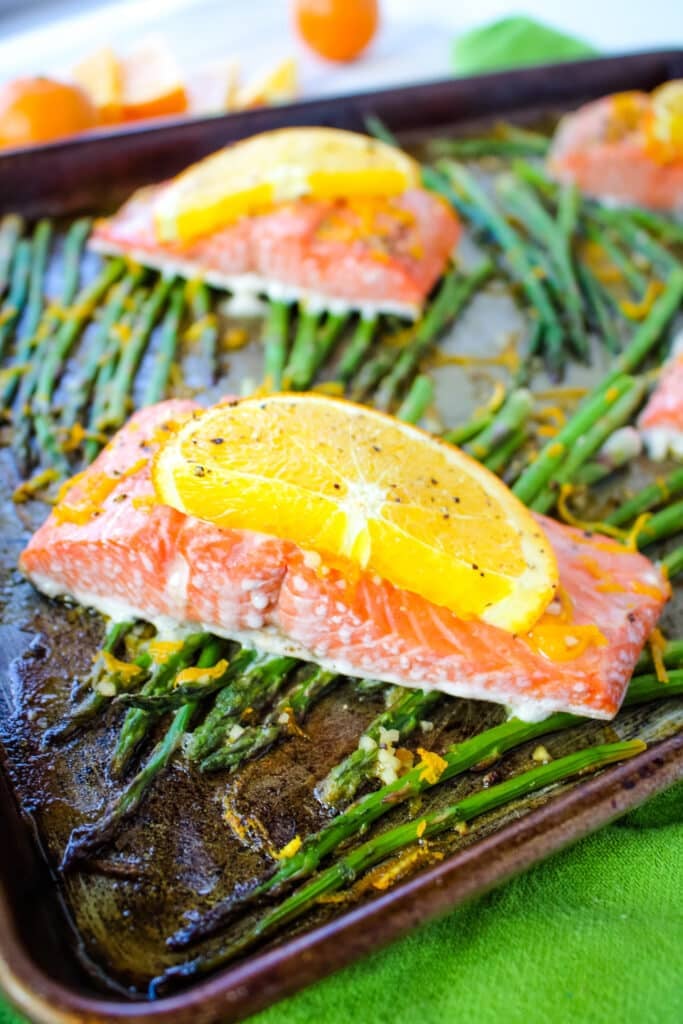 How do I make sheet pan salmon?
This healthy dinner idea couldn't be more simple to make. In fact, sheet pan meals are a fantastic option for getting dinner on the table quick.
To start, add the asparagus on to the sheet pan and then place the salmon filets on top of the asparagus.
In a small bowl, whisk together the citrus glaze by combining the orange zest and juice, lemon and lime juices, honey and garlic. Pour the glaze over each filet.
Top each glazed filet with salt and pepper, and an orange slice before baking.
Bake the salmon and asparagus. To make sure the salmon is done, flake with a fork making sure the center is no longer red, but pink in color.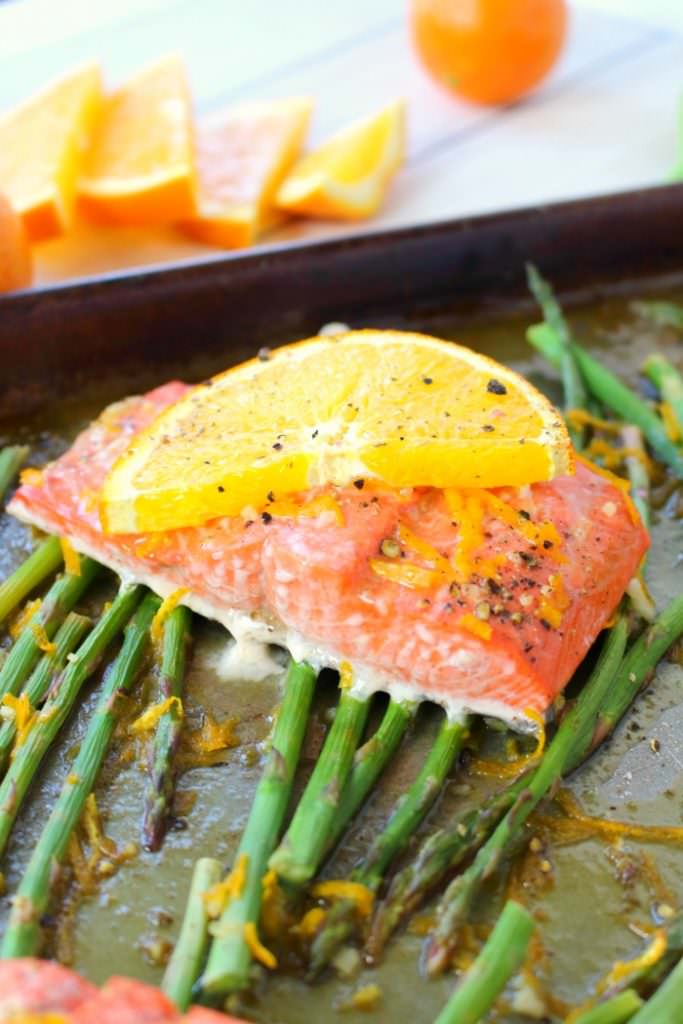 Making the Sauce and Substitutes for the Salmon
The flavors of this citrus glaze are fantastic on both the salmon and the asparagus. Because citrus fruits like oranges, lemons and limes are available pretty much year-round, this easy dinner idea can be made basically any time the mood strikes.
If you can't find wild-caught salmon, feel free to substitute another cut of fish, like Mahi-Mahi, cod, or even swordfish! Cooking times for these fish can vary depending on the thickness of the cut, so make sure to test the fish (use a fork to see if it is flake-tender) before removing it from the oven.
I also have a great recipe for Air Fryer Mahi Mahi that you should check out, too!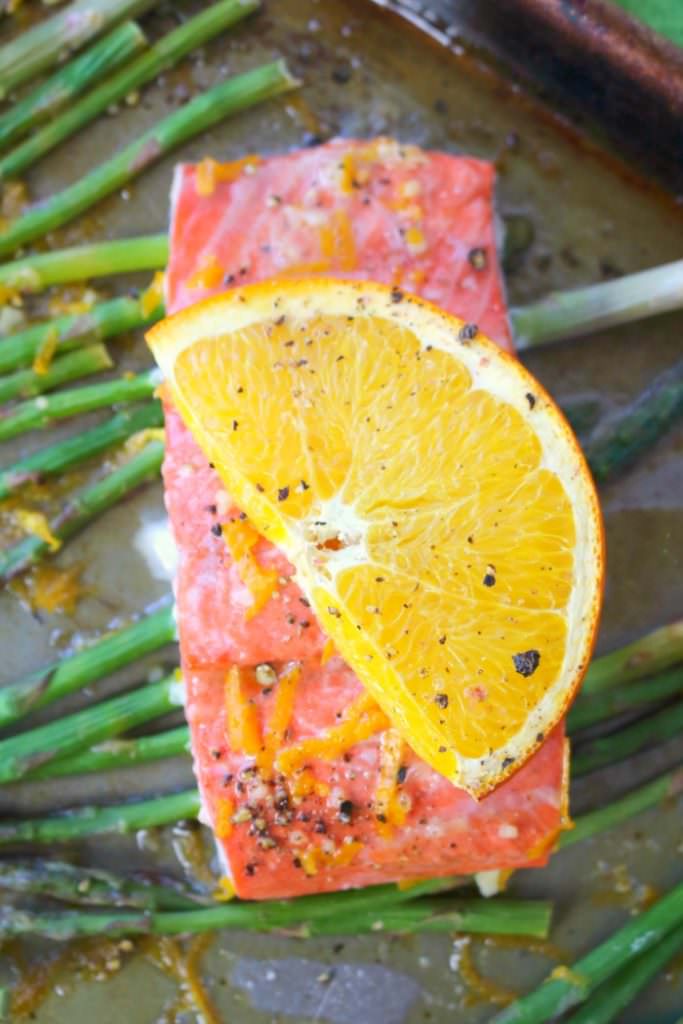 FAQ's about making One Pan Salmon and Asparagus:
How long to cook salmon in oven at 400 degrees?
For salmon filets of medium thickness, bake the salmon at 400 degrees for 16-18 minutes, or until the internal temperature reaches 145 degrees on an instant read digital thermometer.
Is salmon better in oven or pan?
This depends on personal preference. For many, salmon will have a nice roasted flavor when cooked in the oven. The texture will be a bit more tender. If pan searing, salmon will take on a nice outer crust, while keeping the interior of the meat moist and juicy.
Do you flip salmon when baking in the oven?
There is no need to flip or turn salmon when it is baked in the oven. Salmon can be roasted without turning for the duration of cooking.
Why is my salmon dry?
Dry salmon is typically the result of over-cooking or for roasting too long in the oven or pan. For best results, fork test the salmon after 10 minutes, if the interior is pink and no longer red, it is done. For best results, use an instant-read digital thermometer. The internal temperature needs to be 135 degrees.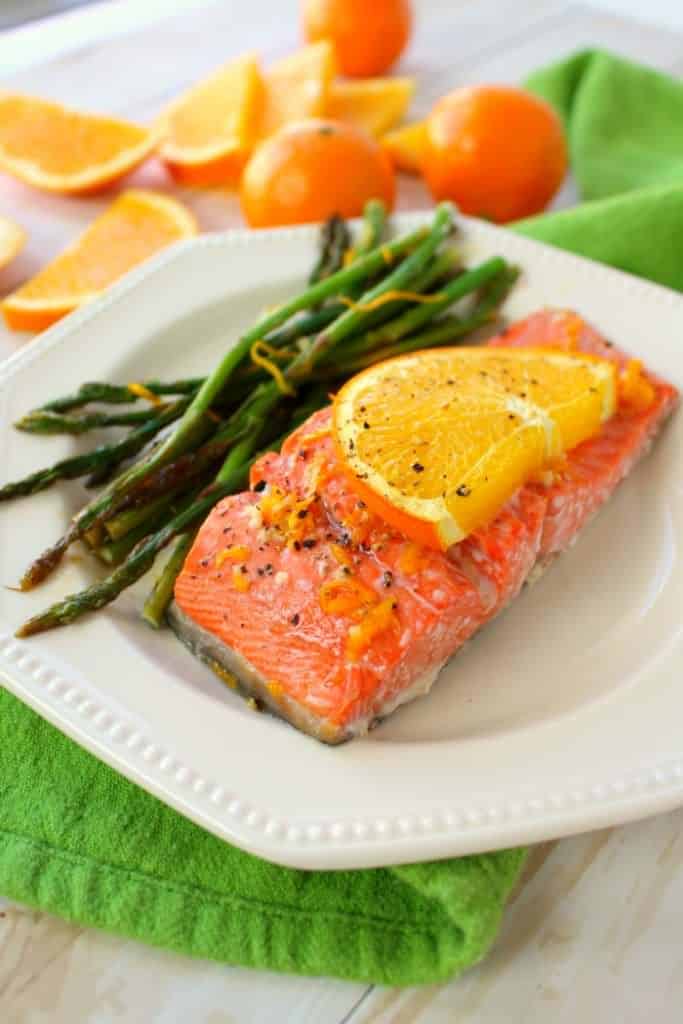 As soon as the salmon comes out of the oven, serve together with the asparagus for a wonderfully healthy, filling meal. No need for potatoes, pasta or rice – this dinner is pretty incredible all on its own! Would you like some other side-dish options? Here are some great side dish recipes:
If you loved this delicious Sheet Pan Salmon recipe, check out some of my other healthy dinner ideas here: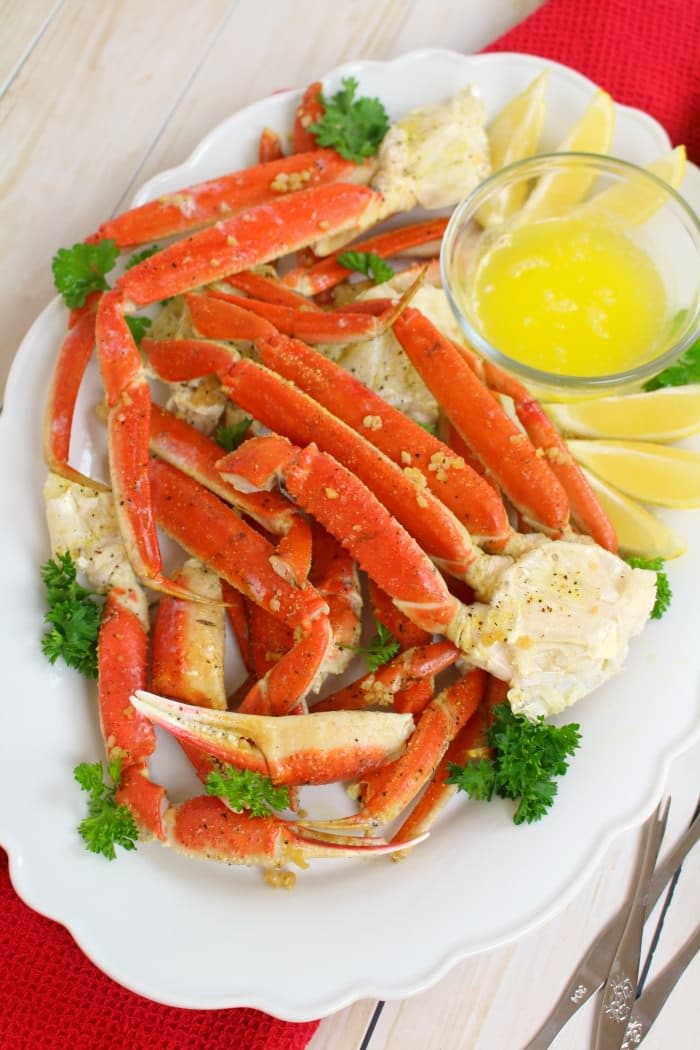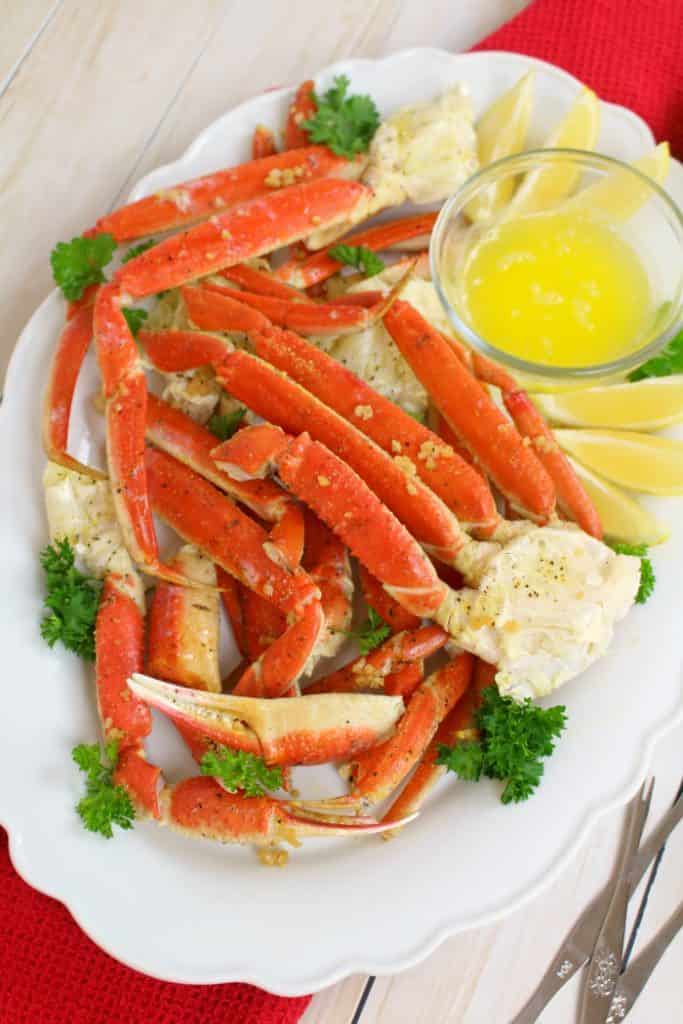 Here's the recipe for this simple, easy and delicious Sheet Pan Salmon with Asparagus: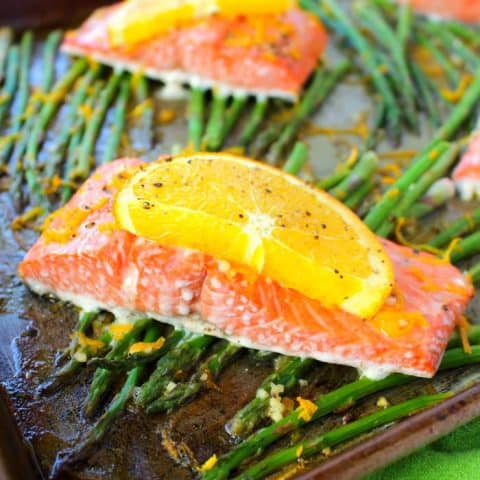 Sheet Pan Salmon & Asparagus
A wonderfully healthy, easy and delicious salmon recipe! Amazing flavors of oranges, lemon and lime glaze these salmon fillets, and when roasted with asparagus spears, it quickly becomes a super flavorful one pan meal. Healthy dinner ideas don't get much easier or delicious than this!
Ingredients
4 (4-6 oz.) salmon filets
1 (8-12 oz.) bunch of asparagus spears, rinsed, woody ends removed
Glaze:
1/4 cup orange juice
1/4 cup lime juice (juice of 1 lime)
1/4 cup lemon juice (juice of 1 lemon)
2 Tbsp. honey
1 Tablespoon orange zest (zest of 1 orange)
2 Teaspoons minced garlic (about 2 cloves)
salt and pepper to taste
orange slices, for topping (optional)
Instructions
Preheat oven to 400 degrees. Lightly spray a sheet pan or with non-stick cooking spray, or line with parchment paper.
Evenly place the asparagus on the prepared pan. Place the salmon filets on top of the asparagus.
In a small bowl, whisk together the orange juice and zest, lime and lemon juice, honey and garlic. Once honey is fully dissolved, pour over the salmon and asparagus. Sprinkle with salt and pepper to taste. Top each salmon filet with an orange slice, if desired.
Roast in the oven at 400 degrees for 16-18 minutes. To test for doneness, flake the salmon with a fork. If pink in the center it is done, if still red, it will need to cook longer. For best results, test with an instant read digital thermometer. Internal temperature needs to be at 135 degrees.
Remove from oven, and serve right away.
Notes
Store any leftovers in an airtight container in the refrigerator. Leftovers will keep for 2-3 days refrigerated.
Recommended Products
As an Amazon Associate and member of other affiliate programs, I earn from qualifying purchases.
Lavatools Javelin PRO Duo Ambidextrous Backlit Professional Digital Instant Read Meat Thermometer for Kitchen, Food Cooking, Grill, BBQ, Smoker, Candy, Home Brewing, Coffee, and Oil Deep Frying

Silicone Spatula Turner Set of 3, Beijiyi 600°F Heat Resistant Cooking Spatulas for Nonstick Cookware, Large Flexible Kitchen Utensils BPA Free Rubber Spatula Set for Egg, Pancake, Fish, Burger
Nutrition Information:
Yield:

4
Serving Size:

1
Amount Per Serving:
Calories:

480
Total Fat:

5g
Saturated Fat:

3g
Sodium:

118mg
Carbohydrates:

104g
Sugar:

79g
Protein:

12g