Grilled Salmon Salad – the BEST Salmon Cobb Salad Recipe!
Looking for a satisfying, delicious meal prep salad idea? This Salmon Cobb Salad Recipe will be your new favorite way to enjoy a healthy lunch! Made with grilled salmon, avocados, hard-boiled eggs and more, this Grilled Salmon Salad is packed with protein, healthy and tastes amazing!
This post may contain affiliate links. Delightful E Made is a participant in the Amazon Services LLC Associates Program, an affiliate advertising program designed to provide a means for us to earn fees by linking to Amazon.com and affiliated sites.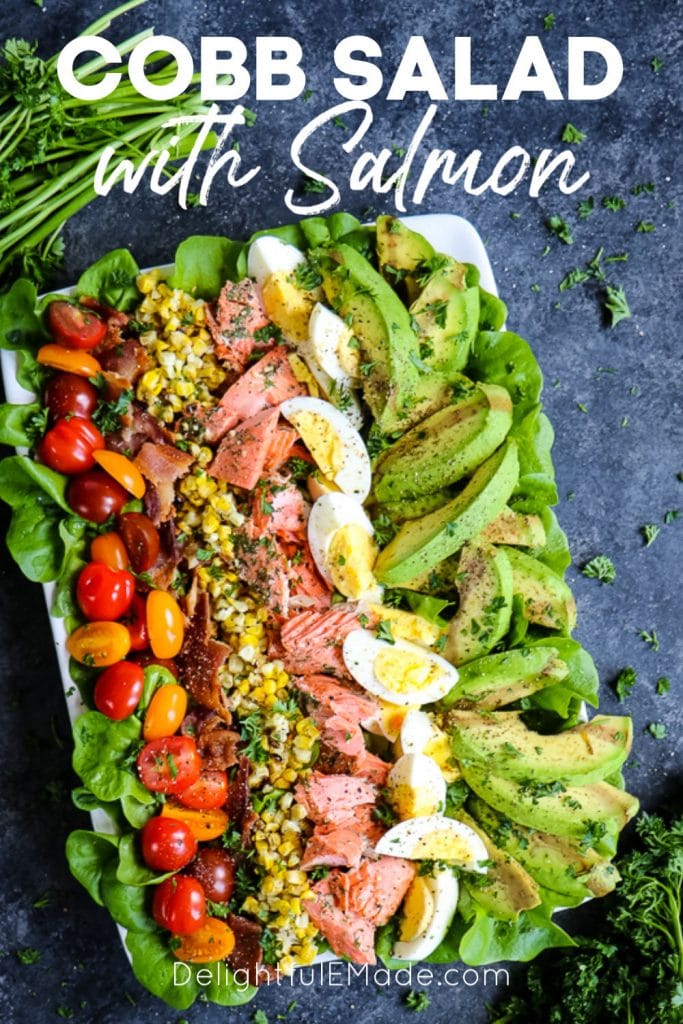 Do you struggle when it comes to meal prep ideas? I hear ya! For many of us, meal prep can be tough, especially when it comes to coming up with healthy recipe ideas, not to mention the time it takes to make them. I've got a great solution for all of us. This Grilled Salmon Salad – its the perfect meal prep salad recipe, and fantastic for a healthy dinner, too!
Like this recipe? Be sure to pin it to your Salad board on Pinterest!
Follow DelightfulEMade on Pinterest for some of the very best meal prep ideas!
What is it about meal prep that is so intimidating? Just like you, I sometimes struggle with putting together healthy lunches together for myself. It usually comes down to time. If I can get it together on the weekend, I feel like I'm winning with meal prep. If I cannot, I try to do my best to meal prep a few thing during the week. Do you do this, too?
Getting a handle on meal prep usually involves having some good, nutritious proteins ready to go, as well as veggies. This cobb salad recipe is great to grill up some salmon on a weeknight, and then assemble a meal prep salad or two with the leftovers. It actually comes together quickly and easily – I'll show you how!
Here's the easy steps to this delicious meal prep salad: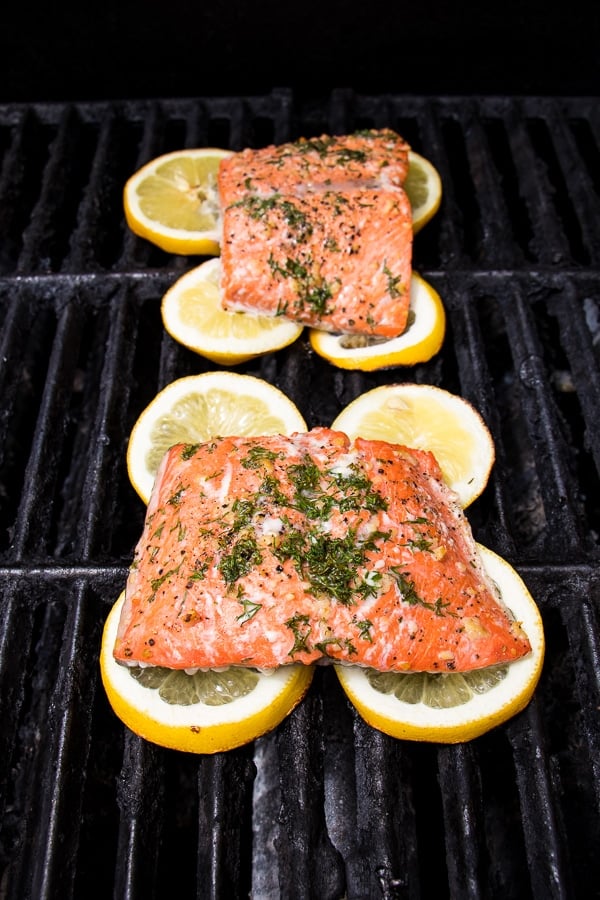 Step 1: Grill your Salmon
I will often make salmon for dinner (or any other protein, for that matter), and then use the leftovers in salads for meal prep. Do you do this, too? I find this method to be idea for meal prepping, especially during the week.
This grilled salmon is super simple to make. I'm talking 6 total ingredients and that includes the salmon, salt and pepper!
Here's what you do: Slice 1 lemon per salmon filet. Top the salon filets with lemon juice, minced garlic, dill, salt and pepper. Heat up your grill, and place the lemon slices directly on the grill grates. Place the salmon filets on top of the lemons. Grill for approximately 10-12 minutes. Cooking time will vary depending on the thickness of the salmon.
I use this recipe in my super delicious Grilled Cedar Plank Salmon, which is probably my all-time favorite way to make salmon!
You can also make salmon in the air fryer! Check out my Maple Glazed Air Fryer Salmon and Salmon Tacos for easy air fryer salmon recipes.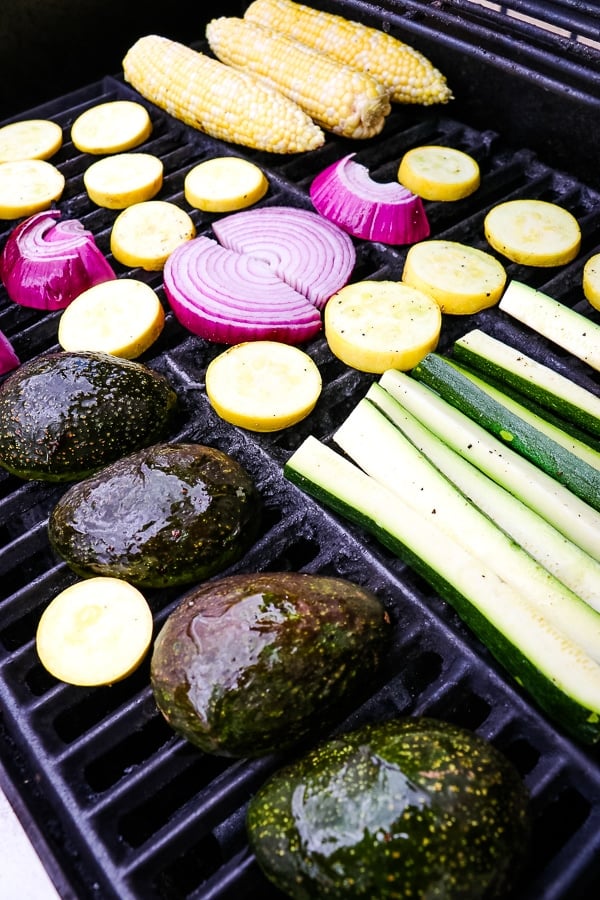 Step 2: Grill up some vegetables
While you are grilling your salmon, add your avocado and corn to the grill as well. It will give them amazing flavor that is perfect in this cobb salad recipe! Have you ever grilled avocados before? You should give it a try! I love grilling avocados, especially if they are a smidge under-ripe. It will help soften them for the grilled salmon salad.
Before adding the corn and avocados to the grill, lightly brush them with olive oil and add a bit of salt and pepper for seasoning.
The avocados will not take long to grill – approximately 5 minutes. The corn will take a little longer – approximately 5 minutes per side, turning about 4 times. If you are grilling the salmon, avocados and corn all at once, put the corn on first so it has a head-start.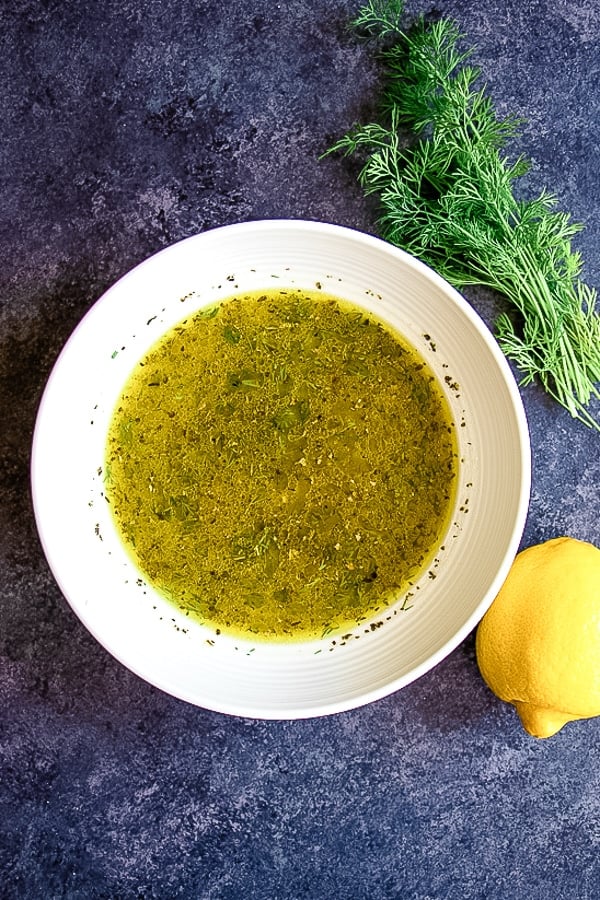 Step 3: Mix up this lemon dill dressing
Do you love a delicious home-made salad dressing? I feel like once you discover how easy it is to make your own salad dressing, you discover a whole new world of deliciousness! This lemon dill dressing is no exception. I also use this dressing in my Greek Tortellini Salad where it is the perfect compliment to the ingredients. Check out my full recipe for Lemon Olive Oil Dressing here.
Here's what you'll need to make this delicious, fresh lemon dill dressing:
Juice of 2 lemons (about 1/3 – 1/2 cup of juice)
4 Tbsp. olive oil
1 Tbsp. fresh dill, minced
1 tsp. minced garlic
1/2 tsp. dried oregano
salt and pepper to taste
Preferred Tool: My Stainless Steel Citrus Juicer (amazon affiliate link) is a go-to in our house. Perfect for easily juicing these lemons for the dressing, it also works wonders in juicing limes for margaritas, too!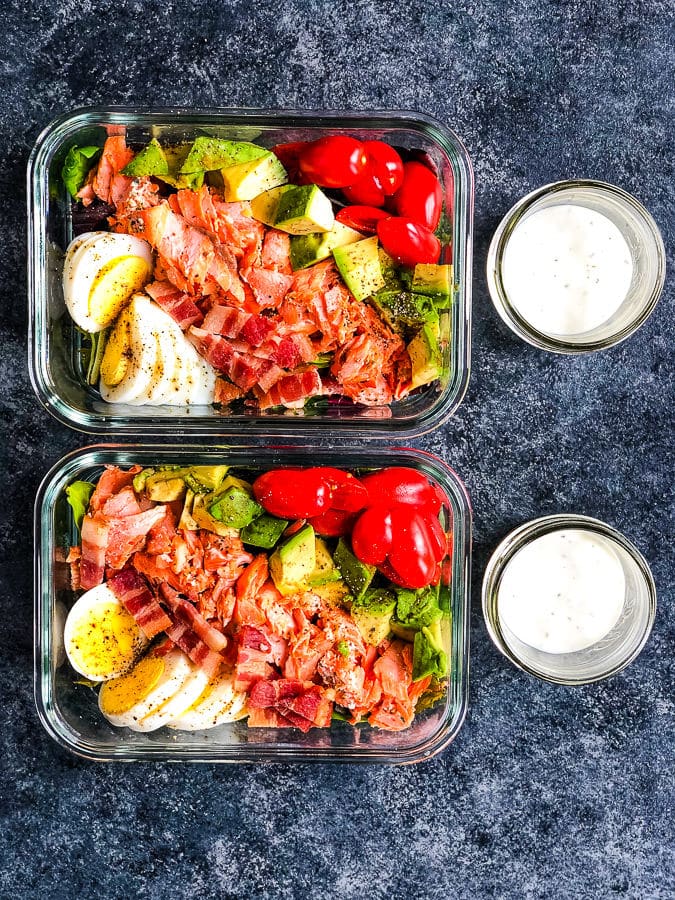 Are you more of a ranch dressing person? No problem – I've got you covered. My EASY 6-ingredient Greek Yogurt Ranch Dressing tastes amazing and is just 44 calories per serving. (Pictured above) It also contains no oils, sugar or any other garbage ingredients that most store-bought bottled dressings contain.
Looking for some other healthier dressing recipes? Check these out: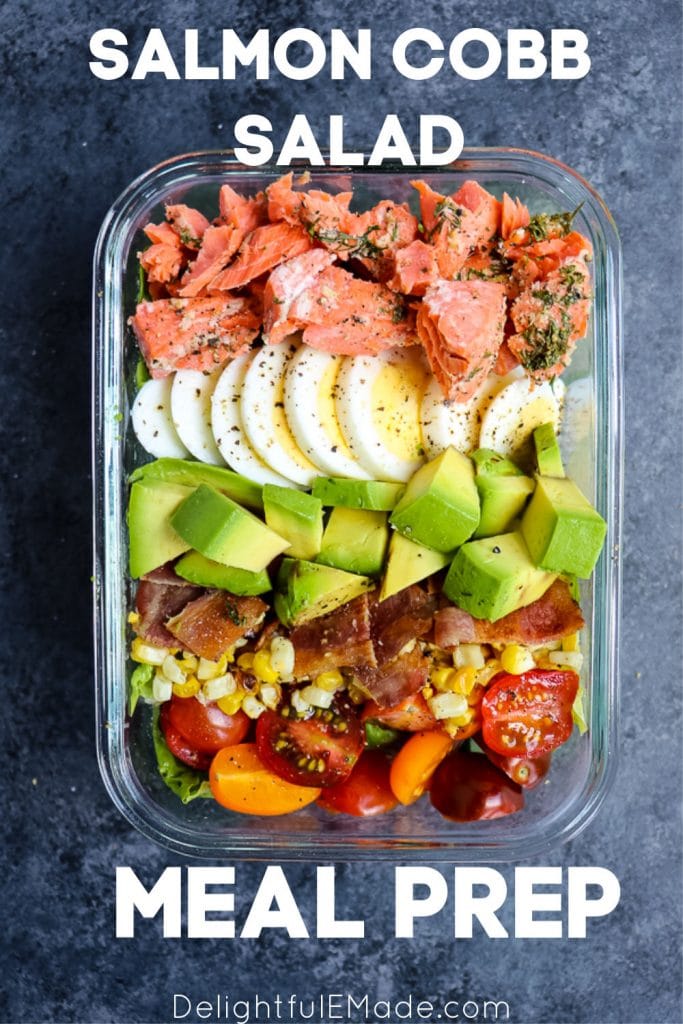 Step 4: Assemble your cobb salad recipe for the perfect meal prep salad!
I feel like once you get the swing of meal prep, you can really get into a groove with making yourself really healthy, satisfying meals. Making this grilled salmon salad is a really easy meal prep idea!
Also, do you need some really good, durable meal prep containers? Yeah, I hear ya! These Prep Naturals Meal Prep Containers are amazing! The bottom portion is heavy-duty glass, and it comes with a lid that has an air-tight seal. You can get these Prep Naturals Meal Prep Containers on Amazon. (affiliate link) Be sure to check out my Best Meal Prep Containers for all of my favorites for meal prep.
Here's how to assemble your meal prep salad:
Start with your lettuce/greens on the bottom of the container
Add the sliced tomatoes,
Next, add in the grilled corn,
Add a slice of bacon, cooked crisply,
Next, a 1/2 of an avocado,
Add 1 hard-boiled egg, quartered or sliced,
Lastly, add your grilled salmon (once it has cooked and cooled it will crumble easily)
For the dressing, place it in a separate resealable cup or dressing container. (A dressing serving is approximately 2 Tbsp.) Add it once you are ready to eat.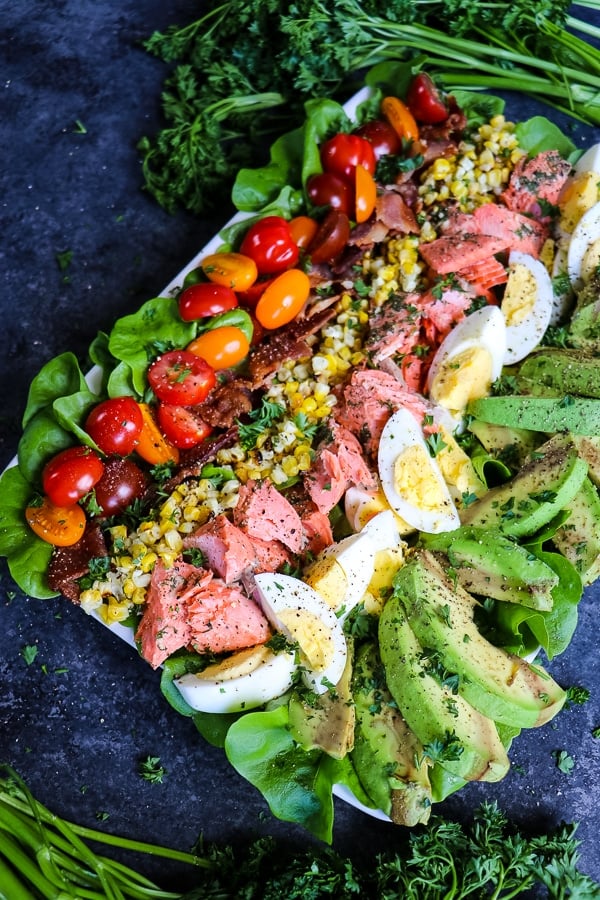 If you are making this delicious cobb salad recipe for an entree/dinner recipe, you will assemble just like you would your meal prep container.
Place your lettuce greens on the bottom of a platter, and layer on the sliced avocados, eggs, salmon, corn, bacon, and tomatoes! Oh, and don't forget that delicious lemon dill dressing.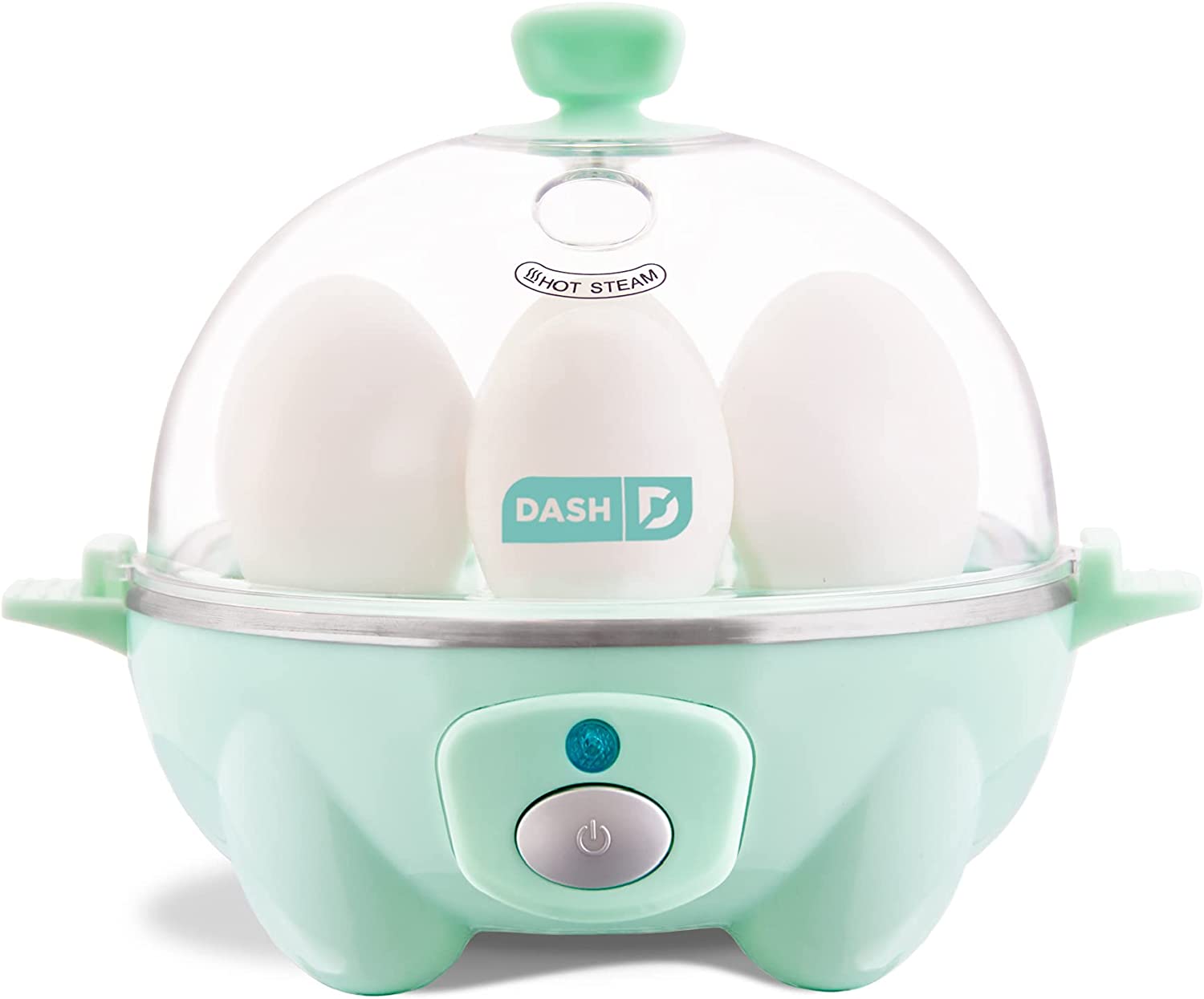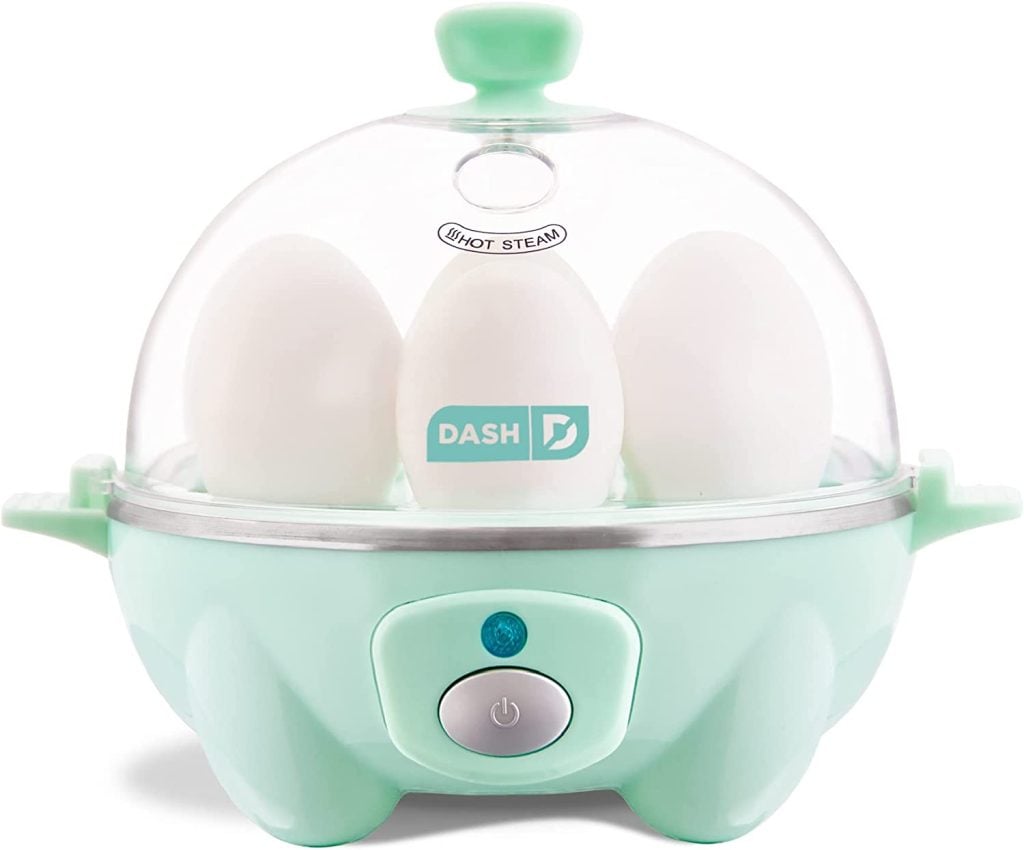 Want perfectly cooked hard boiled eggs that are EASY to peel? This rapid egg cooker by Dash perfectly cooked eggs every time without the guesswork. Will also do soft-boiled, poached and comes with a mini omelet pan, which is great for breakfast sandwiches. I LOVE mine and use it almost daily!
Love adding eggs to your salad? Check out my Deviled Egg Potato Salad for an amazing egg recipe!
If you loved this delicious Cobb Salad recipe, then check out my other meal prep salad ideas:
Are you more in the mood for summer salad ideas? Check these out:
Here's the recipe for my delicious Grilled Salmon Salad and instructions on how to make a meal prep salad: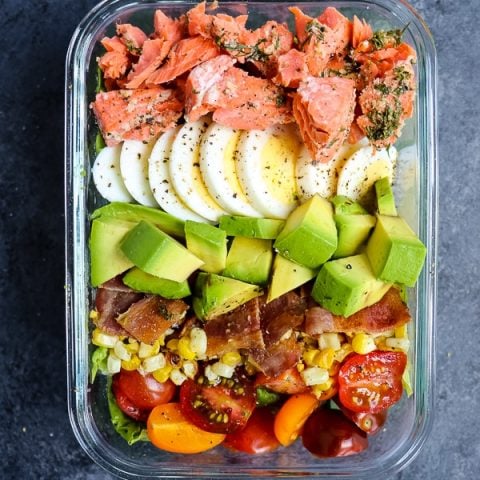 Grilled Salmon Salad
This Salmon Cobb Salad Recipe will be your new favorite way to enjoy a healthy lunch! Made with grilled salmon, avocados, hard-boiled eggs and more, this Grilled Salmon Salad is the perfect meal prep salad idea! 
Ingredients
4 c. lettuce, spinach or spring mix
2 avocados, grilled & sliced
2 ears of corn, grilled
4 hard-boiled eggs, sliced or quartered
1 c. cherry tomatoes, halved
4 slices bacon, cooked crispy and crumbled
1 lb. grilled salmon, cooled and crumbled
Lemon dill dressing
Instructions
On a large platter or salad bowl, add the rinsed & torn lettuce. Add the sliced avocados, hard boiled eggs, corn that has been removed from the cob, sliced cherry tomatoes, and bacon crumbles.
Once the salmon has cooled, crumble into pieces and add to the salad.
Lightly dress with the lemon dill dressing and toss to evenly coat the salad. Enjoy right away.
Notes
For meal prep containers:
Add the lettuce on the bottom, and layer with the salmon, eggs, avocado, bacon, corn and tomatoes. Place 2 Tbsp of the lemon dill dressing in a separate dressing container, and add to the salad just before eating.