Your new go-to healthy dinner idea! This delicious Low-Carb Vegetable Beef Stir Fry is loaded with flavor and packed with protein. Made with sirloin beef, and lots of fresh vegetables, this 20-minute dinner will be a new family fave!
This post may contain affiliate links. Delightful E Made is a participant in the Amazon Services LLC Associates Program, an affiliate advertising program designed to provide a means for us to earn fees by linking to Amazon.com and affiliated sites.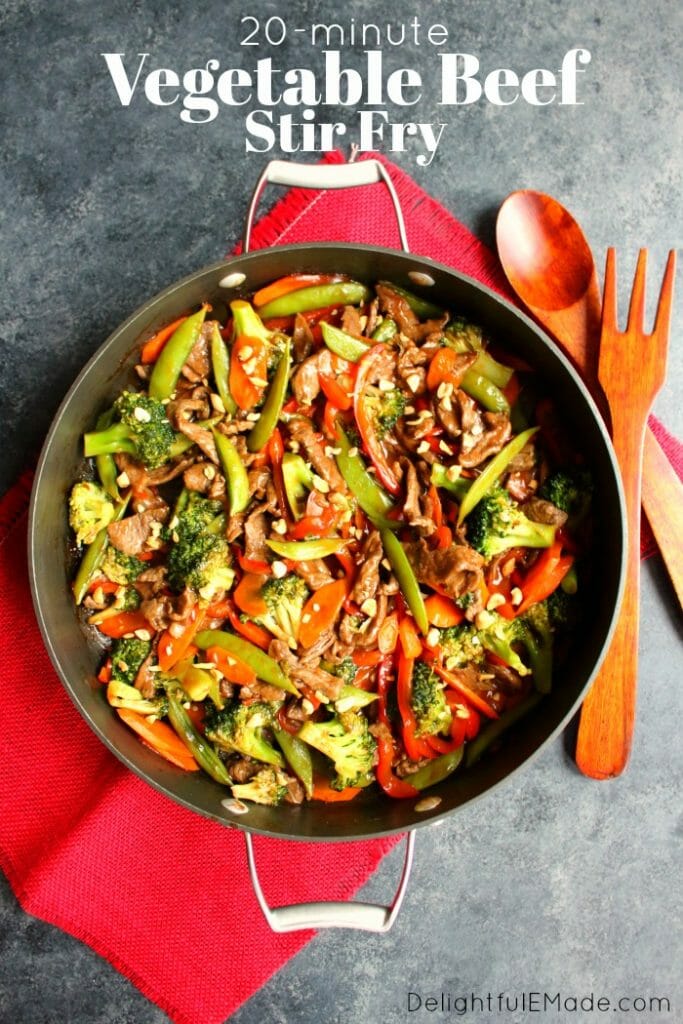 20-Minute Vegetable Beef Stir Fry
I'll be the first one to tell you that I struggle to find healthy recipes that my family will actually be interested in eating. Yes, there are volumes of healthy dinner recipes out there, but my family is less than interested in many of them. It's either ingredients that they don't find appetizing, or for me it's too many steps and thus taking forever to cook, which isn't ideal for all of us. I finally found a solution to my healthy dinner quandary – this Vegetable Beef Stir Fry!
I've made this beef stir fry for my family several times now, and it's definitely a winner! Loaded with thin slices of sirloin beef, along with fresh vegetables in a light sauce, it's low-carb, protein rich and packed with nutrition. This easy dinner idea also make for fantastic make-ahead healthy lunches for meal planning. Best of all, this healthy dinner takes just 20 minutes, making it a great weeknight dinner option.
Here's how this simple 20-minute Vegetable Beef Stir Fry comes together: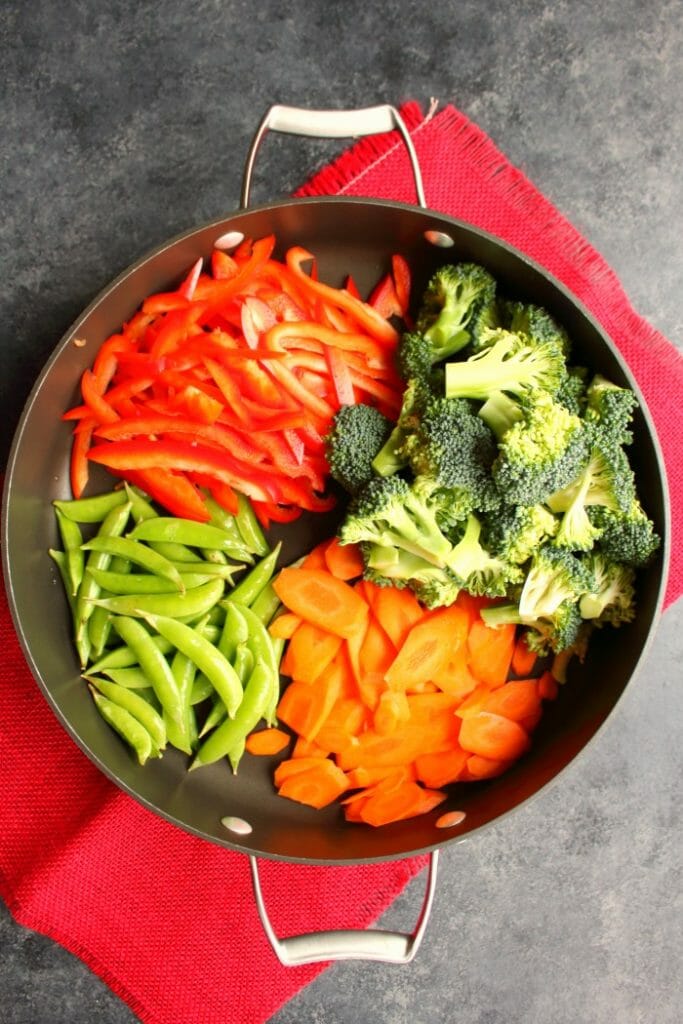 Step 1: Start with your Veggies
I used four different types of vegetables in this stir fry recipe:
Sliced carrots – I sliced these thinly, on the diagonal. Slicing thinly will help cook faster.
Broccoli florets – simply cut up a medium-sized broccoli crown for the idea amount.
Red bell pepper – I used a medium/large red bell pepper. You can use any color – red, yellow, green or orange.
Whole peas – In the photo above are snow peas. I actually prefer sugar snap peas (they're slightly longer and flatter). I found the snow peas a little woody on the stem side after cooking, where the sugar snap peas cook perfectly and the texture is great!
Cooking the vegetables
Simply place all of your vegetables into a large skillet, add water, cover the skillet with a lid and bring to a low simmer. Steam the vegetables for 5 minutes, bringing them to the perfect cooked, yet still slightly crisp texture. Once the vegetables have steamed, remove them from the skillet, and transfer to a bowl. Cover the vegetables to keep warm, and drain off any remaining water from the skillet. Place the same skillet back on your cook top.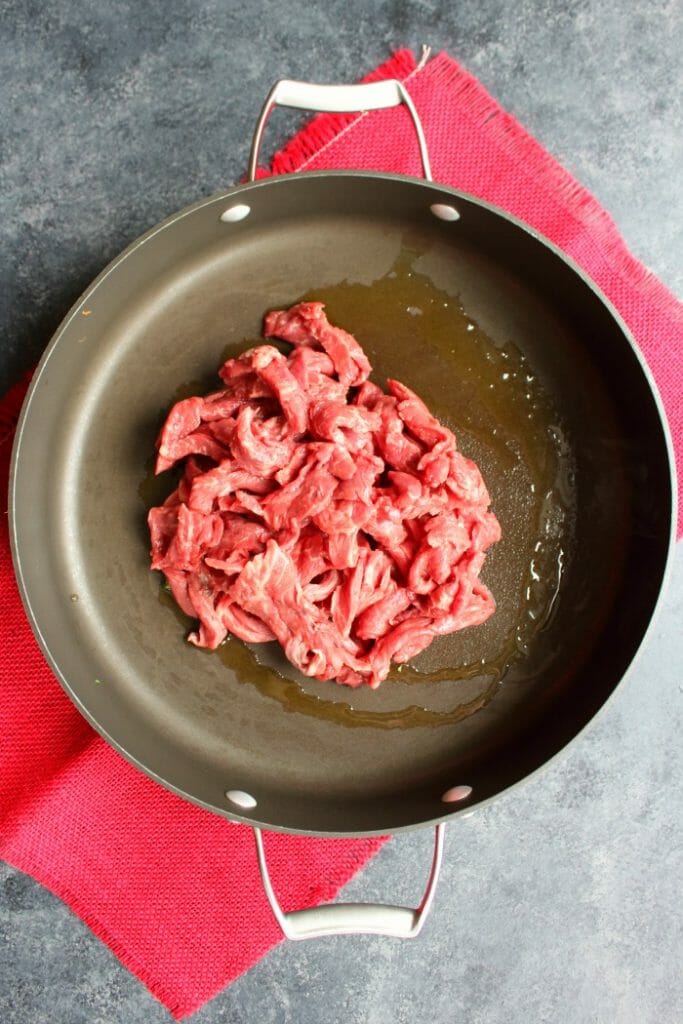 Step 2: Cook the beef
To the same skillet that you cooked the vegetables, place back on your cook top and add the olive oil. Bring to medium-high heat (warming the olive oil and skillet) and add the sliced sirloin.
When purchasing your beef at the grocery store, you have a few options;
Purchase pre-sliced sirloin: Some grocery store meat departments will offer pre-sliced stir-fry beef. This is a huge time-saver, but will cost you a little extra money per pound.
Purchase sirloin steaks: purchasing a package of sirloin steaks will mean you'll just have to do a little slicing on your own. This is slightly more time consuming, but you'll be able to trim the meat to your liking, and save a little money in the process.
Go with a non-sirloin cut of beef. Feel free to purchase something other than sirloin. Trim and slice accordingly.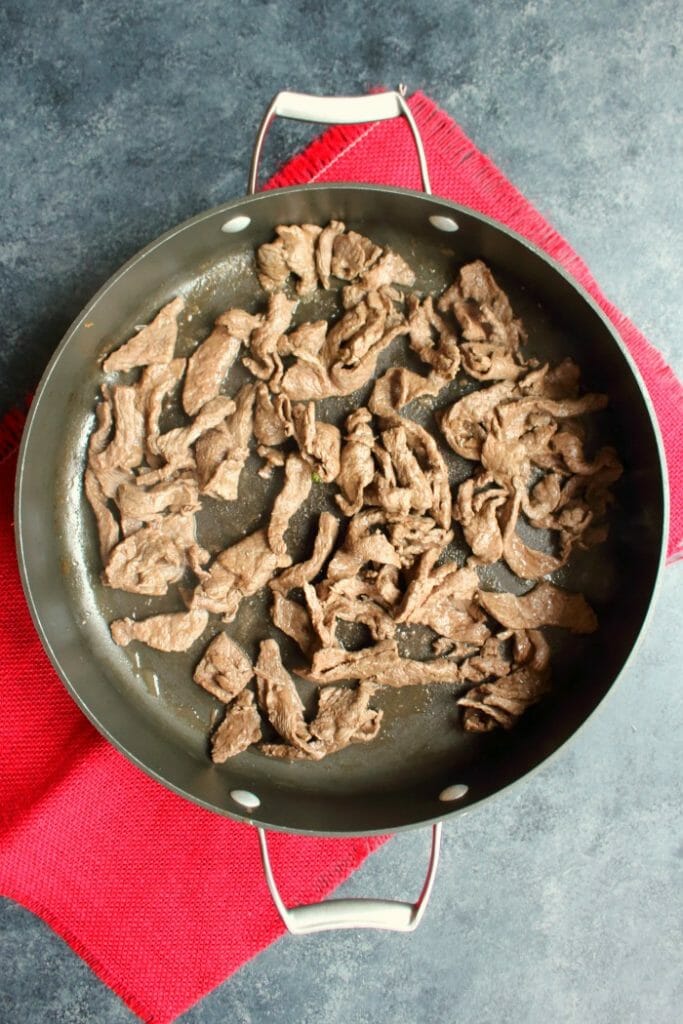 Brown the meat until almost all of the pink is gone. Drain off any excess fat in the pan.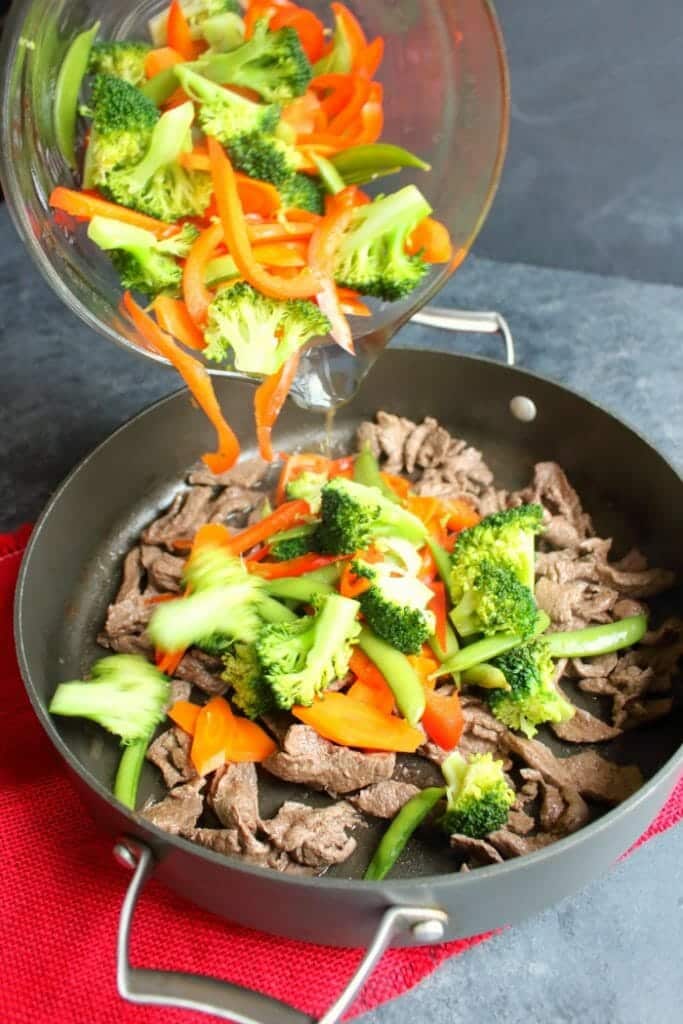 Step 3: Add the vegetables back to the skillet
Once the beef has been browned and any excess fat has been removed from the pan, you can now add the vegetables back to the pan.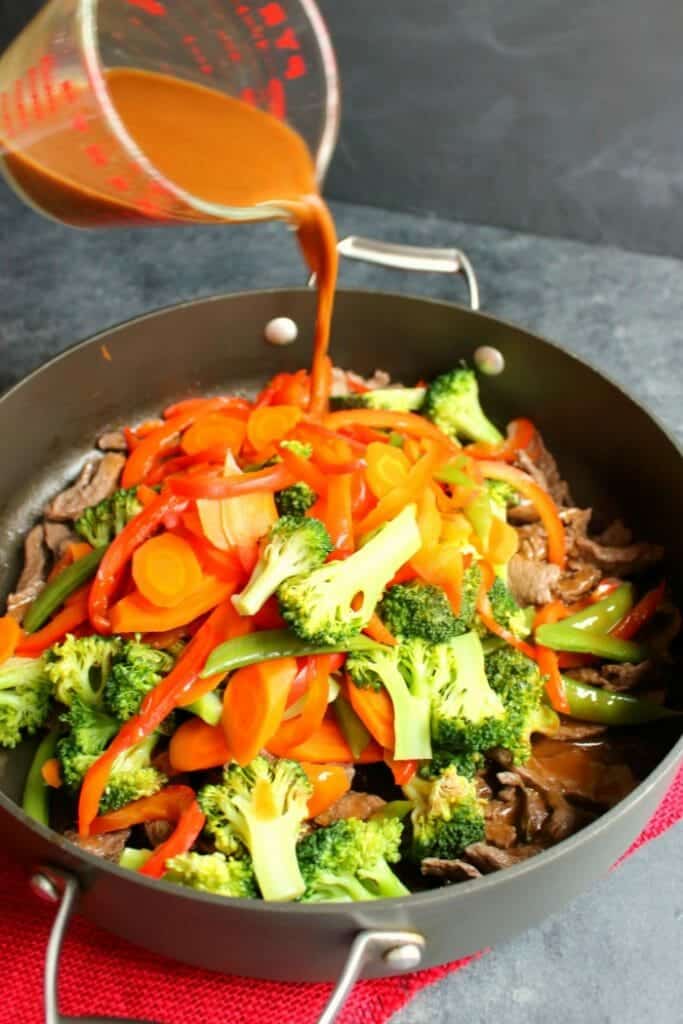 Step 4: Mix the Stir Fry Sauce and pour over meat and vegetables
The sauce that I use is very simple. I simply whisk it together in a glass measuring cup (often while the vegetables are steaming). Here is what the sauce consists of:
water
corn starch
soy sauce
Hoisin sauce (you can find this in the Asian cooking aisle of the grocery store)
brown sugar (substitute with honey if you're looking to omit refined sugar from your diet.)
Once you've added the vegetables back into the skillet with the beef, pour the sauce over both. Bring the skillet back to medium-high heat.
Stir together the sauce, meat and vegetables so everything is nicely coated. Once the sauce begins to thicken, remove from the heat. The beef stir fry is done and ready to serve! Chop some peanuts to top off the beef stir fry for a nice crunch.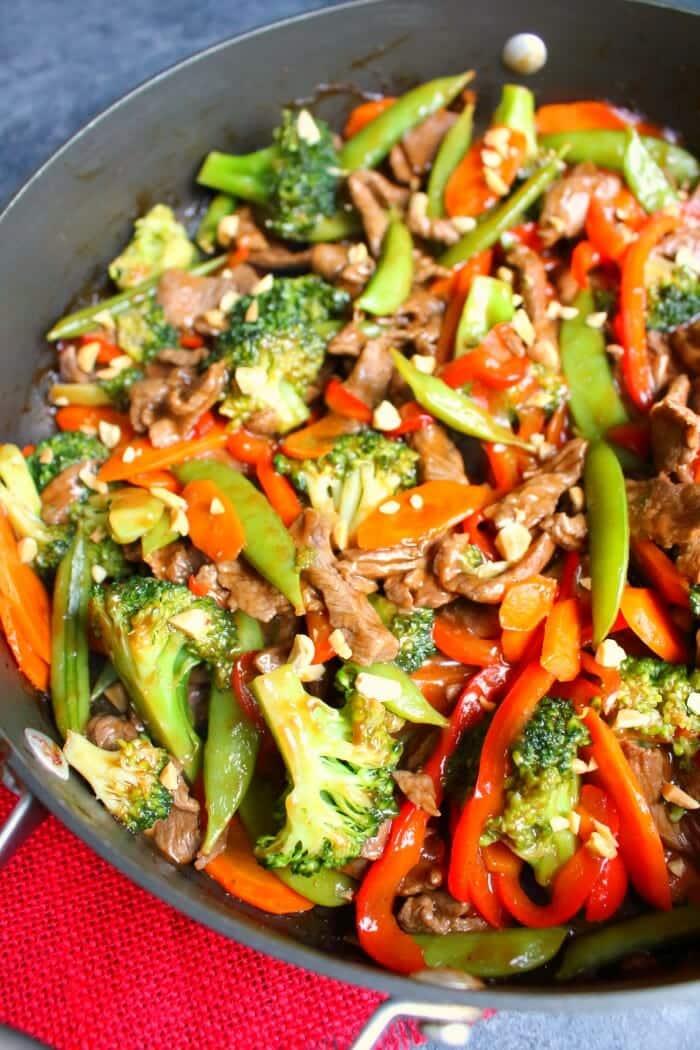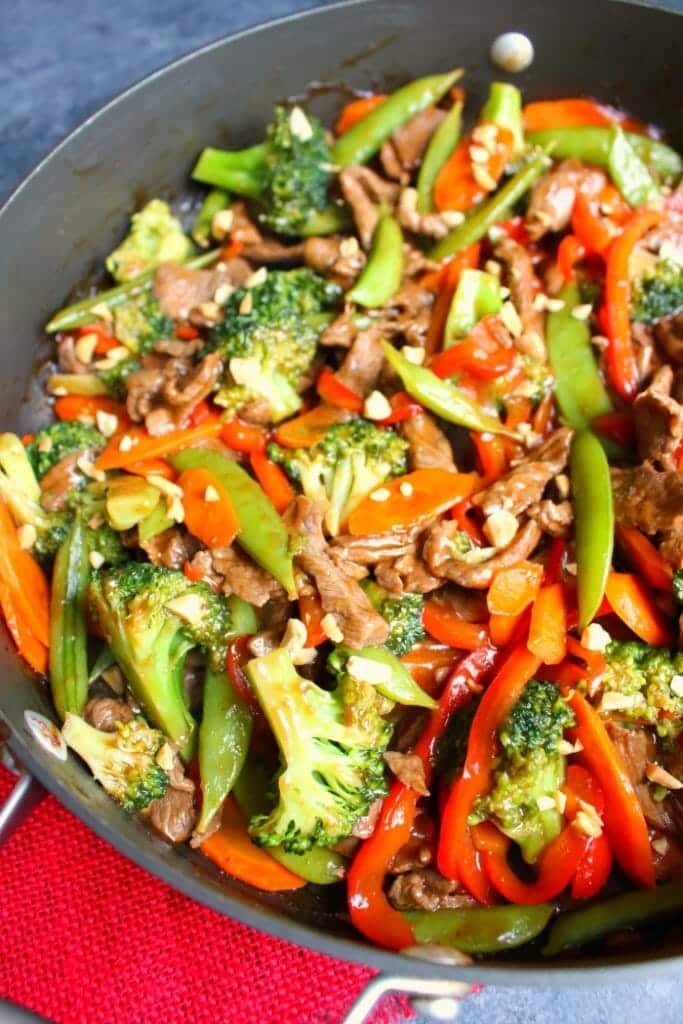 Step 5: Serve and Enjoy!
Serve with white or brown rice. For a great low-carb alternative, serve with cauliflower rice. It's a fantastic low-carb dinner idea, and great for lunchtime meal-planning.
I hope this recipe inspires you to cook up something healthy for you and your family. Enjoy!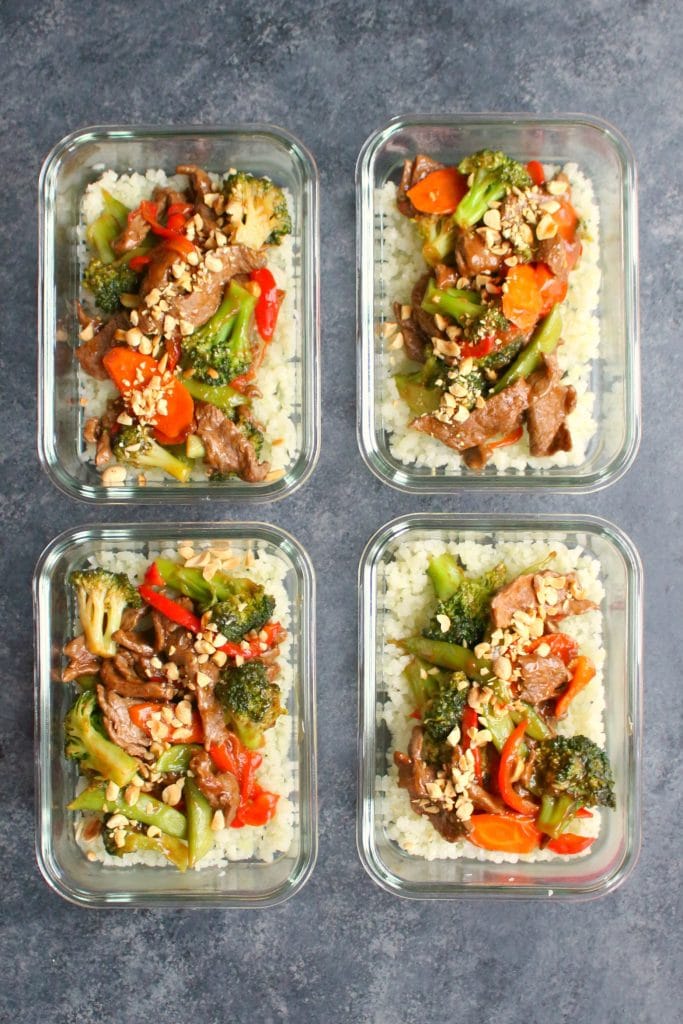 Do you meal prep? This Vegetable Beef Stir Fry is fantastic for your meal prep Sunday, or any day that you're looking to prepare some healthy meals for yourself. I like to pair this stir fry recipe with cauliflower rice – I'll add about 1/2 cup to each container, then top with 1 1/2 cups of the stir fry. I almost always buy frozen cauliflower rice – I've found that Costco has the best deal. Check out my post for 15 Things I always Buy at Costco for making healthy meals (hint: Cauliflower rice is one of 'em!!)
Meal Prep Containers: I'm constantly asked about these meal prep containers! So I've finally created a post with the Best Meal Prep Containers that I use and love. These glass meal prep containers (pictured above are one of my favorites.) You can find a link to buy these containers here.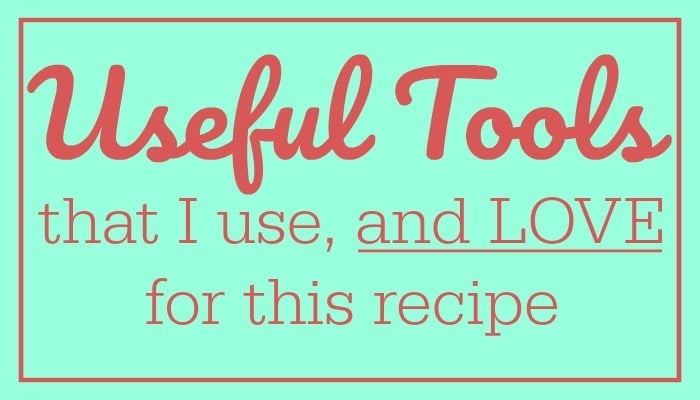 Here are some useful tools that I used in preparing my Vegetable Beef Stir Fry:
Calphalon Hard-Anodized Aluminum Nonstick Sauteuse Pan, 7-quart, Black (Amazon Affiliate Link) – This is my go-to skillet! I use it just about every day. It's a durable workhorse, and fantastic for making stir-fry dinners!
J.A. Henckels International CLASSIC 7″ Hollow Edge Santoku Knife (Amazon Affiliate Link) – Definitely my favorite knife for cutting vegetables. Sharp, sturdy and makes for quick cutting, this Santoku knife feels great in my hands. I actually prefer this knife over a chef's knife!
Bamboo Stir Fry Kitchen Tools, 3-pack (5 Tools)(Amazon Affiliate Link) – Having some Stir Fry utensils is really helpful when making a stir fry!
If you loved this Vegetable Beef Stir Fry, be sure to check out some of my other dinner ideas:
Wanna know my go-to resource for steak, vegetables and cauliflower rice? It's Costco! Check out my Post for 15 Things I Always Buy at Costco for Healthy & Easy Meals and Snacks. Also, you can get my FREE Printable Shopping Check List by subscribing to my e-newsletter. My e-newsletter always includes Delightful E Made's latest recipes, as well as tips and tricks for healthy eating! Subscribe below and get that free Costco Shopping List:
Here's the recipe for my delicious, healthy Vegetable Beef Stir Fry:
Vegetable Beef Stir Fry
Your new go-to healthy dinner idea! This delicious Low-Carb Vegetable Beef Stir Fry is loaded with flavor and packed with protein. Made with sirloin beef, and lots of fresh vegetables, this 20-minute dinner will be a new family fave!
Ingredients
1 c. carrots, thinly sliced
1 1/2 c. broccoli florets
1 c. whole sugar snap peas
1 large red bell pepper, sliced
1 lb. beef sirloin, trimmed of any excess fat and sliced thinly
2 Tbsp. olive oil
Sauce:
3/4 c. water
1/4 c. soy sauce
3 Tbsp. corn starch
3 Tbsp. Hoisin sauce
2 Tbsp. brown sugar
1/4 c. chopped peanuts, for topping
Instructions
In a mixing bowl, mix together the sauce by whisking together the water, soy sauce and corn starch. Whisk well to prevent any lumps. Add in the Hoisin sauce, and brown sugar and whisk until everything is well combined. Set sauce aside.
In a large skillet, add the carrots, broccoli, peas and bell pepper, and 2/3 cup of water. Place skillet over medium high heat and bring the water to a simmer. Lower the heat to medium low, and steam the vegetables for approximately 5 minutes. Transfer the vegetables to a bowl, and cover to keep warm. Vegetables will still be slightly firm. Drain off any excess water.
Place hot skillet back on to cook top and bring to medium high heat. Add olive oil. Add the sliced and trimmed sirloin and brown until no pink remains. Drain off any excess fat.
To the hot skillet with the browned beef, add the steamed vegetables. Pour the prepared sauce over the top of the beef and vegetables. Heat the ingredients over medium-high head and stir occasionally. Once sauce begins to thicken, remove from heat. Top with chopped peanuts and serve right away while hot.
Notes
Serve over white, brown or cauliflower rice.
Nutrition Information:
Serving Size:

1 1/2 cups
Amount Per Serving:
Calories:

1750
Total Fat:

79g
Saturated Fat:

23g
Cholesterol:

304mg
Sodium:

7659mg
Carbohydrates:

113g
Sugar:

58g
Protein:

150g