Get restaurant quality fajitas right at home! These savory Grilled Steak Fajitas will be your new favorite Tex-Mex meal. Made with tender, marinated flank steak and grilled with peppers and onions, this flank steak fajitas marinade is simple to make and completely delicious!
This post may contain affiliate links. Delightful E Made is a participant in the Amazon Services LLC Associates Program, an affiliate advertising program designed to provide a means for us to earn fees by linking to Amazon.com and affiliated sites.
The EASIEST Flank Steak Fajitas Marinade!
As soon as the warm weather peaks out from the cold, dark days of winter, I'm firing up my grill. Yes, I have a grill. Yes, it is me who uses it – not, necessarily my husband.
Grilling is definitely one of my favorite ways to cook, especially in the spring and summer. (Although, I will say that I've been known to heat up the grill nearly all months of the year.) There is something about the taste and aromas that come from a fresh sear of fire that are unlike anything else.
These Grilled Steak Fajitas are my new favorite grilling recipe, and will definitely be a mainstay on our dinner table all spring and summer long. The super simple 1-minute flank steak fajitas marinade is how you add amazing flavor to this grilled steak for fajitas and tacos.
Here's the simple steps to making these delicious Grilled Steak Fajitas: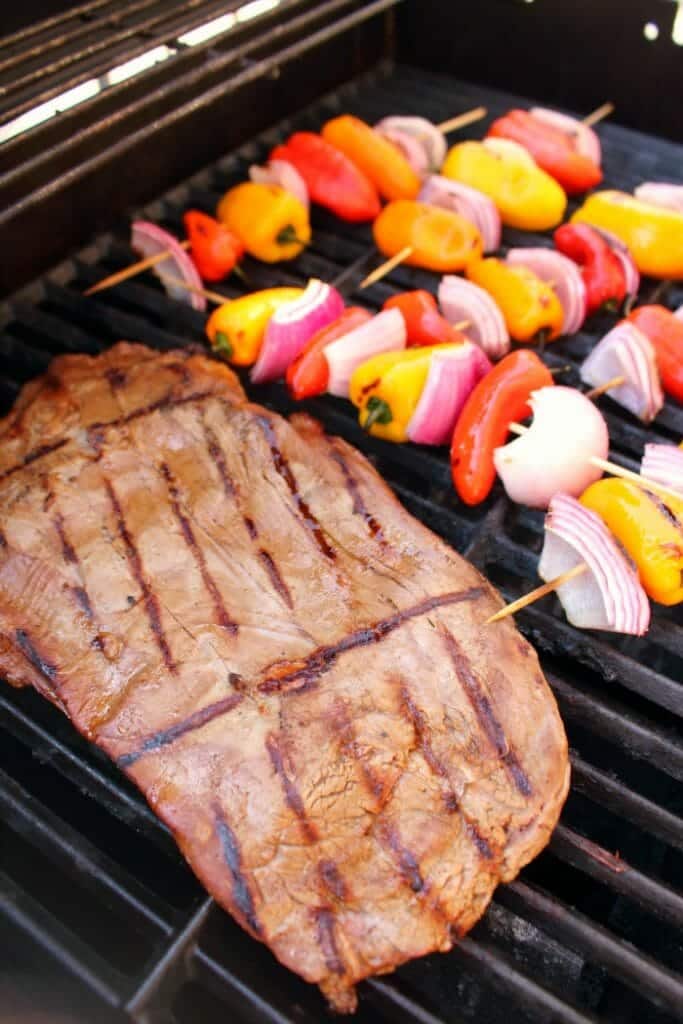 What cut of meat is best for steak fajitas?
Flank steak is a fantastic cut of beef for making fajitas. You can also use skirt steak or sirloin.
Where do you get flank steak?
Costco has a good selection of beef, and has a great price on flank steak. They also carry the mini peppers and red onions for fajitas.
Check out my post for all the Things I Buy at Costco for Costco Dinner Ideas and Costco Meals.
How do I make steak fajitas marinade?
Making this simple flank steak fajitas marinade takes just a minute. Measure 1/4 cup of water, 1/4 cup of olive oil, 2 Tablespoons of lime juice and 2 tablespoons of homemade taco seasoning to a bowl. Whisk together well.
Place the flank steak into a resealable zip-top bag, or a shallow baking dish. Pour the marinade over the top of the steak.
Refrigerate the marinated beef anywhere from 2 – 24 hours. The longer the meat is in the marinade, the more flavorful and tender the steak will be.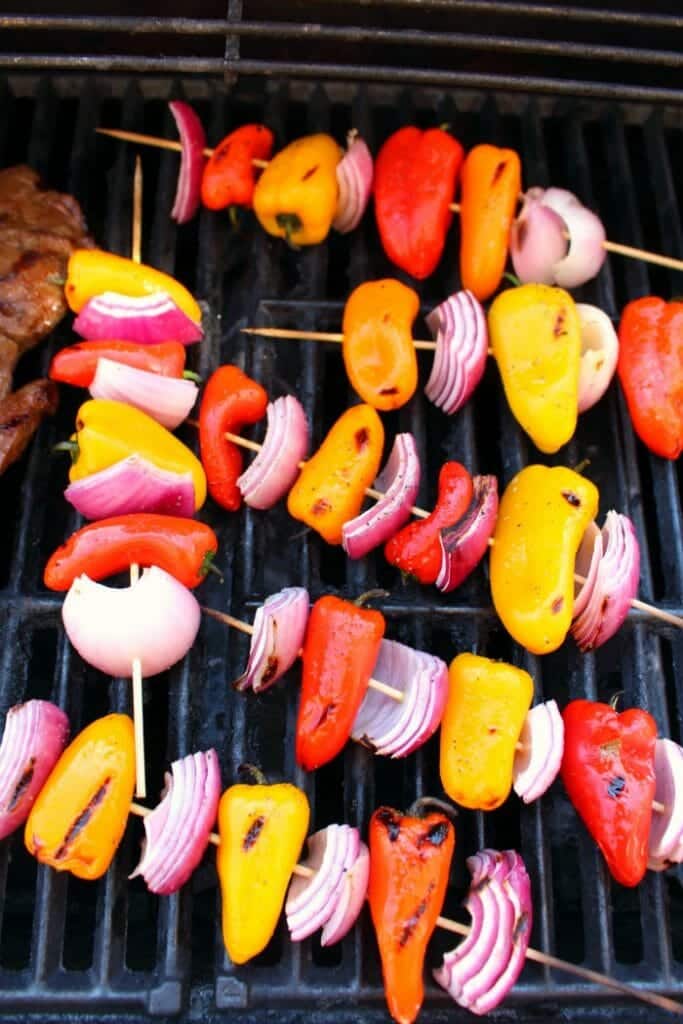 How do I grill peppers and onions for fajitas?
For these fajita vegetables, I chose to use red onions and mini sweet peppers. If you're unable to find mini sweet peppers, feel free to use regular bell peppers that have been cut into pieces.
When grilling vegetables, make sure you either pre-soak wooden skewers or use metal skewers. After skewering the vegetables, lightly brush with olive oil and add salt and pepper to taste.
Place on the hot grill grates and turn after 4-6 minutes, grilling on each side.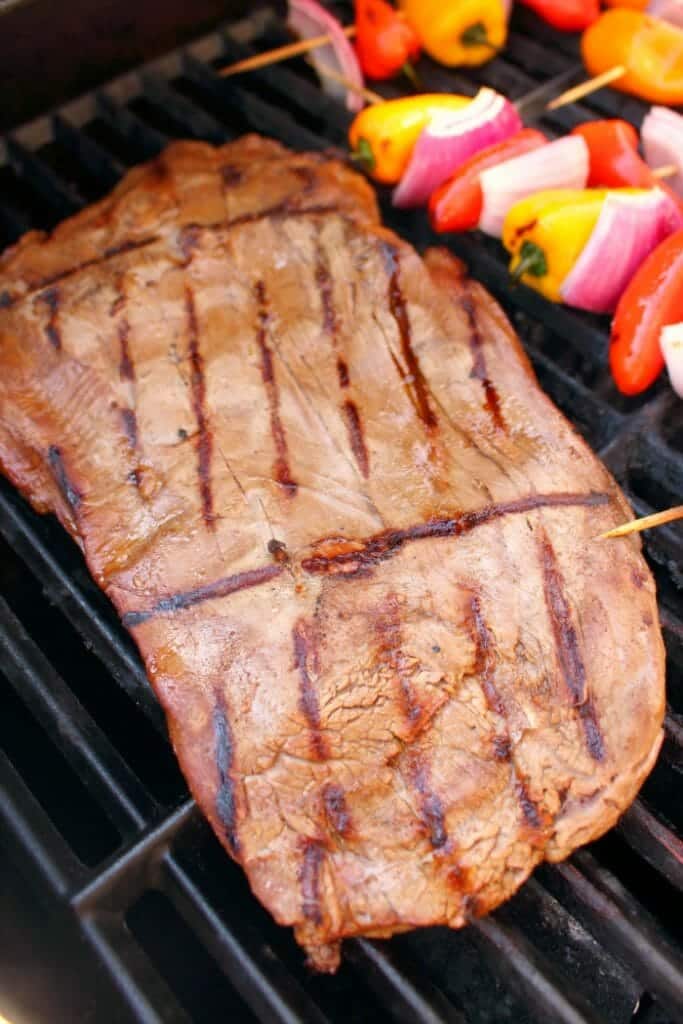 How do I grill steak for steak fajitas?
Heat your gas or charcoal grill to medium high heat. Once preheated, add the steak and vegetables. Turn the vegetable skewers often to ensure they have a light, even char on each side; ideally every 4-6 minutes.
The flank steak will need to cook for approximately 8-10 minutes per side for a medium-rare sear. This particular flank steak was a bit thicker, and required about 10 minutes per side.
How do I know when flank steak is done?
To ensure proper cooking temperature, use a meat thermometer to gauge the internal temperature is at or near 130-135 degrees. As always with any cut of beef, feel free to cut into the meat using a steak knife to check for the proper wellness that you prefer.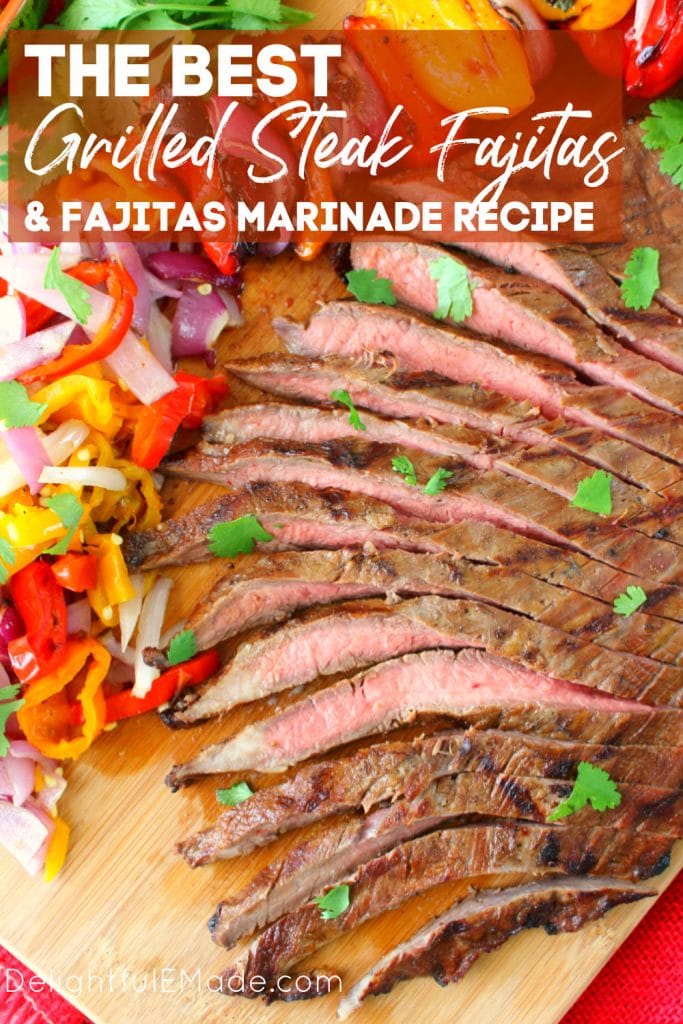 Let the Meat Rest and Slice Vegetables, Heat Tortillas
Once the steak and vegetables have come off the grill, let the meat rest for approximately 10 minutes. This will ensure the steak retains the juices that make it delicious! While the meat rests, slice the peppers and onions for serving.
Slice the flank steak into thin strips.
What tortillas are best for fajitas?
Choose a small or medium sized corn tortilla for fajitas.
If you prefer, lightly heat your tortillas on the grill – they won't need long to heat. Just 1 minute per side.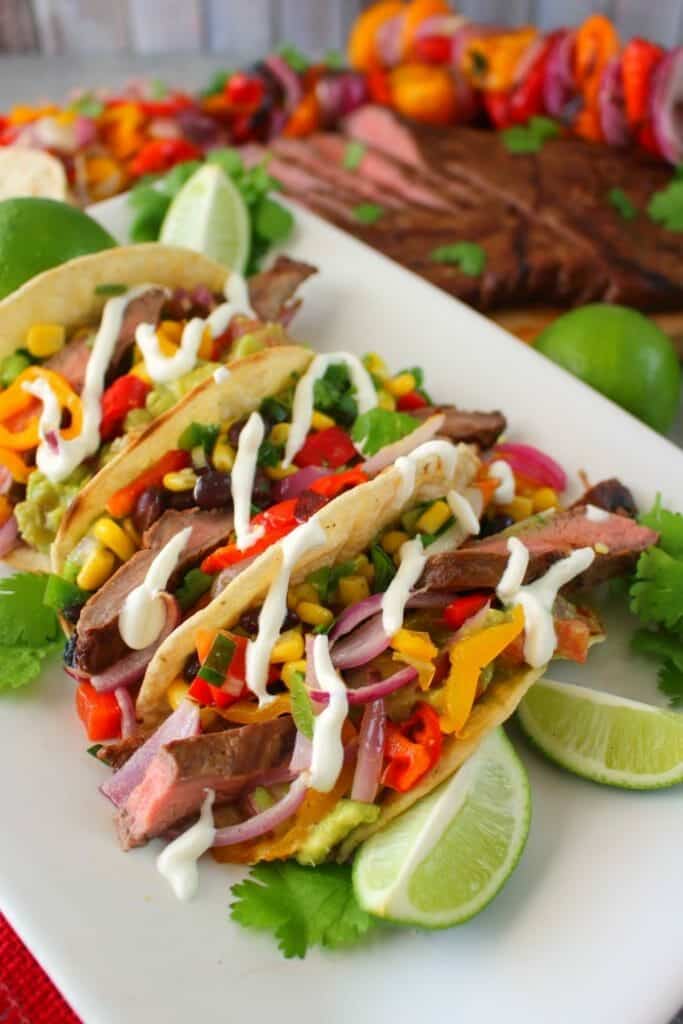 Build your Grilled Steak Fajitas and Enjoy!
These fajitas are great served family-style in the middle of the table for everyone to enjoy. These delicious steak fajitas are fantastic when served with avocado slices, lime wedges for juice, sour cream, shredded cheese and fresh cilantro.
Looking for some sides to go with your steak fajitas? Here are some of my most popular Tex-Mex sides:
What drinks go with fajitas?
These fajitas are also fantastic when served with a fresh, delicious margarita! Here are a most popular margarita recipes: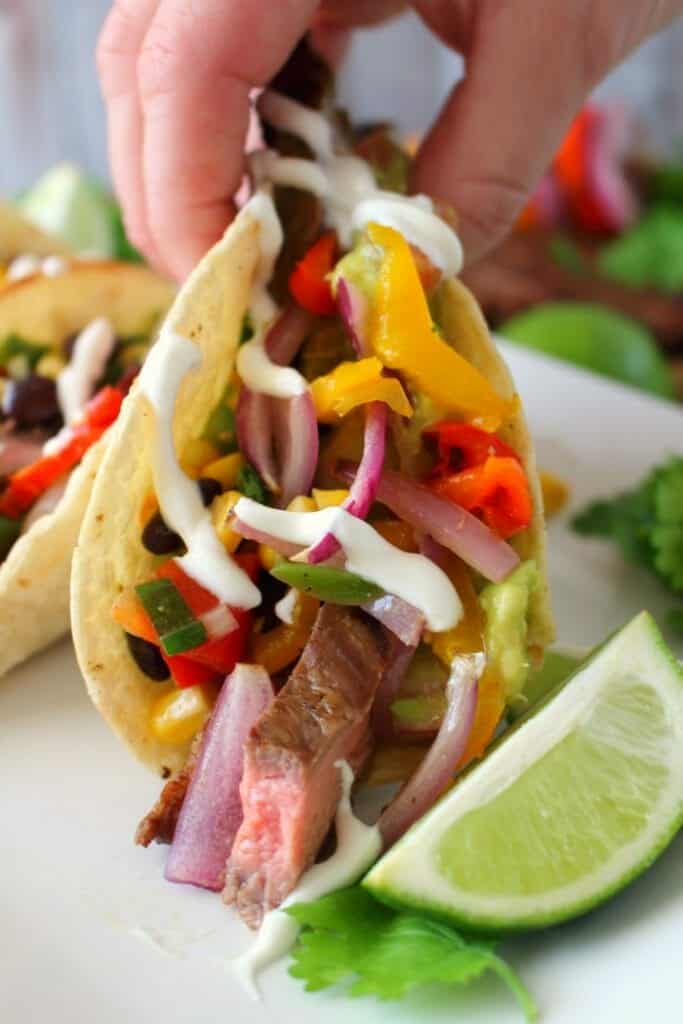 If you loved these Grilled Steak Fajitas, check out some of my other fantastic Tex Mex recipes: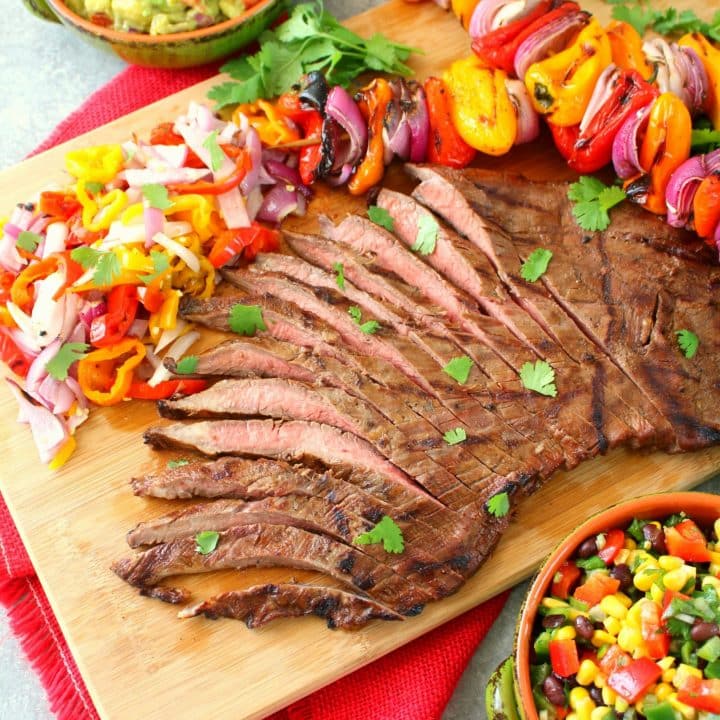 Grilled Steak Fajitas
These savory Grilled Steak Fajitas will be your new favorite Tex-Mex meal. Made with tender, juicy flank steak and grilled with peppers and onions, this fajita recipe is simple to make and completely delicious!
Ingredients
Marinade:
Vegetables:
1 medium red onion, peeled & quartered
16 mini sweet peppers, any color
2 Tbsp. olive oil
salt & pepper to taste
For Serving:
Instructions
Marinate the steak by whisking together the steak marinade; water, olive oil, lime juice and taco seasoning. Place flank steak in a resealable plastic bag, or dish with tight fitting cover. Pour marinade over meat. Marinate for at least 2 hours, or for up to 24 hours.
Preheat your gas or charcoal grill to medium high heat.
Skewer mini peppers and quartered onions. Brush lightly with olive oil and top with salt and pepper to taste.
Place steak and vegetable skewers on hot grill. Cook steak for 6-8 minutes per side for a medium-rare doneness. Approximately 10 minutes per side for medium. Internal temperature of steak should read 130-135 degrees. Continually turn vegetables until all sides are lightly charred.
Remove steak from grill and let rest 10 minutes before slicing. While meat is resting, slice vegetables for serving.
If desired, lightly grill tortillas for a slight char, approximate 1 minute per side.
Serve with loaded guacamole and southwestern corn salsa.
Notes
Don't have an outdoor gas or charcoal grill? No problem: use an indoor grill pan. Sear the flank steak on each side over medium-high heat for 8-10 minutes per side. Grill vegetables same time, turning every 4-6 minutes.
If using wood skewers for the vegetables, be sure to soak in water before grilling. Metal skewers are also very useful, and don't require any pre-soaking prior to grilling.
Nutrition Information:
Serving Size:

6 servings
Amount Per Serving:
Calories:

316
Total Fat:

15g
Saturated Fat:

5g
Cholesterol:

98mg
Sodium:

835mg
Carbohydrates:

3g
Sugar:

5g
Protein:

32g