It is peak produce season here in Northern Virginia.  To me, this translates to Peach Season!!  Peaches are probably my favorite fruit, but you can only get the really delicious ones in July and August.  When I was at the farmers market a few days ago, I picked up about 6 peaches.  I let them ripen on the counter, and decided I needed to bake up these beauties for one of my favorite Peach Crisp with Cinnamon Pecan Crumble.
I pulled out the recipe box, and went with my Great-Grandma Elsie's "crisp" recipe.  Her recipe is for apple crisp, so I had to make a few adjustments for peaches.  None the less, this crisp turned out divine!  To add a little extra crunch to the crumble topping, I added some pecans.  (I do live in the south, after all.  It just seemed right.)  Cinnamon and nutmeg also lend to a fabulous flavor.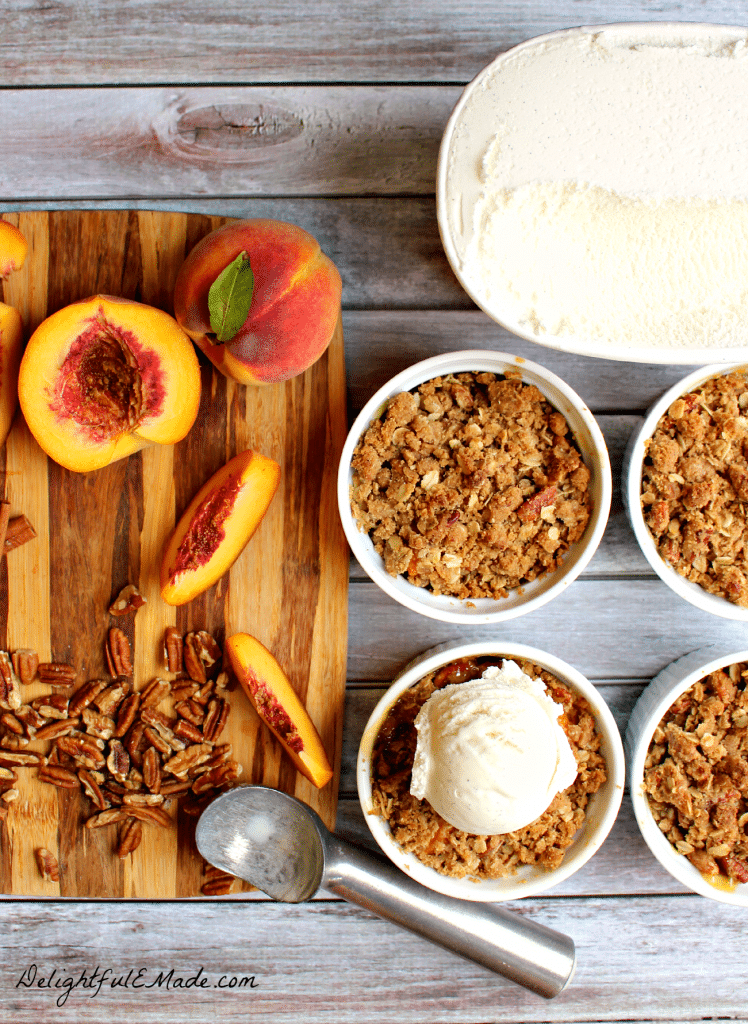 It didn't take long for the house to smell amazing.  Once I pulled these babies out of the oven, I had a bubbly, peachy, pecan goodness!  Topped with a big scoop of vanilla bean ice cream, these peach crisps became an amazing dessert!
These are great to make in individual ramekins or a single 8×8 baking dish.  So delicious as a dessert, and even great first thing in the morning with a cup of coffee.  Either way, this crisp recipe is fantastic!!
This dessert is really easy to throw together.  Here is how this deliciousness happens:

Erin Indahl-Fink
Yields 4-6
Peach Crisp with Cinnamon Pecan Crumble
This easy dessert is a delicious way to enjoy fresh, summer peaches! Topped with a cinnamon pecan crumble, this dessert is great with a big scoop of ice cream!
20 minPrep Time
30 minCook Time
50 minTotal Time
Ingredients
4 c. peaches, blanched, peeled and sliced (canned or frozen peaches work as well)
1/4 c. sugar
1 Tbsp. dry tapioca
For Crumble topping:
1/2 c. oatmeal
1/2 c. flour
1/2 c. brown sugar
1/2 tsp. cinnamon
1/4 tsp. ground nutmeg
1/4 tsp. salt
1/4 tsp. baking soda
1/4 tsp. baking powder
1/4 c. butter, melted
1/3 c. chopped pecans
Instructions
Preheat oven to 350 degrees.
In a medium bowl, combine the sliced peaches, sugar and dry tapioca. Mix to coat the peaches. Set aside.
In a second bowl, combine the oatmeal, flour, brown sugar, cinnamon, nutmeg, salt, baking soda and baking powder. Mix to combine. Gradually pour the melted butter over the oatmeal mixture, and stir until crumbly. Mix in the pecans.
In either 4 medium (4") ramekins or 1, 8x8 baking dish, spoon in the peaches, and evenly top with the crumble mixture. Bake at 350 for 26-30 minutes. Let cool slightly, and serve warm.
7.8.1.2
14
https://delightfulemade.com/2013/08/21/peach-crisp-with-pecan-crumble/
Copyright by DelightfulEMade.com
I hope you enjoy the Peach Crisp as much as my family and me.  As the end of the summer draws near, I love taking the time to preserve the season with amazing local food.  So get to your local farmers market, or anywhere where there is fresh, local produce.  Its such a wonderful way to enjoy all the flavors that summer has to offer.
Enjoy!
Erin