Pina Colada Smoothie recipe – Two Ways!
If you like Pina Coladas, then this healthy Pina Colada Smoothie recipe is for you! Made with fresh pineapple, coconut and Greek yogurt, this pina colada smoothie is a fantastic healthy snack or breakfast idea!
This post may contain affiliate links. Delightful E Made is a participant in the Amazon Services LLC Associates Program, an affiliate advertising program designed to provide a means for us to earn fees by linking to Amazon.com and affiliated sites.
In my opinion, nothing says summer like a really great smoothie. When I was a kid, my dad would make us peach smoothies. I remember this being such a treat. My brothers and I would get so excited, especially if fresh peaches were in season. However, growing up in South Dakota, fresh peaches were only available for a couple weeks in August. The majority of the time, my dad had to open up a can of store-bought peaches. Either way, we loved the smoothies he made.
This Pina Colada Smoothie recipe has the the same great flavor as that yummy peach smoothie my dad use to make. This smoothie delivers excellent texture, flavor, and just the perfect amount of sweetness. It's also a fantastic way to enjoy a healthy breakfast or snack.
Here's how this delicious Pina Colada Smoothie recipe comes together:
This pina colada smoothie recipe is ideal for breakfast or a great snack for you and the kids on a hot afternoon. With just a bit of prep before hand it literally takes about 5 minutes to have this cool, frosty drink in hand.
What is in a pina colada smoothie?
bananas
pineapple (fresh is great, but you can also use frozen or canned)
coconut milk
Greek yogurt
pineapple juice
flake coconut
(For exact ingredient amounts, be sure to reference the recipe below.)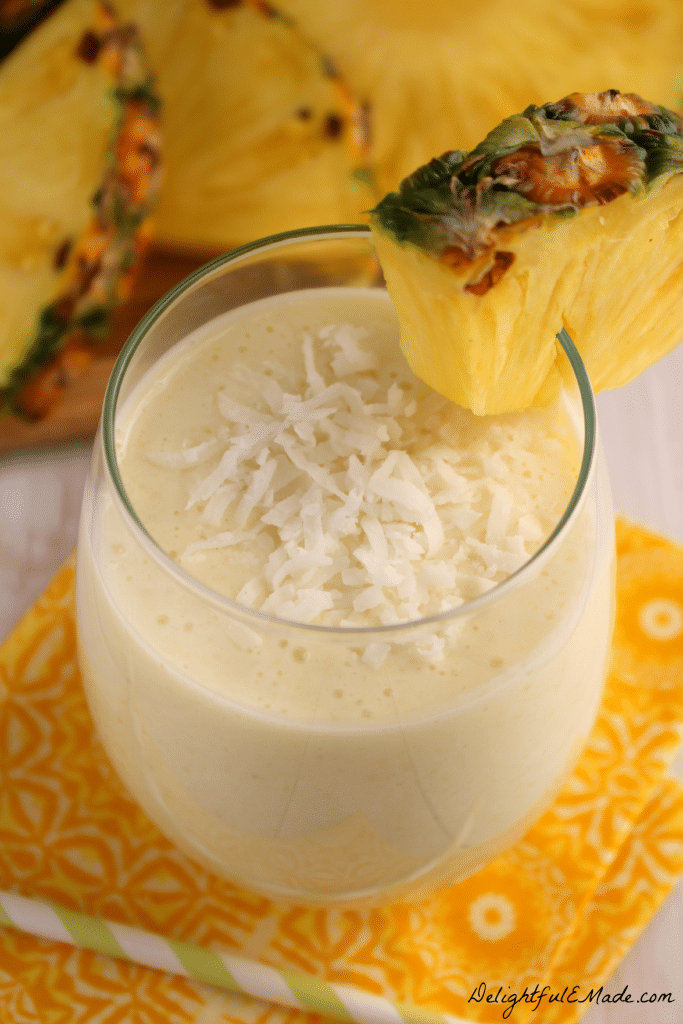 Pina Colada Smoothie adaptation to a cocktail:
You can also adapt this drink making it a fabulous cocktail and wonderful to sip on the patio at the end of a great summer day. Here's the adaptation for the Pina Colada cocktail:
Adaptation for Pina Colada Cocktail:
substitute 1 1/2 c. vanilla ice cream, for the Greek yogurt
add 2-3 oz. of Malibu Rum (add more or less depending on how strong you like it)
Blend and serve.
If you loved this delicious Pina Colada Smoothie and could you use some more healthy breakfast and snack ideas? Check out some of my other recipes here:
Apple Cherry Almond Breakfast Smoothie
Hey, did you know I wrote the book on smoothies? I'm the author of The Protein Smoothie Bible
The ultimate cookbook for all things smoothies!
Here's the recipe for this delicious Pina Colada Smoothie
Pina Colada Smoothie Two Ways: Breakfast or Cocktail
Cool, refreshing and delicious! This Pina Colada smoothie is the perfect breakfast or snack any time of day! Add rum to make into a cocktail!
Ingredients
2 large bananas, sliced and frozen
1 c. pineapple, frozen (you can use fresh or canned, and freeze) + extra for garnish
1 c. light coconut milk (use regular milk, if you don't have coconut milk available)
1 1/2 c. plain, Greek yogurt (I like Fage)
1/2 c. pineapple juice
3 Tbsp. shredded, coconut + more for garnish
Instructions
Add all ingredients into the blender. Blend until smooth. Enjoy right away.
Notes
Yield: 3, 8 oz. smoothies or 2 large 12 oz. smoothies
Nutrition Information:
Serving Size:

3 smoothies
Amount Per Serving:
Calories:

122
Total Fat:

9g
Saturated Fat:

8g
Sodium:

29mg
Carbohydrates:

11g
Sugar:

8g
Protein:

1g