If you like Pina Coladas, then this healthy Pina Colada Smoothie recipe is for you! Made with fresh pineapple, coconut and Greek yogurt, this pineapple coconut smoothie recipe is a fantastic healthy snack or breakfast idea!
This post may contain affiliate links. Delightful E Made is a participant in the Amazon Services LLC Associates Program, an affiliate advertising program designed to provide a means for us to earn fees by linking to Amazon.com and affiliated sites.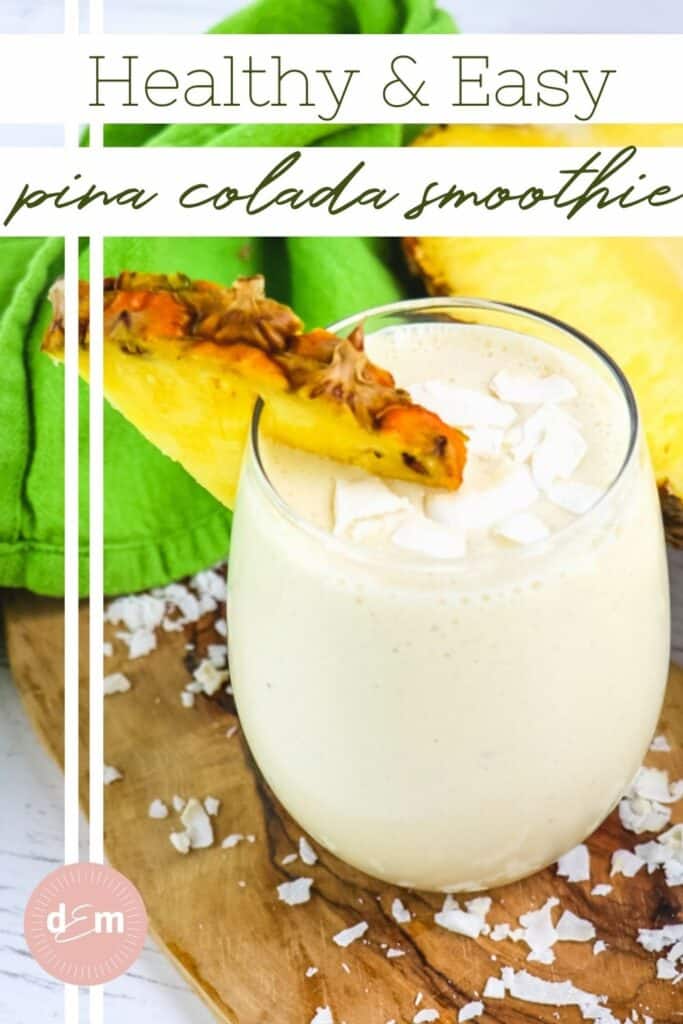 The BEST and EASIEST Pineapple Coconut Smoothie Recipe!
If you're looking for a fresh, simple and healthy pineapple smoothie recipe, you've come to the right place. Making a smoothie with pineapple is a fantastic way to enjoy this fresh, tropical fruit.
This Pina Colada Smoothie recipe has the the same great flavor as a Pina Colada cocktail, but without all the calories and sugar. This Pineapple Coconut smoothie delivers excellent texture, flavor, and just the perfect amount of sweetness. It's also a fantastic way to enjoy a healthy breakfast or snack.
Here's how this delicious Pina Colada Smoothie recipe comes together: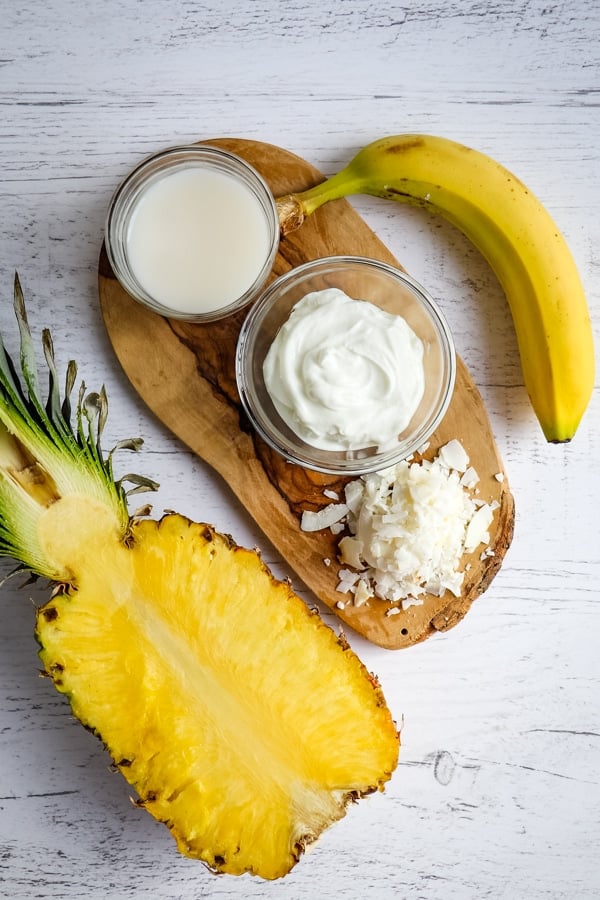 This pina colada smoothie recipe is ideal for breakfast or a great snack for you and the kids on a hot afternoon. With just a bit of prep before hand it literally takes about 5 minutes to have this cool, frosty drink in hand.
What is in a pina colada smoothie?
Banana (frozen is ideal)
Pineapple (frozen is ideal)
Unsweetened Vanilla Almond Milk – good quality, make sure you read your labels!
Plain Greek Yogurt
Unsweetened Flake coconut
(For exact ingredient amounts, be sure to reference the recipe below.)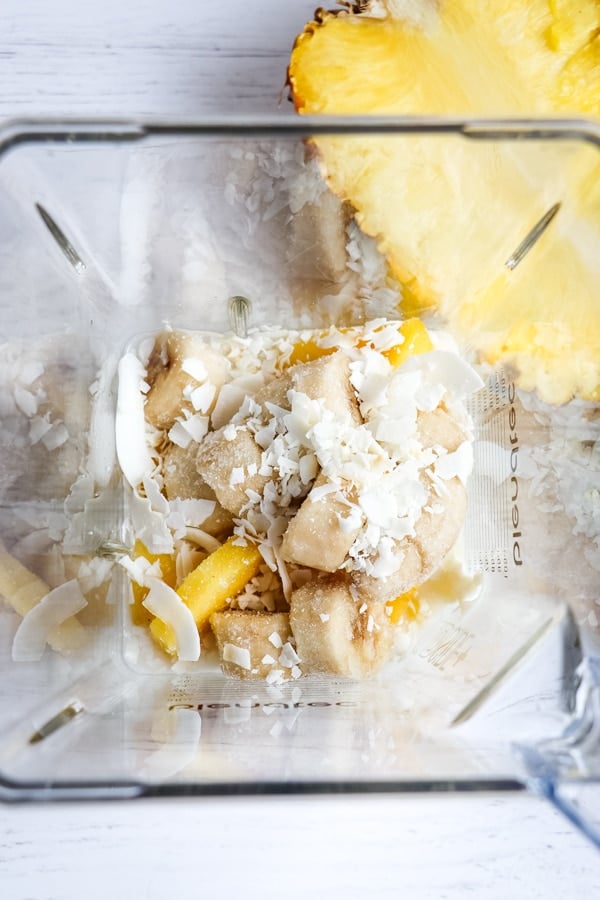 How do I make a pineapple coconut smoothie?
Start by simply adding all of the ingredients to a blender. I use and enjoy my Blendtec Designer Series Blender, which blends smoothies wonderfully. It even has a smoothie setting pre-programmed, so it knows exactly how long it needs to blend. You can get my Blendtec Designer Series Blender and get 20% off by using discount code DELIGHTFULEMADE.
Once all of the ingredients are in the blender, blend on med-high speed for 45-60 seconds, or until all of the ingredients are well blended and have a smooth texture.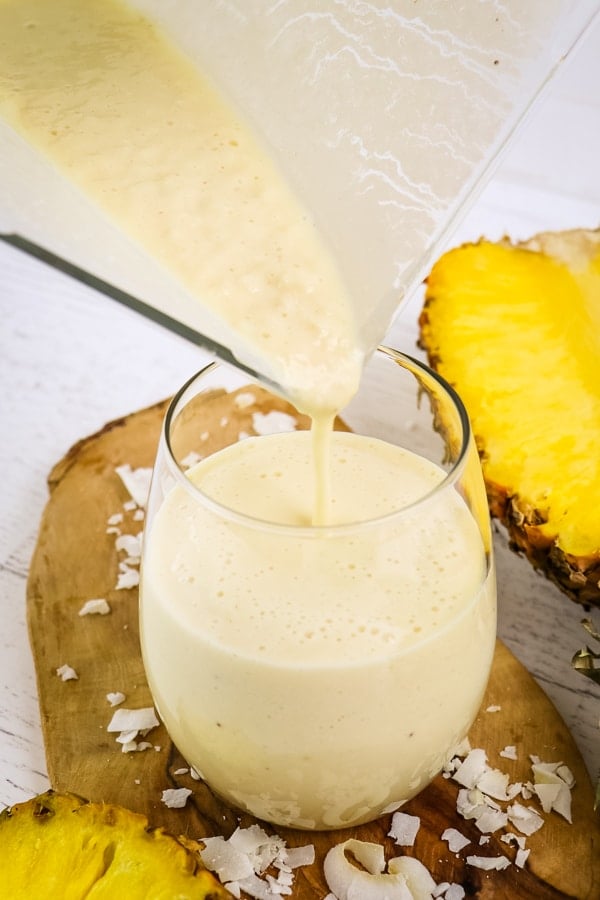 The last step is to pour your smoothie into your favorite glass and enjoy right away while cold.
Love making your own smoothies at home? Here are some of my other healthy smoothie and breakfast ideas:
Ingredient Substitutions and Recommendations:
Banana – If need another option for banana, you can either increase the yogurt amount to 1 cup (instead of 1/2 cup), or add extra frozen pineapple, from 1/2 cup to 1 cup.
Extra protein – looking to add some extra protein to your smoothie? Adding a serving of good quality vanilla or unflavored protein powder is a great option. I like Zhou Nutrition Collagen Peptides.
Sweetener – you may discover that the fruit alone in this pineapple coconut smoothie recipe makes it plenty sweet. However, if you would like to add some extra sweetness without adding refined sugar, I like Sweet Drops Vanilla Cream Stevia Drops, or Lakanto Monkfruit Sweetener.
Love fresh pineapple? Check out some of my other recipes using pineapple:
Frequently Asked Questions about making smoothies:
What type of coconut is best for smoothies?
I recommend unsweetened flake coconut. This is found in the baking aisle, and is most widely available. You can also sometimes find frozen coconut in the frozen fruit section at your grocery store. Additionally, some grocery stores also carry freshly cut coconut in the produce section.
What is the healthiest liquid for smoothies?
The healthiest milk is unsweetened almond milk, however be sure to read the label carefully. It should have minimal ingredients and no added sugar. Other healthy liquids with minimal calories are coffee, green tea and coconut water. If you're looking for a high protein liquid, I would recommend whole dairy milk, which offers approximately 8g of protein per serving.
How can I add extra protein to my smoothie?
Plain Greek yogurt and cottage cheese are great sources of protein and blend well into smoothies. Another option is to add a good quality protein or collagen-protein powder to your smoothie. I like and use Zhou Nutrition Collagen Protein in my smoothies, coffee and yogurt.
I actually wrote the book on smoothies! Literally!
You guessed it! I'm the author of the cookbook The Protein Smoothie Bible. It has over 60 healthy, delicious protein-rich smoothie recipes that everyone in your family will love. Get The Protein Smoothie Bible here!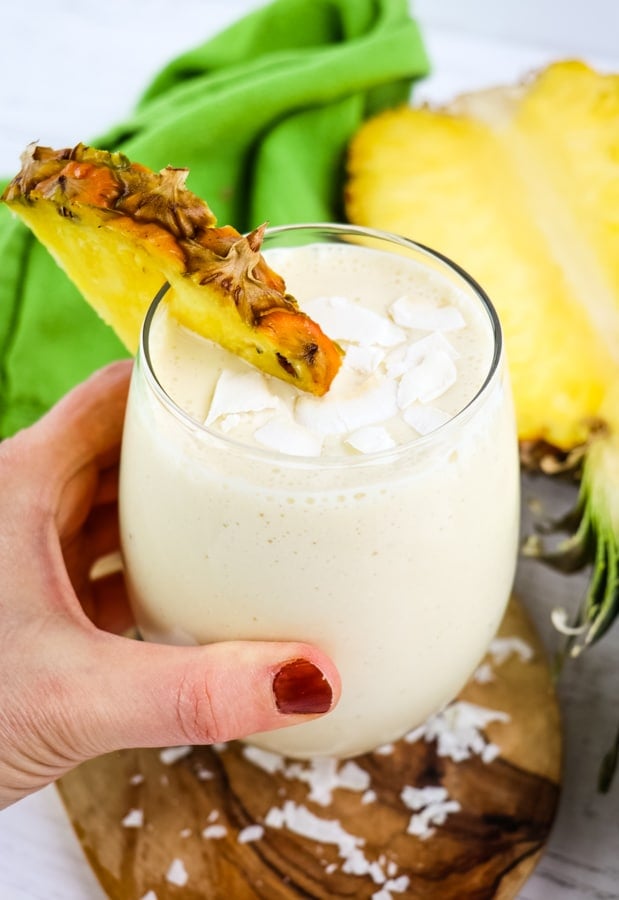 Do you love smoothies? Check out some of my other healthy smoothie recipes: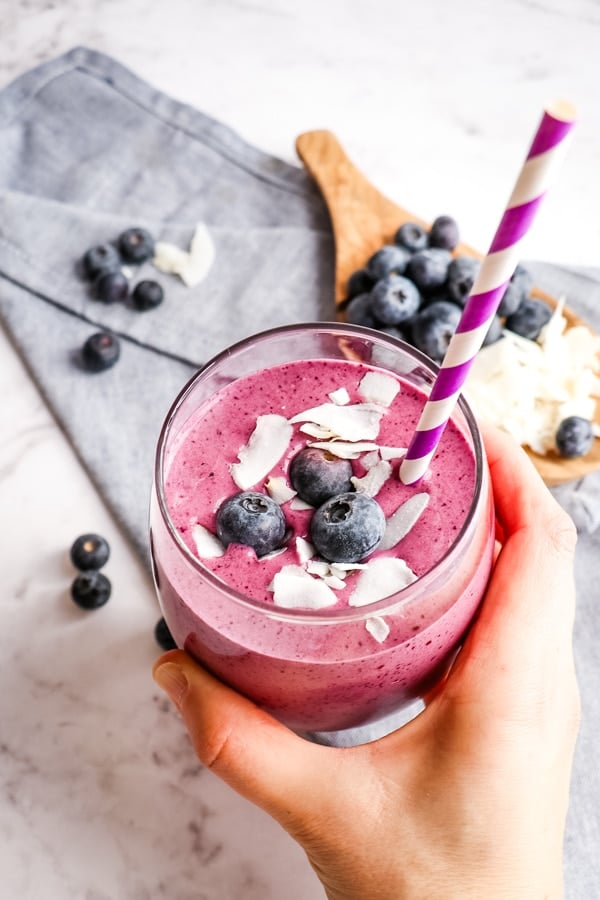 Here's the recipe for this delicious Pina Colada Smoothie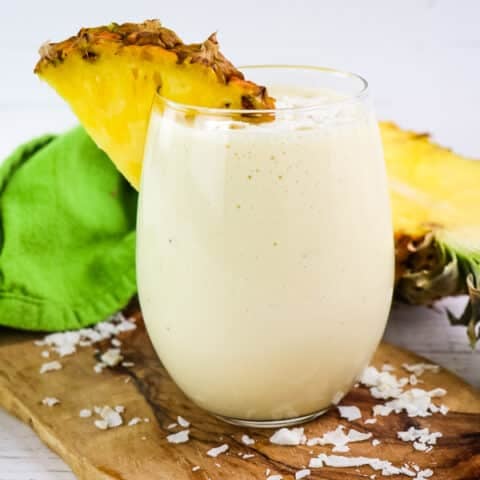 Healthy Pina Colada Smoothie
Love enjoying fresh pineapple? This pineapple smoothie recipe is the perfect healthy option. This pina colada smoothie is made with just 5 ingredients, making it a healthy and easy breakfast or snack option.
Ingredients
1/2 banana, frozen
1/2 c. pineapple, frozen
1/2 c. plain Greek yogurt
1/2 c. unsweetened vanilla almond milk
3 Tbsp. unsweetened flake coconut
Instructions
To a blender, add the banana, pineapple, coconut, yogurt and milk.
Blend on medium-high speed for 45-60 seconds or until the ingredients are completely incorporated and a smooth texture.
Pour into a glass and enjoy right away while cold.
Notes
Extra protein: add 1 serving of your preferred vanilla or unflavored protein powder. You can also add an additional 1/2 cup of plain Greek yogurt to increase the protein content.
Can I make this as a cocktail? Yes. Simply add 1 oz. of coconut rum, like Malibu to your smoothie and blend with the rest of the ingredients.
Nutrition Information:
Yield:

1, 12 oz smoothie
Serving Size:

12 oz.
Amount Per Serving:
Calories:

248
Total Fat:

6g
Saturated Fat:

5g
Trans Fat:

0g
Unsaturated Fat:

2g
Cholesterol:

6mg
Sodium:

89mg
Carbohydrates:

37g
Fiber:

5g
Sugar:

25 (unrefined)g
Protein:

14g
Nutrition information isn't always accurate. For a more accurate nutrition content, and to account for the exact products you are using, I recommend using a nutrition calculator app like MyFitnessPal.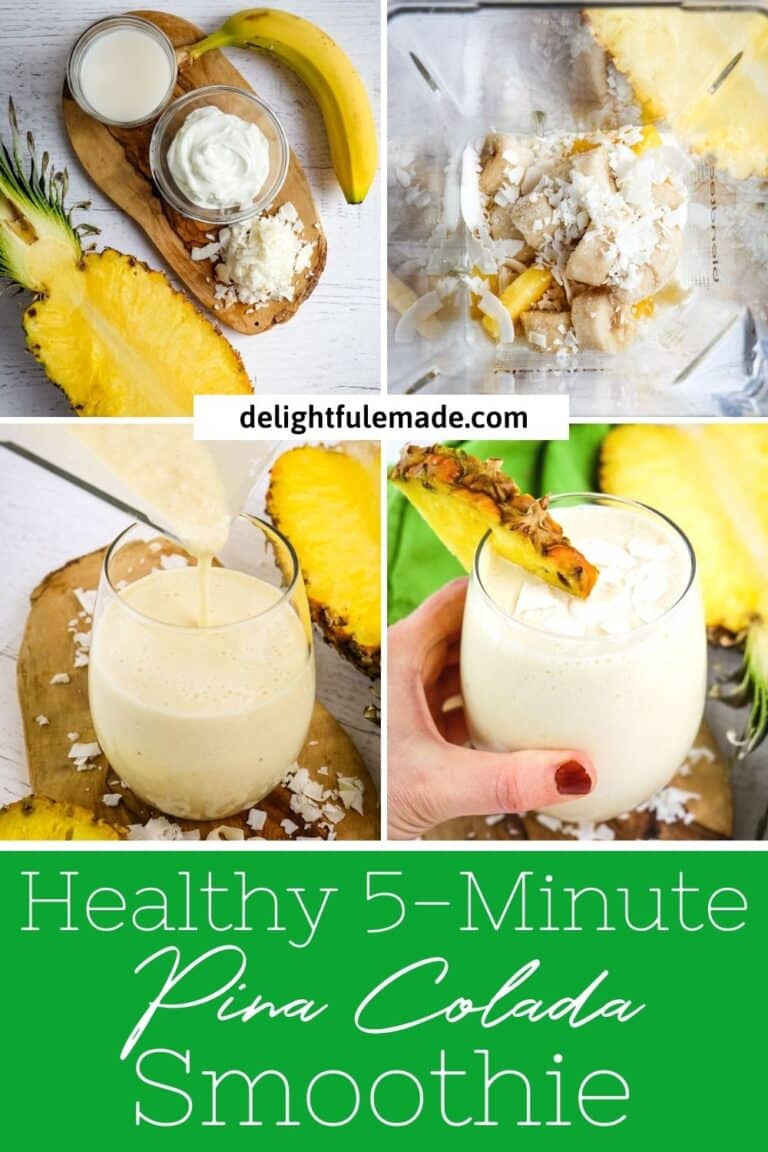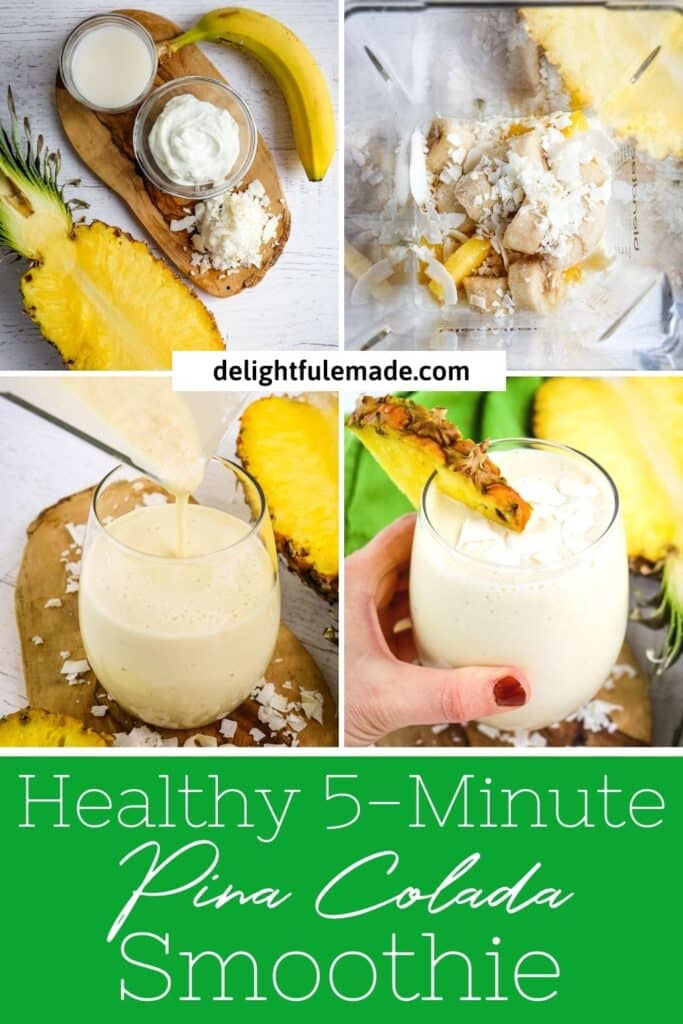 You Might Also Like These Recipes