These healthy oatmeal bars will be your new favorite way to do breakfast! Made with coconut, almonds and a hint of chocolate, these baked oatmeal bars have all the flavors of the classic almond joy! With no refined sugar, flour or oil, these oatmeal breakfast bars are a great make-ahead breakfast!
Disclosure: This post may contain affiliate links. Delightful E Made is a participant in the Amazon Services LLC Associates Program, an affiliate advertising program designed to provide a means to earn fees by linking to Amazon.com and affiliated sites.
Healthy Oatmeal Bars made EASY!
Baked oatmeal bars are a fantastic option when you're looking to eat healthier first thing in the morning. These Almond Joy Oatmeal Breakfast Bars are made with simple, protein-rich ingredients like eggs, Greek yogurt, almonds and rolled oats making them a much healthier option than store bought, processed bars. These also have no oil, flour or refined sugar making them a smart option for a healthy breakfast!
Like this recipe? Be sure to pin it to your BREAKFAST board!
Wonderfully simple to make, here's how these Oatmeal Breakfast Bars come together
Step 1: Start with simple, healthy ingredients
Unlike processed, store-bought breakfast bars that come in a cardboard box, these healthy oatmeal bars are made with quality ingredients. Here's what's included:
Eggs
Milk
Plain full-fat Greek yogurt
Vanilla
Old fashioned rolled oats
Sliced almonds
Unsweetened cocoa powder
Unsweetened flake coconut
Good quality honey
Good quality chocolate chunks (optional)
For ingredient measurements, and complete recipe instructions be sure to scroll down to the bottom of the post to the recipe card.
What kind of oatmeal is the healthiest?
The less processed, the better it is for you. Oat groats are the least processed, and are the most nutritionally dense. Steel cut oats, then rolled oats, and then instant oats. Instant oats are the most processed and therefore the least nutritionally dense.
Step 2: Whisk together the wet ingredients
In a mixing bowl, whisk together the milk, eggs, Greek yogurt, honey and vanilla. Be sure to whisk well to ensure all the ingredients are adequately incorporated.
Step 3: Add the dry ingredients to the wet mixture
For these healthy oatmeal bars, you'll need old-fashioned rolled oats (not instant oats). Add these to the wet ingredients along with the sliced almonds, flake coconut (make sure it's unsweetened), cocoa powder and salt.
I found my unsweetened flake coconut in the bulk bins at my local grocery store. If your store does not carry unsweetened flake coconut, you can get this Terrasoul Organic Unsweetened Flake Coconut here on Amazon.
Step 4: Mix together wet and dry ingredients and pour into baking dish or pan
Using a rubber scraper, mix together the wet and dry ingredients (with exception of the chocolate chunks).
Lightly spray a 9 x 9″ baking dish with non-stick baking spray. I use and prefer Spectrum Non-Stick Coconut Oil Spray.
Step 5: Top the oat mixture with additional coconut, sliced almonds and chocolate chunks
The addition of the extra coconut, almonds and chocolate chunks makes these baked oatmeal bars look incredible.
If you are adding chocolate chunks, I use and prefer these Enjoy Life Mega Chocolate Chunks. These are made with NO bad oils and the sugar used is unrefined. In my opinion, this brand is the best quality baking chocolate on the market.
Baking Tip: I covered the pan with a sheet of aluminum foil. This will prevent the coconut and almonds from over-browning. Feel free to remove the foil when there is about 5-10 minutes of baking time remaining in order for the coconut and almonds to brown slightly.
These Almond Joy Oatmeal Breakfast Bars are showstoppers! Perfectly golden, beautiful texture and the chocolate chunks glisten!
After coming out of the oven, let the baked oatmeal bars cool completely before slicing. Enjoy the bars right away, or refrigerate for later. I love making a batch of these healthy oatmeal bars and meal prep for breakfast later in the week.
These 3-Compartment Meal Prep Containers by Prep Naturals are perfect for adding fresh fruit and a healthy protein. For all of my favorite meal prep containers check out my post on BEST Meal Prep Containers for everything meal prep!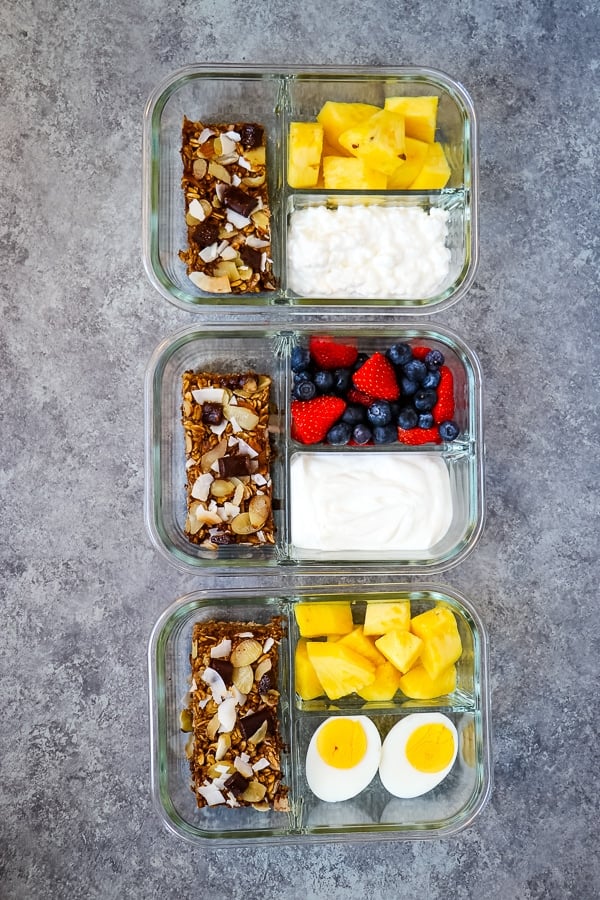 Ready to do some breakfast meal prep?
Be sure to check out my post for Healthy Breakfast Meal Prep Ideas for Busy Mornings! You can find all of my best healthy breakfast recipes, tips, tools and ideas for getting your meal prep game on-point! My Healthy Breakfast Sandwiches and my Baked Egg Cups are also great options.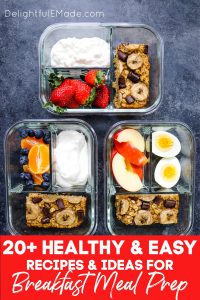 FAQ's about Oatmeal Breakfast Bars:
What can I eat with oatmeal breakfast bars?
These oatmeal breakfast bars are great when you pair with fresh fruit and a healthy fat/protein. Hard boiled eggs, plain Greek yogurt and cottage cheese are all fantastic protein options to start your day.
Are breakfast bars healthy?
Store-bought, highly processed breakfast bars that come in a cardboard box are not healthy. These processed bars are loaded with refined sugar and often toxic oils. Making your own breakfast bars are much healthier, as you are in control of the ingredients. These healthy oatmeal bars have much more protein, have minimal ingredients and you can control how much sugar. A MUCH healthier option.
What is a healthy oatmeal breakfast?
A healthy oatmeal breakfast includes healthy, minimally processed oats. Paired with a quality protein and fresh fruit or vegetables, this healthy oatmeal breakfast becomes a fantastic start to your day.
Are you a chocolate lover? Check out some of my other healthier chocolate recipes: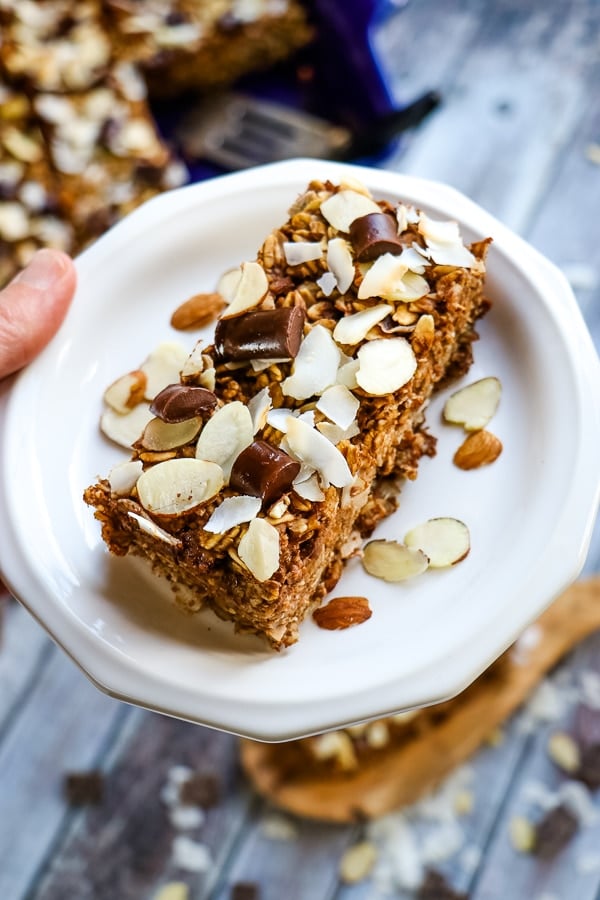 If you loved these healthy oatmeal bars, then check out some of my other similar healthy oatmeal recipes:
Blueberry Vanilla Protein Oatmeal
Peanut Butter Banana Baked Oatmeal
Pumpkin Slow Cooker Steel Cut Oats
Here's the recipe for my delicious Baked Oatmeal Bars:
Almond Joy Oatmeal Breakfast Bars
Ingredients
1 c. plain Greek yogurt
2 large eggs
1 1/4 c. milk (diary or plant based)
1/3 c. honey, good quality
1 tsp. vanilla extract
3 c. old fashioned rolled oats
1/2 c. unsweetened flake coconut, plus more for topping
1/2 c. sliced almonds, plus more for topping
1/4 c. unsweetened cocoa powder
1/4 tsp. salt
1/4 c. chocolate chunks (optional)
Instructions
Preheat oven to 350 degrees. Lightly spray a 9x9" pan or medium baking dish with non-stick baking spray. I like and prefer coconut oil spray. Set aside.
In a mixing bowl, whisk together yogurt, eggs, milk, honey and vanilla. Add in the oatmeal, almonds, coconut, cocoa powder and salt. Stir together well with a rubber scraper until well incorporated.
Pour oatmeal mixture into the prepared baking dish and sprinkle with additional almonds and coconut. Top with the chocolate chunks, if desired. Cover baking dish with aluminum foil. This is to prevent the almonds and coconut from over-browning.
Bake for 30-32 minutes. 5 minutes before removing from oven, remove the foil to lightly brown the almonds and coconut. Remove from oven and let cool to room temperature before slicing into bars.
Notes
Optional ingredients: to add more protein, add 1/2 cup of vanilla protein powder or unflavored collagen protein. This will increase the grams of protein per serving.
You can also bake these into muffin cups. Divide the mixture evenly into 12 muffin cups. Bake for 26-28 minutes.
Nutrition Information:
Serving Size:

8 bars
Amount Per Serving:
Calories:

277
Total Fat:

12g
Saturated Fat:

5g
Cholesterol:

4mg
Sodium:

93mg
Carbohydrates:

40g
Sugar:

16g
Protein:

7g