Do you love oatmeal cookies but not all the sugar and calories? These Healthy Chocolate Oatmeal Cookies are an amazing options! No refined sugar, no flour or eggs, these chocolate banana oatmeal cookies are less than 100 calories each!
This post may contain affiliate links. Delightful E Made is a participant in the Amazon Services LLC Associates Program, an affiliate advertising program designed to provide a means for us to earn fees by linking to Amazon.com and affiliated sites.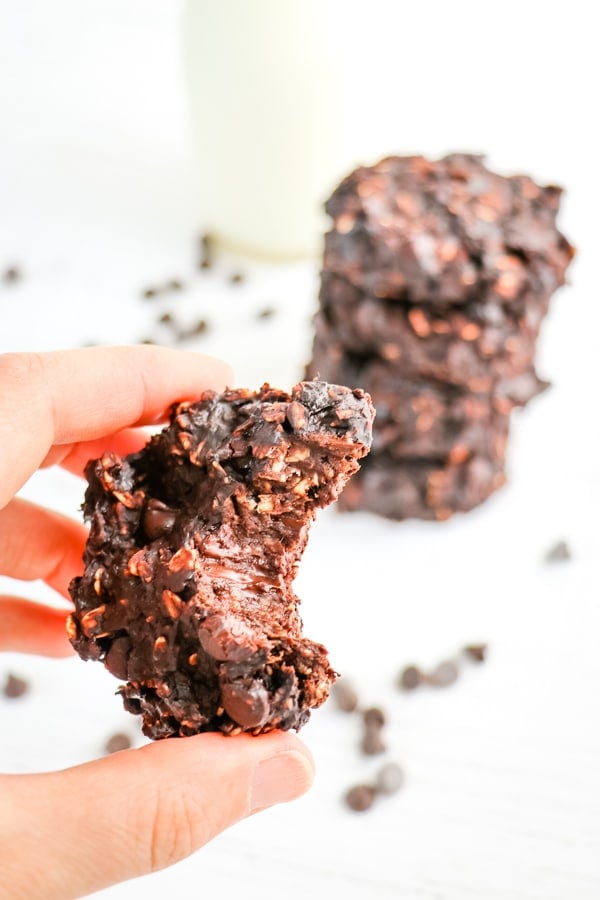 These Healthy Chocolate Cookies are the best of both worlds!
As a kid I remember making "haystacks". They are type of chocolate oatmeal cookies, but loaded with granulated sugar. They were a delicious chocolate cookie that was a special treat.
These healthy chocolate oatmeal cookies remind me of those haystacks without all the sugar. They are fudgy, chocolaty and the perfect treat without all of the junk ingredients.
Made with just 6 ingredients, these chocolate banana oatmeal cookies and quick and simple to make, and will satisfy any chocolate craving! Just 98 calories per cookie, they make a fantastic afternoon snack or great with your morning coffee!
---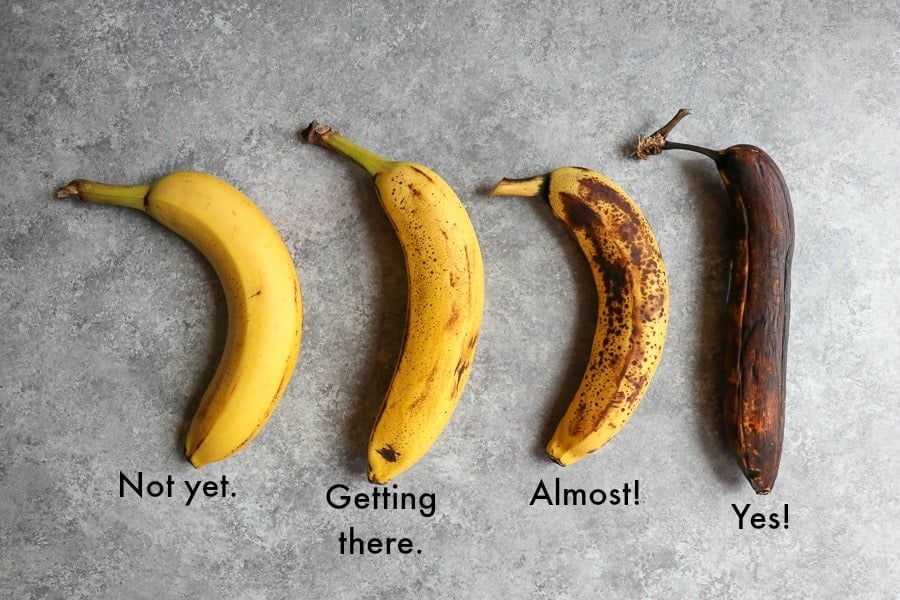 How ripe should bananas be for baking?
Here's a good example of the best bananas to use for this chocolate banana oatmeal cookies recipe. The darker the peel, the sweeter the banana.
During the ripening process, the fruit inside converts to a natural sugar, which makes ripe bananas ideal for baking.
---
How to mix the chocolate banana oatmeal cookie dough:
Start by gathering all of your ingredients. There is nothing worse than starting a recipe, only to realize you're missing something.
In a mixing bowl, mash the ripe bananas well. Then mix in the vanilla extract and add in the oatmeal. Stir well.
Then, stir in the cocoa powder and almond milk. The mixture will thicken, but still be quite wet.
The last step is to stir in the chocolate chips.
Tips on forming and baking these chocolate oatmeal cookies:
You'll discover that the cookie dough will be wetter than the usual cookie dough. Because of this, the best way to form these cookies is to use two spoons. Scoop out approximately 2 tablespoons of dough and form into cookies.
Scoop the cookie dough out onto a baking sheet lined with either a silicone baking mat or parchment paper. This will help prevent the cookies from sticking to the pan while they bake.
These cookies will need to bake a little longer than your average oatmeal cookie. Because the cookie dough contains more moisture from the bananas, they will need approximately 12-14 minutes in a 350 degree oven.
Love an oatmeal as a snack? Check out my recipe for these Cranberry No Bake Energy Bites!
Ingredient Substitutions:
Bananas: If you don't have ripe bananas on hand, you can substitute 1 1/2 cups unsweetened applesauce. Be sure to look for good quality applesauce that has no added sugar.
Unsweetened Dutch processed cocoa: You can use equal amounts of cacao or any other brand of unsweetened cocoa powder. (Hershey's, Ghirardelli, etc..)
No Sugar Added Chocolate Chips: I know these can sometimes be hard to find. I like Lily's or Lakanto dark chocolate baking chips, which can be found on Amazon. If you can't find NSA chocolate, substitute a good quality chocolate chip or chocolate chunk. Enjoy Life brand is a good one. Look for no added oils on the ingredient list.
For exact ingredient amounts and full recipe instructions be sure to reference the recipe card at the bottom of this post. Thank you!
Are you shopping for ingredients at Target? While you're there, pick up some of my 30 Best Healthy Target Snacks for some quick and easy healthy snack options.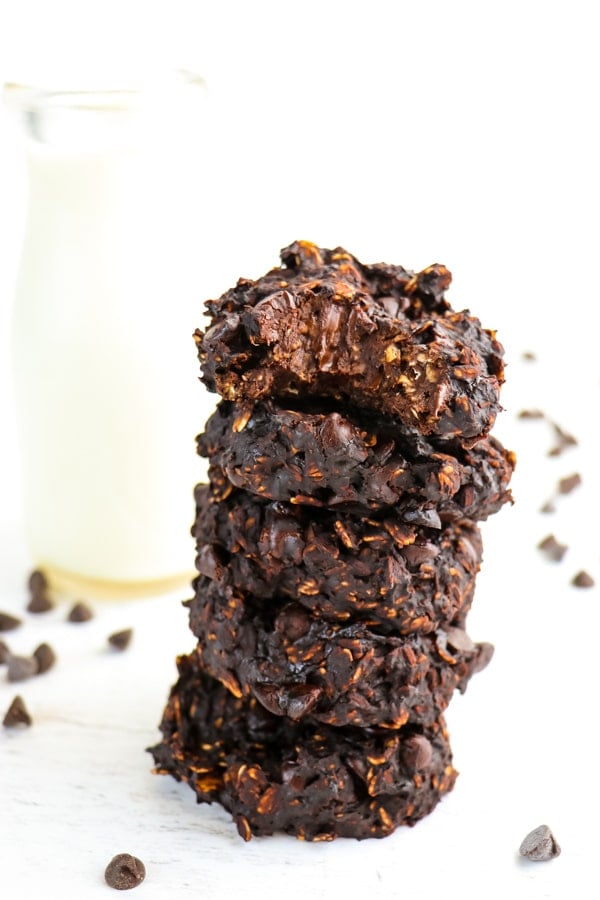 ---
Frequently Asked Questions when making Healthy Chocolate Cookies:
Are oatmeal cookies healthy?
Traditional oatmeal cookies made with brown sugar and granulated white sugar are not considered healthy. Making an oatmeal cookie, like these healthy chocolate banana oatmeal cookies are a great option, as this recipe removes the refined sugar.
Are oatmeal cookies a good snack?
Traditional oatmeal cookies that contain large amounts of refined sugar are not the healthiest snack. However, this recipe for healthy chocolate oatmeal cookies, which removes all of the refined sugar, is a great healthy snack option.
Can oatmeal cookies make you gain weight?
If you are eating significant amounts of cookies on a regular basis, then yes, oatmeal cookies could make you gain weight. However, having an oatmeal cookie as an occasional treat will not.
How many cookies is a serving?
A single 2″ cookie of these chocolate banana oatmeal cookies is 1 serving. One cookie is equal to approximately 98 calories.
Should I refrigerate these cookies?
Yes, refrigerating or freezing any leftover cookies after baking is a good idea. When the cookies sit out at room temperature, the bananas will sometimes "let out moisture" or weep. Refrigerating or freezing the cookies after baking will prevent weeping.
Do these cookies freeze well?
Yes, definitely! These healthy chocolate cookies freeze well. To freeze, place in an airtight container separated (if the cookies are stacked on top of each other) with parchment or waxed paper. Defrost in the microwave on 30 second increments at 50% power.
Are you a chocolate lover? Check out some of my other healthier chocolate recipes:
---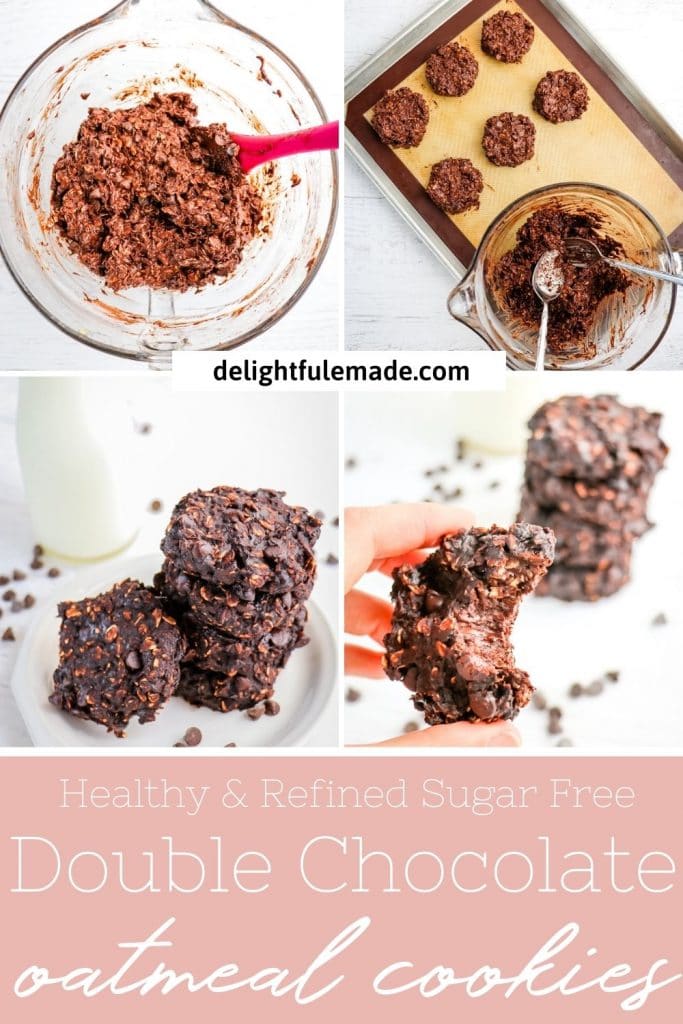 If you loved this recipe, check out some of my other similar healthy snack ideas: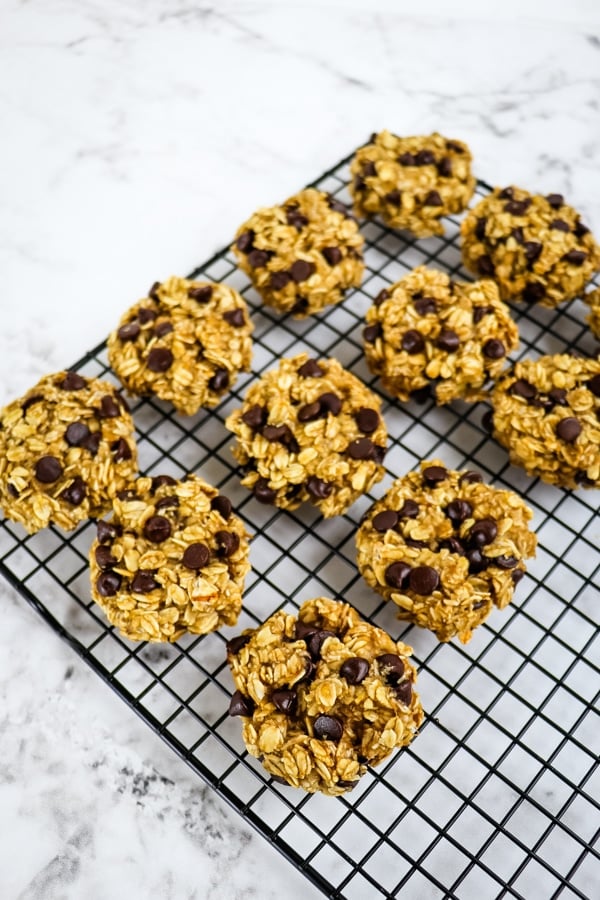 ---
---
Healthy Chocolate Oatmeal Cookies
Love chocolate oatmeal cookies, but not all the sugar and calories? These healthy chocolate oatmeal cookies are a great option! No refined sugar, flour or eggs, these chocolate banana oatmeal cookies need just 6 ingredients!
Ingredients
3 ripe bananas, mashed
1 tsp. vanilla extract
2 1/4 c. old fashioned rolled oats
1/2 c. unsweetened Dutch process cocoa powder
1/4 c. unsweetened almond milk
1/2 c. no sugar added dark chocolate chips
Instructions
Preheat oven to 350 degrees. Line a baking sheet with a silicone baking mat or a sheet of parchment paper. Set aside
In a mixing bowl, mash the ripe bananas well. Stir in the vanilla extract.
Add in the oats, cocoa powder and almond milk stir until completely combined. Then stir in the chocolate chips. Cookie dough will be slightly wet.
The cookie dough won't have the same consistency as regular cookie dough, so form the cookies by spooning the batter onto the prepared cookie sheet.
Bake at 350 degrees for approximately 12-14 minutes
Remove from oven and let cool for 5 minutes before transferring to a cooling rack
Freeze or refrigerate any leftovers in an airtight container.
Nutrition Information:
Yield:

16
Serving Size:

1
Amount Per Serving:
Calories:

123
Total Fat:

2g
Saturated Fat:

1g
Trans Fat:

0g
Unsaturated Fat:

1g
Cholesterol:

0mg
Sodium:

2mg
Carbohydrates:

24g
Fiber:

3g
Sugar:

10g
Protein:

3g