Loaded with grilled pineapple, red onion and a drizzle of teriyaki sauce, this Aloha Burger recipe is a must-have at your next cookout! The perfect pineapple burger recipe, this is a fantastic burger option for a cookout, back yard barbecue and perfect for a luau themed party.
This post may contain affiliate links. Delightful E Made is a participant in the Amazon Services LLC Associates Program, an affiliate advertising program designed to provide a means for us to earn fees by linking to Amazon.com and affiliated sites.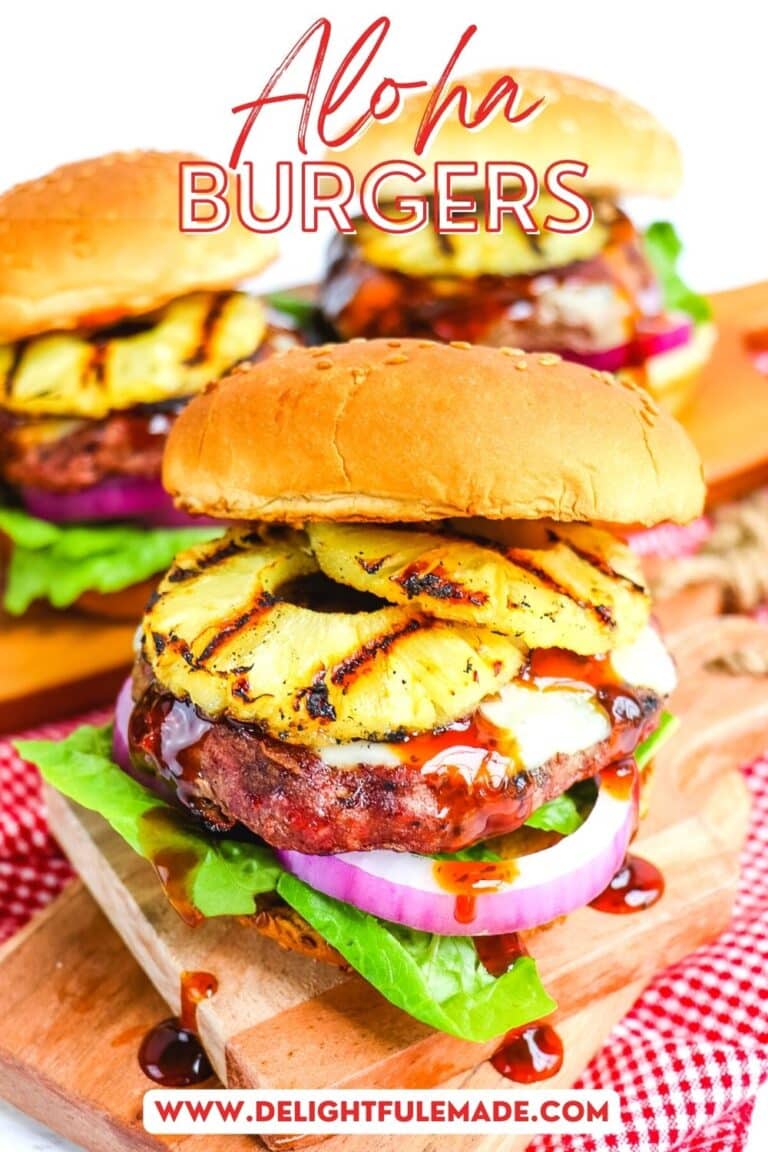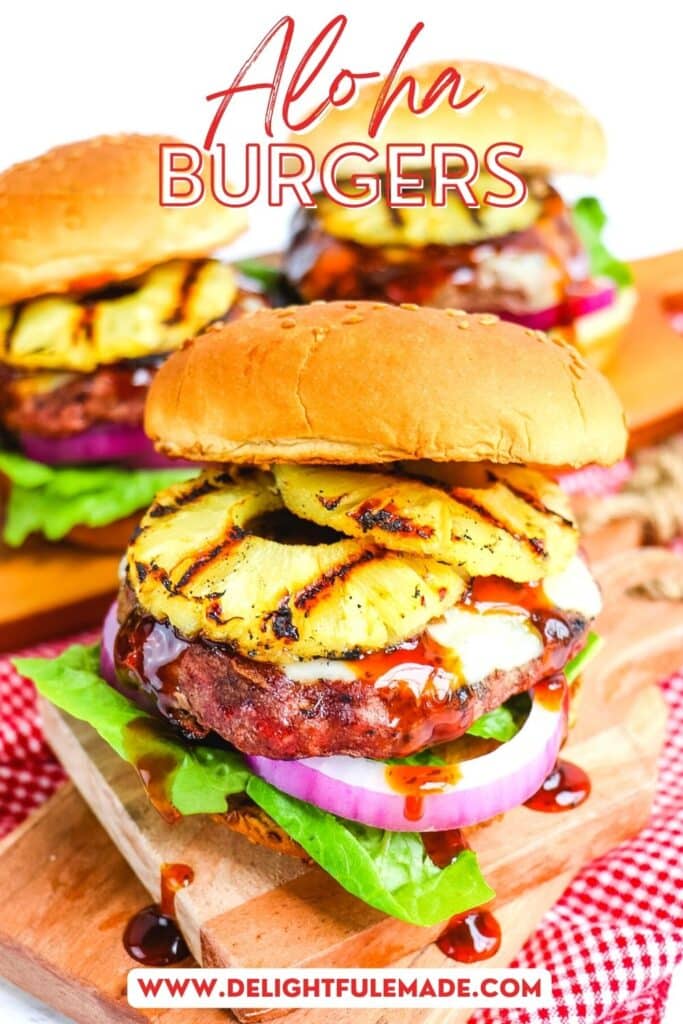 Do your friends and family love to get together for a cookout during the summer? These aloha burgers are a fantastic option for mixing things up with your burgers.
Topped with grilled pineapple, these pineapple burgers are delicious and have all the flavors of summer. In this post I'll show you how to make the perfect beef mixture for burgers, tips for grilling and everything you'll need for toppings.
What do I need to make pineapple burgers?
Here's a quick-reference grocery list of the ingredients you'll need to make these easy burgers:
Ground beef – to keep your burgers juicy while cooking, go with a 80/20 fat mixture. Don't go any lower than a 90/10 mix, as the fat is important to the flavor and juiciness of the burger.
Worcestershire sauce – this universal seasoning sauce is a fantastic way to add flavor to any burger recipe.
Mayonnaise – adding mayo to your burger mix is a great way to add some moisture and helpful binding to help your burgers hold their shape.
Seasoning salt – I use a simple garlic/pepper/salt mixture that is great for seasoning beef.
Chili powder – this is a complimentary spice that goes well with the salsa.
Pepper
Swiss Cheese – a great pairing with the pineapple and sauce. If you would prefer another type of cheese, Cheddar, American or Jack cheeses would be good alternative.
Burger Buns – I chose a sesame bun, bun any burger bun of your choosing is good.
Pineapple – I used canned pineapple rings, as the cut and cored shape is ideal for burgers. Feel free to use fresh pineapple slices.
Teriyaki sauce – this adds a great savory flavor to the burgers and pineapple. However, if teriyaki sauce is to savory for you, substitute your preferred barbecue sauce.
Other burger toppings – lettuce leaves, sliced red onions, crisply cooked bacon and/or sliced tomatoes are all excellent on for this burger recipe.
For exact ingredient amounts and full recipe instructions be sure to scroll down to the bottom of this post to the recipe card. Thanks!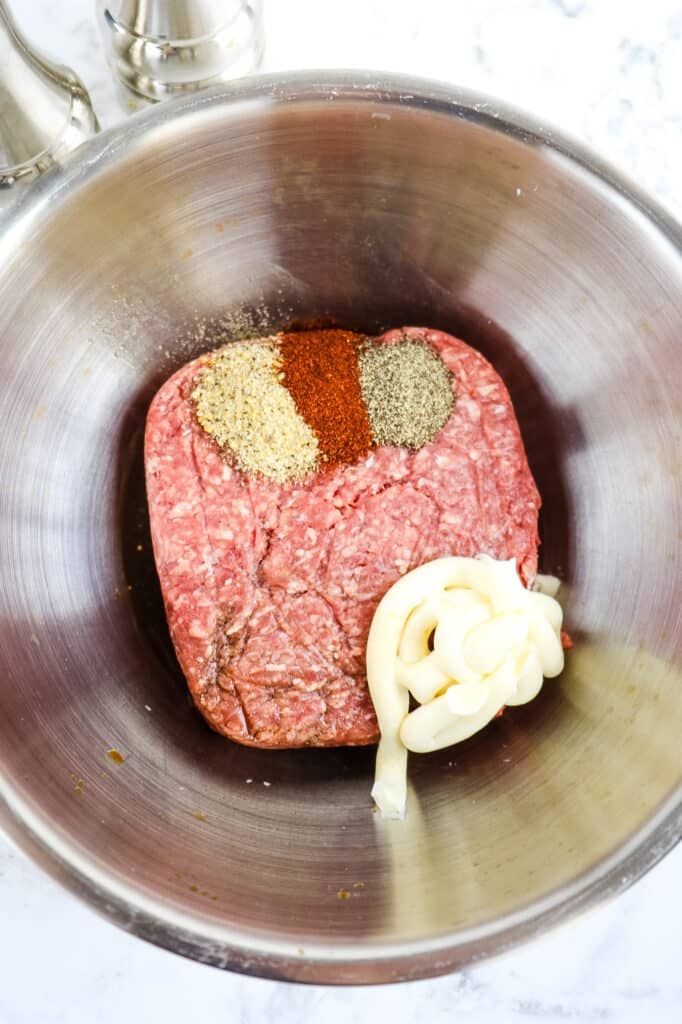 How do I make homemade burgers?
To make hamburgers, start by mixing the ground beef with the Worcestershire sauce, mayo, seasoning salt, chili powder and pepper in a mixing bowl.
Divide the ground beef mixture into baseball-sized balls. Pat the balls into 3″ round patties.
Pro-Tip: To prevent the burgers from puffing up while cooking, create a small thumb-sized divot in the center of each patty. This will allow the burger to cook flatly and retain their shape.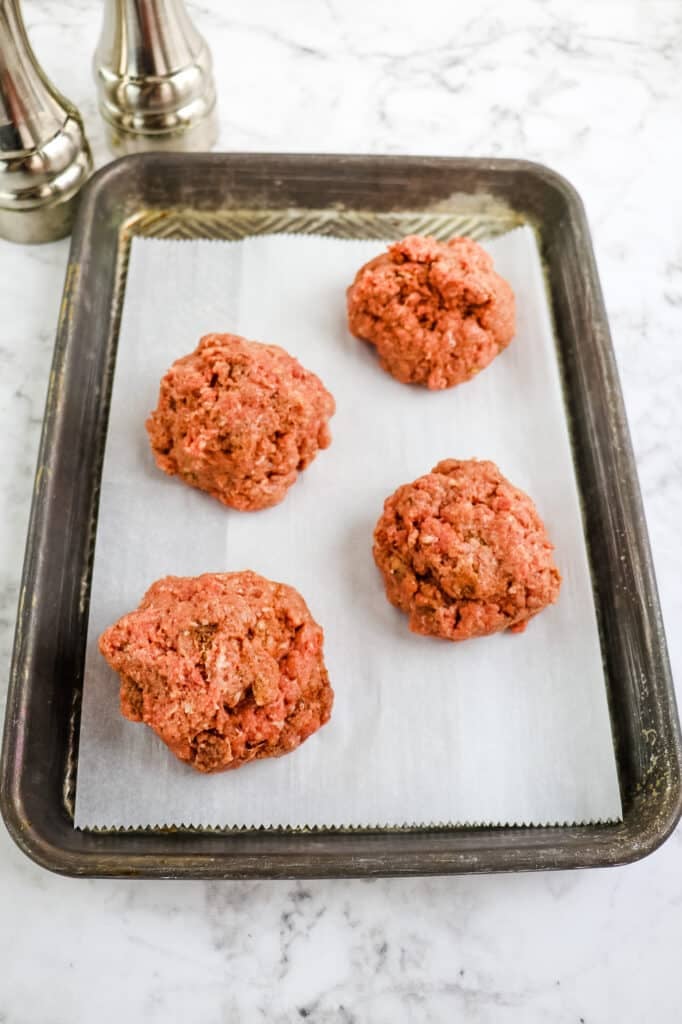 How to long to grill burgers?
For a medium-cook, grill hamburgers of a 1/2″ thickness for approximately 5 minutes per side at a medium-low heat. This cook time is for using a gas grill where you can regulate the temperature.
How long should I grill pineapple?
Grill pineapple for about 4-5 minutes per side, on medium-low heat. Brush pineapple lightly with olive oil or avocado oil before placing on the grill grates. This will prevent the pineapple from sticking to the grill.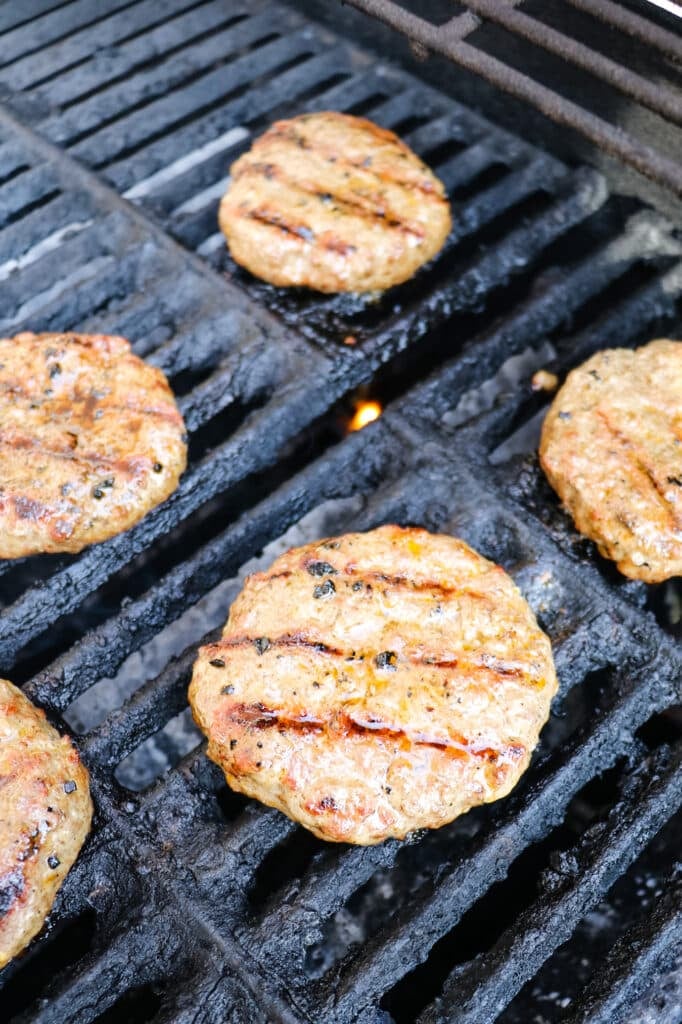 How do I know when burgers are done?
For best results, use an instant-read digital thermometer to check the temperature of your burgers. Hamburgers need to reach an internal temperature of 160 degrees to be considered done and safe to eat.
I use and love my Thermapen ONE Instant Read Digital Thermometer for grilling burgers, chicken, chops and steaks. It's also fantastic for roasts and even my Thanksgiving turkey!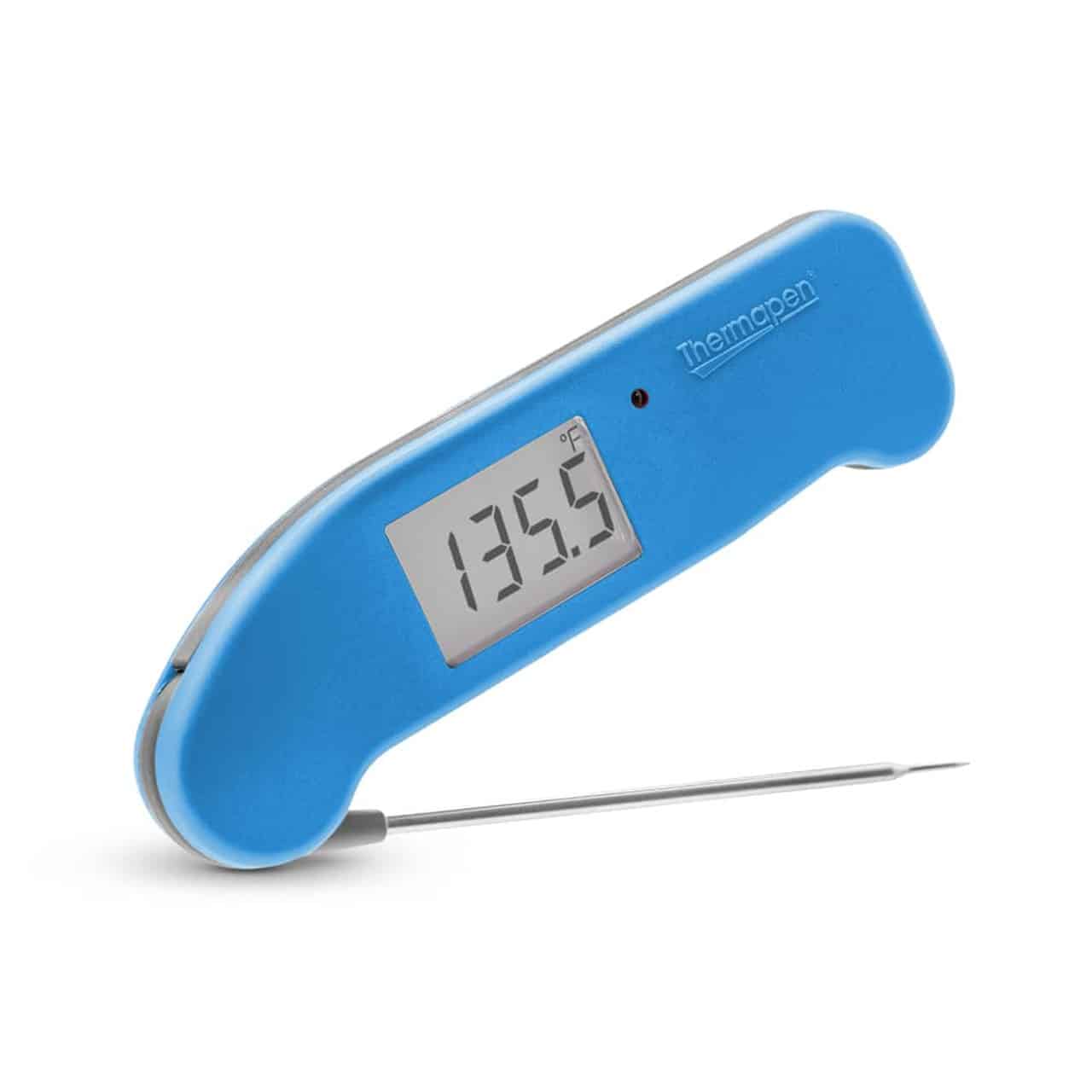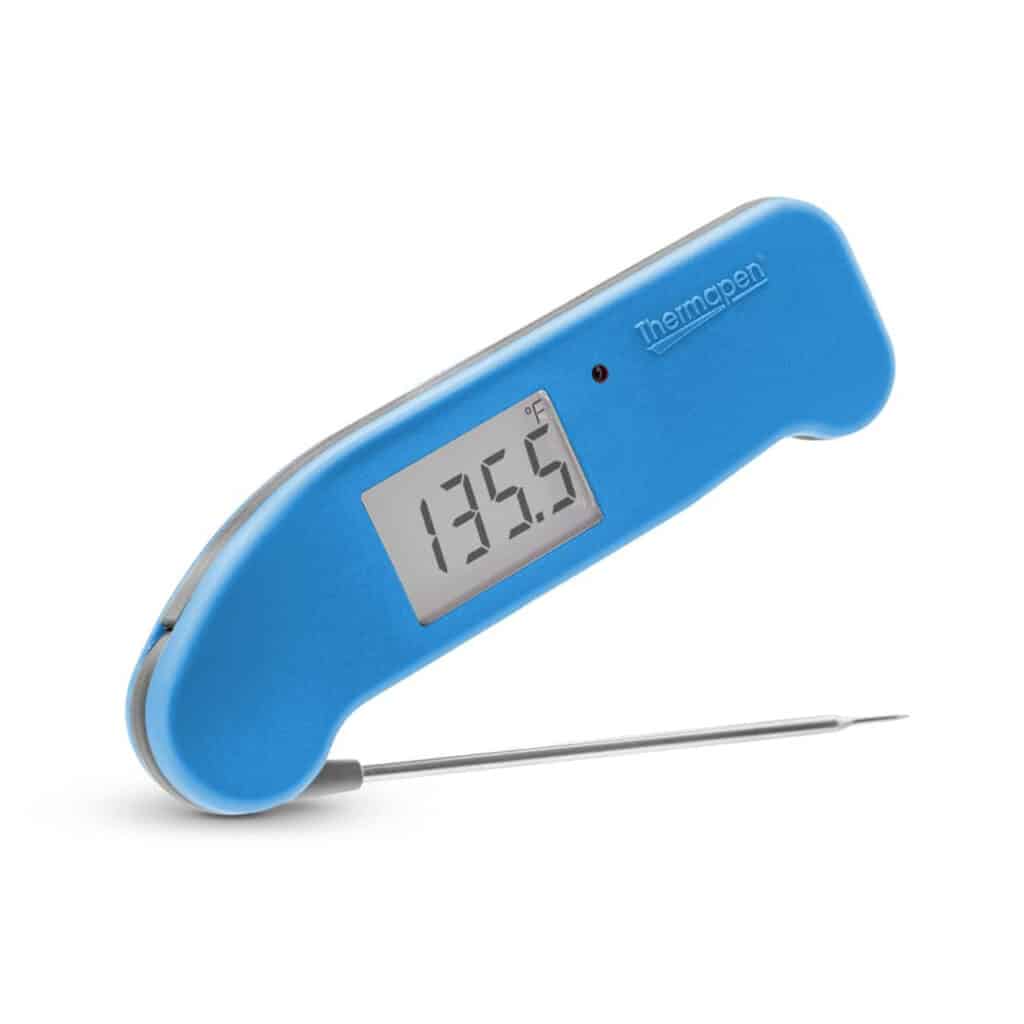 Thermapen ONE Instant Read Digital Thermometer
This is my go-to tool for grilling and roasting! With a Thermapen there's no guessing if or when the meat is done. The precise temperature will provide you with meat that is perfectly cooked, juicy and delicious EVERY time!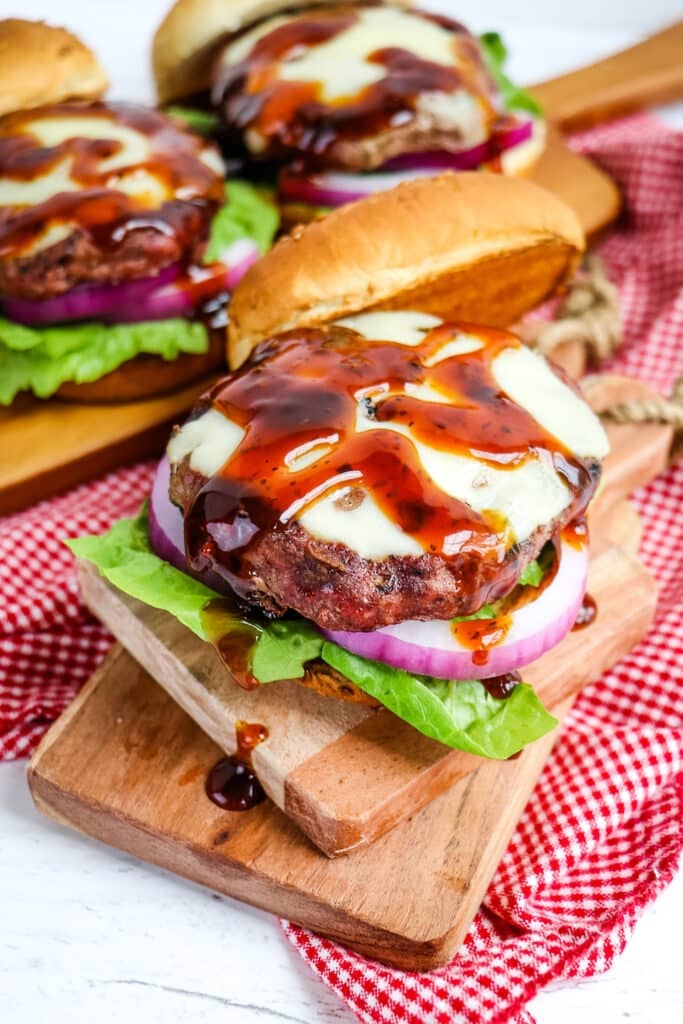 How to build aloha burgers:
In just ten short minutes, your burgers and pineapple and onions come off the grill, and your ready to start building your burgers.  You can either build these burgers yourself, or set up a buffet where your guests can add the toppings they prefer to go on their burgers.  
To the bottom of the bun, add lettuce, red onion and sliced tomatoes. Next, add your burger patty.
Atop of the patty, add the teriyaki sauce, and a couple pieces of grilled pineapple.
Love toasted buns? To toast burger buns, add to the top (highest) rack on your grill for 3-5 minutes. This will get them perfectly toasty and golden brown.
Not a fan of teriyaki sauce? No problem – feel free to substitute with barbecue sauce. Here are some of our amazing homemade barbecue sauce recipes that would go perfectly with these pineapple burgers: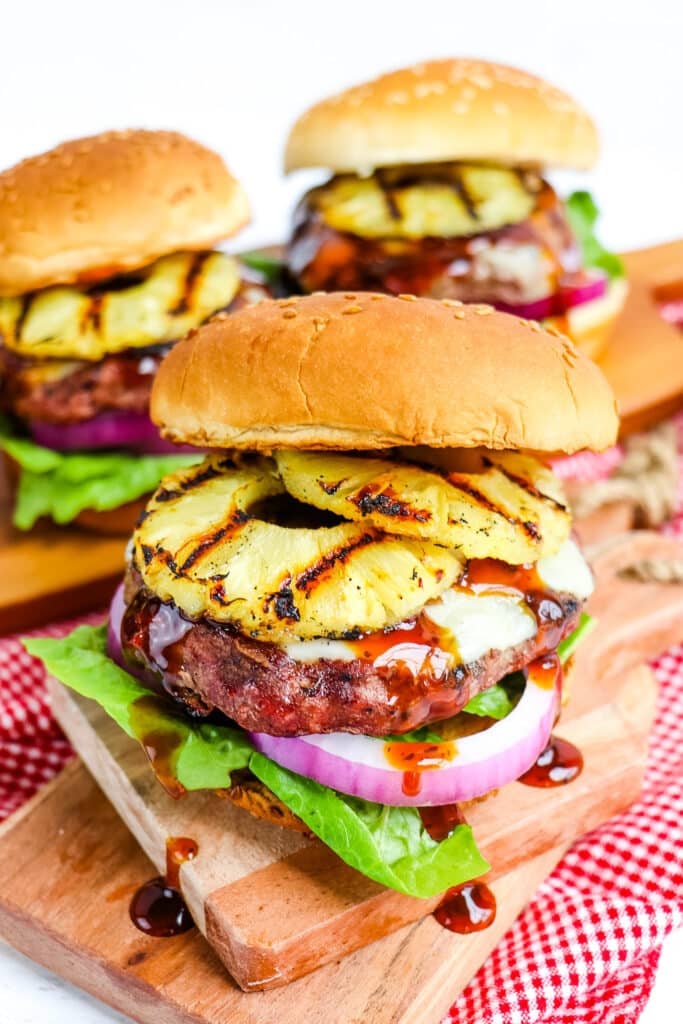 If you loved this delicious aloha burger, check out some other recipes from the grill:
Need something to serve with your aloha burgers? These sides are great cookout side dishes: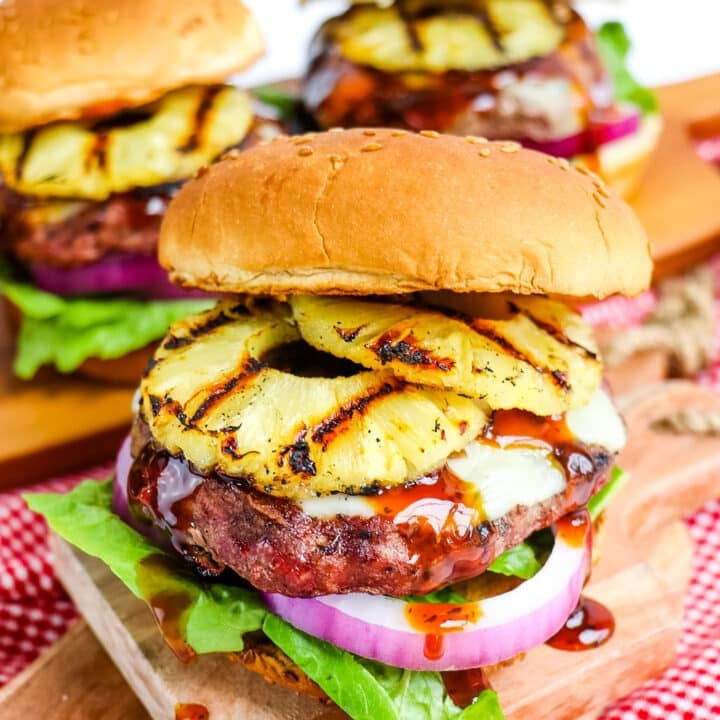 Aloha Burgers
Loaded with grilled pineapple, red onion and a sweet teriyaki sauce, this pineapple burger recipe will be a must-have at your next cookout. Made with a simple burger mix, these aloha burgers are idea for a back yard barbecue, cookout or luau themed party.
Ingredients
Burgers:
1 lb. ground beef, (80/20 or 90/10 fat content)
2 Tbsp. Worcestershire sauce
2 Tbsp. mayonnaise
1 tsp. seasoned salt
1/2 tsp. chili powder
1/2 tsp. ground pepper
4 hamburger buns
Toppings:
4 slices, Swiss cheese (or other preferred cheese)
1/4 cup teriyaki sauce
4-8 pineapple rings, canned or fresh-cut
lettuce leaves
sliced red onion
Instructions
Preheat your gas grill to a medium-high heat, reaching about 400 degrees.
For the burger patties: In a mixing bowl, combine the ground beef, Worcestershire, mayonnaise, salt, chili powder and pepper. Mix well. Using your hands, press and pat four quarter pound patties, making sure to wash hands before and after handling the raw meat.
Reduce grill temperature to medium low. Grill the burgers for about 5 minutes per side for a medium doneness. Add the Swiss cheese, close the lid to the grill and let cheese melt for about 1 minute. Remove the burgers from the grill. When adding the burgers to the grill, you can also add the pineapple rings at the same time. Grill the pineapple for approximately 5 minutes per side to caramelize.
Remove the burgers and pineapple from the grill. Cover burgers with foil and let rest for a couple minutes to help the burgers retain their juices.
Add burgers to slices buns, and top with approximately 1-2 tablespoons of teriyaki sauce. Optionally, you can also enjoy each burger with lettuce leaves, red onions, and/or sliced tomatoes. Enjoy!
Notes
Recipe makes 4 burgers, 1 serving is 1 burger.
Need a vegetarian option: Omit the cheese and use veggie burgers or a plant-based burger. Grill according to package directions.
Leftover storage: Store cooked burgers in an airtight container in the refrigerator. Burgers will keep for up to 5 days refrigerated. Store other toppings in a separate container. Store buns at room temperature.
Nutrition Information:
Yield:

4
Serving Size:

1
Amount Per Serving:
Calories:

594
Total Fat:

36g
Saturated Fat:

14g
Trans Fat:

1g
Unsaturated Fat:

18g
Cholesterol:

130mg
Sodium:

1597mg
Carbohydrates:

74g
Fiber:

6g
Sugar:

30g
Protein:

46g