Fire up the grill, it's time for some amazing bbq burgers! These BBQ bacon burgers are topped with bacon, French fried onions, cheese and an barbecue sauce. Juicy and super flavorful, you'll be making these bbq hamburgers recipe all summer long!
This post may contain affiliate links. Delightful E Made is a participant in the Amazon Services LLC Associates Program, an affiliate advertising program designed to provide a means for us to earn fees by linking to Amazon.com and affiliated sites.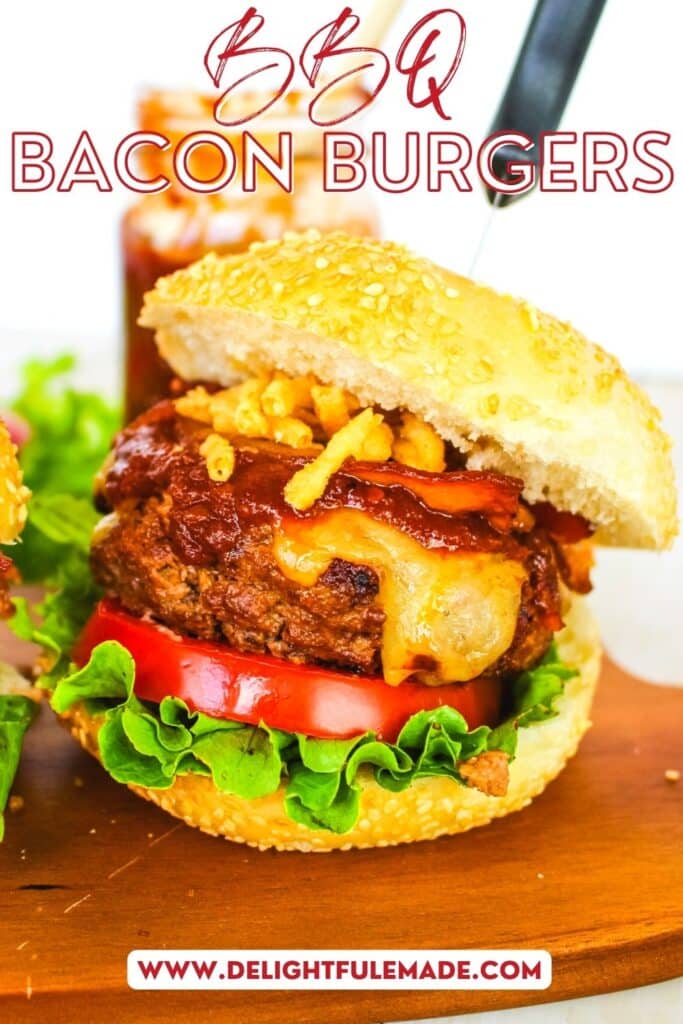 Do you love a great BBQ burger? Making your own bbq bacon burgers at home is quite simple, and you get the same amazing flavor similar to your favorite restaurant burger.
Making and grilling your own burgers at home is a simple process. In this post I'll show you exactly what you'll need for your burger patties, how to grill a burger and what to top it with.
The advantages to making your own burgers at home are numerous. Using ingredients to your liking, you're able to customize exactly what you love about restaurant burgers, but without the price tag or unwanted ingredients.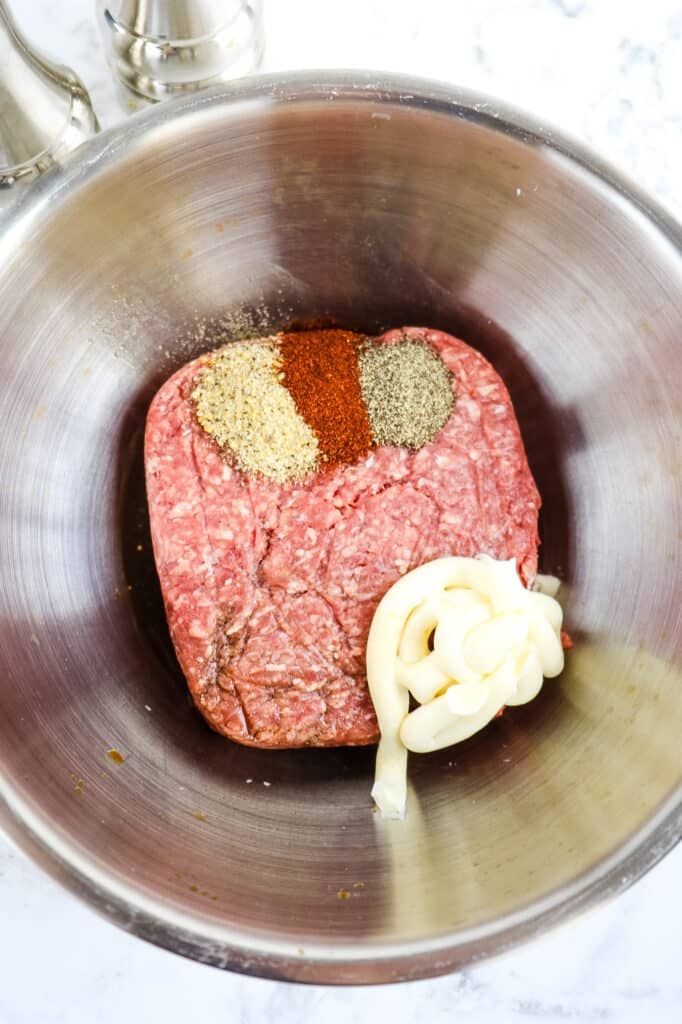 How do I make bbq burgers?
To make hamburgers, start by mixing the ground beef with the bbq sauce, mayo, seasoning salt, chili powder and pepper in a mixing bowl.
Divide the ground beef mixture into baseball-sized balls. Pat the balls into 3″ round patties.
Pro-Tip: To prevent the burgers from puffing up while cooking, create a small divot in the center of each patty. This will allow the burger to cook flatly and retain its shape.
What do I need to make bbq burgers?
Here's a quick reference checklist of the ingredients you'll need to make this burger recipe:
Ground beef – to keep your burgers juicy while cooking, go with a 80/20 fat mixture. Don't go any lower than a 90/10 mix, as the fat is important to the flavor and juiciness of the burger.
Barbecue sauce – I use my Smokey Chipotle BBQ sauce recipe for these burgers. It's smokey, slightly tangy and the perfect amount of sweet. It's amazing mixed into and brushed onto these burgers and a great way to add flavor to the ground beef.
Mayonnaise – adding mayo to your burger mix is a great way to add some moisture and a good way to help bind your burgers to hold their shape.
Seasoning salt – I use a simple garlic/pepper/salt mixture that is great for seasoning beef.
Pepper
Smoked Gouda sliced cheese – the smokey flavor of the cheese goes perfectly with the bbq sauce. If you would prefer another type of cheese, Cheddar, American or Jack cheeses would be good alternative.
Bacon – bacon cooked to medium crispness is ideal for this or any other burger recipe.
Burger Buns – I chose a sesame bun, but any burger bun of your choosing is good.
French Fried onions – these come in a can or shelf-stable container, and can be found near the salad toppings area of your grocery store.
Fresh lettuce and tomato – these are traditional burger toppings, and are optional.
For exact ingredient amounts and full recipe instructions be sure to scroll down to the bottom of this post to the recipe card. Thanks!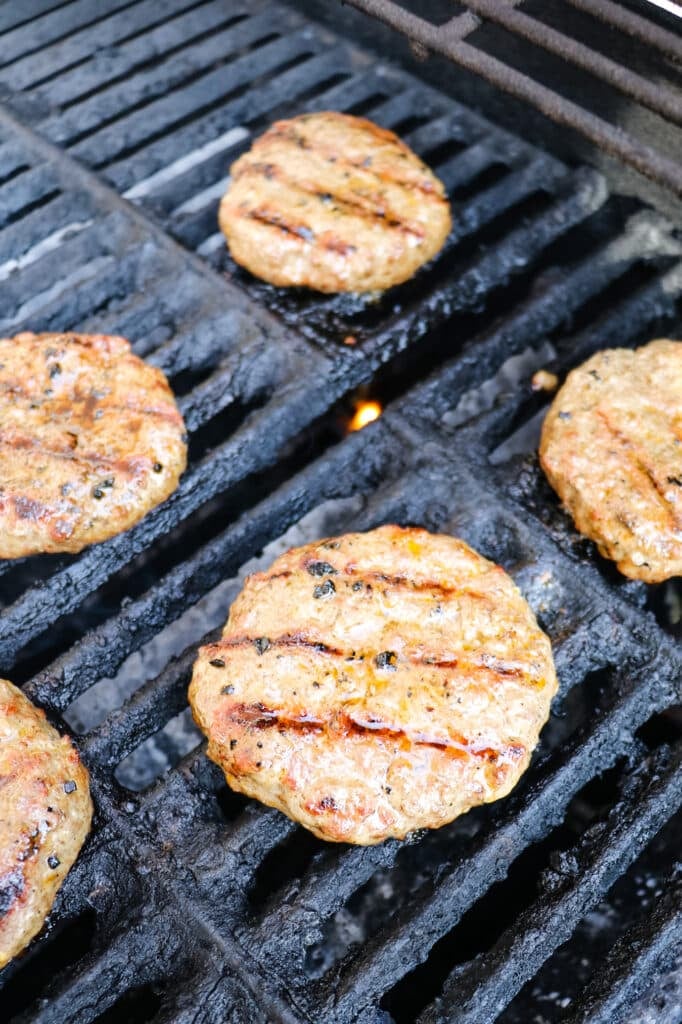 How long do I grill hamburgers?
For a medium-cook, grill burgers of a 1/2″-3/4″ thickness for approximately 5 minutes per side on medium-low heat. This cook time is for using a gas grill where you can regulate the temperature.
Don't have an outdoor gas or charcoal grill? No problem. These burgers can be easily cooked on an indoor grill pan or cast iron skillet. On medium heat, cook the burgers in the pan or skillet, uncovered from approximately 4-5 minutes per side for medium doneness.
How do I know when burgers are done cooking?
For best results, use an instant-read digital thermometer to check the temperature of your burgers. Ground beef hamburgers need to reach an internal temperature of 160 degrees to be considered done and safe to eat.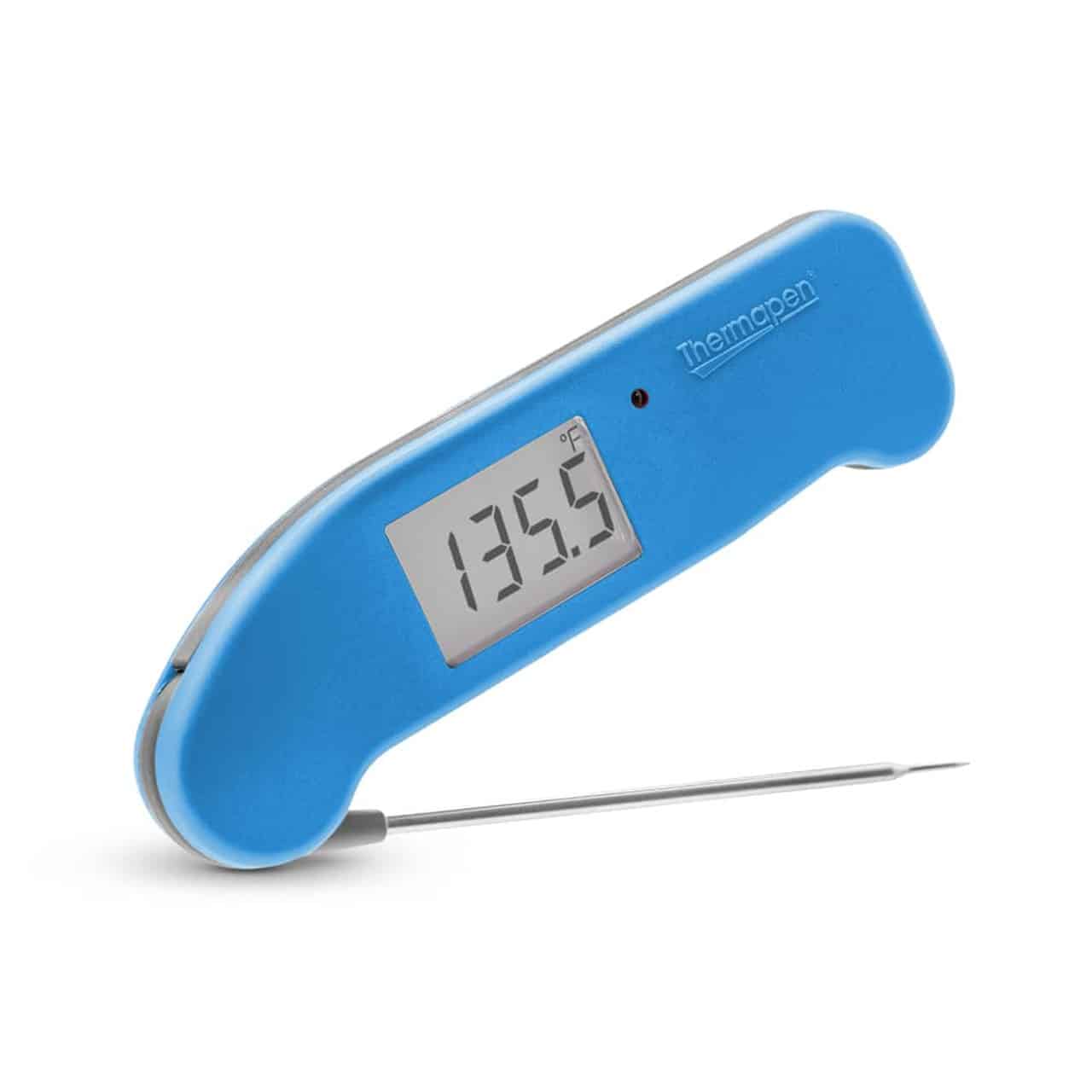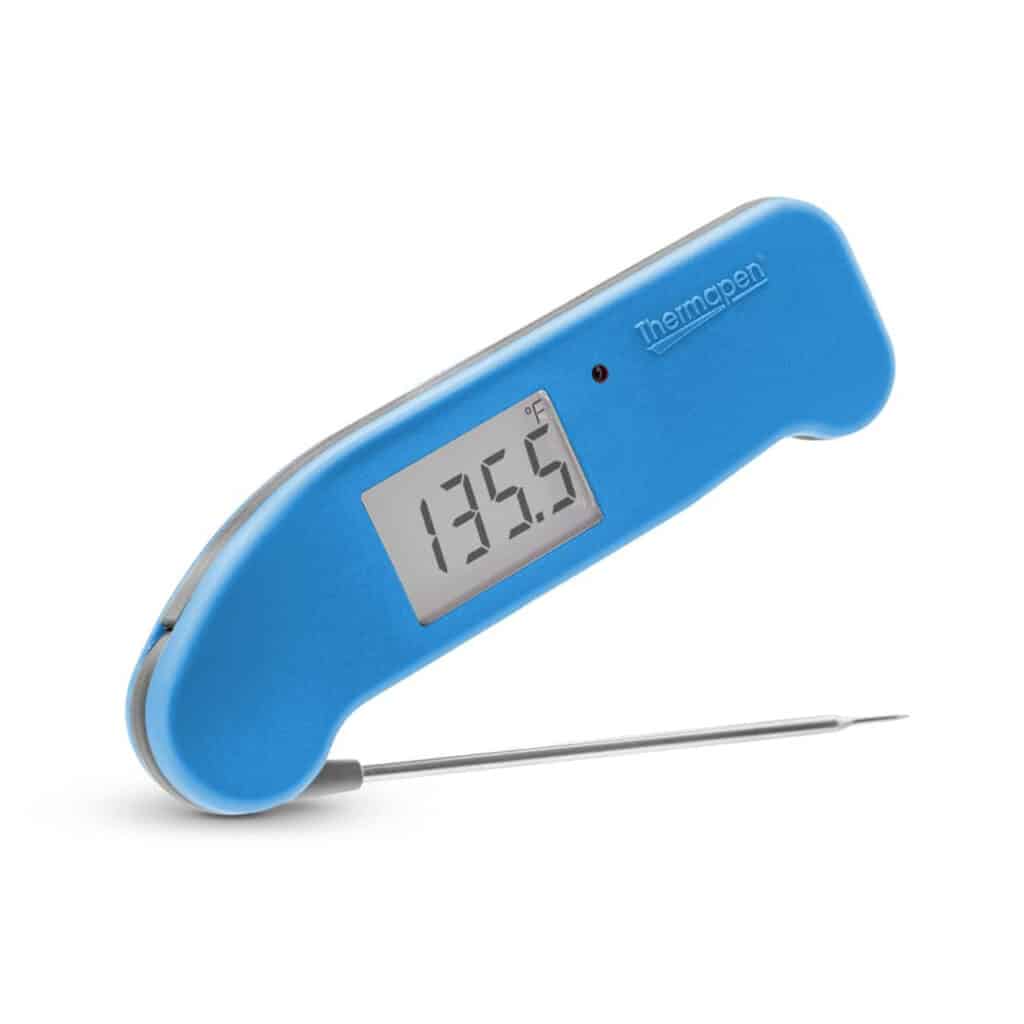 Thermapen ONE Instant Read Digital Thermometer
This is my go-to tool for grilling and roasting! With a Thermapen there's no guessing if or when the meat is done. The precise temperature will provide you with meat that is perfectly cooked, juicy and delicious EVERY time!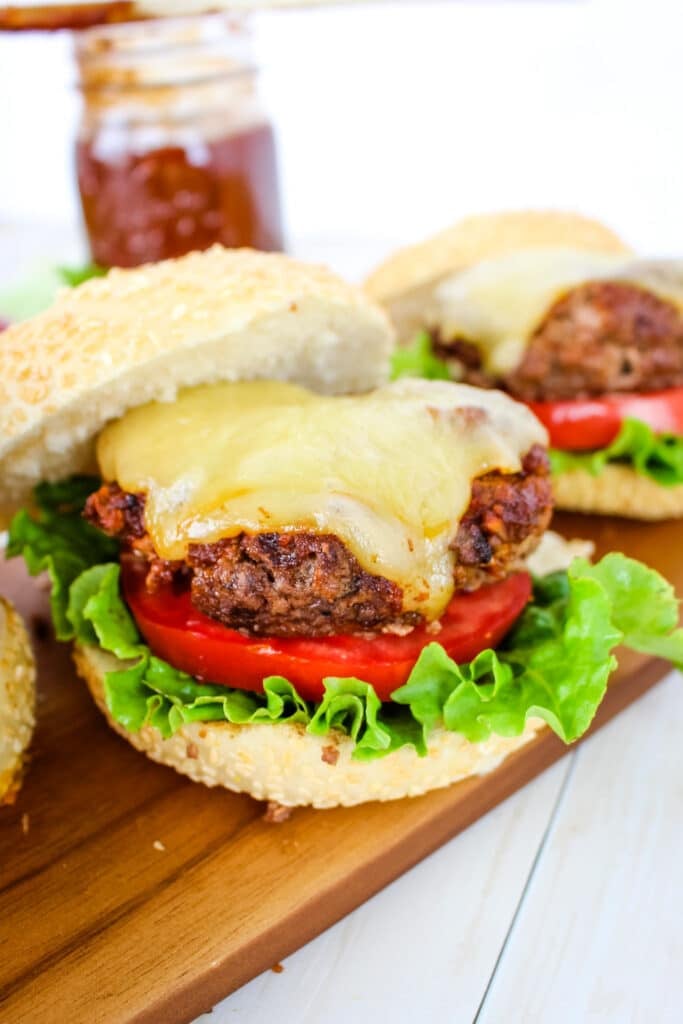 What are the best burger toppings?
Traditionally, burgers are topped with fresh tomato slices, lettuce, onions, sliced pickles and sauces like, ketchup, mayo and mustard.
For these bbq bacon burgers, start with some thick slices of smoked gouda, after flipping the burgers. Gouda melts well, and is the perfect smokey flavor to accompany the sauce. I then add more of my Smokey Chipotle Barbecue Sauce. This sauce is absolutely amazing – not only is it awesome on these burgers, but great on pork chops, chicken and ribs, too!
Love barbecue sauce? Check out our other barbecue sauce recipes:
After the cheese and the sauce, its then time to add some thick slices of bacon and French fried onions. The flavor of the bacon goes perfectly with the smoked gouda and BBQ sauce. The onions add some nice flavor and crunch to every bite of the burger.
What can I serve with bbq bacon burgers?
Traditionally, burgers are served with French fries, tater tots or other potatoes. But, burgers can be served with numerous sides and salads, especially for a cookout or barbecue. Here are some of our side dishes that will go great with burgers: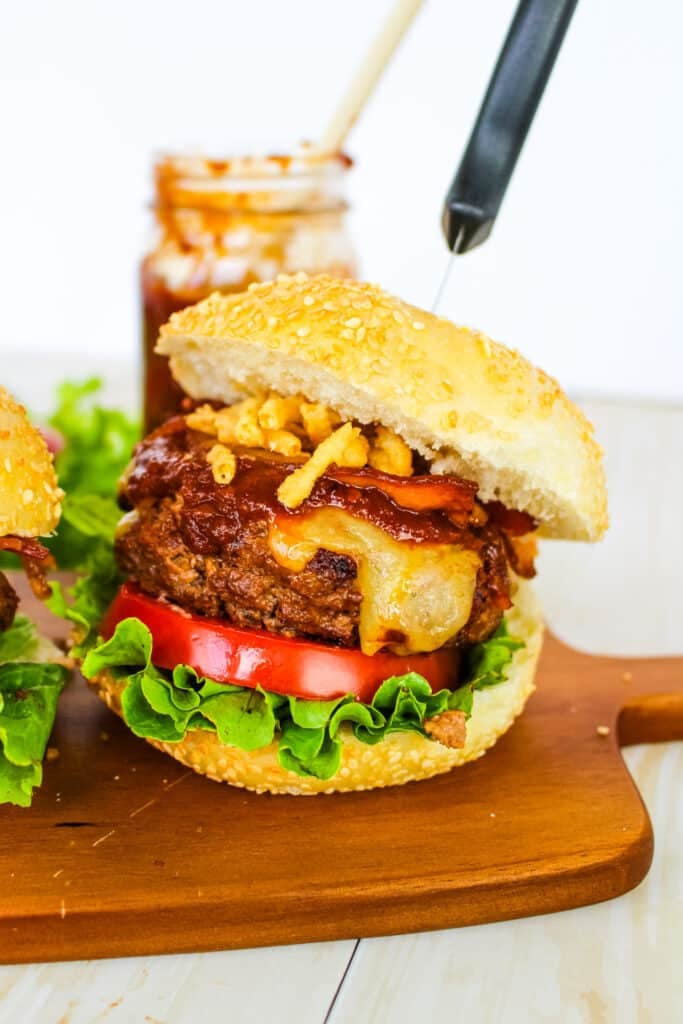 FAQ's about making bbq burgers:
What ground beef is best for making hamburgers?
Use an 80/20 ground beef for burgers. An ample amount of fat is necessary for flavor and to prevent your burgers from drying out when cooking.
How long do I cook burgers?
For a burger that's 1/2-3/4″ in thickness, cook the burgers for approximately 5 minutes per side over medium-low heat. This will render a medium doneness that will have a small amount of pink in the center of the burger.
What do I add to ground beef for making hamburgers?
To make a juicy, flavorful hamburger, consider adding Worcestershire sauce, mayonnaise and a combination of seasoning salt, pepper and or onion powder. Mix these ingredients into the ground beef before forming the beef patties.
Why are my burgers dry?
If you have cooked a dry burger, it's likely for a few different reasons. First, you've likely overcooked the meat. Cook a hamburger over medium heat for approximately 5 minutes per side. Second, you've used a ground beef with little fat. Choose an 80/20 ground beef mix for a juicy, flavorful burger. Third, you've pressed the juices out of the burger when cooking. Avoid pressing on the burgers with a spatula when grilling or cooking.
How can I add flavor to my burgers?
To add flavor to any burger, season the ground beef with seasoning salt, Worcestershire sauce, barbecue sauce or mayonnaise before making the patties. Seasoning the meat before cooking is the best way to add flavor to any burger.
Love grilling? Check out some of our other recipes from the grill:
BBQ Bacon Burgers
Do you love a bacon cheeseburger? This juicy, delicious BBQ bacon burger is stacked with all your favorites. French fried onions, crispy bacon, bbq sauce and cheese, this bbq burger will quickly become your favorite cookout recipe!
Ingredients
1 lb. ground beef, fat content of 10-20%
2 Tbsp. mayonnaise
2 Tbsp. Smokey Chipotle Barbecue Sauce, plus more for topping
1/2 tsp. season salt
1/2 tsp. ground pepper
4 slices, smoked Gouda cheese
4 slices, smoked bacon, cooked to medium crisp
1/4 - 1/2 c. French fried onions
4 hamburger buns or desired rolls, sliced
Toppings:
lettuce leaves
sliced tomatoes
Instructions
Heat your outdoor gas or charcoal grill. If you're using a gas grill, set to medium-high heat.
In a mixing bowl, place ground beef, mayonnaise and barbecue sauce and mix together well. Divide meat mixture into 4 even balls and shape into patties.
Place beef patties onto hot grill. Cook for 5-6 minutes per side. Once you've flipped the burgers once, brush on additional sauce, and add cheese slices to melt. Cook for a total of 10-12 minutes for medium sear.
Transfer burgers to buns, and top with additional sauce, bacon and onions. Add lettuce and tomato if desired. Enjoy right away.
Notes
Internal temperature of ground beef burgers is 160 degrees. For best results, use an instant read digital thermometer to ensure proper safety in preventing food born illnesses.
Don't have an outdoor grill? These burgers can be cooked on an indoor grill pan or cast-iron skillet. Heat pan to medium-high and cook burgers 4-5 minutes per side, for medium doneness.
Nutrition Information:
Yield:

4
Serving Size:

1
Amount Per Serving:
Calories:

550
Total Fat:

32g
Saturated Fat:

16g
Trans Fat:

1g
Unsaturated Fat:

22g
Cholesterol:

148mg
Sodium:

680mg
Carbohydrates:

42g
Fiber:

4g
Sugar:

10g
Protein:

49g