Looking for an easy and delicious grilled chicken leg quarters recipe? These bbq chicken quarters are wonderfully flavorful and really easy to make. Seasoned with a simple spice mix and brushed with a homemade honey bbq sauce, these grilled chicken quarters will be the star of your next cookout!
This post may contain affiliate links. Delightful E Made is a participant in the Amazon Services LLC Associates Program, an affiliate advertising program designed to provide a means for us to earn fees by linking to Amazon.com and affiliated sites.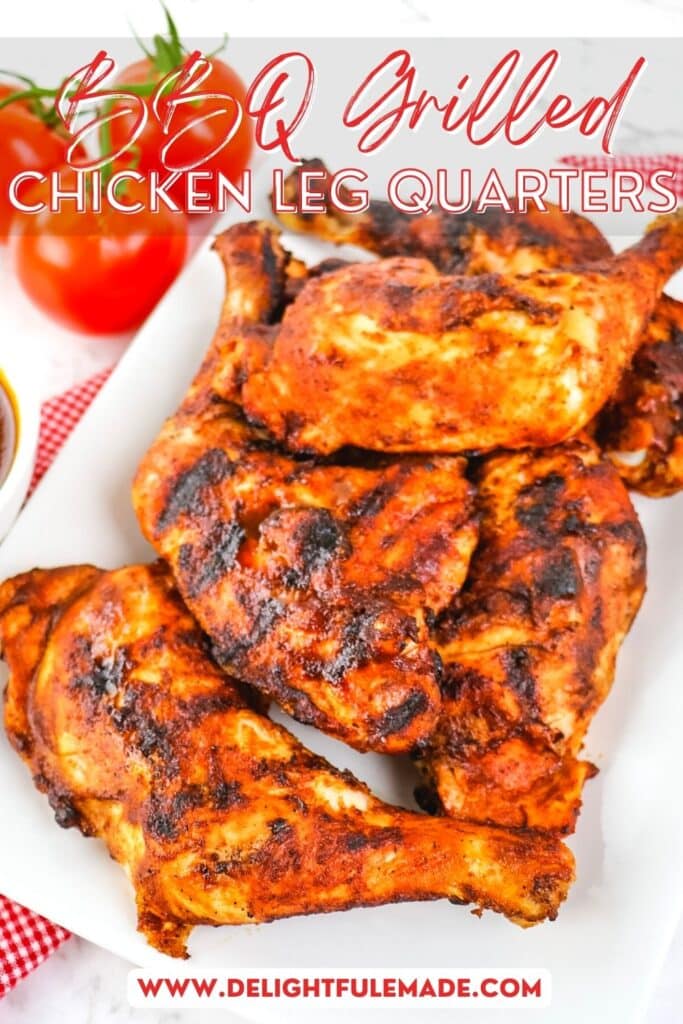 Do you love the extra flavorful thigh and leg meat when grilling chicken? These grilled chicken leg quarters are an amazing option when firing up your grill this summer.
Chicken leg and thigh quarters are a great economical option, as they are typically priced well below boneless, skinless breasts and thighs. In this post, I'll go through how to prep chicken quarters for grilling, what to season them with, as well as options for sauces and sides for serving.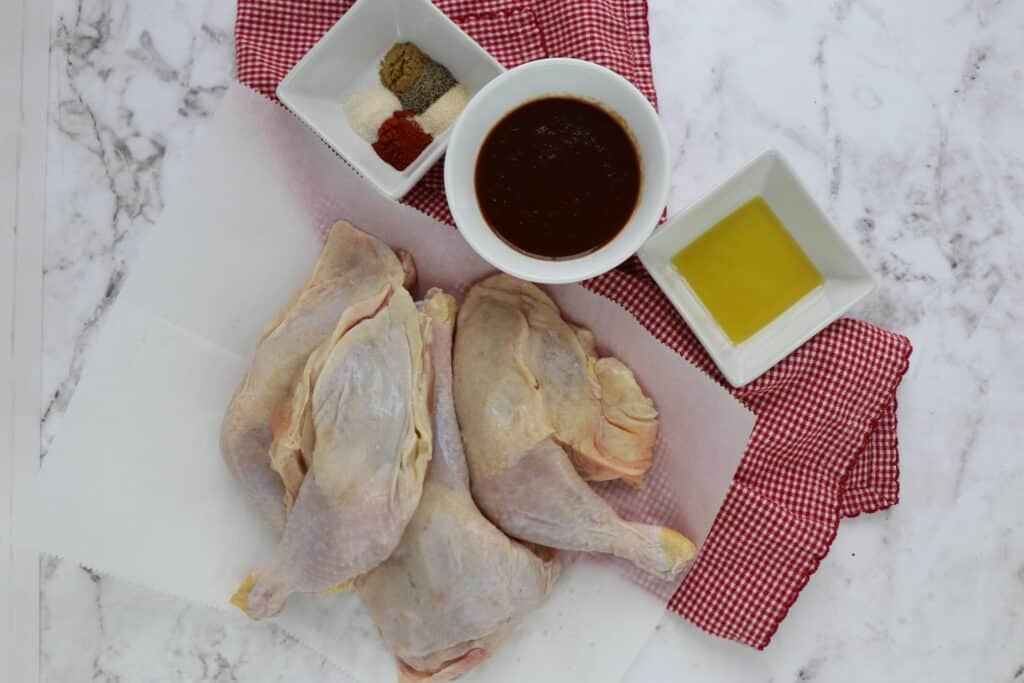 What do I need to make bbq chicken quarters?
Bone-in chicken thigh/leg quarters – these can be found in most grocery store meat sections where the chicken is sold. You can also check in with the butcher to see if quarters are available.
Olive oil – this is needed for brushing before adding the seasoning.
Barbecue sauce – I used my homemade honey barbecue sauce for this recipe and it did NOT disappoint. It's fantastic on chicken as well as pork. It time is tight, feel free to use your preferred bottled sauce.
Chicken seasoning – this seasoning mix is fantastic on all cuts of chicken. I also use it on my Air Fryer Drumsticks recipe.
Paprika
Onion Powder
Garlic Salt
Cumin
Ground Pepper
For exact ingredient amounts and full recipe instructions be sure to scroll down to the bottom of the post for the recipe. Thanks!
How do I make grilled chicken leg quarters?
When prepping chicken quarters for grilling, you'll want to do a few things before placing the chicken on the grill.
First, trim off any excess skin and fat that is on the quarters. Quarters will tend to have extra skin – feel free to trim what may be hanging off the sides, but leave some skin on to protect the meat. This will help keep the meat juicy when cooking.
Once the quarters have been trimmed, pat dry with paper towels and brush with olive oil. The olive oil will not only help the seasoning stick to the chicken, but will also help prevent the chicken from sticking to the grill grates.
What do I season chicken quarters with?
A simple homemade mix of spices is all you need to season chicken quarters. A mix of paprika, onion powder, garlic salt, cumin and ground pepper mixed together. Sprinkle the seasoning mix over the top of the chicken before placing it on the hot grill.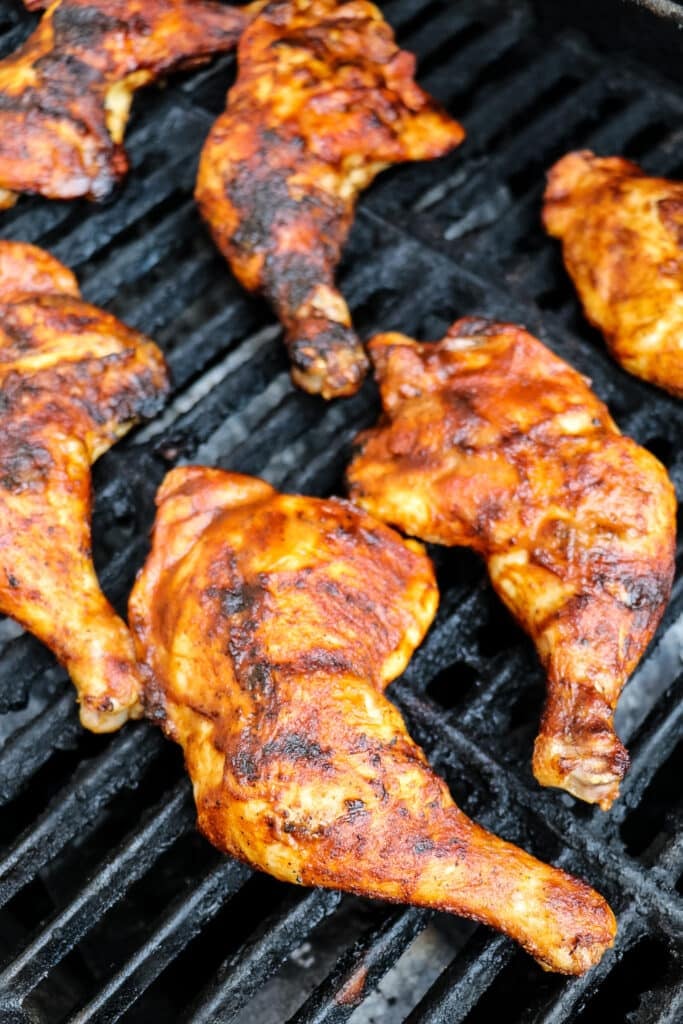 How do I know when grilled chicken quarters are done?
Typically, bone-in chicken leg quarters will take longer to grill than boneless chicken. Chicken quarters will need approximately 8-10 minutes per side at 400 degrees, for a total of 20 minutes. For best results, use an instant-read digital meat thermometer.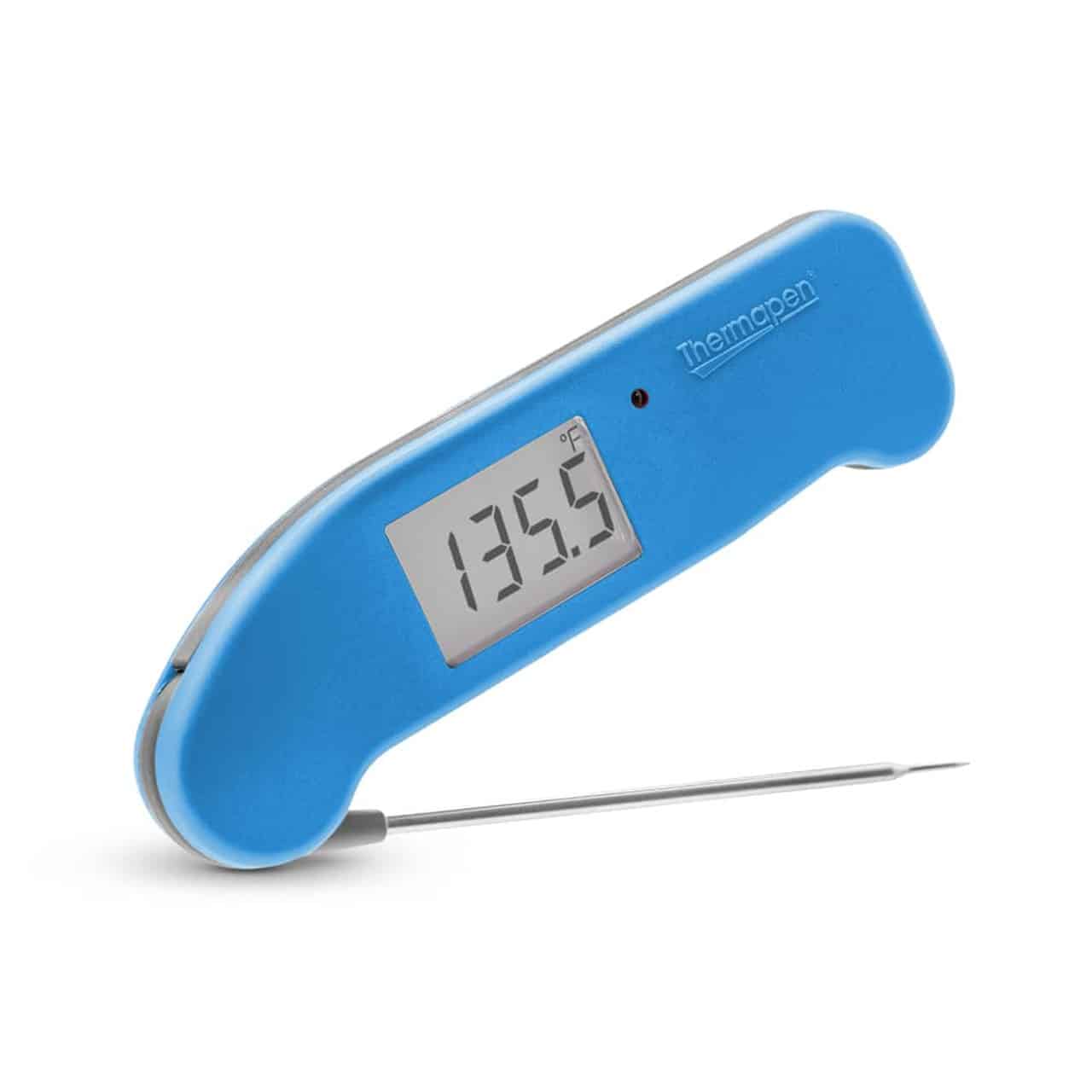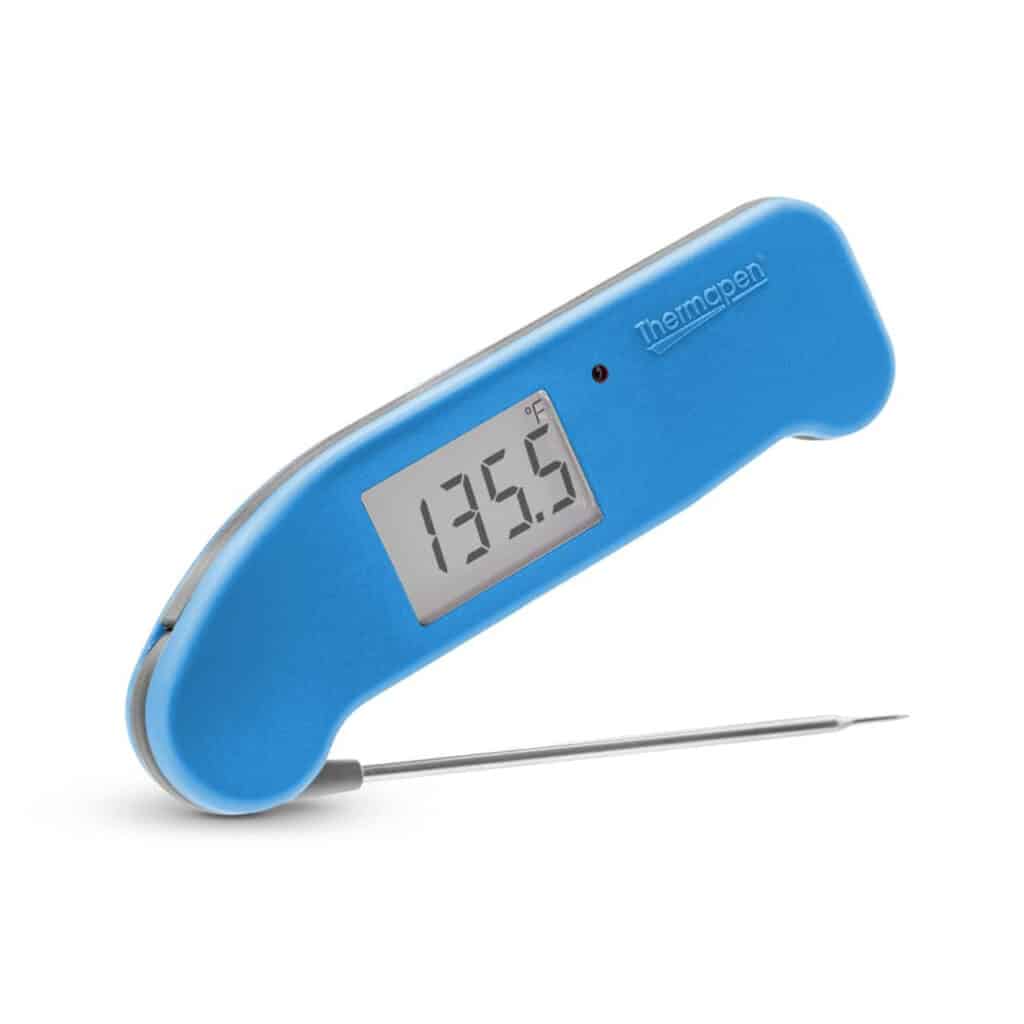 Thermapen ONE Instant Read Digital Thermometer
This is my go-to tool for grilling and roasting! With a Thermapen there's no guessing if or when the meat is done. The precise temperature will provide you with meat that is perfectly cooked, juicy and delicious EVERY time!
Ingredient Substitutions and Recommendations:
Avocado oil – feel free to swap in avocado oil for olive oil. Avocado oil is fantastic for grilling, as it has a much higher smoke-point and can handle the higher temperatures of the grill.
Seasoning – I really love the quick homemade seasoning mix that is in the recipe below. However, feel free to use your preferred pre-packaged chicken seasoning.
Sauce – I've included my Homemade Honey Barbecue Sauce, for this recipe. However, feel free to change-up the flavor profile with a different sauce. (I've listed a few sauce options below.)
Love a great homemade BBQ sauce? Check out some of my other barbecue sauce recipes:
Frequently asked questions about grilling chicken leg quarters:
Do you flip leg quarters while grilling?
When grilling chicken leg quarters, flip approximately 8-10 minutes after first placing on the grill. Flipping the chicken to cook on the opposite side will help the chicken cook evenly.
Do you grill chicken quarters skin side up or down?
Begin grilling chicken quarters by placing the chicken skin-side down. After the quarters cook for 8-10 minutes, turn the chicken over so the meat cooks evenly.
How long to cook chicken quarters on grill?
Chicken leg quarters will need approximately 10 minutes per side (20 minutes total) on a grill that has been heated to 400 degrees. For best results, use an instant-read digital meat thermometer. The internal temperature of bone-in chicken quarters needs to reach 165 degrees.
Do you grill chicken legs with lid open or closed?
For best results, grill the chicken leg quarters with the lid closed. This will help keep heat in and the meat will cook more evenly.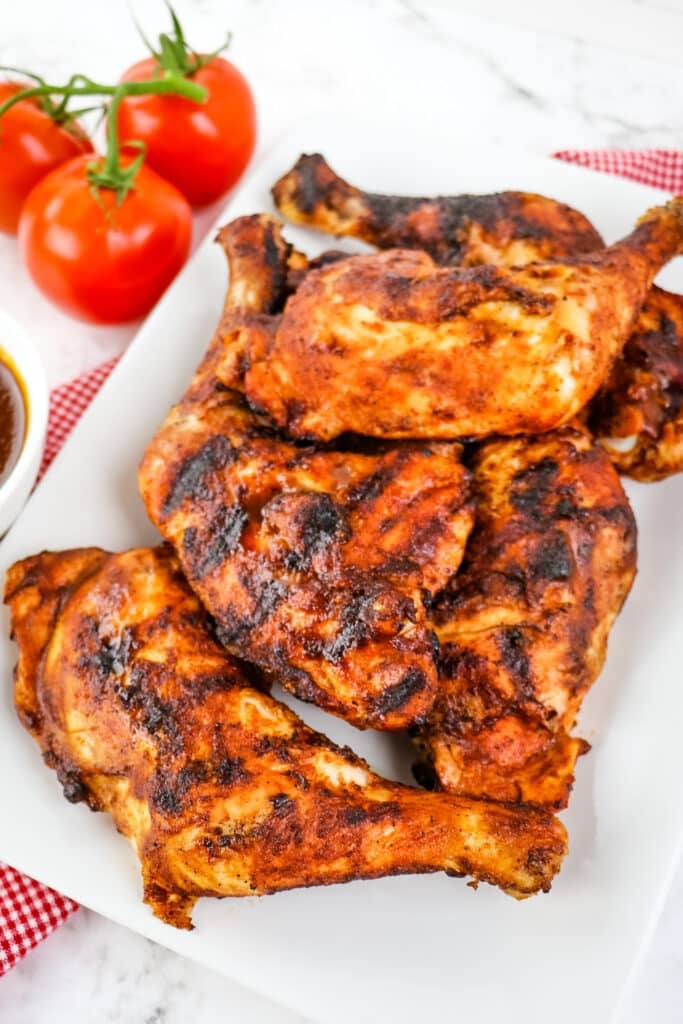 What should I serve with BBQ chicken quarters?
BBQ chicken is fantastic served with corn on the cob, fresh watermelon, pasta salads, potato salad, baked beans, and numerous other sides. Here are some of our favorite side dishes that go with bbq chicken:
If you loved this grilled chicken recipe, check out some of our other similar recipes: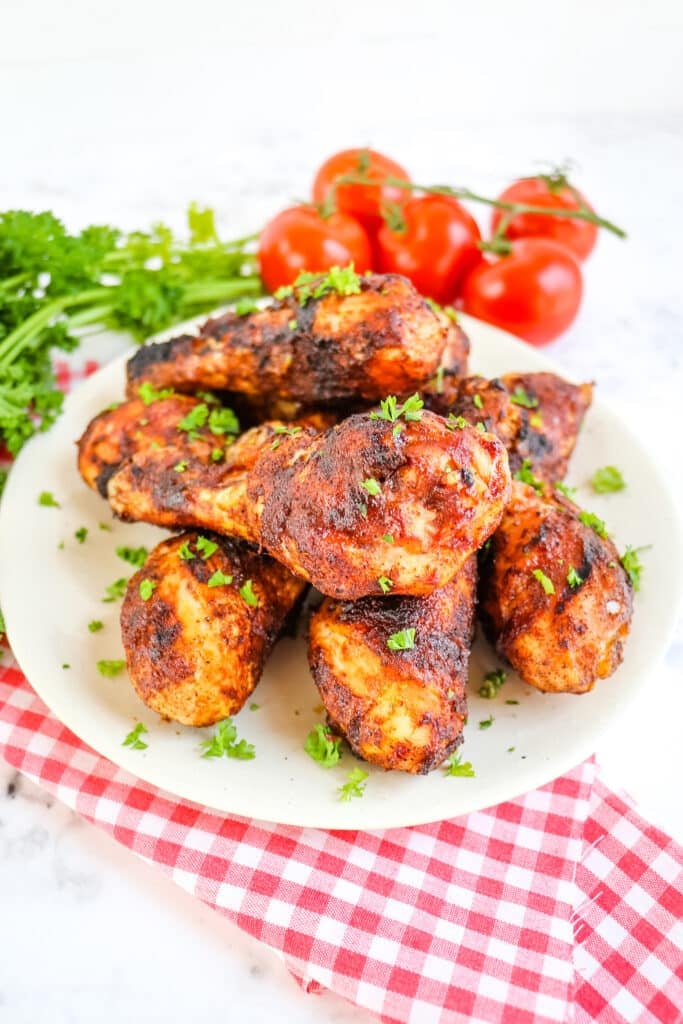 ---
---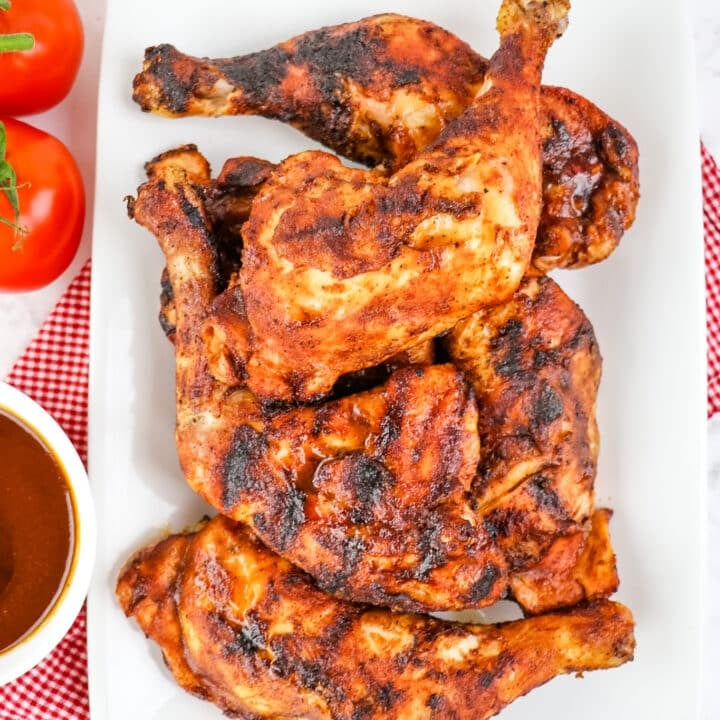 Grilled Chicken Leg Quarters
Looking for a super flavorful grilled chicken leg quarters recipe? These BBQ chicken quarters are seasoned to perfection and easily grilled on a gas or charcoal grill. Brushed with BBQ sauce, these bbq chicken quarters will be the hit of your next cookout.
Ingredients
2.5 lbs. bone-in chicken quarters (leg and thigh), about 4 quarters
2 tablespoons olive oil
1/2 cup barbecue sauce, divided
Chicken seasoning:
1 1/2 teaspoons paprika
1 teaspoon onion powder
1 teaspoon garlic salt
1/2 teaspoon cumin
1/2 teaspoon ground pepper
Instructions
Preheat gas or charcoal grill. Ideal cooking temperature is approximately 400 degrees.
Place chicken quarters on a sheet pan or shallow baking dish. Prepare chicken quarters by trimming off any excess skin or fat that is hanging off. Feel free to leave the majority of the skin on, as this will help keep the meat tender and juicy.
Pat chicken quarters dry with paper towels. Drizzle the olive oil over the chicken, coating all sides.
In a small bowl, mix together the seasoning: paprika, onion powder, garlic salt, cumin and pepper. Stir together well to combine. Sprinkle the seasoning over all sides of the chicken.
Once grill is hot, place the seasoned chicken on the grill skin-side down. Cook for approximately 10 minutes at 400 degrees, with the grill lid closed. After 10 minutes, flip the chicken and cook on the other side. Brush the chicken with 1/4 cup of the barbecue sauce. Let cook for another 10 minutes with the lid closed.
To test for doneness, use an instant read digital thermometer to be sure the chicken reaches an internal temperature of 165+ degrees. Once it cooks to temperature, it is save to remove from the grill. Let the chicken rest for 10 minutes before serving with the remained of sauce.
Notes
Leftover chicken: chicken should be stored in an airtight container and refrigerated after serving. Leftovers will keep for up to 4 days.
Nutrition Information:
Yield:

4
Serving Size:

1
Amount Per Serving:
Calories:

551
Total Fat:

44g
Saturated Fat:

11g
Trans Fat:

0g
Unsaturated Fat:

29g
Cholesterol:

266mg
Sodium:

662mg
Carbohydrates:

16g
Fiber:

1g
Sugar:

12g
Protein:

69g