How many mornings has this happened? You or your kids say, "We/I want pancakes!" You proceed to your pantry all to discover there is no Bisquick or any other mix on hand, and the freezer is void of anything resembling breakfast. I'm here to tell ya – You don't need it! Scratch pancakes are super easy to throw together, and in my opinion, taste WAY better than any mix you could buy at the grocery store. Not to mention, its way cheaper, too!
Chocolate Chip Pancakes
These easy, from scratch pancakes are perfect for a special morning - or any day you want to indulge in some chocolate!
Ingredients
2 c. all purpose flour
4 tsp. baking powder
1 tsp. salt
2 Tbsp. sugar
1 egg, beaten
1 3/4 c. milk
1/3 c. oil (could also use melted butter)
1/2 c. Chocolate Chips
Whipped Cream and Chocolate Syrup for topping
Instructions
In a large mixing bowl, mix all dry ingredients using a whisk. In a separate container, combine your wet ingredients: egg, milk and oil. Then combine the wet and dry ingredients, stiring until combined. Batter will be slightly lumpy.
Heat a griddle on medium heat. Pour the pancake batter onto a hot griddle. (I like my griddle buttered – makes it easier to flip your cakes, and insures they don't stick.) About 1/4 cup of batter makes about a 4? pancake. Add some chocolate chips to the pancakes before flipping.
Flip the cakes as they get golden brown. They will only need about a minute or two, flip, and then 30 sec. to 1 minute more on the other side. Watch, so they don't get too dark.
Plate 'em up and serve to your hungry crew. Top with extra chocolate chips, whipped cream and chocolate syrup.
**This recipe has been adapted by
Family Fare: A Guide to Good Nutrition
, published by the US Department of Agriculture, Revised , July 1974.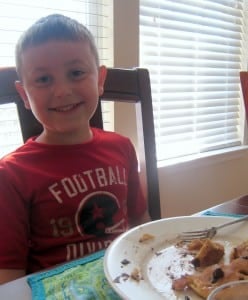 One happy boy on the first day of summer break. That smile makes it all worth it!
Hope you Enjoy!
Erin