The Ultimate Hot Buttered Rum Recipe!
The ultimate hot buttered rum recipe for a cold night! This creamy, hot cocktail is made with spiced rum, cinnamon and ice cream to make it wonderfully decadent and delicious. This Hot Buttered Rum goes perfectly with fuzzy slippers, fireplaces and your favorite Christmas movie!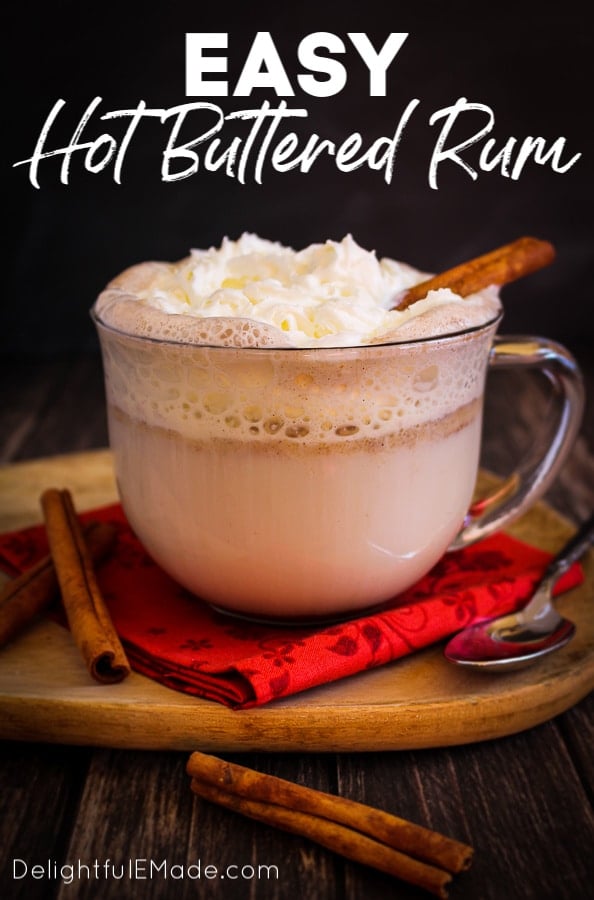 Making this Hot Buttered Rum recipe is a simple process. It starts with a batter made of butter and ice cream. Mixed with dark spiced rum you'll have a great hot toddy! Perfect for an evening in front of the fireplace after a long day, or watching your favorite Christmas movies.
Like this recipe? Be sure to pin it to your COCKTAILS & DRINKS board!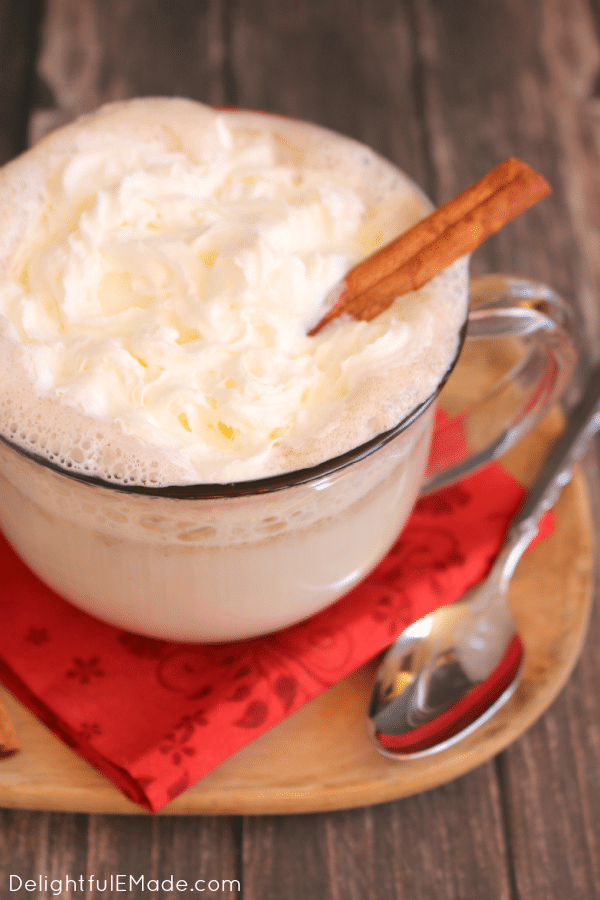 Step 1: Mix the batter for the hot buttered rum
The first step to making this hot buttered rum recipe is mixing the batter.
First, you'll cream together the butter and sugars. Next you'll add cinnamon and nutmeg, which add wonderful flavor and richness to the cocktail. These also go perfect with the spiced rum.
To make this "creamy" cocktail, you'll add softened vanilla ice cream to the batter. Beat all of these ingredients together until completely combined.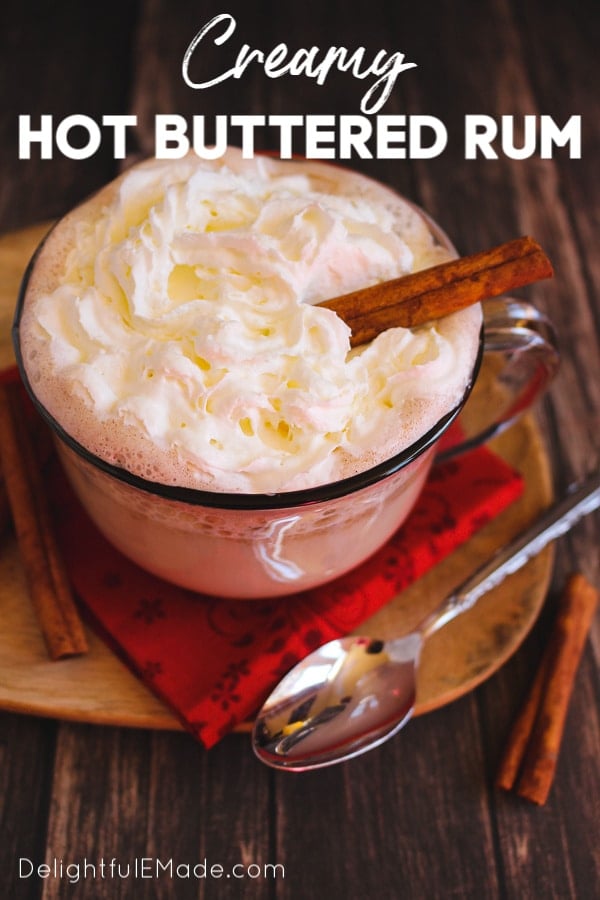 Step 2: Add batter to the glass with rum
To your favorite mug, you'll add 2 tablespoons of the batter along with a shot of dark spiced rum. Add boiling water and stir.
Top with whipped cream and a sprinkle of cinnamon or nutmeg for the ultimate hot cocktail!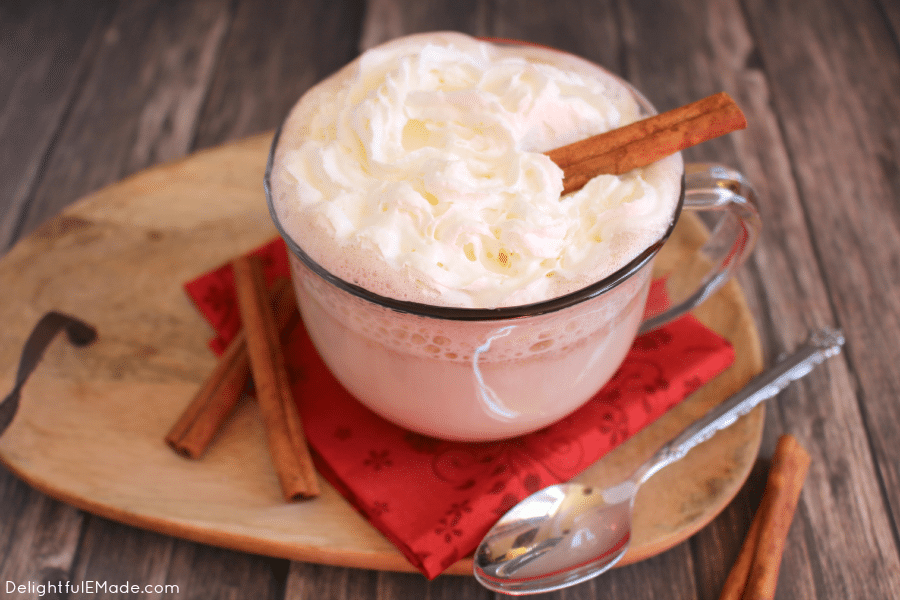 Looking for a few treats to enjoy with this hot buttered rum recipe? Check these out:
Banana Pecan Sheet Cake with Maple Frosting
Slow Cooker Honey Roasted Mixed Nuts
Hot Buttered Rum FAQ's:
What kind of rum do I use for a hot buttered rum cocktail?
Dark, spiced rum is the most traditional liquor for a hot buttered rum recipe. Popular brands include Captain Morgan, Kraken and Bacardi.
Where did Hot Buttered Rum originate?
In the late 17th century, Jamaica began importing molasses to the American colonies, where distilleries started turning it into rum. Rum became very readily available, and people started adding it to toddies and nogs, thus creating hot buttered rum and eggnog.
Can you heat rum?
Yes. Rum is a very traditional liquor in many hot cocktails and toddies.
If you loved this delicious hot buttered rum recipe, then check out some of my other hot drink & holiday cocktail recipes:
How to Make A Brandy Alexander
60 Amazing Holiday Cocktail Ideas
Here's the recipe for my delicious Hot Buttered Rum: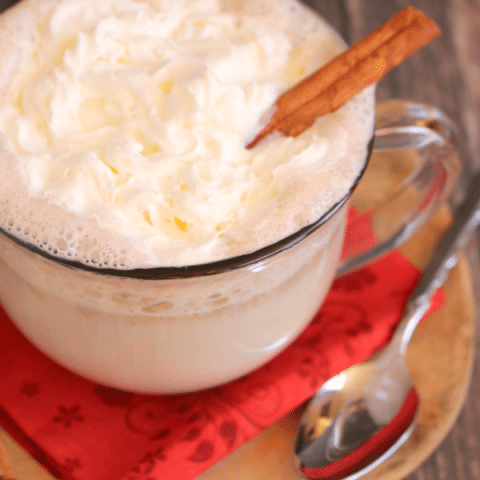 Creamy Hot Buttered Rum
This creamy hot cocktail is perfect on a cool evening, and great as an after-dinner or dessert drink!
Ingredients
1/4 c. (1/2 stick) butter, softened
1/4 c. brown sugar
1/4 c. powdered sugar
1/2 tsp. cinnamon
1/2 tsp. nutmeg
1 c. vanilla ice cream, slightly softened
Spiced Rum (like Captain Morgan)
Whipped Topping and Nutmeg for toppings
Instructions
In a small bowl, cream butter and sugars. Add the cinnamon and nutmeg and stir. Add softened ice cream and beat until fully combined.
Add 2 Tbsp. of ice cream mixture to a mug. Pour over 1 oz. (a shot) of Rum. Add 6-8 oz of boiling water.
Freeze remaining batter for later use. Enjoy!
Nutrition Information:
Serving Size:

1
Amount Per Serving:
Calories:

872
Total Fat:

44g
Saturated Fat:

26g
Cholesterol:

143mg
Sodium:

325mg
Carbohydrates:

119g
Sugar:

110g
Protein:

5g