Harvest Salad with Pears and Pomegranates
Looking for an amazing pear salad recipe? My Harvest Salad with Pears and Pomegranates is fantastic! Beautiful enough for a Thanksgiving or Christmas side dish and simple enough to make for weekday lunch paired with chicken or turkey!
This post may contain affiliate links. Delightful E Made is a participant in the Amazon Services LLC Associates Program, an affiliate advertising program designed to provide a means for us to earn fees by linking to Amazon.com and affiliated sites.
This Pear Salad recipe is the perfect side dish for Thanksgiving or Christmas Dinner
One side dish I always try to have on the table for a holiday meal (Thanksgiving, Christmas and Easter) is a fresh, crisp salad. Often, we have lots of carb-heavy sides like potatoes and gravy and stuffing during the holidays.
Yes, these are definitely delicious and I would not serve a holiday meal without them, I feel like this Harvest Salad with Pears and Pomegranates is necessary to break to all the "beige."
Here's how this delicious Harvest Salad with Pears comes together:
Step 1: Start with your greens
You can use virtually any lettuce mix – I like to use a colorful spring mix for this salad. Baby spinach, escarole, freesia, and other colorful greens lend well to the color and texture of this salad.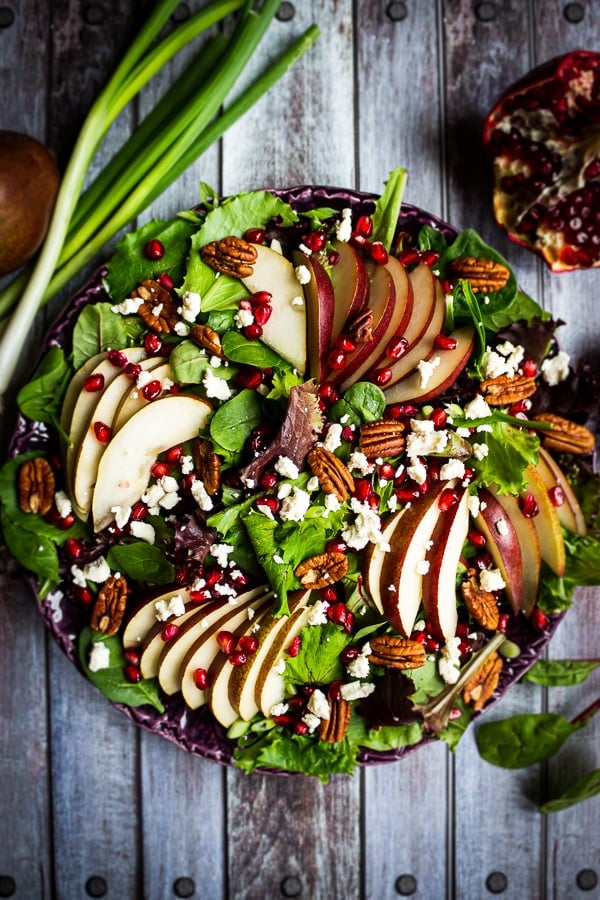 Step 2: Add fresh pears
Sweet and firm pears are the centerpiece to this pear salad recipe. I chose red pears, however, you can also use Barlett, yellow or Asian pears as well.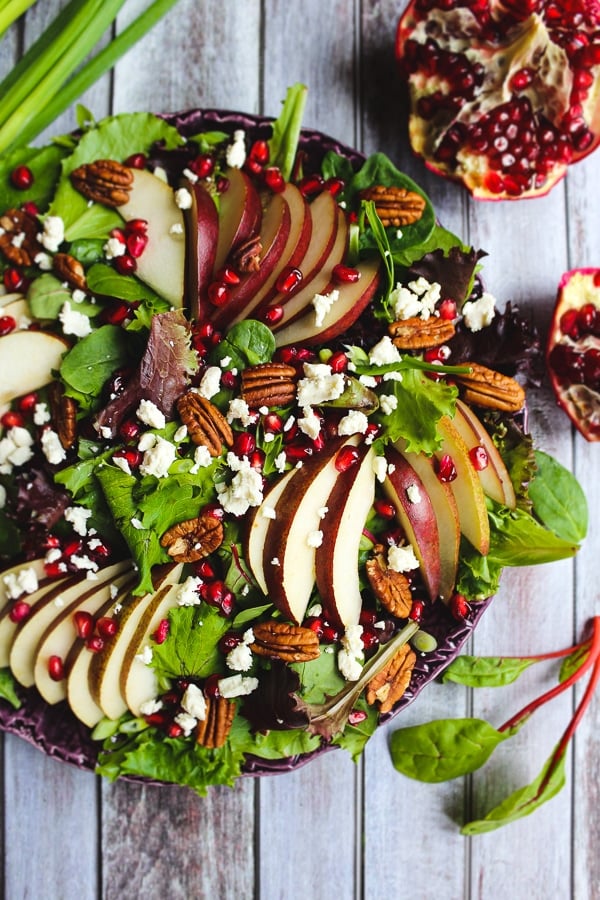 Step 3: Other Add-ins to the salad
During the fall and early winter, Pomegranates are at their peak. You can find them in the produce section of most grocery stores. Peel of the outside rind and you'll find beautiful, sweet magenta seeds in the center.
The pomegranate seeds add a lovely complimentary color and crisp texture to this salad.
I also added pecans and goat cheese to this harvest salad. The crunch of the pecans and the sweet creamy flavors of the cheese take this salad from great to exceptional!
Do you love pomegranate arils? Check out these other recipes that feature pomegranate: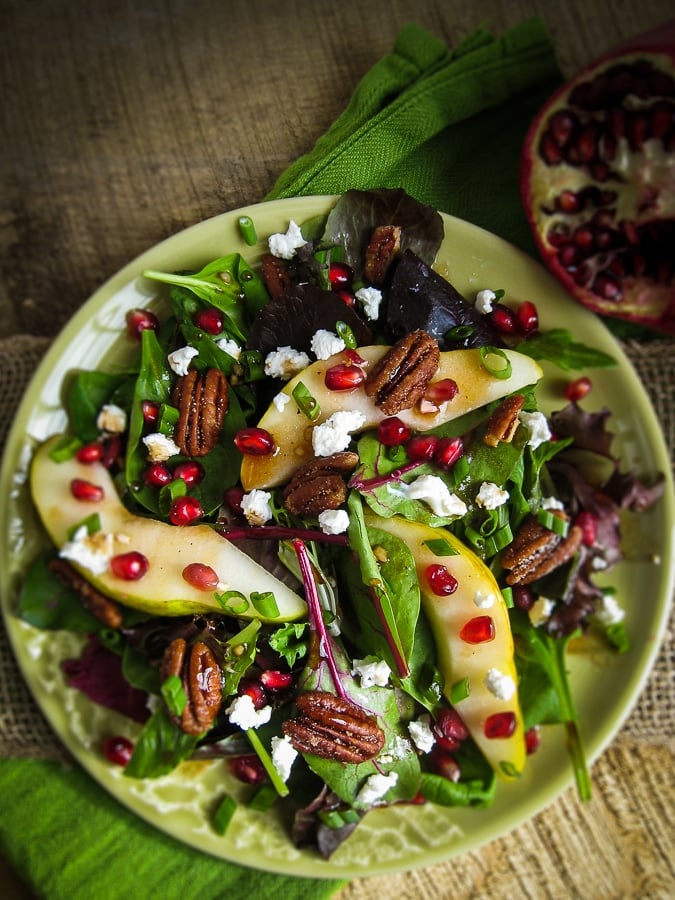 Step 4: The Dressing
This honey balsamic dressing is one of my favorite dressings for a salad like this. If you're making this salad as a side dish for a large meal, I recommend serving the dressing on the side.
Let your guests dress their own salad. If there are leftovers, store the dressing separately. This way the salad will keep longer and not get wilted and mushy.
Pear Salad Questions:
What type of pears should I use for a pear salad recipe?
I like red pears for this pear salad. You can also use Bartlett, Yellow or Asian pears.
I don't like pecans. What other nuts can I use instead of pecans?
Walnuts, pistachios and almonds are all great alternatives in this Harvest Salad.
If you loved this delicious Pear Salad, then be sure to check out some of my other similar salads and sides that are great for a holiday meal:
Need some main dish inspiration for your holiday dinner? Check out our popular main dish holiday recipes:
Here's the recipe for my delicious Harvest Salad with Pears: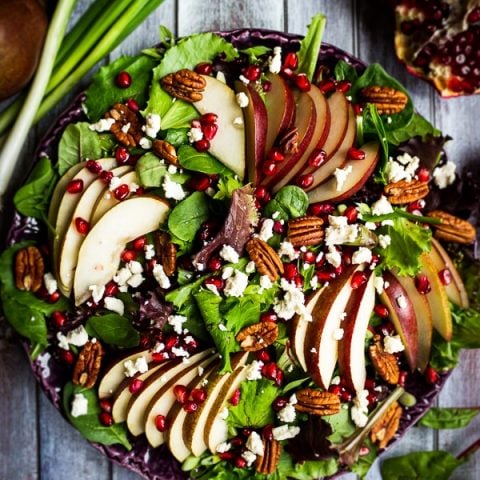 Harvest Salad with Pears and Pomegranates
This salad is a perfect side dish to a holiday meal. Its great for a special occasion or a busy weeknight meal.
Ingredients
1 bag, baby spinach blend salad greens
2 green onions, sliced
1 large ripe pear, sliced
1/3 c. pomegranate seeds
1/4 c. goat cheese crumbles
1/4 c. glazed pecans (like Emerald brand)
For Dressing:
1 tsp. minced garlic (or one clove)
1/4 c. honey
1/4 c. balsamic vinegar
1/4 c. olive oil
ground pepper (a few turns of the pepper grinder)
Instructions
In large bowl, toss salad greens, onions, pears, pomegranates, goat cheese and pecans. Set aside or refrigerate until ready to serve.
In small mixing bowl or large measuring cup, whisk together the garlic, honey, vinegar, olive oil and pepper.
When ready to serve, lightly dress the salad mix and toss. Or, plate individual servings and dress just before eating. Refrigerate any undressed salad, reserving dressing in separate container.
Nutrition Information:
Serving Size:

1
Amount Per Serving:
Calories:

922
Total Fat:

62g
Saturated Fat:

12g
Cholesterol:

35mg
Sodium:

163mg
Carbohydrates:

94g
Sugar:

72g
Protein:

6g
This salad brings will be a welcome alternative to the otherwise mushy, ordinary holiday sides. It will be a showstopper, and may even make the turkey jealous! 🙂
My warmest regards for a fantastic Thanksgiving!
Erin