Meet your new favorite way to make Grilled Chicken Skewers! Simple chicken breasts are paired with sweet, summer plums making this grilled chicken recipe a summer dinner favorite! A fantastic plum recipe, too!
This post may contain affiliate links. Delightful E Made is a participant in the Amazon Services LLC Associates Program, an affiliate advertising program designed to provide a means for us to earn fees by linking to Amazon.com and affiliated sites.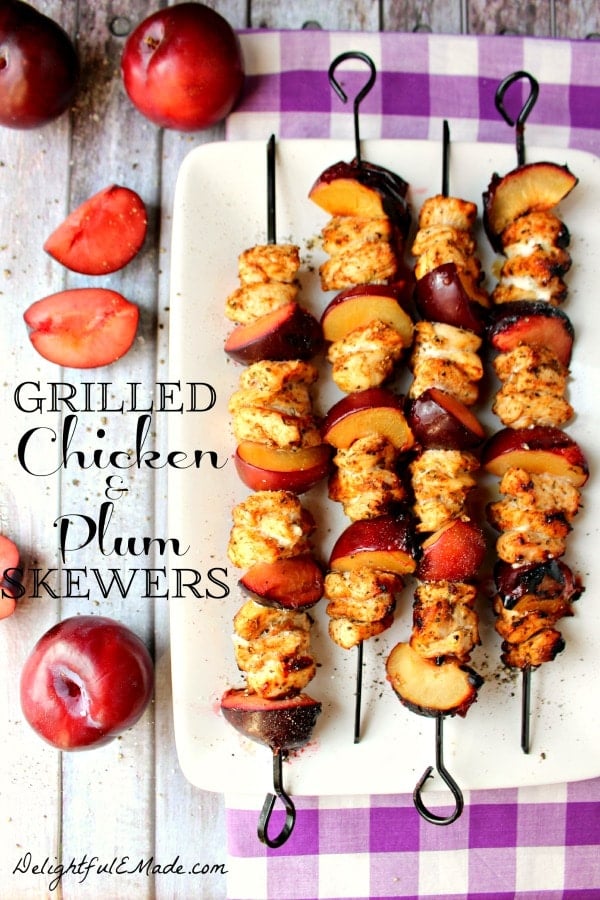 Grilled Chicken Skewers with Plums – an amazing Plum recipe!
I would say that one of my most-used (and loved) cooking tools is my gas grill. My husband bought it for me for my birthday a few years ago, and I've been consistently using it about 9-10 months out of the year.
My neighbors tend to see me wheeling out the grill a few nights a week, especially in the summer. I love grilling up an easy dinner like these Grilled Chicken Skewers with Plums.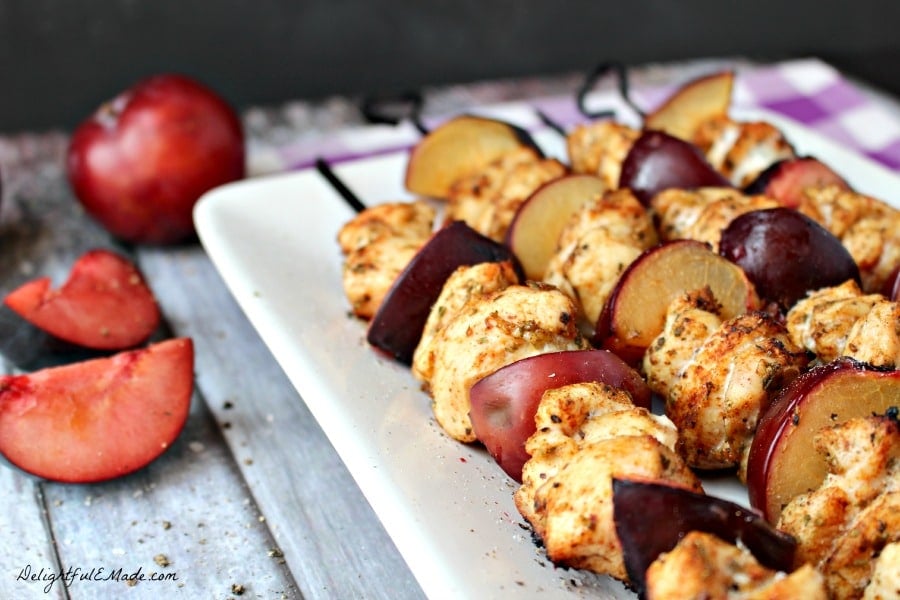 Chicken & Plums? Actually, a fantastic plum recipe!
Perfectly seasoned, this chicken goes wonderfully with the sweet-tart plums. Once on the grill, these skewers only take about 5-6 minutes per side, before going right to the table to your hungry crew. The prep is simple, too.
Simply cubing and seasoning the chicken, quartering the plums, and skewering is all you have to do. This is easily a meal that is on the table in less than 30 minutes. Ahhhh, music to any home cooks' ears!

Seasoning for this Grilled Chicken Skewers recipe:
The seasoning for the chicken is fantastic. Its basically a dry-rub that's mixed into the chicken chunks. This is a step that you can actually do earlier in the day, should you need an extra-quick, ready to go meal.
Otherwise, simply cubing the chicken, adding the seasoning, and mixing is a bowl is all you have to do. I've discovered this is the easiest way to adequately cover the chicken chunks.
You can also sprinkle it over the chicken, however, I've found that I tend to waste more seasoning this way, as more goes on the baking sheet than the skewers.
This is such a great way to include summer-fresh fruit with your meal. Not only is it completely delicious, its very healthy. This is also a fantastic way to get kids involved with dinner prep.
Assembling the skewers is a great way to engage the kids, and get them actively involved with making a healthy dinner. They'll also be more excited to taste their creations come dinner-time! 😉
If you love a simple, delicious grilled chicken recipe, be sure to check these out:
Wondering what to serve with grilled chicken skewers? These sides would be great: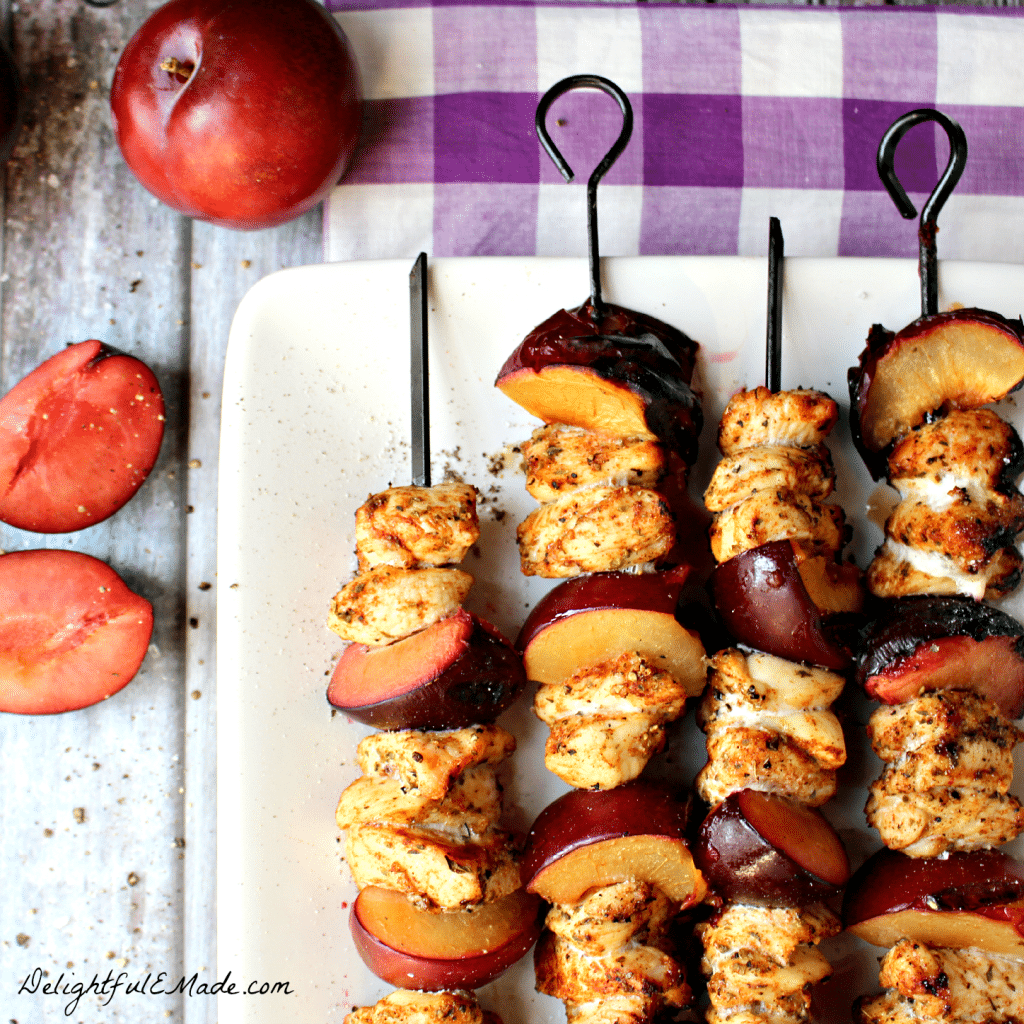 Here's how quick and easy these Grilled Chicken Skewers with Plums comes together:
Grilled Chicken and Plum Skewers
These quick, easy and delicious Grilled Chicken and Plum Skewers are perfect for dinner any night of the week. Summer-fresh plums and beautifully seasoned chicken are the perfect flavor combination!
Ingredients
1 lb. boneless, skinless chicken breasts or thighs, cut into 1" pieces
4-5 large plums, rinsed and quartered
1 tsp. garlic salt
1 tsp. dried oregano
1/2 tsp. paprika
1/2 tsp. garlic powder
1/2 tsp. onion powder
1/2 tsp. pepper
(Non-stick grilling spray) optional
Instructions
Preheat your outdoor gas or charcoal grill. (I own a gas grill, and preheat on high.)
In a small bowl, combine all the spices and seasonings: garlic salt, oregano, paprika, garlic powder, onion powder and pepper. Stir to combine. Set spices aside.
In a medium mixing bowl, add the chicken pieces. Evenly sprinkle half of the spice mixture over the chicken. Stir to coat. Evenly sprinkle the other half of the spice mixture and stir again to evenly coat all the chicken pieces. Rinse and quarter the plums.
Using metal grilling skewers, add a piece of plum for every three pieces of chicken. I ended up with four large skewers.
Turn your grill to medium heat. **(If you're using non-stick grilling spray, see my directions below.) Place the skewers evenly on the hot grill. Grill for 10-12 minutes, turning half-way. (Grilling 5-6 minutes per side.) Let cool for just a few minutes before serving. Enjoy!
**The safest way to use non-stick grilling spray is to preheat as usual. When you're ready to add the meat, turn the grill/flame completely off. Adequately spray the grates, and then turn the grill back on. You'll still have a hot grill, and you won't risk being burned when spraying the grates.
Nutrition Information:
Serving Size:

1
Amount Per Serving:
Calories:

18
Sodium:

963mg
Carbohydrates:

4g
Protein:

1g
As you can see by the recipe, making skewers is a pretty easy, interesting way to spice up dinner. Quick enough for a weeknight, and special enough for company, these Grilled Chicken and Plum Skewers are a fantastic solution any way you have it.
I hope you get to enjoy these last dog-days of summer! Make it special by having some fun, easy dinners that everyone will enjoy.
Erin