The BEST No Bake OREO Cheesecake Recipe!
The ultimate dessert for anyone that loves OREO cookies! These no bake OREO cheesecake bars offer a thick OREO crust, creamy OREO cheesecake filling, and topped with a thick, delicious layer of chocolate. This no bake OREO Cheesecake recipe is perfect for just about any occasion!
This post may contain affiliate links. Delightful E Made is a participant in the Amazon Services LLC Associates Program, an affiliate advertising program designed to provide a means for us to earn fees by linking to Amazon.com and affiliated sites.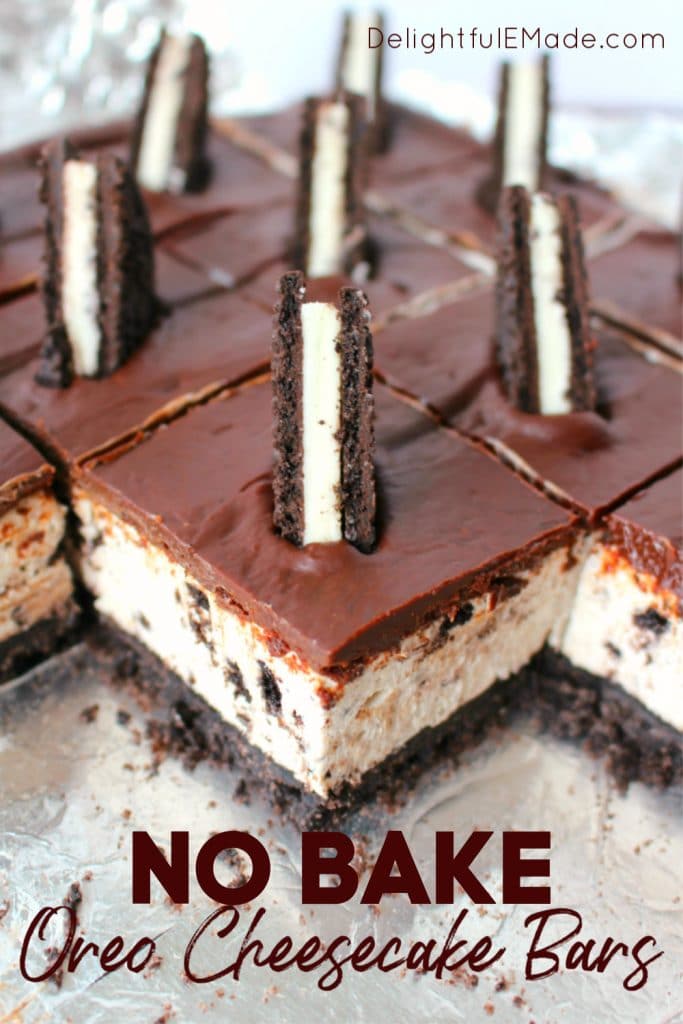 One snack that is pretty much ALWAYS in our house is OREO cookies.  My husband and son tend to go to these cookies whenever they have a hankering for a crunchy snack or a sweet treat.  
I love using OREO's in desserts, like my Chocolate Peanut Butter Mousse Bars, my Red Velvet OREO Poke Cake and my Lemon OREO Icebox Pie.  Just like the rest of these desserts, these No Bake OREO Cheesecake Bars are a wonderfully simple, and completely delicious dessert for just about any occasion!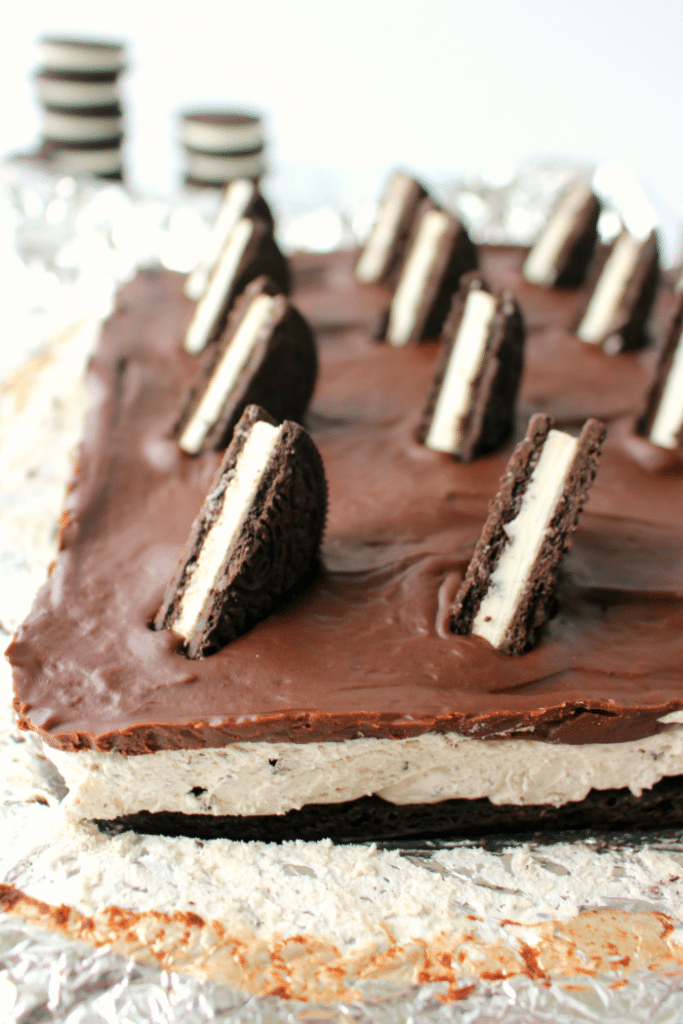 How this No Bake OREO Cheesecake Recipe Comes Together:
I started this dessert with a simple OREO crust. You can use regular or double-stuffed OREOS, as both make a fantastic crust. With my food processor, I crushed about 25 cookies, and then added melted butter.
From here I pressed this OREO-butter mixture into the bottom of a 9×9″ pan that I lined with aluminum foil. This is totally optional, but a good way to easily lift out the bars and cut into squares. You can do without the foil, and simply spray your 9×9″ pan with non-stick spray.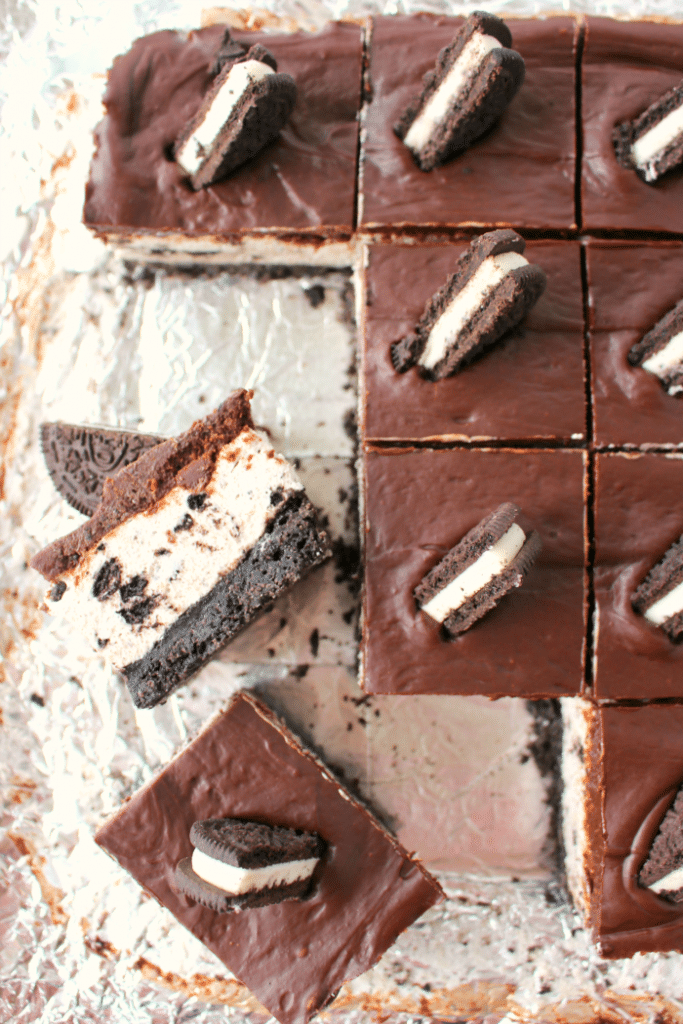 Next Step: The No Bake Cheesecake Filling:
On top of the crust, then comes the delicious no-bake OREO cheesecake filling. If you've ever made any type of no-bake cheesecake dessert, you'll soon realize this is a really easy and delicious cheesecake-like filling that requires no baking. Fantastic, especially during the summer when turning on the oven is the last thing you want to do.
I've also used this same no-bake cheesecake filling for pies. My Lemon Raspberry Pie over at Real Housemoms is a perfect way to enjoy pie without having to turn on the oven!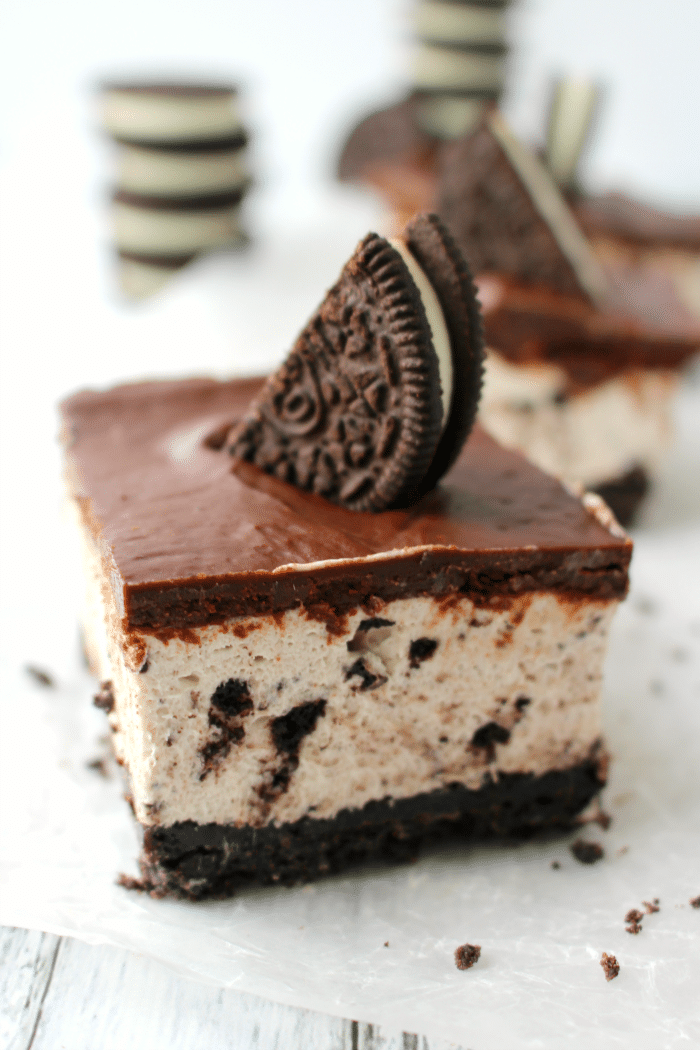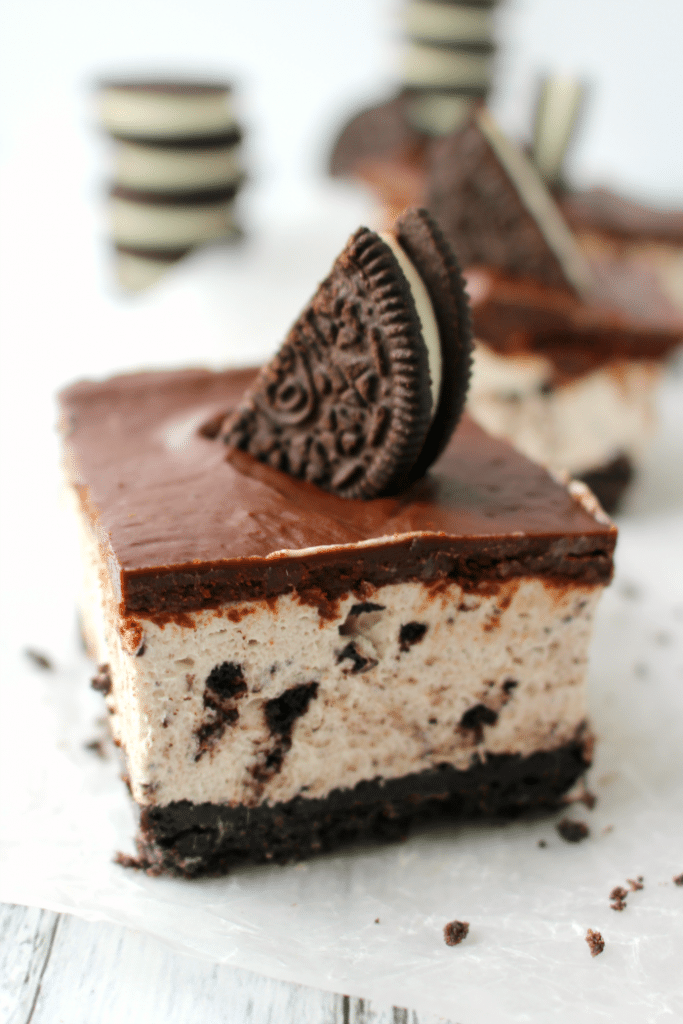 Next Layer: The Chocolate & OREO Topping
I then top these OREO cheesecake bars with a yummy layer of chocolate and garnish with a half-slice of an OREO – what else, right?!  
Not only is it the perfect garnish, but the cookies sit easily in the chocolate and are a great way to give a bit of a hint of what is to come on the inside of this amazing bar.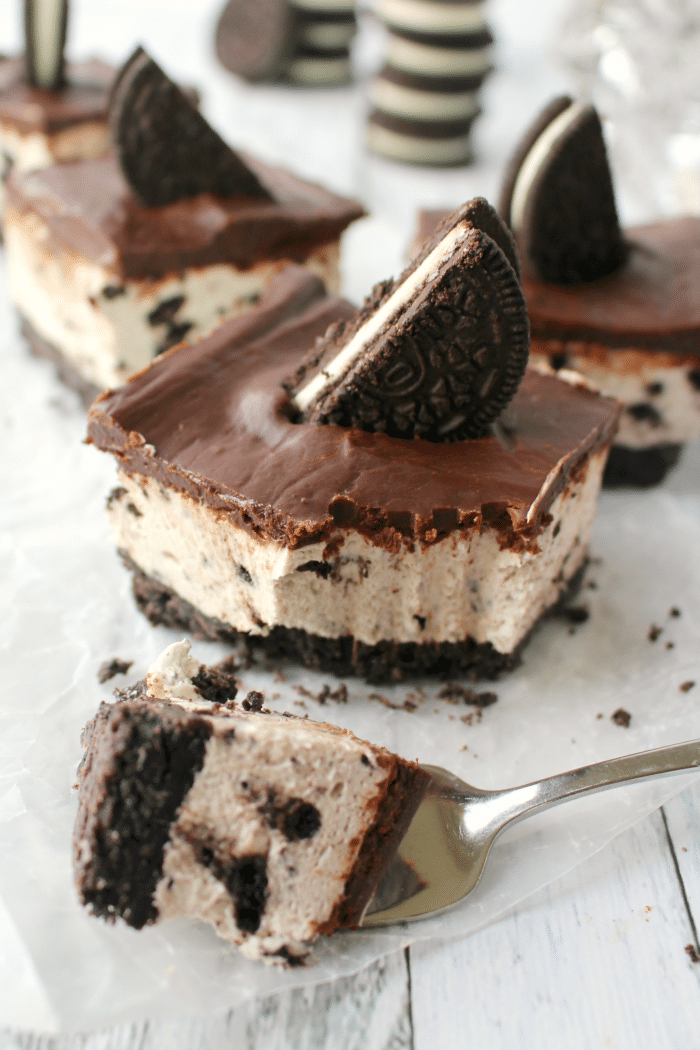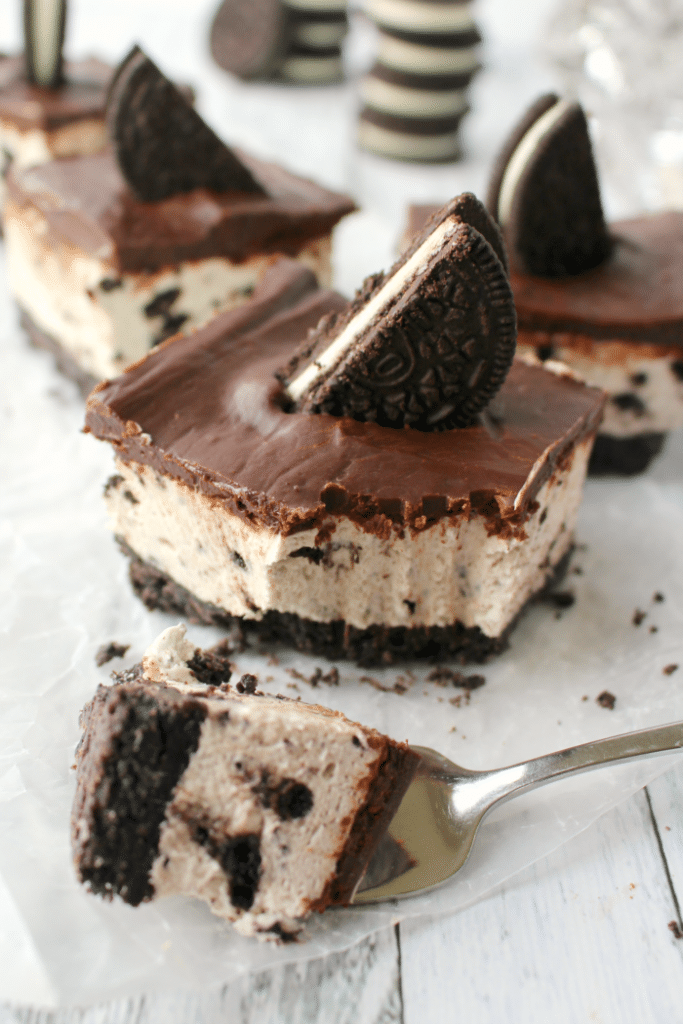 One bite of these fabulous OREO bars, and you'll be hooked! These are fantastic for a potluck, a great dessert for a celebration or a yummy way to satisfy a sweet tooth!
If you loved this fantastic No Bake OREO Cheesecake recipe, check out my other no-bake cheesecake recipes:

Love an amazing OREO recipe in Pie form? Be sure to check out these recipes:
Here's the easy, delicious recipe for these OREO Lovers No Bake Cheesecake Bars:
OREO Lovers No Bake Cheesecake Bars

The ultimate dessert for anyone that loves OREO cookies! A thick OREO crust, creamy OREO no-bake cheesecake filling, and topped with a delicious layer of chocolate. This easy, no-bake dessert is perfect for just about any occasion!

Ingredients

25 OREO cookies (regular or double-stuffed), crushed
5 Tbsp. butter, melted
16 oz. (2 - 8 oz. blocks) cream cheese, room temperature
1 c. powdered sugar
1 tsp. vanilla
1 (8 oz.) container, frozen whipped topping, thawed
1 c. broken OREO pieces (about 10 cookies)

Topping:

1 1/2 c. semi-sweet chocolate chips
1/2 c. heavy whipping cream
8 OREO's, sliced in half

Instructions

Line a 9x9" square pan with aluminum foil.
Crush the 25 OREO cookies in a food processor. Add the melted butter, and pulse in the processor a few more times to combine. Pour the crumb mixture into the lined pan, and press firmly to the bottom of the pan. Set aside.
With a hand or stand mixer, cream together the cream cheese and powdered sugar and mix until creamy and slightly fluffy. Add the vanilla and mix. Gradually add in the thawed whipped topping. Fold in the broken OREO cookie pieces, and mix together. Spread the mixture evenly over the top of the crust, making sure to spread firmly and evenly into corners of the pan. Refrigerate for at least 1-2 hours, or until firmly set.
To make the topping, add the chocolate chips into a bowl. In a small saucepan, bring the cream to a low simmer, and remove from heat. Pour the hot cream over the chocolate chips, and continually stir with a rubber scraper until all the chocolate chips have melted and become smooth. Let the chocolate cool slightly. Pour the slightly cooled chocolate over the top of the cream cheese layer, and spread evenly.
Even place the 16 OREO cookie halves into the chocolate. Refrigerate for at least 30 more minutes or until chocolate is completely set and firm. Cut into 16 squares.

Notes

If you would prefer a more firm, crisp crust, bake the OREO cookie crust at 350 for 10 minutes. Let cool completely before adding the cheesecake filling. (Yes, I realize this makes the dessert no longer "no-bake", however, a more firm crust will yield more uniform, square slices.

Nutrition Information:

Serving Size:

16 squares Amount Per Serving:

Calories:

272

Total Fat:

21g

Saturated Fat:

13g

Cholesterol:

48mg

Sodium:

123mg

Carbohydrates:

21g

Sugar:

19g

Protein:

3g